Brief Introduction of Longjing Tea
Longjing Tea or dragon well tea (龙井茶), a type of green tea of over 1200 years old growing in the surrounding area of the world famous West Lake in Hangzhou, is the "No. 1 among the Top 10 Famous Tea in China". With verdant color on the leaves, strong fragrance, sweet flavor and elegant form, Longjign tea is given the reputable name of the "Green Queen" and the "Golden Card" of Hangzhou city. Since its surrounding area has fertile land, multiple high mountains and very good climate, the Longjing Tea could grow under the God-given natural condition. And for different original places, Longjing Tea is divided into Shi (Lion, 狮), Long (Dragon, 龙), Yun (Cloud, 云) and Hu (Tiger, 虎) to indicated the plantations of Shifeng, Longjing, Yunqi and Hupao.Therefore, tourists can visit the plantation to appreciate a full land of Longjing Tea and know the essence of this super precious and valuable tea in Chinese culture.
Longjing Tea - No. 1 Tea in China
History & Legend of Longjing Tea
In Qing dynasty, the Emperor Qianlong (乾隆, 1711-1799 AD) often came to the regions south of the Yangtze River and visited Hangzhou. Once when he came to Longjing Shifeng (龙井狮峰) and learned the tea-picking, his follower told him his queen mother was ill. After he returned to Beijing, his mother smelt the fragrance of the Longjing Tea that were put in his sleeves in Hangzhou and felt better after drinking the water with the tea. So Qianlong was so happy that he praised Longjing Tea as tribute and ordered people to pick every year to present for his queen mother. Afterwards, Longjing Tea became more famous as the head of all tea types in China.
As for the name of Longjing, there is a local legend. In ancient time, there was a clean spring running continuously in the village, which seemed the water granted by the Chinese dragon, so people put a carving dragon head there to let the spring spurt from the dragon mouth. One day, a geomancer felt the spring very magic after drinking, and suggested the villagers dig a well for drinking. Therefore, they did so and named the well "Longjing (Dragon Well)".
Top Hangzhou Tea Plantations to Go
Want to have a real look at the fresh and alive Longjing Tea and know more about the Chinese culture of tea? Just go to the tea plantations in Hangzhou to get close to the green fairies.
Longjing Village
Longjing Village (龙井村) at the west side of the West Lake is the very "place of origin of Longjing Tea" and is called the "No. 1 Village of Tea". Longjing Tea produced here is called Long (龙) and regarded the best among all that from the original places. Surrounded by the super high mountains, Longjing Village is not only the residence of over 800 people but the growing plantation of near 800 acres of Longjing Tea as well. Therefore, you can visit the wide tea garden to admire the verdant eye-pleasing scenery of the Longjing Tea trees standing row by row, which looks like a gorgeous green gem side by the West Lake. Also, when you breathe the clean air with the special delicate aroma of the tea, you would feel people living here are so happy and lucky like the immortals in heaven.
Moreover, you can walk to the Hugongmiao Temple (胡公庙) at Shifeng in Longjing Village to admire the "eighteen Emperor Tea Trees" that the Emperor Qianlong had picked tea leaves from. You can see these precious trees living for more than 250 years being enclosed with stone carved rails and to imagine the historical scene.
● Longjing Mountainous Park
Longjing Mountainous Park of Longjingshanyuan (龙井山园) in the village is a wonderful place to have fun and drive the urban noises all away. In this nearly 130 acres wide garden, you can visit many specially designed attractions related to tea culture, drink Longjing Tea in the hundred-year old tea house, closely see the progress of roasting tea with hands of the tea growers, appreciate the skill of making a cup of tea that expresses the tea spirits of purity, elegance, sincerity and harmony in China. Also, in the appropriate months, you can join the local growers to pick the very fresh Longjing Tea and enjoy immersing in this green sea. Moreover, you can try the local experience of "enjoying tea at dragon well" in the garden to know about the culture and manner of tea from ancient China for over 1000 years.
Besides, the park has the largest area in east China of butterflies, a special street with abundant kinds of snacks of tea, and many excellent folk performances. Inhaling the air with high content of anion, you will seem doing facial in the tea garden that is like a fairyland.
Meijiawu Village
Meijiawu Village (梅家坞村) teems with Longjing Tea and is very famous for the five visits of the great Prime Minister Zhou Enlai. Many famous people from other countries like the US, Vietnam, Kambodia, etc. have visited Meijiawu Village and given good reputation. As a result, you can go there to see the beautiful mountain supported by water and mountains and fancy houses dotted under the green hills with the lush verdant tea field, which is like an oil painting of green jadeites. Wandering in Meijiawu Village, with the refreshing fragrance of the wide range of tea, you can close the eyes to hear the melodious singing of the little birds and nests and the whisper of the tea leaves in a breeze, and all those great enjoyments are like the gift from the heaven.
What's more, there is a tax-free store selling Longjing Tea in Meijiawu Village, which gives you a good chance to buy some valuable tea either as a souvenir or a gift for your friends and family. And if you want to closely know about the tea culture, you can experience the tea-picking with the tea growers in March and April. And if you plan to taste the new Longjing Tea of the year, you can visit Meijiawu Village during April and May, especially before and after the Tomb Sweeping Day in China.
● Dragon Well Tea Culture Exploration Program (March - April)
If you are want to know more about the tea and interested in the culture of tea, you shall not miss this tea exploration program.
In the morning, visit the Longjing Tea field to be amazed by its verdant beauty, and then, you can take your bamboo basket together with the local tea growers to pick the tea to get close to the view and the tea experience. After that, return to the family of the tea grower and see him how to dry the tea leaves. Next, leisurely sit here to taste the tea and see the tea ceremony performance and the introduction. Finally, you can enjoy a lunch with delicate and authentic local dishes.
Note: If you are interested in the program, tell you Travel Consultant in advance for at least one week so that we can book it from the local tea growers.
Recommended Hangzhou Tour Packages
☛ 2 Days Essence of Hangzhou Tour
Longjing Tea Pluckers in Longjing Village
Pluckers in the Picturesque Longjing Tea Field
Watch Tea Growers Roast Longjing Tea with His Hands
Pluck Tea at Meijiawu Village
Take Pictures in Meijiawu Village
People Taste Longjing Tea
Hike around the Hangzhou Tea Plantations
There is a very interesting and basic trekking route that is called Shililangdang (十里琅珰) in Longjing Tea Plantations, and if you have more strength, take a light hike along this picturesque and a little difficulty route to breathe more fresh air with Longjing tea aroma and catch more charming pictures of the emerald plantations into your pleased eyes.
Main Route:
Bus station (Entrance to Nine Creeks) – Wuyun Hill – Yunqizhujing – Longjing Village – Jiuxiyanshu
You can choose a short section to have a hike. Among the whole trekking tour, we recommend you hike the part from Meijiawu Village to Longjing Village (about 2.9 km for 1-1.5 hours), since you can appreciate the freshest sightseeing of Longjing tea plantations. Between the two Villages, there is a low hill but easy to walk.
See the Tourist Map of Wanlinbei Hill for the location, distance, time for walking, etc. about Shililangdang Trekking.
Take a Hike along the Path of Shililangdang
Click to Enlarge the Tourist Map of Wanlinbei Hill
Map & How to Go to Hangzhou Tea Plantations
Situated at the southwest side of the West Lake, only less than 15 km from Hangzhou down, Longjing Village and Meijiawu Village are very close to each other and easy to get to by private car, taxi, public bus, etc.
Go to Longjing Village - 10 km from Downtown
To get to Longjing Village from Hangzhou downtown, you can take a bus for about 1 hour, and also, you can take a private car or taxi there for about a half hour.
From
To
Distance
Driving Time
Longjing Village
Hangzhou Xiaoshan International Airport
32 km
1 hours (40 km)
Hangzhou East Railway Station
13 km
50 minutes (20 km)
West Lake
3.5 km
15 minutes (5-6 km)
Lingyin Temple
1.5 km
10-15 minutes (4 km)
Go to Meijiawu Village - 13 km from Downtown
You can get from the downtown to Meijiawu Village by taking a bus for about 1 hour and 10 min. And if you take a private car or taxi, you can arrive here within 30 min.
From
To
Distance
Driving Time
Meijiawu Village
Hangzhou Xiaoshan International Airport
34 km
60-80 minutes (42-45 km)
Hangzhou East Railway Station
16 km
50-60 minutes (22-25 km)
West Lake
6 km
20-30 minutes (10-13 km)
Lingyin Temple
5 km
15-20 minutes (8 km)
Travel with China Discovery (Top Recommended):
If you want to get rid of hustle of public transportation and troublesome navigation, you can book a Hangzhou private tour package which covers sightseeing, dining and transfer from us. Our local tour guide and driver will escort you to Longjing Tea Plantations with speed and convenience, and take care of all the details. You just need to focus on sightseeing.
Click to Enlarge the Location Map of Longjing Tea Plantations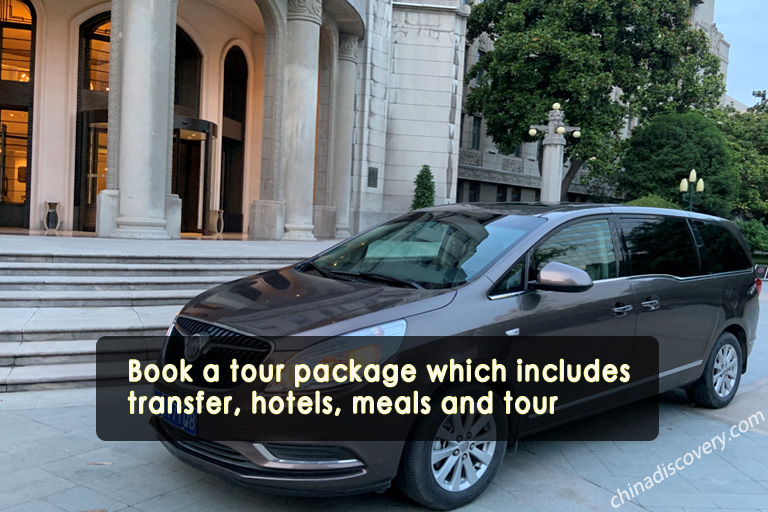 Local Private Transfer Service
Hangzhou Xiaoshan International Airport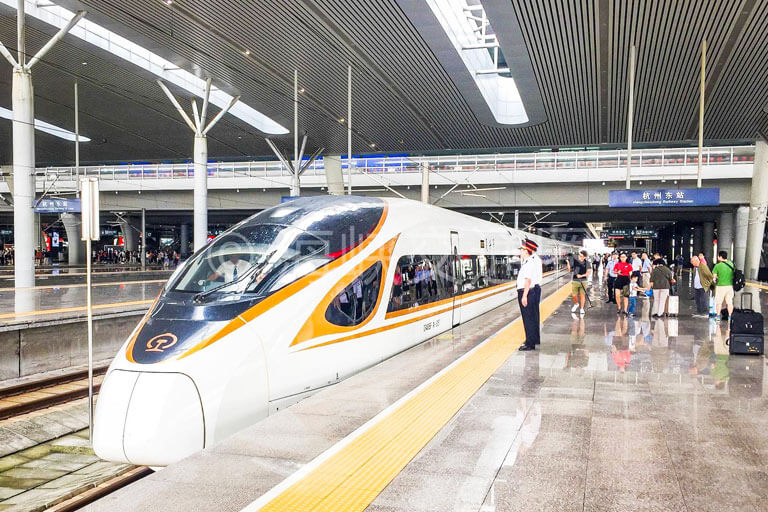 Hangzhou East Railway Stations
Recommended Hangzhou Longjing Tea Plantation Tour Package:
☛ 3 Days Classic Hangzhou Tour Plus Tea Plantation Exploration
Feature of the tour: It is most recommended to fully match your interests towards Longjing Tea. You can not only learn a lot of Chinese tea culture, but also involve yourself in the process of tea-making such as the tea picking (available in tea-picking season usually from March to April, there will be other activities like attending tea classes in other seasons), tea stir-frying, tea brewing, and tea drinking.
If you have other ideas or questions about Longjing Tea Plantations tour, please feel free to contact us. We are specialized in tailor-made tours that fit you best according to your interests, budget, traveling time, etc.
Best Season to Visit Hangzhou Tea Plantations
All seasons are suitable to visit Longjing Tea plantations to appreciate the wide range of tea trees. However, March and April are the best months to see the tea-picking of the local tea growers and can join them. To taste the new Longjing Tea, you can visit there during April and May, especially during the couples of days around the Tomb Sweeping Day in China. And in winter, you can appreciate the elegant scenery of pure white snow spreading on the verdant tea trees.
Nearby Attractions
Lingyin Temple
Lingyin Temple with a long history of about 1700 years is the oldest and most famous temple in Hangzhou City. With reputed Buddhist temple clusters hidden in luxurious forest, it is particularly popular to soak in the Buddhist culture of the city. Besides, Feilai Peak beside there is usually traveled together to marvel at the uncountable Buddhist carvings dating back to 10th century. Check more about Lingyin Temple
West Lake
West Lake is the best and must-see highlight in Hangzhou, which has been listed as UNESCO World Heritage, which boasts poetic and elegant sightseeing of lovely lakes, old pavilions, magnificent pagodas, ancient temples, beautiful gardens, various bridges, causeways and lots of interesting cultural sites. Besides, you can enjoy a leisure stroll, interesting biking, fun cruising, leisure sightseeing car riding to admire the various beautiful sceneries around the lake. Check more about West Lake
Check more about Attractions in Hangzhou | Things to Do in Hangzhou >>
Recommended Hangzhou Tour Packages
☛ 2 Days Essence of Hangzhou Tour
☛ 3 Days Classic Hangzhou Tour Plus Tea Plantation Exploration
Leifeng Pagoda in the Sunset
Useful Tips for Hangzhou Tea Plantations
1. Wear comfortable shoes and clothes for there are some a little mountainous paths in the plantation villages.
2. After visiting the plantation, you can go to the "Bamboo-line Path at Yunqi"(云栖竹径) 5 min's driving away from Meijiawu Village to appreciate the vast bamboo sea. And you can drive for about 10 min to visit Lingyin Temple to feel the strong Buddhist culture.
How to Plan a Hangzhou Tour
Things to Do in Hangzhou: West Lake, Lingyin Temple, Longjing tea Plantation, Hefang Street, Xixi National Wetland Park, China National Tea Museum, China National Silk Museum…
How to Get to Hangzhou: International flights from Singapore (5 hrs.), Seoul (6.5 hrs.), etc., domestic flights from Guangzhou (2 hrs.), Beijing (2 hrs.), etc., or high speed trains from Shanghai (1~2 hrs.), Suzhou (1.5~3 hrs.), Huangshan (1.5~2 hrs.), etc.
Best Time to Visit Hangzhou: all year around
Usually, visitors spend 2 days around to enjoy a classic Hangzhou tour to visit the West Lake Scenic Area, including the amazing West Lake, Lingyin Temple, Longjing Tea Plantations, etc. If you want an in-depth Hangzhou tour, you can also pay another half day or so to visit Xixi National Wetland Park, one day around to Beijing-Hangzhou Grand Canal, or one day or so to Thousand Islands Lake, etc. Check all Hangzhou Tours >>
☛ 2 Days Essence of Hangzhou Tour
☛ 3 Days Classic Hangzhou Tour Plus Tea Plantation Exploration
Also, you can spend 1 day to take a side trip to the nearby water towns like Wuzhen and Xitang in Jiaxing, 2~3 days to Putuoshan - one of the four sacred Buddhist Mountains in China, or 1 day to the popular Nanxun Old Town in Huzhou. Check more about Zhejiang Tours >>
☛ 3 Days Best Hangzhou Tour with Wuzhen Water Town
Besides, compared with just travelling Hangzhou, most of the visitors prefer to travel the metropolis Shanghai, Suzhou Gardens and Hangzhou Lakes in One Go! Such an amazing tour will take 5~6 days.
☛ 3 Days Hangzhou & Suzhou Beauty Tour by High Speed Train
☛ 5 Days Shanghai Hangzhou Suzhou Highlights Tour
Some visitors also ride a high speed train to Huangshan to visit the world-famous Yellow Mountain. A Hangzhou Huangshan tour needs about 5 days around.
☛ 5 Days Yellow Mountain Tour from Hangzhou
Have your preferences? Please feel free to tell us your likes and let our professional travel consultants customize a personal tour for you!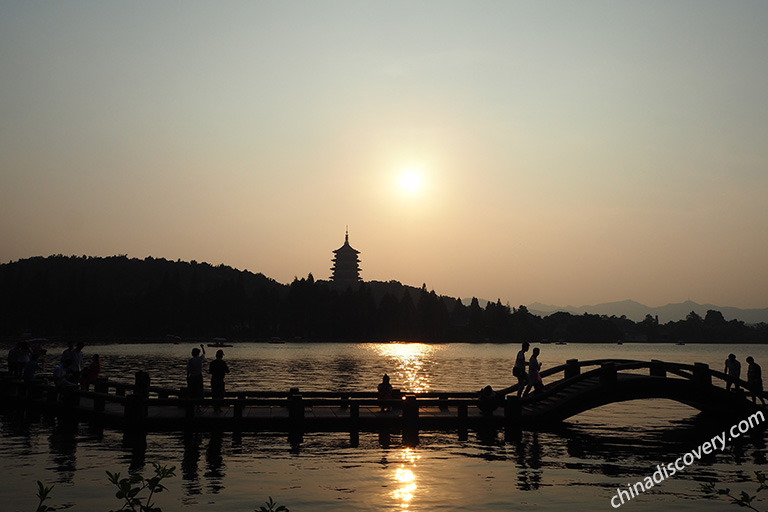 Hangzhou West Lake Summer Sightseeing
Our Customers visited Meijia Dock Longjing Tea Plantation, Hangzhou
Get Inspired by Real Travel Stories of Our Customers
Since 2012, we China Discovery have helped numerous customers to visit Hangzhou and surroundings. With our fully-inclusive private tour packages, all of our customers enjoyed their trips to the West Lake, Lingyin Temple, etc. Some of them kindly shared their precious photos and stories about their Hangzhou journey, just get inspired now.
"Impression Show is a must see when visiting Hangzhou…" - shared by Nguyen (Read her entire travel story: The Pursuit of Natural Beauty with the Beloved one - 14 Days Beautiful China Exploring Tour)
"This last night in Hangzhou led us to explore a different side of West Lake, vastly changing our erstwhile bland impression of the famed tourist site…" - shared by CS from Singapore (Read her entire travel story: Delightful Journey to Poetic Jiangnan Area)
Besides the wonderful travel stories, many customers who visited Hangzhou with China Discovery also send us their first-hand feedbacks about their trip, feel free to read the Hangzhou Reviews and learn what they say about their experience. If you want to start your Hangzhou tour now, don't hesitate to contact us.
More about Zhejiang Travel Guide
Recommended Hangzhou Tours
Top 3 Hangzhou tours chosen by most customers to explore Hangzhou in the best way. Check the detailed itinerary, or tailor your own trip now with us.
5 Days Shanghai Hangzhou Suzhou Highlights Tour

Shanghai / Hangzhou / Suzhou / Shanghai
Start planning your tailor-made holiday to China by contacting one of our specialists. Once inquired, you'll get a response within 0.5~23.5 hours.
Customize a Trip
Questions & Discussions
Following are latest questions and answers from our webusers and customers. You can learn many useful information from the discussion and cases. You can also join in the discussions or ask your own question. Our experts will help you ASAP.
Storing Longjing tea
I purchased Longjing tea during our tour in Hangzhou. How should the tea be stored?
Hello Ernesto,

Thank you for the message! To preserve your Longji Tea well, you can choose closed and opaque container that is clean and odor free, such as a jar, box, bottle, etc. Also, the tea needs to be put in dry, shadow and cool environment. And try to avoid your kitchen, closet, etc. in order not to avoid tainting. Besides, you can also store the tea container in the refrigerator, with the temperature under 5℃. And if you have bought much and are thinking about enjoying it for many months and even 1 year or so, you can separate your tea into several small packages!

Wish you a nice day!
Website
Hello, Can you please let me know the website of Longjing Tea Plantation and also the Silk Factory in Suzhou. I wish to order some goods from both of these, as we have just arrived back from a tour, but I am having trouble getting their web pages.
Thank You, Regards
Hi Christine,

Thank you for the message. There is no specific website of Longjing tea plantation since most of the plantations belong to local tea farmers. However, there is the official website in Chinese of the China National Tea Museum at: http://www.teamuseum.cn/. It is located in Hangzhou and tells a lot of Longjing tea and other kinds of tea in China. If you just want to order the Longjing tea, we suggest your contact the travel agency from which you booked your tour in Hangzhou before, so you could worry free about the communication with locals in China.

For the Suzhou No.1 Silk Factory, their official website is at: http://www.szfirstsilk.com/, however, also in Chinese. But, since staff at the factory can speak some English, you could contact them by sending Emails to szfistsilk@163.com. If no one replies, you can directly call the silk factory at 0512-65613733 to know about how to purchase and the detail prices.

Have a wonderful day!
Green Tea
i purchased the tea in Hangzhou. Where can I reorder?
Hello Suzana,

Greetings from China! To buy the green tea in Hangzhou, we suggest you contact the travel agency from which you have booked your Hangzhou tour, because they could know where to buy the product for best and can communicate with the sellers better.

Wish you a nice day!
Have a question? Get answers from our travel experts or guests
Your Question:

Your Name:

Your Email: