Why Visit Hu Qing Yu Tang, Hangzhou?
Have you ever known the traditional Chinese medicine (Zhongyao中药)? Are you curious about how the Chinese people cure their illness and strengthen their body in the old days and even today? Do you want to learn the traditional medicinal herbs processing techniques from experienced pharmaceutical workers? Would you like to try Tui Na massage or cupping to get your body relax (just like the G20 Summit leaders did) or even create your own pills after the senior herbalist doctors take your pulse?
If you have any interest in Chinese medicine or health care, the Hu Qing Yu Tang is right for you! Founded in 1874 by Hu Xueyan (a notable businessman in China during the late Qing Dynasty), Hu Qing Yu Tang is a traditional pharmacy which has always been enjoying a high reputation over 140 years for its reliable quality of medicines and pharmacy on a large scale. It operated on the principles of Taiping Huimin and the Bureau Agents (太平惠民和剂局方). It made more than four hundred types of drug by collecting secret prescriptions, proved recipes and combining clinical practice. It is reputed as "Medicine King in the South of Yangtze River" and as well known as Tongrentang (同仁堂) in Beijing. Entering into Hu Qing Yu Tang, travelers will feel like entering into a living classroom of traditional Chinese medicine to both have a good understanding about Chinese medicine and have a look at the hundred-year-old exquisite architecture with unique design, ingenious layout and antique furnishings.
Located on the famous Hefang Street, Hu Qing Yu Tang is the must-visit spot when you take a leisure stroll along this hustle and bustle street.
Hu Qing Yu Tang lcoated bustling Hefang Street
Interior Decoration of Hu Qing Yu Tang
Best Hu Qing Yu Tang Tour:
Explore Hu Qing Yu Tang & Highlights to Experience
Hu Qing Yu Tang is old and large with many things to see and explore. It is composed with three main parts – Museum of Traditional Chinese Medicine, Hu Qing Yu Tang Pharmacy and Hu Qing Yu Tang Clinic. Below are the detailed information for each part and its highlights you can experience. You can go through the details and decide which part you are interested in.
Hu Qing Yu Tang Museum of Traditional Chinese Medicine
Hangzhou has top 4 featured museums and Hu Qing Yu Tang Museum of Traditional Chinese Medicine is the only for Chinese medicine. The other three are China Silk Museum, China National Tea Museum and the Southern Song Dynasty Guan Kiln Museum. Opened in 1987, Hu Qing Yu Tang is professional place as well as a window to know celebrities in Chinese medicine history, the origin of medicine, the development of pharmaceutics, the exchanges of China and foreign countries in medicine and the contributions of Zhejiang Province in the development of medicine.
Have General Idea about Chinese Medicine
Getting up to the second floor of this museum, travelers can have a general understanding about traditional Chinese medicine which is a valuable medical science originated from more than 2500 years of Chinese medical practice, taking an important roles in safeguarding people's health. Furthermore, travelers can also know some classic Chinese medical works, like Yellow Emperor's Inner Canon(黄帝内经), the Treatise on Cold Damage Disorders (伤寒杂病论) and the Essential Prescriptions of the Golden Casket(金匮要略), as well as know some historical physicians, like Zhang Zhongjing (张仲景), Hua Tuo (华佗), Sun Simiao (孙思邈), Li Shizhen (李时珍), etc.
Know History & Development of Hu Qing Yu Tang
On the second floor, travelers can see the old cultural materials presenting the origin and development of Hu Qing Yu Tang. Established in 1874, it is famous not only for its architecture and culture remaining for the world, but also the development traces recorded by words.
Recognize Different Kinds of Chinese Medicines
On the first floor of the museum, there are numerous kinds of traditional Chinese medicine that you can have a basic understanding about the common medical materials to know their appearance and use, also differentiate high quality and low quality. In the courtyard, you can have a look at many plants for medical use.
Appreciate Traditional Pharmaceutical Process
The experienced pharmaceutical workers welcome you come and appreciate their performance, like pelleting drugs by hand, slicing medical materials in very thin pieces, etc. If you like, the friendly workers will teach hand by hand that you can experience how incredible the traditional processing skills are.
Museum of Traditional Chinese Medicine
Know Different Kinds of Chinese Medicine
Watch Traditional Pharmaceutical Processing Performance
Hu Qing Yu Tang Pharmacy
Hu Qing Yu Tang Pharmacy is the place for people to try the pharmaceutical tools and buy some daily health care Chinese medicine. It is like the living classroom to give an excellent lesson about Chinese medicine.
Know Objective about Hu Qing Yu Tang
There are some plaques and many carvings to decorate in this old and well-designed building. Among them, the most famous plaque is "Refraining from Cheating". When Hu Xue Yan first founded Hu Qing Yu Tang, he personally inscribed "Refraining from Cheating" to tell his staff "the medicine is crucial for people' life, and no cheating when do business with customers". Another famous plaque is "True Quality with No Compromising Price", telling customers that they never cheat them and all the medicines sale based on the qualified price. And also, the plaque "Art of Humaneness" shows Hu Qing Yu Tang is running for the benefit of the people. After more than 140 years' business, Hu Qing Yu Tang has been always keeping these objectives, assured customers to buy any medicines.
Watch Pharmacist Making Up the Prescriptions
In the pharmacy, there are many medicinal materials, like cordyceps sinensis, American ginseng, ginseng, cubilose, snow lotus, Chinese angelica, gastrodia elata, codonopsis pilosula, etc. presented on the count. Every day, there are many customers to buy medicines. On the count, you can have a close look at the experienced pharmacists making up the prescriptions and get a little knowledge about what to do for daily health care to strengthen their body. If you like, you can buy some medicinal materials on your own.
Appreciate Exquisite Carvings and Antique Architecture
The shape of Hu Qing Yu Tang is like a crane perched at the foot of Wushan Hill which means "longevity". While, the pharmacy is the well-preserved late Qing Dynasty architectural complex which is in the style of Hui. The hall of the pharmacy is grand and elegant built with camphor wood decorated with exquisite carvings. The painting of Hu Xue Yan is hanging in the middle of the hall with couplet on both sides. The whole building gives you a sense of calmness, mystery and spirituality.
Recommended Hu Qing Yu Tang Tour Packages:
☛ 3 Days Classic Hangzhou Tour (at Leisure Pace)
G20 Summit Leaders visited Hu Qing Yu Tang
G20 Summit Leaders' wives Learnt Chinese Medicine
Grand Hall of Hu Qing Yu Tang Pharmacy
Hu Qing Yu Tang Clinic
For those travelers who are interested in Chinese medical care, you can experience Tui Na massage, cupping and other traditional way to relax your body and dredge your meridians. If you want a professional doctor feel your pulse and create your own prescriptions, you should get registered and wait for your time to see the doctor. The experienced doctors will carefully feel your pulse and tell what is going with your body and then, she or he will give your own prescriptions. After that, you should pay for the medicine and wait to get your materials (in half an hour). If you have any trouble of your body, it will be an amazing experience taken care by the professional Chinese doctors in Hu Qing Yu Tang.
Enjoy a Massage in Hu Qing Yu Tang Clinic
Know Deep about Hu Xueyan
Hu Xueyan (胡雪岩, 1823~1885), also known as Hu Guangyong, was a notable red-topped hat businessman in China during the late Qing Dynasty.
Born in 1823 in Jixi County, Anhui Province, and he moved to Hangzhou when he was 14 years old. At the beginning, he was apprenticed to a private bank which would later become the foundation of his Fukang Bank. In his life, he was active in banking, Chinese medicine, shipping and real estate. Hu Xueyan is most notable for being the only person of the merchant class in the Qing Dynasty to be awarded a red-topped hat, a rank indicating an officer of second grade. Though he finally filed for bankruptcy in 1884, his best known contribution that still stands to this day is the medicinal hall – Hu Qing Yu Tang which he insisted on uncompromising quality in medicine, ethical treatment of customers and cheap healthcare. Hu died of depression at the age of 62.
Popular Hu Qing Yu Tang + Hangzhou + Suzhou Tour Package:
Hu Xueyan (胡雪岩,1823~1885)
Location & How to Get There
Hu Qing Yu Tang is located at the center of Hefang Street which is very easy to find when stroll along this street. It is adjacent to many tourist spots, like Hangzhou Museum, Southern Song Dynasty Street, Drum Tower, Former Residence of Hu Xueyan and "Heavenly Wind over Wushan Hill". Furthermore, it is just about 2 kilometers from east side of West Lake.
Independent Travel:
Travelers can take metro line 1 to get off Anding Road Station and walk about 1.5 kilometers to Hu Qing Yu Tang;
Take buses No.8, 25, 31, 34, 35, 40, 59, 60, 206, 208, 212, 216, 404 and more to get off at Wushan Stop and walk about 600 meters to Hu Qing Yu Tang.
Click to Enlarge the Location Map of Hu Qing Yu Tang
Travel with China Discovery (Recommended):
If you want to get rid of hustle of public transportation and troublesome navigation, you can take a private tour package which covers sightseeing, night shows and activities, dining and transfer from us. Our local tour guide and driver will escort you to Hu Qing Yu Tang and Hefang Street with speed and convenience, and take care of all the details. You just need to focus on sightseeing.
If you have more questions about Hu Qing Yu Tang, please feel free to contact us and our professional travel consultants are here ready to help!
Useful Travel Tips
1. Free Presentation in the Museum of Traditional Chinese Museum
Hu Qing Yu Tang has its own staff to give free explanation about the museum of traditional Chinese museum at 09:15, 10:15, 13:15, 14:15 and 15:15. It offers both Chinese and English presentation. If you are interested in the explanation, you can come at the right time.
2. Time for Traditional Pharmaceutical Process
The time for the performances is not fixed and the pharmaceutical workers will show their skill when travelers come into the workshop.
3. Taste Healthy Herb Tea for Free
In the pharmacy, Hu Qing Yu Qing offers every customer to enjoy seasonal healthy herb tea for free. You can get it with plastic cup they provided and enjoy it on the bench.
How to Plan a Hangzhou Tour
Things to Do in Hangzhou: West Lake, Lingyin Temple, Longjing tea Plantation, Hefang Street, Xixi National Wetland Park, China National Tea Museum, China National Silk Museum…
How to Get to Hangzhou: International flights from Singapore (5 hrs.), Seoul (6.5 hrs.), etc., domestic flights from Guangzhou (2 hrs.), Beijing (2 hrs.), etc., or high speed trains from Shanghai (1~2 hrs.), Suzhou (1.5~3 hrs.), Huangshan (1.5~2 hrs.), etc.
Best Time to Visit Hangzhou: all year around
Usually, visitors spend 2 days around to enjoy a classic Hangzhou tour to visit the West Lake Scenic Area, including the amazing West Lake, Lingyin Temple, Longjing Tea Plantations, etc. If you want an in-depth Hangzhou tour, you can also pay another half day or so to visit Xixi National Wetland Park, one day around to Beijing-Hangzhou Grand Canal, or one day or so to Thousand Islands Lake, etc. Check all Hangzhou Tours >>
☛ 2 Days Essence of Hangzhou Tour
☛ 3 Days Classic Hangzhou Tour Plus Tea Plantation Exploration
Also, you can spend 1 day to take a side trip to the nearby water towns like Wuzhen and Xitang in Jiaxing, 2~3 days to Putuoshan - one of the four sacred Buddhist Mountains in China, or 1 day to the popular Nanxun Old Town in Huzhou. Check more about Zhejiang Tours >>
☛ 3 Days Best Hangzhou Tour with Wuzhen Water Town
Besides, compared with just travelling Hangzhou, most of the visitors prefer to travel the metropolis Shanghai, Suzhou Gardens and Hangzhou Lakes in One Go! Such an amazing tour will take 5~6 days.
☛ 3 Days Hangzhou & Suzhou Beauty Tour by High Speed Train
☛ 5 Days Shanghai Hangzhou Suzhou Highlights Tour
Some visitors also ride a high speed train to Huangshan to visit the world-famous Yellow Mountain. A Hangzhou Huangshan tour needs about 5 days around.
☛ 5 Days Yellow Mountain Tour from Hangzhou
Have your preferences? Please feel free to tell us your likes and let our professional travel consultants customize a personal tour for you!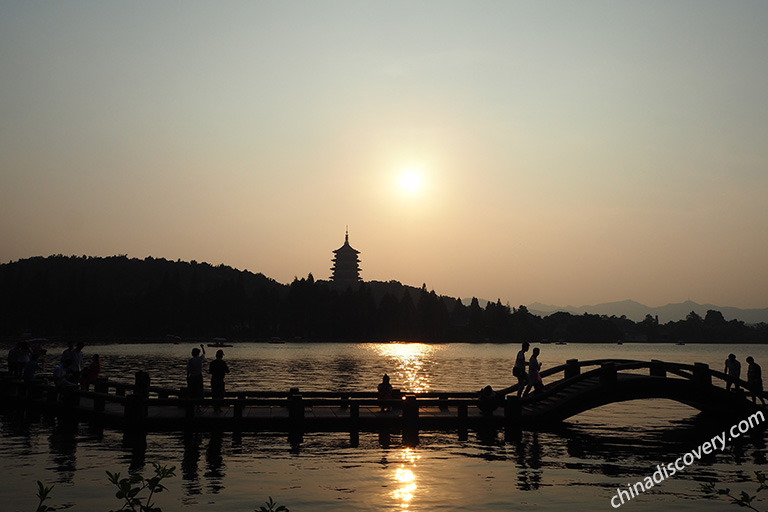 Hangzhou West Lake Summer Sightseeing
Our Customers visited Meijia Dock Longjing Tea Plantation, Hangzhou
Get Inspired by Real Travel Stories of Our Customers
Since 2012, we China Discovery have helped numerous customers to visit Hangzhou and surroundings. With our fully-inclusive private tour packages, all of our customers enjoyed their trips to the West Lake, Lingyin Temple, etc. Some of them kindly shared their precious photos and stories about their Hangzhou journey, just get inspired now.
"Impression Show is a must see when visiting Hangzhou…" - shared by Nguyen (Read her entire travel story: The Pursuit of Natural Beauty with the Beloved one - 14 Days Beautiful China Exploring Tour)
"This last night in Hangzhou led us to explore a different side of West Lake, vastly changing our erstwhile bland impression of the famed tourist site…" - shared by CS from Singapore (Read her entire travel story: Delightful Journey to Poetic Jiangnan Area)
Besides the wonderful travel stories, many customers who visited Hangzhou with China Discovery also send us their first-hand feedbacks about their trip, feel free to read the Hangzhou Reviews and learn what they say about their experience. If you want to start your Hangzhou tour now, don't hesitate to contact us.
More about Zhejiang Travel Guide
Recommended Hangzhou Tours
Top 3 Hangzhou tours chosen by most customers to explore Hangzhou in the best way. Check the detailed itinerary, or tailor your own trip now with us.
Start planning your tailor-made holiday to China by contacting one of our specialists. Once inquired, you'll get a response within 0.5~23.5 hours.
Customize a Trip
Have a question? Get answers from our travel experts or guests
Your Question:

Your Name:

Your Email: