Why Visit Hefang Street
Hefang Street, once called Taiping Street, dates back to the time South Song Dynasty when Hangzhou was the capital city. In 1152, General Zhang Jun (张俊) was conferred the title of as was "Qinghe County King". In order to highlight his high status, Zhang Jun began to build his mansion around Taiping Street. People called this site as Qinghe Fang and renamed Taiping Street as Hefang Street. In South Song Dynasty, Hefang Street has been a rather prosperous business site and the center of culture and politics. It is said that Zhang Jun once invited to Emperor Gaozhong to have an unprecedented feast of China's history in Qinghe Street and the menu came down and became today's Hangzhou Dishes.
Nowadays, Hefang Street is the most famous and the only well-preserved ancient street in Hangzhou. It represents the old story and showcases the folk culture of Hangzhou. The cobbled street is lined with lots of time-honored stores from which you will get a better understanding of ancient Hangzhou and Ancient China. You could explore the traditional Chinese Medicine Culture, enjoy the delicate handicrafts, taste the delicious Hangzhou dishes...
What to See & Do at Hefang Street
Feeling Traditional Chinese Medicine Culture
Interested in magic Chinese Medicine Culture? Hefang Street is the first option for tourists in Hangzhou. Just in ancient time, many Chinese medicine halls were set up in Hefang Street, and some of them still survived. Now, you can explore traditional chinse medicine culture in Hu Qing Yu Tang, Yezhongde Tang (叶种德堂), Baohe Tang, Fanghuichun Tang.
Hu Qing Yu Tang (胡庆余堂): Being built in 1874 by Hu Xueyan, Hu Qing Yu Tang is an herbal medicine shop as well as a museum of traditional Chinese medicine. It is a well-preserved business architectures group of late Qing Dynasty. Entering this majestic building, you can see the great hall, exquisite carvings and its unique layout. Covering an area of over 4,000 square meters, Apart from the style and feature of ancient architectures, it is also available to read the essence of Chinese medicine treasure, learn many anecdotes of some celebrated Chinese doctors, experience the pharmaceutical technology in person if you are interested in. Being insisted on the concept of "kind deeds, excellent goods at reasonable price and never cheat", Hu Qing Yu Tang has long been respected and praised by local people.
Baohe Tang (保和堂): It is said that Baohe Tang is an herbal medicine shop with more than one thousand years. According to the legendary, Xu Xian (许仙) was an apprentice in Baohe Tang when he met Madam White Snack (白娘子) in the West Lake. So you can find a bronze statue of Xu Xian in near the gate of Baohe Tang. In fact, Baohe Tang enjoys a high prestige among Qinghe Fang because the doctors in Baohe Tang always cured the disease for poor people free. At the end of Qing Dynasty, Baohe Tang declined for the growing prosperity of Hu Qing Yu Tang. Today's Baohe Tang is new built, and medicinal liquor and medicinal tea are on offer.
Visiting Interesting Museums
Hefang Street is equipped many interesting museums or theme exhibition halls. Visiting these museums enables you have a deep touch with Hangzhou art and Hangzhou culture. Besides Zhu Bingren Copper Sculpture Museum and Guanfu Museum, Rongbaozhai (荣宝斋) – an art gallery exhibiting paintings from Ming and Qing Dynasties and Ancient Ceramics Museum (古陶瓷博物馆) deserve seeing as well.
Zhu Bingren Copper Sculpture Museum (朱炳仁铜雕艺术博物馆) :Zhu Bingren Copper Sculpture Museum is the only museum focusing on copper sculpture in China. Occupying about 3,000 square meters, the whole museum shows a Jiangnan style in Ming and Qing Dynasty. Except for the wall and the floor, other building structure and furniture are all made by copper structure or decorated with copper, totally costing 56 ton of copper, so it is also honored as Jiangnan Copper House. Entering this museum, you can feel the strong copper culture and these beautiful copper paintings, copper calligraphies, copper murals and copper statues will really fest your eyes and give you a surprise.
Admiring Elegant Handicrafts
Handicrafts are a big label of Hangzhou. In fact, Hangzhou is not the capital of South Song Dynasty, but a "capital" of knives, scissors, umbrellas and fans. Luckily, you can see not only these four products (quite different from the ordinary ones), but more in Hefang Street. Stores of Wangxingji Fans (王星记扇), Zhang Xiaoquan Scissor (张小泉剪刀) are both there. Most recommended place to watch handicrafts are as follows.
Midachang Store (宓大昌烟店): Midachang Store is a shop and exhibition hall of tobacco where you can have a sight of the history and culture of tobacco and smoking set. In the center of the main hall, there is a huge tobacco stem with a weight of 102.5 kilograms and height of 5.06 meter. It is available for cigarette. In the exhibition hall, smoking set of different district and different periods are on display. You can see an eburnean hand-shaped cigarette pipe which means victory, bass cigarette pipe from Tibet, a great number of fine hookahs.
Wuyue Family (吴越人家): Wuyue Family in Hefang Street is a hot shop for selling some articles of daily use and clothing supplies which are made by blue cloth with design in white. This cloth is also called Medicine Spot Cloth. It is weaved with pure cotton obtained from indigo plants. This amazing and elegant design is loved by many tourists, and most people like to buy some souvenirs here. You get an opportunity to watch the process of spinning, weaving and embroidering. On the exhibition hall, you can admire these delicate clothes and quilt series.
Visiting Celebrities' Former Residence
A Chinese old saying goes like that "outstanding people are always developed in good place" and Hangzhou is such a good place. In Hefangjie, there are three celebrities' former residence are open to public, including Hu Xueyan's Former Residence, Yu Qian's Former Residence and Yu Dafu's Former Residence.
Hu Xueyan' Former Residence (胡雪岩故居): Hu Xueyan was born in a poor family, but he bore good character. As Hu Xueyan set up Hu Qing Yu Tang, his business developed well. In his career peak, he built his mansion. Combining the traditional Chinese feature and western architecture style, this mansion shows a magnificence and creativity. Pavilions, towers, rockeries, bridges and corridors make Hu Xueyan's Former Residence as a large garden. Wood carvings, stone carvings, calligraphy and paintings add much enjoyment to this large garden.
Yu Qian's Former Residence (于谦故居): Yu Qian is a famous official and a national hero in Ming Dynasty. His devotion to country and people make him well-known in China. Compared with Hu Xueyan's Former Residence, Yu Qian's Former Residence is much simple and unadorned. As you step into the yard, you will have a panoramic view of the whole residence, one tablet, one well, one room, one hall, one pool and two pavilions. One household poem of Yu Qian is carved in the screen wall, which suggests his braveness and integrity.
Savoring the Exquisite Art
Countless roadside markets on two sides of Hefang Street can give you great fun as well. No matter in daytime or night, colorful candies, sugar paintings funny handicrafts, lively figurines, tasty snacks, and sweet beverage are all waiting for you to choose. Purchasing some as a gift to friends and family or just strolling on the busy street, tourists can feel the delight and kindness of local people.
Hefang Street Nearby Attraction
South Song Imperial Street (南宋御街) used to be a paramount street during South Song Dynasty. As its name suggests, this street came into shape in South Song Dynasty. In every three years, the emperor would offer sacrifice to the ancestors and the heaven, and South Song Imperial Street was for the emperor exclusively. Because of its special location (near imperial palace), it once was a flourishing street with millions of stores and entertainment venues. Nowadays, South Song Imperial Street is a noted food street in Hangzhou. It is especially famous for its night market which offers all sorts of snacks from different parts of China. When the night falls, South Song Imperial Street turns to a food paradise which makes you hard to leave.The largest Masjid – Fenghuang Temple and the Halal restaurant owned by the temple are both located in South Song Imperial Street, you can have a visit.
>> 2 Days Essence of Hangzhou Tour
>> 3 Days Hangzhou Nature and Culture Tour
Panoramic View of Hu Qing Yu Tang
Antique Flavor of Ancient Building in Hu Qing Yu Tang
The Front Gate of Baohe Tang & Statue of Xuxian
Bright Decoration in Jiangnan Copper House
Huge Smoking Pipe in Midachang Store
Workers in Wuyue Family
Garden-like Hu Xueyan's Fomer Residence
Peaceful Yuqian's Fomer Residence
Long Ice Slide
Delicate Handicrafts in the Roadside Maket
Hefang Street Location & Transportation
Hefang Street is located in the west part of Hangzhou city, and can be reached conveniently.
3 km from West Lake, 20 min's walk from the Willows Park
8 km from Hangzhou East Railway Station, 20 min's driving
10 km from Lingyin Temple, 30 min's driving
Metro Line 1 will have a stop in Dingan Road which is about 1 km from Hefang Street. With 10 min's walk, you can get to Hefang Street.
Travel Hefang Street with China Discovery
If you want to get rid of hustle of public transportation and troublesome navigation, you can book a private tour package which covers sightseeing, dining and transfer from us. Our local tour guide and driver will escort you to Hefang Street with speed and convenience, and take care of all the details. You just need to focus on sightseeing.
Hefang Street Location Map
Warm Traveling Tips of Hefang Street
Accommodation – There are enough starred hotels in around Hefang Street, like Sofitel, Shangri-La Hotel, Xizi Hotel etc. which are equipped with well-designed rooms and great service. Some basic but comfortable hotels are also available.
Food & Drinking – In Hefang Street, you can satisfy your stomach with tasty local food. At far end of Hefang Street are many stalls for street foods like crabs, squids, stinky tofu, BBQ, cool noodles and so on. There is a 140-year-old teahouse called Taiji Teaism where people like to have a cup of tea, listen to the popular tune and enjoy the performance of tea-brewing. Don't miss it.
Best Time – All seasons are available to visit Hefang Street. The view is different between daytime and night. In day time, you can have a clearer sight of these old shops and museums. At night, Hefang Street offers you a better view with the red lanterns.
How to Plan a Hangzhou Tour
Things to Do in Hangzhou: West Lake, Lingyin Temple, Longjing tea Plantation, Hefang Street, Xixi National Wetland Park, China National Tea Museum, China National Silk Museum…
How to Get to Hangzhou: International flights from Singapore (5 hrs.), Seoul (6.5 hrs.), etc., domestic flights from Guangzhou (2 hrs.), Beijing (2 hrs.), etc., or high speed trains from Shanghai (1~2 hrs.), Suzhou (1.5~3 hrs.), Huangshan (1.5~2 hrs.), etc.
Best Time to Visit Hangzhou: all year around
Usually, visitors spend 2 days around to enjoy a classic Hangzhou tour to visit the West Lake Scenic Area, including the amazing West Lake, Lingyin Temple, Longjing Tea Plantations, etc. If you want an in-depth Hangzhou tour, you can also pay another half day or so to visit Xixi National Wetland Park, one day around to Beijing-Hangzhou Grand Canal, or one day or so to Thousand Islands Lake, etc. Check all Hangzhou Tours >>
☛ 2 Days Essence of Hangzhou Tour
☛ 3 Days Classic Hangzhou Tour Plus Tea Plantation Exploration
Also, you can spend 1 day to take a side trip to the nearby water towns like Wuzhen and Xitang in Jiaxing, 2~3 days to Putuoshan - one of the four sacred Buddhist Mountains in China, or 1 day to the popular Nanxun Old Town in Huzhou. Check more about Zhejiang Tours >>
☛ 3 Days Best Hangzhou Tour with Wuzhen Water Town
Besides, compared with just travelling Hangzhou, most of the visitors prefer to travel the metropolis Shanghai, Suzhou Gardens and Hangzhou Lakes in One Go! Such an amazing tour will take 5~6 days.
☛ 3 Days Hangzhou & Suzhou Beauty Tour by High Speed Train
☛ 5 Days Shanghai Hangzhou Suzhou Highlights Tour
Some visitors also ride a high speed train to Huangshan to visit the world-famous Yellow Mountain. A Hangzhou Huangshan tour needs about 5 days around.
☛ 5 Days Yellow Mountain Tour from Hangzhou
Have your preferences? Please feel free to tell us your likes and let our professional travel consultants customize a personal tour for you!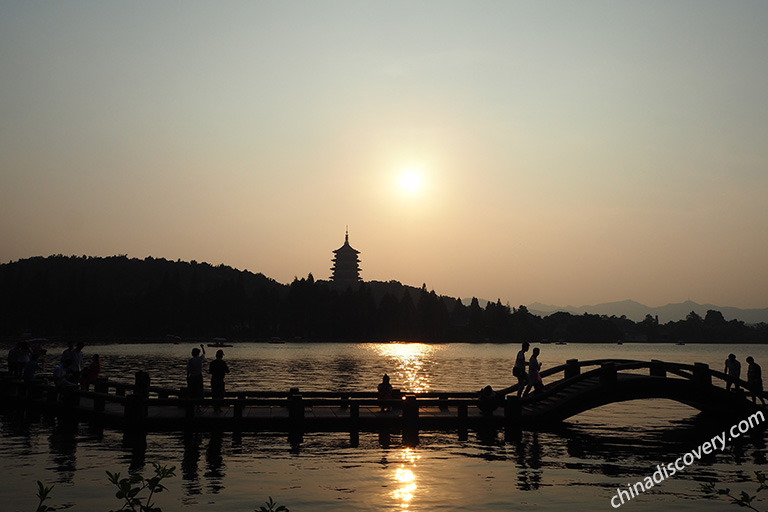 Hangzhou West Lake Summer Sightseeing
Our Customers visited Meijia Dock Longjing Tea Plantation, Hangzhou
Get Inspired by Real Travel Stories of Our Customers
Since 2012, we China Discovery have helped numerous customers to visit Hangzhou and surroundings. With our fully-inclusive private tour packages, all of our customers enjoyed their trips to the West Lake, Lingyin Temple, etc. Some of them kindly shared their precious photos and stories about their Hangzhou journey, just get inspired now.
"Impression Show is a must see when visiting Hangzhou…" - shared by Nguyen (Read her entire travel story: The Pursuit of Natural Beauty with the Beloved one - 14 Days Beautiful China Exploring Tour)
"This last night in Hangzhou led us to explore a different side of West Lake, vastly changing our erstwhile bland impression of the famed tourist site…" - shared by CS from Singapore (Read her entire travel story: Delightful Journey to Poetic Jiangnan Area)
Besides the wonderful travel stories, many customers who visited Hangzhou with China Discovery also send us their first-hand feedbacks about their trip, feel free to read the Hangzhou Reviews and learn what they say about their experience. If you want to start your Hangzhou tour now, don't hesitate to contact us.
More about Zhejiang Travel Guide
Recommended Hangzhou Tours
Top 3 Hangzhou tours chosen by most customers to explore Hangzhou in the best way. Check the detailed itinerary, or tailor your own trip now with us.
3 Days Best Hangzhou Tour with Wuzhen Water Town

Hangzhou / Wuzhen
Start planning your tailor-made holiday to China by contacting one of our specialists. Once inquired, you'll get a response within 0.5~23.5 hours.
Customize a Trip
Have a question? Get answers from our travel experts or guests
Your Question:

Your Name:

Your Email: