Brief Introduction about China National Silk Museum
Newly reopened in July 2016, China National Silk Museum (short for CNSM), located at the south side of West Lake in Hangzhou, is not only the first state-level specialized silk museum in China, but also the largest silk museum in the world at present.
China National Silk Museum displays about 5000 years silk history and culture which is regarded as an educational and amazing window for travelers to have a better understanding about Chinese silk and the Silk Road and have a new respect and appreciation for Chinese and Western silk art and fashion.
Besides, China National Silk Museum has very elegant environment – graceful architectures stretching on the green grasslands, different kinds of flowers blooming, water gurgling, birds singing...bringing you a fresh and comfortable visit while learn about the silk creation.
Silkworm Reeling & Sericulture Presentation
Best China National Silk Museum Tours:
Featured China National Silk Museum Exhibition Halls & Highlights
Covered about 25,000 sq.m.,China National Silk Museum consists of six main parts – "The Story of Chinese Silk", "Sericulture and Silk Craftsmanship in China", "An Evolution of Fashion: Chinese Costume from 1920s to 2010s", "From Rural to Urban: 400 Years of Western Fashion", "Textile Conservation Gallery" and "Xinyou Archive Center".
Better Know the History of Chinese Silk & the Silk Road
China, the home of silk, is the earliest country raising silkworms and weaving silk. It was known to the ancient Greeks and Romans as "seres" (丝国). In this exhibition hall "The Way of Chinese Silk: Silk History and the Silk Road", travelers can know Chinese Silk vividly through 5000 years' history and spread through the Silk Road. On the second and third floor, it displays precious materials of different times from prehistoric era (5000 years ago) to Ming (1368~1662) and Qing (1636~1912) Dynasties.
Have Basic Understanding about Sericulture and Silk Craftsmanship
Sericulture and silk technology originated in China, and has since served as a cultural symbol of the Chinese nation. "Sericulture and Silk Craftsmanship in China" was awarded a place on the "Representative List of the Intangible Cultural Heritage of Humanity" by UNESCO on September 28, 2009. This exhibition displays every aspect of sericulture and silk craftsmanship, including mulberry cultivation, silkworm breeding and silk reeling, dyeing, weaving and the relevant customs.
Witness An Evolution of Fashion from 1920s to 2010s
This "An Evolution of Fashion: Chinese Costumes from 1920s to 2010s" exhibition hall is like a huge wardrobe of any Chinese women. Travelers can view exquisite clothes from 1920s to 2010s, ranging from Qi-pao which recognized as the most representative of Chinese women's costumes and presented the graceful shape and unique charms of Chinese women, to Chinese tunic suit which is traditionally known as Zhongshan suit, to China's fashion design to integrate with the global trends…In this exhibition, you can have a vivid view of the process of change in Chinese fashion throughout the century to present achievements of Chinese fashion.
Appreciate 400 Years of Western Fashion
In the exhibition hall "From Rural to Urban: 400 Years of Western Fashion", travelers can appreciate major fashion in the Western world during the past four hundred years. The first hall of the exhibition concentrates on European fashion from 1600 to 1800. In the second half of the exhibition, starting in the second half of 20th century. You can view 17th century Baroque Dress, 18th century Robe Volante, Polish Dress, PANEA Dress and 19th century Jane Austen Dress, Bustle, etc. In 20th century, there were many costumes from excellent designers, like Jeanne Lanvin, Gabrielle Bonheur Chanel, Christian Dior, Cristobal Balenciaga, Hubert DeGivenchy, Pierre Balmain, etc. Besides the dresses, you can take a glance at the change of shoes, handbags, jewelry, make-up utensils.
Pay a Visit to Textile Conservation Gallery
The Textile Conservation Gallery is the demonstrative application base of Innovation Alliance in National Cultural Relics Conservation Scientific and Technological Area (Zhejiang Province). In this gallery, travelers can not only have a look at the whole restoration of cultural textiles, but also enjoy the relics after restoration.
Take a Glance at Xinyou Archive Center
The Xinyou Archive Center is a textile information center named after Zhu Xinyu and Jiang Youlong, two important predecessors in the textile industry. Travelers can learn many knowledge from samples of modern fabrics, precious personnel archive, historical newspapers, books and audio materials at home and abroad concerning silkworm breeding and silk reeling, the history of silk, dyeing techniques, the history of garment, textile archaeology and the Silk Road.
Dragon Robes in Qing Dynasties (1636~1912)
All Kinds of Loom for Silk Weaving
Qi-pao, the most representative of Chinese women's costumes
18th century Western Fashion
Silk Restoration in Textile Conservation Gallery
In-depth Knowledge about Chinese Silk History
The Prehistoric Era - the Origins of Sericulture. The excavated remnants of sericulture, discovered in archaeological sites along the Yellow River have shown concrete evidence that, as early as 5000 years ago, people living there have accomplished the domestication of the wild silkworm and the invention of tools for reeling, spinning and weaving of silk fivers after a long, slow and arduous process of experimentation and discovery.
The Period of Warring States, Qin and Han Dynasty – Classical Silk Manufacture in China. During these seven centuries, unprecedented advances took place in sericulture technology and scale, and the importance of silk in Chinese grew significantly. The breeding of silkworms, cultivation of mulberry trees and invention of looms in which foot operated treadles controlled the warp to allow the insertion of weft threads, as well as pattering looms in which "pre-programmed" patterns could be reproduced coalesced in the classical system of Chinese silk production.
The Period of Wei, Jin and Southern and Northern Dynasties - A Turn of the Silk Road. During this time, the China and Japan had frequent interaction and Japanese came to Zhejiang and Jiangsu Provinces to purchase some silk and invite craftsmen to Japan to teach craftsmanship.
The Period of Sui, Tang and the Five Dynasties - Diverse and Inclusive. It has played a key role in the development of Chinese silk. The government set up specialized institution to manage the quality, standard and style of silk. The silk trade became flourishing through the Land Silk Road and the Maritime Silk Road and also silk breeding, reeling, weaving skills spread far and wild.
The Period of Song, Yuan, Liao and Jin Dynasty - Difference between the North and South. For the chaos in the late Song, the silk industry suffered a serious defeat in the north, while it development quickly in the south. The silk production center transformed to Southeast coastal area.
The Period of Ming and Qing Dynasties – The Feudal Ritual. In the Ming Dynasty, men wore robes with round collars, right opening and wide sleeves. In the Qing Dynasty, men wore short "Mandarin" jackets over long robes, and Manchu women wore qifu robes and some long enough to reach the ground. During the Ming and Qing Dynasties, Han Chinese women continued to wear traditional tops and skirts. During these periods, not only clothing, but even articles used in daily life by aristocrats and commoners alike were decorated with patterns and motifs signifying good fortune, happiness, longevity, large families and other auspicious concepts. This customs embodies the desire for a healthy and happy life, a key element of traditional culture in ancient China.
Recommended China National Silk Museum Tour Package: ☛ 2 Days Hangzhou and Xitang Water Town Tour
Silk Blouse in Taffeta with Tie Dye Pattern (L72cm, W192cm, Northern Dynasties. 386-581 A.D)
Blue Wax-resist Dyed Tabby with Flowers (L78cm;W51cm, Tang dynasty 618-970 A.D)
Polychrome Embroidered Manchurian Dress (L138cm, W124cm, Qing Dynasty. 18th-19th centuries)
China National Silk Museum Location & How to Get There
China National Silk Museum is located at Yuhuangshan Road which is on the south side of Hangzhou West Lake, close to Leifeng Pagoda, Changqiao Bridge Park, Colored Port View Fish Garden, Prince Bay Park, etc.
Distance from Main Tourist Spots of Hangzhou:
About 1.2 kilometers from West Lake
About 2 kilometers from Su Causeway & Leifeng Pagoda
About 5.2 kilometers from Broken Bridge & Bai Causeway
About 3 kilometers from Hefang Street
About 8 kilometers from Liuhe Pagoda
Click to Enlarge the Location Map of China National Silk Museum
Get to/off China National Silk Museum
Independent travelers can take taxi, bus, or bicycle to reach China National Silk Museum. If you take taxi from your hotel, it may take 15 minutes. Also, you can take bus No. 4, 12, 42, 51, 52, 87, 133, 334, Y6, Y2 and more to stop at Silk Museum station. If you take a bike to cycle around West Lake and its nearby attraction, you can add China National Silk Museum into your travel list which it takes about 8 minutes from Su Causeway and Leifeng Pagoda Scenic Area to China National Silk Museum.
Travel with China Discovery (Recommended):
If you want to get rid of hustle of public transportation and troublesome navigation, you can take a private tour package which covers sightseeing, night shows and activities, dining and transfer from us. Our local tour guide and driver will escort you to China National Silk Museum with speed and convenience, and take care of all the details. You just need to focus on sightseeing.
Useful China National Silk Museum Travel Tips
1. Opening Hours
Unlike other museums, China National Silk Museum opens from Mondays to Sundays. On Monday, it opens at 12:00~17:00 and 09:00~17:00 for national holidays; and on Tuesdays to Sundays, it opens at 09:00~17:00. Exhibition halls are cleared fifteen minutes before closing. Textile Conservation Gallery is closed during Weekends and National Holidays.
2. Free Docent Appointment
Travelers can make a reservation for free explanation about this silk museum. It is available from Monday (12:00~17:00) to Sunday (09:00~17:00). If you want to make it on your own, you can call at +86 0571-87035223. Or, if you want any help from China Discovery, please feel free to tell us.
3. Audio Guide Device
The museum provides travelers with digital audio tour for free. Both Chinese and English languages are available. Travelers should show your ID card or passport card and fill the registration form of audio tour use. 200 RMB of guarantee deposit is needed for each device and it would be returned after the device returned in its original condition.
4. Exhibition of International Silk
In the Fashion Hall, there are 197 pieces of silk exhibits from Tokyo National Museum, South Korea's National Palace Museum, Russia's National Museum of Oriental, etc. This exhibition lasts for 3 month till December 05, 2016. If there is any other changes, we'll update timely.
5. Textile Training Experience
China National Silk Museum has set up Textile Training Center which offers the professional courses related to dyeing, weaving, embroidering and plaiting. Travelers can come to "Textile Training Center" to learn weaving techniques in relaxing atmosphere and experience fun of weaving.
6. Silk Product Purchase
There is a service center for travelers to take a rest and buy some silk products. All the silk products are guaranteed to be genuine.
Textile Training Demonstration Area
World of Silk Exhibition
Tourist Service Center
How to Plan a Hangzhou Tour
Things to Do in Hangzhou: West Lake, Lingyin Temple, Longjing tea Plantation, Hefang Street, Xixi National Wetland Park, China National Tea Museum, China National Silk Museum…
How to Get to Hangzhou: International flights from Singapore (5 hrs.), Seoul (6.5 hrs.), etc., domestic flights from Guangzhou (2 hrs.), Beijing (2 hrs.), etc., or high speed trains from Shanghai (1~2 hrs.), Suzhou (1.5~3 hrs.), Huangshan (1.5~2 hrs.), etc.
Best Time to Visit Hangzhou: all year around
Usually, visitors spend 2 days around to enjoy a classic Hangzhou tour to visit the West Lake Scenic Area, including the amazing West Lake, Lingyin Temple, Longjing Tea Plantations, etc. If you want an in-depth Hangzhou tour, you can also pay another half day or so to visit Xixi National Wetland Park, one day around to Beijing-Hangzhou Grand Canal, or one day or so to Thousand Islands Lake, etc. Check all Hangzhou Tours >>
☛ 2 Days Essence of Hangzhou Tour
☛ 3 Days Classic Hangzhou Tour Plus Tea Plantation Exploration
Also, you can spend 1 day to take a side trip to the nearby water towns like Wuzhen and Xitang in Jiaxing, 2~3 days to Putuoshan - one of the four sacred Buddhist Mountains in China, or 1 day to the popular Nanxun Old Town in Huzhou. Check more about Zhejiang Tours >>
☛ 3 Days Best Hangzhou Tour with Wuzhen Water Town
Besides, compared with just travelling Hangzhou, most of the visitors prefer to travel the metropolis Shanghai, Suzhou Gardens and Hangzhou Lakes in One Go! Such an amazing tour will take 5~6 days.
☛ 3 Days Hangzhou & Suzhou Beauty Tour by High Speed Train
☛ 5 Days Shanghai Hangzhou Suzhou Highlights Tour
Some visitors also ride a high speed train to Huangshan to visit the world-famous Yellow Mountain. A Hangzhou Huangshan tour needs about 5 days around.
☛ 5 Days Yellow Mountain Tour from Hangzhou
Have your preferences? Please feel free to tell us your likes and let our professional travel consultants customize a personal tour for you!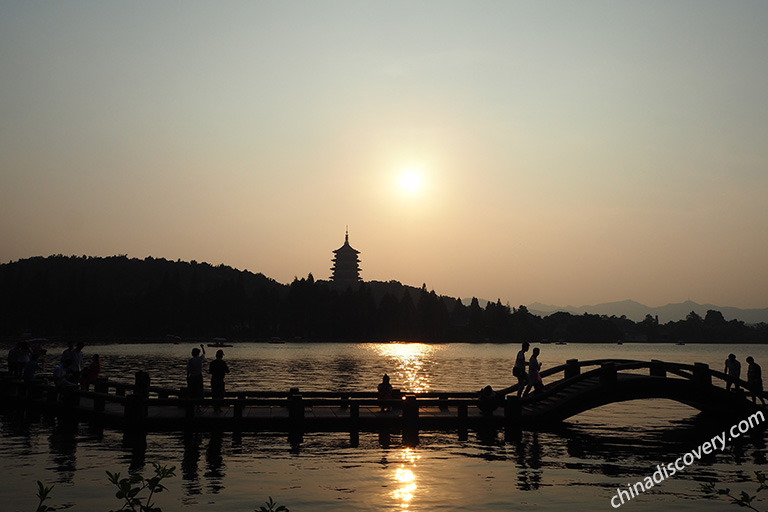 Hangzhou West Lake Summer Sightseeing
Our Customers visited Meijia Dock Longjing Tea Plantation, Hangzhou
Get Inspired by Real Travel Stories of Our Customers
Since 2012, we China Discovery have helped numerous customers to visit Hangzhou and surroundings. With our fully-inclusive private tour packages, all of our customers enjoyed their trips to the West Lake, Lingyin Temple, etc. Some of them kindly shared their precious photos and stories about their Hangzhou journey, just get inspired now.
"Impression Show is a must see when visiting Hangzhou…" - shared by Nguyen (Read her entire travel story: The Pursuit of Natural Beauty with the Beloved one - 14 Days Beautiful China Exploring Tour)
"This last night in Hangzhou led us to explore a different side of West Lake, vastly changing our erstwhile bland impression of the famed tourist site…" - shared by CS from Singapore (Read her entire travel story: Delightful Journey to Poetic Jiangnan Area)
Besides the wonderful travel stories, many customers who visited Hangzhou with China Discovery also send us their first-hand feedbacks about their trip, feel free to read the Hangzhou Reviews and learn what they say about their experience. If you want to start your Hangzhou tour now, don't hesitate to contact us.
More about Zhejiang Travel Guide
Recommended Hangzhou Tours
Top 3 Hangzhou tours chosen by most customers to explore Hangzhou in the best way. Check the detailed itinerary, or tailor your own trip now with us.
Start planning your tailor-made holiday to China by contacting one of our specialists. Once inquired, you'll get a response within 0.5~23.5 hours.
Customize a Trip
Have a question? Get answers from our travel experts or guests
Your Question:

Your Name:

Your Email: