Zhangjiajie Accommodation: Recommended Hotels & Hostels
Zhangjiajie being a top popular tourist destination in China offers diverse accommodation options from 5-star luxury hotels to 3-star budget ones for your relaxation during the trip. However, since Zhangjiajie City center and Wulingyuan Scenic Area is about 30 kilometers away (about 50 minutes by car), to stay in Zhangjiajie City or Wulingyuan Town? This is a question for most visitors when touring Zhangjiajie! That depends on your itinerary length and places to visit.
1) Stay in Zhangjiajie City: It has the starting point of Tianmen Mountain cable car for your convenient visit of the mountain. People who reach Zhangjiajie late in the afternoon can stay in the city first to have a good rest. Besides, Zhangjiajie Hehua Airport and Zhangjiajie Railway Station are very close, within 10 minutes' driving distance to the city center, which is a little far from main attractions in the city.
2) Stay in Wulingyuan Town: Located at the foot of Zhangjiajie National Forest Park, it is best to discover the forest park. Also, it is in the heart of scenic area, so visitors can feel it very easy to access most famous attractions including Zhangjiajie Grand Canyon, Baofeng Lake, Yellow Dragon Cave, etc., within short time by car.
3) Stay in Fenghuang Ancient Town: if you would like to extend to visit the nationally well-known old city, you are suggested to stay there for at least one night to admire its charming night view and slow paced life!
Check more about Where to Stay in Zhangjiajie >>
All the above 3 places offer lots of great selections for your comfortable stay! And here are our top recommended hotels in Zhangjiajie City, Wulingyuan Town and Fenghuang to help with your Zhangjiajie trip planning, please check them at below!
Best tour packages to enjoy Zhangjiajie highlights:
>> 3 Days Zhangjiajie Natural Beauty Tour
>> 4 Days Zhangjiajie Exciting Adventure with Glass Bridge
Zhangjiajie Accommodation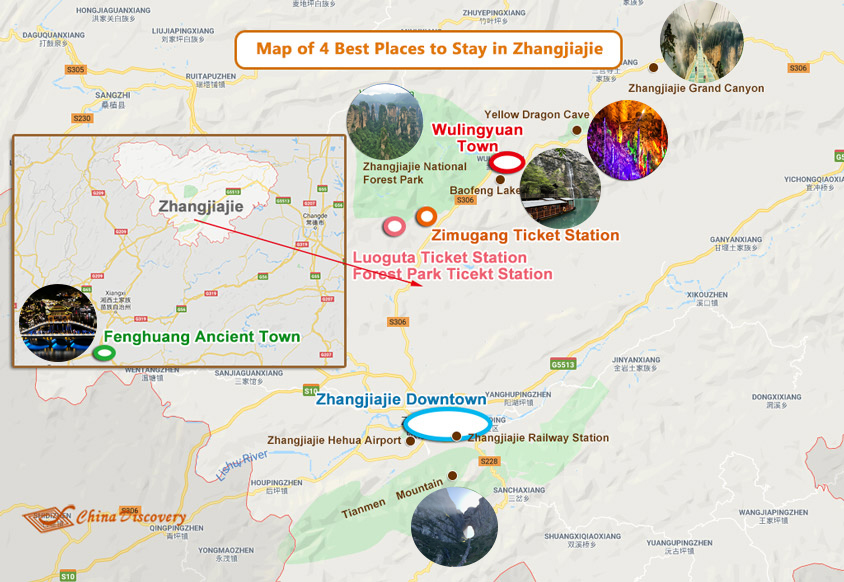 Map of Where to Stay in Zhangjiajie
Recommended Zhangjiajie Tours
Top 3 Zhangjiajie tours chosen by most customers to explore Zhangjiajie in the best way. Check the detailed itinerary, or tailor your own trip now with us.
3 Days Classic Zhangjiajie Natural Wonders Tour

Zhangjiajie