Zhangjiajie Summer: Weather, Best Things to Do in June, July & August
Zhangjiajie Summer Travel Features
Summer in Zhangjiajie is relatively long, lasting from late May or early June to August. The average temperature in downtown area ranges from 28°C (82°F) to 33°C (91°F). However, the temperature in the Wulingyuan Scenic Area is relatively lower than in downtown area, because of the thick forests there. Meanwhile, rain is very common with 10 to 15 days of precipitation per month. Then you are expected to see the mountains surrounded by thick mist, and they look otherworldly.
Therefore, Summer is also suitable to have a Zhangjiajie tour. You could escape far from the hot summer in other big cities by visiting Zhangjiajie National Forest Park, Tianzi Mountain, Zhangjiajie Grand Canyon, etc.
▶ Keep Reading: Zhangjiajie Weather, Climate & Best Time to Visit | Zhangjiajie Temperature | Zhangjiajie Winter Travel | Zhangjiajie Spring Travel
Zhangjiajie National Forest Park in Summer
Zhangjiajie Weather in Summer (June, July & August)
Zhangjiajie Weather in June
Zhangjiajie weather in June is generally a little hot and wet. In June, the average temperature ranges from 22℃ (71.6℉) to 31℃ (87.8℉). There are about 15 days of precipitation. You could take photos of mountains with blue and clean sky. Or you could catch the mountainous scenery covered by the clouds and mist.
Zhangjiajie Weather in July
Zhangjiajie weather in July is always hot and a little damp. July is the hottest month in a year. The average temperature varies from 25℃ (77℉) to 34℃ (93.2℉). The rainy days are about 12 days. Late June to late August is the peak season of any scenic spots, because students and teachers in China will have their summer holiday.
Zhangjiajie Weather in August
Zhangjiajie weather in August becomes drier than the former two months and remains hot. The average temperature is almost the same as in July, but its precipitation highly reduces. It is also the peak season of Zhangjiajie tour, and you need to notice that.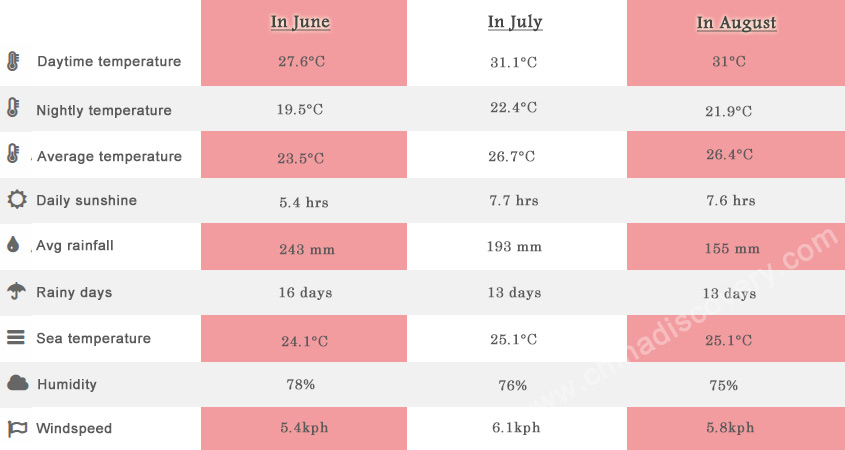 Zhangjiajie Average Daytime & Nightly Temperature in June, July, August
Top Zhangjiajie Tours Packages in Summer
Top Things to Do in Zhangjiajie in Summer
As we said before, Summer is also the peak season of Zhangjiajie travel. There are many interesting things waiting for you. Check the following top recommended things to better plan your Zhangjiajie tour in Summer!
Hike Along Golden Whip Stream to Hug the Nature
While the temperature is so high in Summer, why not return to nature in this peaceful cute valley? Golden Whip Stream is one part of your Zhangjiajie National Forest Park exploration. Most travellers praised Golden Whip Stream as the most sunning hiking path, and said it is an unforgettable scenic spot in their Zhangjiajie tour.
Golden Whip Stream meanders 7.5 km, flowing between steep grotesque peaks and luxuriant trees. While hiking along the stream, you will be fascinated by the crystal-clear stream itself, those cute wild animals, and peaks and rocks of different shapes. Then you will totally calm down in the charm of this green paradise.
Learn more about Golden Whip Stream Hiking >>
Golden Whip Stream
Take Awesome Photos of Hallelujah Mountains in Yuanjiajie
In this Summer, you are recommended to visit Wulingyuan Scenic Area to have a cooler trip. Here you could explore mountains in the world famous movie - Avatar. You must have deep impression about those floating Hallelujah Mountains in the movie, but you may not know the prototype of these mountains came from Yuanjiajie in Wulingyua.
You may regard Yuanjiajie as a mysterious "Pandora World", while catching the enchanting sightseeing of thousands of peculiar mountains standing spectacularly with distinct shapes and postures from the deep valley in front your eyes. Here you will experience how fast an elevator in the world can reach, and know how nature "builds" a stone bridge without manpower, etc.
Learn more about Yuanjiajie and How to Visit It | Avatar Mountains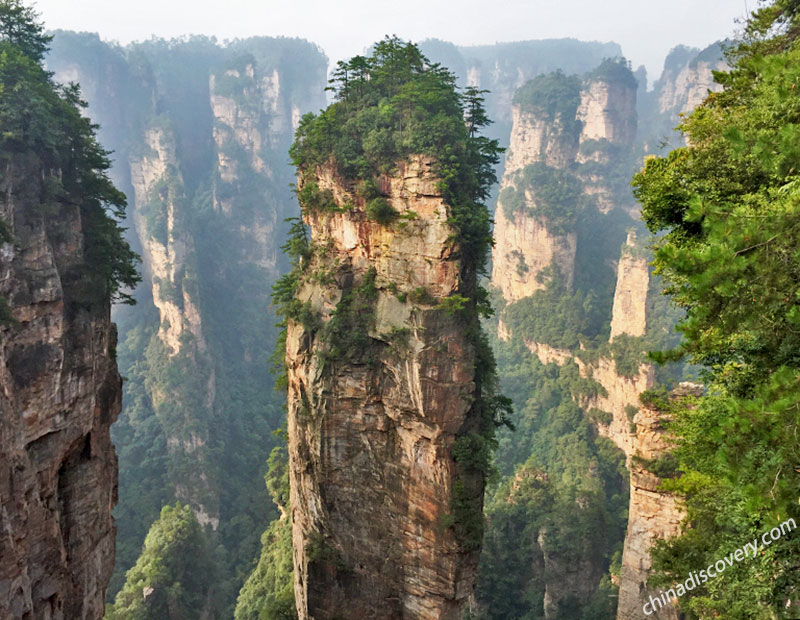 Hallelujah Mountain in Yuanjiajie Scenic Area
See the Most Stunning Peaks at Tianzi Mountain
Now that you come to Zhangjiajie to explore exotic peak forests, you must can't miss the "Monarch of Peak Forest" - Tianzi Mountain. The name of this mountain means emperor. Legend goes that a hero of local Tujia people died in the mountain, so this mountain is named after him. In sunny days, you could have the chance to see three of the four wonders: the Sea of Clouds, the Radiance of the Moonlight and Rays of Sunshine. The other one is the snow in winter.
Most travellers choose to overlook West Sea Stone Peaks (西海峰林) from the Yunqing Yan viewing deck in Helong Park (贺龙公园). Nearby Shentang Gulf (神堂湾) and Dianjiang Terrace (点将台) are also worth a visit. You could even experience the green tram at Ten Miles Gallery (十里画廊) to appreciate the peaks and rocks along the road with strange shapes. In addition, there are some other highlights as Imperial Writing Brush Peaks (御笔峰), Fields in the Air (空中田园), etc.
Learn more about Tianzi Mountain and How to Visit It >>
Tianzi Mountain
Experience the Thrilling Glass Bridge at Zhangjiajie Grand Canyon
In a sunny day of Summer, why don't you challenge Zhangjiajie Glass Bride of Zhangjiajie Grand Canyon? The bridge is the longest and highest glass-bottomed bridge in the world. After about 40 mins' driving, you will arrive at Zhangjiajie Grand Canyon, a charming sightseeing site full of forests, waterfalls, streams, etc. There you will find the glass bridge hanging between two cliffs of the canyon. If you are brave enough, then walk through the transparent bridge. There's nothing but only transparent glasses paved on the bridge and each piece of glass is extremely large. Walk from one side of the bridge to the another side needs about 1 hour! After experiencing this thrilling bridge, you could then have a hike tour at the Grand Canyon to cool yourself.
Learn more about Zhangjiajie Glass Bridge | Zhangjiajie Grand Canyon
Zhangjiajie Glass Bridge & Zhangjiajie Grand Canyon
Visit Yellow Dragon Cave & Baofeng Lake to Avoid Summer Heat
Yellow Dragon Cave and Baofeng Lake are the best places to avoid Summer heat. Yellow Dragon Cave, or Huanglong Cave, is "an enchanted palace under the ground". It is typical Karst cave. The temperature in the cave is cooler than outside. Inside of the cave, you could see a large number of naturally formed cave sediments that are millions of years in the making. They occasionally resemble the objects they are named after. These sediments, subterranean pools, lakes and falls are all illuminated in fancy colors. All of them create an miraculous palace under the ground.
Learn more about Yellow Dragon Cave and How to Visit It >>
Baofeng Lake, or Baofeng Hu, is a man-made Alpine lake surrounded by mountains with green trees. Its water is produced by rainfall, mountain springs and underground streams, and stays emerald all year around. You could take boat to cruise the lake and appreciate the strange shaped peaks and hills in or along the lake. If you have enough time, exploring the nearby Yingwo Village and other spots are also wonderful.
Learn more about Baofeng Lake and How to Visit It >>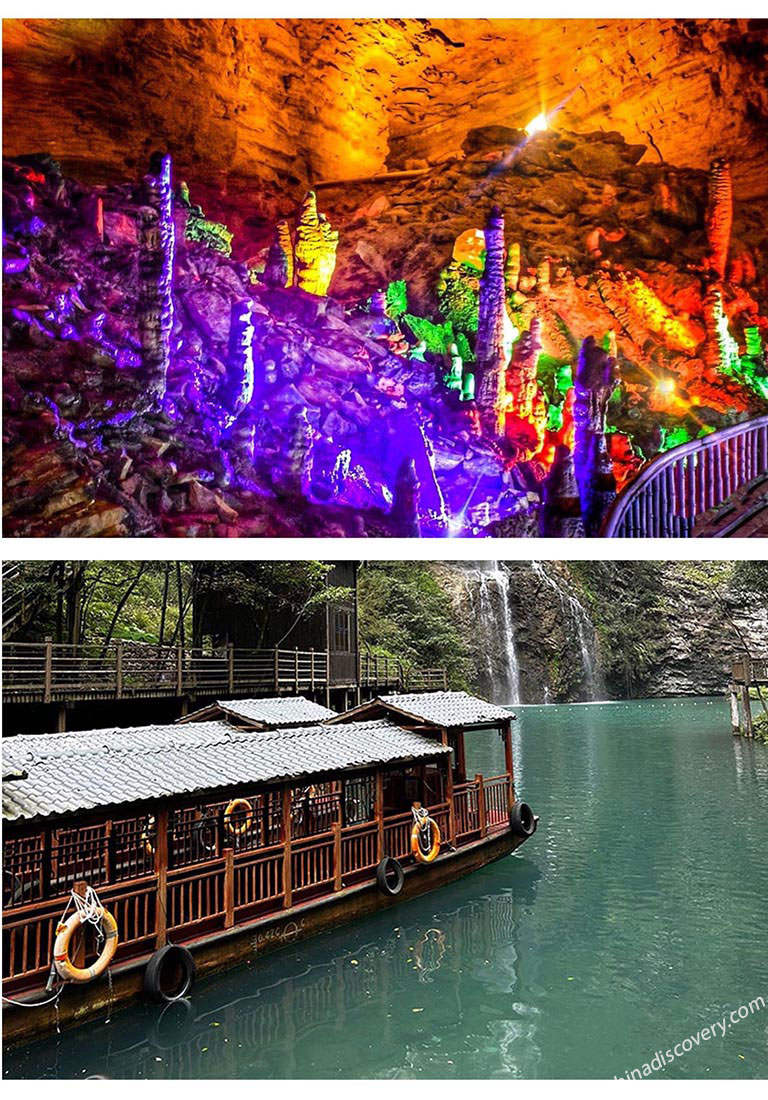 Yellow Dragon Cave & Baofeng Lake
Zhangjiajie Travel Tips in Summer
What to Wear
In June: You can wear T-shirt and any thin clothes at day time. Take a thin long-sleeves in case of unexpected cool at night and rainy day. Raincoat and water-proof sports shoes are also needed for you.
In July & August: T-shirt, shorts and any thin clothes are fine. Bring raincoat and water-proof sports shoes in case of unexpected rain.
Walking/Hiking Tips:
1. Wear comfortable sports shoes, because there are some roads without any transportation.
2. Be sure not to explore the areas marked with "No Passing" or "Dangerous". Don't go some wild hiking route, because it may be dangerous.
3. While hiking along Golden Whip Stream or Huangshizhai, please remember not to take any foods in your hand in case that you are hurt by the wild monkeys on the path. If they are interested in your foods, they will catch it from your hands.
4. It should be noticed that Summer is the peak season of Zhangjiajie tour, so there must be many tourists lining up.
To know more tips to travel in Zhangjiajie, you can turn to Zhangjiajie Travel Tips | What to Pack for a Trip to Zhangjiajie.
How to Plan your Zhangjiajie Tour in Summer
In Summer, the temperature in Wulingyuan Scenic Area of Zhangjiajie is generally cooler than downtown area of Zhangjiajie with the protection of dense forests. It is such a suitable place for you to escape far from the hot Summer.
Most travellers would take 3~5 days to Zhangjiajie. Huangshizhai and Golden Whip Stream will be combined in one day for touring the Zhangjiajie National Forest Park. Yuanjiajie and Tianzi Mountain will be combined in one day. You could extend to Yellow Dragon Cave & Baofeng Lake, or Zhangjiajie Grand Canyon & Glass Bridge in one day. Furthermore, it will take one more day to Tianmen Mountain, forming 5-day itinerary. You can go as following: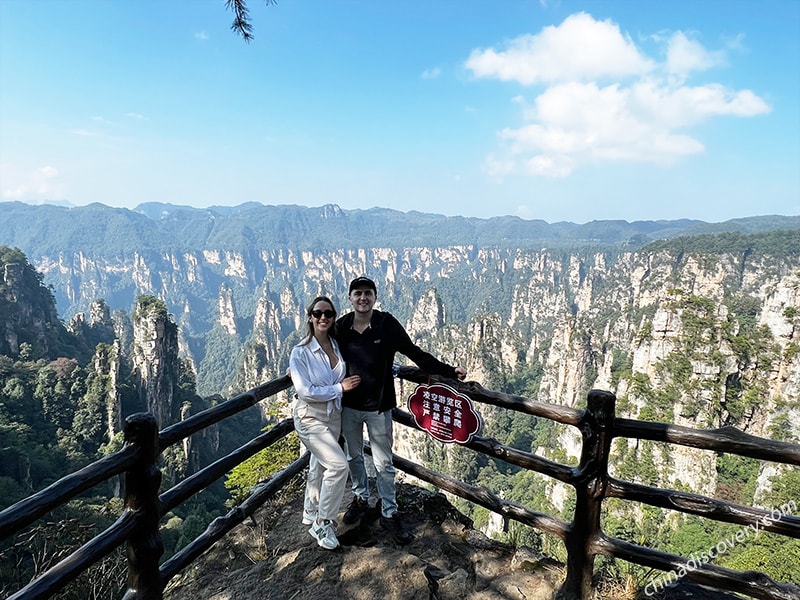 Huangshi Village in Zhangjiajie National Forest Park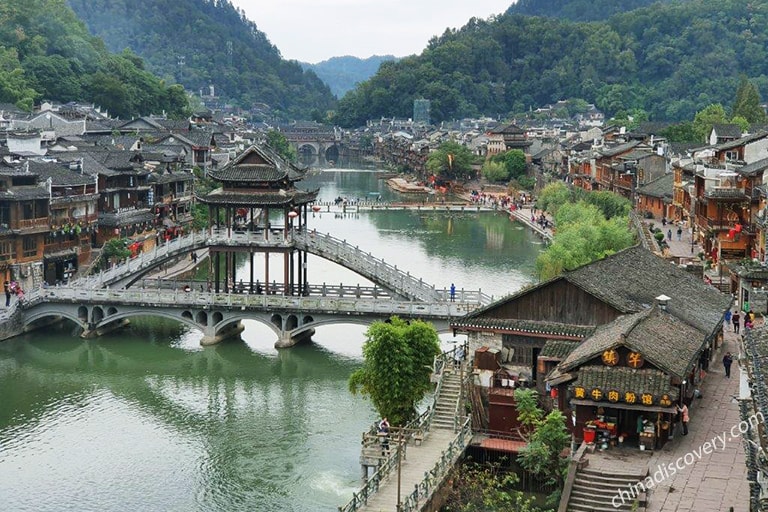 Fenghuang Ancient Town
More about Zhangjiajie Weather
Useful Zhangjiajie Travel Articles
Read More about Zhangjiajie Transportation
Keep Readings on Zhangjiajie Tours
Recommended Zhangjiajie Tours
Top 3 Zhangjiajie tours chosen by most customers to explore Zhangjiajie in the best way. Check the detailed itinerary, or tailor your own trip now with us.
5 Days Amazing Zhangjiajie & Fenghuang Ancient Town Tour

Zhangjiajie / Fenghuang / Zhangjiajie
7 Days Nature Tour to Yangtze River & Zhangjiajie

Chongqing / Yangtze Cruise / Yichang / Zhangjiajie
7 Days Zhangjiajie to Fanjingshan Unbelievable Nature Tour

Zhangjiajie / Fenghuang / Fanjingshan
Start planning your tailor-made holiday to China by contacting one of our specialists. Once inquired, you'll get a response within 0.5~23.5 hours.
Customize a Trip
Have a question? Get answers from our travel experts or guests
Your Question:

Your Name:

Your Email: