Zhangjiajie Spring: Weather & Best Things to Do in March, April & May 2023
Spring - Best Time to Visit Zhangjiajie
Spring of Zhangjiajie includes March, April and May, forming the best season to visit Zhangjiajie. Humidity and temperatures combine to make this season feel moderate. The average temperature in Spring is around 19℃ (66°F) in the daytime and 11℃ (52°F) at night. Rain is very common with 7 to 12 days of significant precipitation per month. There are many things to do in spring no matter you transfer to the north of Zhangjiajie City to Wulingyuan Scenic Area, Zhangjiajie Grand Canyon, Yellow Dragon Cave, Baofeng Lake, or turn to Zhangjiajie city in the south to Tianmen Mountain. When everything comes back to life, there is no doubt that you'll meet the most beautiful Zhangjiajie.
▶ Keep Reading: Zhangjiajie Weather, Climate & Best Time to Visit | Zhangjiajie Temperature | Zhangjiajie Winter Travel | Zhangjiajie Summer Travel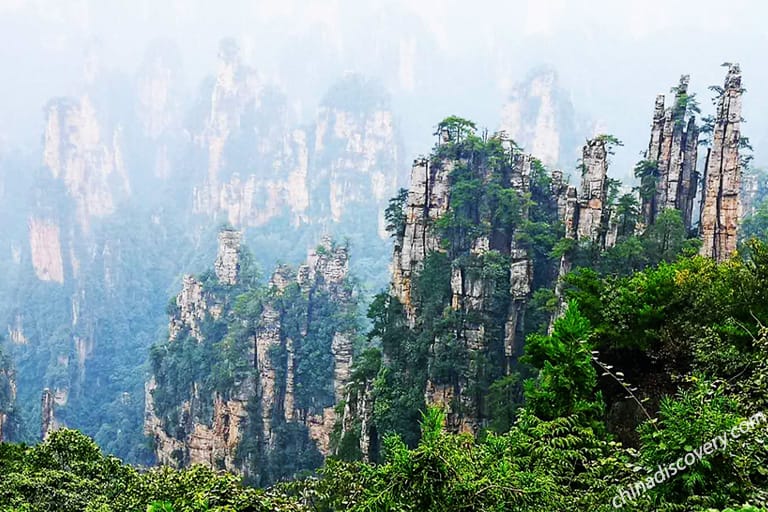 Zhangjiajie National Forest Park in Spring
Zhangjiajie Weather in Spring (March, April & May)
Zhangjiajie Weather and Temperature in March
The climate in Zhangjiajie in March can be summarized as cool and a little damp. March is considered as the fourth coldest month in Zhangjiajie. Daytime maximum temperatures average around a cool 14℃ (57°F), whilst at night 6℃ (42°F) is normal. There is increasing number of travelers coming to visit Zhangjiajie from the late March when the temperature continues to rise.
Zhangjiajie Weather and Temperature in April
The climate in Zhangjiajie in April can be summarized as mild and wet. The temperature in April is going to rise with an average temperature around 20℃ (68°F), whilst at night 11°C (52°F) is normal. The natural scenery which is at its best and the weather is comfortable. The best time to visit Zhangjiajie starts from April and you can plan your trip during this time.
Zhangjiajie Weather and Temperature in May
May belongs to the best and peak traveling time in Zhangjiajie. The climate in Zhangjiajie in May is featured as warm, humid and very wet. The temperature in May ranges from 15℃ to 30℃. The daytime maximum temperatures average around a muggy 24°C (76°F), whilst at night 16°C (61°F) is normal. The difference between day and night is great and travelers should bring warm clothes in case of the low temperature.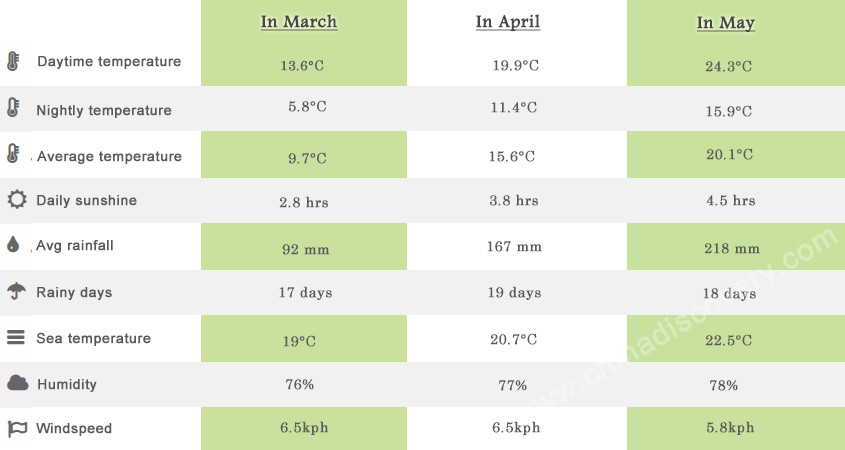 Zhangjiajie Average Daytime & Nightly Temperature in March, April, May (Zoom in to enlarge)
Top Zhangjiajie Tours Packages in Spring
Top Things to Do in Zhangjiajie in Spring
As you know above, spring is the best time to visit Zhangjiajie and there are many exciting things to do to enjoy the beauty of Zhangjiajie mountains to the fullest. Check the following 5 things to do in Zhangjiajie in spring to inspire you.
See Avatar Mountains in Zhangjiajie National Forest Park in Reality
The reason you come to Zhangjiajie may include exploring Avatar Mountains showed in the world famous first 3D movie "AVATAR" in person. Among all the floating mountains in Avatar, the most impressive one must be the "Hallelujah Mountain" and the "Southern Sky Column" (Nan Tian Yi Zhu) in Yuanjiajie Scenic Area is prototype of the most famous Avatar floating mountain. It was changed into "Avatar Hallelujah Mountain" in 2010. All the trees on the mountains are in lush and green in spring, it shows the best scene of Avatar. When paying a visit to Wulingyuan Scenic Area, you never miss the chance to encounter Avatar mountains in real.
Learn more about Zhangjiajie Avatar Mountains and How to Visit >>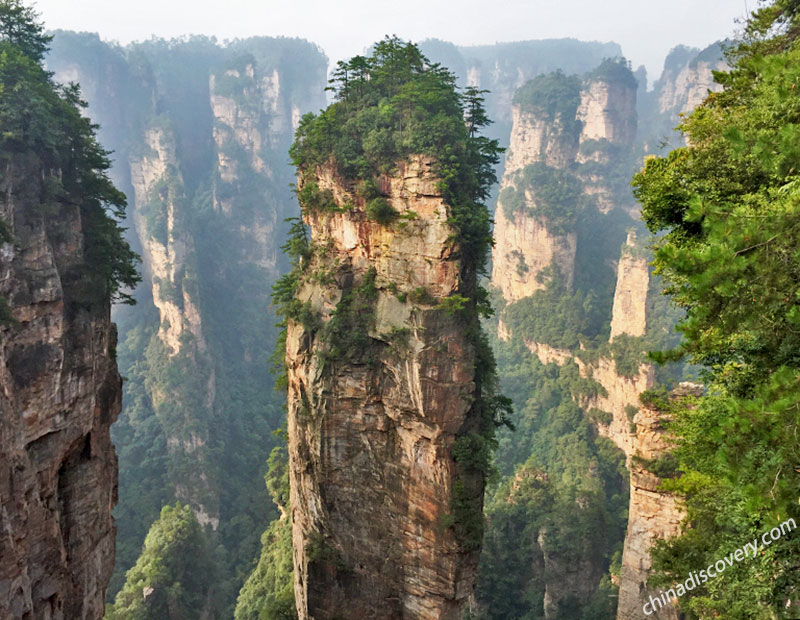 Hallelujah Mountain in Yuanjiajie Scenic Area
Challenge Yourselves on Zhangjiajie Glass Bridge over Zhangjiajie Grand Canyon
It needs courage to challenge yourselves to take a thrilling walk on the longest and highest glass bridge in the world. Regarded as "12 Most Spectacular Bridges in the World" by CNN, Zhangjiajie Glass Bridge of Zhangjiajie Grand Canyon is with the full length of 430 meters and a height of about 400 meters above the valley bottom. Standing on the transparent glass bridge in a sunny day, you can relax for while to look down the deep green valley and also overlook the vast Grand Canyon with supreme mountains surrounded. How amazing experience it is!
Learn more about Zhangjiajie Glass Bridge Experience of Zhangjiajie Grand Canyon >>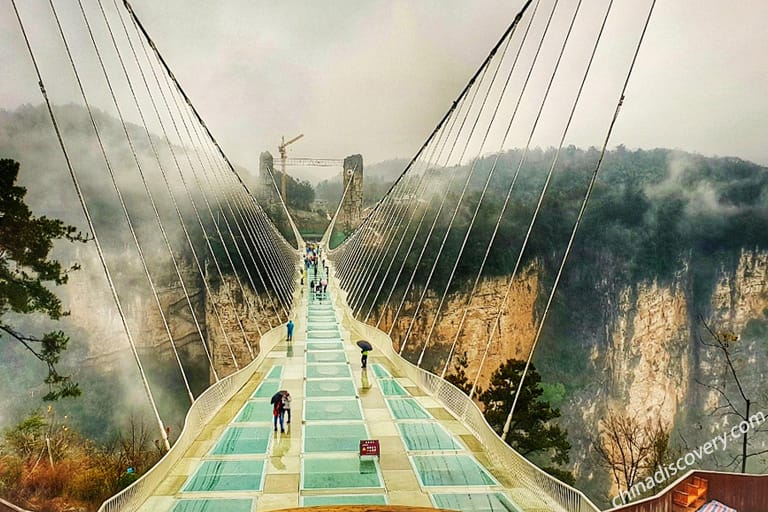 Zhangjiajie Grand Canyon Glass Bridge Experience
Hike along Golden Whip Stream to Return Back to Nature
Spring is the season of hope and colorfulness and it would be fantastic to go out for some hiking activities when the weather is so comfortable. Your exploration in Zhangjiajie National Forest Park would be combined with several hours' hiking journey along Golden Whip Stream. Walking along the winding and clear stream surrounded by lush forest, you'll see wild fish swimming in the stream, hear bird singing happily and feel the utmost serenity. Along the way, you'll not only have the intimate chance to meet wild monkeys, but also enjoy many traditional Chinese stories when passing the vivid peaks - Splitting the Mountain to Save Mother (劈山救母), Two Tortoises Visiting the Stream (双龟探溪), Golden Whip Rock (金鞭岩), etc.
Learn more about Golden Whip Stream Hiking >>
Hike along Golden Whip Stream in Zhangjiajie National Forest Park
Enjoy a Relaxing Boat Experience on the Emerald Baofeng Lake
Taking a boat sailing on Baofeng Lake would be very enjoyable from the late of March till the end of May when the weather is so pleasant and comfortable. Baofeng Lake, about 20 kilometers away from Zhangjiajie National Forest Park, is a man-made alpine lake surrounded by steep peaks and there are two small islands in the lake. Travelers can take the Baofeng Lake cruise to appreciate the clear lake reflecting the peaks and the peculiar magnificent mountain scenery which is formed by strange peaks, waterfalls and lush trees. This is truly a memorable and a much needed relaxation break after your Wulingyuan Scenic Area visit.
Learn more about Baofeng Lake & Its Boat Experience >>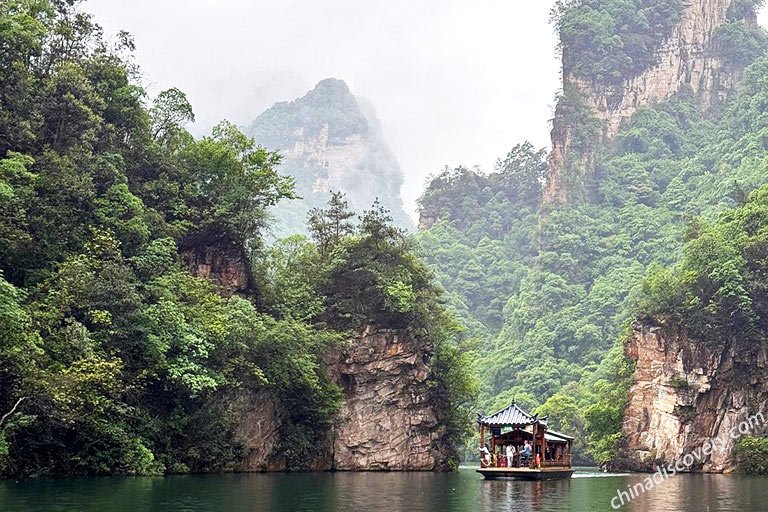 Baofeng Lake, a Tranquil Lake in Zhangjiajie
Experience the Longest Cableway in the World to Ascend Tianmen Mountain
Tianmen Mountain, meaning Heaven's Gate Mountain, has been called "one of the most beautiful mountains the world" by many travelers who have been there. The mountain is best reached by cable car. Tianmen Mountain cableway is claimed in tourist publication as the "longest passenger cableway of high mountains in the world" with a total length of 7455 meters and ascent of 1279 meters. The highest gradient is 37 degrees. This longest cableway can take travelers from the atmosphere of Zhangjiajie city to the primitive national park. During the 40 minutes' journey of the cableway, the landscape changes a lot, making travelers experience a miraculous feeling of flying angels in the sky as well as of being blended into a long grand painting of landscape. Overlooking from the cableway, you can see the 99 turns toward the heaven and Tianmen Cave.
Learn more about Tianmen Mountain and Its Thrilling Experience >>
Tianmen Mountain Cable Car
Zhangjiajie Travel Tips in Spring
What to Wear
In March: March marks the transition period from winter to spring, and temperature differences between day and night are large, so wear layers accordingly. Wear shoes with good traction to avoid slipping on wet paths or stairs.
In April: April becomes much warmer, spring clothing, such as a thin sweatshirt is adequate. The days are clear and sunny, so bring a hat and sun glasses.
In May: Generally, a T-shirt and long trousers are enough during the day, with a light jacket for the evenings.
Walking/Hiking Tips:
It rains a lot in spring and about three-fifths of the days would be rain. Travelers need to bring rainproof and wear comfortable sport shoes when take some walk/hike in Zhangjiajie. Don't try the wild hiking road up to mountains of Zhangjiajie National Forest Park. Otherwise, it would be dangerous.
To know more tips to travel in Zhangjiajie, you can turn to Zhangjiajie Travel Tips | What to Pack for a Trip to Zhangjiajie.
How to Plan your Zhangjiajie Tour in Spring
After knowing the weather of Spring and best time to visit in Zhangjiajie, it is time to plan your Zhangjiajie tour. Zhangjiajie is a scenic paradise with over 3000 narrow sandstone pillars and peaks, many over 200 meters high. There are many stunning tourist attractions scattered in and around Zhangjiajie City. It is a good idea to spend about 2 to 3 days in the north of Zhangjiajie City, about 30~40 kilometers away. Zhangjiajie National Forest Park, Yuanjiajie and Tianzi Mountain are usually combined into a two-day itinerary. Furthermore, Yellow Dragon Cave, Baofeng Lake and Zhangjiajie Grand Canyon & Glass Bridge can be visited in one day. To travel in-depth with a visit to Tianmen Mountain, it will take another day, forming 5 days' itinerary. You can go as following: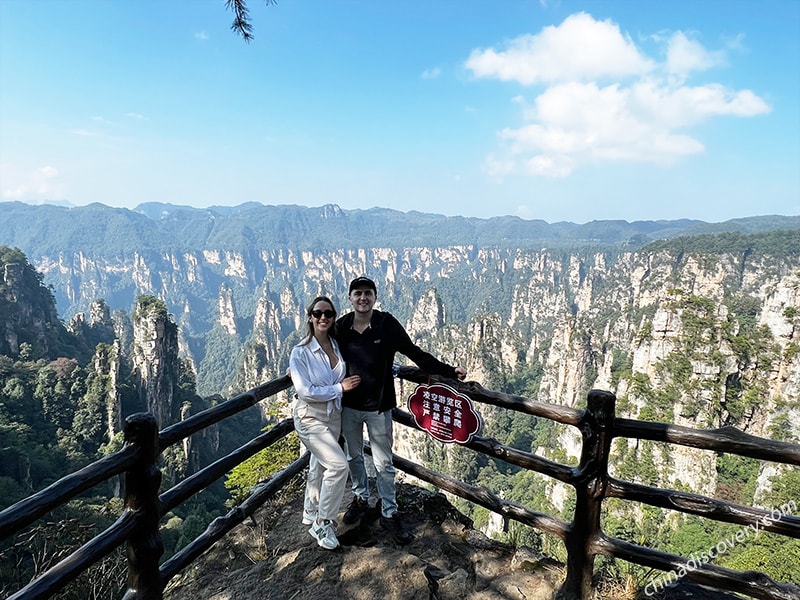 Huangshi Village in Zhangjiajie National Forest Park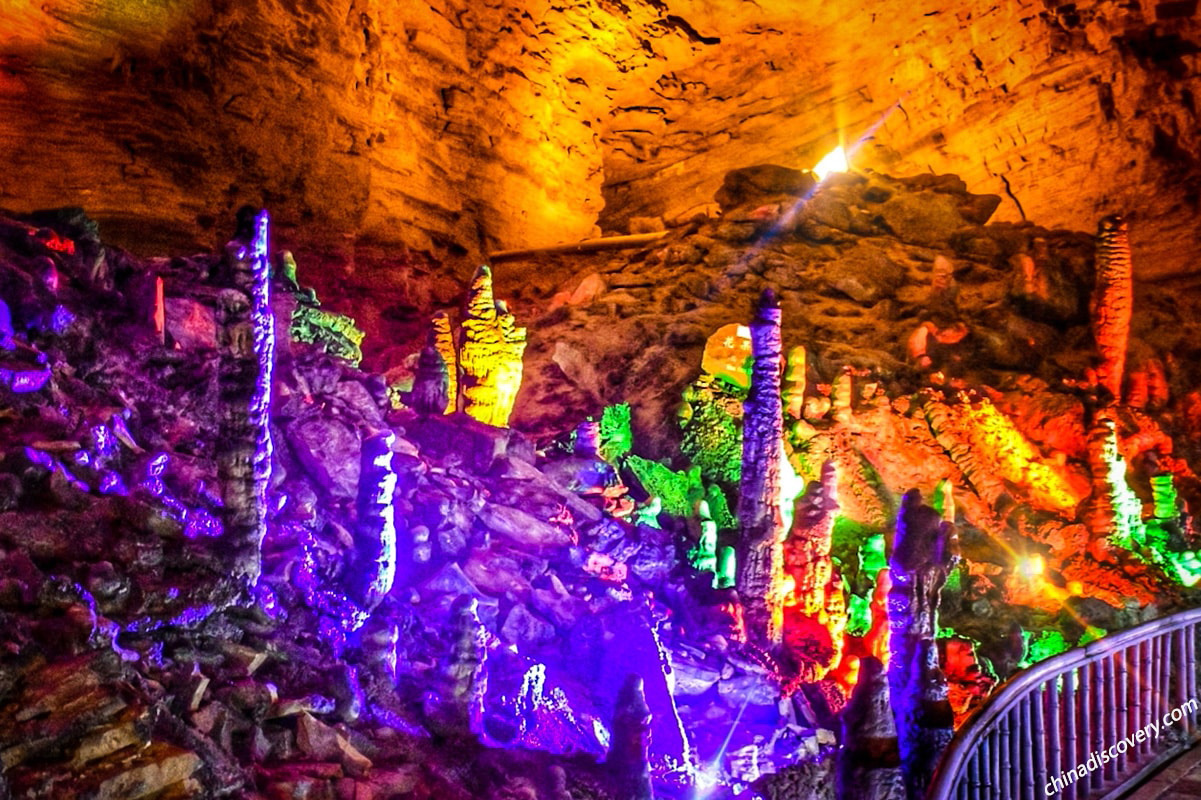 Yellow Dragon Cave
More about Zhangjiajie Weather
Useful Zhangjiajie Travel Articles
Read More about Zhangjiajie Transportation
Keep Readings on Zhangjiajie Tours
Recommended Zhangjiajie Tours
Top 3 Zhangjiajie tours chosen by most customers to explore Zhangjiajie in the best way. Check the detailed itinerary, or tailor your own trip now with us.
5 Days Amazing Zhangjiajie & Fenghuang Ancient Town Tour

Zhangjiajie / Fenghuang / Zhangjiajie
7 Days Nature Tour to Yangtze River & Zhangjiajie

Chongqing / Yangtze Cruise / Yichang / Zhangjiajie
7 Days Zhangjiajie to Fanjingshan Unbelievable Nature Tour

Zhangjiajie / Fenghuang / Fanjingshan
Start planning your tailor-made holiday to China by contacting one of our specialists. Once inquired, you'll get a response within 0.5~23.5 hours.
Customize a Trip
Have a question? Get answers from our travel experts or guests
Your Question:

Your Name:

Your Email: