Zhangjiajie National Forest Park Map
Zhangjiajie National Forest Park in the north part of Zhangjiajie is the first national park and also the first UNESCO World Heritage Site of China. It is a world-renowned natural site that is mostly famous for its unique geological formations. The dense forest is broken up by numerous incredible sandstone columns which streches up to 1000 meters in height.
The park, together with Yuanjiajie Scenic Area, Yangjiajie Scenic Area and Tianzi Mountain Scenic Area, forms the greater Wulingyuan Scenic Area. And it sits in the southwest part of Wulingyuan. Inside the park, you could enjoy the otherworldly sight while hiking along streams, riding cable cars or taking sightseeing buses. The following map shows you the hiking trails, cable cars, major attractions, etc. of the park.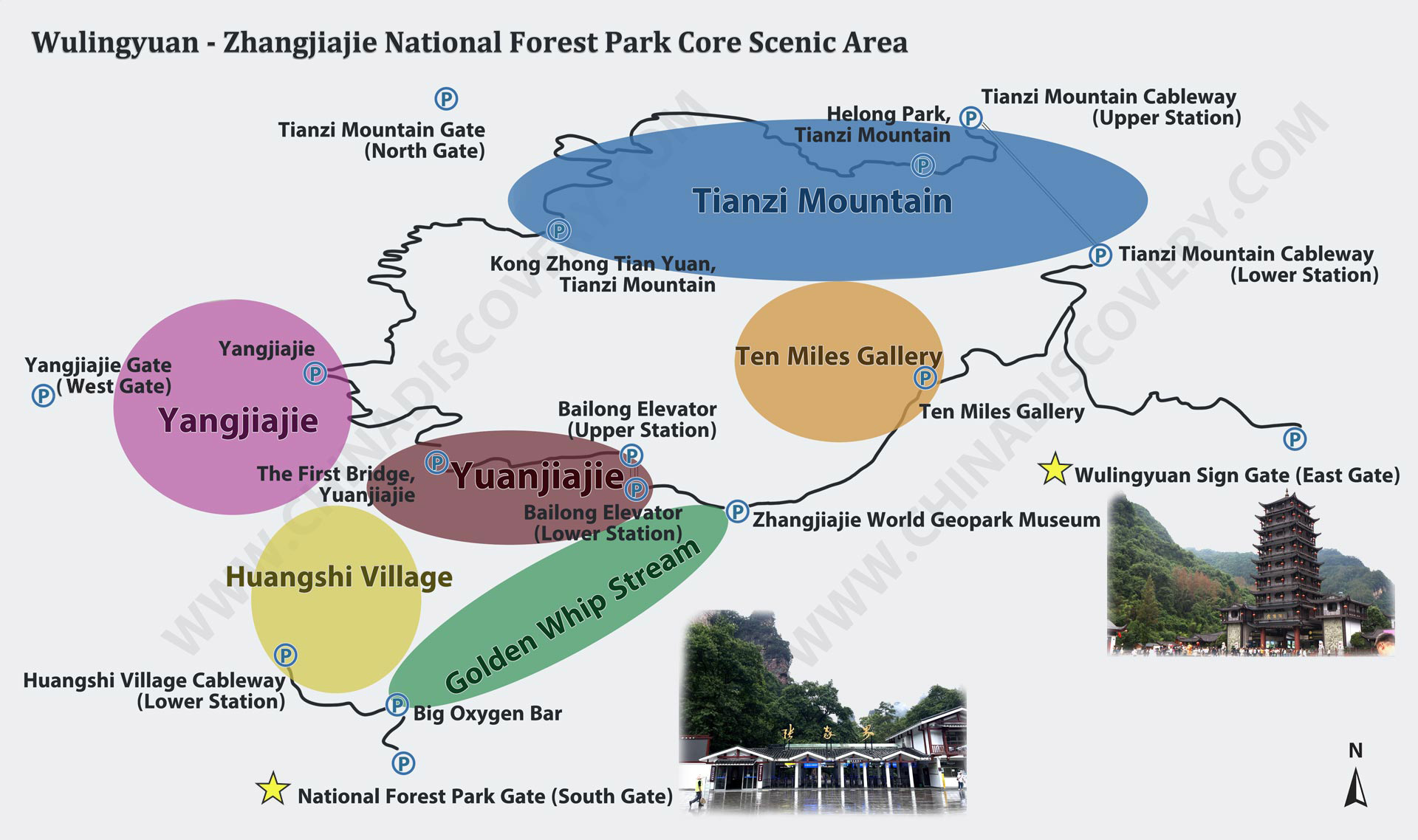 Zhangjiajie National Forest Park Map
How to Travel Zhangjiajie National Forest Park
The whole Wulingyuan Area shares one ticket. Therefore, you could visit the park from any one of the five ticket stations of Wulingyuan. And usually, travelers visiting the park would enter it from the Forest Park Ticket Station, the closest ticket station to Zhangjiajie downtown area.
Once enter the park, you could ride a cable car to Huangshi Village first. From there, you can find the largest sightseeing platform in Zhangjiajie and have a overlook of the hills. After the Huangshi Village visit, hiking up along the poetic Golden Whip Stream and have a leisure hours there. Such a park tour needs about one whole day. Check more detailed information of Zhangjiajie National Forest Park if you are interested.
Zhangjiajie National Forest Park
More Maps of Zhangjiajie Wulingyuan Scenic Area
As you could visit Zhangjiajie Wulingyuan Scenic Area (the National Forest Park is included) as many times as you like within 4 days after booking, you can have tours to the other parts of Wulingyuan after the national forest park tour to make the fullest use of your ticket. The most popular part is Yuanjiajie Scenic Area, where you could find the towering Bailong Elevator and the REAL "Hallelujah Mountain", which is claimed to be the inspiration for the Hollywood blockbuster film Avatar. Tianzi Mountain in the highest area of Wulingyuan is greatest site to capture the magnificent hills in clouds and mists. And if you are looking for more adventurous hiking experience in Wulingyuan, the newly discovered Yangjiajie Scenic Area should be on your tourist list.
The following map shows you the location of each area in Wulingyuan Scenic Area. Also, you could visit Wulingyuan Map to get more map information.
Recommended Tours:
>> 4 Days Zhangjiajie Tour to Yuanjiajie & Tianmen Mountain National Park
>> 5 Days Zhangjiajie Avatar Mountains Photography Tour
>> 4 Days Leisure Zhangjiajie Nature Discovery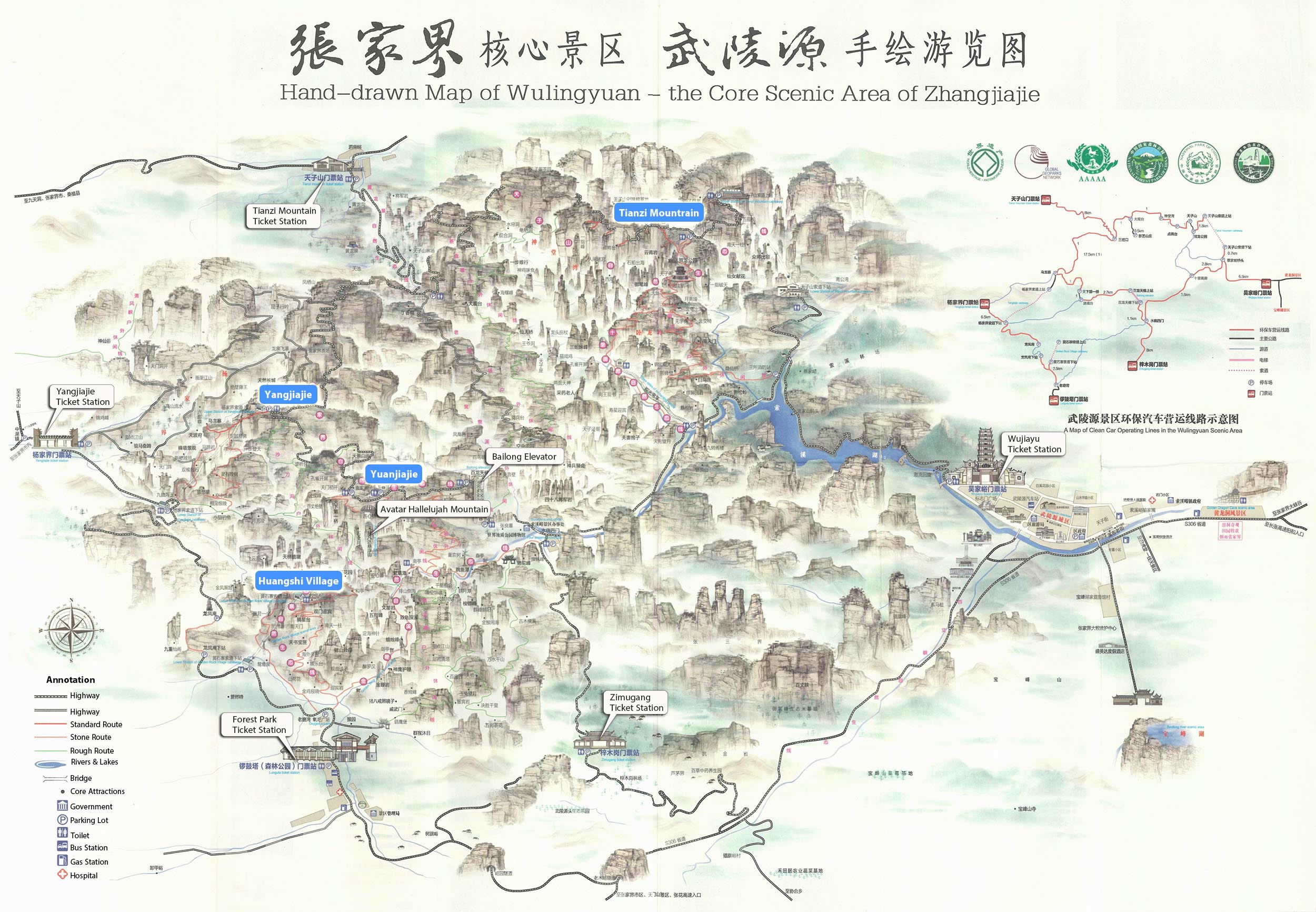 Wulingyuan Scenic Area Map
Travel Zhangjiajie with China Discovery
Zhangjiajie is a beautiful mountainous area, and its main highlights are the canyon, National Forest Park, caves, and lakes… If you are new to this city, you may get troubles to find the best places to visit, best areas to stay at night and also the best traveling routes that perfectly match to your needs, budgets and prefers. Don't worry, travel with China Discovery and then all your problems will be solved. And during your whole journey, our professional local guide and driver will escort you from your hotel, train station, airport to all attractions with comfortable private car with speed and convenience and let you catch the highlights of every site, so you can get really relaxed on the way and focus on what you are interested.
The tour can be tailor made according to your plan, time, interests and demands. If you are interested, please feel free to contact us and tell us your needs, and we will customize a memorable tour for you!
Glass Bridge in Zhangjiajie Grand Canyon
Get More Zhangjiajie Maps
Useful Zhangjiajie Travel Articles
Read More about Zhangjiajie Transportation
Keep Readings on Zhangjiajie Tours
Recommended Zhangjiajie Tours
Top 3 Zhangjiajie tours chosen by most customers to explore Zhangjiajie in the best way. Check the detailed itinerary,or tailor your own trip now with us.
3 Days Classic Zhangjiajie Natural Wonders Tour

Zhangjiajie
5 Days Amazing Zhangjiajie & Fenghuang Ancient Town Tour

Zhangjiajie / Fenghuang / Zhangjiajie
4 Days Leisure Zhangjiajie Nature Discovery

Zhangjiajie