Zhangjiajie Hunan Map: Where is Zhangjiajie on a Hunan Map
Zhangjiajie City is located on the northwest edge of Hunan Province, China. Hunan is surrounded by mountains on its east, west, and south and Yangtze River on the north. As a city rich in both mountains and rivers, Hunan is undoubtedly a perfect tourist city for nature exploring. And you could find its most representative natural scenery in Zhangjiajie. There are so many fantastic places to visit in Zhangjiajie, like Zhangjiajie National Forest Park, Tianmen Mountain, Grand Canyon, Baofeng Lake, Yellow Dragon Cave…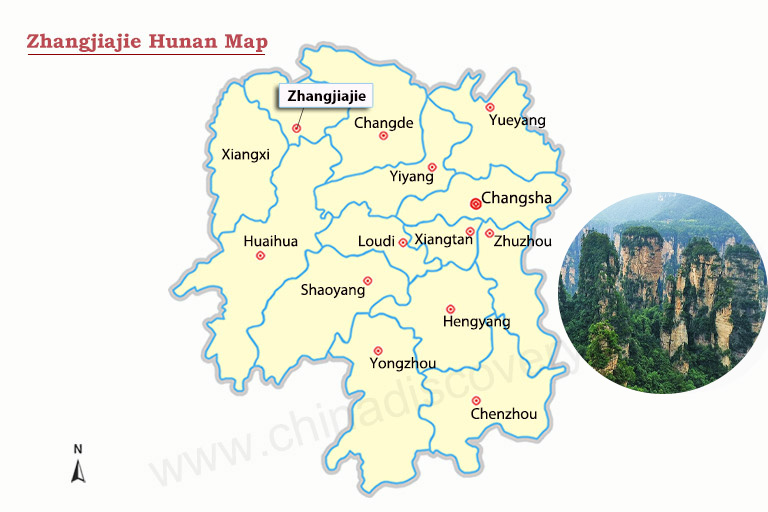 How to Plan a Zhangjiajie Tour
Usually, travelers spend about 3-5 days in Zhangjiajie to explore its magnificent natural views. During their Zhangjiajie tour, they will firstly have a 2-3 days' visit of the Avatar Mountains in Wulingyuan Scenic Area (Zhangjiajie National Forest Park is one part of Wulingyuan). After the Wulingyuan tour, they will add Zhangjiajie Grand Canyon with Glass Bridge Experience or Tianmen Mountain into their trip. Some of them also choose to visit Yellow Dragon Cave or Baofeng Lake.
>> 4 Days Zhangjiajie Discovery Tour (Route A with Tianmen Mountain)
>> 4 Days Zhangjiajie Discovery Tour (Route B with Yellow Dragon Cave and Baofeng Lake)
>> 5 Days Zhangjiajie Avatar Mountains Photography Tour
Glass Bridge in Zhangjiajie Grand Canyon
Other Tourist Attractions in Hunan Province
Aside from Zhangjiajie, Fenghuang Ancient Town (Phoenix Ancient Town) in the southwest of Xiangxi Tujia and Miao Autonomous Prefecture is also a must-visit place to enjoy the real amorous feelings of the west part of Hunan Province. For about 3-4 hours driving, you could reach this relaxing town from Zhangjiajie City. You are suggested to have at least one night stay in this town.
>> 5 Days Classic Zhangjiajie & Fenghuang Tour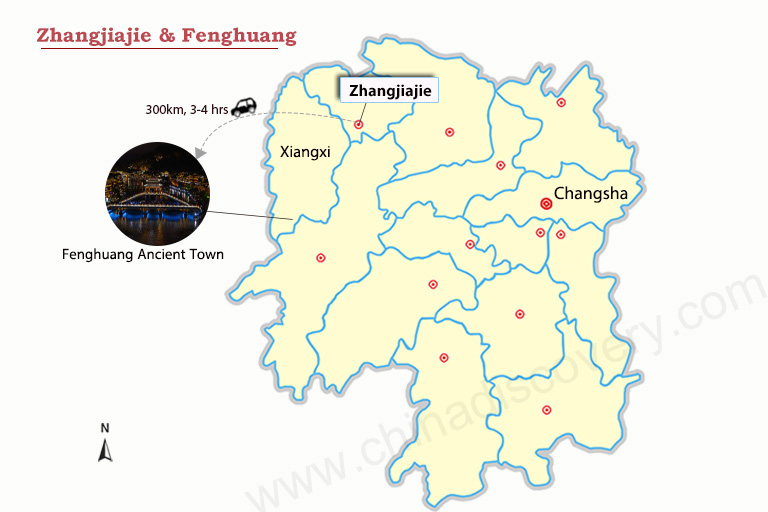 Zhangjiajie & Fenghuang Ancient Town
At present, there is no high speed train to Zhangjiajie. Tourists who want to visit Zhangjiajie by bullet train have to make a transfer via Changsha, the capital of Hunan Province, making Changsha a popular gate city to Zhangjiajie. Aside from its magnificent role of the gate city, Changsha is also a famous tourist city itself. If you are curious of China's great leader Chairman Mao, you can pay a visit to Orange Island Park in Changsha to learn more about his story and get close to his huge statue there. In Changsha, you can also find a time-honored academic school - Yuelu Academy. Yuelu Academy is one of the four major academies in ancient China (the other three academies are Bailudong Academy on Lushan Mountain of Jiangxi Province, Yingtianfu Academy in Shangqiu of Henan Province and Songyang Academy in Kaifeng of Henan Province). If you have plans to make a transfer via Changsha to Zhangjiajie too, leaving yourself one day to explore these attractions in Changsha is also a good choice.
>> 5 Days Changsha & Zhangjiajie Avatar Scenery Tour by Train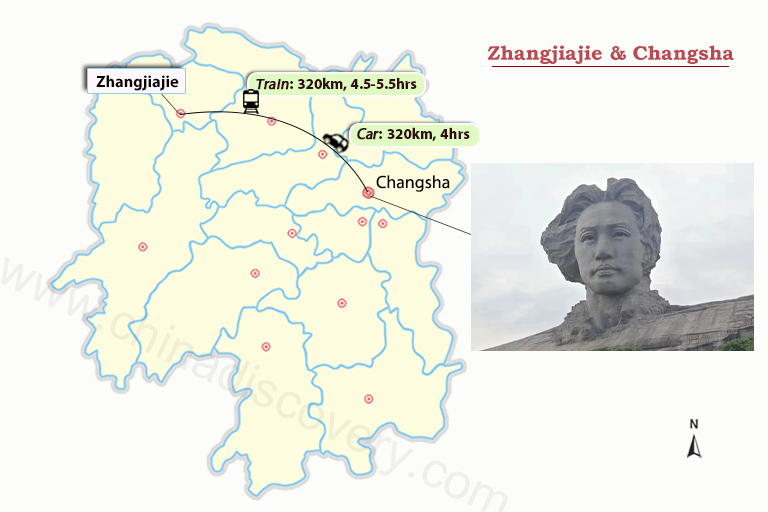 Zhangjiajie & Changsha Map
Travel Zhangjiajie with China Discovery
Zhangjiajie is a beautiful mountainous area, and its main highlights are the canyon, National Forest Park, caves, and lakes… If you are new to this city, you may get troubles to find the best places to visit, best areas to stay at night and also the best traveling routes that perfectly match to your needs, budgets and prefers. Don't worry, travel with China Discovery and then all your problems will be solved. And during your whole journey, our professional local guide and driver will escort you from your hotel, train station, airport to all attractions with comfortable private car with speed and convenience and let you catch the highlights of every site, so you can get really relaxed on the way and focus on what you are interested.
The tour can be tailor made according to your plan, time, interests and demands. If you are interested, please feel free to contact us and tell us your needs, and we will customize a memorable tour for you!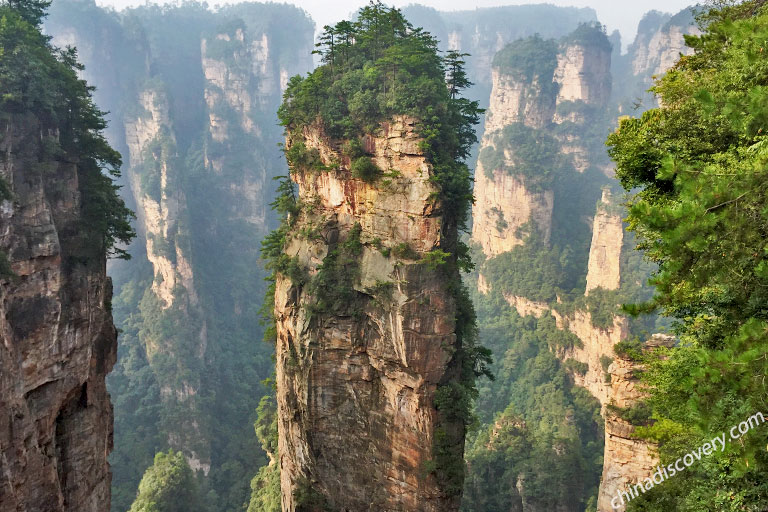 Floating Halelujah Mountain in Avatar
(Inspiration from Yuanjiajie)
Get More Zhangjiajie Maps
Useful Zhangjiajie Travel Articles
Read More about Zhangjiajie Transportation
Keep Readings on Zhangjiajie Tours
Recommended Zhangjiajie Tours
Top 3 Zhangjiajie tours chosen by most customers to explore Zhangjiajie in the best way. Check the detailed itinerary,or tailor your own trip now with us.
3 Days Classic Zhangjiajie Natural Wonders Tour

Zhangjiajie
5 Days Amazing Zhangjiajie & Fenghuang Ancient Town Tour

Zhangjiajie / Fenghuang / Zhangjiajie
4 Days Leisure Zhangjiajie Nature Discovery

Zhangjiajie