Zhangjiajie Grand Canyon Map: Tourist Attractions and Route Map
Grand Canyon in the northeast area of Zhangjiajie is a charming wonderland of forests, caves, cliffs, waterfalls, streams and also the highest and longest glass bridge in the world. The magnificent glass bridge must be the most attractive item for tourists coming there. Standing on the bridge all paved with transparent glass, you will get a breathtaking feel of walking in the air, with tranquil stream flows at the deep valley below you. Aside from the world-renowned glass bridge there, the very long and steep walk way, deep and mysterious Holy Spring Valley, cheerful slideway from up to down are also amazing spots to create happy memories.
>> 4 Days Zhangjiajie Exciting Adventure with Glass Bridge
>> 5 Days Zhangjiajie Ultimate Adventure Tour with Glass Bridge & Tianmen Mountain
For the detailed recommended visiting route inside the canyon, you could check the Grand Canyon Tourist Map at below: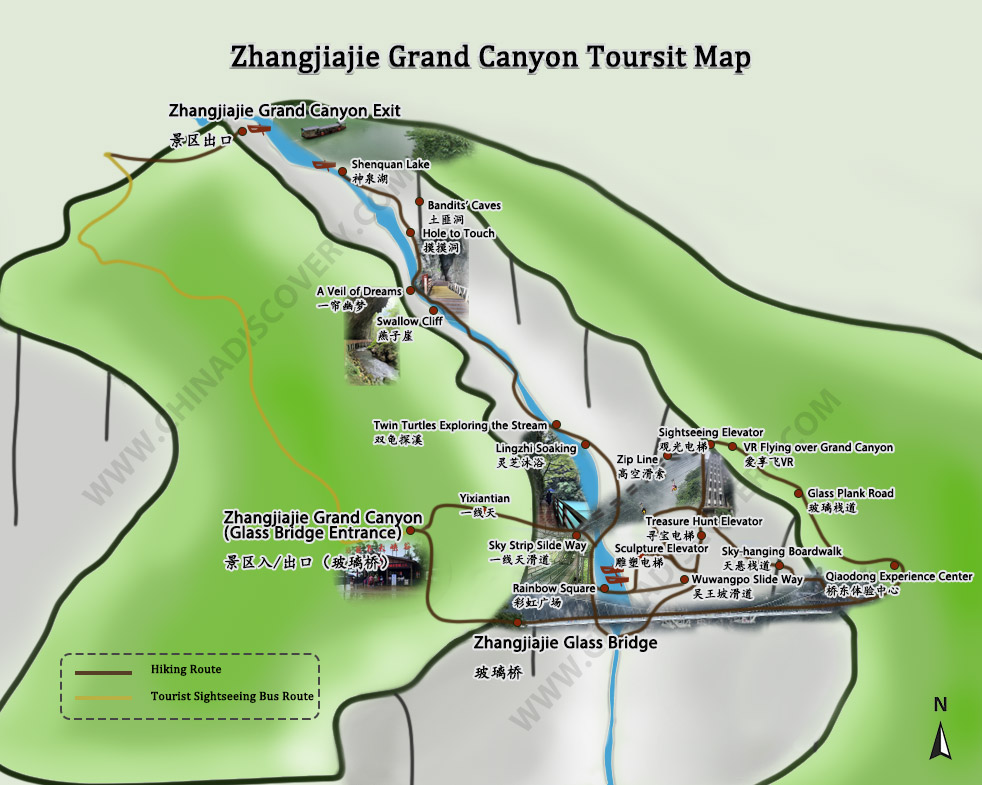 Zhangjiajie Grand Canyon Tourist Map
Travel Zhangjiajie with China Discovery
Zhangjiajie is a beautiful mountainous area, and its main highlights are the canyon, National Forest Park, caves, and lakes… If you are new to this city, you may get troubles to find the best places to visit, best areas to stay at night and also the best traveling routes that perfectly match to your needs, budgets and prefers. Don't worry, travel with China Discovery and then all your problems will be solved. And during your whole journey, our professional local guide and driver will escort you from your hotel, train station, airport to all attractions with comfortable private car with speed and convenience and let you catch the highlights of every site, so you can get really relaxed on the way and focus on what you are interested.
The tour can be tailor made according to your plan, time, interests and demands. If you are interested, please feel free to contact us and tell us your needs, and we will customize a memorable tour for you!
Glass Bridge in Zhangjiajie Grand Canyon
Get More Zhangjiajie Maps
Useful Zhangjiajie Travel Articles
Read More about Zhangjiajie Transportation
Keep Readings on Zhangjiajie Tours
Recommended Zhangjiajie Tours
Top 3 Zhangjiajie tours chosen by most customers to explore Zhangjiajie in the best way. Check the detailed itinerary,or tailor your own trip now with us.
3 Days Classic Zhangjiajie Natural Wonders Tour

Zhangjiajie
5 Days Amazing Zhangjiajie & Fenghuang Ancient Town Tour

Zhangjiajie / Fenghuang / Zhangjiajie
4 Days Leisure Zhangjiajie Nature Discovery

Zhangjiajie