Tianmen Mountain Map: Cable Car, Bus, Escalator & Visiting Routes
Tianmen Mountain is one of the most representative natural sceneries of Zhangjiajie. The mountain earns its name "Tianmen" (Heavenly Gate) because of its Tianmen Cave, the natural hole that cuts through the mountain, which just looks like a gateway to the heaven. With gentle wind flows after the rain, the lingering fog will pass through the cave from one side to another side, forming a stunning "fog river". Aside from such miraculous and unique geographic landform and unparalleled natural landscape, the 99 bends Heaven-linking Avenue, 30 mins thrilling cable car and breathtaking cliff hanging walkway in Tianmen Mountain will also leave you special and exciting memory.
The mountain is only about 6km away from Zhangjiajie downtown. To get to the mountain, you could take the Tianmen Mountain Cableway from downtown to the mountain directly, or catch a taxi to the mountain bottom and then catch a sightseeing bus to Tianmen Cave Parking Lot. The cableway is more popular and you can get very relax during the journey, while the sightseeing bus ride is full of sharp turns along the vertical cliffs, which may be a little bit tough for those who easily get carsickness.
Recommended tours:
>> 4 Days Zhangjiajie Highlights Tour with Fantastic Hiking Experience (Route A)
>> 5 Days Zhangjiajie Ultimate Adventure Tour with Glass Bridge & Tianmen Mountain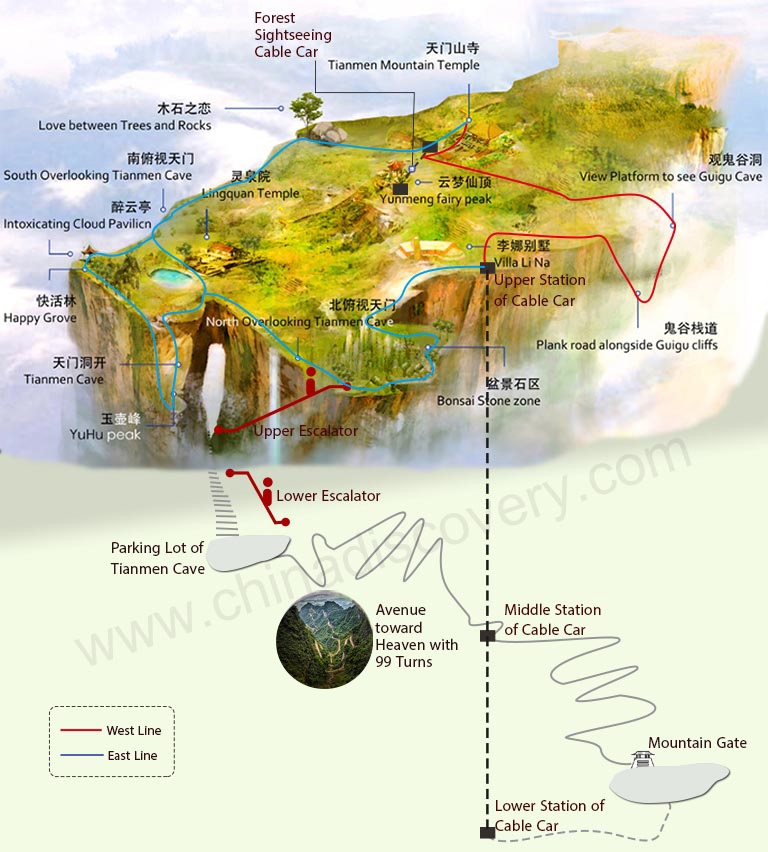 Zhangjiajie Tianmen Mountain Map
Travel Zhangjiajie with China Discovery
Zhangjiajie is a beautiful mountainous area, and its main highlights are the canyon, National Forest Park, caves, and lakes… If you are new to this city, you may get troubles to find the best places to visit, best areas to stay at night and also the best traveling routes that perfectly match to your needs, budgets and prefers. Don't worry, travel with China Discovery and then all your problems will be solved. And during your whole journey, our professional local guide and driver will escort you from your hotel, train station, airport to all attractions with comfortable private car with speed and convenience and let you catch the highlights of every site, so you can get really relaxed on the way and focus on what you are interested.
The tour can be tailor made according to your plan, time, interests and demands. If you are interested, please feel free to contact us and tell us your needs, and we will customize a memorable tour for you!
Glass Bridge in Zhangjiajie Grand Canyon
Get More Zhangjiajie Maps
Useful Zhangjiajie Travel Articles
Read More about Zhangjiajie Transportation
Keep Readings on Zhangjiajie Tours
Recommended Zhangjiajie Tours
Top 3 Zhangjiajie tours chosen by most customers to explore Zhangjiajie in the best way. Check the detailed itinerary,or tailor your own trip now with us.
3 Days Classic Zhangjiajie Natural Wonders Tour

Zhangjiajie
5 Days Amazing Zhangjiajie & Fenghuang Ancient Town Tour

Zhangjiajie / Fenghuang / Zhangjiajie
4 Days Leisure Zhangjiajie Nature Discovery

Zhangjiajie