Latest news: Laohuzui Rice Terraces (老虎嘴梯田) has been reopened to tourists after recovery from earthquake in 2018.
Why Visit Yuanyang Rice Terraces?
1. Core Area of Honghe Hani Rice Terraces: Among the 5 rice terrace sites in the world recognized by UNESCO as a collective World Heritage Site, Honghe Hani Rice Terraces in Yunnan, with Yuanyang Rice Terraces sited at its core, is the only one you will find in the vast China.
2. Splendid Rice Terraces Scenery: Yuanyang Rice Terraces has a long history of more than 1,300 years. Till now, there are more than 3,000 flat and evenly spaced terraces. They all carved following the mountains' original contour lines, forming a splendid landscape!
3. Photographer's Dream: Thanks to its unbeatable size, gorgeous colors and unique shapes with a strong three-dimensional effect, Yuanyang Rice Terraces has long been a dream for photograph lovers. And its mesmerizing sunrise and sunset can easily occupy your camera storage.
4. Close Explore of Colorful Hani and Yi Minority Culture: Life at Yuanyang Rice Terraces remains its original looks centuries ago. Locals dressed in their iconic colorful cloths still work in the fields with their buffalo instead of modern machines. The market opens every 3~5 days. Many rural villages still maintain traditional mush-room-like houses… It seems once looking from a little bit higher of this spectacular landscape and you will be transported back to the time when Hani ancestors tirelessly carved the mountain and planted it with rice using only bare hands and stone tools.
5. Authentic Countryside Experience: Since Yuanyang Rice Terraces are tucked away from the hustle of the town and city, you're sure to have a peaceful vacation surrounded only by rice paddies and pine trees, occasional chirping of the birds, and a chilly, cool breeze from the valley.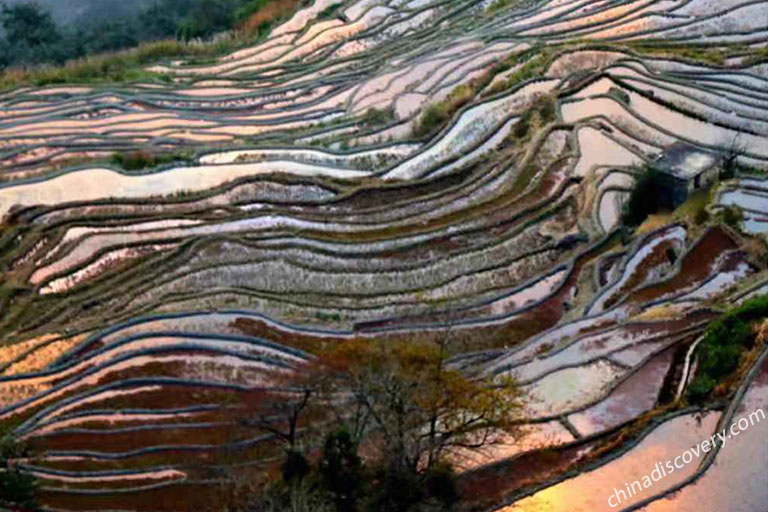 Yuanyang Rice Terraces
Hani People Working in the Fields
Hot Yuanyang Rice Terraces Tour:
>> 3 Days Yuanyang Rice Terraces & Hani Culture Discovery Tour
3 Main Attractions at Yuanyang Rice Terraces
From the main gateway - Xinjie Town (新街镇), the vast Yuanyang Rice Terraces Scenic Area can be separated to many parts. And for tourists, the best scenery can be found at Laohuzui Rice Terraces (老虎嘴梯田), Duoyishu Rice Terraces (多依树梯田) and Bada Rice Terraces (坝达梯田). Besides the terraces, those small but lovely villages with mush-room-shaped houses dotted between are also somewhat treasures to be visited.
Laohuzui Rice Terraces - the Core Area of Yuanyang Rice Terraces
Also known as Tiger Mouth, Laohuzui Rice Terraces stands out as the steepest, grandest, and most magnificent rice terrace in Yuanyang. This location provides the best vantage point for a sunset spectacle. From the top of Laohuzui Rice Terraces, enjoy a panoramic view resembling a blooming white flower. As the sun sets, the terraces transition from a clear and bright blue, mirroring the surroundings, to a radiant golden hue. With the sun's glow, the paddies transform rapidly into shades of pink, rosy, and dark red.
Bada Rice Terraces - Best Site for Sunset and Panorama View
Bada Rice Terraces is located on the way driving from Xinjie Town to Duoyishu, with a driving distance for about 15km to Xinjie Town and 8km to Duoyishu. Longest terraces slopes will be found at Bada. And since it sits on the westernmost area of the main tourist area, it gives visitors the best angel for sunset. Hiking up to the viewing deck of Bada Rice Terraces, you will get a panorama view of Yuanyang Rice Terraces.
Duoyishu Rice Terraces - Best Site for Sunrise
Duoyishu Rice Terraces is about 23km southeast of Xinjie Town. Though being only a part of Yuanyang Rice Terraces, it is still a large area, which can be further divided into more parts, like Aichun (爱春), Dawazhe (大瓦遮), etc. The sunrise landscape at Duoyishu Rice Terraces is a must, particular when the fields are filled with water. Nothing is more breathtaking than waking up to the sunrise view here!
To mark the best view spot in this area and guarantee a better experience, a large multi-story viewing deck has been built here.
Minority Villages
In between the rice terraces, there are several small well-preserved Hani villages will you a glimpse of the typical life of locals. Azheke Minority Village at Bada, for instance, is a hot place to be explored.
The life of the Hani People revolves around rice: planting it, harvesting it and using the wheat-straws to build their houses! Unlike any other rural houses with a tiled roof in China, the houses at the villages like Azheke there have a mushroom-like roof created by multilayers of wheat-straws! Such lovely appearances attracted many tourists!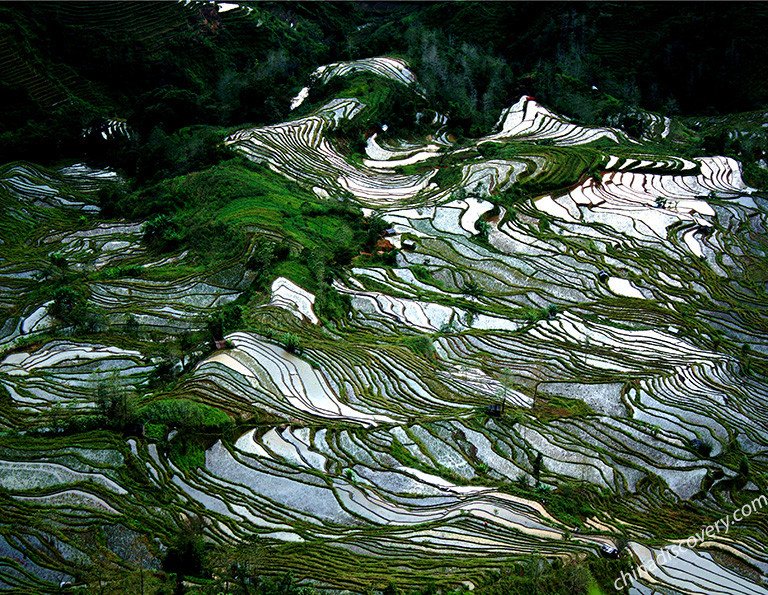 Laohuzui Rice Terraces
Duoyishi Rice Terraces
Bada Rice Terraces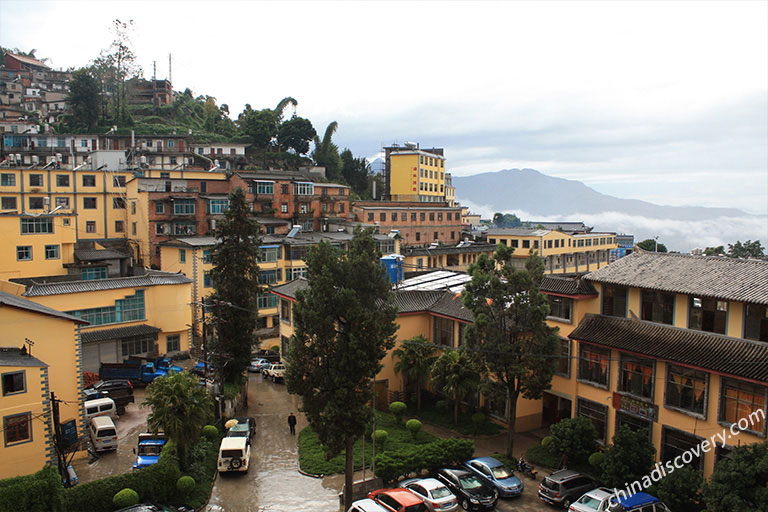 Azheke Minority Village
Warm tip: Laohuzui Rice Terraces was once also a major spot of Yuanyang Rice Terraces. However, most of its terraces there have been destroyed by the sudden mud-rock flow and heavy rain since 2018.
Best Time to Visit Yuanyang Rice Terraces
The scenery of Yuanyang Rice Terraces varies according to season changing and crops growing. The local Hani People normally begin to plant rice seedlings from May, while the harvest time usually comes in September. During Late November to April, the entire field will be irrigated with water from the forest above to rejuvenate and getting prepared for the next season. Tourists prefer the water seasons from November to April most!
| Best Time | Reason | Scenery |
| --- | --- | --- |
| Late November to April | Water season for terraces that best for photography and sightseeing | The bare fields full of water reflecting the beautiful and colorful sky and sunlight above |
| May | Planting time | Local Hani People dressed in their iconic minority clothes will plant rice seedlings in the fields. |
| September | Golden harvest time | The mountains will be a yellowish-brown sea of ripe rice and locals are going to do their yearly harvest. |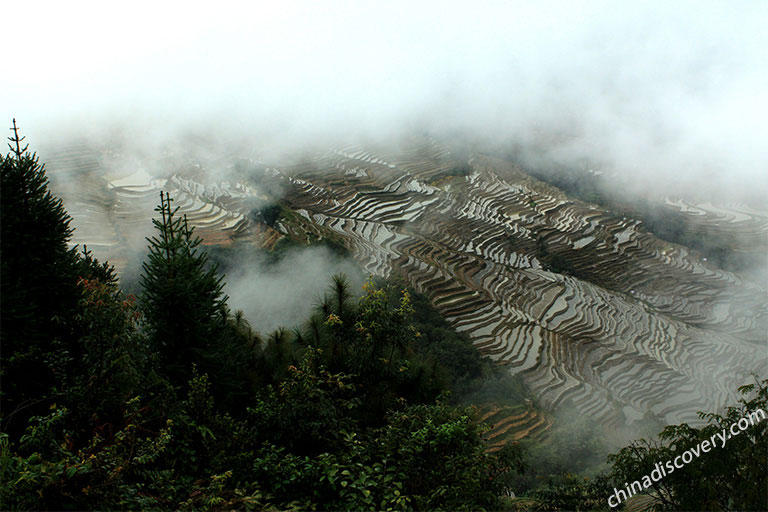 Bada Rice Terraces in Water Seasons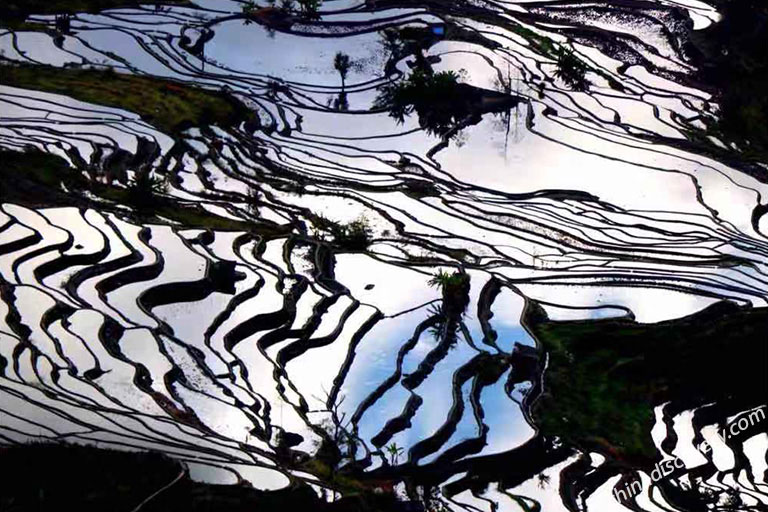 Yuanyang Rice Terraces in May
Recommended Yuanyang Rice Terraces Hiking Routes
Route 1 - Trek Close to Blue Rice Terraces and Azheke Village
Trekking length: 5km around
Time needed: 2~4 hours
Route details: Duoyishu - Pugaolaozhai Folk Village - Aichun Rice Terraces - Azheke Minority Village (阿者科)
Route 2 - Trekking with Opportunity to Enjoy Weekly Market at Shengcun Village
Trekking length: 9.5km around
Time needed: 4~6 hours
Route details: Duoyishu (多依树) - Shengcun Village (胜村) - Malizhai Village (麻栗寨) - Laoyingzui (老鹰嘴)
>> 3 Days Yuanyang Rice Terrace Hiking Tour for Hani Culture Exploration
Warm tip: Try to follow the main driving road until you reach at one of the main tourist spots or you may get lost in this vast terraces area.
Where is Yuanyang Rice Terraces and How to Get There
Yuanyang Rice Terraces, or known as Yuanyang Terraced Field, is hidden in the lush green mountains that far away from railway stations and airports. It is about 320km and 5.5~6 hours south of Kunming, the capital of Yunnan Province. Usually, visitors catch a private car or bus from Kunming to get there. Considering the driving journey is relatively long, visitors also prefer to make a stop at Jianshui Old Town, which is settled just in between.
Kunming to Jianshui
There are frequent bullet trains running between Kunming Railway Station (昆明站) and Jianshui Railway Station (建水站). The high speed train ride needs 2~2.5 hours. If you go by car or coach, it will takes about 2.5~3 hours.
Real-time Kunming to Jianshui High Speed Train Timetable >>
Jianshui to Yuanyang
Driving is the best way to get to Yuanyang from Jianshui, because nowadays there is no train station or airport there. The driving distance between Jianshui and Yuanyang Rice Terraces is about 116km, which needs about 3 hours around. Therefore, getting to Yuanyang by private car is our pick of most suggested choice. For independent travelers, you can also find coaches between Jianshui Coach Station (建水汽车客运站) and Yuanyang. However, remember theses coaches will not take you to the scenic area directly, but will drop you off at Xinjie Town, the gateway to the scenic area. From Xinjie Town, you have to make a transfer by local minibus to the scenic area.
How to Travel Around Yuanyang Rice Terraces
Inside the Yuanyang Rice Terraces Scenic Area, there is no taxi for you to get around. Most of the scenic spots are 8-10km apart from each other, and you can go between villages for CNY 5-15 by minivan. The minivans are provided by locals who know little about English or sometimes even mandarin. So you may need to show them pictures of spots you are going to visit, or you may get lost in this vast mountainous area. Things will certainly be more easy and convenient if you go with an English speaking driver or guide. If you need any help of such a guide or driver, please feel free to contact us.
Warm tip: prepare some medicines with you in case you get motion sickness during long driving on the mountain roads.
Get more detailed ideas of How to Get to/around Yuanyang Rice Terraces >>
Yuanyang Rice Terraces Map
Where to Stay at Yuanyang Rice Terraces
The best place to stay for a Yuanyang Rice Terraces tour, of course, should be inside the scenic area. And then you will have more opportunities to be ahead of the queue for sunrise. Besides, you will go to bed earlier after exhausted hiking for sunset.
Yuanyang Rice Terraces offers up a selection of good hostels for you to stay. Most of them are in basic, but has good bed and hot water. If you have plans to capture the sunrise at Duoyishu on the next morning, you are suggested to stay at its nearby villages like Huangcaoling (黄草岭). Shengcuo Village (胜村) is also recommended, because it is within a short driving distance for about 4.5 km.
Check more about Where to Stay at Yuanyang Rice Terraces >>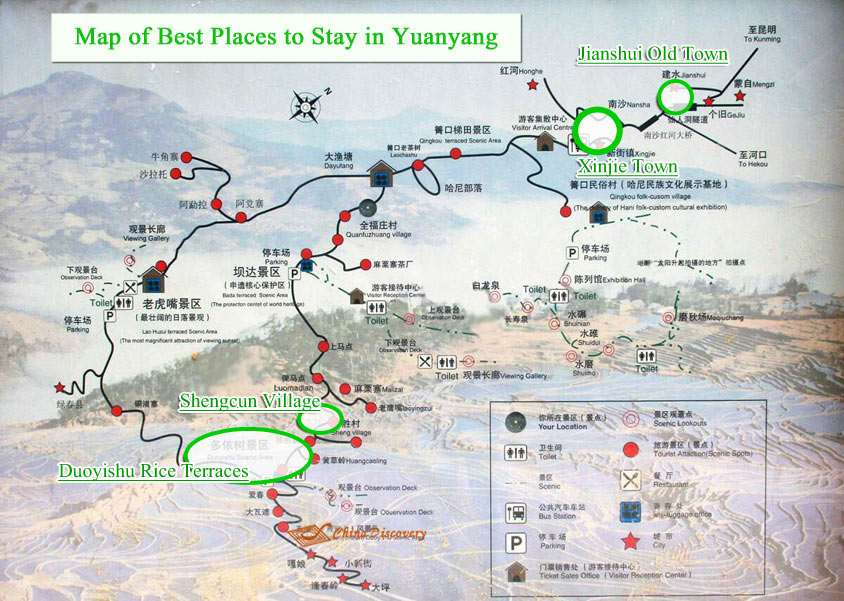 4 Best Places to Stay in Yuanyang
How to Plan a Yuanyang Rice Terraces Tour
A Yuanyang Rice Terraces tour usually starts from Kunming. And about 3 - 4 days are best choice, which has turned out to be perfect by most visitors. Considering the relative long and tough car journey along the mountain road to Yuanyang, the first night is for your good rest. And on the morning of next day, you can wake up early to capture the stunning sunrise view at Duoyishu, and then make a transfer to Bada for the sunset. During the way, make some stops at some lovely villages. Before heading back to Kunming, do not forget to leave yourself half day or so for some leisure trekking!
>> 3 Days Yuanyang Rice Terraces & Hani Culture Discovery Tour
>> 4 Days Yuanyang Rice Terrace Awesome Photography Tour
Since Jianshui Old Town is located conveniently on the way from Kunming to Yuanyang, you are also suggested to take a short visit to Jianshui first before your Yuanyang tour!
>> 4 Days Kunming Jianshui Tour by High Speed Train
>> 5 Days Kunming, Jianshui & Yuanyang Rice Terraces Tour
Want more surprises of the diverse Yunnan? Why not extending your tour to more top destinations in one go, such as Kunming famous as Spring City and convenient province capital, Lijiang to meet the best ancient town, mountain and gorge, Dali with profound Dali Old Town and splendid Erhai Lake, Xishuangbanna with exciting tropical flavor and Dai ethnic dances, etc., which usually needs 6-15 days based on your exploration depth!
>> 11 Days Amazing Yunnan Tour (Kunming/Yuanyang/Jianshui/Dali/ Lijiang/Shangri-La)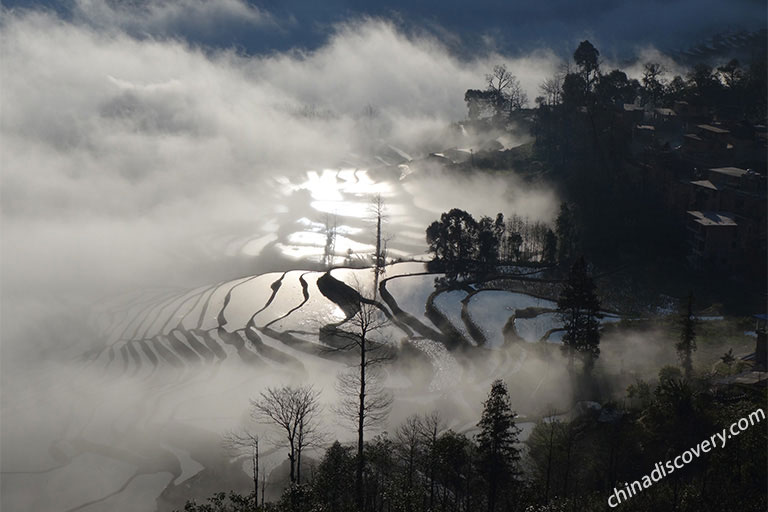 Yuanyang Rice Terraces and Glorious Morning Glow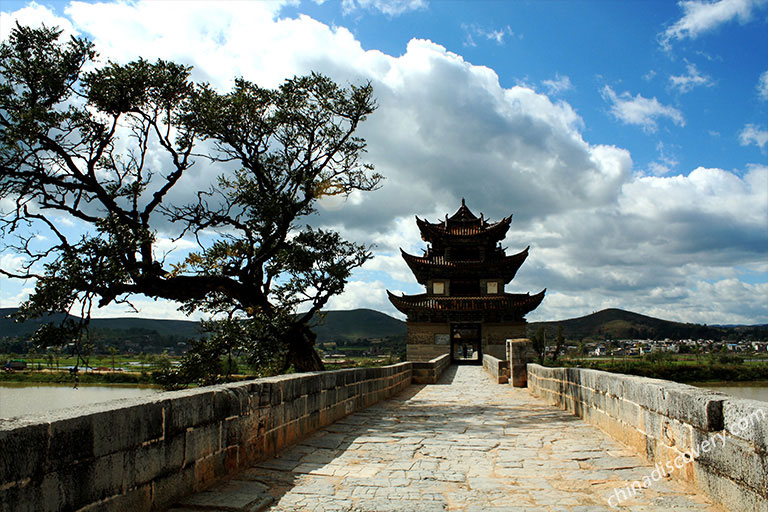 Double Dragons Brige in Jianshui
Travel Yuanyang Rice Terraces with China Discovery
Want to visit Yuanyang Rice Terraces but feel trouble about its poor traffic condition? Travel with China Discovery and let us do you a favor! We have convenient private car that will take you to/go back from Yuanyang in speed, ease and convenience! Our English-speaking guide will accompany you all the way and introduce you the best visiting route and photography time and spots of Yuanyang Rice Terraces!
The tour can be tailor-made according to your group size, time, physical condition, plan, interests, budget and other special need. Please feel free to contact us if you need any help or customize the tour with free quotation!
We have helped many global travelers enjoy their memorable trips to Yunnan for the past few years. Among them Mr. Elie & his wife from Belgium had 15 great days in Yunnan during their 69 days China trip customized with us and shared us their special travel story. Travel with China Discovery to create your wonderful Yunnan trip memories!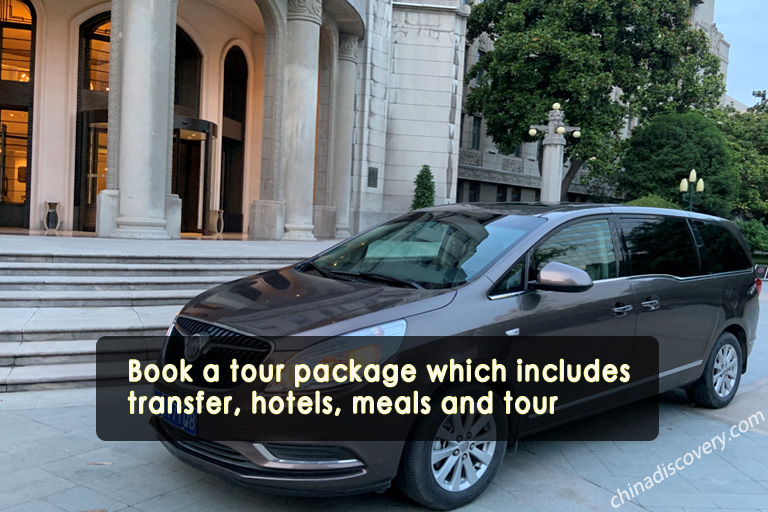 Travel Yuanyang with China Discovery
Keep Reading on Yuanyang
Useful Yunnan Travel Articles
Recommended Yuanyang Tours
Top 3 Yuanyang tours chosen by most customers to explore Yuanyang in the best way. Check the detailed itinerary, or tailor your own trip now with us.
3 Days Yuanyang Rice Terraces & Hani Culture Discovery Tour

Kunming / Yuanyang / Kunming
5 Days Kunming, Jianshui & Yuanyang Rice Terraces Tour

Kunming / Stone Forest / Yuanyang / Jianshui / Kunming
Kunming / Stone Forest / Yuanyang / Jianshui / Kunming / Dali / Lijiang / Shangri-La
Start planning your tailor-made holiday to China by contacting one of our specialists. Once inquired, you'll get a response within 0.5~23.5 hours.
Customize a Trip
Have a question? Get answers from our travel experts or guests
Your Question:

Your Name:

Your Email: