Xishuangbanna Weather | Best time to visit Xishuangbanna
Xishuangbanna (西双版纳), locate at the extreme southern part of Yunnan province with Burma and Laos to the south, is 730 kilometers from Kunming. For visitors who are fancy with the breathtaking tropical scenery as well as unique Dai culture and Hinayana Buddhism of Southeast Asia, Xishuangbanna will be a heaven-like destination for you.
With tropical monsoon climate, Xishuangbanna is warming all year round, sunny and rich in heat, humid and rainy. The average annual temperature is around 18°C - 22°C, the annual sunshine hours in Xishuangbanna range from 1800 to 2,100 hours with evenly distributed in four seasons. There is not much annual temperature difference in Xishuangbanna, while the daily range of temperature is relatively large. The annual monthly temperature difference between the coldest month and the hottest month is only 9.9 ℃, while the daily temperature difference is can reach to 27.3 ℃, which is quite different from most regions in China. Xishuangbanna has a distinct dry and wet season, with an annual precipitation of 1,113.7 ~ 2,491.5 mm, more than 80% of precipitation happens during rainy season.
Best Time to Visit Xishuangbanna Yunnan
"Hot" is one of the world comes to most people's mind when we are mentioning about Xishuangbanna. With an average temperature of 21.8°C, winter in Xishuangbanna is warm and pleasant; therefore the best time to visit Xishuangbanna is from November to next year April. Visiting Xishuangbanna in April, you can join the grand and characteristic local ethic festival - the Water Splashing Festival.
Xishuangbanna Tropical Botanical Garden, Wangtianshu Scenic Spot, Banna Wild Elephant Valley, Dai Minority Park, the Manting Imperial Garden, local juicy tropical fruits and plentiful plant and animal resources are all highlights you can't miss in Xishuangbanna. Please check the specific weather condition before your Xishuangbanna tour.
Recommended Best Xishuangbanna Tour:
>> 4 Days Xishuangbanna Tour with Tropical Flavor & Dai Culture
>> 5 Days Kunming Xishuangbanna Contrast Scenery & Culture Tour
Average Xishuangbanna Temperature by Month
| Month | Recommended Rate | Max Temp. | Min Temp. |
| --- | --- | --- | --- |
| Jan. | | °C | °C |
| Feb. | | °C | °C |
| Mar. | | °C | °C |
| Apr. | | °C | °C |
| May. | | °C | °C |
| Jun. | | °C | °C |
| Jul. | | °C | °C |
| Aug. | | °C | °C |
| Sep. | | °C | °C |
| Oct. | | °C | °C |
| Nov. | | °C | °C |
| Dec. | | °C | °C |
Xishuangbanna Seasons to Go
Influenced by the tropical monsoon climate, Xishuangbanna has a long summer and no winter, spring and autumn are connected but short. Seasons in Xishuangbanna are not distinguished by temperature differences, but through precipitation. Divided by rainfall, there are 2 seasons in Xishuangbanna, the dry season and the wet season. November to April is the dry season in Xishuangbanna, the weather is cooler, it is the peak season for tourism. May to October is the rainy season, the weather is hot and humid, but for visitors who are visiting Xishuangbanna during this time can taste all kinds of fresh tropical fruits. With few visitors during these months, the cost of everything also fell.
Dry Season (November - April) - the Most Recommended and Peak Season for Tourism
Dry Season in Xishuangbanna is from November to next year April, from November to next year February, the average temperature during these 4 months is about 19°C. Then temperature continues to rise in March and April, reach the highest temperature of the year in April with about 33.4°C. Rainfall during this period is much less than the rainy season, with an average monthly rainfall of 30mm and total rainfall of 178.1mm.
Dry Season Thing to See & Do
Dry season from November to April is the best time to visit Xishuangbanna. From November to next year February, you can head to the Banna Wild Elephant Valley to try your luck; it's the perfect time to encounter wild elephants. Then you can continue your trip to the Tropical Plants Garden and let green plants to moisten your eyes. You can also appreciate typical religious architectures in Mengle Great Buddhist Monastery and Manting Park; learn more about local Dai culture through visiting Dai Minority Park.
Apart from attractions, a lot of grand local featured festivals are held during this period. You can join the local Water-Splashing Festival which is held in mid-April usually from April 13 to April 15 in Jinghong city. It is a traditional festival for the Dai people to send off the old and greet the new and to give best wishes to each other. From 6th to 8th February are Temaoke Festival and the New Year for Jinuo people. During the festival, Jinuo Village will hold a cattle slaughtered activity, everyone gather together to sing and dance, eat New Year's Eve dinner. During this festival, every guest to the village will be warmly welcomed. This is also the best time to go to the village to learn about the customs of Jinuo.
What to Wear
Weather is warm and dry, wear T-shirts and short pants during daytime, a sweater or a thin coat is enough to keep from night cold in winter. To protect yourself from the strong solar radiation in winter, you need sunglasses, sunscreen and other sunscreen products. There are different kinds of mosquitoes and bugs in tropical rain forests, therefore if you are a magnet for mosquitoes, do remember to bring Mosquito repellent with you. Even in January. The daytime temperatures are high, medicines against sunstroke are essential for your Xishuangbanna journey.
Hot Tour:
>> 4 Days Xishuangbanna Tour with Tropical Flavor & Dai Culture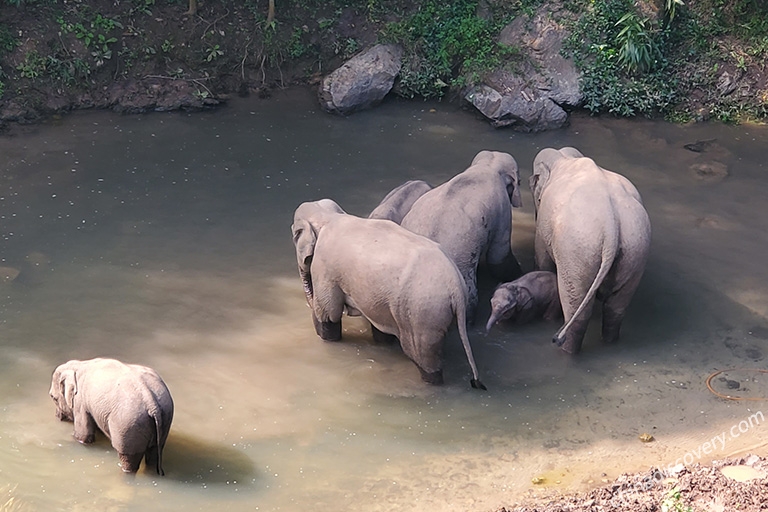 Banna Wild Elephant Valley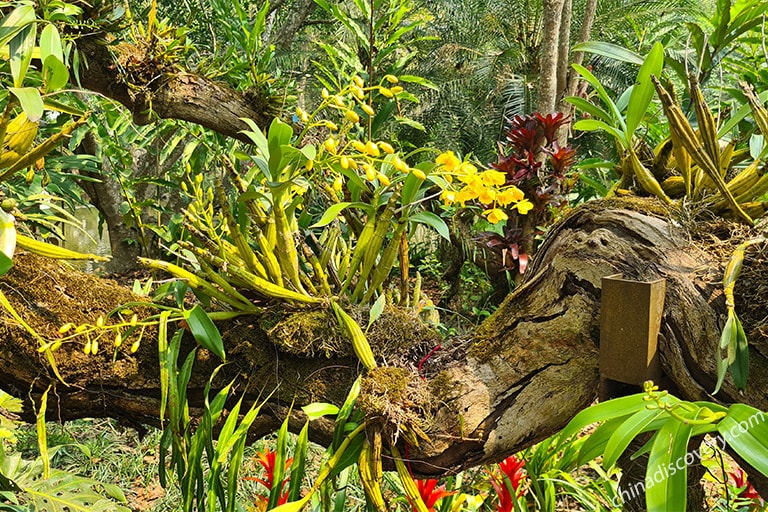 Tropical Plants Gardens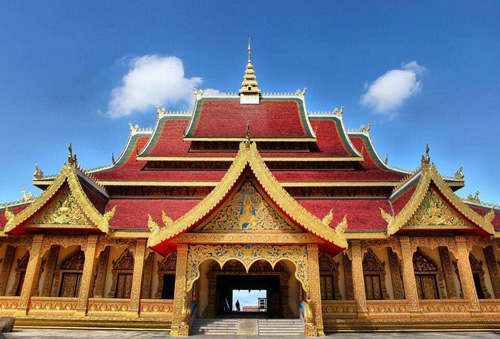 Mengle Great Buddhist Monastery
Wet Season (May - October) - the Hot, Rainy Season but Less Visitors
From May to October, Xishuangbanna is hot and humid. The average temperature is about 26.7℃ with a total rainfall of 935.6mm. From June to August, every month there are over 20 days of raining.
Wet season Thing to See & Do
From May to October is the rainy season but also the fruit ripen season. There are many tropical fruits in Xishuangbanna, which will definitely make you salivate. Mystery fruit, srikaya and nangka are all local delicious fruits. If you come across fruits you have never seen before, you should never miss the opportunity to taste them. You can visit Mengjinglai (勐景来) - being praised as the first walled village of China and Myanmar, villagers make traditional handicrafts and sell local fruits in the market, which makes here a perfect place for you to experience the local life. You can also go to Dai Minority Park to experience Dai people's daily life and special culture, such as you can enjoy "the Oriental Carnival" in Water-splashing Square and pay visits to five Dai villages. Wondering about where to go in the evening? Gaozhuan night market (告庄夜市) is also a must stop for tourists who come to Xishuangbanna. Here you can enjoy Southeast Asian delicacies, such as xishuangbanna ethnic cuisine, custom bars, coffee and all kind of desserts.
What to Wear
Touring Xishuangbanna during the hottest season, you will sweat a lot. Drink enough water when you are doing outdoor activities. It is recommended to bring a small towel with during your Xishuangbanna tour, umbrella, mosquito repellent, sunblock and sunstroke medicine is essential for your Xishuangbanna Journey.
Hot Tour:
>> 5 Days Kunming Xishuangbanna Contrast Scenery & Culture Tour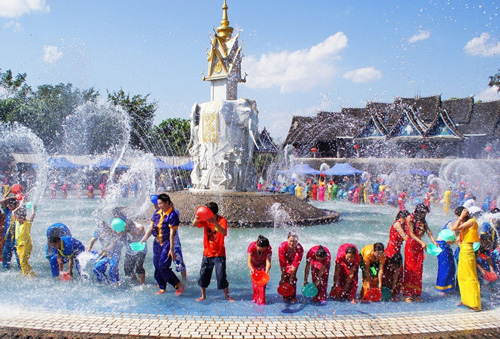 Water-splashing Festival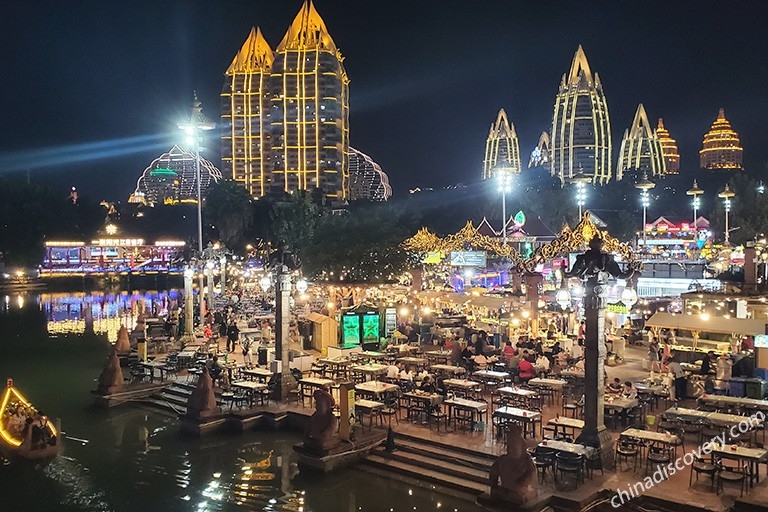 Gaozhuang Night Market
How to Plan Your Xishuangbanna Tour
Most people would plan 3-4 days tour in Xishuangbanna. There are many places worth to visit, you can go to Banna Wild Elephant Valley and get very close to the lovely wild elephants and other lovely animals; then drive to Jinuo Ethnic Village to enjoy the performance held by the local villagers; visit the kingdom of plants - Tropical Plants Garden to enjoy a freely breath in the natural oxygen bar and appreciate all kinds of unique plants in the park. Want to experience the Oriental Carnival - the Water-splashing Festival of Dai people? Visit Dai Minority Park to join the water party, then visit some Dai villages and get to know their culture. Xishuangbanna is also famous for the architecture group featured with Theravada Buddhist characteristics. To appreciate architectures, you can pay a visit to the largest Theravada Buddhist Temple in China - Mengle Great Buddhist Monastery then wandering around Manting Park to immerse yourself in the old fairytale.
Recommended Xishuangbanna & Dai Culture Discovery Tour Package:
▶ 4 Days Xishuangbanna Tour with Tropical Flavor & Dai Culture
Before or after your Banna tour, you can also visit other hot destinations in Yunnan to highlight your trip. Spend 1-2 days in the capital of Yunnan - Kunming city, meet the black-headed gull at Green Lake Park, plan a hiking tour to Xishang Mountain and pass through the Dragon Gate, and visit the world famous Karst landscape - Kunming Stone Forest and Jiuxiang Caves.
Recommended Xishuangbanna Tour with Kunming Highlights:
▶ 5 Days Kunming Xishuangbanna Contrast Scenery & Culture Tour
If you have extra days left, continue your trip to the romantic Dali - the ancient kingdom of Nanzhao to appreciate the beauty of the magnificent Cangshan Mountain and pure Erhai Lake. Want to cooler down yourself after the tropical tour? Visit Lijiang, you can enjoy the pleasant weather and fully relax yourself in Lijiang Old Town, if you visit during winter or spring, you can head to Jade Dragon Snow Mountain to appreciate the astonishing scenery of snow and the massive glaciers in the scenic spots. The Blue Moon Valley also a place you can't miss during your Jade Dragon Snow Mountain tour. Find your way to the lost fairyland - Shangri-La in Yunnan, the local Tibetan culture, the amazing natural plateau scenery, the magnificent of the No.1 holy snow mountains and charming flower seas all makes this place a must-visit destinations in Yunnan.
Recommended Best Yunnan Tour Package:
▶ 6 Days Yunnan Essence Tour (Kunming / Dali / Lijiang / Shangri-La)
▶ 8 Days Classic Yunnan Tour (Kuming / Dali / Lijiang / Shangri-La)
▶ 11 Days Amazing Yunnan Tour (Kunming / Yuanyang / Jianshui / Kunming / Dali / Lijiang / Shangri-La)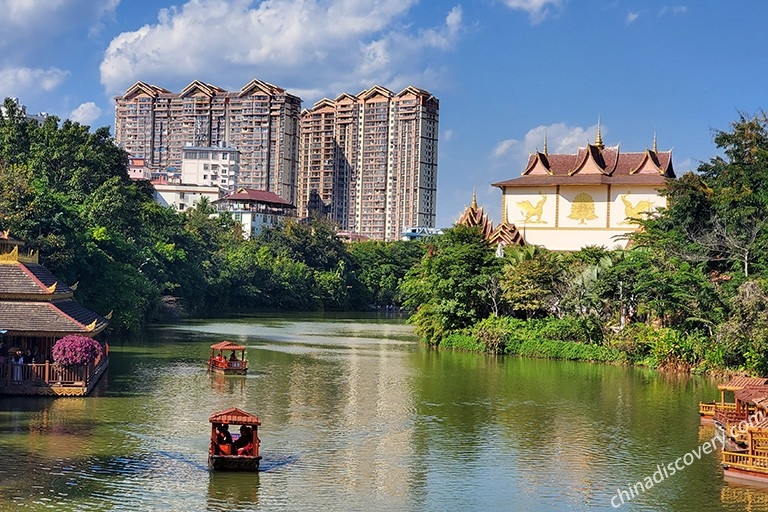 Manting Park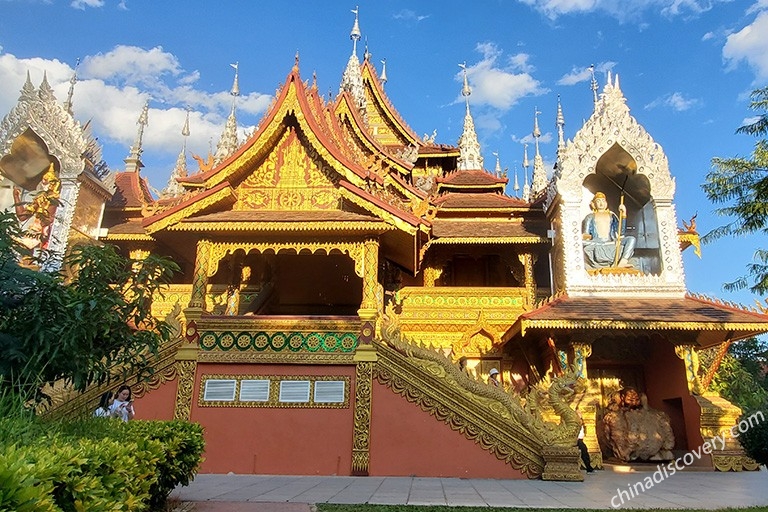 Xishuangbanna Buddhist Temple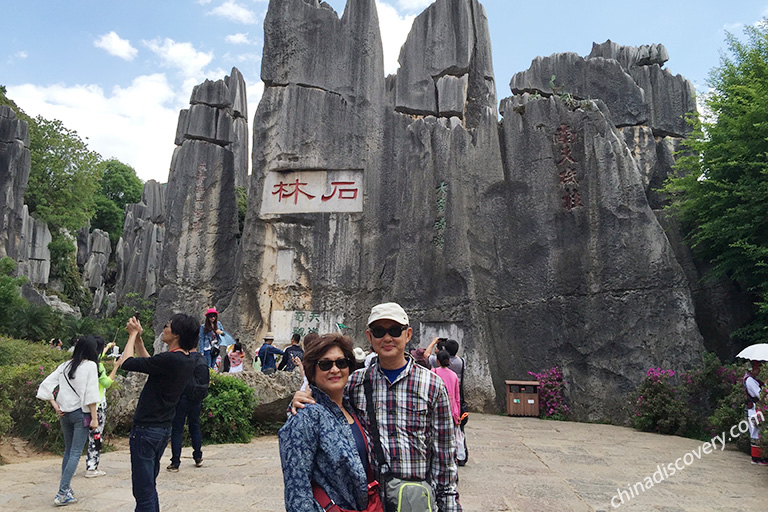 Kunming Stone Forest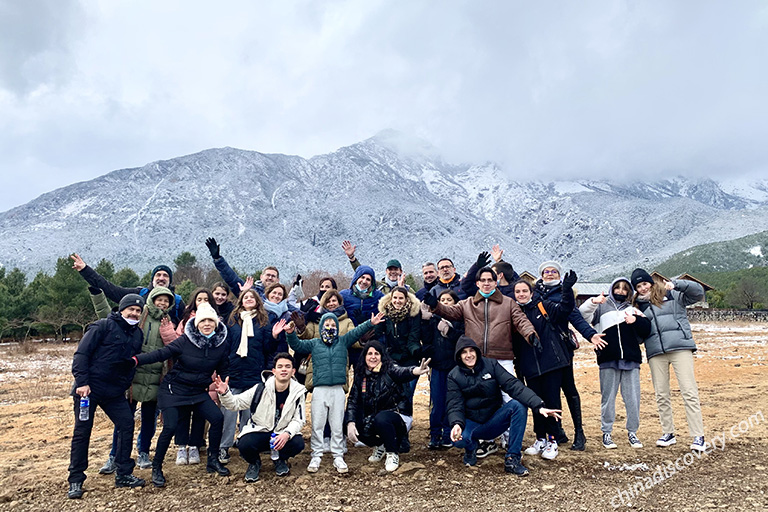 Lijiang in Yunnan
Travel Xishuangbanna with China Discovery
China Discovery has been the leading online travel agency for over 10 years and we are specialized in offering different tours in diverse Yunnan, including Kunming tours, Lijiang tours, Dali tours, Shangri-La tours, Yuanyang Rice Terraces tours, Dongchuan Red Land tours, Puzhehei tours...
No matter you want to put one simple destination into your trip or cover several destinations together or even extend your Yunnan tours all over China like Beijing, Xian, Guilin, Shanghai, Chengdu, Zhangjiajie, Hong Kong, Guizhou, Tibet, China Discovery can provide you best tour guides and experienced drivers with comfortable private cars in any of the destinations. Our English-speaking tour guide will accompany you all the way, showing you the best traveling route and telling beautiful stories of the colorful Yunnan. The tour can be tailor-made according to your group size, time, physical condition, plan, interests, budget and other special need. Please feel free to feel free to contact us if you need any help or customize the tour with free quotation!
Average Temperature & Rainfall of Xishuangbanna Yunnan

| | | | | | | | | | | | | |
| --- | --- | --- | --- | --- | --- | --- | --- | --- | --- | --- | --- | --- |
| Month | Jan | Feb | Mar | Apr | May | Jun | Jul | Aug | Sep | Oct | Nov | Dec |
| Temperature(°C) | 18.55 | 20.3 | 23.15 | 25.7 | 26.85 | 27.1 | 26.55 | 26.6 | 26.1 | 24.4 | 21.35 | 18.45 |
| Precipitation(mm) | 12.4 | 14.7 | 21.8 | 51.5 | 126.8 | 158.5 | 220.2 | 197.7 | 141.1 | 91.2 | 59.4 | 18.3 |
Keep Reading on Xishuangbanna
Useful Yunnan Travel Articles
Recommended Xishuangbanna Tours
Top 3 Xishuangbanna tours chosen by most customers to explore Xishuangbanna in the best way. Check the detailed itinerary,or tailor your own trip now with us.
8 Days Classic Yunnan Tour

Kunming / Dali / Lijiang / Shangri-La
5 Days Kunming Xishuangbanna Contrast Scenery & Culture Tour

Kunming / Xishuangbanna