Xishuangbanna Map, Xishuangbanna China Map
Xishuangbanna Dai Autonomous Prefecture, with a name of Xishuangbanna or Banna in short, is a popular tourist place in Yunnan Province of China that differs a lot between typical China you may imagine. With reputations of "China's Thailand" and "Kingdom of Animals and Plants", here, you will get a really Tropical and South East Asian feel!
To help you navigate Xishuangbanna more efficiently, here, in this Xishuangbanna Map Guide, we will give you a list of useful maps, like Xishuangbanna China Map, Xishuangbanna Yunnan Map, Xishuangbanna Tourist Map, etc.
Xishuangbanna Location Maps - Where is Xishuangbanna in Yunnan, China on Map?
Xishuangbanna is situated in Yunnan Province, China. As the most southwest region of China, it neighbors Laos to its east and south, Myanmar to its west and Pu'er to its north. Xishuangbanna is consisted of three parts, with Jinghong City (景洪市) as its core, Menghai County (勐海县) as its west part and Mengla (勐腊县) as its east part.
The Xishuangbanna China Map, Xishuangbanna Yunnan Map and Xishaungbanna Map below will give you the location information of Xishuangbanna on map!
Address: Xishuangbanna Dai Autonomous Prefecture, Yunnan, China (云南省西双版纳傣族自治州)
Xishuangbanna Tourist Maps - Tourist Attractions in Xishuangbanna
If you find golden temples, banana trees and statues of the giant elephants everywhere in town, you've come to the right place! Being so close to Laos, and Myanmar, Xishuangbanna always gives visitors a feel of being in Thailand and China at the same time! What a magical experience!
Exotic flavor aside, vast tropical rainforest and groups of lovely elephants and peacocks are usually the reasons attracted visitors to Xishuangbanna. And you will find these treasures at Xishuangbanna Tropical Rainforest National Park Wangtianshu Scenic Area, Xishuangbanna Tropical Botanic Garden, Manting Park, and Wild Elephant Valley...
The Xishuangbanna Tourist Map below will give you a glimpse of attractions in Xishuangbanna.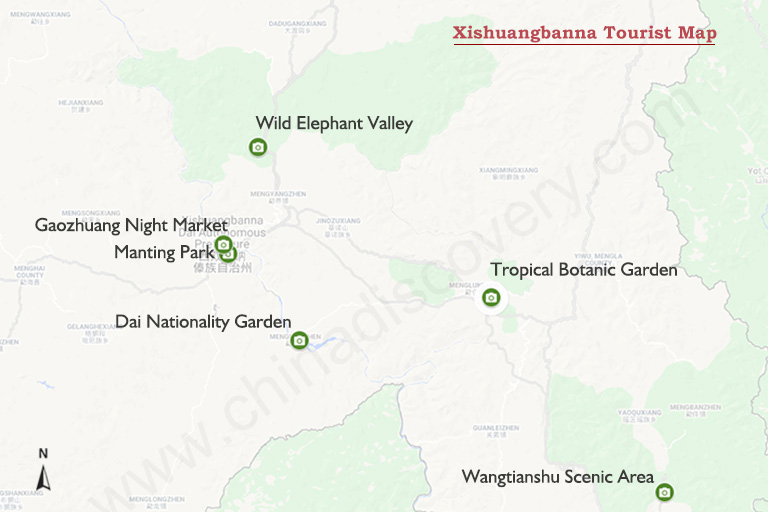 Xishuangbanna Tourist Map
Xishuangbanna Transportation Maps
Railways haven't connected Xishuangbanna with any other cities in China yet. Tourists usually get to Xishuangbanna by flight or long-distance coach. Xishuangbanna Gasa International Airport (IATA: JHG) operates frequent flights to domestic cities like Kunming, Beijing, Shanghai, Guilin, Chengdu, Guangzhou and also international flights to Bangkok, London, Singapore, New York, etc. Jinghong Coach Station (景洪汽车站) has long-distance coaches to both cities like Kunming in Yunnan and also to its nearby foreign cities like Vientiane.
Normally, tourists get to Xishuangbanna from Kunming. The following Kunming to Xishuangbanna Map will show you how to travel from Kunming to Xishuangbanna.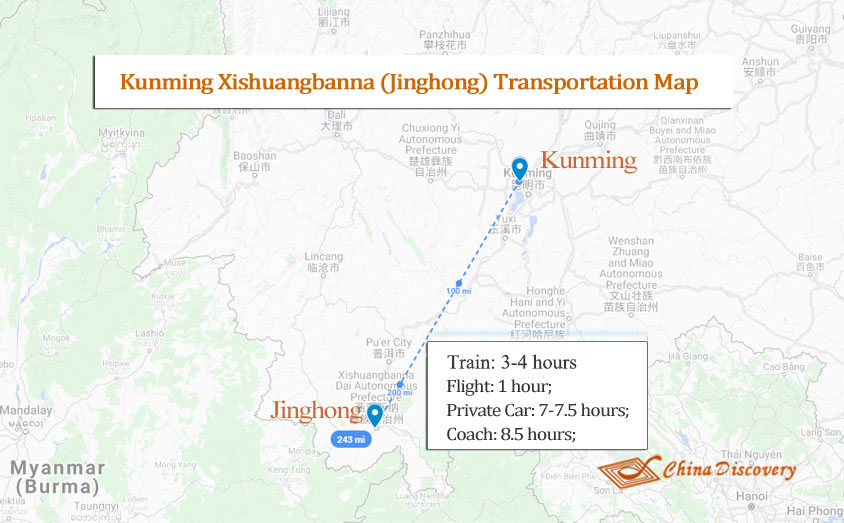 How to Plan a Xishuangbanna Tour?
How to Plan a Xishuangbanna Rice Terraces Tour
To fully catch the unique tropical flavor of Xishuangbanna, travelers spend about 3~4 days there. Since most of the scenic spots in Xishuangbanna are 1~3 hours apart from each other, tourists usually visit less than three sites of its most visited scenic spots each day, like Wild Elephant Valley, Wangtianshu Scenic Area, Xishuangbanna Tropical Botanic Garden, Manting Park.. And after the night falls, they will explore one of the so many amazing night markets in Jinghong City to savor some mouth-watering snacks in Thai or Dai flavor and buy some unique ethnic souvenirs.
>> 4 Days Xishuangbanna Tour with Tropical Flavor & Dai Culture
Most of the visitors head to Xishuangbanna from Kunming, the capital of Yunnan Province. Therefore, they will travel Kunming and Xishuangbanna in one go. Before heading to Xishuangbanna, they will spend 1~3 days in Kunming City to discover Green Lake, West Hill and Dragon Gate, Stone Forest…
>> 5 Days Kunming Xishuangbanna Contrast Scenery & Culture Tour
Want more surprises of Yunnan? Why not extending your tour to more top destinations, such as Lijiang to meet the best ancient town, mountain and gorge, Dali with profound Dali Old Town and splendid Erhai Lake, Shangri-La to seek the pure holy sceneries and Tibetan belief? Such a Yunnan tour needs 6-15 days based on your exploration depth!
>> 11 Days Amazing Yunnan Tour (Kunming/Xishuangbanna/Jianshui/Dali/ Lijiang/Shangri-La)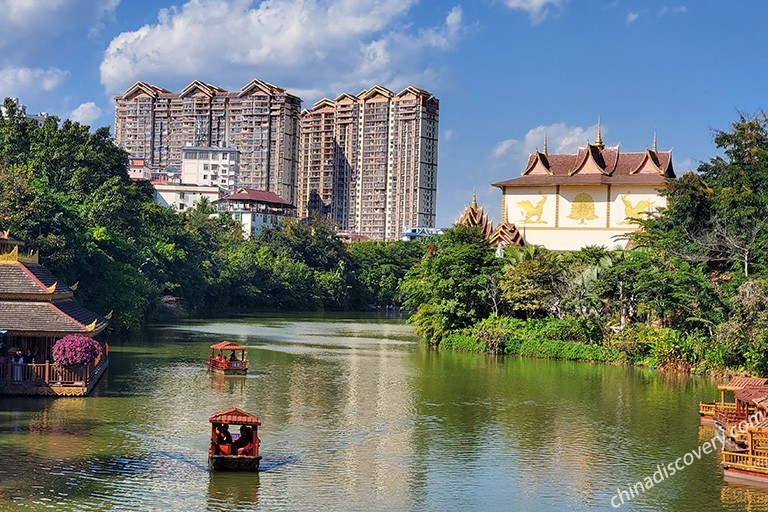 Manting Park
Kunming Stone Forest
Travel Xishuangbanna with China?
Feel trouble to travel those scenic areas that relatively far apart in Xishuangbanna? How about travel with China Discovery and let our experienced local driver and guide help you? If you go with us, we will give you suggestions on where to go and how to go according the real-time situation and your interest! Our professional driver will await you at the entrance gate and then escort you to your next destination directly in ease and convenience. Besides, our English-speaking guide will accompany you all the way and give you warm insider tips of avoiding breaking local custom taboos.
The tour can be tailor-made according to your group size, time, physical condition, plan, interests, budget and other special need. Please feel free to contact us if you need any help or customize the tour with free quotation!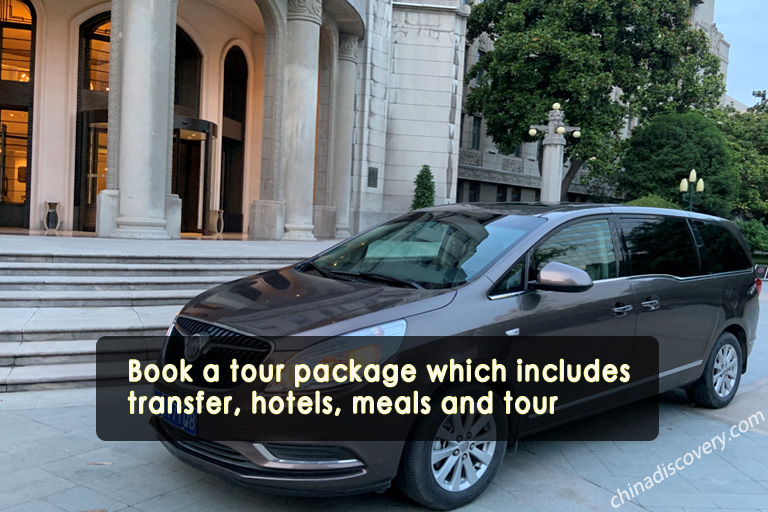 Travel Xishuangbanna with China Discovery
Keep Reading on Xishuangbanna
Useful Yunnan Travel Articles
Recommended Xishuangbanna Tours
Top 3 Xishuangbanna tours chosen by most customers to explore Xishuangbanna in the best way. Check the detailed itinerary,or tailor your own trip now with us.
8 Days Classic Yunnan Tour

Kunming / Dali / Lijiang / Shangri-La
5 Days Kunming Xishuangbanna Contrast Scenery & Culture Tour

Kunming / Xishuangbanna