Luoping County (罗平县), is a small county located in Qujing City, Yunnan Province, which is conveniently situated in the east of Kunming, the capital of Yunnan, about 213 kilometers away. At the joint of Yunnan, Guizhou and Guangxi, Luoping is called "the East Door of the Yunnan".
The top reason to come to Luoping is for the Golden Rapeseed Flowers Sea which is blooming prosperously on the land of Luoping in spring usually falling in the late January to the early April every year. Many typical Karst hills dotted on the flat farmland and when the green land is turning into the golden flowers sea, Luoping has become "the Largest Natural Garden in the World". Many travelers would like to spend around 2 days fully immersing into a sea of canola flowers and shooting many amazing pictures!
Why Visit Luoping in Qujing City, Yunnan?
Luoping International Canola Flower Culture Festival - Every year from the late January to the early April, thousand square meters Rapeseed Flowers is blooming flourishingly in the whole county of Luoping. To capture the best scenery, you'd better come at the end of February to the early March.
Canola Flowers Sea Panorama Scene - You should never miss the panoramic view of the vast Canola Flowers sea by ascending atop of a hill with good location. Most importantly, it is a good idea to come in the morning or in the late afternoon to shoot the beautiful sunrise or sunset scene! You'll really be enchanted in the Chinese-painting like scenery.
Magnificent Jiulong Waterfall - This waterfall is reputed as "the most beautiful in China" and rated as the No.4 waterfall among the Top 6 Waterfalls in China by Chinese National Geographic. The waterfalls have 10 different cascades and the largest one spans about 112 meters in width and 56 meters in height. It is about 23 kilometers from Luoping County.
Top Places to See Luoping Rapeseed Flowers
The places to see rapeseed flowers are scattered and in different directions. There are two routes for you to explore. One is the northeast tourist line that Jinji Peak, Niujie Luosi Field and Jiulong Waterfalls are located. The other one is the southeast tourist line that Hundreds of Thousands of Mountains, Duoyi River and Three Gorges of the Buluge are located. It is a good idea to arrange about 2 days to explore the top attractions on the two routes.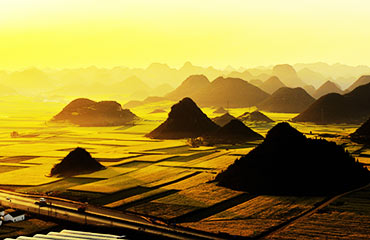 Jinji Peak (金鸡峰)
Jinji Peak, in the northeast of Luoping County, is the best place and the most famous one to shoot Luoping canola flowers. It is recommended to reach atop of the hill to shoot sunrise, sunset or for panoramic canola landscape.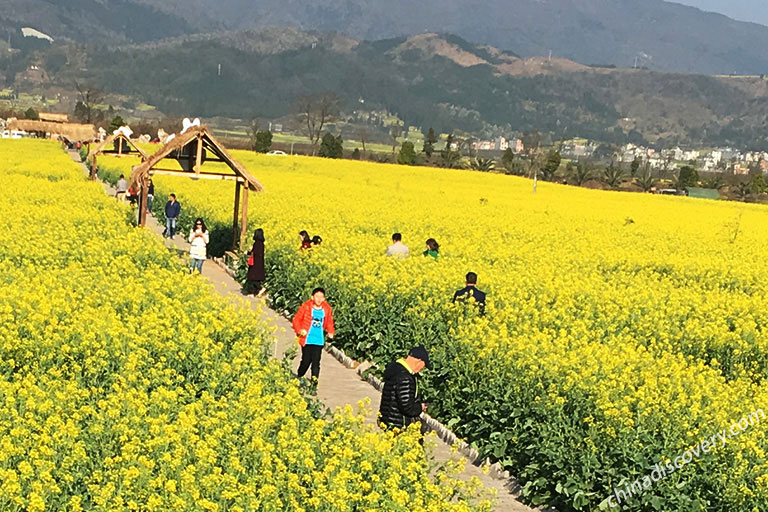 Niujie Luosi Field (牛街螺丝田)
Luosi means "screw" in Chinese and the field is called Luosi Field mainly for the terraces look like screws - layer after layer forming a circle. Walk 20 minutes up a hill for panoramic view of the featured field.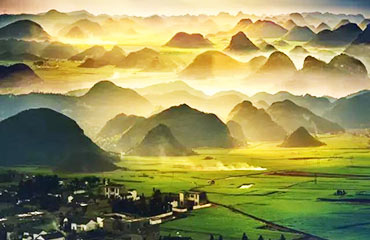 Hundreds of Thousands of Mountains (十万大山)
Called the essence of China Karst landscape, this area has hundreds of square kilometers with numerous peaks widespread. The peaks in tower-shaped, pointed cone, or rounded dotted on the farmland, it is very charming.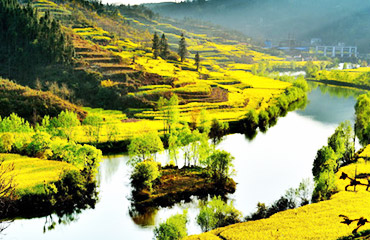 Duoyi River (多依河)
In the southeast of Luoping County on the way from Dashuijing Village to Duoyi River Village, it is the golden flowers scenic belt changing by the different slopes with different amazing lines. It is ranked No.4 on Tripadvisor on Luoping County list.
Best Things to Do in Luoping County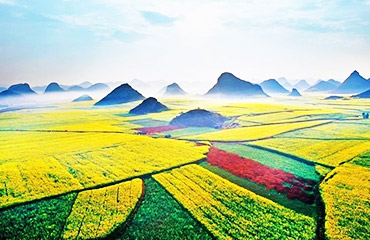 Photography
Besides have a good appreciation of the rapeseed flowers, bring your camera here to shoot gorgeous pictures as many as you can. The subjects are diverse - sunrise, sunset, panorama, karst landscape, village view, ethnic groups...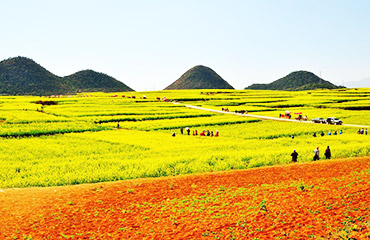 Hiking
It's impossible hiking from one site to another for the long distance. It's recommended to get off the car to take some time to hike some parts in the featured spots. This is the best way to feel the fragrance of the canola flowers.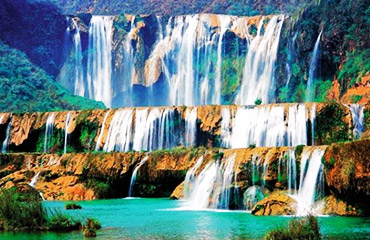 Visit Jiulong Waterfall
Extend a little far (about 15 kilometers) from Jinji Peak and you'll reach Jiulong Waterfalls (also called Nine Dragons Waterfall). It is the largest waterfall in China with 10 cascades level by level situated among the green hills.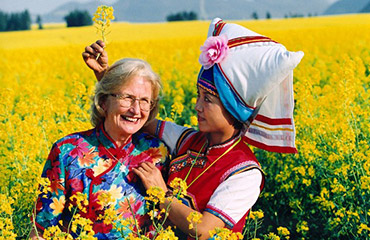 Enjoy Ethnic Folk Activities
Luoping is the gathering place for Buyi ethnic group. Every year on Lunar February Second Festival and Double Third Day, Buyi group's folk custom activities are holding like antiphonal and water-sprinkling...
Luoping Weather & Best Time to Visit
Luoping County has two kinds of climate. In the south of Luoping at Daba River, it belongs to subtropical monsoon climate and the rest area belongs to plateau monsoon climate. The spring comes early every year with very comfortable weather. Summer is Luoping is hot and wet with heavy rain and rainstorm; and winter is mild and rainy sometimes. The average temperature of the year is about 15.1℃.
The best time to visit Luoping County is during late January to early April. The famous Luoping International Canola Flower Culture Festival is usually at the middle February to the early Spring. The exact date for opening ceremony varies every year and it will be announced one or two months ahead. If you are interested in the 2021 Canola Flowers Festival, you can ask for our professional travel consultants who are here providing you accurate information.
Useful Tips for Shooting Luoping Rapeseed Flowers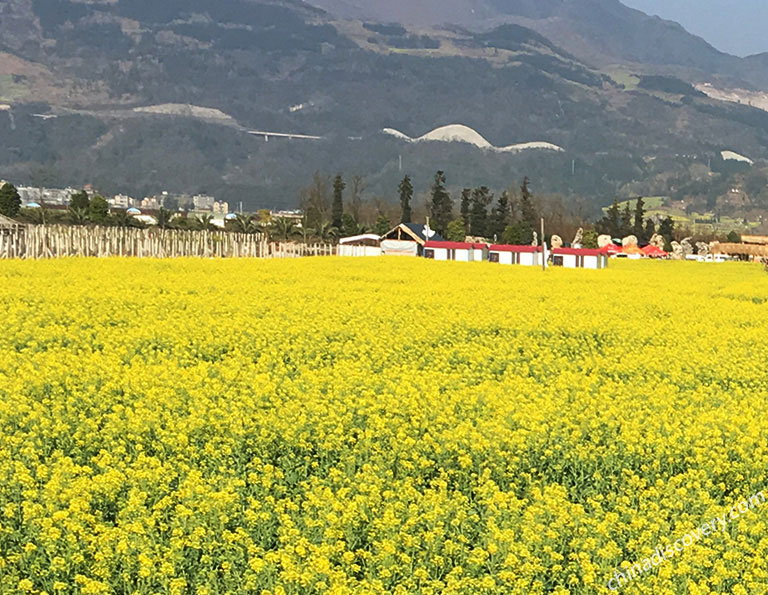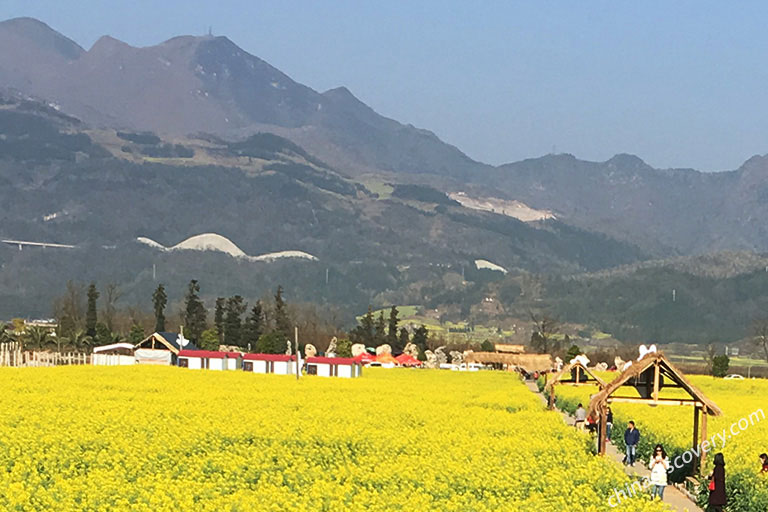 ● Best Location to Shoot: Since the rapeseed flowers are scattered among the farmland outside of Luoping County. The best locations to shoot the canola flowers are at Jinji Peak, Niujie Luosi Field, the way from Hundreds of Thousands of Mountains to Duoyi River.
● Best Time to Come: The canola flower season lasts about three months. While, in the late February enters into the florescence which becomes the best time to come. And usually during this period, Luoping International Canola Flower Culture Festival is going to hold. The best time lasts about 10 days and if you are photographers who want to capture the best pictures, come at the late February to the early March.
● Photography Composition: 1. During a day, the best time to shoot the canola field is in the early morning or at the late afternoon. At these periods, the light is very gentle and the colors are very distinctive. 2. Since the canola flowers are small and dense, it is not suitable for shooting the single one. However, capturing the golden canola flowers sea is the common subject. You can get atop of a hill at Jinji Peak or Luosi Field for the expansive canola flowers field surrounded by amazing Karst hills or the unique screw-like canola flower terraces.
Luoping Transportation & How to Get to Luoping
Luoping County is located in the east of Kunming City, about 213 kilometers away. Travelers usually first get to Kunming, the most important gateway city in Yunnan, and then make a transfer from Kunming to Luoping County. You may wonder how to get from Kunming to Luoping? It is recommended to go by private car (3-3.5 hours), train (about 3-3.5 hours), or long distance bus (about 4 hours).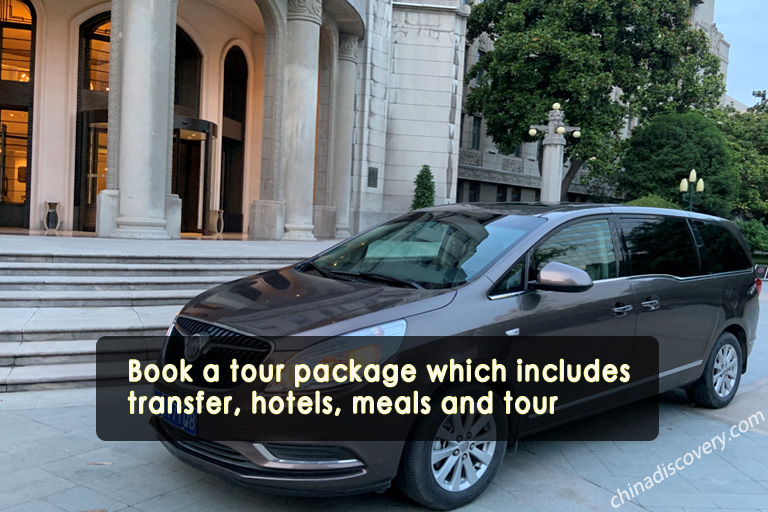 Get to Luoping from Kunming with China Discovery
China Discovery offers the private tour package with private car service and experienced tour guide accompanied along the way. You can have a worry-free Kunming Luoping tour at the most competitive price. The friendly driver will escort you to Luoping from Kunming and take you around Luoping County for in-depth sightseeing. The tour guide with years of experience and specialized photography knowledge, they can explain the ethnic culture in each destination and show you the best location to photograph.
Get to Luoping from Kunming by Train
Normal trains are available between Kunming and Luoping. There are four daily schedules from Kunming to Luoping County. Travelers can board a train in the morning at Kunming Railway Station and arrive at Luoping Railway Station. The whole train ride takes about 3-3.5 hours.
Get to Luoping from Kunming by Long Distance Bus
There are over 10 long distance buses running from Kunming to Luoping County. Travelers can head to Kunming East Bus Station for the bus to Luoping Bus Station. The buses are available during 07:00~17:00. It needs around 4 hours.
Get around Luoping County to See Canola Flowers Fields
You can easily find the mini coach or bus running between Luoping County to the surrounding tourist sites, like Jinji Peak, Niujie, Duoyi River. If you want to solve the trouble to research the transportation plan, you'd better use the private car service with China Discovery.
Where to Stay in Luoping & Recommended Hotels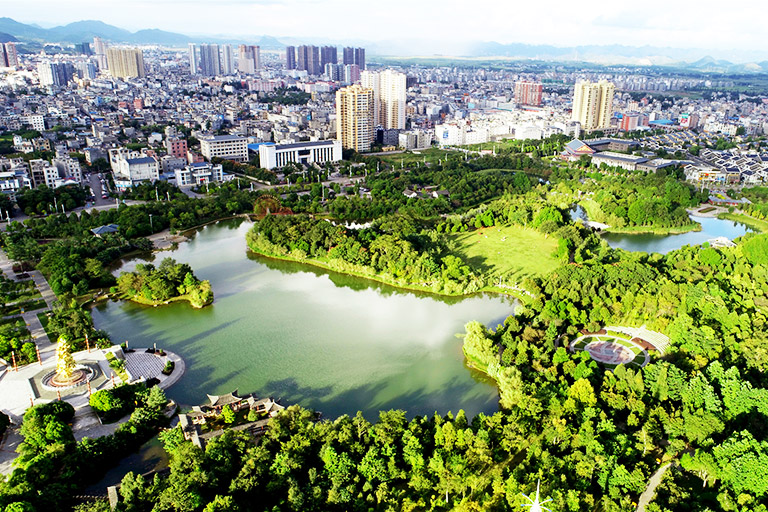 Most travelers would like to spend one night in Luoping. Luoping County area is the transfer stop heading to the northeast tourist line and southeast tourist line. Besides, most of the hotels are concentrated in the county. So, Luoping County is the best area for your Luoping accommodation. Hotels quality cannot be compared with the hotels in Kunming.
The recommended hotels are Luoping Xicheng Hotel (罗平曦城假日酒店, 4 star), Luoping Flower Whisper Hotels & Resorts (罗平花语堂精品人文客栈), Luoping Zhong Yuan Hotel (罗平中源酒店, 3 star), Luoping Cloud Hotel & Resort (罗平云之梦酒店, 3 star) and so on.
Luoping Maps - Useful Maps for Luoping Travel
To help you have a better understanding of Yunnan Luoping's location, transportation, top highlights and best photography sites, we've collected some useful maps including Luoping Yunnan Map, Kunming to Luoping Transportation Map, Luoping Tourist Map, etc.
Other Hot Destinations in Yunnan
Besides Luoping, there are many other hot destinations in Yunnan, like Kunming, Lijiang, Shangri-la, Dali, Yuanyang and Jianshui, etc. Check the travel guide of each destination and discover now!
Other Popular Destinations in China
China is vast and diverse. Besides Kunming and the colorful Yunnan, you can enrich your trip to more wonderful destination to enjoy more beautiful sceneries, historical culture, etc. Following are 4 top popular destinations you may get interested in. Please check the travel guide of each destination to start. Also, you can check all our popular travel destinations in China!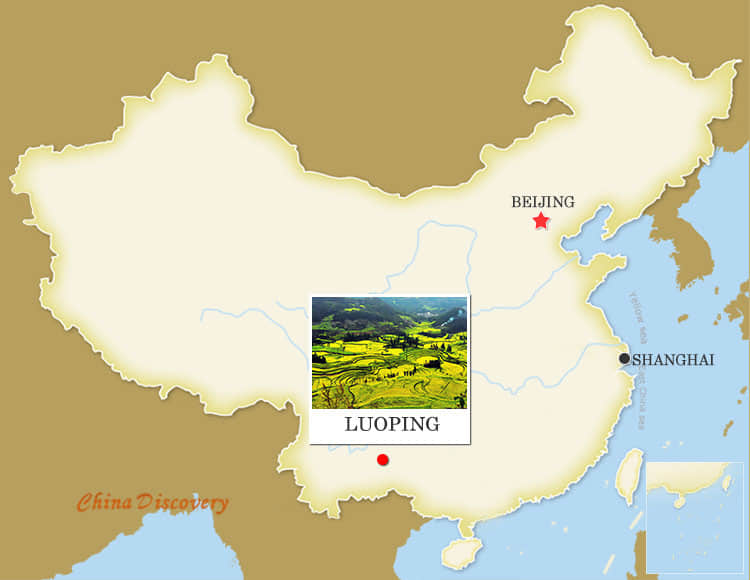 Chinese Name: 罗平
Chinese Pinyin: luó píng
Altitude: 1491 meters
Population: 0.61 million
Language: Mandarin & Bouyei Language
Tel Code: 0874
Zip Code: 655800
Time Zone: (UTC+8)
How to Plan Your Luoping Yunnan Tour
Luoping is very suitable to be visited and added into your Yunnan travel list in spring season. It is a good idea to spend one to two days exploring in and around Luoping County by visiting Jinji Peak, Niujie Luosi Field, Jiulong Waterfalls, Hundreds of Thousands of Mountains and Duoyi River. Travelers should spend one night in Luoping County.
Most travelers come to Luoping from Kunming. The whole visiting for the two destinations about 4 days. You won't miss the highlights in Kunming such as Stone Forest, Western Hills and Dragon Gate, Green Lake, Yunnan Ethnic Village or Yunnan Nationality Museum. After Kunming trip, take our private car service with 3.5 hours' driving to Luoping County and start your scenic photography journey in the largest natural garden in the world. After the tour, drive back to Kunming.
Furthermore, if you want to extend your trip to other hot destinations in Yunnan, covering Lijiang, Dali, Shangri-La, Dongchuan Red Land, or Yuanyang Rice Terrace, you can add them into the itineraries. Just tell us your ideas and likes, we can customize the tour for you!
Travel with China Discovery
We have helped many global travelers enjoy their memorable trips to Yunnan for the past few years. Among them Mr. Elie & his wife from Belgium had 15 great days in Yunnan during their 69 days China trip customized with us and shared us their special travel story. Travel with China Discovery to create your wonderful Yunnan trip memories!
Recommended Tours
MORE