Yunnan Ethnic Market | Top 8 Ethnic Markets in Yunnan
Yunnan, the colorful kingdom located in the southwestern part of China, not only has hugely varied splendors of natural sceneries from tropical rainforest to holy snow mountains, but also maintains and develops 25 different ethnic minorities. So what's the best way to explore and absorb different culture and folklore of different Yunnan minorities? Visiting local ethnic markets is absolutely one of the best ways to experience the authentic ethnic lifestyles in Yunnan.
Ethnic market in Yunnan varies from daily market, weekly market, morning market and night market. Markets in different places also have different features and characteristics. Yunnan Ethnic Markets are always bustling with people often dressed in their traditional colorful costumes and with many stalls selling fresh produce, textiles, fresh meat, traditional Chinese medicine, local delicacies, daily items, live animals, flowers and birds and much more. When traveling in Yunnan, make sure to include some featured local markets in your itinerary. Check the 8 BEST Ethnic Markets in Yunnan to get inspired for your Yunnan Tour!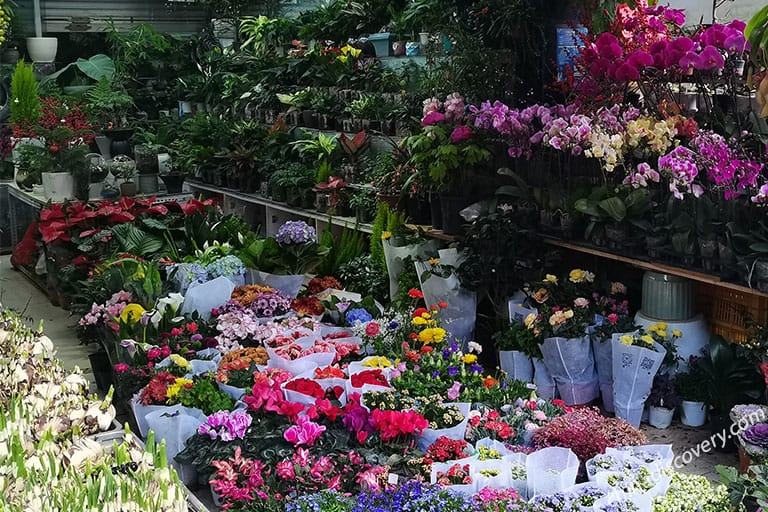 Flowers and Birds Market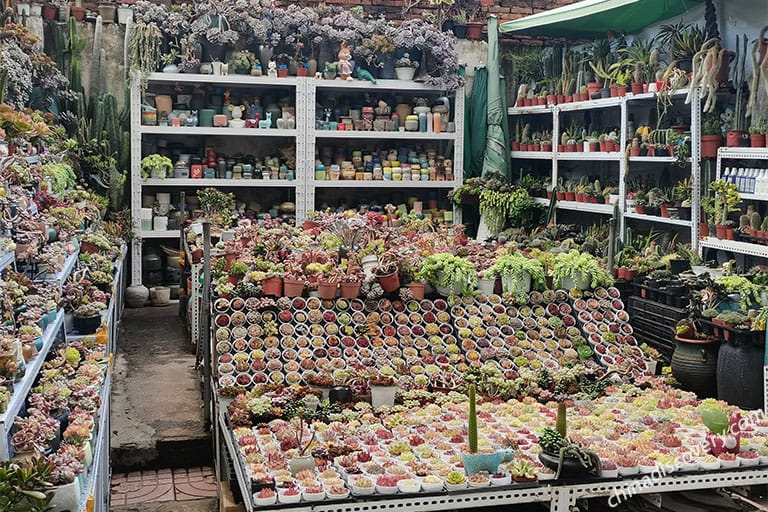 Flowers and Birds Market
• Opening Hours: 09:00-17:00
• Recommended Visiting Time: 1 - 2 hours
• Distance from Kunming City Center: 1.4 km
• Location: Jingxing Street, Wuhua District, Kunming City (昆明市五华区景星街)
Kunming, being praised as the "Flower City", flowers is in full bloom all year around. There are many bird and flower markets in Kunming city, but Jingxing Bird and Flower Market in downtown is a top popular bird and flower market in this city and also the label of the daily life of Kunming people. This market became into shape in 1980s and has around 700 stores selling abundant types of things. Walking along this market, you will not only be glad with the countless flowers in various colors with pleasing aroma, but also enjoy the crispy chirm of many species of birds. It is really a new try to feel the local life while hear Kunming people chatting in their special dialect and select your favorites among those nice antiques, jewelry ornaments, handicrafts, and so forth.
Recommended Kunming Trips with Flower and Bird Market: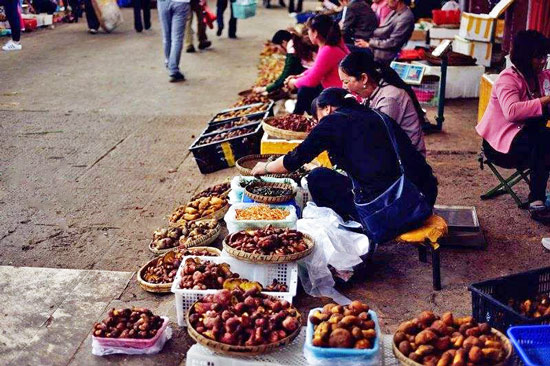 Mushuihua Wild Edible Mushroom Market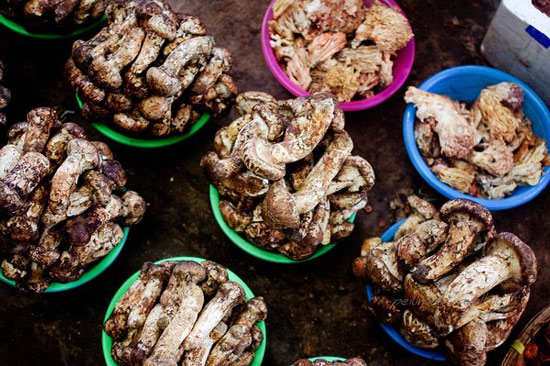 Delicious Mushroom Dishes
• Opening Hours: 09:00-17:00
• Best Time to Visit: June - September
• Distance from Kunming City Center: 7.1km
• Location: Conjunction of Fufa and Fude Road, Guandu District, Kunming City (昆明市官渡区福发路与福德路交叉口)
Mushuihua Market in the provincial capital of Kunming is the biggest wild mushroom market in Yunnan. Established in 2005, the market provides many wild mushrooms with a wide range of varieties from the common ones to the rare ones, such as morels, matsutake, bluebell fungus, dry ba fungus, porcini fungus, chicken fir mushroom and so on. July and August are the busiest months for the market due to the rainy season of Yunnan.
Recommended Kunming Trips with Shangri-La: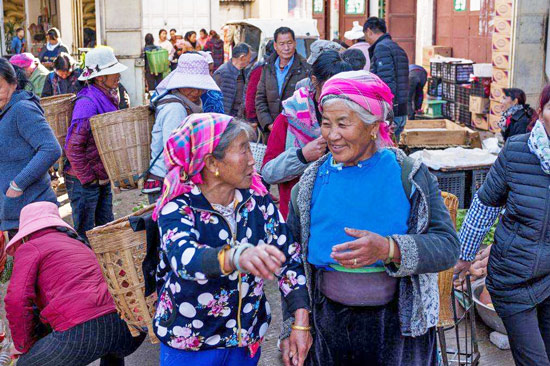 Xizhou Morning Market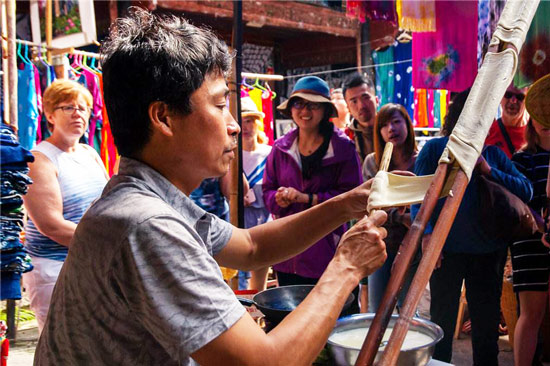 A Special Snack in Dali - Rushan
• Opening Hours: 08:00-10:00
• Distance from Dali Ancient Town: 18km
• Location: Xizhou Village, Dali Bai Autonomous Prefecture (大理白族自治州喜洲古镇)
Xizhou's morning market is one of the largest in the Dali and draws farmers and vendors from nearby villages. Tourists can spend a charming morning roaming the nearby produce market, a literal bazaar of fresh vegetables, tropical fruits, live chickens, dried spices, and vendors pressing pomegranates into fresh juice and rapeseed into cooking oil. You can try to communicate, bargaining and purchasing goods at the morning market as locals. Stroll to the lively morning market, you can learn more about the lifestyle of local people, it's a perfect way to start a vigorous day. After experiencing the morning market, jou can appreciate the Bai minority architecture, try three-course tea and tie-dye in Xizhou Village.
Recommended Dali Trips with Xizhou Morning Market: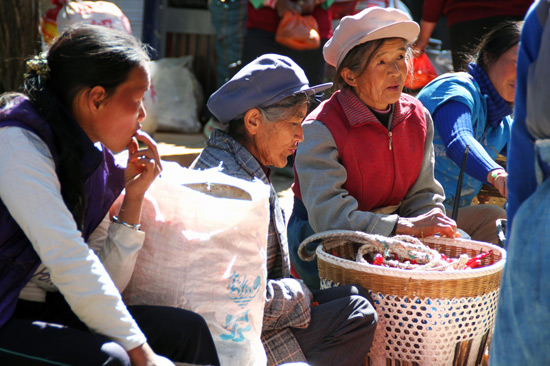 Shaxi Friday Market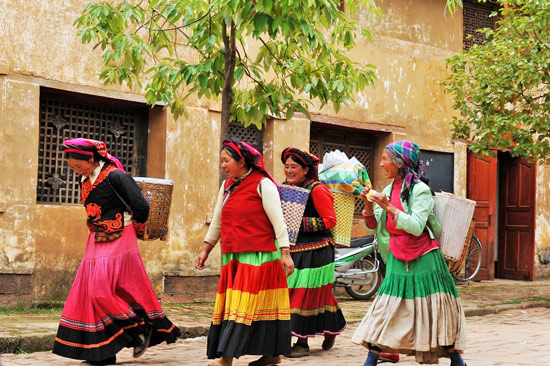 Shaxi Ancient Town
• Best Time to Visit: Every Friday
• Distance from Dali Ancient Town: 148km
• Location: Shaxi Ancient Town, Jianchuan County, Dali Bai Autonomous Prefecture (大理白族自治州剑川县沙溪古镇)
It is said that the market have been held on Fridays since 1415. Originally the market was a modest one. Locals gathered at the square outside of Xingjiao Temple to peddle homemade items to passing merchants who in turn traded goods from distant cities along the Tea Horse Road. But now it has grown into a massive affair.
Friday must be the highlight of the week in Shaxi Ancient Town. Nearby residents in traditionally dressed will gather together along the curbside to offer a wide range of local items. Such as freshly made goats cheese, traditional Chinese medicine, drying tofu, wild mushrooms, etc. It seems there is nothing that isn't for sale on Fridays in Shaxi. Even the hair can be cut and weighed in situ. If you come here on Friday, you should not miss this only surviving market of The Ancient Tea Horse Road.
Recommended Dali Trips with Shaxi Friday Market: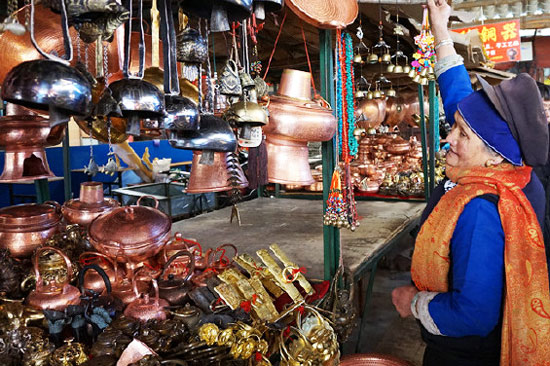 Ancient City Zhongyi Market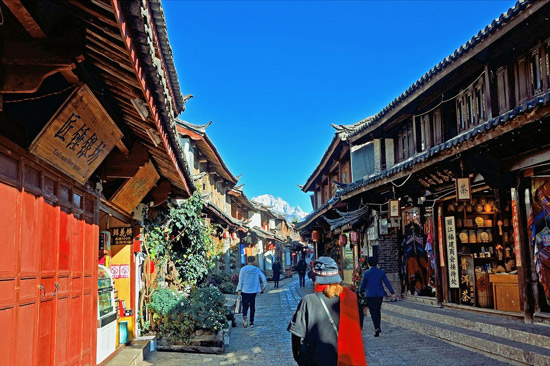 Lijiang Anicent Town
• Opening Hours: 8:00-23:00
• Distance from Lijiang Old Town: 800m
• Location: Changshui Road, Gucheng District, Lijiang City (丽江市古城区长水路)
Ancient City Zhongyi Market is a large farmer's market close to Lijiang Ancient Town, with the most authentic Lijiang lifestyle. It is a traditional local wet market that sells vegetables, fruits, farm produce to the locals. It has many stalls selling foodstuff and snacks like the little steamed buns and the ubiquitious "Guo Qiao Mi Xian" or crossing the bridge noodle, a rice noodle soup, famous throughout Yunnan. If you're looking for a slice of old Lijiang this is where you'll find it, and if you're craving street food this is a good stop in the late afternoon or early evening. Besides, you can also see the daily life of traditional Naxi people, buy traditional Naxi clothes, eat all kinds of Naxi foods, and taste the authentic Naxi culture.
Recommended Lijiang Trips with Ancient City Zhongyi Market: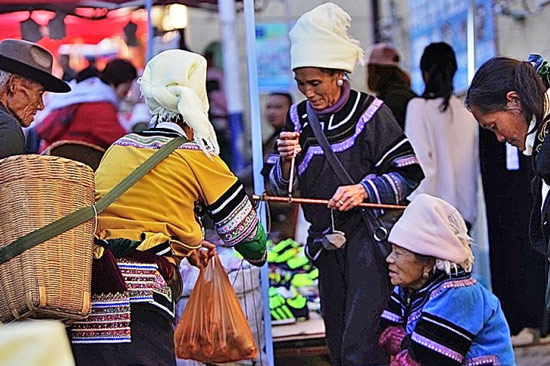 Shengcun Hani Market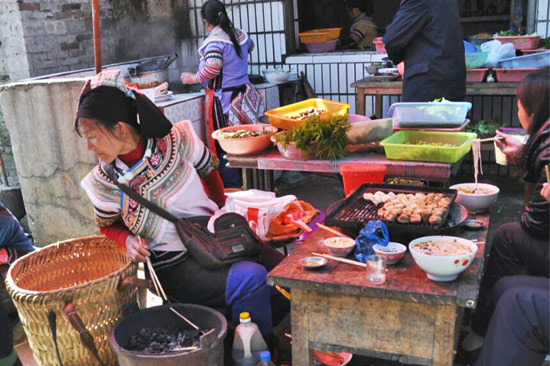 Shengcun Tofu Dishes
• Location: Shengcun Village, Yuanyang County, Yunnan Honghe Hani and Yi Autonomous Prefecture (红河哈尼族彝族自治州元阳县胜村)
There are many interesting local markets in different villages of Yuanyang, such as Niujiaozhai, Shengcun, Xiejie Town etc. Among all markets, the most popular and best preserved one has to be Shengcun Hani Market. The market is the epitome of authentic local customs and life, there are many local feathered stuff selling in the market, such as shanmao potherbs, red rice noodles, red rice, red rice cakes, poultry and livestock. There are also many local villages in ethnic costumes buying goods in the market.
At local markets in Yuanyang, you can also see Tofu stall one after another, grills set over a fire pans, surrounded by people, the owner flipping the tofu with his chopsticks and diners picking up the baked Tofu by themself. A cup of morning wine and roasted tofu is the normal breakfast for locals, but it is a wonderful experience for visitors.
Recommended Yuanyang Trips with Shengcun Haini Market: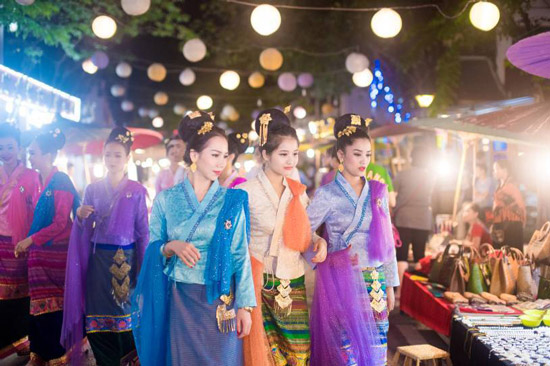 Starlight Night Market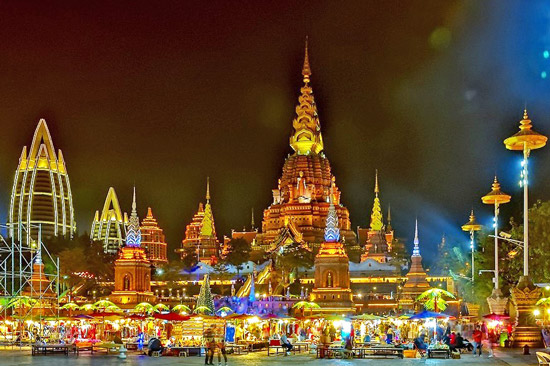 Starlight Night Market
• Opening Hours: 19:00-24:00
• Location: Jiangbei Gaozhaung, Jinghong City, Xishuangbanna (西双版纳景洪市江北告庄)
Starlight Night Market (星光集市) is the most beautiful night market in southeast China, and also the largest and most distinctive night market in the golden triangle. It is surrounded by landmark buildings - Dajin Tower and Dai-Tai style inns. Behind the Dajin Tower is the famous Langcang River in the upper reaches of the Mekong River, the relentless flowing river shines brilliantly under the moonlight. The night market is full of spiritual handicrafts, delicious local snacks, ethnic costumes and ceramics from countries along the Mekong River. In the overflowing night market, the most attractive things must be the fragrant and tasted authentic Xishuangbanna cuisine! As well as a variety of Southeast Asian snacks, fresh tropical fruits and fresh juice can be found everywhere.
Recommended Xishuangbanna Trips with Starlight Night Market:
Xiding Thursday Market
Xiding Thursday Market
• Best Time to Visit: Every Thursday
• Distance from Dali Ancient Town: 148km
• Location: Xingding Hani Minority and Bulang Minority Town, Menghai County, Xishuangbanna (西双版纳勐海县西定哈尼族布朗族乡)
Every Thursday, it is busy and crowded on the street of Xiding Town. It is the day of Xiding Thursday Market. In the early morning, many peddlers come here and began to prepare for their commodities. Many ethnic people will come here from different villages of Xiding. Many ethnic minorities come together for their trades, such as Dai, Wa, Bulang and Hani people. It is very popular among Chinese and foreigners, sometimes Burmese also come to the market.
How to Plan a Yunnan Ethnic Markets Tour?
Visiting different ethnic markets in Yunnan is a small but shinning activity that will absolutely highlight your Yunnan Tour. Most visitors would add 1-2 ethnic markets on their itinerary according to personal preference. Yunnan is an earthly paradise which is worth visiting for many days. Usually, travelers would spend 4~11 days visiting the popular destinations, such as Kunming, Lijiang, Shangri-La, Dali as well as Yuanyang and Jianshui. If you have 4~5 days, you can choose your favored two destinations for one go, like Lijiang-Shangri-La tour, Kunming Lijiang tour, etc.
▶ 5 Days Kunming Lijiang High Speed Train Tour
▶ 5 Days Lijiang & Shangri-La Best Highlights Tour
If you have about 6 days, you can add three destinations into your travel list, like Lijiang Shangri-La Kunming tour, Kumming Dali Lijiang tour, etc. If you have about 8 days, you can put the four hot destinations – Kunming Dali Lijiang Shangri-La in one trip.
▶ 6 Days Best of Yunnan Tour (Lijiang / Shangri-La / Kunming)
▶ 8 Days Classic Yunnan Tour (Kunming / Lijiang / Dali / Shangri-La)
If you want to cover all the highlights of Yunnan, arrange 10 days or longer will be great for the in-depth exploration. Highlight your trip by visiting photography paradises - Yuanyang and Dongchuan. Or if you want to enjoy tropical scenery, head south to the tropical kingdom Xishuangbanna or dreamlike land Puzhehei.
▶ 11 Days Amazing Yunnan Tour (Kunming / Yuanyang / Jianshui / Kunming / Dali / Lijiang / Shangri-La)
Discover Yunnan Ethnic Markets with China Discovery
As an experienced travel agency providing top great travel services for tourists from various countries and regions, we China Discovery are expert to take you to enjoy the best highlights and the featured ethnic markets, culture and folk customs of the 25 ethnic minorities in Yunnan. No matter you want to discover in the major destinations like Kunming, Dali, Lijiang, Shangri-La, Yuanyang, etc. or some deeper wonderful regions including Xishuangbanna, Ruili, Chuxiong, Puer, Puzhehei, Bamei, and so forth, you will get a superb igniting holiday with us. Furthermore, we are willing very much to offer you our exclusive local guide and transfer services if you are interested, therefore, you could not only spare more time on the highlights on the way, but also have a much better knowledge of the colorful ethnic brilliance in Yunnan. Please feel free to ask our professional Travel Consultant if you have any questions or want to know more about the private local guide and transfer service.
Recommended Travel Guide & Articles
Useful Articles of Yunnan Top Attractions
Start planning your tailor-made holiday to China by contacting one of our specialists. Once inquired, you'll get a response within 0.5~23.5 hours.
Customize a Trip
Have a question? Get answers from our travel experts or guests
Your Question:

Your Name:

Your Email: