Introduction of Xinjiang Regional Museum
Xinjiang Regional Museum or Xinjiang Museum (full name: Xinjiang Uyghur Autonomous Region Museum) located in the downtown area is one of the major tourist attractions in Urumqi. The museum was completed in 2005 with classic Xinjiang architectural style and features. It's a provincial-level comprehensive museum and a national first-class museum with over 31,000 cultural collections. Visitors can see rich ancient artifacts ranging from the silk, cotton, linen and woolen fabrics, ancient books, wooden sculptures, clay figurines, paintings, bronzes to different ethnic costumes and living items and some ancient corpses and fossils.
What to See in the Xinjiang Regional Museum
Totally, Xinjiang Regional Museum covers an area of 17,288 square meters and has 2 floors on the ground and one underground. The museum opens three permanent exhibitions to introduce the history of Xinjiang and one special exhibition of Xinjiang's ancient mummies. Besides, some temporary exhibitions and galleries of specific topics about Xinjiang will be held irregularly. The biggest highlights are the famous treasures - Xinjiang mummies, the Tang Dynasty painted potteries, famous Fuxi and Nvwa Paintings and the embroidery works of the Han Dynasty.
1. Memory on the History of the Western Regions 西域历史的记忆 - Historical Exhibition of Cultural Relics of Xinjiang
This permanent exhibition is on the first floor and is starting of the rewarding intellectual journey. In the 1,500 square-meter large exhibition hall, more than 1,000 cultural relics are exhibited to bring visitors back to Xinjiang in different ancient stages, from the Stone Age, Han Dynasty to the Qing Dynasty. Collections include old stone implements during the Stone Ages, painted pottery, jade articles, bronze ornaments, seashells, silk, wheat, millet in Xia, Shang and Zhou Dynasties, beacon towers of Han Dynasty Great Wall, ancient clothes, sculptures, paintings, rock paintings, golden and silver wares, coins, etc. They not only present obvious regional features, but also show strong cultural elements of the Central Plains.
The Paintings of Fuxi and Nvwa (伏羲女娲图), excavated from Turpan's Astana-Karakhoja Ancient Tombs, is a treasure you should see. The paintings drew two ancestral figures of Chinese mythology, describing the ancient people's understanding of human life and the universe.
Wooden Figures with Silk Garments and Polychrome Paintings (绢衣彩绘木俑) from Astana-Karakhoja Ancient Tombs are also most precious treasures of Xinjiang Regional Museum. They are burial objects of the Zhang Xiong couple, a notable family in ancient Gaochang Kingdom. With well-preserved shapes and bright colors, the figures are rare extant examples and helpful relics to study the Tang Dynasty costumes.
Another important treasure is the Brocade with Chinese Characters Wu Xing Chu Dong Fang Li Zhong Guo ("五星出东方利""中国锦护膊) unearthed in Niya Ruins, Khotan, Southern Xinjiang. It's an elbow pad embroidered with delicate and complex astronomical patterns. Experts recognize it is a work from Han and Jin Dynasty with a long history of over 2,200 years.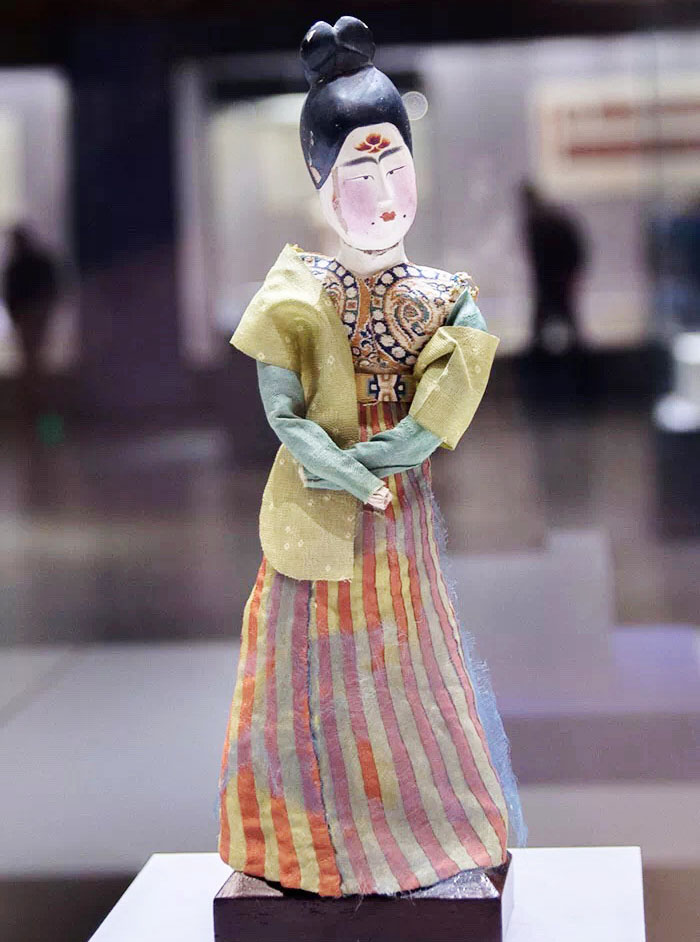 Wooden Figures with Silk Garments and Polychrome Paintings
2. The Mortals from Last Millennium 逝者越千年- Exhibition of the Ancient Corpses of Xinjiang
The ancient mummy collections on the second floor are the most famous and interesting exhibition of Xinjiang Regional Museum. Due to the dry weather and special ancient funeral system, Xinjiang has the largest number and most best-preserved mummies in the world. The hall covers about 700 square meters and houses 6 ancient corpses and related relics excavated from Turpan's Astana Cemetery, ancient tombs in Shanshan, Lop Nor. The most famous and oldest one is the Loulan Beauty, who is said to be an Europeoid buried nearly 4,000 years before. Also, visitors can see the corpse of Zhang Xiong - a Chinese famous general of Gaochang Kingdom, "Qiemo Men, Women, Infant" mummies with Eurasian features, special make up and clothes and a male mummy wearing a golden mask.
A few representative ancient tombs have been restored to help people know more about ancient burial culture together with relevant documents. Some people, especially the children, may be frightened when seeing the mummies while some are quite curious about these mummies which were natural dried and totally different from the Egypt mummies.
Tips: If you're interested in special ancient mummies, there are different collections you can view in other Xinjiang's museums, including the Turpan Museum, Hotan Museum, Korla Museum and Tashkurgan Museum.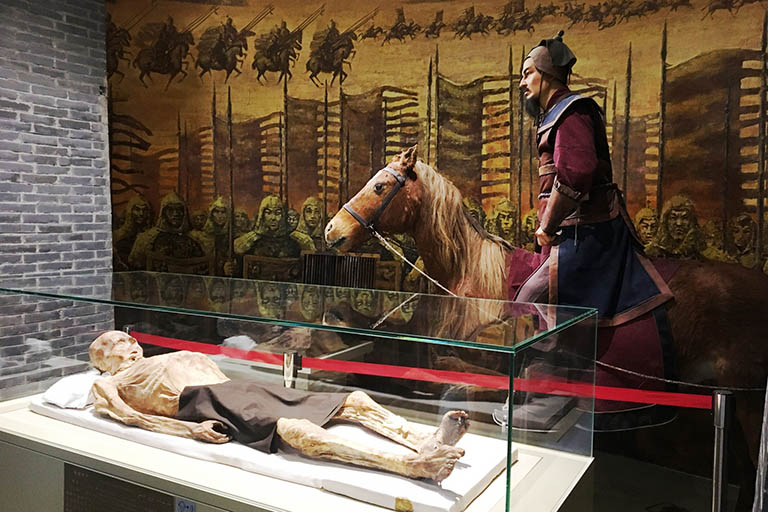 Ancient Corpse of General Zhang Xiong
3. Display of Xinjiang Nationality Customs 新疆民族风情陈列
Xinjiang is a multi-ethnic border region where 47 ethnic groups jointly create a great history and splendid cultures. This folk culture exhibition hall lies on the first floor, covers about 15,000 square meters and displays more 2,000 collections. It mainly introduces the houses, furniture, costumes, daily necessities and folk customs of 12 main ethnic groups, including the Uygur, Kazak, Mongolian, Xibe and other Nationalities. It's a fantastic folk museum to learn about the ethnic lifestyle, dining, wedding, religious and music and dance cultures. Inside the exhibition hall, many lifelike ethnic wax figures stand in real life scenes. Visitors thus can clearly see their exquisitely-made unique clothes and accessories and picture their daily life.
There are some other exhibitions in the museum which you can drop by to further know Xinjiang's history and ancient wisdom of China.
How to Get to the Xinjiang Regional Museum?
Xinjiang Regional Museum is located in No.581 Xibei Road, Saybag District, Urumqi, Xinjiang (新疆维吾尔自治区乌鲁木齐市沙依巴克区西北路581号), next to the Xinjiang University.
Xinjiang Regional Museum Location and Transportation Map (Click to Enlarge)
Xinjiang Regional Museum Transportation:
● Downtown Urumqi to Xinjiang Regional Museum: about 5 km, 15 minutes by driving; 30 ~ 50 minutes by city bus or BRT (Bus Rapid Transit).

● Urumqi Diwopu International Airport to Xinjiang Regional Museum: about 15 km, 20 minutes' drive; almost 1.5 hours by city bus, airport shuttle bus or BRT.

● Urumqi Railway Station to Xinjiang Regional Museum: about 7 km, within 20 minutes' drive; nearly 1 hour by city bus or BRT.

● Red Hill Park to Xinjiang Regional Museum: around 4.5 km, 10 minutes' drive; about 40 minutes by city bus or BRT.

● Xinjiang International Grand Bazaar to Xinjiang Regional Museum: about 9 km, 25 minutes' drive; 45 minutes ~ 1 hour by city bus.

● Xinjiang Regional Museum to Heavenly Lake (Tianchi) of Tianshan Mountains: about 68 km, 1 hour by drive; 1.5 hours by bus.

● Xinjiang Regional Museum to Nanshan Pasture: about 60 km, 1 hour 20 minutes by drive; 2 hours by bus.
Useful Xinjiang Regional Museum Travel Tips
1. Visitors must make online appointment at the WeChat Official Museum Account in advance. The number of visitors is limited to 1,000 each day. The Entry to the museum is free. Show your QR Code and valid ID (or passport) when visiting at the appointed time.
2. Xinjiang Regional Museum opens from 10:30 to 18:00 every Tuesday to Sunday and is closed on every Monday. Further notice will be given for holiday visit.
3. Free interpretation is provided. The commentary is arranged at 10:00, 11:00, 15:00 and 16:00 during May 15 and October 15, and 10:30, 11:30, 15:00 and 16:00 during October 16 and April 14.
4. Meanwhile, visitors can rent audio device without charge but needs 100 RMB as deposit.
5. Lighters and water are not allowed to be brought in. There are free storage at the gate. You can buy water from the food store in the first floor.
6. You can take pictures, but flash photography is prohibited.
How to Plan A Urumqi Xinjiang Tour
How to Get to Urumqi: Fly to Urumqi from Beijing (4-4.5hrs), Shanghai (5.5hrs), Guangzhou (5hrs), Shenzhen (5.5hrs), Xian (3.5hrs)..., or take a high speed bullet train from Dunhuang (4hrs), Zhangye (7-7.5hrs), Turpan (1hr), etc.
Best Time to Visit Urumqi: May to October when the temperature is comfortable and the seasonal scenery is very beautiful.
Top Places to Visit Urumqi: Tianchi (Heavenly Lake) of Tianshan Mountains, Xinjiang International Grand Bazaar, Xinjiang Regional Museum, Red Hill Park, Nanshan Pasture.
Most travelers start a Xinjiang tour from Urumqi and take Urumqi as the transfer center of visiting the Northern Xinjiang. Usually, tourists spend one day exploring Urumqi's highlights in the down area, including the Xinjiang International Grand Bazaar, Red Hill Park and Xinjiang Regional Museum. Making a day trip to Tianchi Lake is a popular itinerary if you won't visit Kanas. Nanshan Pasture is a good summer resort worthy of your visit if you happen to visit Urumqi in summer.
☛ 3 Days Urumqi Tour including Heavenly Lake and Mummy Visit
Xinjiang is vast and beautiful. The Northern Xinjiang is most known for the natural beauty while the Southern Xinjiang is characterized rich cultural and historical treasures. Depending on your time and personal interests, you can extend trip to more destinations, such as the Turpan, fairyland Kanas Lake and Hemu Village in Altay, incredibly beautiful Sayram Lake, Wu'erhe Ghost City in Karamay, Ili (Kalajun Grassland, Narati Grassland, Guozigou...) in Northern Xinjiang, and travel further to the Southern Xinjiang's Kashgar and vicinal Tashkurgan, Taklamakan Desert, Bosten Lake, Tomor Peak, Kuqa, Khotan, etc. You can pick up some highlighting places for a week's travel or haven an in-depth discovery for up to one month.
☛ 8 Days Urumqi Turpan Kashgar Xinjiang Tour
☛ 9 Days Kanas Lake Fairyland Tour from Urumqi
Northwest and Southwest China are two mysterious regions travelers love to visit. Following the ancient Silk Road from Xian to Xinjiang is also a popular travel route. It's highly suggested that you visit Xinjiang with Dunhuang, Zhangye, Jiayuguan along the ancient Silk Road, or with the holy land of Tibet (Lhasa, Shigatse, Mount Everest, Mount Kailash, Nyingchi...). The nature scenery and distinctive culture will impress you deeply. China Discovery provides not only all-inclusive Xinjiang tours, Silk Road tours, but also can help you customize a wonderful trip on your own.
☛ 10 Days Classic Silk Road Tour from Xian
☛ 11 Days Wild In-depth Silk Road Adventure Tour
☛ 15 Days Classic Ancient China Silk Road Tour with Bullet Train Experience
Heavenly Lake (Tianchi) of Tianshan Mountains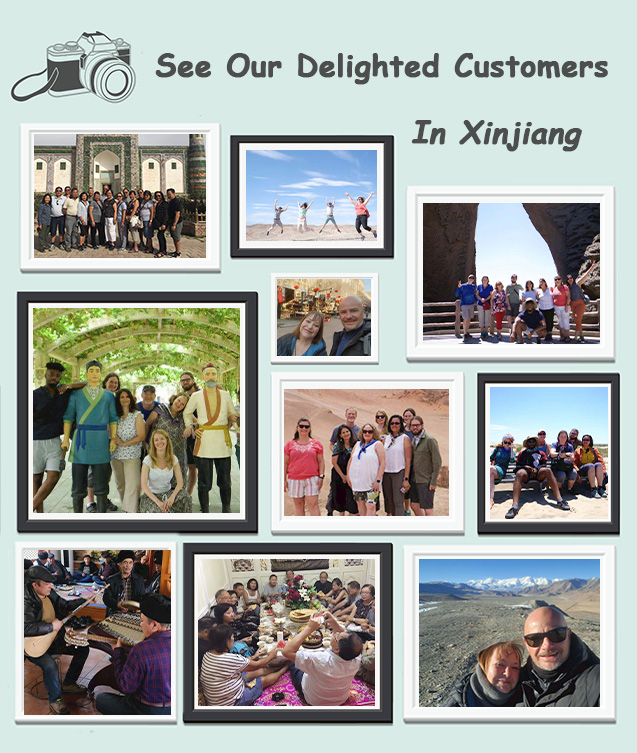 Click to Check Our Customers' Xinjiang Travel Photos>
Keep Reading About Urumqi
Keep Reading About Xinjiang Tours & Travel Guide
Recommended Urumqi Tours
Top 3 Urumqi tours chosen by most customers to explore Urumqi in the best way. Check the detailed itinerary, or tailor your own trip now with us.
11 Days In-depth Wild Silk Road Adventure Tour (Cultural Relic & Unrivalled Landscape)

Lanzhou / Zhangye / Jiayuguan / Dunhuang / Turpan / Urumqi / Kashgar
10 Days Classic Silk Road Tour (Xian/Dunhuang/Turpan/Kashgar)

Xian / Dunhuang / Turpan / Urumqi / Kashgar
8 Days Classic Xinjiang Tour including Urumqi Turpan Kashgar Tashkurgan

Urumqi - Turpan - Kashgar - Tashkurgan
Start planning your tailor-made holiday to China by contacting one of our specialists. Once inquired, you'll get a response within 0.5~23.5 hours.
Customize a Trip
Have a question? Get answers from our travel experts or guests
Your Question:

Your Name:

Your Email: