Urumqi Diwopu International Airport (IATA: URC) 乌鲁木齐地窝堡国际机场
Location: Yingbin Road, Xinshi District, Urumqi City, Xinjiang Uygur Autonomous Region 新疆维吾尔自治区乌鲁木齐市新市区迎宾路, about 16 km, 30 minutes' drive to downtown.
Urumqi Diwopu International Airport was opened to traffic in 1973. Urumqi International Airport is located in Diwopu, northwest suburb of Urumqi, capital of Xinjiang Uygur Autonomous Region, 16 kilometers away from the urban area. At present, the airfield of Diwopu airport has one runway of 3600 meters long and 3 terminals, T1, T2, and T3 under operation, with a total area of 185000 square meters, 60000 square meters of freight depots, 93 parking spaces, and 34 corridor bridges. The area of terminal T4 is still under construction (updated on 7, June, 2021) and the T4 will be far larger than the other three. Among terminals, T1 has 6 security channels and 19 check-in counters, serving mainly for regional flights around Xinjiang province. T2 serves mainly domestic flight routes outside Xinjiang Province, except for the flights of China Southern Airline, Xiamen Airline, and Chongqing Airline. Comparing with T1 and T2, T3 is much larger handling more than 275,000 tons of cargo and 155,000 aircraft a year.
As of 2016, there are 33 airlines operating regular flights at Urumqi airport. In 2014, there are 156 domestic routes, 27 international routes, and 1 regional route, which are open to 15 countries and 81 cities. There are four Airlines based here: Urumqi Airlines, Xinjiang branch of China Southern Airlines and Xinjiang branch of Tianjin Airlines, Hainan Airlines Xinjiang branch.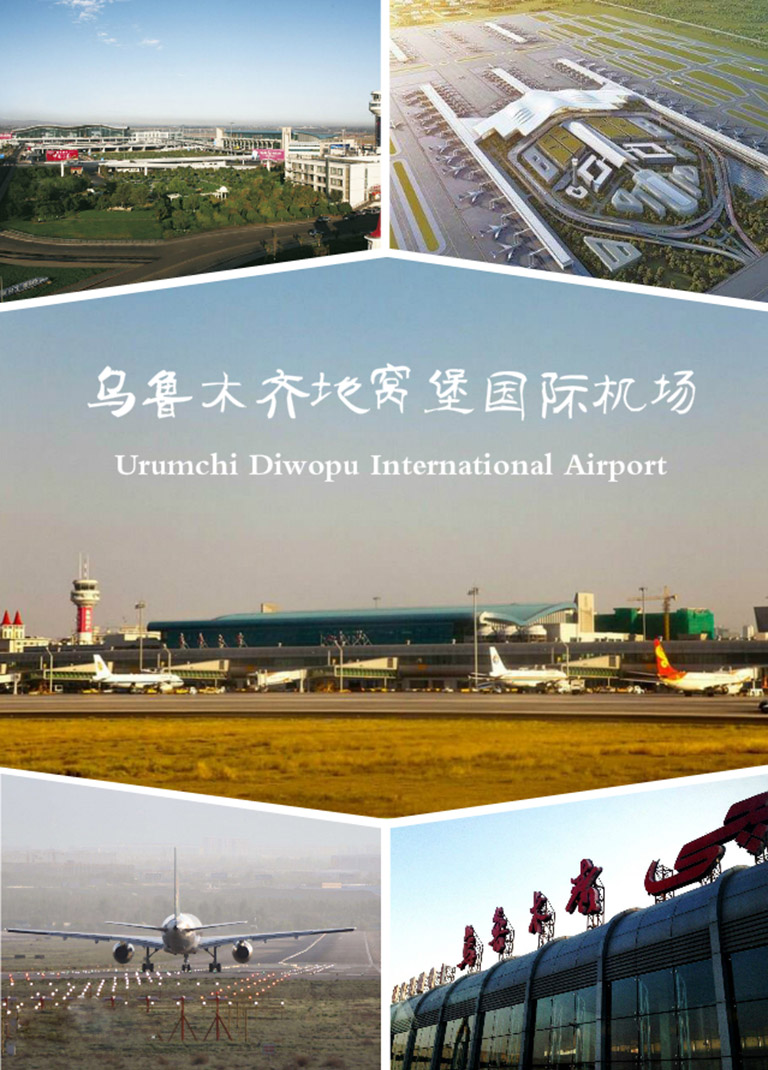 Urumqi Diwopu International Airport
Domestic Flights to Urumqi Diwopu International Airport
Urumqi Diwopu International Airport operates flights to most cities in China. You can take a flight to transfer between Urumqi and domestic cities such as Beijing (4h), Shanghai (5h), Xian (4h), Chengdu (4h), Chongqing (4h), Changsha (4.5h), Xining (2.5h), Dalian (4h), Guangzhou (4.5h), Lanzhou (2.5h), Yinchuan (3h), etc.
The Domestic flights also deliver visitors to most of the provincial cities in Xinjiang such as Altay (1.5h), Aksu (1.5h), Burqin (1h), Fuyun (1h), Kashgar (2h), Korla (1h), Hotan (2h), etc.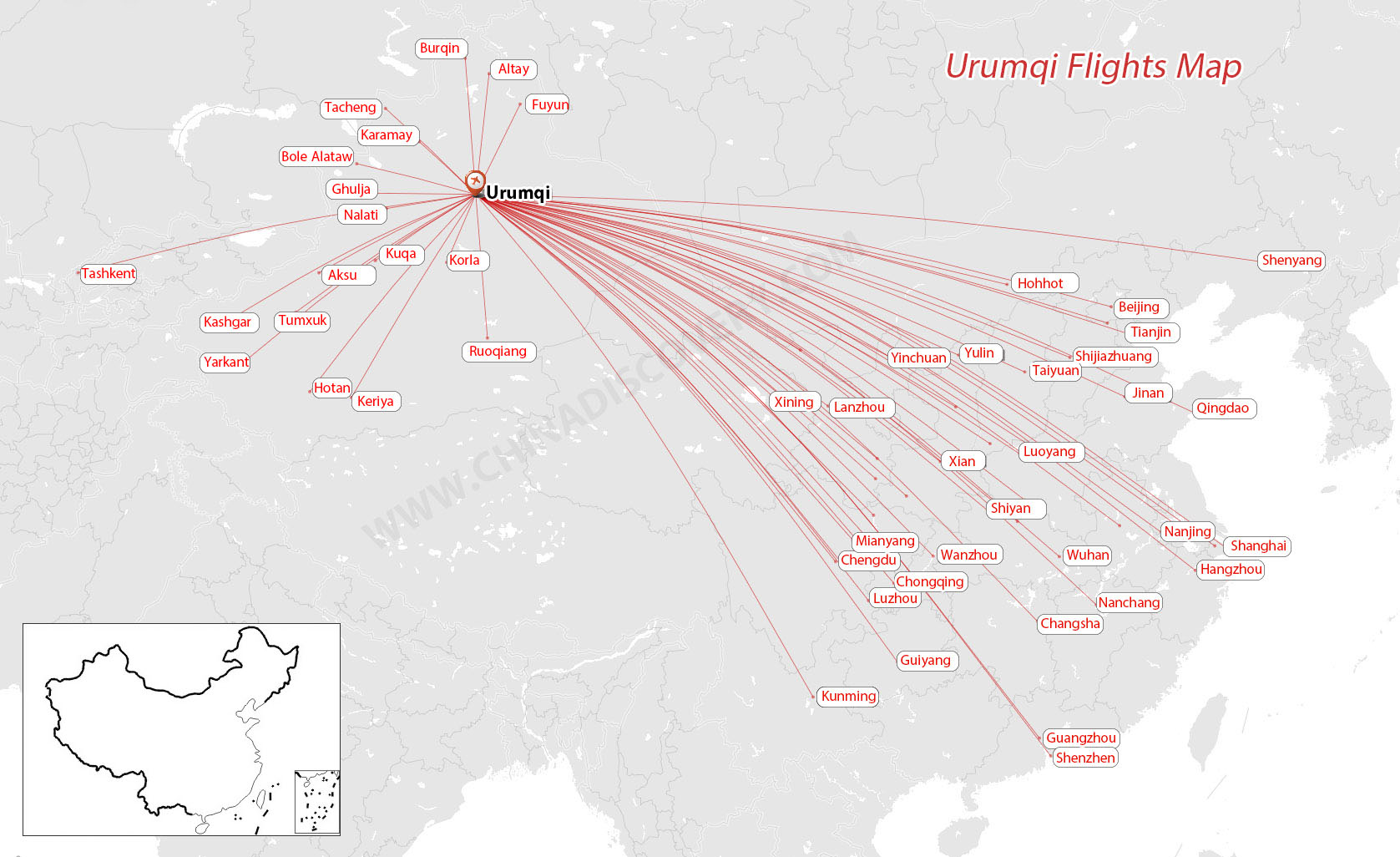 Urumqi Diwopu International Airport Flights Map (updated in June, 2021)
Major Urumqi Flight Schedules:
*The above flight schedules is listed for reference only and is subject to seasonal adjustment by the airline accompanies. You can contact us to get updated, detailed flight information.
International Flights to Urumqi Diwopu International Airport
Urumqi Diwopu International Airport has some opened airlines to Asian countries/regions such as Almaty and Nur-Sultan in Kazakhstan, Sharjah in UAE, Kabul in Afghanistan, Tashkent in Uzbekistan, Dushanbe in Tajikistan, Moscow in Russia… At present, the flight schedule is not fixed and some international flights are seasonal and you need to check out before your trip. If there is no flight that suits your schedule, you can fly to other cities in China such as Beijing, Shanghai, Guangzhou, Chengdu and then transfer to Urumqi.
Urumqi Diwopu International Airport Location & Transfer
Urumqi Airport is located in Diwopu, northwest suburb of Urumqi, capital of Xinjiang Uygur Autonomous Region, 16.8km away from Urumqi city. It has convenient transportation, with rail transit subway line 1, airport shuttles, buses, and taxis leading to the city.
To Urumqi downtown: about 16 km, 30 minutes by car; 1.5 hours by shuttle bus, 1h by subway line 1;
To Tianchi Lake (Heavenly Lake): about 70 km, 1.5 hours by car.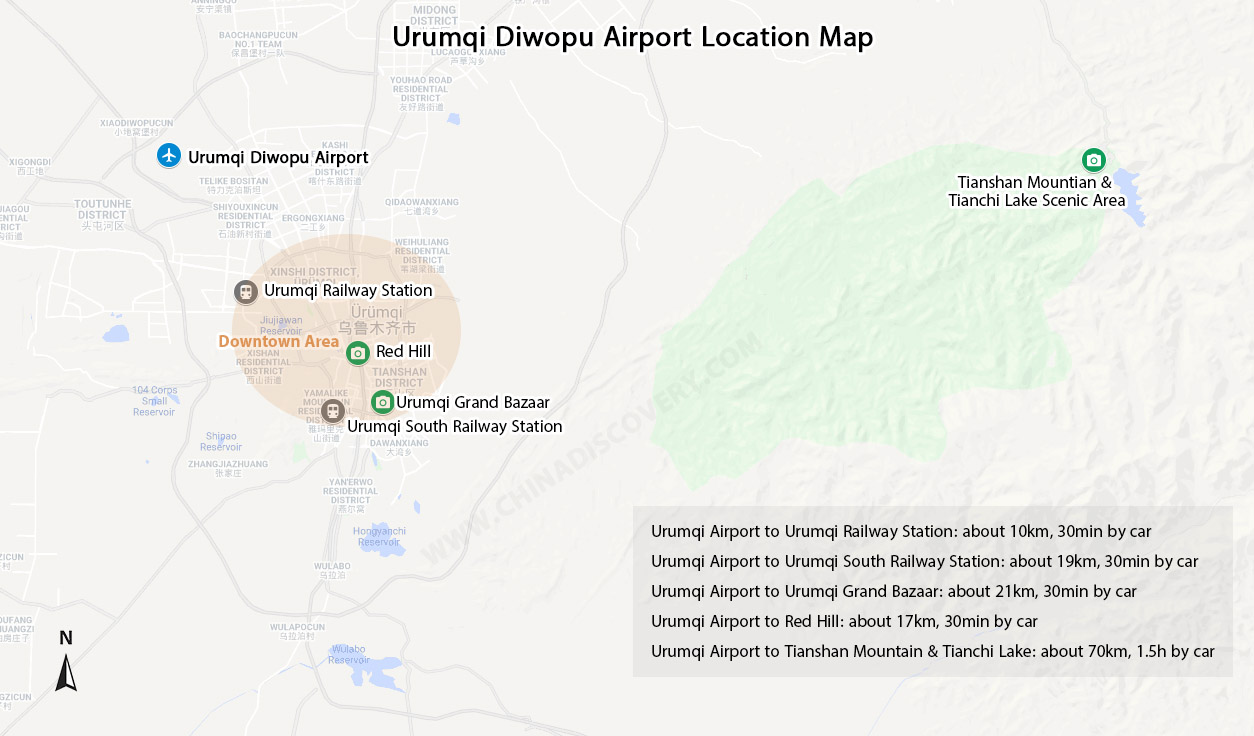 Urumqi Diwopu Airport Location Map
Urumqi Diwopu International Airport Shuttle Bus
There are 2 airport shuttle bus lines transferring you between the airport and Urumqi. The buses will take you to the Red Hill at the city center, or Urumqi Railway Station with a fee of about CNY 15 (for reference only).
| | | |
| --- | --- | --- |
| Urumqi Downtown (Red Hill) → Urumqi Diwopu Airport | Urumqi South Railway Station → Urumqi Diwopu Airport | Urumqi Diwopu Airport → Urumqi Downtown |
| The airport shuttles depart from the Gate of Hongshan South Airlines Pearl Hotel (红山南航明珠酒店), running from 7:00 am to 10:00 pm. | The airport shuttles depart from the square of the south railway station, running from 7:30 am to 9:30 pm. | The airport shuttles operate every hour from 08:00 am to 11:00 am, every 15 to 30 minutes from 11:00 am to 01:00 am, and depart at any time when the passengers are full after 01:00 am. |
Note: The chart above is for reference only. The specific schedule and route shall be subject to the timetable shown at the airport.
Besides the shuttle bus, there are 3 other ways to transfer between the airport and the city downtown area, namely bus, shuttle, subway, and taxi. 
By Taxi: It is easy to grab a taxi from Urumqi airport to downtown with a duration of 30min, and fare about CNY 50.
By Subway: You can take subway line 1 from Urumqi airport to SantunPai Station (三屯牌站), taking about one hour.
By Bus: You can take bus No. 27, 51, 535, 153, 913 to the downtown area from the airport.
After reaching the downtown area, you can get to visit attractions in the downtown area of Urumqi and then charter a car to relatively far attractions such as Tianshan Mountain and Tianchi Lake for the public transportation is not very convenient.
Travel with China Discovery - Worry-Free Transfer
If you don't want to wait for the bus or worry about the language barrier with taxi drivers, you can choose the private tour service provided by us. We at China Discovery provide comfortable and efficient transfer service for our clients who have booked one of our tour packages. No matter when your flight/train arrives, our friendly tour guide and driver will welcome you at the airport/train station, then escort you to your hotel or any location you want to visit with an air-conditioned and non-smoking vehicle. All the matters such as transportation, meal, accommodation, and ticket will be taken care of, and the itinerary is quite flexible, all you need to do is just enjoy your trip. >>Contact us now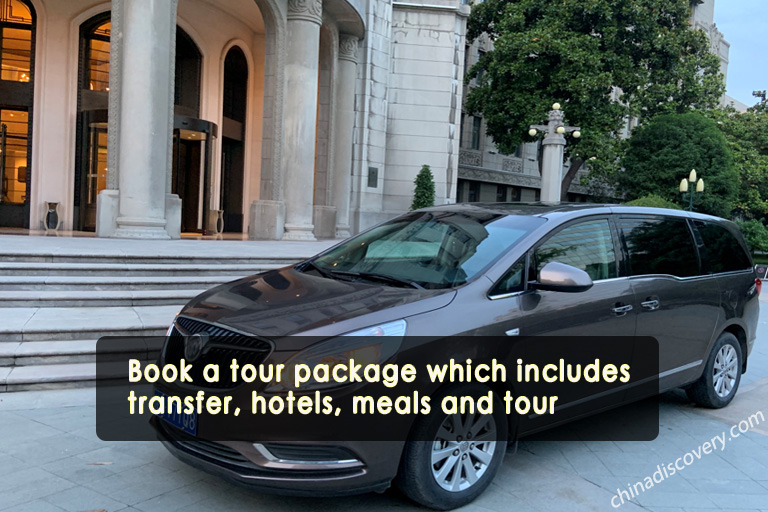 China Discovery Private Transfer
How to Plan A Urumqi Xinjiang Tour
How to Get to Urumqi: Fly to Urumqi from Beijing (4-4.5hrs), Shanghai (5.5hrs), Guangzhou (5hrs), Shenzhen (5.5hrs), Xian (3.5hrs)..., or take a high speed bullet train from Dunhuang (4hrs), Zhangye (7-7.5hrs), Turpan (1hr), etc.
Best Time to Visit Urumqi: May to October when the temperature is comfortable and the seasonal scenery is very beautiful.
Top Places to Visit Urumqi: Tianchi (Heavenly Lake) of Tianshan Mountains, Xinjiang International Grand Bazaar, Xinjiang Regional Museum, Red Hill Park, Nanshan Pasture.
Most travelers start a Xinjiang tour from Urumqi and take Urumqi as the transfer center of visiting the Northern Xinjiang. Usually, tourists spend one day exploring Urumqi's highlights in the down area, including the Xinjiang International Grand Bazaar, Red Hill Park and Xinjiang Regional Museum. Making a day trip to Tianchi Lake is a popular itinerary if you won't visit Kanas. Nanshan Pasture is a good summer resort worthy of your visit if you happen to visit Urumqi in summer.
☛ 3 Days Urumqi Tour including Heavenly Lake and Mummy Visit
Xinjiang is vast and beautiful. The Northern Xinjiang is most known for the natural beauty while the Southern Xinjiang is characterized rich cultural and historical treasures. Depending on your time and personal interests, you can extend trip to more destinations, such as the Turpan, fairyland Kanas Lake and Hemu Village in Altay, incredibly beautiful Sayram Lake, Wu'erhe Ghost City in Karamay, Ili (Kalajun Grassland, Narati Grassland, Guozigou...) in Northern Xinjiang, and travel further to the Southern Xinjiang's Kashgar and vicinal Tashkurgan, Taklamakan Desert, Bosten Lake, Tomor Peak, Kuqa, Khotan, etc. You can pick up some highlighting places for a week's travel or haven an in-depth discovery for up to one month.
☛ 8 Days Urumqi Turpan Kashgar Xinjiang Tour
☛ 9 Days Kanas Lake Fairyland Tour from Urumqi
Northwest and Southwest China are two mysterious regions travelers love to visit. Following the ancient Silk Road from Xian to Xinjiang is also a popular travel route. It's highly suggested that you visit Xinjiang with Dunhuang, Zhangye, Jiayuguan along the ancient Silk Road, or with the holy land of Tibet (Lhasa, Shigatse, Mount Everest, Mount Kailash, Nyingchi...). The nature scenery and distinctive culture will impress you deeply. China Discovery provides not only all-inclusive Xinjiang tours, Silk Road tours, but also can help you customize a wonderful trip on your own.
☛ 10 Days Classic Silk Road Tour from Xian
☛ 11 Days Wild In-depth Silk Road Adventure Tour
☛ 15 Days Classic Ancient China Silk Road Tour with Bullet Train Experience
Heavenly Lake (Tianchi) of Tianshan Mountains
Local Xinjiang Nomad - Photo Shared by Our Frech Customers on the Way to Kanas Lake
Erin Family (USA) Visited Zhangye Danxia Geopark
Keep Reading About Urumqi
Keep Reading About Xinjiang Tours & Travel Guide
Recommended Urumqi Tours
Top 3 Urumqi tours chosen by most customers to explore Urumqi in the best way. Check the detailed itinerary, or tailor your own trip now with us.
10 Days Classic Silk Road Tour (Xian/Dunhuang/Turpan/Kashgar)

Xian / Dunhuang / Turpan / Urumqi / Kashgar
8 Days Classic Xinjiang Tour including Urumqi Turpan Kashgar Tashkurgan

Urumqi - Turpan - Kashgar - Tashkurgan
Start planning your tailor-made holiday to China by contacting one of our specialists. Once inquired, you'll get a response within 0.5~23.5 hours.
Customize a Trip
Have a question? Get answers from our travel experts or guests
Your Question:

Your Name:

Your Email: