Yarkant County, officially called Shache (or Yakan, Soche) is a county under the jurisdiction of Kashgar Prefecture, southwest Xinjiang. The county lies at the northern foot of the Kunlun Mountains, south of the Pamirs Plateau and upper and middle reach of the Yarkant River alluvial fan plain between Taklamakan Desert and Buguli Desert. It borders Makit, Yecheng (Kargilik), Zepu (Poskam), Tashkurgan, Yengisar, Shule, Yopurga within Kashgar Prefecture and Kizilsu Kyrgyz Autonomous Prefecture's Akto in a clockwise direction.
With over 3,000 years of history, Shache was a transport crossroad of great military importance on the ancient Silk Road. It was the location of Yarkand Khanate, one of the 36 western kingdoms in the Han Dynasty and the ancient capital of Yerqiang Kingdom during the Ming Dynasty. It is most known as the home of Almonds and Xinjiang Uygur's Twelve Muqams (Mukam) - an Intangible Heritage of Humanity that uses melody, dance, drama, literature and other art forms to narrate the history and life of the Uygur.
Why Visit Shache (Yarkant):
Abundant Minority Historical Relics and Sites - The county's long and brilliant history has left many ancient ruins in Shache. The Yel Qiang Royal Tombs (Ye'erqianghan Mausoleum) and Shache King Mausoleum, two most famous representatives help visitors catch a glimpse of the special ancient ethnic architecture, funeral culture, economy, politics and living habits in different historic periods.
Magnificent Desert Landscape - Karasu Desert Park in Shache presents most scenery of the Taklamakan Desert - the biggest desert in China, the 10th biggest desert in the world and the world's second-largest shift sand desert. Boundless sand dunes waves up and down like terraced mountains, unspeakable spectacular and beautiful. Riding a camel to venture deep in the desert is a very interesting and memorable experience.
Melodious Twelve Muqam of Uygur - Muqam is a set of musical traditions of Xinjiang's Uygur, which is honored as a cultural treasure prompted by the cultural exchange and fusion on the ancient Silk Road. It is a remarkable classic music encyclopedia and a narrative folk epic integrated the creation history, rich content and various art forms. It's a unique folk art showing the flowery life and noble sentiment of the Uygur people. Amanisa, the princess of Yerqiang Kingdom, worked with many great figures and made a great contribution to the compilation of Muqam. A memorial tomb was built to praise her efforts and dedication.
Diverse Ethnic Culture and Customs - Shache is a multi-ethnic community where the Uygur, Han, Hui, Tajik and totally 13 ethnic groups live together. Visitors can experience a strong ethnic culture regarding their food, costumes, lifestyle, languages and houses.
...
Top Attractions to Visit in Shache
Shache is a small county with a few small attractions only. Most tourist attractions are distributed in the old town area and can be visited together. You can explore the ancient kingdom in Ye'erqianghan (Yerqiang) Mausoleum, visit the Armanisa Royal Memorial Mausoleum and Silk Road Shache Museum to know more about this historical city.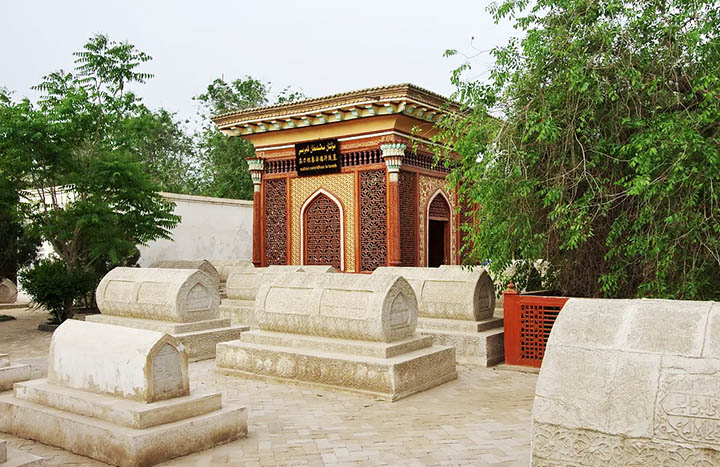 Ye'erqianghan Mausoleum (Tombs of the Yarkand Khans)
The top must-visit place. Built in 1533 to commemorate the first khan of the Omanie Empire, this mausoleum also buried other royal family members. The unique layout and decoration patterns show excellent Islamic architecture art, ancient traditions, history and culture of Yerqiang Kingdom.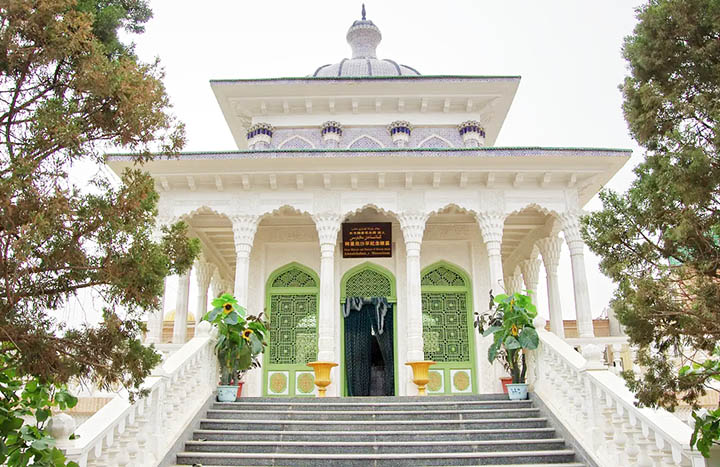 Amanisa Royal Memorial Mausoleum
The most eye-catching spot is the Ye'erqianghan Masusoleum. It was constructed to memorize great Amanisa for her contribution to the Twelve Muqams. The white building has beautiful classic Islamic structures carved with her famous Muqam words.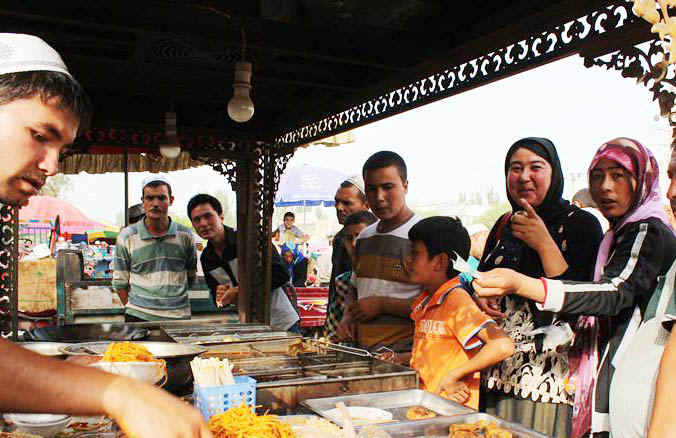 Shache Bazaar
Shache Bazaar is the livest scene of Shache. The busy market sells a variety of local items and handicrafts, which offers a good chance to experience local life. Tasting delicious snacks and dishes is joyful as walking around and looking for special souvenirs.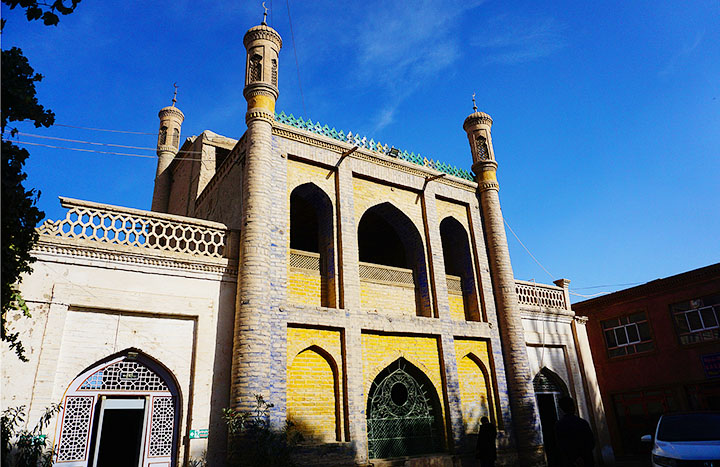 Gaman Mosque
Built in 1409, the mosque is the oldest one in Shache. It features a simple and plain architectural style combining Islamic elements and traditional Chinese characters. The mosque is a sacred religious center and a showcase of national blending. The well-preserved wooden building and colorful paintings are the can't miss highlights.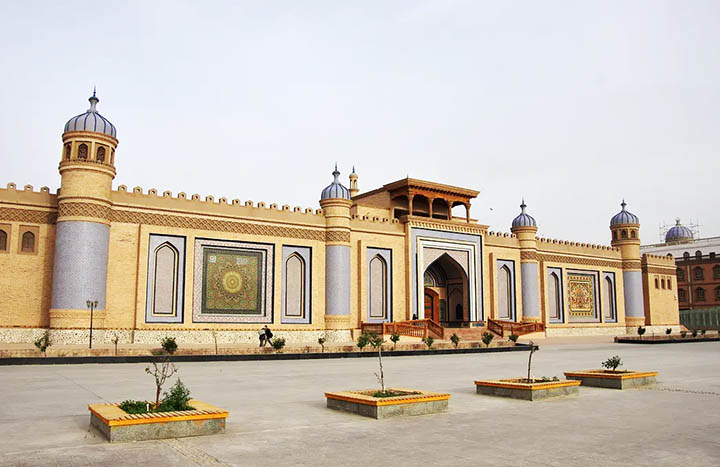 Heritage Expo Park of Shache
A newly-built large palace which displays beautiful Islamic buildings and various kinds of folk customs, including the famed Muqam of Shache.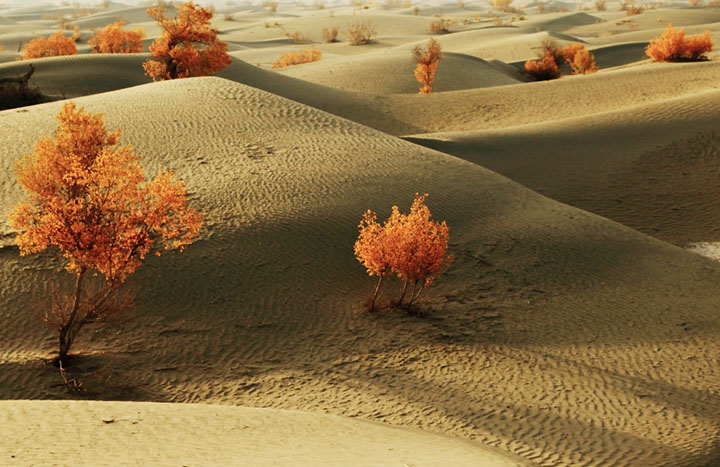 Karasu Desert Park
It lies in the suburb of Shache, the west of Taklamakan Desert, about half an hour's drive from downtown Shache. You can view sand dunes extending out into the distance, walk on the soft sands, ride a camel, play swing, camp in the desert and enjoy locals playing Muqams.
Shache Weather & Temperature - Best Time to Go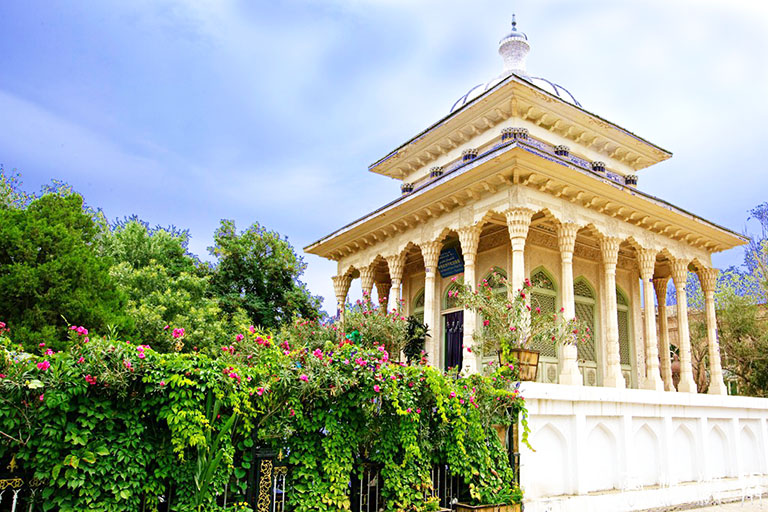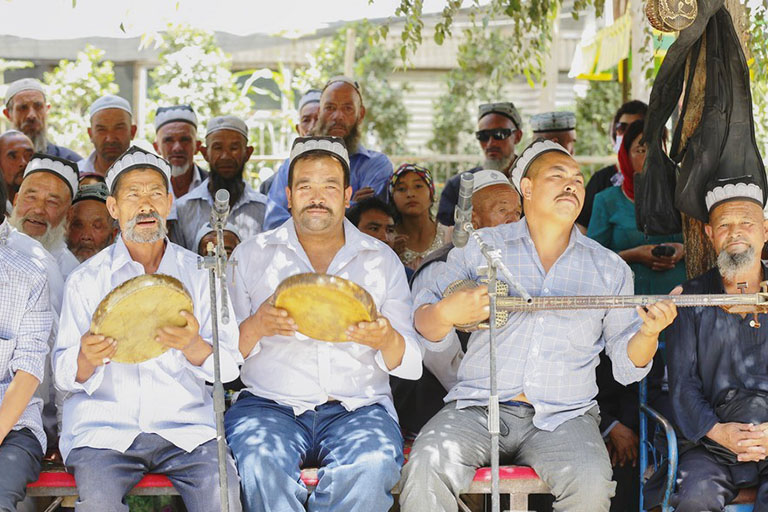 Shache has a Warm Temperate Continental Climate like many other destinations in southern Xinjiang. The main climate features are four distinct seasons, dry throughout the year, long sunshine time, little rainfall and big evaporation. The annual average temperature of Shache is 14°C and the mean annual precipitation is 56.6 mm. Spring and Autumn are short while Summer and Winter are longer.
Late April to early October is the best time to visit Shache, because the temperature during this period is acceptable, moderate and pleasant, natural scenery is the best and summer fruits are very tasty. Other months are too cold and dry for a tour. Shache is still chilly in early Spring until April becomes relatively warm. July is the hottest time of Shache when the daytime temperature rises up to 30°C ~ 35°C and the temperature at night keeps about 20°C. Prepare sunblock and drink enough water when visiting Shache in summer. Shache has a cool autumn but the temperature drops sharply from middle of October, which is improper for travelling. Shache soon turns to cold winter and lasts until April of next year. In January, the coldest month, Shache only has an average minimal temperature of -8°C and maximum temperature of 1°.
Transportation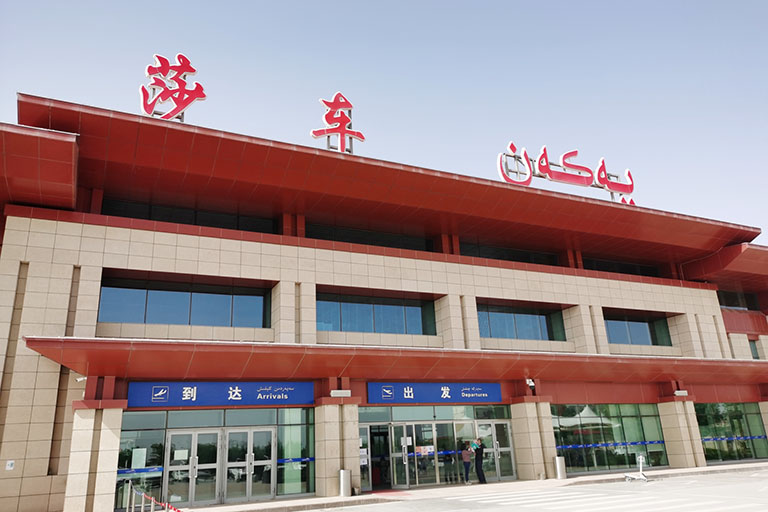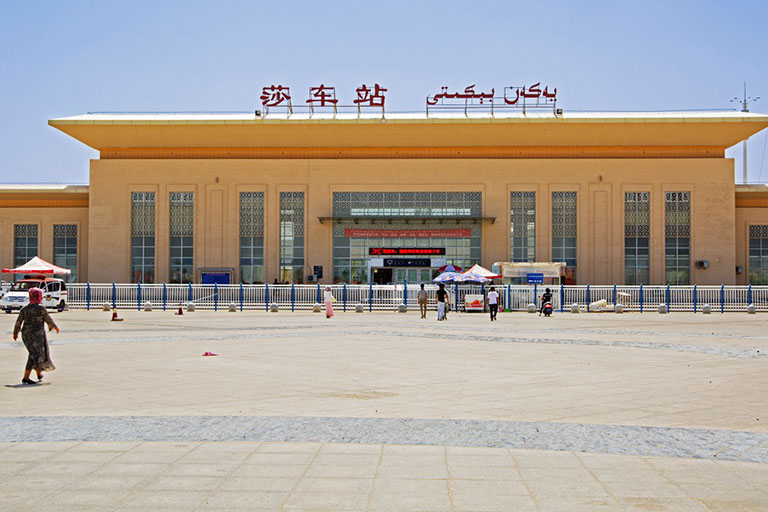 Get to Shache
By Air: Shache Yarkand (Yeerqiang) Airport (IATA: QSZ, ICAO: ZWSC) is a small airport serving Shache. The airport was officially put into operation in 2017. It is located about 28 km (40 minutes' drive) southwest of Shache County. Currently, Shache Airport merely operates a few airlines with Urumqi (about 2hrs), Kashgar (40 minutes), Korla, Akus, Hotan in Xinjiang and Xian (4.5hrs) in Shaanxi, northwest China.
By Bus: Every day, there are long-distance coaches running to Shache from Kashagr and surrounding areas. The bus from Kashgar to Shache departs from Kashgar South Bus Station, travels about 3 hours and arrives at Shache Bus Station in the southern suburb.
Get around Shache
Shache is not big and there are a few bus lines in service for the locals. For tourists, especially first-timers, public transport is quite troublesome, complicated, time-wasting and inconvenient. If you travel with China Discovery, you can enjoy our private transfer in a comfortable, clean and safe vehicle accompanied by a local professional tour guide and experienced driver. We will pick you up at the airport, train station and send you to each attraction at speed and comfort.
Shache Accommodation: Where to Stay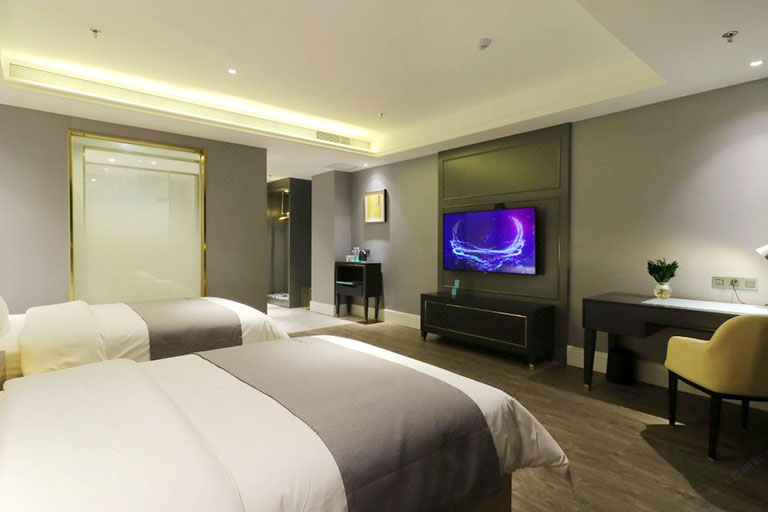 Shache doesn't have as many accommodation choices and luxury hotels as Urumqi and Kashgar. But the county has some fine 2 or 3-star hotels for accommodation. The most recommended and popular place to stay is the downtown Shache where the best hotels are located. You can easily find a clean and comfortable room to rest, and visit major attractions around within a short distance. Depending on your itinerary and interests, you can stay in a hotel near main scenic spots, or the airport or the train station in Shache.
Useful Shache Travel Maps
To help you better know Shache and plan your Shache tour efficiently, here we made some useful Shache maps for you. You can read Shache Location Mapb to decide how to get to and around Shache, and plan your trip itinerary by checking the Shache Tourist Attraction Map, etc. All the maps are recently updated, downloadable and printable.
Other Popular Destinations in Xinjiang
Covering an area of 1.66 million square meters, almost one in six of China's total territory, Xinjiang is a vast land full of charms. Northern Xinjiang (Urumqi, Karamay, Altay, Kanas, Tacheng, Ili, Bortala-Sayram Lake) and Southern Xinjiang (Kashgar, Tashkourgan, Aksu, Khotan, Kuqa, Koral, Bayingol...) are two main travel regions. Apart from Shache, there is more amazing natural beauty and cultural charm awaiting your exploration. Discover the most classic destinations below.
Other Destinations along the Silk Road
The ancient Silk Road from Xian to Xinjiang is one of the mysterious and fantastic travel routes in Northwestern China. There are more fascinating destinations along the road, including the ancient capital - Xian, Dunhuang with Mogao Caves, Zhanye known for rainbow-like Danxia mountains, Jiayuguan with Great Wall fortress, Urumqi and Kashgar in Xinjiang. Check the following highlights on the Silk Road and select a great Silk Road adventure here.
Plan your Xinjiang Shache Tour
Very very few tourists travel to Shache directly and only some travelers shortly tour Shache when getting from Kashgar to Yecheng. One day is enough to visit the highlights of Shache, including the Ye'erqianghan Mausoleum, Amanisa Royal Memorial Mausoleum.
In Southern Xinjiang, Kashgar is the must-visit destination. Usually, tourists spend 2 days exploring the cultural charms of Kashgar, visiting Kashagr Old Town, Id Kah Mosque, Kashgar Bazaar, Abakh Hoja Tomb, etc. With 2 days more, it's highly advised that you extend your trip to Thshkurgan, view the breathtaking Baisha Lake, Karakul Lake, Muztagh Ata and Pamirs landscape and explore mysterious characterized Tajik culture. If time allows, you can travel to more wonderful destinations in Southern Xinjiang, such as Hotan, Korla, Aksu, etc.
Xinjiang is vast and beautiful, and Northern Xinjiang has stunning nature landscape like Heavenly Lake of Tianshan (Urumqi), fairyland Kanas Lake & serene Hemu Village (Altay), fantastic primitive grasslands (Ili's Kalakun, Narati...), grand canyons (Anjihai Grand Canyon) and so on. If your holiday is long, you can take an in-depth Xinjiang tour, discover more natural beauty, historical treasures and ethnic biodiversity in this magic land. We offer best-guided Xinjiang tour packages, and you can also contact us to customize a special Xinjiang adventure by yourself.
Recommended Xinjiang Tours
MORE