Kucha(82°35′-84°17′E, 40°46′-42°35′N), also known as "Kuche or Kuqa" used to be a famous kingdom along the silk road in the ancient time. It is located in the middle of the southern foot of Tianshan Mountain and the northern edge of Tarim Basin, with a total area of 15,200 square kilometers. For its junctional location, Kucha absorbed civilization factors from all directions, leaving Grottoes with a longer history than Dunhuang. It was very popular in the history of civilization in the western regions. Now Kucha is rich in tourism resources, with more than 50 cultural relics and historic sites. 
Why Visit Kucha:
Splendid History - As early as 12000-4000 years ago, there were ancient human activities in Kucha. Kucha existed in Tarim Basin in the 3rd century BC. In the Han Dynasty, Kucha had become one of the great powers along the silk road in the western regions. Since then, and Kucha has always been one of the most influential kingdoms in the south of Tianshan Mountain.
Mysterious Ancient Kingdom - Kucha, called Qiuci in ancient times, is a big country among 36 countries in the western regions. At that time, Kucha was the center of this area. The ancient kingdom and its long history left a large number of cultural relics in Kucha, such as the ruins of the ancient city, Kucha palace, and Kucha temple. The local museum also collects many valuable cultural relics and treasures which have recorded the splendid culture of Kucha on the Silk Road with prosperous business at that time.
Magnificent Geological Landform - There are many canyons around Kucha. The magnificent and steep Kucha Grand Canyon is covered with reddish-brown rocks, with strange peaks and rocks in a variety of shapes, showing tranquility and mystery; The beautiful scenery at Kizilya and the peculiar mountain peaks show the power of nature under the sunshine...
...
Top Attractions to Visit in Kucha
Kucha has lots of places to visit. There are more than 195 cultural relics such as grottoes, ancient castles, and beacon towers in the territory. It is listed as 2 world cultural heritages of the "Kucha section of the Silk Road", 10 national key cultural relics protection units, and 41 autonomous region level cultural relics. Famous tourist attractions include Tianshan Grand Canyon, Kizil Grottoes, Kucha Palace, Ancient ruins of Subash, etc. Check the following best must-visits to plan your Kucha itinerary.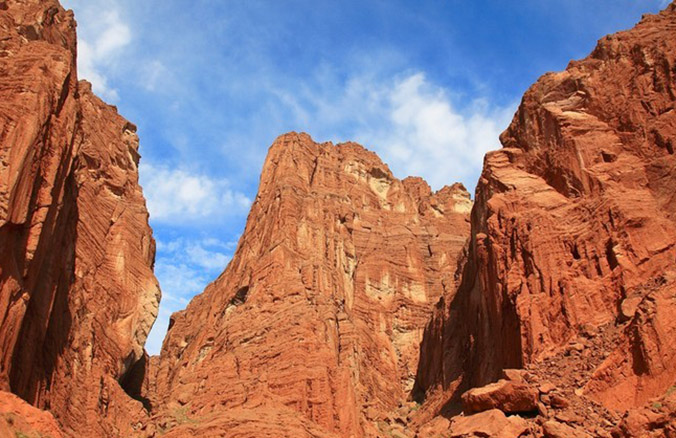 Tianshan Mysterious Grand Canyon
It is about 70 kilometers away from Kucha County, located at the south foot of West Tianshan Mountain. The canyon has a total length of more than 5000 meters and a height difference of 200 meters. Only one person can pass sideways at the narrowest place. The huge red mountains were formed 140 million years ago.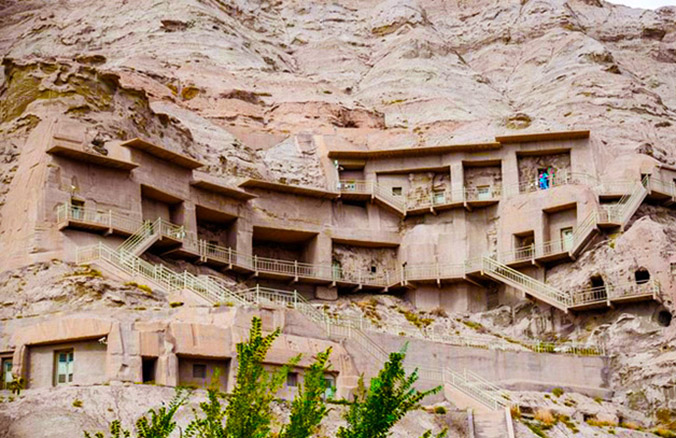 Kizil Thousand-Buddha Cave
Kizil Thousand Buddha cave is located about 60 kilometers southeast of Baicheng. Kizil in Uighur means "red". The cave is dug between the cliffs of cliffs. There are 236 numbered caves in existence, about one-third of which have relatively complete cave shapes and mural remains.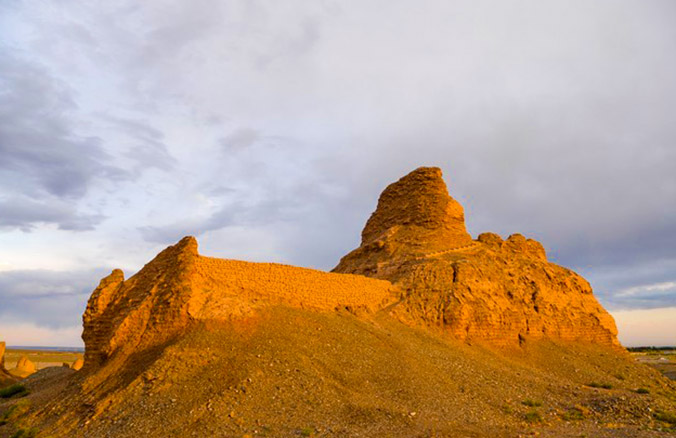 Subash Ruins
It is located in the northeast of Kucha County. The site is divided into East and west temples. The East Temple has been destroyed and the temple towers and monk houses remain. Coins, copper, iron, pottery, woodware, murals, clay statues, Buddha statues, papers have been unearthed here.
Old City of Kucha
It is located about two kilometers west of Kucha County. The ancient city has a circumference of nearly 8km, a north wall of 2km, a south wall of 1.8km. The city is an irregular square with a wall about 2-7m high. The unearthed cultural relics include stone tools, bone ware, colored pottery, copper pieces, etc.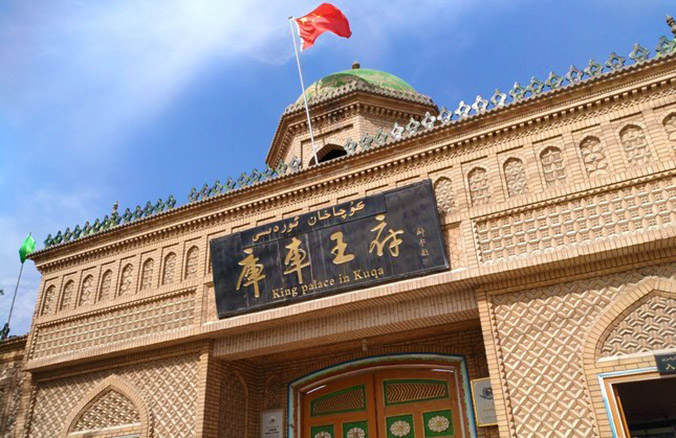 Kucha Royal Palace
Kucha palace is located in the old city of Kucha. There are also three main exhibition halls, namely Kucha Museum, Kucha Palace Cultural Relics Museum, and Kucha folk custom exhibition hall. A large number of unearthed cultural relics, cave murals, and Buddhist statues are displayed in the brightly colored museum.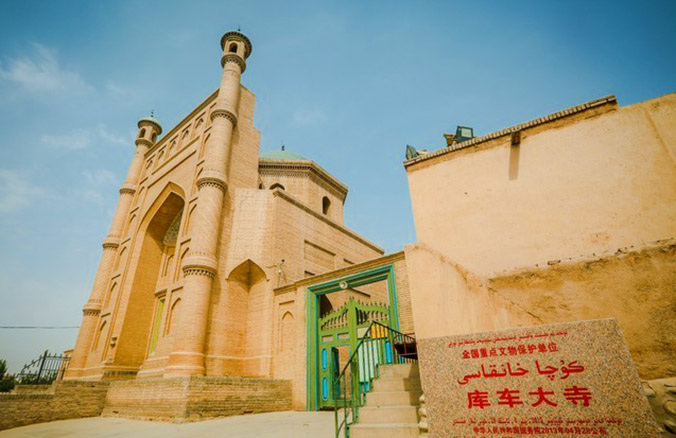 Kucha Grand Mosque
Kucha temple is the second largest temple in Xinjiang, 4km away from Kucha town. The gate tower of the temple is 18.3m high. The towering gate towers are solemn and straight. The towering column is carved with Islamic style patterns and a dome roof. The worship hall can accommodate 3000 people.
Kucha Weather & Temperature - Best Time to Go
Kucha has a continental desert climate, with an average annual precipitation of 74.6 millimeters, a majority of which occurs in summer. It is hot in summer and dry and cold in winter. The annual and daily temperature differences are large. The monthly 24-hour average temperature ranges from −7.2 °C (19.0 °F) in January to 25.3 °C (77.5 °F) in July, and the annual mean is 11.29 °C (52.3 °F). The frost-free period lasts for 266 days on average. The sunshine is abundant and the city receives 2,712 hours' sunshine annually. You can travel to Kucha in any season you want and autumn is the best time to visit Kucha with a comfortable temperature, especially in autumn from September to early November.
Tips: Kucha is dry throughout the year and has strong sunlight in the day, it is recommended to wear a mask and sunhat and bring facial cream, lip cream, hand cream, sunhat, sunglasses, and sunscreen accordingly. Also, there is a large temperature difference between morning and evening in Xinjiang. Always remember to bring some extra layers.
Kucha Transportation
Get to Kucha
Kucha is on the northern edge of the Tarim Basin. Both flights and trains are available. But the flight schedule is not stable and it only operates flights to Urumqi and most trains serve only provincially in Xinjiang, so many people choose to get to Kucha by train from the major cities of Xinjiang or get to Urumqi first and then take a flight to Kucha.
By Air: Kucha Airport (IATA: KCA) is about 10 km, 20 minutes' drive from Kucha downtown. It operates mainly provincial flights between Urumqi (1h). You can take a taxi or city bus to downtown.
By Train: Kucha Railway Station (库车火车站) is about 6 km, 20 minutes' drive from Kucha downtown. It has not started operating high-speed trains yet. It receives over 10 daily normal trains. Most normal trains mainly serve in Xinjiang stopover at Kucha from/to Aksu, Urumqi, Hotan, Turpan, Korla, Kashgar, etc.
Get Around Kucha
You can get around Kucha downtown by public bus and taxi to visit Old City of Kucha, Kucha Palace, and Kucha Mosque. But if you are going to attractions such as Kizil Thousand-Buddha Cave, Tianshan Mysterious Grand Canyon, it is more convenient to charter a private car. But most taxi drivers in Kucha don't understand English or other foreign languages and you need to write down your destination in Chinese in advance.
China Discovery's Private Transfer is Top Recommended
As attractions in Kucha are scattered in different directions, traveling with a private vehicle and a local guide is quite helpful. To better acclimatize yourself to the local environment and get a better travel experience, it's highly advised to get around Kucha by private car. Please feel free to contact us for transportation help.
Kucha Accommodation: Where to Stay
Generally, the accommodation condition in Kucha can not measure up to hotels with the same star rate in big cities like Beijing, Shanghai, and Urumqi, and the only 3-star hotel in Kucha is Kucha Hotel as Kucha is on the border of the desert. When you are traveling to Kucha, it is most recommended to stay in Kucha downtown with convenient transportation and more hotel choices, otherwise, it will be hard to find a nice accommodation site. If you want to find better accommodation, you can also stay at Aksu (about 260km from Kucha) where there are more 3-star and 4-star hotels.
Recommend Hotels in Kucha Downtown: Kuche Hotel (库车饭店 ★★★) Tianyuan International Hotel (库车天缘国际酒店), Park Hyatt Boutique Hotel (库车柏悦精品酒店)
Recommend Hotels in Aksu Downtown: Hualong Hotel (阿克苏华龙酒店 ★★★★) International Hotel Aksu (阿克苏东方国际大酒店 ★★★★), Pudong Holiday Hotel (阿克苏浦东假日酒店 ★★★★)
Other Popular Destinations in Xinjiang
Covering an area of 1.66 million square meters, almost one in six of China's total territory, Xinjiang is a vast land full of charms. Northern Xinjiang (Urumqi, Karamay, Altay, Kanas, Tacheng, Ili, Bortala-Sayram Lake) and Southern Xinjiang (Kashgar, Tashkourgan, Aksu, Khotan, Kuqa, Koral, Bayingol...) are two main travel regions. Apart from Kucha, there is more amazing natural beauty and cultural charm awaiting your exploration. Discover the most classic destinations below.
Other Destinations along the Silk Road
The ancient Silk Road from Xian to Xinjiang is one of the mysterious and fantastic travel routes in Northwestern China. There are more fascinating destinations along the road, including the ancient capital - Xian, Dunhuang with Mogao Caves, Zhanye known for rainbow-like Danxia mountains, Jiayuguan with Great Wall fortress, Urumqi and Kashgar in Xinjiang. Check the following highlights on the Silk Road and select a great Silk Road adventure here.
Plan your Xinjiang Kucha Tour
Very few tourists travel to Kucha directly and only some travelers shortly tour Kucha when getting from Kashgar and Hotan. Two days are enough to visit the highlights of Kucha, including the Kuqa Grand Canyon, Old City of Kuqa, Kizil Grottoes.
In Southern Xinjiang, Kashgar is the must-visit destination. Usually, tourists spend 2 days exploring the cultural charms of Kashgar, visiting Kashagr Old Town, Id Kah Mosque, Kashgar Bazaar, Abakh Hoja Tomb, etc. With 2 days more, it's highly advised that you extend your trip to Thshkurgan, view the breathtaking Baisha Lake, Karakul Lake, Muztagh Ata and Pamirs landscape and explore mysterious characterized Tajik culture. If time allows, you can travel to more wonderful destinations in Southern Xinjiang, such as Hotan, Korla, Aksu, etc.
Xinjiang is vast and beautiful, and Northern Xinjiang has stunning nature landscape like Heavenly Lake of Tianshan (Urumqi), fairyland Kanas Lake & serene Hemu Village (Altay), fantastic primitive grasslands (Ili's Kalakun, Narati...), grand canyons (Anjihai Grand Canyon) and so on. If your holiday is long, you can take an in-depth Xinjiang tour, discover more natural beauty, historical treasures and ethnic biodiversity in this magic land. We offer best-guided Xinjiang tour packages, and you can also contact us to customize a special Xinjiang adventure by yourself.
Recommended Xinjiang Tours
MORE