Kashgar - A Trading Center on the Silk Road
The Silk Road is an ancient trade route linking China with the western world. It derives its name from lucrative trade in silk carried out along its length, and then caravans of a thousand camels traveled along it, transporting spices, gold and gemstones between Constantinople (Istanbul, Turkey) and Changan (Xian, China). More than a caravan route, it was also an important part in the exchange of thought between two great civilizations of the time, China and Rome. If you want to learn how prosperous the Silk Road used to be, there are many places to explore, including Xian, Dunhuang, Zhangye, Jiayuguan, Turpan… as well as Kashgar which is the border city clinging proudly to its heritage as a trading center.
Xinjiang Section of the Ancient Silk Road
The starting point of the Silk Road was Xian during the Western Han Dynasty (202 BC - 9 AD) and became Luoyang during the Eastern Han Dynasty (25 BC - 220 AD). Then it went westward, through the Hexi Corridor (Lanzhou, Tianshui, Zhangye, Jiuquan, Jiayuguan and Dunhuang), entered Xinjiang and then ran to the Middle East and Europe. In Xinjiang, the Silk Road broke into three main routes: southern route, central route and northern routes. The southern routes went west along the northern foot of Kulun Mountains and then ran through Ruoqiang County, Minfeng County and Hotan, and reached Shache (in Kashgar). The central route went along the southern foot of Tianshan Mountain and ran through Loulan of Ruoqiang County, Korla City and then got to Shule (present Kashgar City). The northern route ran along the northern foot of the Tianshan Mountain, started Hami County and went through Turpan, Urumqi and the Ili River Valley and reached Yining. Therefore, southern and central routes of the Silk Road merge in Kashgar, making Kashgar an important transfer hub of the Silk Road.
Why Kasgar Region Became A Shining Pearl on the Silk Road
Kashgar area is surrounded by mountains on three sides. The Tianshan Mountains lies in north, the Pamirs stand in the west, the Kunlun Mountains are in the south and the Taklamakan Desert lies in the east. The warm air currents of the Indian Ocean are difficult to reach, and the cold air currents of the Arctic Ocean never cross, resulting in the dry and hot warm temperate desert scene in Kashgar. The melting water of the ice and snow in the mountain area created conditions for the development of the oasis, forming two famous oasiss with relatively concentrated Kashgar River and Yeerqiang River. The alluvial plain surrounded by the Pearl Mountain and the desert is like green gems inlaid in it. Located in the westernmost part of China, it borders Afghanistan, Kyrgyzstan, Tajikistan and Pakistan, making it a blend of eastern and western civilization. The special geography makes Kashgar the economic and cultural center of China's western regions, or exactly of central Asia. Merchants, politicians, missionaries, and frank confessors came for it in spite of difficulties. The Silk Road realized the most intense and boldest collision between Chinese and Western cultures here. Kashgar standing here adopted the essence of different areas and then subtly developed its own uniqueness.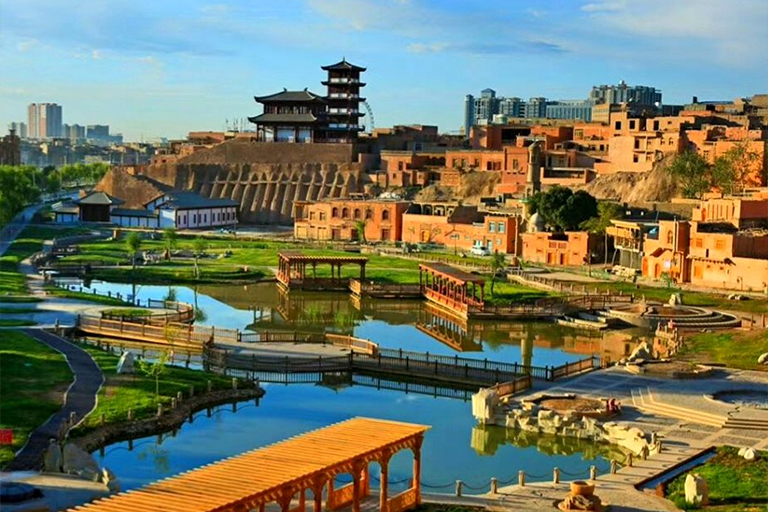 Kashgar City View
Best Places to Explore Silk Road Culture in Kashgar
Kashgar - Ancient Shule Kingdom
Kashgar City, called Shule (疏勒) in old times, was one of the famous 36 Kingdoms of Western Regions. Persian culture, Indian culture and Central Plains culture of China exchange and blend here. It was said that Buddhism was introduced to China from India during the Eastern Han Dynasty and Shule was the first stop. In the classic Chinese text Da Tang Records on the Western Regions (Great Tang Records on the Western Regions) written by Xuan Zuang, the significance of Buddhism in Shule was recorded. In the middle of the tenth century AD, the Karahan established the eastern capital in Shule, and Khan King believed in Islam under the influence of the Saman Dynasty. Then Islam became the state religion of this kingdom. Regardless of the political changes, the traditions of Islamic culture have been preserved till now. What you can't miss in Kashgar City include:
Kashgar Old City - Kashgar Old City is the soul of Kashgar City and a valuable legacy of the Silk Road. The mud-walled bungalows and brick buildings represent its past and future. Though time changes, the Uyghurs still live in a traditional way. Strolling in the old city, you may see the bent old men relaxingly enjoying their tea in Century-old Teahouse and basking in the sun, the smiling craftsmen playing the Uyghur instruments, the young ladies behind the veil walking gracefully, the teen-age kids tirelessly chasing each other in the narrow lanes, etc. The aromas of roasted Nang (a kind of crusty pancake) and mutton permeated the streets. The quaint mosque opens its doors in worship time to welcome the believers. The old city of Kashgar is in the transition from the old to the new and now is the best time to indulge in the amazing Kashgar flavor.
Abakh Hoja Tomb - Also known as Xiangfei Tomb, this tomb was famous as the tomb of Abakha Hoja - Emeror Qianlong's concubine in the Qing Dynasty. Whether Abakha Hoja was buried here is unknown, but this tomb truly served as the family tomb of five generations of her family. This tomb enjoys a typical Islamic architectural complex - perhaps the finest example of Islamic architecture in Xinjiang. Visiting Abakha Hoja Tomb, listening to the engaging associated history and legends, and admiring the building with a large dome, blue glazed tiles, delicate windows, etc. both offer you a special experience.
Local Bazaars - Wandering in the crowded local markets is by far the most interesting thing in Kashgar and every traveler should plan a trip to at least one open-air market to feel the busy atmosphere. Sunday Market is the most recommended one. It enjoys a history of over 2000 years and is well-known as the largest market in Asia. During the old times, many traders came from Central Plains of China, Europe and other countries gathered here to exchange goods. At present, it is still the busiest bazaars in Kashgar. There is a cornucopia of goods ranging from slices of watermelon to mutton shashlik to silk blankets to jeweled daggers to fine camels or sheep.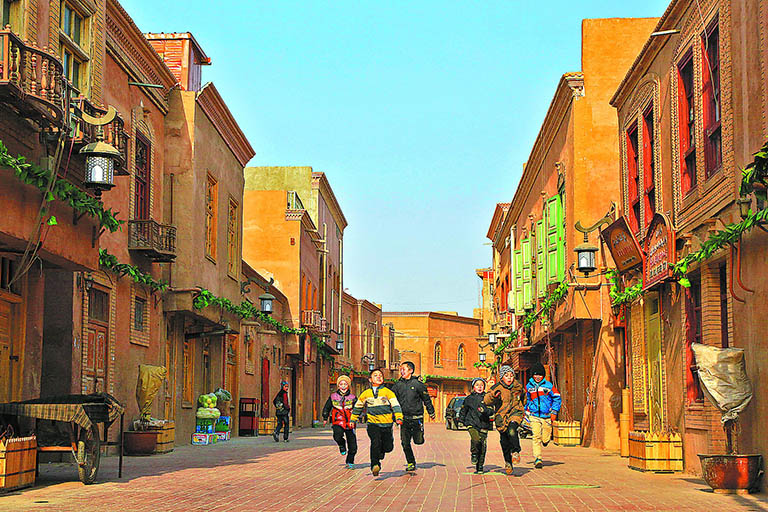 Kids Running in Kashgar Old City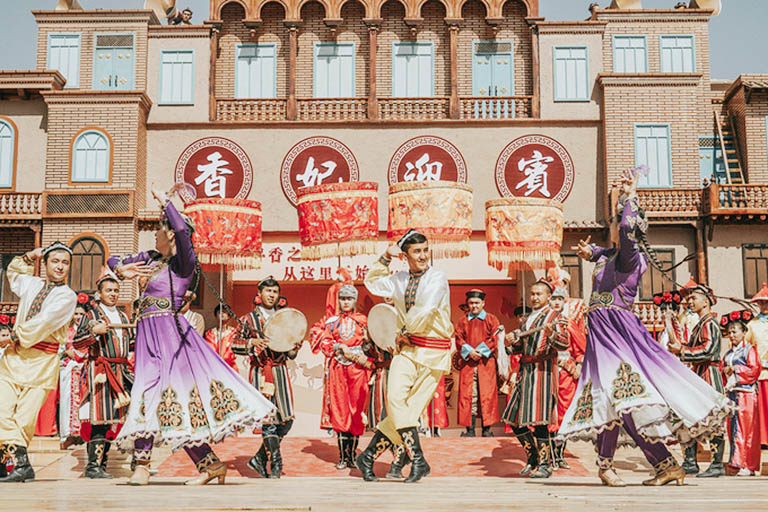 Performance in Abakh Hoja Tomb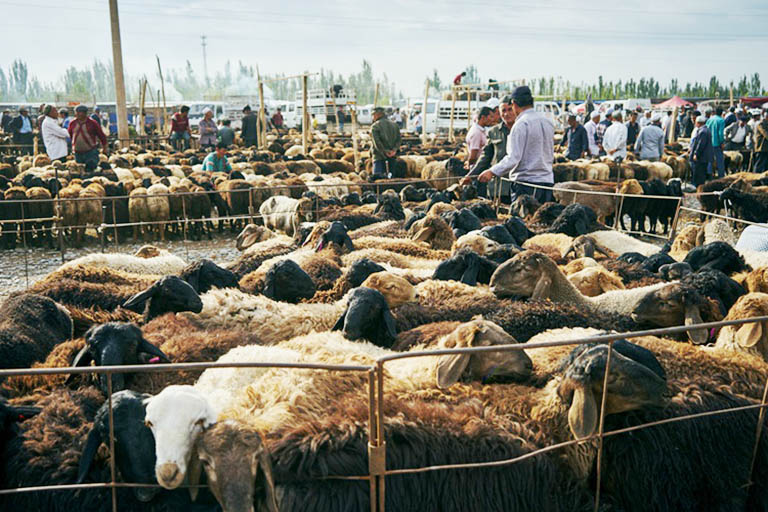 Kashgar Live Stock Market
Shache - Ancient Shache Kingdom
The old kingdom of Shache (also spelled Yarkand and Yarkant), holding a strategic position on the southern route of the Silk Road, is another one of 36 Kingdoms of Western Regions and the birthplace of Twelve Muqam (the mother of Uygur Music). It is located on the southern rim of Taklamakan Desert and fed by the Yarkand River which flows north down from the Karakorum mountains and passes through Kunlun Mountains. The whole fertile oasis covers an area of 3,210 square kilometers. Shache Kingdom once commanded the route over the lofty Pamirs. Though it is not a popular place among ordinary tourists, people who like to hunt for novels and find news are always attracted. There is a variety of grain crops produced in Shache, as well as cotton, fruit, beans, etc. Visiting Shache, you will also see extensive stock rearing and many traditional handicrafts. Popular attractions in Shache include:
Amannisa Khan Mausoleum - This mausoleum was constructed in memory of Amannisa Khan - an excellent musician and poetess. She accomplished many masterpieces and regulated Twelve Muqam with some folk artists. They eliminated the obscure religious lyrics in Muqam and replaced them with more lifelike lyrics, which is an indelible contribution to Uyghur classical music. The mausoleum looks like a very fragile building with a round tower and 20 carved pillars around it. There are beautiful plaster carvings on the inner dome and the names of the Twelve Muqam suites on the wall. Visiting Amannisa Khan Mausoleum in the evening is recommended, because you will see the golden glow on the dome.
Ye'erqianghan Mausoleum - It is just located beside Amannisa Khan Mausoleum. The kings of Yeerqianhan Kingdoms and some other outstanding musician are buried here. In the mausoleum, you can see many delicate patterns.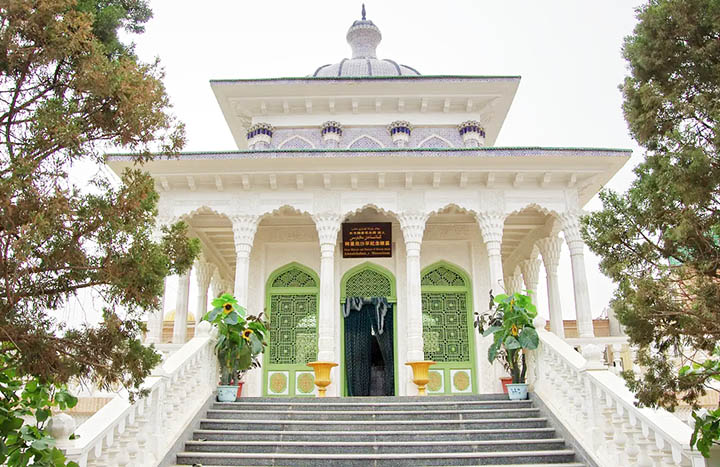 Amannisa Khan Mausoleum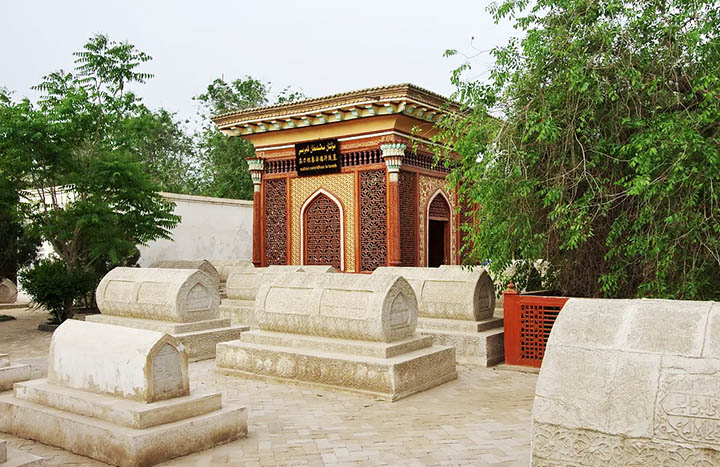 Ye'erqianghan Mausoleum (Tombs of the Yarkand Khans)
Kargilik - Ancient Xiye Kingdom
Kargilik or Yecheng is a county in Kashgar Region now and its seat is Kargilik town. Just like Shache, Kargilik is also situated on the southern rim of the Taklamakan Desert and on the southern route of the ancient Silk Road. During the Han Dynasty, Kargilik was a small kingdom referred to as Xiye, also one of 36 Kingdoms of Western Regions. Xuanzang once described Kargilik as a fertile oasis with abundant fruits.
Jiaman Mosque - It is the most eye-catching architecture in Kargilik. It was built in 1540 and experienced two expansions in the following years. The mosque is composed of gate towers, worship halls, sutra halls and courtyards. The yellow, green and blue brick patterns on the mosque are extremely exquisite. The old gate standing alone in the southern corner has witnessed the vicissitudes of this mosque for hundreds of years. The mosque is not open to visitors, but you can view the featured building from a distance. There is a bazaar on the east side of the mosque and you can enjoy the busy atmosphere on Sunday.
Sitia Mystery City - Sitia Mystery City is the site of an ancient city with a history of over 1,500 years. The site area is divided into ancient tomb site, barracks site, horse stable site, residential area site, training ground site, stove site and other parts. Very few old structures are preserved in the city and you need to use your imagination when you visit.
Qipan Thousand Caves - This is a Buddhist site with a history of more than a thousand years. The caves were severely damaged, and only 10 of them remain. All caves are single caves, square or rectangular, with different heights and sizes. The largest is 4.4 meters long and the smallest is only 2 square meters. There are not many relics in the cave. There is only a mutilated Buddhist niche on the right wall of the cave, but the Buddha statue is no longer there. Ancient artifacts such as Chinese and Arabic copper coins, single-ear pots, double-eared red pottery pots and stone millstones have been unearthed near the cave.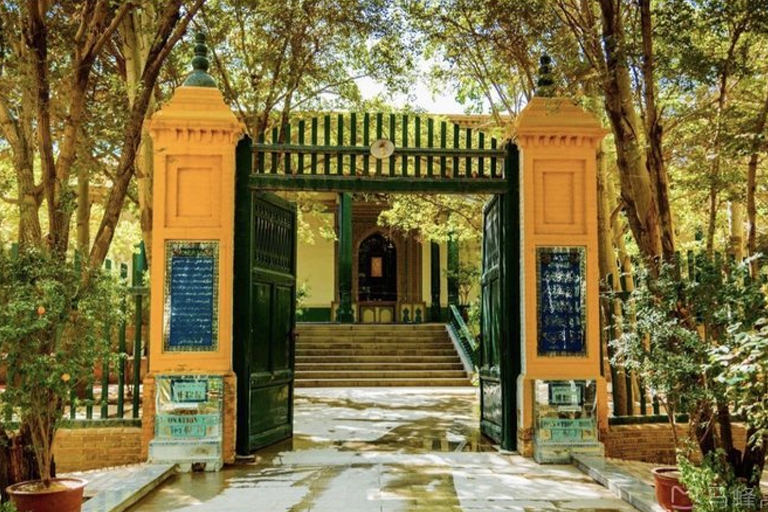 Jiaman Mosque
Sitia Mystery City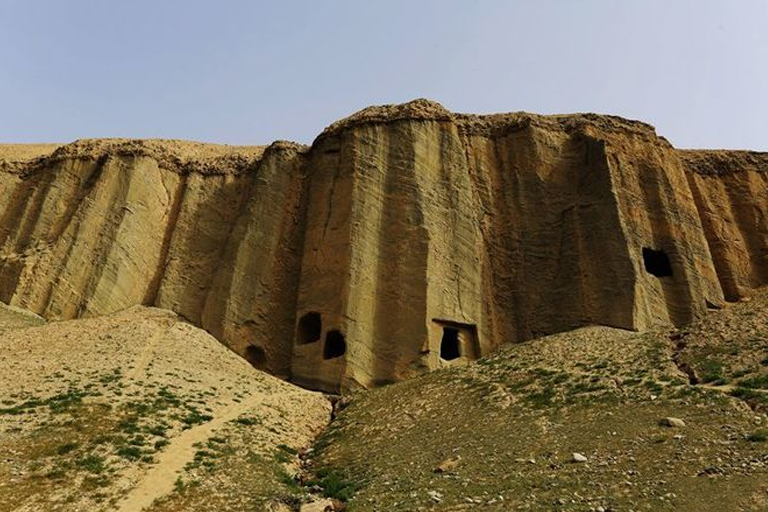 Qipan Thousand Caves
How to Plan A Kashgar Xinjiang Tour
How to Get to Kashgar: From mainland cities - you can take domestic flights from Beijing (about 6~7 hours), Xian (about 4 hours), Chengdu (about 6~7 hours), Shanghai (about 8 hours), Guangzhou (about 8 hours), Jinan (about 7 hours), Zhengzhou (about 7 hours), etc., or provincial flights from Urumqi (about 2 hours), Korla (about 1.5 hours), Yili (about 1.5 hours). From the borders - you can also get to Kashgar from land border ports, such as Kalasu Port, Irkeshtam Port, Torugart Port, Khunjerab Port. If you need transfer, we can send a tour guide and driver to pick up you from the borders.
Best Time to Visit Kashgar: suitable for travelling all year around, but May to October is most comfortable and beautiful.
Top Places to Visit Kashgar: Kashgar Old City, Karakul Lake, Tashkurgan (Stone City, Golden Grassland), Id Kah Mosque, Kashgar Bazaar
Plus arrival and departure days, you'd better plan at least 4 days for your Kashgar trip. If you want to extend your trip to Tashkurgan, you need at least 5 days. You can spend 2 days exploring attractions in Kashgar city and its old town, such as Kashgar Bazaar, Kashgar Old City, Id Kah Mosque, Abakh Hoja Tomb, Ancient Tea House, etc., then have a day trip to Karakul Lake from Kashgar. If you want to experience something more authentic, Tashkurgan, about 3.5 hours' drive from Kashgar, is strongly recommended.
☛ 4 Days In-depth Kashgar Tour to Karakul Lake
☛ 5 Days Legendary Pamirs Tour from Kashgar to Tashkurgan
After Kashgar tour, you can take a flight to Urumqi to marvel at the alluring Heavenly Lake and visit the mummy and Silk Road exhibitions in Xinjiang Regional Museum, then keep traveling to Turpan to see the grape valleys, visit historical Jiaohe Ancient City, etc. For an in-depth Silk Road journey, you can travel from Kashgar to Hotan, Kuqa, Taklamakan Desert, etc., which usually need about 8~13 days. If you love landscape, don't miss out the Kanas Lake in northern Xinjiang.
☛ 6 Days Urumqi to Kashgar Dream Tour - Best Xinjiang Tour for the First-timers
☛ 8 Days Urumqi Turpan Kashgar Xinjiang Tour
☛ 13 Days Xinjiang Silk Road Adventure Tour
Kashgar and Xinjiang regions can also be connected to other Silk Road destinations easily, such as Dunhuang, Jiayuguan, Zhangye, Xian, etc. Qinghai, Tibet, Inner Mongolia are also some recommended extensions of Kashgar Xinjiang trip. Find recommended Silk Road tours here or contact us to tailor-make a trip of your own if you want to discover more destinations.
☛ 10 Days Classic Silk Road Tour from Xian
☛ 11 Days Wild In-depth Silk Road Adventure Tour
☛ 15 Days Classic Ancient China Silk Road Tour with Bullet Train Experience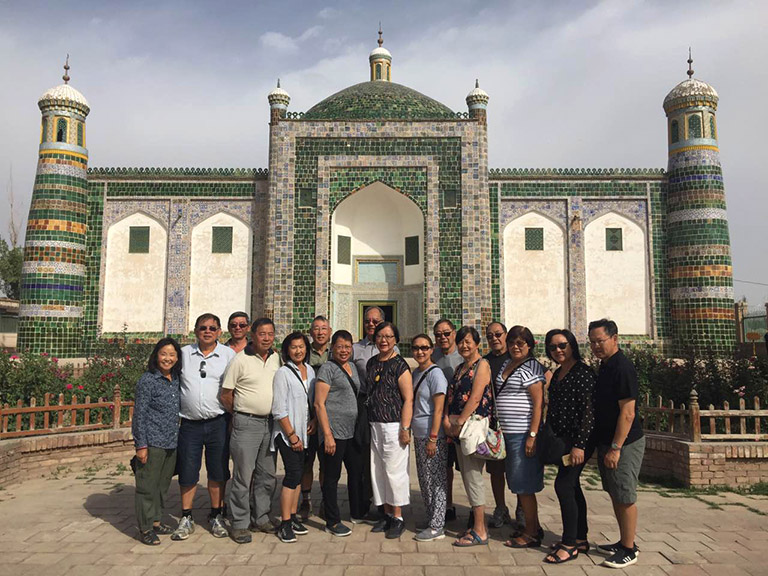 Our clients in Kashgar
Erin Family (USA) Visited Zhangye Danxia Geopark
Keep Reading About Kashgar
Keep Reading About Xinjiang Tours & Travel Guide
Recommended Kashgar Tours
Top 3 Kashgar tours chosen by most customers to explore Kashgar in the best way. Check the detailed itinerary, or tailor your own trip now with us.
4 Days In-depth Kashgar Tour to Karakul Lake

Kashgar - Karakul Lake - Kashgar
8 Days Classic Xinjiang Tour including Urumqi Turpan Kashgar Tashkurgan

Urumqi - Turpan - Kashgar - Tashkurgan
6 Days Urumqi to Kashgar Dream Tour - Best Xinjiang Tour for the First-timers

Urumqi / Kashgar / Karakul Lake / Tashikurgan / Kashgar
Start planning your tailor-made holiday to China by contacting one of our specialists. Once inquired, you'll get a response within 0.5~23.5 hours.
Customize a Trip
Have a question? Get answers from our travel experts or guests
Your Question:

Your Name:

Your Email: