Brief Impression of Id Kah Mosque
Id Kah means festival and square of joy in Uygur language. Id Kah Mosque (艾提尕尔清真寺) , or Eidgah Mosque, is one of the most famous and must-visit sites on Kashgar bucket list. It is the biggest mosque in Xinjiang and the top one in China. It's honored not for the size, but because not only local Muslims but also many international followers came to Id Kah Mosque to pray. It houses massive Muslims and even tens of thousands during the worship day and Muslims celebrate their Eid-al-Fitr (End of Ramadan) and Day of Arafah (Corban Festival) here as well. The mosque with classic religious elements and distinctive ethnic features is considered an outstanding example of Uygur's ancient building and a spiritual symbol of Kashgar. In Kashgar, it's the best place to experience strong Islamic culture and exotic architectural style.
The History of Id Kah Mosque
The mosque was originally the cemetery of the Islamic preacher of Ibn Qutaybah, an Arab general. It is said to be built by Saqsiz Mirza, King of ancient Kashgar Kingdom in 1442. In 1538, the supreme ruler reconstructed a small mosque to commemorate his uncle. That is the earliest appearance of Id Kah Mosque. During ancient times, the mosque served as an important academy for spreading Islamic culture and cultivating religious talents. In the first half of the 16th century, the mosque expanded and became a huge mosque which could host Friday Juma for prayers. In 1798, a female Muslim Gulirena died on her way to Pakistan. People used her milage to extend the mosque again and named it Id Kah. A Uygur female millionaire afterwards donated and purchased 600 acres of land as part of the mosque. In 1809, an official reconstructed the mosque and added a gate, excavated a lake and canal inside. The mosque had another expansion together with Kashgar City during the Daoguang Emperor of the Qing Dynasty (in the early 19th century). The latest renovation happened in 1872 with a completely new layout.
Id Kah Mosque in Kashgar Old Town
What to See in Id Kah Mosque
Id Kah Mosque covers an area of 16,800 square meters, has a south-north-length of 140 meters and east-west-width of 120 meters. The entire building complex is composed of 7 parts - gate, minaret, worship arch, courtyard, lecture hall, external pray hall and main pray hall. The architecture was built in fresh colors and plain decorations instead of magnificent styles, which perfectly present typical Arab building features and devout, humble, simple and stable of Muslims.
View the Eye-catching Symbolic Front Gate
The main entrance of Id Kah Mosque is its east gate. The gate is in the west of Id Kah Square, a huge public square where the locals like to sit down, enjoy sunshine and spend leisure time. Walking closer, you can see a beautiful bright yellow brick front gate and two minarets standing at sides. The door is 4.7-meter high and 4.3-meter wide with many elegant archway decorations. The two minarets, nearly 18 meters tall, are both delicately carved with flower patterns and typical Islamic symbols and the heads are two crescents. At dawn, the towers use loudspeakers to call the Muslims to pray. Sometimes, there are white pigeons flying by and resting on it. Behind the gate is a dome topped with a similar minaret. Lots of tourists take photos of the pretty gate.
Walk around the Central Courtyard
Under the 16-meter high dome is an octagonal hall with two aisles to the interior courtyard. Walk through the stone-paved north aisle, you will enter a huge 20-acre courtyard (Sahn), where many towering trees, luxuriant plants and clear ponds can be seen. It looks like a green garden, offering a wonderful summer coolness and mind-peaceful atmosphere in the midst of a downtown bustle. The south and north areas line up 24 scripture halls in total. Imams preach Sutras and students learn in gorgeous-colored rooms daily.
Explore the Holy Pray Hall
Go further inside, pass through a wooden fence, there stands two small yellow minarets in front of the Main Pray Hall. The Pray Hall is 140-meter long and 19-meter wide, consists of three parts: the outer Inner Pray Hall (Main Pray Hall), the external pray hall and entrance, which are all located on a higher platform above the ground. Its size is rarely seen in China and even worldwide. The external pray hall is a large-scale corridor, which is fully covered with colorful pray carpets. Besides, you can see 140 green carved wooden pillars and neat light yellow beams and rooftops. The pale yellow walls also have delicate carvings of green colors and classic Islamic prints. Together with the green plants, the mosque expresses its simplicity and beauty to all visitors.
The main Pray Hall is the center and most sacred place of Id Kah Mosque. Unlike Buddhist temples worshipping golden giant Buddha statues, the Main Pray Hall is vast and empty, except for different prayer carpets donated by the Muslims, a few simple ceiling lamps, an old pendule clock, a complicated woolen tapestry, some green columns, the same rooftops as the outside corridor. The hanging blanket is said to be made by two local women for 18 months. 56 pomegranate flowers implies the 56 ethnic groups in China. The prayer hall can house 2 to 3 thousand prayers daily. On Friday (the Day of Jummah), the number of prayers can rise up to 6 to 7 thousands and strikingly go to 20 to 30 thousands during holy Islamic festivals like the Eid ul-Fitr (End of Ramadan), Eid ul-Adha, etc.
Front Gate of Id Kah Mosque
Scripture Hall in the Central Courtyard
Main Pray Hall
Interior of the Main Pray Hall
How to Get to Id Kah Mosque?
Where is Dongguan Mosque Located?
Id Kah Mosque is located in the west of Id Kah Square, central Kashgar Old Town, Kashgar, Southern Xinjiang. Tourists usually visit the mosque together with other sites in Kashgar, such as Kashgar Old Town, Abakh Hoja Tomb, etc. It's quite convenient to get to Id Kah Mosque from the airport, train station and other sites of Kashgar, because the city is not big and most attractions are scattered in the city center.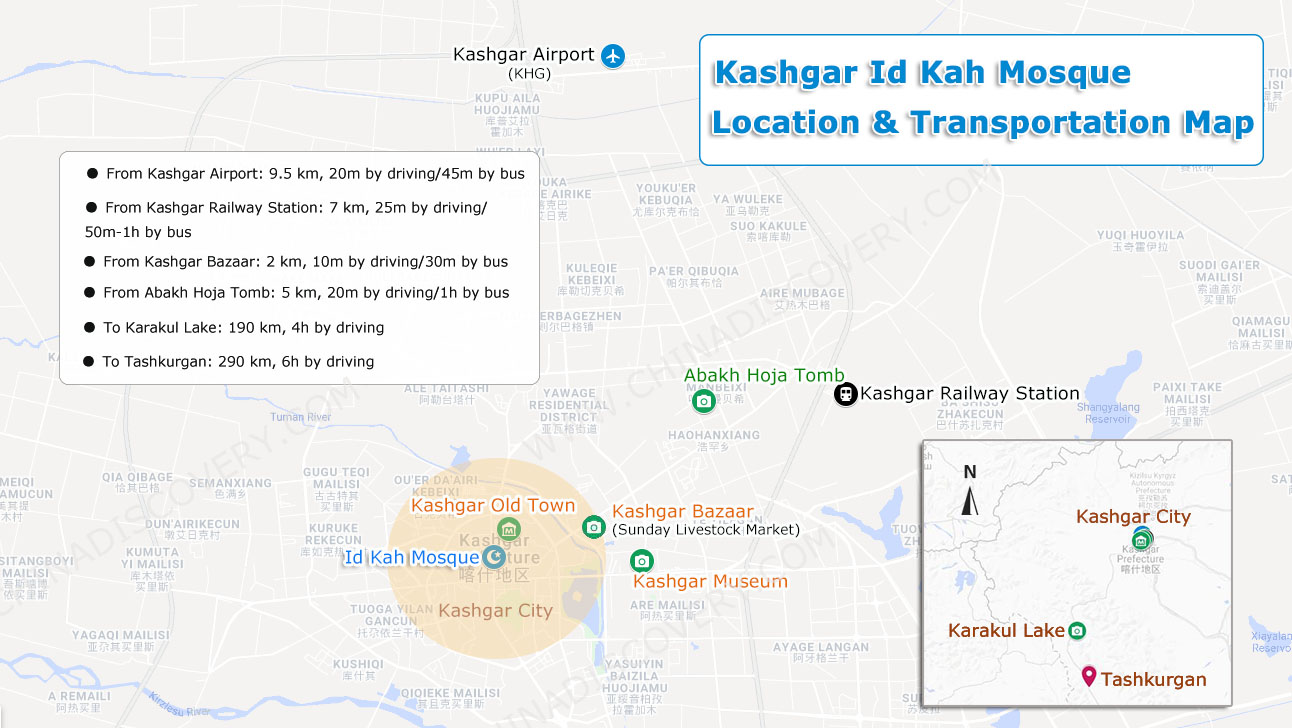 Kashgar Id Kah Mosque Location & Transportation Map (Click to Enlarge)
◆ Kashgar Airport to Id Kah Mosque: about 9.5 km, 20 minutes by driving; about 45 minutes by tourist sightseeing bus (Line 1 & Line 2).
◆ Kashgar Railway Station to Id Kah Mosque: about 7 km, 25 minutes by driving; 50 minutes - 1 hour by bus (Bus 28/20/17).
◆ Kashgar Bazaar (Sunday Livestock Market) to Id Kah Mosque: about 2 km, 10 minutes by driving; 30 minutes by bus (Bus 7/20/28...)
◆ Abakh Hoja Tomb to Id Kah Mosque: about 5 km, 20 minutes by driving; nearly 1 hour by bus (Bus 20/7...)
◆ Ancient Tea House to Id Kah Mosque: about 500 m, 10 minutes by walking.
◆ Id Kah Mosque to Karakul Lake: about 190 km, 4 hours by driving
◆ Id Kah Mosque to Tashkurgan: about 290 km, 6 hours' drive
Essential Tips and Etiquettes for Visiting Kashgar Id Kah Mosque
1. About Ticket
Normal tourists need to buy a ticket to visit and the price is RMB 45 per person.
Muslims can visit the mosque without a ticket and any charge.
Note: The mosque arranges a tour guide for visitors to introduce Id Kah Mosque and related Muslim culture.
2. About Opening Time
Id Kah Mosque opens between 10:30 and 19:00 every day, except in afternoon from 14:00 to 16:30 for daily pray.
3. Respect Muslim Religious Culture
No entry during worship time.
Dress properly. Female visitors should avoid shorts, skirts, topless and low-cut outfits, off-the-shoulder clothes.
Take off your shoes when entering the Main Pray Hall.
Keep quiet when visiting.
Don't stand in front of and by side of the Muslims when they pray, because they face the due west where the holy city Mecaa.
4. Others
There is a shopping market behind the mosque where you can walk around, looking for some interesting handicrafts.
How to Plan A Kashgar Xinjiang Tour
How to Get to Kashgar: From mainland cities - you can take domestic flights from Beijing (about 6~7 hours), Xian (about 4 hours), Chengdu (about 6~7 hours), Shanghai (about 8 hours), Guangzhou (about 8 hours), Jinan (about 7 hours), Zhengzhou (about 7 hours), etc., or provincial flights from Urumqi (about 2 hours), Korla (about 1.5 hours), Yili (about 1.5 hours). From the borders - you can also get to Kashgar from land border ports, such as Kalasu Port, Irkeshtam Port, Torugart Port, Khunjerab Port. If you need transfer, we can send a tour guide and driver to pick up you from the borders.
Best Time to Visit Kashgar: suitable for travelling all year around, but May to October is most comfortable and beautiful.
Top Places to Visit Kashgar: Kashgar Old City, Karakul Lake, Tashkurgan (Stone City, Golden Grassland), Id Kah Mosque, Kashgar Bazaar
Plus arrival and departure days, you'd better plan at least 4 days for your Kashgar trip. If you want to extend your trip to Tashkurgan, you need at least 5 days. You can spend 2 days exploring attractions in Kashgar city and its old town, such as Kashgar Bazaar, Kashgar Old City, Id Kah Mosque, Abakh Hoja Tomb, Ancient Tea House, etc., then have a day trip to Karakul Lake from Kashgar. If you want to experience something more authentic, Tashkurgan, about 3.5 hours' drive from Kashgar, is strongly recommended.
☛ 4 Days In-depth Kashgar Tour to Karakul Lake
☛ 5 Days Legendary Pamirs Tour from Kashgar to Tashkurgan
After Kashgar tour, you can take a flight to Urumqi to marvel at the alluring Heavenly Lake and visit the mummy and Silk Road exhibitions in Xinjiang Regional Museum, then keep traveling to Turpan to see the grape valleys, visit historical Jiaohe Ancient City, etc. For an in-depth Silk Road journey, you can travel from Kashgar to Hotan, Kuqa, Taklamakan Desert, etc., which usually need about 8~13 days. If you love landscape, don't miss out the Kanas Lake in northern Xinjiang.
☛ 6 Days Urumqi to Kashgar Dream Tour - Best Xinjiang Tour for the First-timers
☛ 8 Days Urumqi Turpan Kashgar Xinjiang Tour
☛ 13 Days Xinjiang Silk Road Adventure Tour
Kashgar and Xinjiang regions can also be connected to other Silk Road destinations easily, such as Dunhuang, Jiayuguan, Zhangye, Xian, etc. Qinghai, Tibet, Inner Mongolia are also some recommended extensions of Kashgar Xinjiang trip. Find recommended Silk Road tours here or contact us to tailor-make a trip of your own if you want to discover more destinations.
☛ 10 Days Classic Silk Road Tour from Xian
☛ 11 Days Wild In-depth Silk Road Adventure Tour
☛ 15 Days Classic Ancient China Silk Road Tour with Bullet Train Experience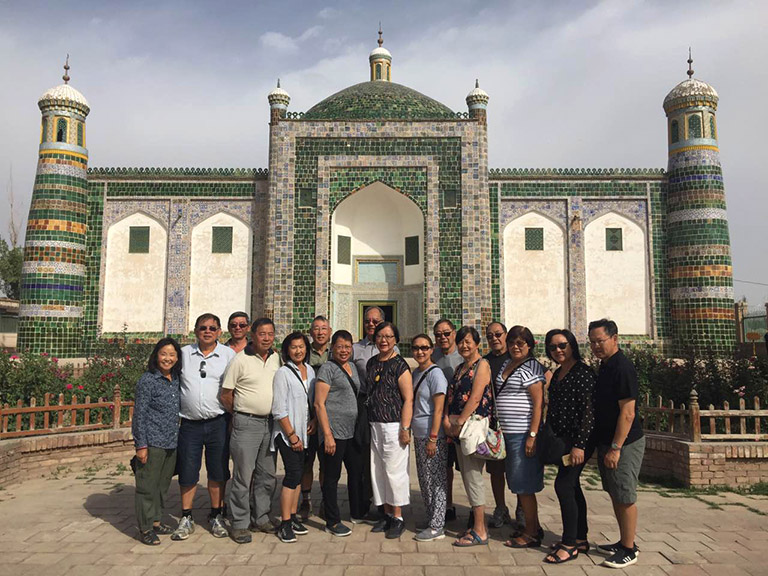 Our clients in Kashgar
Erin Family (USA) Visited Zhangye Danxia Geopark
Keep Reading About Kashgar
Keep Reading About Xinjiang Tours & Travel Guide
Recommended Kashgar Tours
Top 3 Kashgar tours chosen by most customers to explore Kashgar in the best way. Check the detailed itinerary, or tailor your own trip now with us.
10 Days Classic Silk Road Tour (Xian/Dunhuang/Turpan/Kashgar)

Xian / Dunhuang / Turpan / Urumqi / Kashgar
5 Days Legendary Pamirs Tour from Kashgar to Tashkurgan

Kashgar - Karakul Lake - Tashkurgan - Kashgar
8 Days Classic Xinjiang Tour including Urumqi Turpan Kashgar Tashkurgan

Urumqi - Turpan - Kashgar - Tashkurgan
Start planning your tailor-made holiday to China by contacting one of our specialists. Once inquired, you'll get a response within 0.5~23.5 hours.
Customize a Trip
Have a question? Get answers from our travel experts or guests
Your Question:

Your Name:

Your Email: