Table of Page Content
Kanas literally means "a beautiful and mysterious lake" in Mongolian. Xinjiang Kanas is a China National AAAAA Level Tourist Attraction, a National Geopark, a National Forest Park, a Nature Reserve & a National Natural Heritage property. Usually, people call it Kanas. Located in the north of Burqin, Altay Prefecture, Northern Xinjiang, Northwest China, near the border area with Mongolia, Russia and Kazakhstan, Kanas is a huge natural scenic area, which mainly consists of three big parts - Kanas Lake, Hemu Village and Baihaba Village.
What are the Charms of Kanas Lake and Xinjiang Kanas National Geopark?
● Amazing Heavenly Natural Scenery: With stunning natural beauty, Xinjiang Kanas has long been praised as "A Fairyland on the Earth" & "the Garden of the Gods". It's a big feast for eyes when sightseeing the pretty blue Kanas Lake water, endless lush forests, green & snowy mountains, vast grasslands, and a once-in-a-lifetime pastoral experience when breathing the fresh air and staying overnight in authentic Tuwa ancient villages. Different types of scenery set off each other brightly, and their colors and sights vary from season to season. Highlighting spots and scenes during the colorful autumn are the most appealing photography inspirations for both tourists at home and abroad.
● Pristine Tuva Villages & Tuva Ethnic Culture: Kanas Village, Hemu Village and Baihaba Village near Kanas Lake are the three last surviving Tuva villages in China. Tuvas of the Mongolian still live in a simple and original lifestyle of animal husbandry. The isolated villages are very picturesque with iconic timber houses, hazy chimney smokes and mists and wide-spread birch forests, which can easily bring people back to a basic living.
● Flourishing Ecosystem of Flora & Fauna: Kanas is an extremely rare national natural reserve with features of the European ecosystem and the only region in China having south Siberian vegetation and wildlife. 798 plants have been discovered, including the symbolic birch and precious larch, Korean pine, spruce, fir, etc. Animals including birds, fish, insects, amphibians and reptiles make up a perfect biodiversity and an interesting natural world.
● Mysterious Legends of Kanas Lake & Water Monsters: As an old Chinese saying goes, Genghis Khan and his troops found the beautiful Kanas Lake on his expedition to the west. They decided to rest and reorganize by the lake. Genghis Khan quenched his thirst with a drink of the lake water. One clever general explained it was the Kanas water - holy water of Khan (emperor of Mongolia). Hence, the lake got its name. The remains of Genghis Khan reputedly sank deep into Kanas Lake. The Tuva people, who firmly believe that they're the descendant of Genghis Khan, therefore, guard the great ancestor by the lake for generations. The mysterious water monsters once caught public eyes are said to be elves protecting his soul against disturbance while some think they're giant Hucho Taimen. Anyhow, the legend adds mystique and fascination of Kanas Lake.
Highlights to Explore in Xinjiang Kanas National Geopark
Kanas covers an area of 10,030 square kilometers and consists of 55 scenic spots, 33 kinds of landscapes, including lakes, mountains, forests, grasslands and so on. It has the only Switzerland scenery in China and is the cradle of the Irtysh River - the only river flowing east to west to the Arctic Ocean. Main attractions in Kanas include five lakes (Kanas Lake, Black Lake, White Lake, Yaze Lake, Swan Lake), four bays (Wolong Bay, Moon Bay, Shenxian Bay and Camel Neck Bay), Taiga Forest Corridor, Guanyu Pavilion, three Tuva villages (Hemu Village, Baihaba Village, Kanas Village) and Tuva ethnic people. Apart from viewing, visitors can also make a relaxing boat trip on Kanas Lake, an adventurous hike along the lake and Taiga Forest Corridor, spending one night in a Tuva village and photographing appealing scenery.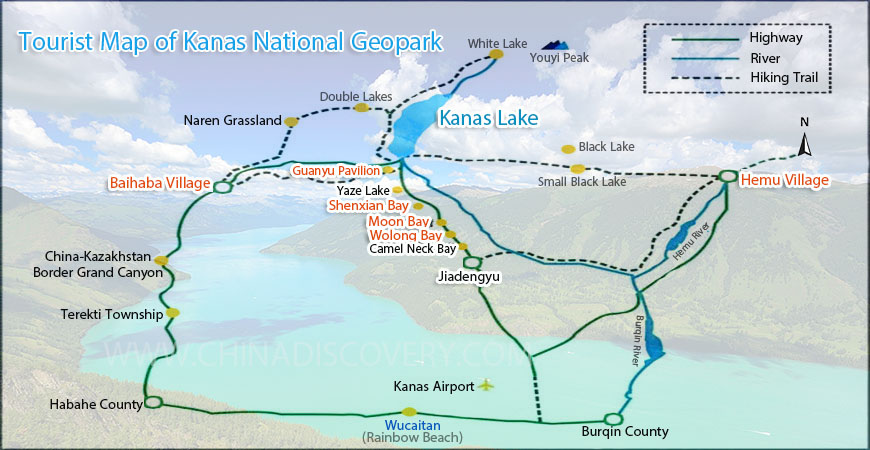 Xinjiang Kanas National Geopark Tourist Map (Click to Enlarge)
1. Kanas Lake 喀纳斯湖 - Surreal Beautiful Gem-like Water
Kanas Lake, the kernel of Kanas National Geopark, is a green crescent moon-shaped alpine freshwater lake sitting at an elevation of 1,374 meters in the middle part of Altai Mountain. It is the center and biggest highlight that is deemed one of the most beautiful lakes in China and a paradise for photography lovers. It is fed by the glacier meltwater of Youyi Peak (Friendship Peak) and Khuiten Peak - main peaks of Altai Mountains and precipitation of Kanas Lake, with a long history of about 200,000 years. The lake, with an average depth of 90 meters and maximum depth up to 188.4 meters, is the deepest moraine lake in China. The body extends 24.5 kilometers long from south to north and northeast and expands 1.9 kilometers wide with an acreage of 45.73 square kilometers. The storage is measured to be 5.38 billion cubic meters, over 380 times that of Hangzhou's West Lake.
The unpredictable water color of Kanas Lake is one of its allures, hence the title " Color Changing Lake". The lake water color changes with the seasons, the weather and light. On sunny days, it presents dark blue mixed with a little emerald like a quiet elegant jade belt spanning in the valley. Together with the azure blue sky and ethereal white floating clouds, Kanas Lake right now is very beautiful and serene, often impressing the travelers. The water is so calm and surreal, it even makes visitors believe the existence of the "Giant Fish" underwater. On cloudy and rainy days, Kanas Lake is gray green. During the summer, the milk white melting glacier water along with the rain slowly flows into Kanas Lake, so the lake turns to turquoise, as pure as the gem. When viewing from a higher-elevated platform, it's deep green but looking closer from the shoreside, it's crystal pure cadetblue. Besides, the pigmentation of the lake water varies from the reflection of surrounding mountains and different light environments in one day.
Around Kanas Lake are verdant mixed broadleaf-conifer forests joined with extensive green mountain grasslands, a similar vegetation landscape of the Alps. So, some people call Kanas Lake "the Switzerland of the Oriental" and "God's Garden". In summer, miles of blackish green primitive forests cover the undulating mountains; riverain lands are carpeted with prasinous grasslands with lovely wide flowers. When autumn comes, the forests become extremely colorful where hunter green trees are interbedded with cyber yellow leaves. The blue lake and layered multi-colored forests and hills shrouded in mist, majestic snowy peaks towering afar, all harmoniously make a real fairyland on the ear and a fabulous photography hotspot of high aesthetics.
Take a Cruise on Kanas Lake
It's quite a leisure to take a cruise on the Kanas Lake to closely view the clear water and shoreside forests and mountains. There are big cruises with more seats and small yachts. The ticket is 120 RMB per person for the cruise. The cruise departs from Shuanghu Wharf at the end of Taiga Forest Corridor, and rides a loop of Kanas Lake, going upstream passing through the three bays and back to the dock. The entire cruise ride takes about 45 minutes. A life jacket is offered. When the cruise stops for a while in the center, you can go out to take photos and enjoy the scenery on the banks.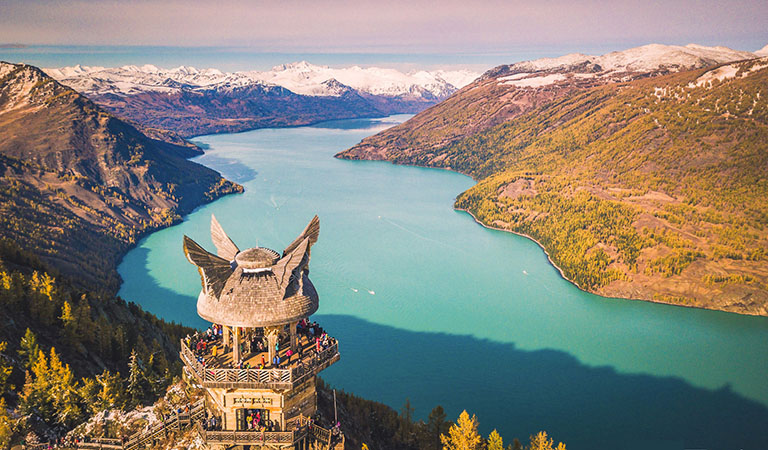 Kanas Lake ©飞翔 / mafengwo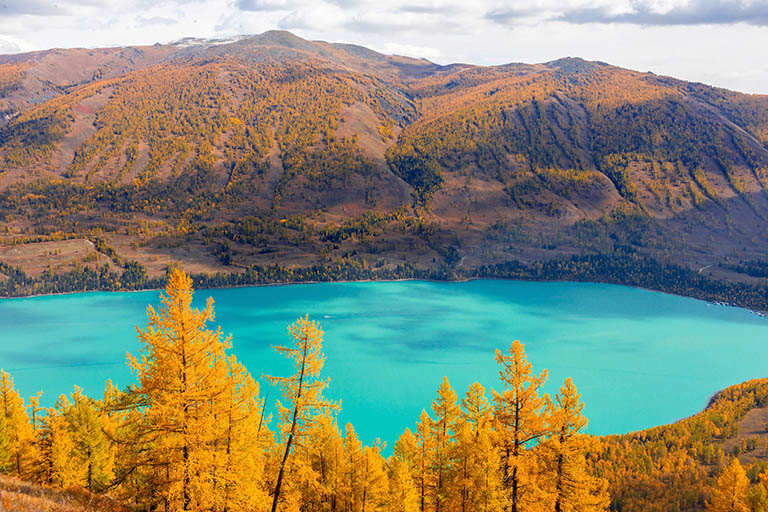 Kanas Lake ©GOOM果果 / mafengwo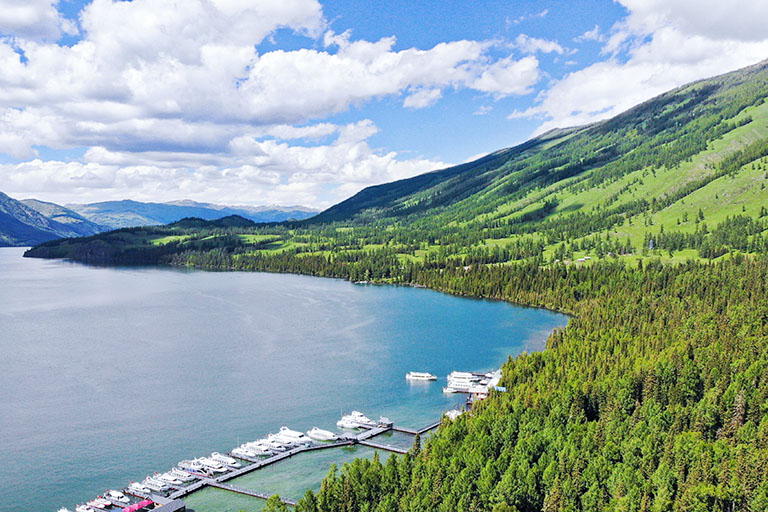 Take A Curise Trip on Kanas Lake
Wolong Bay (Dragon Crouching Bay 卧龙湾) - A Brisk Landmark
Located about 11 kilometers south of Kanas Lake, Wolong Bay is one of the three symbolic bays and shooting sites in the geopark. Tourists recognize it as the tyrannosaurus-like shoal in the green water, but the locals call it Kazan Lake or Guodi Lake, named after its outline of the bottom of a pan.
Scoured out by Kanas Lake for long years, Bolong Bay forms a Ω-shape cove. Torrential river waters slow down gradually on the open bend, turning into a peaceful, crystal blue visible bay with a glittering surface. From the upper viewing platform, you can easily capture a panoramic view of the lifelike dragon crouching in the placid river and lush forests and hills on the bank. Likewise, the colors of the dragon, river water, trees and mountains around change seasonally. During the hot summer, the green forests offer pleasant coolness and shelters for visitors.
Moon Bay (月亮湾) - Most Famous Scenic Spot
Kanas River continues to flow northward through a valley and forms a half-moon bay - Moon Bay in the downriver, which is about 1.5 km hiking distance from Wolong Bay. The pretty S-type riverbend, blue tranquil water and luxuriant along the waterfronts make Moon Bay stand out as the most famous site and best photography spot in Kanas Lake Scenic Area. The scenery here is often identified as the postcard and best showcase of Kanas Lake. In summer, Moon Bay displays Persian green water and dark green forests, providing visual and mind purification and fresh air. However, its most charming time falls in autumn, when the water is aqua blue, forests and mountains are multicoloured of layers, mists drift above the water and among the trees.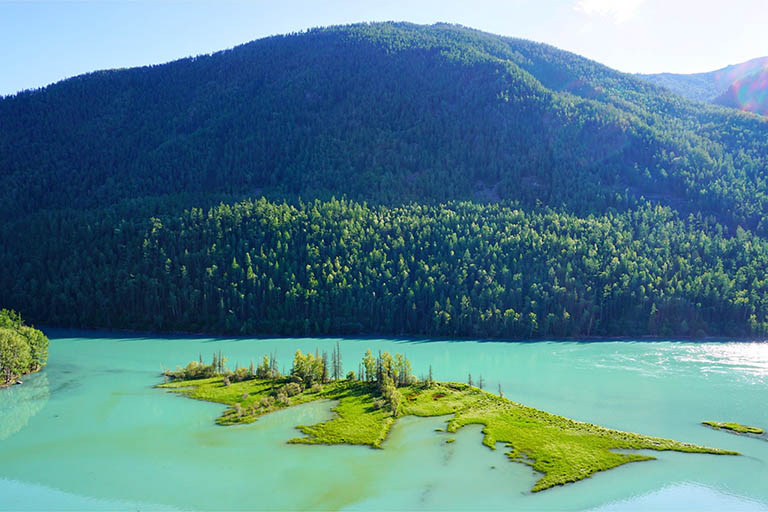 Wolong Bay ©Drizzle细雨 / mafengwo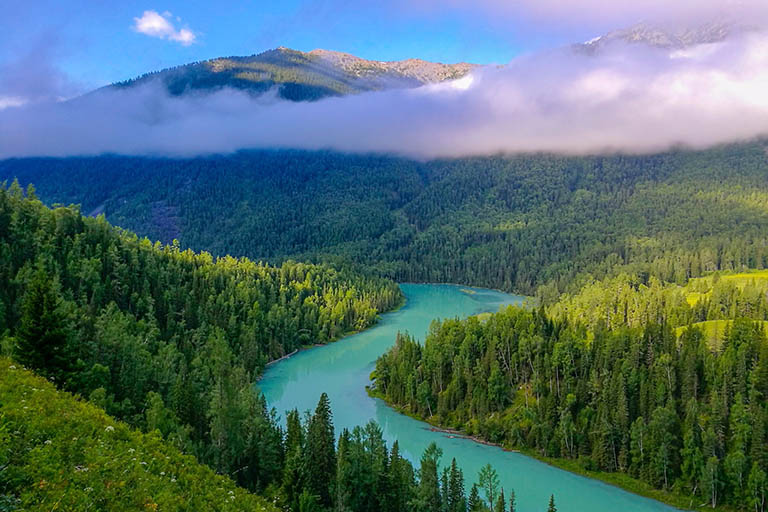 Moon Bay ©随毅行 / mafengwo
Shenxian Bay (Fairy Bay 神仙湾)
Shenxian Bay, about 4.5 km hike from Wolong Bay and 3 km from Moon Bay, is most known for its transcendent beautiful morning mist. Visible waters of Kanas Lake spread out on the open and flat pocosin, and cut the forests and grasslands into different islands. The most gorgeous scenery of Shanxian Bay is the oil painting-like scenery when turquoise blue waters, colorful forests are enveloped in dim haze during autumn mornings. The dreamlike beauty explains why it is named Fairy Bay, because it's indeed a heavenly landscape that can't be seen anywhere else on the earth. Still, the lake sparks with light in the sun, just like numerous fallen pearls, therefore, people sometimes call it "Pearl Beach". Travelers, especially shutterbugs, need to arrive earlier to catch the splendid morning frog.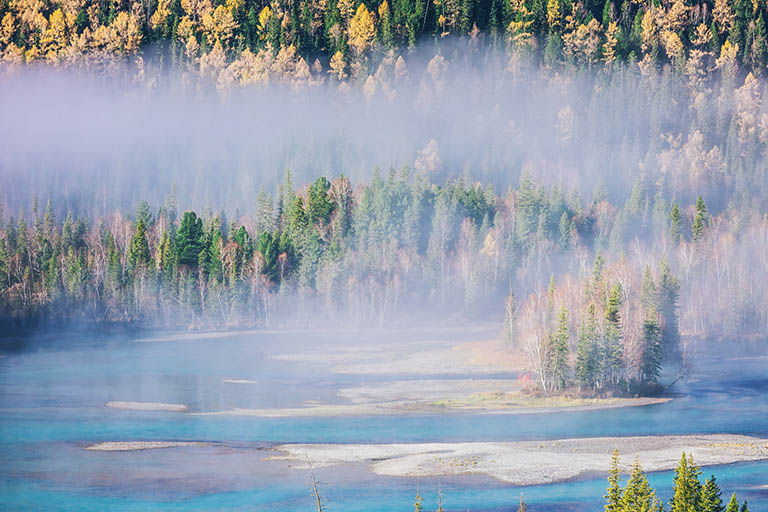 Moon Bay ©飞翔 / mafengwo
Guanyu Pavilion (Fish Viewing Platform 观鱼台) - Panorama View of Kanas Lake
Guanyu Pavilion is one of the must-visit sites in the park, because it's the best place to enjoy a panoramic view of Kanas Lake. It is built on the hilltop of Harakate ("Camel Peak" in Mongolian, elevation: 2,030 meters) with a vertical height of over 600 meters. The pavilion is said to be constructed for viewing the mysterious water monsters. The present structure is a great work by a famous Chinese landscape architect - Wu Zhaozhao. He designed the pavilion with two storeys of hexagonal platforms and a hemi-spherical rooftop with four flying fish tails and eagle wings. Eminent Chinese writer Yu Qiuyu wrote a plaque - Guan Yu Tai to share his excitement about the new landmark.
After taking a shuttle bus from the transfer center and getting off, tourists have to hike 1,068 wooden stairs up to the Guanyu Pavilion. The hike takes at least one hour or 3 hours if you stop to take photos and rest on the way. Once you see the full view of Kanas Lake from Guanyu Pavilion, you can't help admiring and shooting the spectacular scenery, which is definitely worth the climb. From the viewing platforms, you can get a wider field of vision, see the blue body of Kanas Lake stretching in the deep valley, thick woods all over the mountainsides and distant snow-topped mountains. If you're lucky, you possibly see a magnificent sea of clouds during June and July, when the soft grand clouds flutter in the air.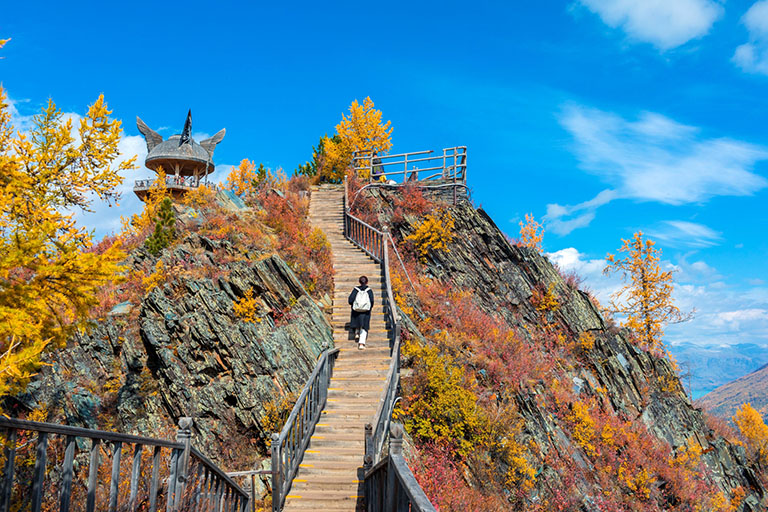 Guanyu Pavilion ©GOOM果果 / mafengwo
Taiga Forest Corridor 泰加林廊道
Taiga originally refers to coniferous forest zones near the polar regions in Russia. Now the word means wide boreal forests of the cold temperate zone. In China, Taigai forests only exist in the northern Daxing'anling Mountains and northernmost zone of Altai Mountains in northern Xinjiang. The Taigai forest in Kanas is the only extension of the west Siberian Taiga forest and a high-value gene bank of plants in the world. The main trees in Taiga forests are frigostabile coniferous trees, which grow tall and straight in large stretches. The most commonly seen trees are spruces, firs and larches.
Travelers can walk through the Taigai Forest Corridor on the well-paved 4.5-km-long wooden path. You can view the glistening Kanas Lake water beside, freely grow giant old trees, breathe fresh air, meet some lovely squirrels and fully savor the secluded nature without crowded tourists. In the later section, there is a Turuk Rock Painting with some ancient rock paintings and a Fossial Glacier.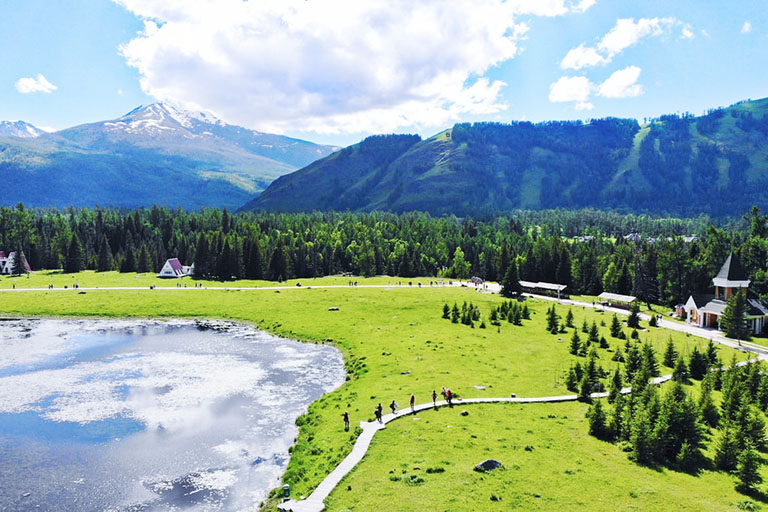 Scenery along Taiga Forest Corridor
Tuva Villages - Hemu Village, Baihaba Village and Old Kanas Village
Inside the park lives the three last remaining Tuva villages - Hemu Village, Baihaba Village and Kanas Village. They are all isolated ancient villages keeping their authentic, traditional way of living and old language and culture. Their timer houses and unique ethnic customs are the most charming cultural landscape of Kanas. Hemu Village, the farthest and largest among them, is the most notable and appealing one. It is best known as "God's Private Palace". The serene scenery of misty wooden cabins, beautiful grassland, boundless primitive forests bring people into a real fairyland. It's the hottest place for photography and accommodation to experience the Tuva lifestyle and precious village serenity.
Travelers can experience horse riding when transferring from Jiadengy to Hemu and getting around Hemu Village. You will explore the wild nature in this traditional way and be accompanied by a local experienced groom. Besides, during the summer month (June~August), you can try river rafting along the Hemu River nearby. Lifejack and other equipment will be provided.
Other Wonderful Attractions to Visit
Apart from the Kanas Lake, the scenic area hides many small less-known spots, which are beautiful as well, such as the Swan Lake (天鹅湖), where many white elegant swans fly back to rehabilitate between May and October, Naren Grassland (那仁草原) - a beautiful nature pasture about 14 km west of Kanas Lake, Double Lakes (喀纳斯双湖) - two sister lakes in the upper stream of Kanas Lake, Black Lake, White Lake, Qian Lake, etc.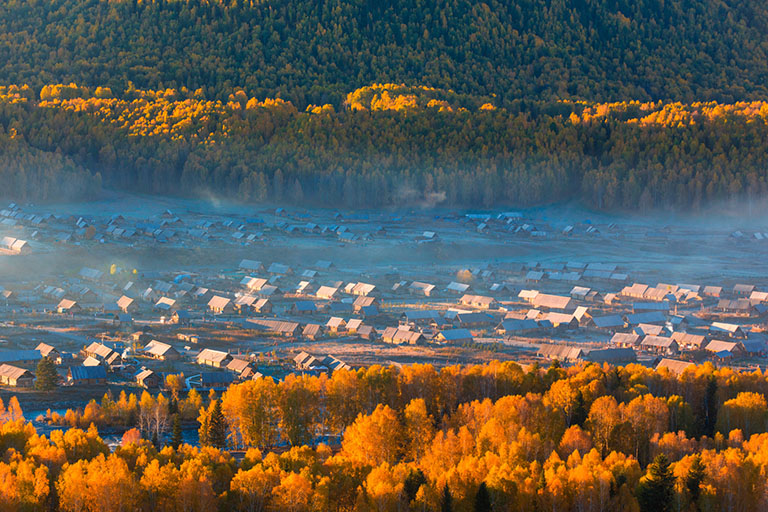 Autumn Scenery of Hemu Village ©GOOM果果 / mafengwo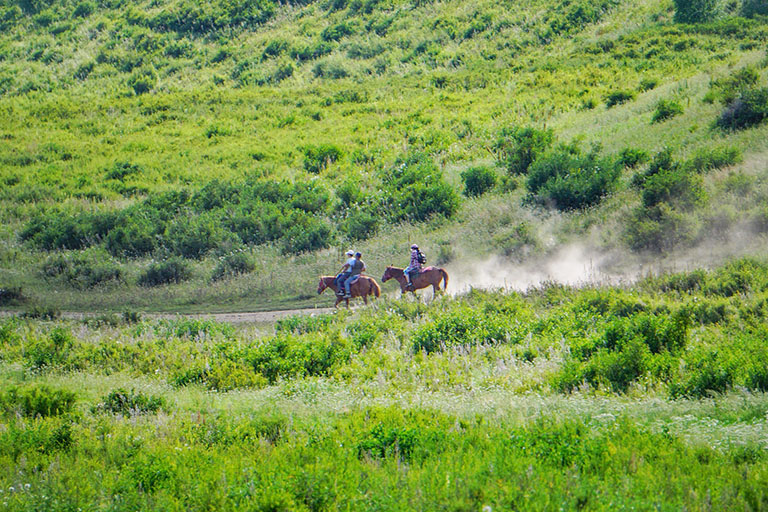 Horse Riding ©Drizzle细雨 / mafengwo
How to Get to Kanas Lake | Transportation to Kanas Lake
Kanas Lake is located in the northwest of Altay Prefecture, north of Xinjiang. At present, there are 4 ways to get to Kanas Lake Scenic Area - by flight, train, long-distance bus and chartered car. Travelers can reach the entrance directly by chartered car, while the flight, train and bus travelers still need extra transfer to reach the entrance. Usually, tourists drive to Kanas Lake from Urumqi and visit destinations like Rainbow Beach and Karamay on the way.
Option 1: Get to Kanas Lake by Air (Most Time-saving)
Altay Prefecture has three airports in service and they are Burqin Kanas Airport, Altay Airport and Fuyun Keketuotai (Koktokay) Airport. Burqin Kanas Airport is the nearest and most frequently used one.
Airport
Location
Distance
Transportation
Air-linked Cities
Burqin Kanas Airport (IATA: KJI) - Most Recommended
Burqin County, Altay Prefecture, Xinjiang
To Kanas Lake: 77 km, 2.5hrs' drive
To Hemu Village: 76 km, 2hrs10mins' drive
Airport bus to Jiadengyu Ticket Station (Main Entrance) 贾登峪门票站: 1.5hrs
Airport Bus to Hemu Village: 2.5hrs
Note:Tourists have to take a scenic tourist shuttle bus from Jiadengyu to enter Kanas Scenic Area.
Urumqi (1.5hrs), Altay, Bole, Turpan, Fuyun, Yining, Zhengzhou.
Altay Airport (IATA: AAT)
Altay City, Altay Prefecture, Xinjiang
To Kanas Lake: 270 km, 6hrs' drive
To Hemu Village: 275 km, 5.5hrs' drive
Airport Bus to Jiadengyu Ticket Station: (during peak tourist season)
Flight to Burqin Kanas Airport: 1 flight daily, 35 mins' air travel
Optional: Take a bus to Burqin first and then get to Kanas Lake Scenic Area.
Urumqi, Kashagr, Burqin, Aksu, Bole, Tacheng, Yining, Korla, Karamay, Xian, Chongqing.
Fuyun Koktokay Airport (IATA: FYN)
Fuyun County, Altay Prefecture, Xinjiang
To Kanas Lake: 400 km, 8hrs' drive
To Hemu Village: 410 km, 7.5hrs' drive
Flight to Burqin Kanas Airport: 1 flight daily, about 1h
Urumqi, Korla, Burqin, Karamay.
Option 2: Get to Kanas by Land Drive (Popular & Scenic)
If time allows, we advise you to drive from Urumqi to Kanas Lake, like most travelers do. Two routes are involved and the west route is most recommended, because there are different types of landscape you can view en route. Adding the traffic time and midway sightseeing, the journey takes 1 or 2 days.
West Route: Urumqi - Shihezi - Kuytun - Karamay - Burqin - Jiadengyu (Entrance of Kanas)
Highlights: Xinjiang International Grand Bazaar & Xinjiang Regional Museum (Urumqi); Wuerhe Ghost City (Karamay); Rainbow Beach/Wucaitan & Ertix River (Burqin).
East Route: Urumqi - Fukang - Fuyun - Beitun - Buriqn - Jiadengyu
Highlights: Xinjiang International Grand Bazaar & Xinjiang Regional Museum (Urumqi); Keketuohai Geopark (Fuyun).
Option 3: Get to Kanas by Train (Time-Wasting & Complicated)
There is no railway station severing Kanas Lake Scenic Area directly. The nearest train station - Altay Railway Station lies about 230 km southwest of Kanas Lake. At present, there are only some normal trains running to Altay from other cities in Northern Xinjiang, including Urumqi, Kuytun, Karamay, Beitun, Fuyun, Shihezi, etc. After arrival, you need to take a chartered car to reach Kanas Lake, or get to Altay City to take a bus and more time-costing transfers.
Urumqi to Altay Train: 2~3 trains per day, duration: 11~12 hours
Option 4: Get to Kanas Lake by Long-distance Bus (Time-Wasting - Not Recommended)
Some travelers take a bus to Burqin County first and then take another bus to Kanas. Buses to Burqin Bus Station leave from Kuytun, Urumqi, Altay and other nearby counties and cities. Besides, the bus station runs direct buses to Jiadengyu and Hemu Village.
Transportation inside Kanas Lake Geopark | Get around Kanas
Private cars and public vehicles are not allowed to enter Kanas Lake Scenic Area. All visitors are required to take an official environmentally-friendly shuttle bus to go inside the park. There are three entrances opened in Jiadengyu, Hemu Village and Baihaba Village separately. Jiadengyu is the most commonly used entrance. There are tourist shuttle buses you can take to transfer among the three major scenic zones and top attractions in them.
Kanas Lake Shuttle Bus
From & To
Operation Time
Bus Time
From & To
Operation Time
Bus Time
Jiadengyu → Kanas Transfer Center
8:00-20:00
50mins
Kanas Transfer Center → Kanas Lake
9:00-20:00
< 10mins
Kanas Transfer Center → Jiadengyu
9:00-20:00
50mins
Kanas Transfer Center → Guanyu Pavilion (¥20)
9:00-18:00
20mins
Hemu Village Shuttle Bus
Jiadengyu → Hemu Ticket Station (Entrance)
10:00; 16:00
1.5-2hrs
Hemu Ticket Station → Hemu Village
8:00-20:00
< 10mins
Hemu Ticket Station → Jiadengyu
10:00; 16:00
1.5-2hrs
Hemu Village → Hemu Ticket Station
8:00-20:00
< 10mins
Baihaba Village Shuttle Bus
Kanas Transfer Center → Baihaba Village
9:00-18:30
1hr
Baihaba Ticket Station → Baihaba Village
9:00-20:00
1hr
Baihaba Village → Kanas Transfer Center
9:00-18:30
1hr
Baihaba Village → Baihaba Ticket Station
9:00-18:30
1hr
Hiking
Taking a hiking trip through fairyland Kanas is a great experience. You can appreciate the crystal clean water from different angles, walk through dense forests and see nice wild plants and animals, fully savor the nature joy of simple pleasure. Apart from hiking up to the Guanyi Pavilion, the most recommended hiking trips are leisurely hikes along the three famous bays (popular & classic) and along the Taiga Forest Corridor (easier hike & fewer tourists). Professional hikers can take a longer hiking trip around Kanas with a professional guide.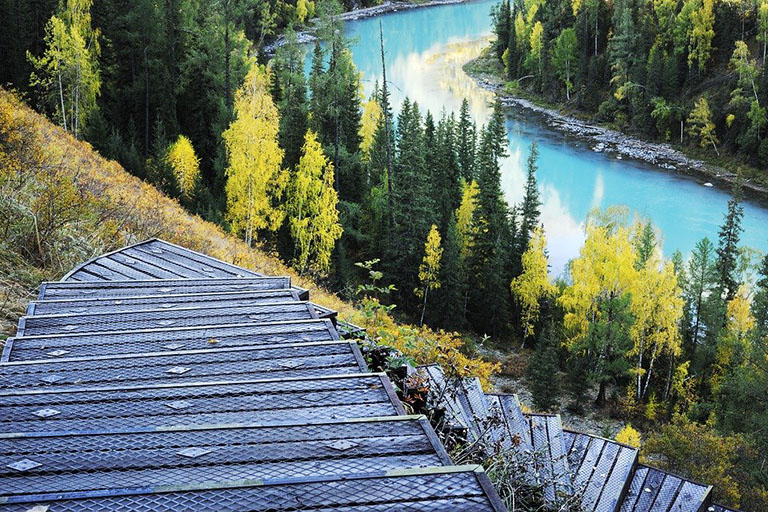 Hiking Path by Kanas Lake
Best Time to Visit Kanas Lake
Kanas is beautiful all year round and it presents different beauty in different seasons. Generally, Kanas has a cold temperate climate, characterized by cold, long winter, cool summer, short autumn and spring, big temperature difference between day and night and high air humidity and quality. The annual average temperature of Kanas is about -0.2℃. The coldest month - January suffers severe coldness, and its average temperature drops to -16℃. Kanas starts to get comfortable warm by the end of April and early May. Winter lasts from October to next April.
Kanas in Spring (March ~ May): March and April are still chilly. As the temperature rises gradually, ice and snow begin to melt, everything comes back to life and turns fresh green and lively. Kanas Lake water is light green. From May, comfortable temperatures and good weather brings Kanas a beautiful world, and peak tourist season starts.
Kanas in Spring (March ~ May): Huge amount of forest and lake waters make Kanas quite pleasant cool. After rain, the Kanas Lake has multi-colored waters; trees become luxuriant and greener; wild flowers bloom in bright colors; the grasslands are lovely green, mountains afar are topped with white snow. It's a fascinating Wonderful Wizard of Oz.
Kanas in Autumn (September ~ November): Autumn is the most beautiful and charming season of Kanas. Hillside forests change with different colors and mist often occurs above the turquoise lake water, making Kanas an oil painting and a fabulous fairyland beyond description. The temperature will fall sharply in October. Kanas often receive snow from early October.
Kanas in Winter (December to February): It's the off season, because most places are covered with heavy white snow and the freezing cold temperature (nearly -30°C) scares away most travelers. But Kanas in winter is an awesome ice and snow wonderland, a hibernating beauty and a pure and peaceful world. The lake water is visible dark blue with some ice and lovely snow mushrooms; forests, mountains and grassland are fully covered with white snow. The Tuva villages with snow-capped houses and dreamlike forests create an enchanting ink painting scenery.
You can visit Kanas at any time. Months from May to September, early October is the best time. Winter is also a good time to enjoy skiing, less-crowded, more serene and wonderful snow scenes and interesting winter activities.
Note: Kanas is in peak season, especially during the summer holiday (July and August) and golden autumn (September) and National Holiday Week (October 1 - 7). Prepare for higher costs and large crowds during these periods.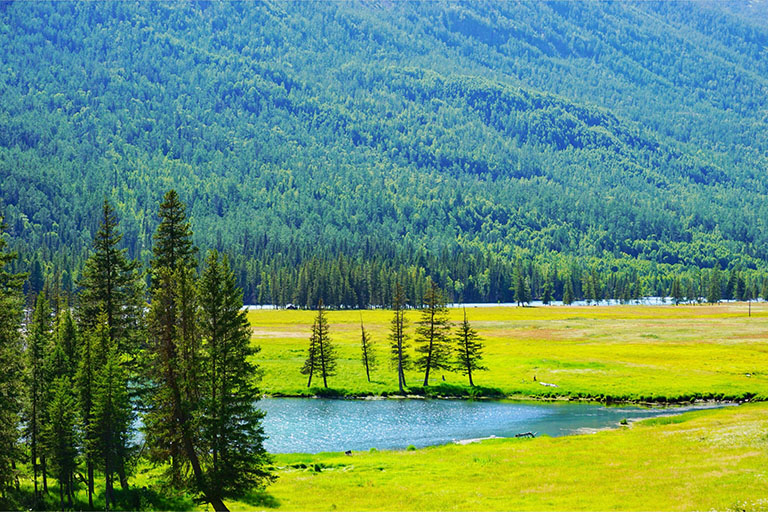 Kanas in Summer ©Drizzle细雨 / mafengwo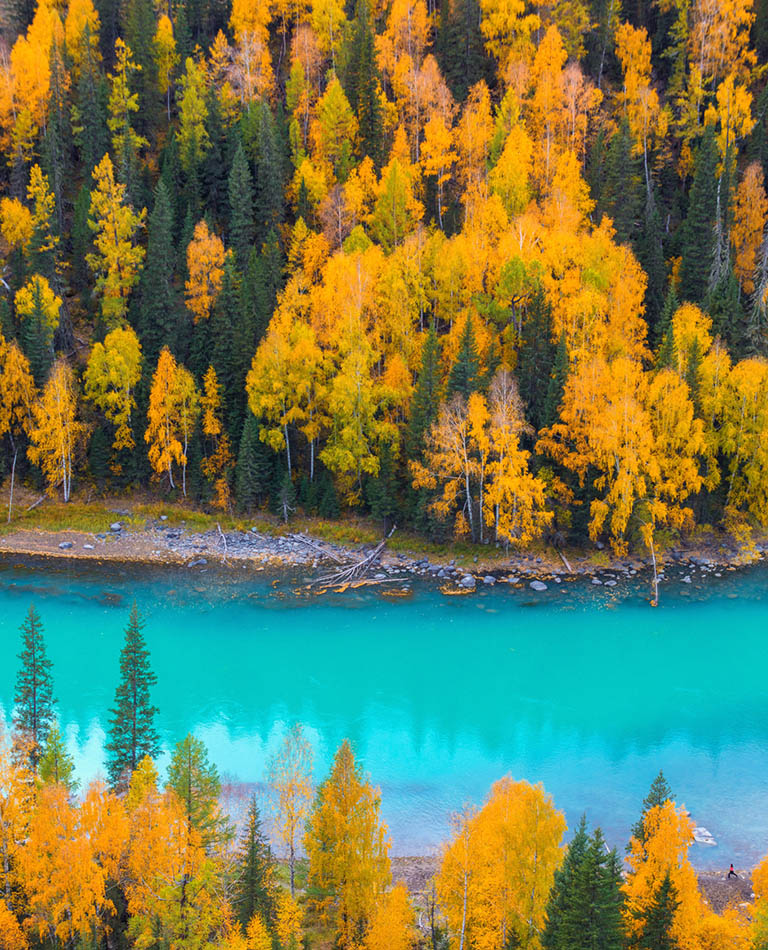 Kanas in Autumn ©GOOM果果 / mafengwo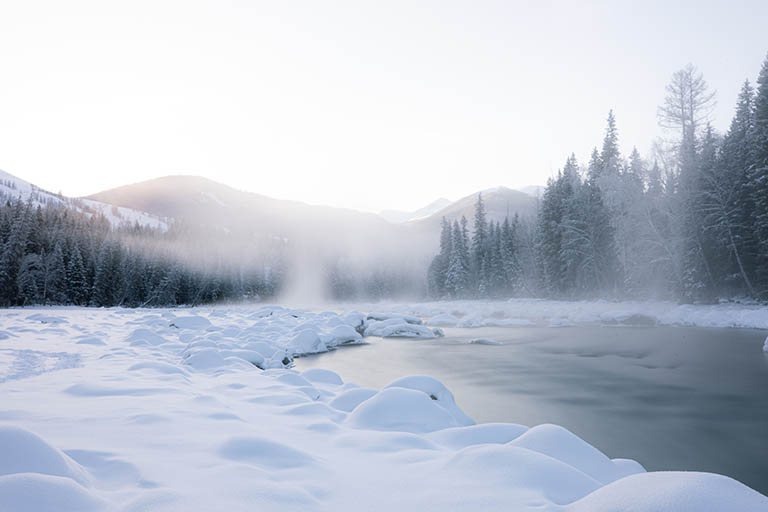 Fairyland Kanas in Winter ©Niaaaaa / mafengwo
Where to Stay during a Kanas Lake Tour
Normally, tourists spend 2 days exploring the best highlights of Kanas. There are two different accommodation areas - hotels in Jiadengyu (outside the scenic area) and wooden houses of Tuva villages inside Kanas. Inner accommodation in Tuva village is more popular and recommended, because you can conveniently visit main spots, catch morning mist, sunrise and sunset and experience the Tuva lifestyle.
Accommodation in Tuva Villages
Staying overnight in a primitive wooden cabin in the Tuva village is one of the most attractive things to do in Kanas. You will feel like you're part of the fairyland. Morning sunshine will wake you up along with the gorgeous scenery out of the window. You can walk around, see leisurely grazing horses, view the quite rural scenery and surrounding forests. There is a wide variety of wooden houses, mostly hostels, homestays and small villas in a different price range. A normal room rate is nearly 300 RMB per night, and some finest hostels charge over 1,000 and much higher during peak tourist season.
Tips: The Tuva wooden houses are remoulded for tourists' use. But, there's still a difference between it and a regular hotels. Please be prepared for this kind of accommodation.
Accommodation in Jiadengyu
Jiadengyu is the tourist center, entrance and parking lot of Kanas. Here it has developed accommodation, including many star-rated hotels and villas with good facilities and unique yurts with basic conditions. The hotels are built in bright-colored and like western castles. Popular hotels are Jia Deng Yu Castle Hotel, the Brich Forest Resort Hotel (providing modern guestroom, Tuva wooden house, motorhome), Friendship Peak Resort Hotel, The Four Seasons Amusement Hotel, etc.
▶ Places to Stay in Kanas & Top Recommended Hotels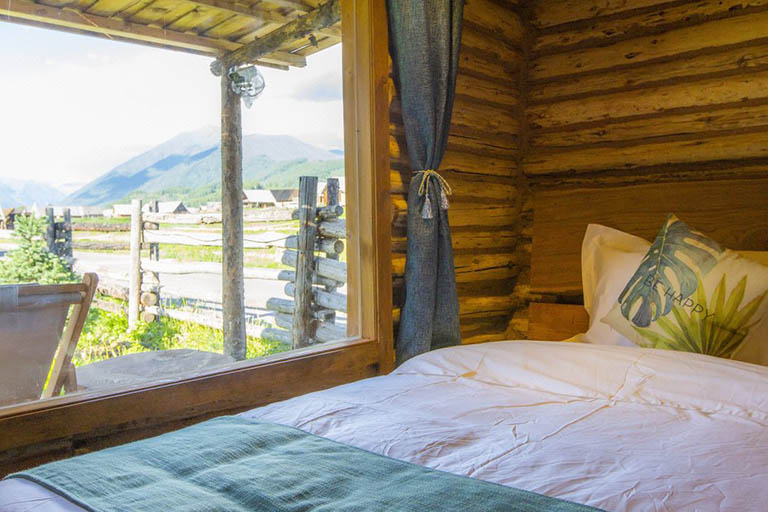 Wooden Hostel in Hemu Village ©ctrip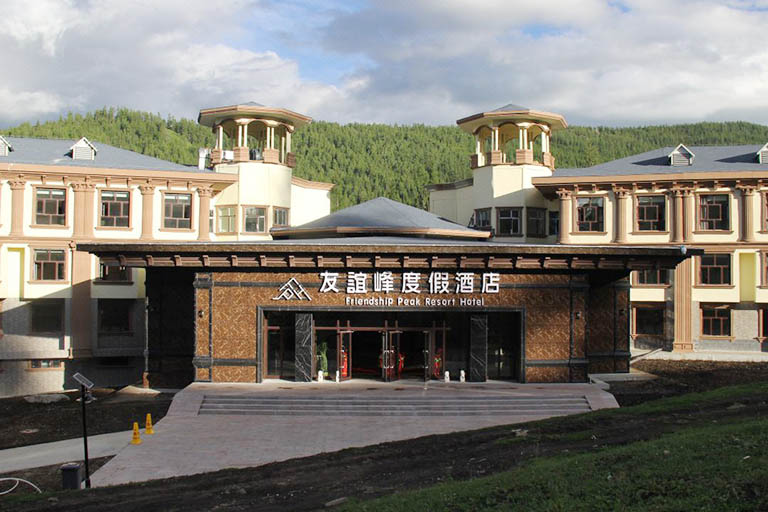 Friendship Peak Resort Hotel in Jiadengyu ©ctrip
Useful Kanas Lake Travel Tips
1. The Best Way is to Travel with a Travel Agency
We highly suggest you make a Kanas tour with a professional & reliable travel agency, since Kanas is located far from Urumqi and major transfer centers of Xinjiang and tourist reception facilities are limited. If you travel with us, you can enjoy all inclusive Kanas tour packages, including private pick-up & drop-off, tour guide, driver, hotel booking and other services.
2. About the Ticket
The entrance ticket of Xinjiang Kanas National Geopark charges different by season and entry time. More importantly, visitors need to buy extra entrance tickets for Hemu Village and Bahaba Village.
Below is the detailed ticket price of Kanas:
| | | | | | |
| --- | --- | --- | --- | --- | --- |
| Ticket Type | Price | Shuttle Bus Fare | Ticket Type | Price | Shuttle Bus Fare |
| Kanas Lake (Single Entry) | ¥160 | ¥70 | Hemu Village | ¥50 | ¥52 |
| Kanas Lake (Double Entries) | ¥160 | ¥110 | Baihaba Village | ¥30 | ¥45 |
| Ticket Package (Kanas, Hemu & Baihaba Villages) | ¥195 | ¥180 | | | |
Note: 1.) Tourists have to book tickets online in advance, and check in at Jiadengyu Ticket Station and other entrances. 2.) All travelers must take a scenic shuttle bus from the entrance to enter the scenic areas.
3. Food Price
Foods in Kanas National Geopark, especially in Hemu Village, are quite expensive, because they are all transported from Burqin County. You better prepare some water, fruits and snacks ahead.
4. Kanas Winter Travel Dress & Packing Advice
Be sure to keep warm and bring suitable items against the dry air. Better wear and prepare a down jacket,  thick sweater & pants, thermal underwear, stockings, non-slip boots, warm hat, scarf, sunglasses, vacuum cup, lip balm, body & hand lotion, portable charger, backup battery, etc.
How to Plan A Kanas Xinjiang Tour
How to Get to Kanas? Kanas can be arrived by flight and drive. Currently, Urumqi has the most frequent daily flights to Burqin Kanas Airport. Turpan, Yili, Boyue and several other Xinjiang cities also operate some weekly flights to Kanas. Travelling to Kanas by land driving from Urumqi takes about 9 hours.
Best Time to Visit Kashgar: Kanas can be visited all year around, but only the months between April~October are suitable for hiking. The temperature gap between day and night is very big. You should pack both hiking clothes and extra layers.
Kanas Nature Reserve is vast. Its highlights are Kanas Lake, Kanas Rivers, Kanas Three Bays, Hemu Village, Beautiful Peak, etc. To explore Kanas to the fullest, you should stay at least 3 full days in the nature reserve, usually 1 day for Hemu Village and 2 days for Kanas Lake Scenic Area (Kanas Lake, Kanas Rivers, Kanas Three Bays...). Below are two recommended Kanas tour packages. They are all flexible private tours which can be tailored to meet your own needs.
☛ 4 Days Kanas Hemu Village Best Hiking Tour
☛ 4 Days Relaxing Kanas Holiday Tour
Kanas is only a small part of the vast Xinjiang. When planning a trip to Xinjiang, you shouldn't miss the Golden-triangle destinations - Urumqi, Turpan and Kashgar. If you want to try something unusual, what about a desert adventure to Taklimakan Desert or a grassland tour to Yili? Xinjiang has much more to offer. Here are some recommended valuable Xinjiang tour packages (find more tours here).
☛ 7 Days Classic Road Trip to Heavenly Kanas Lake
☛ 9 Days Kanas Lake Fairyland Tour from Urumqi
☛ 11 Days Best Xinjiang Landscape Tour to Sayram Lake
Xinjiang Tours & Travel Guide
Recommended Kanas Tours
Top 3 Kanas tours chosen by most customers to explore Kanas in the best way. Check the detailed itinerary, or tailor your own trip now with us.
4 Days Kanas Hemu Village Best Hiking Tour

Hemu Village - Beautiful Peak - Kanas Lake Scenic Area
7 Days Classic Road Trip to Heavenly Kanas Lake

Urumqi - Wu'erhe - Kanas - Burqin - Urumqi
11 Days Best Xinjiang Landscape Tour to Sayram Lake

Urumqi / Burqin / Kanas / Karamy / Sayram Lake / Karajun Grassland / Kuitun / Urumqi
Start planning your tailor-made holiday to China by contacting one of our specialists. Once inquired, you'll get a response within 0.5~23.5 hours.
Customize a Trip
Have a question? Get answers from our travel experts or guests
Your Question:

Your Name:

Your Email: