Why Visit Hemu Village?
Located close to Kanas, deep in the Altai Mountains of Northern Xinjiang, Hemu Village is the northernmost village in Western China. It is more known as one of the three only existing Tuva villages in China (the other two are Baihaba Village and Kanas Village) and the farmost and biggest one among them. The inhabitants are mainly Tuvas of the Mongolian and Kazakhs. The Tuvas are said to be the descendants of soldiers who followed Genghis Khan on the western expedition. Now they still use the rare Tuva language and make a living by traditional hunting and nomadic lifestyle. Many old and authentic culture are thus well-preserved here. Another fascination of Hemu Village is its fairyland scenery - primitive small wooden houses with morning mist and surrounding extensive birch forests and grandiose snowy mountains afar. The serenity, oil painting-like autumn scenery and ethereal watercolor painting winter landscape attract numerous visitors to witness and explore this "Private Land of God."
What to See in Hemu Village?
Hemu Bridge 禾木桥
Hemu Bridge is a landmark and a must pass to Hemu Village. It's an old wooden bridge above the Hemu River. Both ends have wooden doors. The solid bridge has been through over 100 years' strike from the Kanas glacier run-off. The bridge is the best place to capture the flowing Hemu River and luxuriant birch forests astride. You will pass the bridge if you want to climb up to the sightseeing platform, hike to Beautiful Peak and Kanas Lake. The Ticket Office for renting a horse is next to the bridge (outside).
Hemu Village 禾木村 - Photographer's Paradise & Traveler's Arcadia
Hemu Village covers an area of 3,040 square meters, not big. Current inhabitants are over 1,800 and Tuva people have 1,400. The isolated village lies on a riverside flat surrounded by mountains, and its periphery are rows of poplar and birch trees. Dotted wooden Tuva houses, green lands, lush forests, delicate mist floating in the air, leisurely grazing horses and cows, all draw an idyllic land and tranquil realm people have long dreamed of. Hemu Village has eyeful green colors in summer. However, the best-known sight of Hemu Village is the fascinating autumn photos. Colorful birch trees, rustic wooden houses are shrouded in milky misty, showing a fantastic oil painting. When snow falls, Hemu Village becomes a real snow-white fairyland and a breathtaking ink painting. Snow mushrooms seem like lovely cream marshmallows. Thick snow covers everywhere. Once you get there, see the fairyland, you will fully understand why it's praised as "the Private Land of Gods" and why travelers and shutterbugs love Hemu Village. Time slows down here and you get a great chance to savor the fresh air and natural beauty, and learn a new kind of ethnic culture.
Birch Forest (白桦林) & Beautiful Peak (美丽峰)
Birch Forest is situated in the south of Hemu Village. When autumn comes, the trees change to golden coats. Looking afar, the vertical white body and further-like pretty leaves are so poetic that you will feel like you enter an authentic fairyland. When walking through the forests, the golden leaves and nature sounds, air purifies your eyes and minds.
Beautiful Peak is attractive for its pyramid-shape and snow top. The peak actually consists of two peaks - Big Beautiful Peak and Little Beautiful Peak. You can choose to hike or ride a horse to the viewing platform of the peaks. It's easy to finish the hike and the scenery along the trail is impressive as well.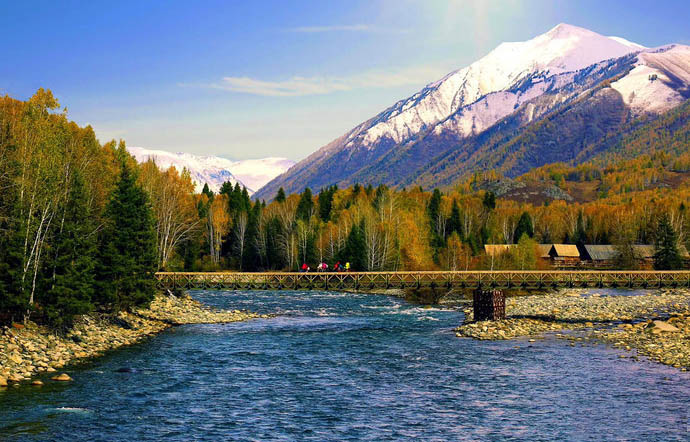 Hemu Bridge ©珍儿 / meipian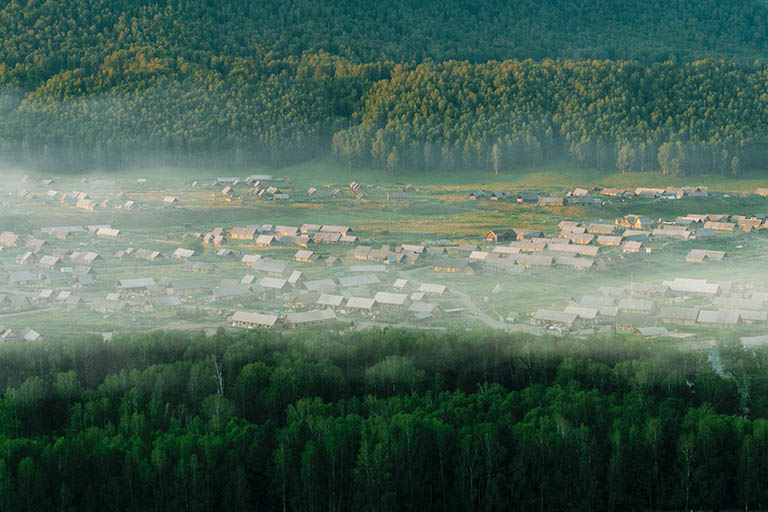 Hemu Village in July ©山峰不会写游记 / mafengwo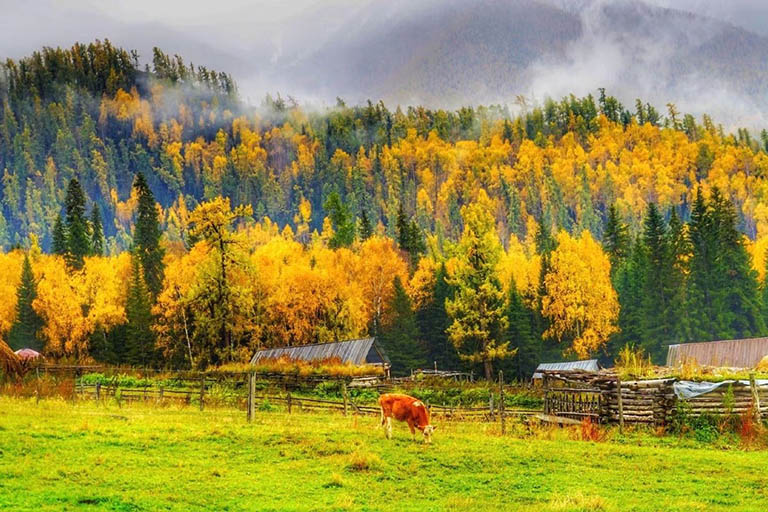 Golden Birch Forest ©Andy123123 / ctrip
Popular Things to Do in Hemu Village
● Photograph: The Hadeng Sightseeing Platform across Hemu River is the best place to shoot the panoramic view of Hemu Village. Get up early if you plan to catch the morning mist.
● Ride a Horse: You can ride a horse to get around Hemu Village to save time, energy and experience this traditional transport.
Horse Rental Price:
From & To
Distance
Price
From & To
Distance
Price
Birch Forest→Hadeng Sightseeing Platform (round-trip)
/
CNY 120
Birch Forest → Jiadengyu
1 day
CNY 350
Birch Forest → Tuva House (round-trip)
/
CNY 150
Tour Guide
1 day
CNY 350
Birch Forest → Little Beautiful Peak (round-trip)
8 km
CNY 220
Walk A Horse
1 hour
CNY 100
Birch Forest → Big Beautiful Peak (round-trip)
10 km
CNY 260
● Walk around Hemu Village and Enjoy Leisure Time: You can walk on well-paved village paths to closely watch different Tuva wooden houses, see the wild flowers and greet the cute cattle. Or, find a bar and restaurant to enjoy the scenery quietly.
● Tuva Family Visit: If you travel with us, we can arrange a Tuva family visit for you. You can communicate with the local hospitable Tuva people, taste local ethnic snacks, enjoy their singing and dances. It's a memorable trip to spend some time with those nice people.
● Skiing, Splashing ice, Taking a Horse Sledge, Snowmobile & Other Winter Events: Various kinds of winter activities are available for you to enjoy winter fun. Enthusiastic skiers don't miss the Hemu Ski Resort, a huge new ski resort which is about 5 km from Hemu Village.
● Take a River Rafting: Drifting along Hemu River (about 8.8 km long) is an exciting and special trip when you visit Hemu Village in summer.
● Attend Local Festivals: Tuva people will celebrate Spring Festival, Aobao Festival and Zoulu Festival (Winter Day) and hold many traditional activities.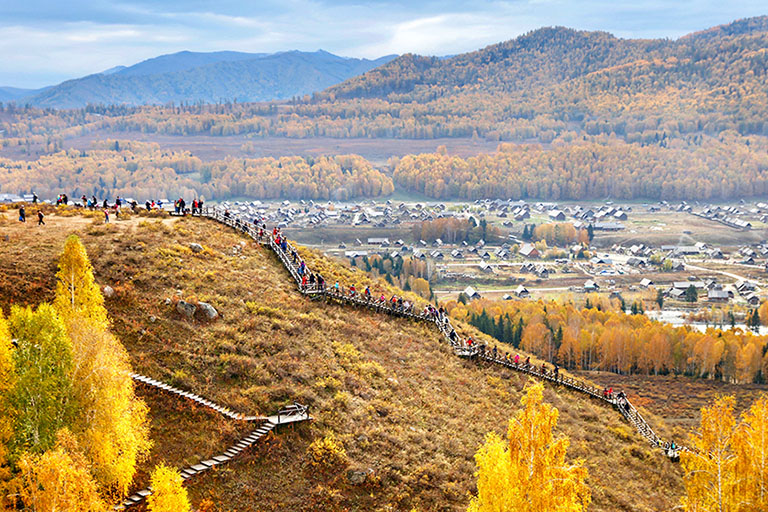 Photographers Were Shooting Autumn Colors of Hemu Village ©Apple / mafengwo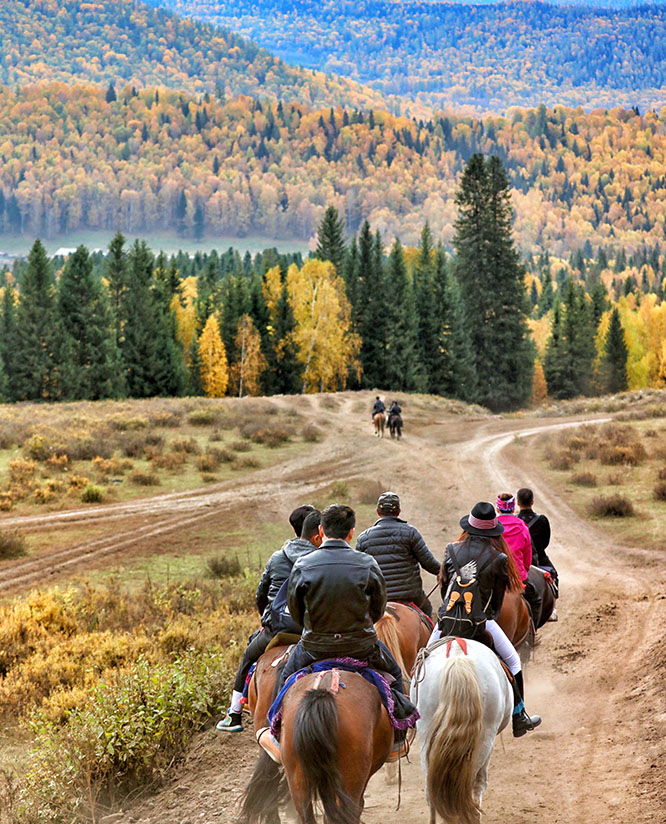 Riding Horses in Hemu Village ©Apple /mafengwo
Horse Drawn Sleigh Ride in Winter ©土豆有点甜 /mafengwo
How to Get to Hemu Village?
Hemu Village is located inside the Xinjiang Kanas National Geopark (Kanas for short), Burqin County, Altay Prefecture, Xinjiang Uygur Autonomous Region. So, tourists wishing to visit Hemu Village usually get to Kanas and nearby Burqin County first. And then take a scenic tourist bus at Jiadengyu (贾登峪, entrance of Xinjiang Kanas National Geopark) to Hemu Ticket Station (entrance of Hemu Village), later transfer to another bus to enter Hemu Village, or directly take a chartered car to Hemu Village from the airport or Burqin County.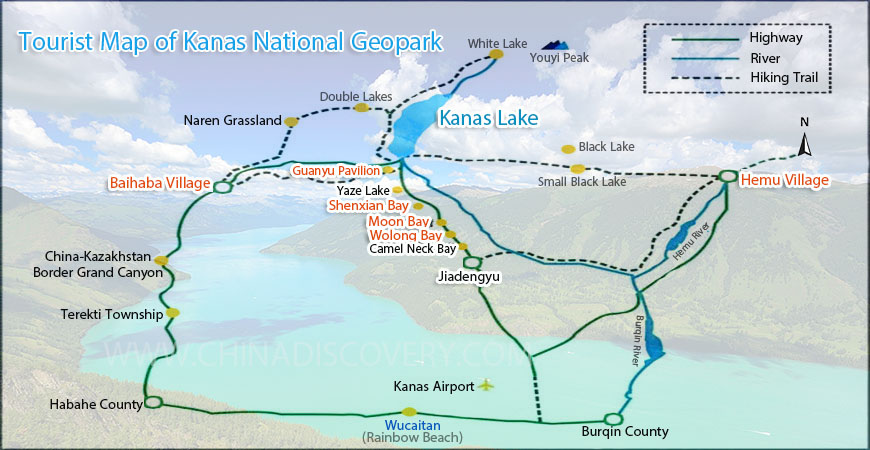 Xinjiang Kanas National Geopark Tourist Map (Click to Enlarge)
Step 1: Get to Kanas by Flight/Drive
There are two main ways to get to Kanas - by flight and by land driving. Burqin Kanas Airport is located about 48 km, 1.5 hours' drive from Jiadengyu. You can fly from Urumqi (about 1.5 hours - most commonly used) and Turpan, Fuyun, Yining, Zhengzhou. Another popular way is driving from Urumqi via Karamay and Rainbow Beach (Wucaitan).
Step 2: Get from Kanas/Burqin to Hemu
Jiadengyu runs shuttle buses to Hemu Village. Besides, there are direct buses running to Hemu Village from Burqin County. 
Jiadengyu - Hemu Village (more convenient & popular)
Burqin - Hemu Village
From & To
Transport
Distance & Travel Time
Operation Time
Ticket
From & To
Transport
Distance & Travel Time
Jiadengyu - Hemu Ticket Station
Kanas Scenic Shuttle Bus
About 35 km/ 1 hour
10:00;16:00
10:00;16:00
Burqin County Bus Station - Hemu Village
Long-distance Coach
10:00; 16:00
Hemu Ticket Station-Hemu Village
Kanas Scenic Shuttle Bus
About 30 km/1 hour
08:00-22:00
¥52.0 (round-trip)
Burqin Kanas Airport-Burqin County Bus Station: 95 km/1 hour 45 minutes
Burqin has no train station in service. It's very complicated and time-consuming if transferring from the nearest Beitun Railway Station to Hemu Village.
Tips: Air travelers can take a flight to Burqin Kanas Airport from Urumqi (1.5hrs), Altay, Bole, Turpan, Fuyun, Yining, Zhengzhou, and then take our private transfer or an airport shuttle bus to Jiadengyu. Read more about How to Get to & Get around Kanas Lake >>
Best Time to Visit Hemu Village
Hemu Village represents different natural beauty all year round. Under the influence of its Continental North Temperate Zone Cold Climate, the village has a moderate summer, cool autumn but very long and cold winter and huge temperature difference between day and night. Most travelers visit Hemu Village during May and Mid-October, when the temperature is pleasant and the scenery is stunning. Mid-September and late September are the peak seasons because they're the best times for shooting Autumn colors.
Spring (March~May) - Off Season: Many local hostels and restaurants are closed. Few tourists come in March and April, for early Spring is still quite cold with some snow. The temperature rises to relatively warm in May, which is suitable for a trip.
Summer (June~August): The temperature is comfortable and sunshine is common. Hemu Village is a nice summer resort. Visitors can enjoy dreamy morning mist, wild flowers and lush green forests in this Switzerland-style Xanadu.
Autumn (September~November): Early Autumn is the most beautiful season as well as the peak season of Hemu Village. The temperature drops to cooler and cooler. Multi-colored birch forests appeal to numerous nature lovers and photography. Night is cold, so prepare thick clothes. Snow often starts in October.
Winter (December~Next February) - Off Season: It's extremely freezing cold. The wooden houses, birch trees, grasslands are all covered with heavy snow, and it lasts until next April. Hemu Village is a real fairyland right now. There are fewer tourists, but you can experience many interesting traditional winter activities.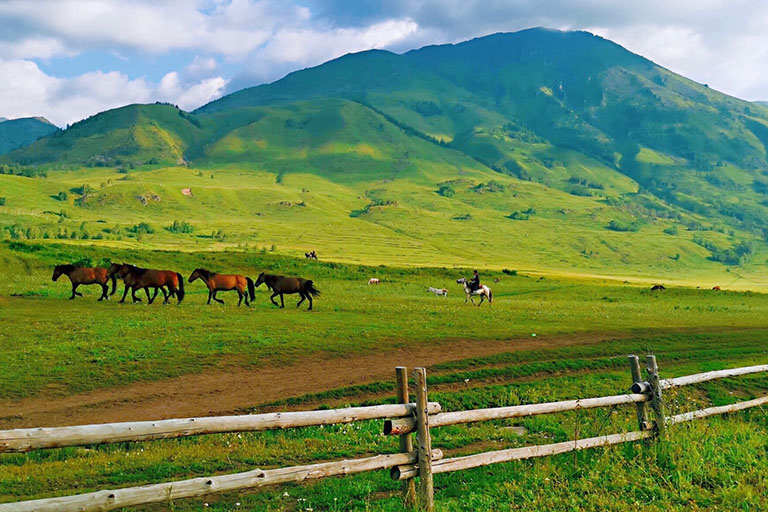 Hemu Village in Summer ©.. / mafengwo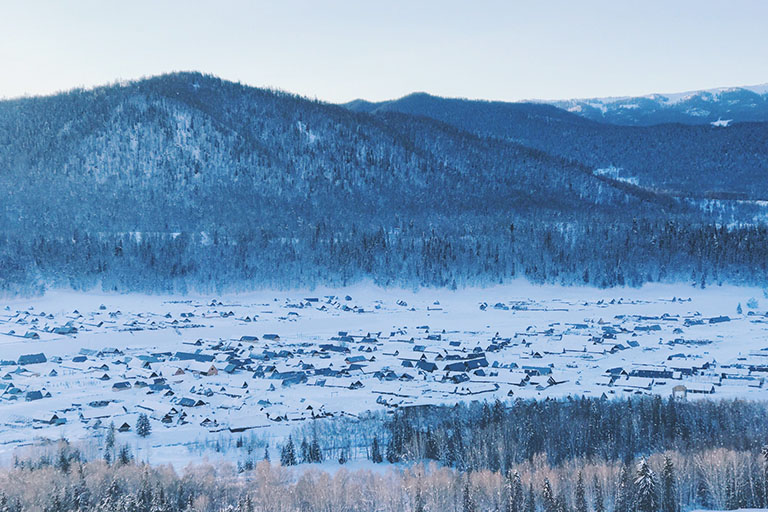 Hemu Village in Winter ©花蛮蛮 / mafengwo
Accommodation in Hemu Village
Staying over in Hemu Village is a novel and popular experience, because travelers can view the famous morning sunrise, watch sunset and starry sky, spend more time walking around and feeling the traditional Tuva ethnic lifestyle.
The wooden houses scattered around Hemu Village are the iconic residences of Tuva People. They look simple and plain but are specially made to be strong and cold-resist. You can choose one wooden house to accommodate. They're guest houses and inns, providing clean, comfortable rooms, and artistic interior decorations and wooden furniture. All rooms offer glass windows so that guests can directly view outside scenery and morning sunshine. Some have air conditioners, private bathrooms while some don't. Better book earlier if you are going to Hemu Village during the Autumn peak season.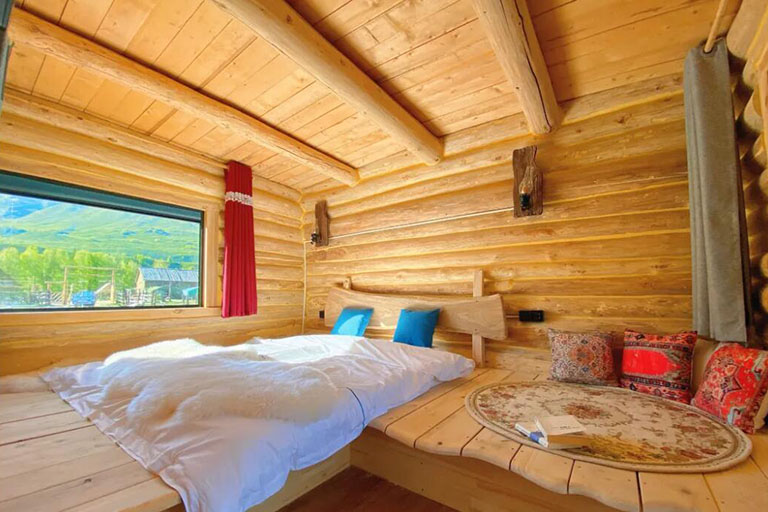 Interior of Hemu Wooden House ©ctrip
Travel to Hemu Village with Kanas Lake Nearby
Kanas is one of the top-rated attractions in Xinjiang and a must-visit site in Northern Xinjiang. It is often visited with Hemu Village. Known as a national AAAAA tourist attraction, a national geopark, forest park, nature reserve and natural heritage, Kanas boasts sapphire clean and colorful lake water, dense primitive forests, magnificent snow-capped mountains, pretty grasslands and various natural wonders. You can hike up to Fish Watching Pavilion to get a panoramic view of Kanas Lake, hike through green forests to explore the notable three bays - Wolong Bay, Moon Bay and Fairy Bay, and take a cruise trip above Kanas Lake and learn the mysterious story of Kanas water monster. Likewise, scenic shuttle buses are provided for getting around Kanas.
Autumn Scenery of Moon Bay of Kanas Lake ©GOOM果果 / mafengwo
Useful Kanas Lake Travel Tips
1. Travel with a Travel Agency
It is highly advised that you visit Hemu Village with a professional & reliable travel agency, since Hemu Village and Kanas are located far from Urumqi and major transfer centers in Xinjiang and tourist reception facilities are limited. When you travel with us, you can enjoy a worry-free & inclusive tour package, including private pick-up & drop-off, tour guide, driver, hotel booking and other services.
2. Entrance Ticket
Entrance Ticket of Hemu Village: CNY 50/per person.
Whether you get to Hemu Village by scenic shuttle bus or direct long-distance coach, there are free public sightseeing buses you can take to get around the village. The bus departs from Hemu Transfer Center, right next to Hemu Resort (禾木山庄).
3. Food Price
There are local dishes to try and Chinese cuisine is the most common choice. Food prices here are fixed under the official management. However, fresh vegetables and food are shipped from Burqin County and are limited. Thus, it's charger higher prices, especially during winter.
4. Respect Minority Culture
When you visit Hemu and other places in Xinjiang, please understand and respect local minority culture and customs.
5. Dressing & Packing Advice
Wear and prepare warm clothes, if you plan to visit Hemu Village in autumn and winter, because it is quite cold in the early morning and night. For winter travelers, sunglasses, scarves, hats are also needed as thick clothes.
6. Others
Sunrise time in Hemu Village during winter is around 09:00 am. It's better to leave 40 -60 minutes to get to the sightseeing platform from the village.
How to Plan A Kanas Xinjiang Tour
How to Get to Kanas? Kanas can be arrived by flight and drive. Currently, Urumqi has the most frequent daily flights to Burqin Kanas Airport. Turpan, Yili, Boyue and several other Xinjiang cities also operate some weekly flights to Kanas. Travelling to Kanas by land driving from Urumqi takes about 9 hours.
Best Time to Visit Kashgar: Kanas can be visited all year around, but only the months between April~October are suitable for hiking. The temperature gap between day and night is very big. You should pack both hiking clothes and extra layers.
Kanas Nature Reserve is vast. Its highlights are Kanas Lake, Kanas Rivers, Kanas Three Bays, Hemu Village, Beautiful Peak, etc. To explore Kanas to the fullest, you should stay at least 3 full days in the nature reserve, usually 1 day for Hemu Village and 2 days for Kanas Lake Scenic Area (Kanas Lake, Kanas Rivers, Kanas Three Bays...). Below are two recommended Kanas tour packages. They are all flexible private tours which can be tailored to meet your own needs.
☛ 4 Days Kanas Hemu Village Best Hiking Tour
☛ 4 Days Relaxing Kanas Holiday Tour
Kanas is only a small part of the vast Xinjiang. When planning a trip to Xinjiang, you shouldn't miss the Golden-triangle destinations - Urumqi, Turpan and Kashgar. If you want to try something unusual, what about a desert adventure to Taklimakan Desert or a grassland tour to Yili? Xinjiang has much more to offer. Here are some recommended valuable Xinjiang tour packages (find more tours here).
☛ 7 Days Classic Road Trip to Heavenly Kanas Lake
☛ 9 Days Kanas Lake Fairyland Tour from Urumqi
☛ 11 Days Best Xinjiang Landscape Tour to Sayram Lake
Xinjiang Tours & Travel Guide
Recommended Kanas Tours
Top 3 Kanas tours chosen by most customers to explore Kanas in the best way. Check the detailed itinerary, or tailor your own trip now with us.
4 Days Kanas Hemu Village Best Hiking Tour

Hemu Village - Beautiful Peak - Kanas Lake Scenic Area
7 Days Classic Road Trip to Heavenly Kanas Lake

Urumqi - Wu'erhe - Kanas - Burqin - Urumqi
11 Days Best Xinjiang Landscape Tour to Sayram Lake

Urumqi / Burqin / Kanas / Karamy / Sayram Lake / Karajun Grassland / Kuitun / Urumqi
Start planning your tailor-made holiday to China by contacting one of our specialists. Once inquired, you'll get a response within 0.5~23.5 hours.
Customize a Trip
Have a question? Get answers from our travel experts or guests
Your Question:

Your Name:

Your Email: