Xinjiang Travel FAQs & Tips 2023
Xinjiang is far in the very west of China, inhabited by many ethnic groups, which is quite different from the plain areas of China in terms of weather, religious tradition, etc., so it is necessary to make a good strategy in advance.
Weather & Scenery: When Is The Best Time to Visit Xinjiang
Xinjiang is far away from the sea with surrounding high mountains, forming an obvious temperate continental climate. The temperature difference is large; the sunshine time is sufficient; the ultraviolet rays are strong; the climate is very dry. Xinjiang has a vast area. It is the best place to travel in Xinjiang all year round. Different seasons allow you to enjoy different Xinjiang.
♦ April to June: It's spring in Xinjiang. Flowers bloom in spring and flowers bloom. The temperature in this season is about 15-20 degrees. You can go to blooming Apricot Valley, Tianshan Tianchi Lake, Hemu scenic spot, Kanas Scenic Spot, Sayram Lake, and Huocheng Lavender base to enjoy flowers, take a boat and hike around.
♦ July to August: It is the peak tourist season. At this time, the weather has begun to cool and the fruits and melons have become ripe. Turpan, Hami, and Kashgar are known for their sweet melons and grapes. This is also the best time to visit grasslands such as the Nalati prairie and Bayinbuluk prairie. 
♦ September to early November: this season is the best season for photography tourism in Xinjiang and the end of summer tourism in Xinjiang. The melons and fruits are still sweet and the climate is pleasant. It is autumn with the most beautiful color in Kanas. Friends who like photography must not miss this great opportunity. It takes about 20 days from late October to mid-November every year to cross the Taklimakan Desert. This is the dry season, the season with fewer dust storms in Taklimakan, and there are fewer mosquitoes. At the same time, the leaves of Populus euphratica in Tarim Basin become golden, and the scenery is very charming.
♦ Mid November to March: Xinjiang entered the cold and long winter, and the temperature in the whole Xinjiang began to become very low. Snow is the symbol of winter, and it is a good time for skiing in Xinjiang. Therefore, there are over 30 ski resorts in Xinjiang, many of which are successively distributed at the foot of Tianshan Mountain and Altay mountain.
Packing List: What to Pack for Xinjiang Trip
• Clothes: Due to the large temperature difference between day and night in Xinjiang, you should bring some extra layers to keep warm. Long sleeve clothes and long trousers are a must; You need to cover your exposed skin as much as possible when you are doing outdoor activities. Winter clothes and sunblock clothes should be prepared for all seasons of travel. 
• Shoes: sandals, comfortable sports shoes, hiking shoes (waterproof is the best)
• Sunblock: sunscreen or spray with high SPF, sunhat, sunglasses
• Moisture: Skincare products, lip balm, hand cream, and moisturizing lotion.
• Snack: Energy bar, chocolate, instant noodles, etc
• Water: it's better to bring some bottled water and a water bottle.
• Drugs: Carsickness pills, Supplement vitamins, other necessary medicines.
• Documents: Your valid documents like passport, visa, etc.
Payment: Can I Pay by Mobile Phone or Cash
You can use Alipay and WeChat pays in most of the regions. Some scenic spots and high-speed toll stations can only be paid in cash, so you may need to bring some CNY cash. Credit cards are not recommended as a way of payment in Xinjiang.
Transportation: How to Get to Xinjiang and the Best Way to Visit It
It takes a long time to travel to Xinjiang. Travelers usually arrive in Xinjiang in Urumqi and take a flight/train to other cities of Xinjiang. Though the scenery is very beautiful, transportation is a big problem. It's hard to travel by public transportation to many remote scenic areas, and many sceneries along the way can't be reached by public transportation, so charter a car or self-driving is the top choice. 
♦ Flight: at present, there are many flights landing at/taking off from Urumqi Diwopu Airport, which can basically connect major cities in China. As Xinjiang is so vast, travelers visiting Northern Xinjiang can start the trip from Urumqi, while travelers heading to Southern Xinjiang can take a flight to Kashgar and start the trip there. The important provincial cities such as Turpan, Hotan, Shache, Altay, Ili are also well-connected with direct flights to Urumqi.
♦ Train: with the high-speed rail route from Lanzhou to Urumqi, it is very convenient to take the high-speed rail to Urumqi from Lanzhou. Besides, there are many normal trains connecting Urumqi with other cities in Xinjiang. There are 3 railway stations in Urumqi. When taking a train to Urumqi, you need to figure out the right station to go to.
How to find vehicles when traveling in Xinjiang?
Before departure, you may need to plan the route ahead of time. It is suggested that you should relax the time and choose a well-known and reliable travel company like us. With a professional driver and tour guide, you do not need to worry about the Xinjiang routes' conditions. You can just focus on sightseeing with both flexibility and safety of your Xinjiang journey.
Accommodation: How's the Hotel in Xinjiang and How to Prepare in Advance
Apart from a few major cities such as Urumqi, Kashgar and Turpan, the hotels in these cities of Xinjiang have complete facilities and wifi. In many other places, especially in some remote scenic spots, accommodation is relatively simple and expensive. You can also stay in a homestay or a local cabin (Kanas and Hemu) to deeply experience the local customs. Also, during the busy season from June to August every year, hotel occupancy will be much higher than normal days, so it is necessary to book your hotel in advance.
Suggestions for accommodation in peak season
1. In the peak season, the price of hotels increases, and the price is relatively expensive. Sometimes there is no room available, so we must book in advance;
2. If you book a hotel through a travel agency, it will be cheaper than if you book it by yourself, but make sure you find a travel agency with good organization and service;
3. In some remote hotels, the items provided may not be very complete. Some toiletries and towels are not available.
4. If you want to go out to set up tents, please ask for professional advice and local policy in advance, and ensure legality and your safety first.
Other Xinjiang Tips on Shopping, Taboos, Insurance and Time Difference
♦ Shopping: in most areas of Xinjiang, the quotation for weighing goods is the kilogram (except Hotan in southern Xinjiang), so please confirm whether the quotation is a kilogram or half a kilogram when purchasing weighing goods. When purchasing tourist souvenirs in the bazaar (market), please negotiate and counter-offer after confirming the purchase. Bargaining behavior without purchase may lead to the dissatisfaction of the seller.
♦ Taboos: when entering Muslim families or restaurants, do not talk about taboo meals such as pork, and it is best not to drink or smoke; It is forbidden to take photos in religious areas. Pay attention to words and deeds to avoid unnecessary trouble. Xinjiang is a region inhabited by many ethnic minorities.
♦ Insurance: It's best to have accident insurance before travel, especially in some desert areas.
♦ Time Difference: there is a difference of two hours between Xinjiang and other provinces of China, but all Xinjiang uses Beijing time to work and rest; Generally, it is not late to sleep in Xinjiang. It is 24:00 p.m. and the normal working time in the morning starts at 10:00 a.m.
How to Plan A Xinjiang Tour
How to Get to Xinjiang: Urumqi is the transfer hub of Xinjiang, and it receives flights from Beijing (4h), Shanghai (5h), Xian (4h), Chengdu (4h), Chongqing (4h), Changsha (4.5h), Xining (2.5h), Dalian (4h), Guangzhou (4.5h), Lanzhou (2.5h), Yinchuan (3h), etc., as well as high speed trains from Xian (13.5h), Lanzhou(10.5h), Xining (9.5h), Zhangye (7.5h), Jiayuguan (6h), Dunhuang (4h), etc.
Best Time to Visit Xinjiang: It is available to visit Xinjiang all year round, but May ~ October is the best time for the most comfortable weather and most beautiful scenery
A longer Xinjiang trip is more recommended and worthwhile because of its large scale. Most travelers start a Xinjiang tour from Urumqi – the tourist distribution center equipped with convenient airlines. Some travelers also unveil a Xining experience from Kashgar – the transfer hub in southern Xinjiang.
A classic Xinjiang tour takes 6 ~ 8 days, including 2~3 days in Urumqi (Xinjiang Regional Museum, Nanshan Passture) and Heavenly Lake, 1~2 days in Turpan (Jiaohe Ancient City, Karez System, Bezeklik Thousand Buddhas… ), and 3 ~ 4 days in Kashgar (Kashgar Old City, Karakul Lake, Tashkurgan Fort…). Don't miss Kanas - the God's private garden, and it takes at least 3 full days to enjoy its beautiful lakes, bays, forests, rivers and villages.
☛ 6 Days Urumqi Turpan Kashgar Efficient Tour
☛ 8 Days Xinjiang Classic Tour (Urumqi - Turpan - Kashgar)
☛ 9 Days Kanas Lake Fairyland Tour from Urumqi
Many travelers prefer a Silk Road tour involving Gansu and Xinjiang discovery together. It needs about 2~3 days to explore Dunhuang highlights, 2~3 days to visit Zhangye essences and 1~2 days to enjoy Jiayugan landmarks. It is also recommended to spend 1 ~2 days visiting Xining and Qinghai Lake.
☛ 10 Days Classic China Silk Road In-depth Tour (Xian – Dunhuang – Turpan – Urumqi - Kashgar)
☛ 411 Days In-depth Wild Silk Road Adventure Tour (Lanzhou - Zhangye - Jiayuguan - Dunhuang - Turpan - Urumqi - Kashgar)
In fact, the Silk Road broke into three routes in Xinjiang, and they passed through many cities in Xinjiang. For adventurous travelers looking for something different along the glorious road, just spend about 2 weeks visiting legendary Turpan, Korla, Kuqa, Kashgar, Tashkurgan, etc.
☛ 13 Days In-depth Xinjiang Silk Road Adventure Tour (Urumqi - Turpan - Korla - Kuqa - Takilamakan Desert - Minfeng - Hongtan - Kashgar - Tashkurgan)
☛ 6 Days Qinghai Lake Zhangye Danxia Rainbow Mountains Tour (Xining - Qinghai Lake - Chaka Lake - Zhangye)
☛ 9 Days Taklamakan Desert Ancient Silk Road Tour (Kashgar - Karakul Lake - Hotan - Ala'er - Kucha - Urumqi)
Many travelers visit Xinjiang for the extraordinary scenic beauty. It is easy to find some places to envelop yourself in nature or capture some excellent photography, such as grasslands, lakes, villages, and some other geographical wonders in 1 ~ 2 weeks.
☛ 10 Days Stunning Ili Apricot Blossom and Naraty Grassland Tour (Urumqi - Sayram Lake - Qingyuan - Naraty - Kuitun - Urumqi)
☛ 11 Days Best Xinjiang Landscape Tour (Urumqi - Burqin - Kanas - Karamy - Sayram Lake - Karajun Grassland - Kuitun - Urumqi)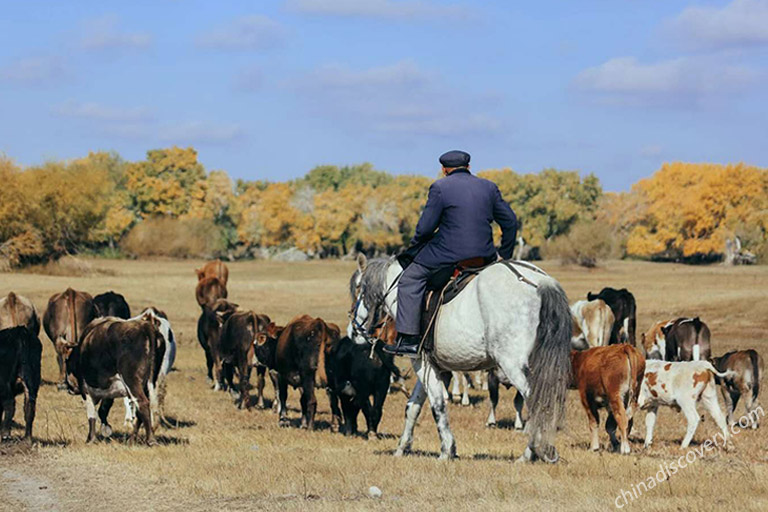 Florian Visited Five Colors Beach Shared with China Discovery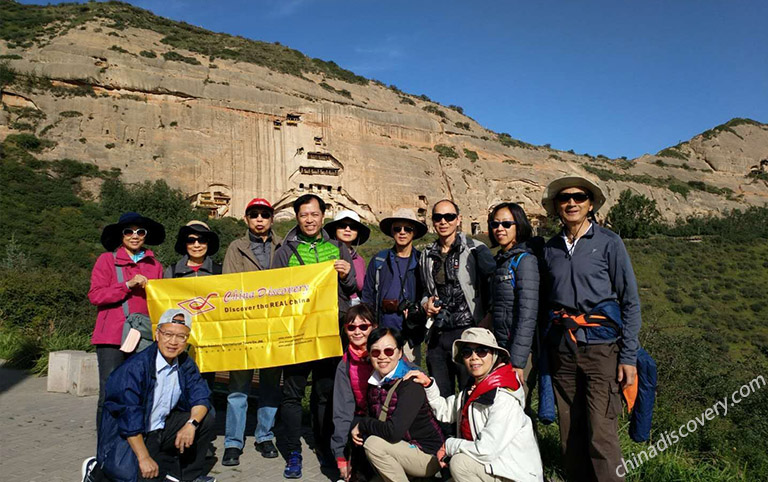 Mrs. Chan's group visited Matisi Temple with China Discovery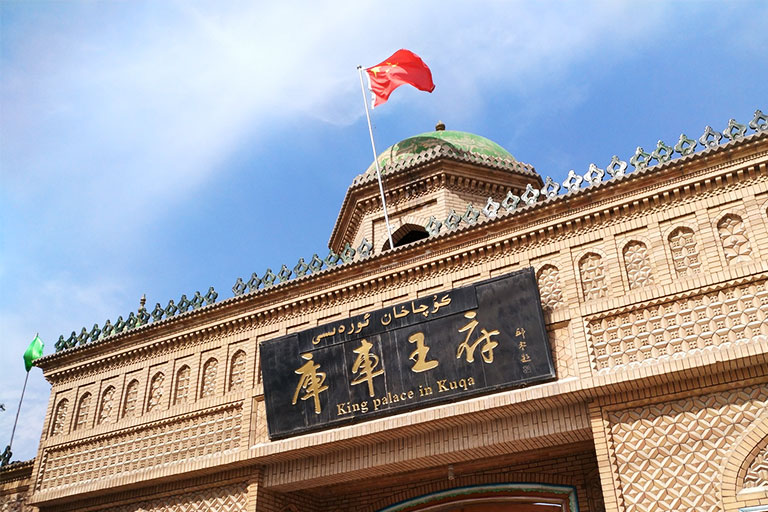 Kucha Palace © 在路上... / mafengwo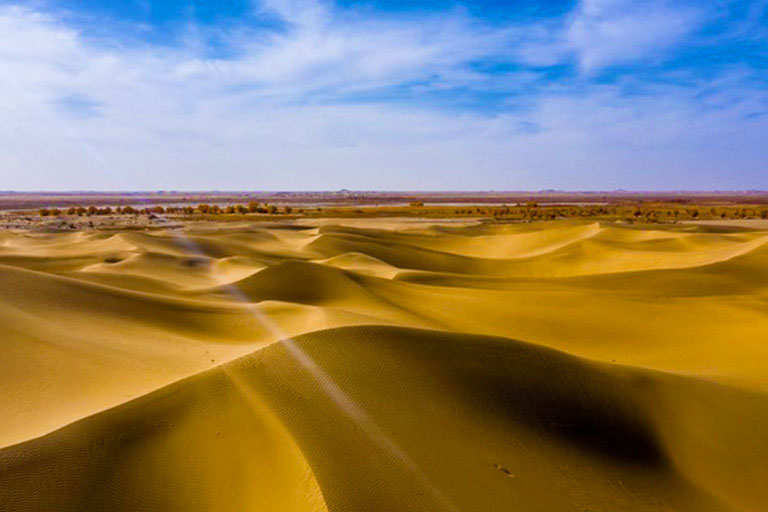 Taklamakan Desert Scenery © 托尼star / mafengwo
Useful Xinjiang Travel Guide
Recommended Xinjiang Tours
Top 3 Xinjiang tours chosen by most customers to explore Xinjiang in the best way. Check the detailed itinerary, or tailor your own trip now with us.
11 Days In-depth Wild Silk Road Adventure Tour (Cultural Relic & Unrivalled Landscape)

Lanzhou / Zhangye / Jiayuguan / Dunhuang / Turpan / Urumqi / Kashgar
8 Days Classic Xinjiang Tour including Urumqi Turpan Kashgar Tashkurgan

Urumqi - Turpan - Kashgar - Tashkurgan
13 Days In-depth Xinjiang Silk Road Adventure Tour

Urumqi / Turpan / Korla / Kuqa / Taklimakan Desert / Minfeng / Hongtan / Kashgar / Tashkurgan
Start planning your tailor-made holiday to China by contacting one of our specialists. Once inquired, you'll get a response within 0.5~23.5 hours.
Customize a Trip
Have a question? Get answers from our travel experts or guests
Your Question:

Your Name:

Your Email: