Xinjiang Maps 2021: Updated, Detailed and Downloadable
Xinjiang, officially the Xinjiang Uygur Autonomous Region (XUAR), is is the largest provincial administrative region in China. It accounts for about one sixth of China's land area (1.66 million square kilometers) and about one quarter of the length of the boundary line (more than 5000 kilometers). It is the largest provincial administrative region in China. As of February 2021, Xinjiang now governs 4 prefecture-level cities, 5 regions, 5 autonomous prefectures, 11 autonomous county-level cities.
Our Xinjiang Maps include Xinjiang Destinations Map, Xinjiang Travel Map, etc. These maps will help you understand Xinjiang better and transfer to the cities easily. All the maps are downloadable and printable. Please feel free to use them when planning your Xinjiang trip!
Xinjiang Destinations Map - Where is Xinjiang on Map
Xinjiang (73° 40′ ~ 96° 18′ E, 34° 25′~ 48° 10′ N) is located in northwestern China. It is a landlocked autonomous region of the People's Republic of China (PRC) close to Central Asia, bordering Mongolia, Russia, Kazakhstan, Kyrgyzstan, Tajikistan, Afghanistan, Pakistan, and India.
The Xinjiang Autonomous Region is popular with its rich diverse ethnic cultures and beautiful natural landscapes like grasslands, deserts, forests, etc. Popular tourist sites in Xinjiang include Kanas Lake, Hemu Village, Sayram Lake, Nalati Grassland, Karajun Grassland, Flaming Mountain, Grape Valley, Taklimakan Desert, Kashgar Ancient City, etc. All of these popular attractions are scattered on the vast land of Xinjiang. Each region has a lot of scenic sites to see. The most visited destinations include Urumqi, Turpan, Hami, Korla, Karajun, Kucha, Aksu, Kashgar, Hotan, Karamay, Altay, etc. View the maps below to learn their locations and detailed travel guides.
How to Plan A Xinjiang Tour
How to Get to Xinjiang: Urumqi is the transfer hub of Xinjiang, and it receives flights from Beijing (4h), Shanghai (5h), Xian (4h), Chengdu (4h), Chongqing (4h), Changsha (4.5h), Xining (2.5h), Dalian (4h), Guangzhou (4.5h), Lanzhou (2.5h), Yinchuan (3h), etc., as well as high speed trains from Xian (13.5h), Lanzhou(10.5h), Xining (9.5h), Zhangye (7.5h), Jiayuguan (6h), Dunhuang (4h), etc.
Best Time to Visit Xinjiang: It is available to visit Xinjiang all year round, but May ~ October is the best time for the most comfortable weather and most beautiful scenery
A longer Xinjiang trip is more recommended and worthwhile because of its large scale. Most travelers start a Xinjiang tour from Urumqi – the tourist distribution center equipped with convenient airlines. Some travelers also unveil a Xining experience from Kashgar – the transfer hub in southern Xinjiang.
A classic Xinjiang tour takes 6 ~ 8 days, including 2~3 days in Urumqi (Xinjiang Regional Museum, Nanshan Passture) and Heavenly Lake, 1~2 days in Turpan (Jiaohe Ancient City, Karez System, Bezeklik Thousand Buddhas… ), and 3 ~ 4 days in Kashgar (Kashgar Old City, Karakul Lake, Tashkurgan Fort…). Don't miss Kanas - the God's private garden, and it takes at least 3 full days to enjoy its beautiful lakes, bays, forests, rivers and villages.
☛ 6 Days Urumqi Turpan Kashgar Efficient Tour
☛ 8 Days Xinjiang Classic Tour (Urumqi - Turpan - Kashgar)
☛ 9 Days Kanas Lake Fairyland Tour from Urumqi
Many travelers prefer a Silk Road tour involving Gansu and Xinjiang discovery together. It needs about 2~3 days to explore Dunhuang highlights, 2~3 days to visit Zhangye essences and 1~2 days to enjoy Jiayugan landmarks. It is also recommended to spend 1 ~2 days visiting Xining and Qinghai Lake.
☛ 10 Days Classic China Silk Road In-depth Tour (Xian – Dunhuang – Turpan – Urumqi - Kashgar)
☛ 411 Days In-depth Wild Silk Road Adventure Tour (Lanzhou - Zhangye - Jiayuguan - Dunhuang - Turpan - Urumqi - Kashgar)
In fact, the Silk Road broke into three routes in Xinjiang, and they passed through many cities in Xinjiang. For adventurous travelers looking for something different along the glorious road, just spend about 2 weeks visiting legendary Turpan, Korla, Kuqa, Kashgar, Tashkurgan, etc.
☛ 13 Days In-depth Xinjiang Silk Road Adventure Tour (Urumqi - Turpan - Korla - Kuqa - Takilamakan Desert - Minfeng - Hongtan - Kashgar - Tashkurgan)
☛ 6 Days Qinghai Lake Zhangye Danxia Rainbow Mountains Tour (Xining - Qinghai Lake - Chaka Lake - Zhangye)
☛ 9 Days Taklamakan Desert Ancient Silk Road Tour (Kashgar - Karakul Lake - Hotan - Ala'er - Kucha - Urumqi)
Many travelers visit Xinjiang for the extraordinary scenic beauty. It is easy to find some places to envelop yourself in nature or capture some excellent photography, such as grasslands, lakes, villages, and some other geographical wonders in 1 ~ 2 weeks.
☛ 10 Days Stunning Ili Apricot Blossom and Naraty Grassland Tour (Urumqi - Sayram Lake - Qingyuan - Naraty - Kuitun - Urumqi)
☛ 11 Days Best Xinjiang Landscape Tour (Urumqi - Burqin - Kanas - Karamy - Sayram Lake - Karajun Grassland - Kuitun - Urumqi)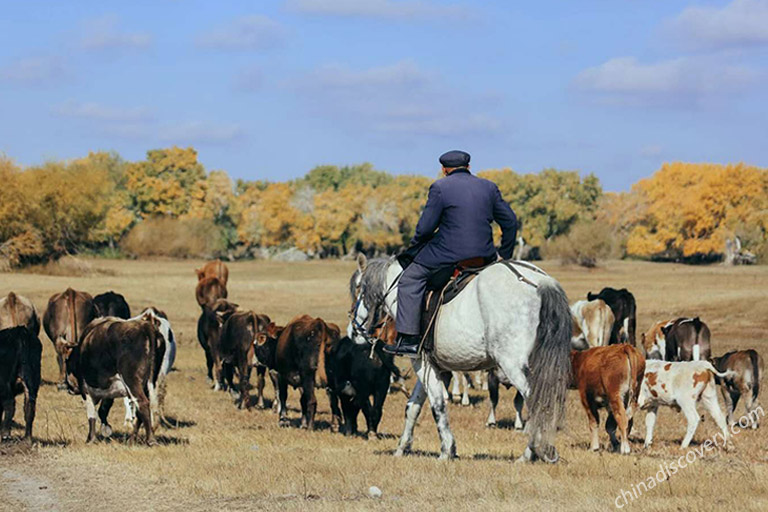 Florian Visited Five Colors Beach Shared with China Discovery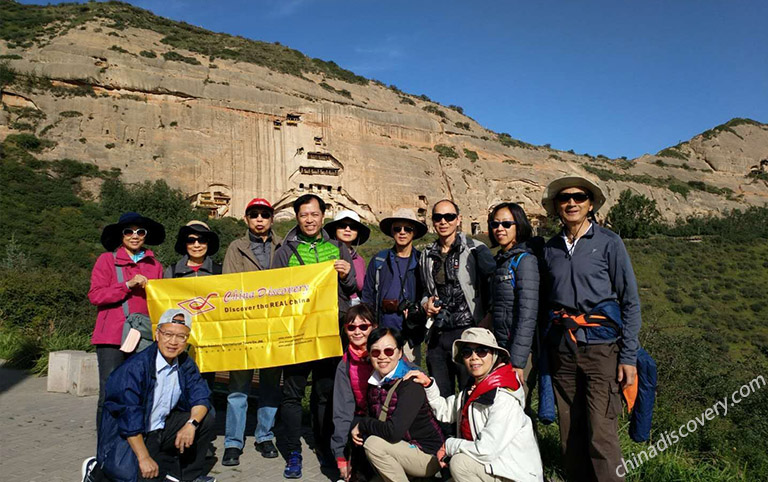 Mrs. Chan's group visited Matisi Temple with China Discovery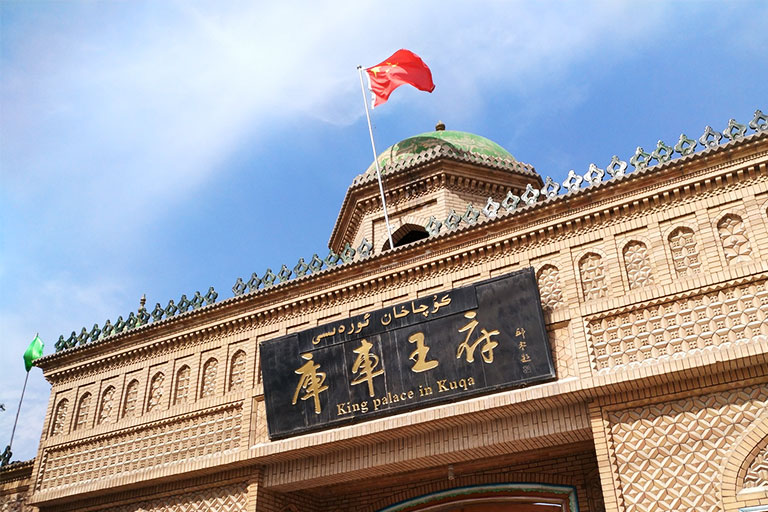 Kucha Palace © 在路上... / mafengwo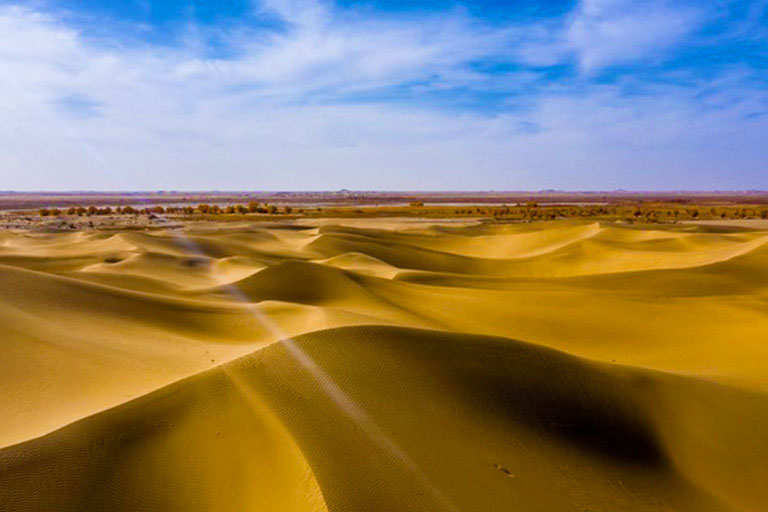 Taklamakan Desert Scenery © 托尼star / mafengwo
Useful Xinjiang Travel Guide
Recommended Xinjiang Tours
Top 3 Xinjiang tours chosen by most customers to explore Xinjiang in the best way. Check the detailed itinerary,or tailor your own trip now with us.
11 Days In-depth Wild Silk Road Adventure Tour (Cultural Relic & Unrivalled Landscape)

Lanzhou - Zhangye - Jiayuguan - Dunhuang - Turpan - Urumqi - Kashgar
8 Days Classic Xinjiang Tour including Urumqi Turpan Kashgar Tashkurgan

Urumqi - Turpan - Kashgar - Tashkurgan
13 Days In-depth Xinjiang Silk Road Adventure Tour

Urumqi / Turpan / Korla / Kuqa / Taklimakan Desert / Minfeng / Hongtan / Kashgar / Tashkurgan