How to Get to Leshan - Usually from Chengdu City
Chengdu Leshan Transfer Map
Most travelers choose to travel to Leshan from Chengdu which can be easily reached by taking international and domestic flights as well as high speed trains from most big tourist cities in China.
High speed train and bus are both available to take you to Leshan from Chengdu, but high speed train is more recommended. It's quite convenient to take a high speed train to Leshan from Chengdu East Railway Station, Chengdu South Railway Station and Chengdu Shuangliu International Airport. The whole train journey takes about 1 hour only. Chengdu Xinnanmen Bus Station operates daily bus to Leshan Xiaoba Tourism Station in every 20 minutes.
To get rid of the hassle of public transfer, traveling with China Discovery is top recommended. We operate private cars with skilled drivers to take you from your hotel to the scenic area directly. You just need to focus on sightseeing.
Must-see and Must-do in Leshan - More than Giant Buddha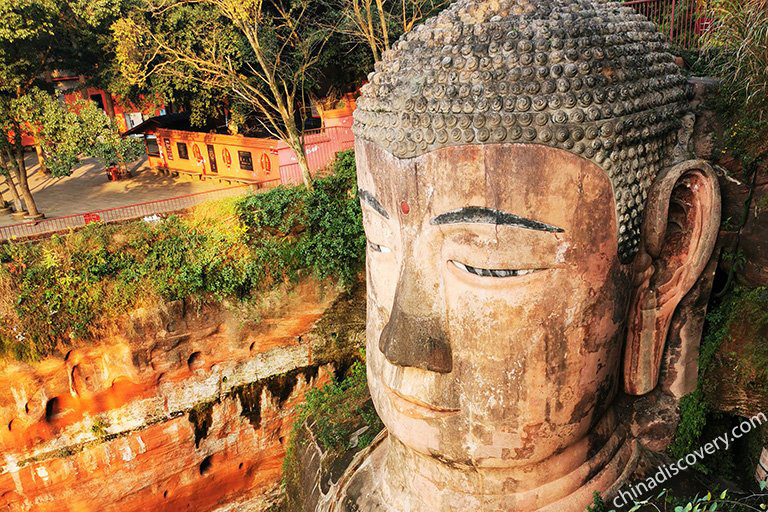 Highlights of Leshan Travel
Leshan Giant Buddha is the premier site to visit in Leshan. Carved out of a hillside in 803 (during Tang dynasty) and enjoying a height of 71 meters which can be compared to the size of the Statue of Liberty if he stands upright, it was credited as World Natural and Cultural Heritage with Mount Emei by UNESCO. Leshan Giant Buddha has looked down on the confluence of Min River, Dadu River and Qingyi River for about 1,300 years, and locals believes that it was him who suppressed the flood and brought peaceful life to Leshan people. Usually, it takes a half day to explore Leshan Giant Buddha. Traveling in Leshan, you are also recommended to experience Jiayang Steam Train - the only narrow-gauge coal-fired steam train operating in the world. If you travel Leshan in early and mid-March when rape flowers are in full blossom, don't miss it. If you want to experience a train running through the sea of sunflowers, just visit in August and September. Leshan is also a paradise of food and snacks, famous dishes including Qiaojiao Beef Soup Pot, Doufu Nao (Tofu Jelly), Boboji (Cold Pot with Skewers), Tianpiya (Sweet Skinned Duck) and Ye'erba (Sticky Rice Ball Wrapped with Leaves).
If you have one or two more days, paying a visit to Mount Emei - one of China's four holy Buddhist mountains is recommended. The Buddhist temples, natural beauty, diverse vegetation, as well as sunrise, sunset and sea of cloud (if weather permits) will make your trip unforgettable.
Best Way to Sightsee Leshan Giant Buddha - Hiking and Boating for Different Perpectives
Seeing Giant Buddha from DIfferent Angle
Leshan Giant Buddha's holiness and magnitude can be appreciated in three ways.
Walking close to Leshan Giant Buddha is the first recommended way to travel Leshan Giant Buddha. It allows you to enter into Leshan Giant Buddha Scenic Area and get a close view of the Buddha. You will get your first sight of the Buddha opposite his head, and then walk down a narrow plank stairway to his feet to look up him from a Liliputian perspective.
Taking a boat is another good way to see Leshan Giant Buddha, especially in Chinese holiday when the scenic area is crowed with travelers. Your boat will stop in front of the Buddha and give you several minutes for sightseeing and photography. In the boat, you can easily catch a full-length shot of the Buddha which can't be perfectly finished in the scenic area.
It is also available to enjoy a panoramic view of Leshan Giant Buddha from Sun Island. Sun Island is a small island poplar among locals. Many people like to spend several hours drinking a cup of tea or chatting with their friends there. From this island, you can overview Leshan Giant Buddha afar.
How to Design a Leshan Tour
Most travelers start a Leshan tour from Chengdu and then back to Chengdu because of the convenient transfer to get to and off Chengdu. Generally, a Leshan tour takes about a half day or one day, but it's worthwhile to extend your Leshan Buddha tour to surrounding, like Chengdu and Mount Emei.
▶ How to Spend 1 Day Traveling Leshan - Focus on Leshan Giant Buddha
Usually, it needs a half day to admire Leshan Giant Buddha highlights and take a walk in the scenic area, so one day is enough for a Chengdu Leshan essential discovery. You can firstly take a visit to Giant Panda in Chengdu and then drive Leshan for Giant Buddha. If you already traveled Chengdu, you can spend a whole day viewing Leshan Giant Buddha in different ways, like hiking and boating. It is also interesting to take a short break in an ancient town located between Chengdu and Leshan.
1 Day Giant Buddha & Huanglongxi Ancient Town Tour

Leshan: Leshan Giant Buddha

Take the classic day trip to reach the largest stone Buddha in the world. Have a panoramic view from the top of the Giant Buddha, and climb down from its head to feet through Nine Bends Plank Road; walk on the path along the rivers to go further exploration in Wuyou Temple to comprehend profound Buddhism culture.

Check Details
1 Day Panda Visit & Leshan Giant Buddha Tour

Chengdu / Leshan Giant Buddha / Chengdu

Visiting the International Face Giant Panda is a MUST to do for all travelers in Chengdu, and easily can be done in a half day. What should you do next after panda? Definitely the world-famous Leshan Giant Buddha, a famous World Heritage Site as well as a sacred Buddhist site in Leshan City. You only need a day to visit both two beautiful places, usually seeing the pandas in the morning, and then driving about two hours from Chengdu to the Giant Buddha and returning to Chengdu after sightseeing.

Check Details
If you are planning a longer China tour including Chengdu and Leshan Giant Buddha, you can find a suitable tour with China Discovery. Based in Chengdu, we are specialized in offering high-quality private tour packages to all travelers who have desires to have an authentic China discovery. From the moment you have a travel plan to the moment you finish your China tour, we are always here at your service. Before your travel, you will be provided with our one-to-one consulting service as well as all itineraries-covered tickets-booking and hotels-booking. During your tour, our knowledgeable local tour guide and skilled driver will pick you up and escort you to your hotel and every attraction without any hustle of public transportation and troublesome navigation. All details will be taken care of, and you just need to focus on sightseeing. All tours can be tailor-made according to your plan, time, interests and demands. Please be free to contact us to unveil your Chengdu Leshan tour or China tour or choose one from our best-selling Leshan China tours: