How to Plan Jiuzhaigou Trip - Visit Jiuzhai Valley and Huanglong National Park
Jiuzhaigou Valley is a nature reserve listed in UNESCO World Heritage sites. Its breathtaking landscape combining colored lakes, popping waterfalls and forest-covered mountains makes numerous travelers, photographers and nature lovers hankering. The best scenery always cannot be appreciated easily. Jiuzhaigou Valley is just hidden in a small town in northern Sichuan. Here our best Jiuzhaigou trip planner guides you to plan a better experience. No matter it's your first time to Jiuzhaigou Valley or not, just follow our planning ideas and start your unforgettable trip in this fairtale-like land.
How to Get to Jiuzhaigou
Located in northern Sichuan of southwestern China, Jiuzhaigou Valley is about 440 km away from Chengdu (the capital of Sichuan province). Most travelers start a Jiuzhaigou Valley from Chengdu after they have an enjoyable time with cute Giant Pandas. It is also accessible to take a flight to Jiuzhaigou from Chongqing, Beijing, Xian, Hangzhou and Mianyang usually.
Chengdu to Jiuzhaigou: Both non-stop flights and long-distance bus are available to take you to beautiful Jiuzhaigou from Chengdu. Taking a flight is the most convenient way offering you an efficient and comfortable trip. Usually there are around 7 daily flights operating from Chengdu Shuangliu International Airport. The whole flying trip takes only about 1 hour. It is also available to take a long distance bus. The drive from Chengdu to Jiuzhaigou Valley costs about 8~10 hours, but you can enjoy some natural scenery in your trip.
Chengdu to Jiuzhaigou Transfer Map
Related Links: How to Get to Jiuzhaigou | Chengdu to Jiuzhaigou Transfer | Xian to Jiuzhaigou Transfer
Best Time to Visit Jiuzhaigou Valley
Jiuzhaigou Valley is a beautiful place you can visit all the year around, but June ~ next March is best. If you visit it at its most splendid time, just visit Jiuzhaigou Valley in autumn (September ~ November) when the forests take on most attractive color. The perfect hues of yellow, scarlet, golden, orange and red foliage offer a contrast with the deep blues and turquoises of the water. It is also the best time for photography. Summer and winter are also good seasons to visit Jiuzhaigou. Because of the largest amount of precipitation in summer, the rivers, lakes and waterfalls of Jiuzhaigou are replenished to offer the most stunning waterscape. In winter, you can see a different appearance of Jiuzhaigou Valley when the forest is covered with white snow. The frozen waterfall is quite amazing as well.
√ 3 Days Jiuzhaigou Winter Tour
Jiuzhaigou Landscape in Summer
Some Good Ideas of Jiuzhaigou Tour Planning
Start Jiuzhaigou Tour from Chengdu
Chengdu is the best gateway to start a Jiuzhaigou tour. Apart from the convenient transfer between them, Chengdu itself is an attractive city to discover. It is most famous for its native resident – Giant Panda, but its appeal extends far beyond that. It is suggested that you spend 2 days exploring Chengdu highlights – Giant Panda, local laid-back lifestyle, unique taste of Sichuan Cuisine, traditional Sichuan Opera with Face-changing performance, etc. Moreover, you can easily reach Chengdu by taking some international flights and domestic flights and high speed trains from most big cities of China.
√ 4 Days Jiuzhaigou Private Tour from Chengdu by Private Car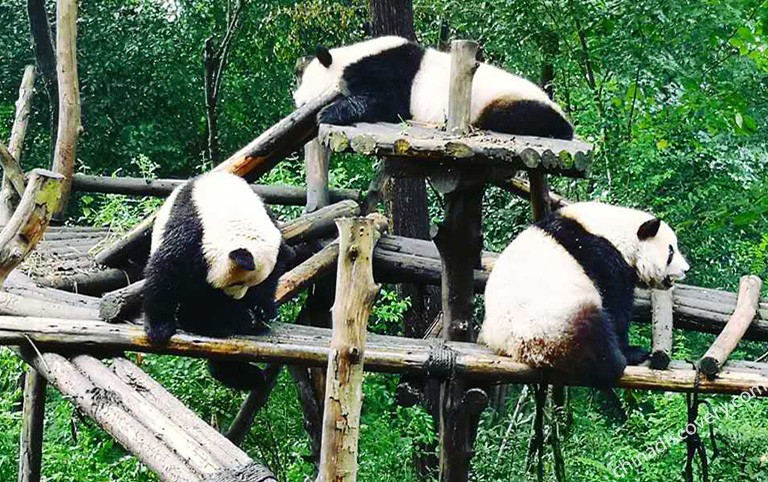 Chubby Giant Panda at Chengdu Panda Base
Visit Huanglong National Park before Jiuzhaigou Valley
It will be a pity if you travel to Jiuzhaigou Valley without a visit to Huanglong National Park which is an unmissable park listed in World Natural Heritage sites. It is well-known for its unbelievably beautiful calcified scenery consisting of colorful calcified ponds, caves, waterfalls, streams, stones, etc. The park is only about 40 km (about 1 hour's drive) away from Jiuzhaigou-Huanglong Airport. You are suggested to take a morning flight to Jiuzhaigou-Huanglong Airport and then spend an afternoon in Huanglong before visiting Jiuzhaigou Valley. You may be awed by Huanglong's beauty first and get another delighted surprise in Jiuzhaigou Valley. The best way to enjoy Huanglong National Park is ascending by cable car and then hike down.
Five-color Ponds in Huanglong National Park
Design Jiuzhaigou Itineraries According to Your Needs
1 Day Jiuzhaigou Itinerary
If you want to travel Jiuzhaigou in one day, you need to take full use of the tourist bus. It's important to wake up early to avoid the long queue. At first, take a tourist bus to Long Lake and tour Zechawa Valley from north to south. After you enjoy the beautiful landscape of Nuorilang Waterfall – the symbol of Jiuzhaigou Valley, you can take a tourist bus to Swan Sea and tour Rize Valley from North to South. After that, you can travel Shuzheng Valley. It is easy to take a bus in the scenic area to save your time and energy, but don't miss Nuorilang Waterfall, Five-color Pond, Long Lake, Five-flower Lake, Panda Lake and Mirror Lake which are the highlights of the whole valley.
2 Days Jiuzhaigou Itinerary
If you want to gawk at Jiuzhaigou Valley's charming lakes land waterfalls in a slow pace or if you want a hiking, you can spend one more day hiking among the spectacular forests. In the first day, you can enjoy the beautiful lakes and waterfalls in Zechawa Valley and Shuzheng Valley. In the next day, you can see the primitive forest and waterscape in Rize Valley.
√ 3 Days Classic Jiuzhaigou Tour by Flight
Jiuzhaigou Valley Tourist Map
Travel Jiuzhaigou with Other Destinations
▶ Take a Savor of Sichuan's World Heritages
Sichuan now has 6 sites inscribed in the UNESCO World Heritage list which was established to safeguard the unique and irreplaceable natural and cultural treasures. In addition to Jiuzhaigou Valley and Huanglong National Park, you must want to see more World Heritage sites.
If you want to suck up the strong Buddhist culture, don't miss Leshan Giant Buddha – the largest stone Buddha World and Mount Emei – China's sacred Buddhist mountain which is believed to introduce Buddhism to China. Recognized as Culture and Nature Heritage together, Leshan Buddha and Mount Emei never fail to offer great fun no matter you are interested in natural beauty or cultural charm.
If you are interested in Taoism, just visit Qingcheng Mountain where Taoism develops. It has 36 peaks which host many temples. The whole mountain is covered with evergreen forest all year round. The nearby Dujiangyan Irrigation system is also a good place to explore China's history and ancient people's wisdom.
Golden Summit of Mount Emei
▶ Explore More Natural Scenes in Northern Sichuan
In the northern part of Sichuan, there are dense forests, exquisite alpine lakes, alluring prairies, twisting and turning hiking trails as well as Tibetan temples. After feasting your eyes on Jiuzhaigou Valley, you may want to see more natural beauty of Northern Sichuan. Keep driving about 4 hours northward, you will get to Ruoergai County where beautiful Roergai Grand Prairie and old Dazha Monastery are located. In Ruoergai Grand Praire, Huahu Lake has the best scenery. If you visit in summer, you can envelop yourself in the florid flowers. Don't miss Langmusi – an absolutely impressive Tibetan complex with stunning mountain backdrop. It is located in Gansu province but quite close to Ruoergai. Next, you can travel to the First Bend of Yellow River to see the mighty Yellow River winding through the flat green meadows.
After your northern Sichuan exploration, it's available to travel back to Jiuzhaigou-Huanglong Airport to catch your flight to next station, or start your another journey in Gansu.
Peaceful Town of Langmusi
√ 7 Days Jiuzhaigou Big Loop Tour (Jiuzhaigou Valley / Ruoergai / Langmu Monastery / Hongyuan)
▶ Extend your Trip to Other Top China Desitination
If it's your first trip China and don't want to miss China's premier sights, you really get a huge variety of other choices. Beijing and Xian, also two leading destinations in China, host the most awe-inspiring attractions. You can hike the Great Wall as it winds across mountain peaks, walk into the best-preserved collection of imperial buildings in Forbidden City, and decode the mystery of the life-size army of Terracotta Warriors. It's also recommended to submit to karst landscape in idyllic Guilin, or relax yourself by taking a Yangtze River Cruise or get a jaw-dropping view of Avatar World in Zhangjiajie National Park. In summary, China's scenery spans the range from alpha to omega. Check our best China tour with Jiuzhaigou Experience:
Xian Terracotta Warriors
√ 8 Days Jiuzhaigou Zhangjiajie Tour with Panda Visit (Chengdu / Jiuzhaigou / Chengdu / Zhangjiajie)
√ 11 Days Beijing Xian Jiuzhaigou Chengdu Wonderful Tour (Beijing / Xian / Chengdu / Jiuzhaigou)
√ 16 Days Magnificent Sightseeing Tour of China (Beijing / Xian / Jiuzhaigou / Chengdu / Chongqing / Yangtze River Cruise / Yichang / Shanghai)
Travel Jiuzhaigou with China Discovery
China Discovery is a leading travel agency based in Chengdu. We are specialized in offering high-quality private tour packages to all travelers who have desires to have an authentic China discovery. From the moment you have a travel plan to the moment you finish your China tour, we are always here at your service. Before your travel, you will be provided with our one-to-one consulting service as well as all itineraries-covered tickets-booking and hotels-booking. During your tour, our knowledgeable local tour guide and skilled driver will pick you up and escort you to your hotel and every attraction without any hustle of public transportation and troublesome navigation. All details will be taken care of and you just need to focus on sightseeing. All tours can be tailor-made according to your plan, time, interests and demands. Please be free to contact us to unveil your Jiuzhaigou tour.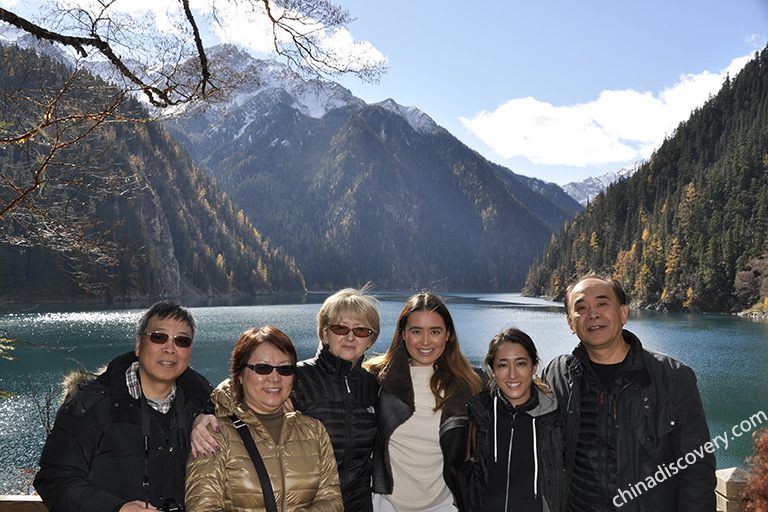 Our Customer's Happy Time in Jiuzhaigou Valley
Jiuzhaigou Travel Tips
Where to Stay During your trip
In order to protect the landscape of Jiuzhaigou Valley, it's not permitted to accommodate in the scenic area any longer. You can stay near the entrance of Jiuzhaigou Valley for a quick access to the scenic area in the morning. There is a business area offering accommodation from 5-star hotels to budget hostel. Great hotels include Hilton Jiuzhaigou Resort, Sanroyal International Hotel, Dazangfeng Hotel, Jiahe Hotel, etc. There are also some hotels near Huanglong National Park, if you want to stay nearby before or after your trip to Huanglong National Park. Read more about Where to Stay>
Jiuzhaigou Valley and Huanglong National Park Altitude Note
Generally, travelers seldom catch a high altitude sickness in Jiuzhaigou Valley because the average altitude of Jiuzhaigou National Park is only about 2,500 meters. Huanglong National Park enjoys a higher altitude ranging from 3,000 ~ 3,500 meters. If it's your first time to the high plateau, you may feel a little uncomfortable. But don't worry much about the high altitude sickness, because Huanglong Park is equipped with free oxygen bar. You are also suggested to drink more hot water and avoid strenuous exercise to avoid high altitude sickness. It will also be helpful to prepare a small oxygen box for the aged people and young kids. Read more about Jiuzhaigou Altitude Tips>
Weather and Dressing Tip
Jiuzhaigou enjoys a plateau climate with lots of sunny days and great temperature difference between day and night. The temperature in spring is still a little cold, and you need to prepare sweaters and coats to keep warm. The summer of Jiuzhaigou is cool, and wearing a T-shirt or pants or a beautiful dress is enough. But rain gear, sun-screen and moisturizer are a must to take items with you in summer. Autumn is the most comfortable time to visit Jiuzhaigou. You can take a long-sleeved blouse with a light coat at day time and thick clothes at night. If you plan a winter travel, you need to wear thicker clothes, like down jacket or cotton wadded jacket together with a thick sweater in it. Read more about Jiuzhaigou Weather and Climate>
Keep Reading about Jiuzhaigou Tour and Travel Guide
Jiuzhaigou Transportation Guide
Jiuzhaigou Weather Guide
Recommended Tours
Top 3 tours chosen by most customers to explore in the best way. Check the detailed itinerary, or tailor your own trip now with us.
3 Days Classic Jiuzhaigou Tour (Flight Arrival)

Chengdu / Huanglong / Jiuzhaigou
4 Days Jiuzhaigou Huanglong Highlights Tour from Chengdu by Private Car

Chengdu / Huanglong / Jiuzhaigou / Chengdu
4 Days Jiuzhaigou In-depth Tour with Walking Experience (Spending 2 Days in Jiuzhaigou Valley)

Chengdu - Huanglong - Jiuzhaigou
Start planning your tailor-made holiday to China by contacting one of our specialists. Once inquired, you'll get a response within 0.5~23.5 hours.
Customize a Trip
Have a question? Get answers from our travel experts or guests
Your Question:

Your Name:

Your Email: