How to Get to Mount Emei - Usually from Chengdu or Leshan
Chengdu-Leshan-Emeishan Transfer Map
Mount Emei is located in western Emeishan city, whlie Emeishan city is about 45 km to west Leshan City and 150 km to southwest Chengdu. Chengdu is the best gateway to Leshan Giant Buddha and Mount Emei. You can easily reach Chengdu by over 120 international flights from about 200 destinations and over 220 domestic flights from about 130 domestic cities. Besides, it can be get to by about 400 high speed trains from China's other major destinations.
It is efficient to travel from Chengdu to Mount Emei as well. You can take a high speed train from Chengdu East Railway Station or Chengdu South Railway Station (passing by Chengdu Shuangliu Airport) to Emeishan Railway Station within 1.5 hours. It is also available to take a normal train as well with duration of about 2 hours. Some travelers also choose a coach from Chengdu to Emeishan which needs about 2~3 hours.
It is also a good option to travel from Leshan to Mount Emei after your Leshan Giant Buddha visit. High speed train and bus are both accessible to take you to transfer between Leshan and Emeishan.
To get rid of the hassle of public transfer, you are suggested to travel with China Discovery. We operate private cars with skilled drivers to drive you from your hotel to scenic area directly. You just need to focus on sightseeing.
What to See in Mount Emei - Both Nature and Culture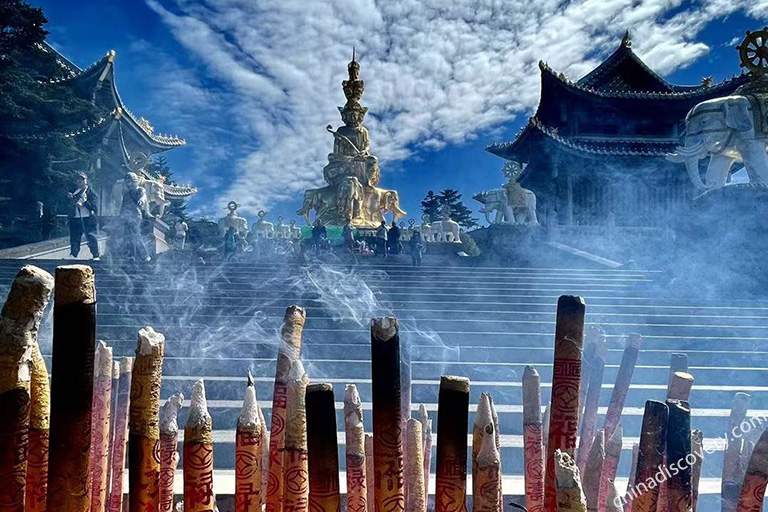 Can't-be-missed Scenery in Mount Emei
Golden Summit - It is always believed the best scenery of Mount Emei centers on Golden Summit. In other words, Golden Summit is the symbol of essence of Mount Emei. The golden statue of Samantabhadra Bodhisattva shows people a feeling of solemnity and holiness. In the Golden Summit, travelers can also see the four wonders of Mount Emei: Sunrise, Cloud Sea, Broken Spectre and Holy Light.
Buddhist Temples - As a Buddhist holy mountain, various Buddhist temples are the cultural essence of Mount Emei. There are over 30 temples perched on Mount Emei, among which Baoguo Temple, Wannian Temple, Qingyin Pavilion and Huazang Temple enjoy the highest status. Visiting these temples with different features help you explore the long history and Buddhist story of Mount Emei.
Natural Scenery - In the luxurious forest of Mount Emei, you can also indulge yourself in the charming nature. You can see peaceful lakes, clinking spring, and various kinds of plants. Mount Emei is even referred as Vegetable Kingdom because approximately 200 plant species in various plant families have been described from this mountain.
Rare Animals - In addition to Vegetable Kingdom, Mount Emei is also known as Paradise of animals. Monkey is regarded as an important resident attracting many travelers. Wild monkeys usually haunt in Ecological Monkey Zone and Leidongping.
What to Do in Mount Emei - Different Ways to Have Fun
Interesting Activities in Mount Emei
As a sacred mountain combining Buddhist significance and natural beauty, Mount Emei offers a lot of things to do, including hiking, exploring Buddhism, taking photos, skiing, etc.
Buddhist Exploration - If you are interested in Buddhism, you can visit several Buddhist sites in and around Mount Emei. Each temple houses many Buddha statues. In some special days like different Buddha's birthday, enlightenment day, and renunciation day, there will be religious ceremony to celebrate the big days and pray for people.
Hiking - With an altitude of over 3,000 meters, Mount Emei also draw many hiking enthusiasts. During your hiking, you can appreciate more scenery. The whole hiking from the bottom takes one whole day for an experienced hiker. Since Mount Emei is equipped with tourist bus and cable car to shorten the walking distance, so it's available to shorten your climb by skipping some less attractive spots.
Photography - Most shutterbugs flock to Mount Emei to get some nice shot. In sunny days, it's easy to catch the most spectacular moments of sunrise, sunset and sea of clouds. You may also take photos of the wide ranges of snow mountains far away if the day is clear, including Mount Gongga and Wawu Mountain.
Snow Fun - In winter, Emei Mountain becomes one of the best placse to play with snow. The ski resort near Leidongping provides skiing, snowmobiles, snow tire, and other entertainment options. In the ski resort, there are also various interest ice and snow sculpture on display.
How to Design an Emeishan Tour
Mount Emei is the essence of Emeishan city. The travel length of Mount Emei can be 1~3 days according to your interest.
▶ How to Spend 1 Day Traveling Emeishan - Quick Trip to Golden Summit
It is possible to visit Mount Emei in one day if you take full advantage of the Eco-bus and cable car. The itinerary needs to focus on the highlights of Mount Emei, namely Golden Summit. Firstly, take an Eco-bus from Tourist Center to Leidongping which takes about 1.5~2 hours. Then walk about 30 minutes along the stone steps to Jieyin Hall and take a 5 minutes' cable car to reach Golden Summit. After the sightseeing on Mount Emei, ascend the mountain by cable car and Eco-bus. Feel free to Contact us to customize a One Day Mount Emei Tour.
▶ How to Spend 2 Days Traveling Emeishan - Visit Lehsan and Emeishan Togeter
If you have 2 days, you can visit Mount Emei at a slower pace and spend more time exploring the natural and cultural spots of Mount Emei. It is recommended to walk into the forest and have a short hiking. The scenery between Qingyin Pavilion and Wannian Temple is great. Most travelers travel to Mount Emei from Chengdu passing by Leshan, so it's usual to plan a Leshan Emeishan tour together. It is a good choice to travel Leshan Giant Buddha first and then drive to Mount Emei. In the early morning of the next day, you can start your Mount Emei tour directly. Below are most recommended 2 days Mount Emei itineraries:
2 Days Mount Emei Leisure Hiking Tour from Chengdu

Mount Emei

Starting from Chengdu, our 2 Days Mount Emei Leisure Hiking not only satisfy your desire of enjoy some real hiking to escape the crowds, but also take you experience profound Buddhist culture and pleasant landscape of Mount Emei. You will hike two most essential parts of Mount Emei: Qinying Pavilion to Wannian Temple (4 km) and Leidongping to Golden Summit (4 km). Each part can be done in about 2 hours. You will also have some time to visit the world-famous Leshan Giant Buddha which is only 45mins' driving from Mount Emei. After the tour, you will be escorted back to Chengdu hotel or to catch your flight/train with our private car.

Check Details
2 Days Mount Emei Leshan Giant Buddha Smart Tour

Chengdu / Mount Emei / Leshan Giant Buddha / Chengdu

Leshan Giant Buddha and Mount Emei are together listed as UNESCO World Heritage Sites, and Mount Emei is even not only World Cultural Heritage but also World Natural Heritage. They are only about 30mins' driving from each other. You should not miss any one of them in your trip. Putting them together in one trip will help you save a lot of time and money either, which is also the classic itinerary of the region at the same time. Our 2 Days Leshan Giant Buddha Mount Emei tour (starting from Chengdu) takes you to explore these two famous sites in a smart way - using cable car to save time, skipping unnecessary spots, visit the Giant Buddha in its most empty time. Good price and service are guaranteed either.

Check Details
▶ How to Spend 3~4 Days Traveling Mount Emei - In-depth Emei Mountain Experience
In order to enjoy the Buddhist culture and primitive scenery of Mount Emei, you can spend more days here. 2~3 full days' challenging hiking will reward you Emei Mountain's diverse. You can walk into the featured temples, meet wild monkeys, and see peaceful lakes and flowing streams, as well as the far-reaching views from Golden Summit. Of course, combine your Mount Emei experience with Chengdu and Leshan and your travel will be more memorable. Below are most recommended 3 days Mount Emei itineraries:
3 Days Mount Emei Classic Walking Tour with Moderate Pace

Mount Emei

Starting from Chengdu, this tour is recommended for those who are looking for a moderately paced hiking. Start two days' hiking the most important monastery of Mount Emei - Wannian Temple, then hike upwards to the top of the Mountain to enjoy beautiful Golden Summit with one night staying at Leidongping where the hotels are comfortable while prices are lower than Golden Summit. Apart from some old and peaceful Buddhist temples, you also have chance to experience the diversity of Mount Emei's nature existence. A side trip to Leshan Giant Buddha, UNESCO World Heritage Site, is also covered in Day 1.

Check Details
4 Days Classic Leshan Buddha & Mount Emei Tour from Chengdu

Chengdu / Leshan / Mt. Emei / Chengdu

A great tour of a visual feast to explore two magnificent World Heritage Sites around Chengdu - Leshan Giant Buddha and Mount Emei in a leisure way, also visit the adorable Giant Pandas in Chengdu Research Base of Giant Panda Breeding and get other Chengdu highlights. Airport (train station) pick up and drop off, English-speaking guide, private cars are covered.

Check Details
4 Days Mount Emei In-depth Hiking Tour including Leshan Giant Buddha

Mount Emei

Mount Emei is famous for its diversity. It is famous for its exceptional existence of Buddhism, also notable for exceptionally diverse natural landscape. Our Mount Emei in-depth hiking take you to trace how Mount Emei link the tangible with intangible, the natural with the cultural. It is a challenging but rewarding hiking of 2 full days, starting from the lower to the very top of the mountain in which you will encounter with many interesting temples, meet wild monkeys, see beautiful waterfalls and rivers, witness magnificent sunrise and sunset... If you are energetic or wanting to sweat and unwind from crowdedness or expecting to encounter closer with this world heritage site of both culture and nature, this is the hike for you. You even have a chance to stay a night in a temple on the mountain. Also visit Leshan Giant Buddha before hiking. What an experience it is!

Check Details
Tips for Emeishan Trip Plan
① The Best Time to Visit Mount Emei

- Mount Emei's nature and culture can be appreciated all the year around, but spring (March ~ May) and winter (December ~ February) are the best to have a visual feast. Spring is the season of azalea booming and Mount Emei is honored as the kingdom of azalea. Besides Emei Mountain Fair also take place in March and April (lasting for one month) usually, which allows you to observe Buddhist followers flocking into Mount Emei. Winter is the best time for striking snowscape and interesting snow activities, like skiing and other entertainment. The climate of Mount Emei varies significantly with altitude. Generally, the difference between the top of the mountain and the foot of the mountain is about 14℃ / 57°F. Remember to keep warm in the top area.


② Where to Stay in Your Emeishan Trip

- For travelers with short stay in Leshan, we suggest you travel back to Chengdu which offers plenty of choices from luxury hotels and boutique hotels to comfortable ones. If you want to accommodate in Leshan, we recommend you to choose a hotel in Leshan downtown or near Leshan Giant Buddha. It will be convenient to taste local food and see Leshan Buddha. Recommended hotels in downtown include 5-star Panlong Kaiyuan Mingdu Hotel and 4-star Orange Hotel Select. Hotels near Leshan Giant Buddha include 5-stared Sangjaingyue Holiday Hotel and 4-star A Yard of Chan. If you plan to visit Mount Eemi after your Leshan trip, you can accommodate in Emeishan city or near Mount Emei as well.

③ Do I Need a Visa for Emeishan Trip

- Tourists from appointed 53 countries with valid travel documents & connecting flights to a third country/region can enter Chengdu via Chengdu Shuangliu International Airport and stay in Chengdu as well as Leshan where Mount Emei located administratively and 9 other cities up to 144 hours in Sichuan without a Chinese visa. Therefore, travelers are able to get rid of visa application and travel Mount Emei easily during a layover. However, Sichuan is very vast with many to see and do. To explore the Sichuan beyond its 144 Hours Transit Visa Free areas, we suggest you apply a Tourist Visa. Therefore, you can travel fairytale land Jiuzhaigou Valle and more beautiful places in Western Sichuan, such as Mount Siguniang, Daocheng Yading, Kangding, Danba…
Extend Your Emei Tour to Other Destinations of Sichuan and China
If you are indeed into breathtaking nature, don't skip Jiuzhaigou Valley. It needs 1.5 hours flight or 8 hours' driving from Chengdu, but the fairytale-like waterscape really worth your journey. For culture-seekers, you are suggested to visit Dujiangyan, where Mount Qingcheng - famous Taoist Mountain and Dujiangyan Irrigation System located. Besides, Chengdu is a perfect gateway to Chongqing, Xian, Yunnan and Tibet. If you want to have more wonderful trips after your Mount Emei tour, you really get a lot of choices.
China Discovery is a leading travel agency based in Chengdu. We are specialized in offering high-quality private tour packages to all travelers who have desires to have an authentic China discovery. From the moment you have a travel plan to the moment you finish your China tour, we are always here at your service. Before your travel, you will be provided with our one-to-one consulting service as well as all itineraries-covered tickets-booking and hotels-booking. During your tour, our knowledgeable local tour guide and skilled driver will pick you up and escort you to your hotel and every attraction without any hustle of public transportation and troublesome navigation. All details will be taken care of, and you just need to focus on sightseeing. All tours can be tailor-made according to your plan, time, interests and demands. Please be free to contact us to unveil you Chengdu Leshan Emeishan tour or China tour. Choose one of our best-selling Emeishan China tours:
6 Days Chengdu Xian City Enjoyments with New Bullet Train Experience Tour

Chengdu / Leshan / Emeishan / Xian
9 Days Pandas Terracotta Warriors Great Wall Encounter by High Speed Trains

Chengdu / Leshan / Emeishan / Xian / Beijing
10 Days Classic Sichuan & Yunnan Highlights Tour

Chengdu / Leshan / Mount Emei / Lijiang / Shangri-La / Kunming