Dujiangyan Panda Base Overview
The CCRCGP Dujiangyan Panda Base (also Dujiangyan Panda Ark) is located in Qingchengshan Town of Dujiangyan City, 18 kilometers from Dujiangyan downtown. To its north is the Taoist holy mountain - Mount Qingcheng; to its south is an ancient town in west Sichuan, called Jiezi Ancient Town. Dujiangyan Panda Base is a professional organization specializing in giant panda rescue and disease prevention in China. This professional panda base also offers the meaningful and love caring giant panda volunteer program for world panda lovers to help taking good care and protect the rare and lovely giant pandas. Therefore, loving people are recommended to go this panda base in Dujiangyan to achieve your dream of pandas! At present, there are more than 30 giant pandas and 5 red pandas living here.
Recommended Dujiangyan Giant Panda Volunteer Tour:
Click to See the Tourist Map of Dujiangyan Panda Base
Dujiangyan Panda Base Giant Panda Volunteer Program
Joining in the Panda Volunteer Program is the most highlight to do in Dujiangyan Panda Base. Here you can not only have a close look at pandas, but also learn some rescue skills and scientific knowledge about pandas.
During the classic one-day volunteer program, the activities include honorary keepers, science quest, love feeding, panda nutritionist, panda movie, panda class and panda fun trip.
● Honorable Keeper: clean up bamboos, pick up droppings, wash the enclosures, observe and understand the panda's status and living conditions, etc. It takes about 2 hours.
● Science Quest: explore the panda rescue exhibition hall to know about stories associated with panda rescues. It takes about 30 minutes.
● Love Feeding: personally deliver to the pandas, their delicious "Cake" and fruits. Understand panda's feeding habits. It takes about 30 minutes.
● Panda Cinema: watch a documentary that allows scientific facts about pandas, to understand how humans protect them, and how we may live in harmony with them.
● Panda Nutritionist: prepare food for the pandas and also experience the fun of making the "Panda's Cake". It takes about 45 minutes.
● Panda Class: inviting our experienced panda experts to share their scientific knowledge. It takes about 45 minutes.
● Love Garden: Plant bamboos and trees, as well as set up nametags. It takes about 45 minutes.
● Fun Trip: after a day's observing, studying, let panda husbandry learners be quizzed with questions regarding facts about pandas. It takes about 30 minutes.
Learn Details about Panda Volunteer Program and Activities >>
Learn Details about Panda Volunteer Program at Dujiangyan Panda Base >>
After the panda volunteer activities, participants will receive an official certificate from CCRCGP that proves your love for giant pandas, as well as souvenirs, like a panda badge, a panda T-shirt or a panda club magazine.
Tips: Since July to Auguest is the super peak season for doing a panda volunteer program, if you want to enjoy the activity during those months, it is highly advised to book at least 2 months in advance.
Recommended Dujiangyan Panda Volunteering Packages
- 1 Day Kung Fu Panda Tour with Mount Qingcheng (Dujiangyan)
- 2 Days Dujiangyan Panda Tour (Dujiangyan)
- 4 Days Dujiangyan Panda Tour with Chengdu (Chengdu / Dujiangyan / Chengdu)
Honorable Keeper
Love Feeding
Outdoor Activities
Dujiangyan Panda Holding
To well protect the cuddly but vulnerable pandas, Dujiangyan Panda Holding Program has been suspended since 2018. However, panda fans can still have opportunity to have a sweet date with pandas sitting in front of them and grabbing carrots out of their hands. Join the Dujiangyan Panda Volunteer program, such a panda dream will be realized right now! Check more about Dujiangyan Panda Holding >>
What Requirements & Limitations are Needed?
(1) Age & Number Limitations: The center can accept up to 50 volunteers at any one time and the age should be between 10 and 70.
(2) Avoid Using Strong Smell: For pandas have keen sense of smell, volunteers should avoid using perfume or other odorous articles like mosquito repellent liquid or nail polish, skin care products, makeups, etc. on the volunteering work/panda hugging day.
(3) Dressing Code: During your panda volunteer program, you are required to wear comfortable shoes, like sports shoes that are suitable for the work, and try to avoid sandals, slippers, high-heels, and so on. Besides, wear trousers, avoid shorts and skirts, etc. (during the volunteer program, the panda base will provide working jumpsuits in spring and winter, and T-shirts in summer and autumn for you.)
(4) Healthy Bodies: To well protect giant pandas, volunteers and panda holders are required to be healthy, and people who are suffering from illness, like a cold, fever, influenza, and other infectious diseases are not suitable to have body contact with the giant pandas.
(5) Force Majeure: The panda volunteer program is to be delayed or inaccessible if there is Force Majeure like earthquakes, epidemic... Also, your program may be influenced by the inevitable requirement and control.
How to Get to Dujiangyan Panda Base
Dujiangyan Panda Base is located in Qingchengshan Town of Dujiangyan City, about 70km northwest of Chengdu downtown. Driving from Chengdu downtown to Dujiangyan Panda Base takes about 1.5 hours by car. Normally, tourists get to Dujiangyan Panda Base from Chengdu by private car, high speed train or coach. Seldom of them choose to travel by taxi, because it charges much more money.
By Private Car (Top Recommended): Taking a licensed private car with the help of a local experienced driver is the most convenient way, because you can get from your hotel to Dujiangyan Panda Base directly, without the hassles to find the right coach station or high speed railway station. As a local travel agency based in Chengdu, we China Discovery also provide convenient local tour guide and driver service to escort and accompany you to Dujiangyan Panda Base from Chengdu airport, train station, hotels or any other locations in Chengdu by licensed private car. If you are interested about such a service, please feel free to contact us for help!
By High Speed Train plus Taxi (Good Alternative Option for Independent Travelers): Ride a bullet train from Xipu Railway Station to Qingchengshan Railway Station needs about half an hour. And after arriving at Qingchengshan Railway Station, it needs 10 minutes around to get to the panda base by taxi. For independent travelers who prefer bullet trains, this way may be a good alternative option.
By Coach (Cheapest but Most Time-consuming): Chengdu Chadianzi Coach Station (茶店子汽车站) and Xinnanmen Coach Station (新南门汽车站) in Chengdu downtown offer long-distance coach service to Dujiangyan Coach Station. Every day, there are about 10 coaches for you to choose. The coach ride takes about 1.5~2 hours. After get off the coach, you can hop on a taxi to Dujiangyan Panda Base.
Know more detailed info of How to Get to Dujiangyan Panda Base >>
Dujiangyan Panda Base Nearby Attractions
Dujiangyan Panda Base is not the only reason that attracted numerous of tourists gathering there. Besides the panda base, Dujiangyan is also famed for its great Mount Qingcheng and Dujiangyan Irrigation System.
Mount Qingcheng
Mount Qingcheng, or known as Qingchengshan, is the most popular hiking mountain in Chengdu region. Besides, Mount Qingcheng is also known as one of the cradles of Chinese Taoism. Together with Dujiangyan Irrigation System, Mount Qingcheng was added to the World Heritage Site List in 2000.
Dujiangyan Irrigation System
With a history of more than two thousand years, Dujiangyan Irrigation System is a magical Ecological Engineering Feat without the use of any dams! It has played an important role on flood control and irrigation to Chengdu Plain for centuries. Tons of visitors come there to have a glimpse of this masterpiece and show their respects for the sagacious ancients.
Jiezi Ancient Town
Jiezi Ancient Town is not situated in Dujiangyan but in Chongzhou City. However, it is only 7km away from Dujiangyan Panda Base, which takes only 15 minutes around to get there by car. Jiezi Ancient Town is a fantastic place for strolling and history exploring.
Mount Qingcheng
Dujiangyan Irrigation System
How to Plan a Dujiangyan Panda Base Tour
Take a whole day to be a Panda Keeper and take care of adorable giant pandas up-close is the most popular way to visit Dujiangyan Panda Base. Join in Dujiangyan Panda Base Volunteer Program, and then you can enjoy such a once-in-lifetime experience! During the volunteer day, you will learn how to clean up bamboos, pick up droppings and make cakes for pandas. Besides, you will have opportunities to feed a panda right in front of you! For more details, please check our most popular 1 Day Dujiangyan Panda Volunteer Tour to get inspired!
Before or after the exciting volunteer day, you are suggested to spend another 1~2 days to explore Dujiangyan Irrigation System and Mount Qingcheng like many other visitors do! Want to add more highlights of Chengdu downtown into your tour? Why not leave yourself 1~2 days more to enjoy the unique slow-paced lifestyle and savor the unbeatable food there?
>> 4 Days Dujiangyan Panda Tour with Chengdu
Since Dujiangyan also sits on the popular Western Sichuan Small Tourist Loop, you can also go further west from Dujiangyan to get more Western Sichuan surprises. This region will offer you world-class alpine snow-caped mountains, grasslands, lakes and a strong taste of Tibet without filling for a Tibet Entry Permit!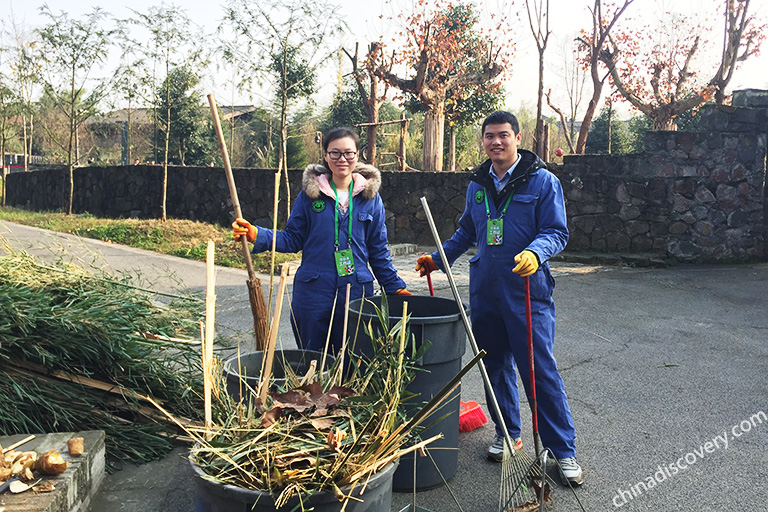 Giant Panda Volunteer Experience at Dujiangyan, Chengdu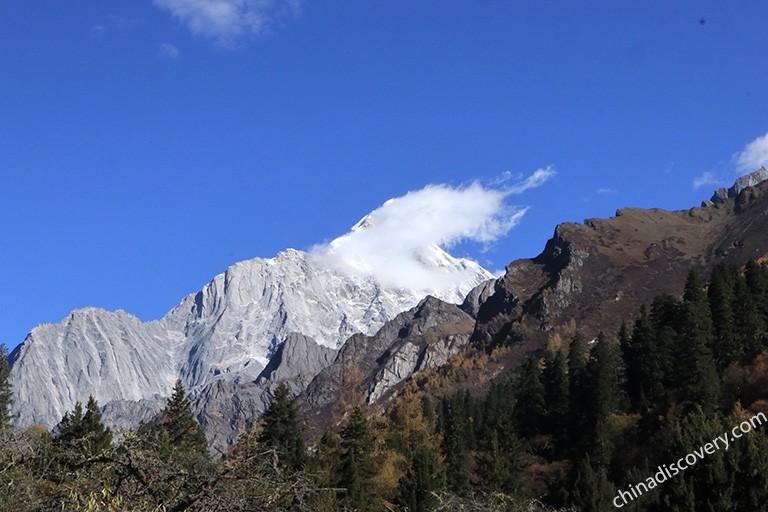 Mount Siguniang Trekking
Travel Dujiangyan Panda Base with China Discovery
Can't wait to date with adorable pandas in Dujiangyan Panda Base? How about travel with China Discovery and let us arrange a personal tour for you? Send your need and group size to us and then our experienced travel consultant, guide and drive will take care the rest, including the best hotel, traveling route, transportation way, restaurants, etc. Therefore, you can spare your every minute to have sweet date with lovely pandas.
We China Discovery based in Chengdu have helped thousands and hundreds of tourists coming from the world traveling Chengdu and Dujiangyan. If you need any help of our local guide and driver, please feel free to contact us! The tour can be tailor-made according to your group size, interests, physical condition, time, plan, budget and every special need!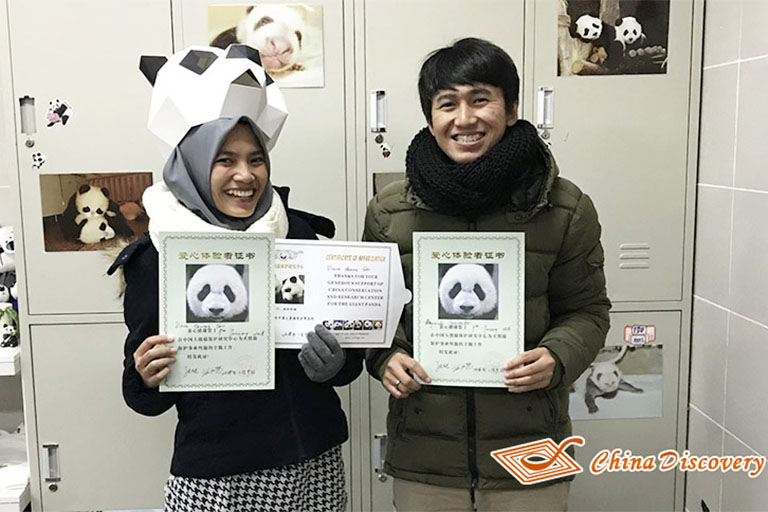 Volunteer Certificate
Keep Reading on Dujiangyan
Other Useful Chengdu Travel Articles
Read More about Western Sichuan Small Tourist Loop
Recommended Dujiangyan Tours
Top 3 Dujiangyan tours chosen by most customers to explore Dujiangyan in the best way. Check the detailed itinerary, or tailor your own trip now with us.
1 Day Dujiangyan & Mount Qingcheng World Heritage Tour

Chengdu / Dujiangyan / Chengdu
2 Days Panda Volunteer Tour with Dujiangyan Highlights

Dujiangyang Panda Base, Mount Qingcheng, Dujiangyan Irrigation System
4 Days Chengdu & Dujiangyan All Bests with Panda Volunteer Tour

Chengdu / Dujiangyan / Chengdu
Start planning your tailor-made holiday to China by contacting one of our specialists. Once inquired, you'll get a response within 0.5~23.5 hours.
Customize a Trip
Questions & Discussions
Following are latest questions and answers from our webusers and customers. You can learn many useful information from the discussion and cases. You can also join in the discussions or ask your own question. Our experts will help you ASAP.
Have a question? Get answers from our travel experts or guests
Your Question:

Your Name:

Your Email: