Amdo Travel Guide: Attractions, Map, Tips, Tours 2023
The Tibetan nation has a long history and splendid culture and their dwelling regions are mainly in Qinghai-Tibet Plateau including most regions in Tibet, Qinghai, and partial regions of Gansu, Sichuan, Yunnan. In terms of Amdo Tibetan Region, it is an important Tibetan cultural area in the northeast corner of Qinghai Tibet Plateau, which is often mentioned with Kam and U-Tsang Tibetan areas as the 3 Tibetan regions. Amdo Tibetan region is located in the Changtang plateau, stretching from northern and eastern Qinghai, to the southwest of Gansu and northwest of Sichuan. Now, Amdo Tibetan Region is divided into 7 Tibetan Autonomous Prefectures and 2 Tibetan Autonomous Counties in the three Provinces of PRC, covering an area of 645,000 square kilometers (250,000 square miles), which is only slightly smaller than the state of Texas and slightly larger than Ukraine. It is home to about 25% of the total Tibetan population. It is a wonderful land with beautiful grasslands, ancient temples, snow-capped mountains, roaming yaks, and hospitable nomads.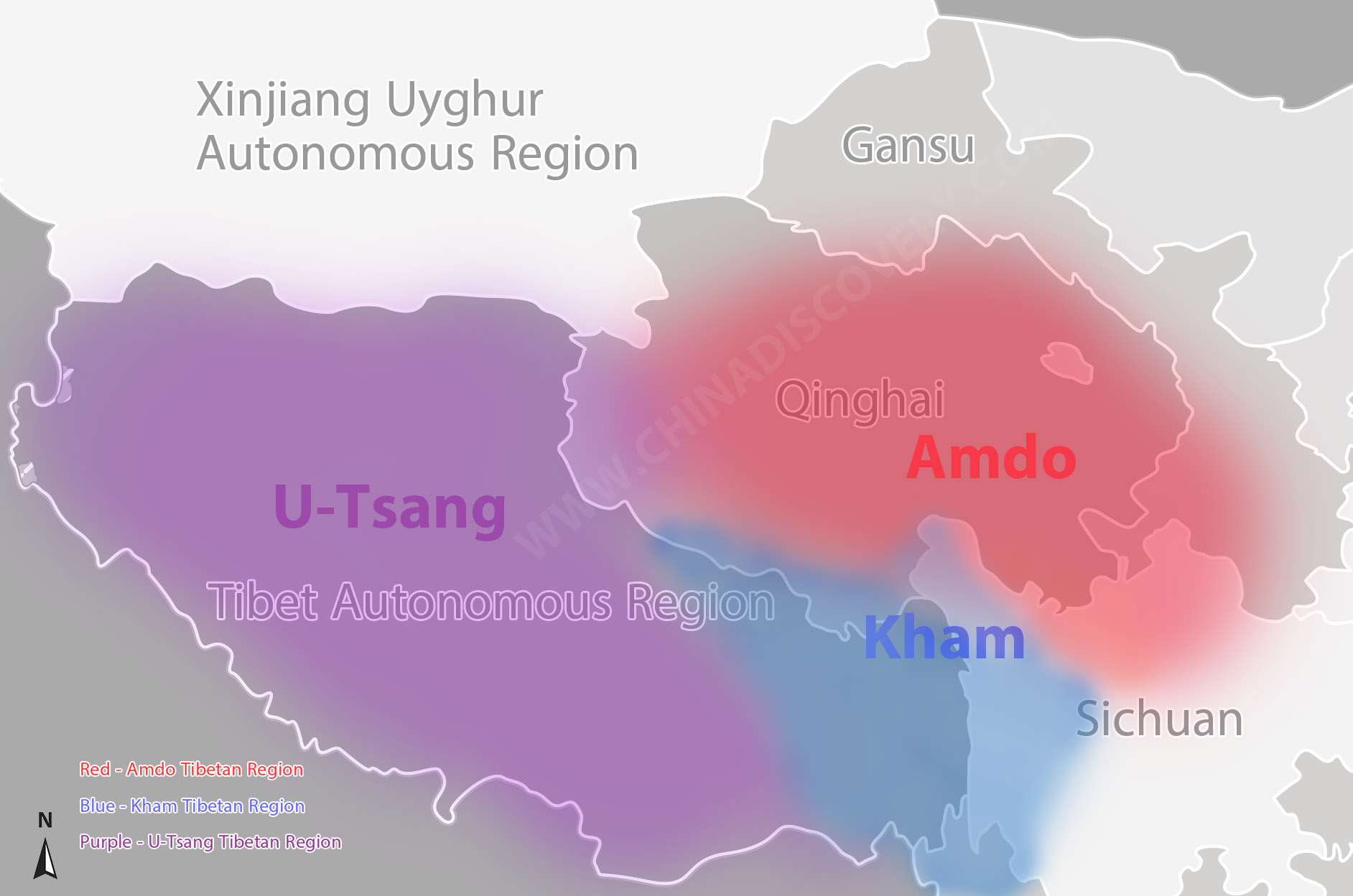 Amdo Tibetan Region Map
Gansu Amdo Tibetan Region: Tibetan Buddhism Temples & Beautiful Grasslands
♦ Regions: Gannan Tibetan Autonomous Prefecture, Tianzhu Tibetan Autonomous County 甘南藏族自治州,天祝藏族自治县
♦ Best Time to Visit: Summer from June to August is the best time to visit the Gannan region. It is very comfortable in summer with the temperature of 10°C to 20°C. Besides in the first month of Tibet lunar calendar, there will be a new year celebration and performance there, since the daily temperature varies a lot and UV is very strong, taking some extra layers and sunblock items are very necessary. Besides summer time, the late spring in May and early autumn in September are also a good seasons to visit Gannan with fewer tourists.
♦ How to Get There: There is neither airport nor a railway station in Gannan. Driving is the only way to get there. Xiahe, the popular tourist destination in Gannan is only about 280km from the capital city of Gansu, Lanzhou, and 235km to the capital of Qinghai, Xining. Travelers can get to Xining or Lanzhou conveniently by air or train from most major cities in China. Then, to travel freely in the Gannan area, tourists can take a bus or hire an experienced licensed driver or contact us for transportation help.
♦ Gansu Amdo Attractions & What to See: The first impression of Amdo comes from the Labrang Temple in the southwest of Gansu. It is one of the six main temples of the Gelug Tibetan Buddhism and it has the most complete Tibetan Buddhism teaching system in China. Besides the Labrang Temple. Gannan Tibetan Autonomous Prefecture, the Amdo Tibetan Region in Gansu also offers Langmu Temple at the border of Sichuan and Gansu, and beautiful Sangke Grassland, Zhagana to experience the breathtaking scenery. 
Qinghai Amdo Tibetan Region: Terrific Lake Views, Exquisite Regong Arts, Ancient Temples
♦ Regions: Guoluo Tibetan Autonomous Prefecture, Haixi Mongolian Tibetan Autonomous Prefecture, Hainan Tibetan Autonomous Prefecture, Haibei Tibetan Autonomous Prefecture, Haidong Prefecture, and Huangnan Tibetan Autonomous Prefecture 果洛藏族自治州, 海西蒙古族藏族自治州, 海南藏族自治州, 海北藏族自治州, 海东地区和黄南藏族自治州
♦ Best Time to Visit: Qinghai belongs to the plateau continental climate. It has a long sunshine time, large daily temperature differences, strong UV radiation, long winter, and cool summer. When the other parts of China are sweating in the summer heat, Qinghai ushers the most comfortable and beautiful season in summer from June to August. Besides, the late spring in March and the early autumn from September and October are also good seasons to travel in Qinghai. Remember to bring some extra layers to keep warm and sunblock items always.
♦ How to Get There: As a landlocked province on the plateau, Qinghai is easily accessible by flight, train, and highway. Usually, Xining, the capital of Qinghai, is the first gateway to Qinghai. Though Xining Caojiabao Airport has no international flights, it connects most of the major cities in China, including Beijing, Xian, Chengdu, Guangzhou, Chongqing, Shenzhen, Nanjing, etc. Besides, there is a railway stations in Xining, namely Xining Railway Station delivering passengers from/to Xining. When traveling in Qinghai, you might need to travel mainly by car since public transportation in most regions of Xining is very convenient. You are suggested to hire an experienced & licensed diver or contact us for help.
♦ Gansu Amdo Attractions & What to See: Qinghai, also called Kokonur, meaning blue lake, is known as the largest salt lake in China - Qinghai Lake. It is a must-visit site in Qinghai and not far from the Mirror of Sky - Chaka Salt Lake. The Amdo Tibet Region is mainly in the northern and eastern Qinghai. Besides Tibetan, it is also home to many other ethnic nations such as Hui, Tu, Mongol, Salar, etc. Influenced by the Tibetan Buddhists and Isam, you will encounter many enduring Temples, Monasteries, and Mosques here. The Kumbum Monastery, Rongwo Temple, and Dongguan Mosque, Qutan Temple, are the representatives. If you are interested in art, you can visit the Regong art village in Tongren to learn more about Tibetan Thangka, sand art, and embroidery. Besides lakes and these cultural and historic treasures, you can also visit the stunning Kanbula National Forest Park, Mount Laji, etc.
Sichuan Amdo Tibetan Region: Natural Wonders of Waterscapes, Grasslands, Forests
♦ Regions: Ngawa (Aba) Tibetan and Qiang Autonomous Prefecture 阿坝藏族羌族自治州
♦ Best Time to Visit: Aba belongs to continental plateau climate with an obvious character of vertical zonality and temperature decrease. The winter is long and cold, and the summer is cool and humid. It can be visited all year round. Spring is the best time to visit Jinchuan, Mt Siguniang; Summer is the best time to visit Jiuzhaigou, Huanglong, Hongyuan, Zoige; Autumn is the best time to visit Jiuzhaigou, Huanglong, Mt Siguniang, Bipenggou Valley, Dagu Glacier; Winter is the best time to Dagu Glacier, Gu'ergou Mountain Hot Spring.
♦ How to Get There: There are two airports in Ngawa, namely Jiuzhaigou Huanglong Airport and Hongyuan Airport. They serve flights mainly to Chengdu and a few to Beijing, and there is no railway in the Ngawa area. Visitors can get to Ngawa via the capital of Sichuan, Chengdu. Then, you can take a bus or charter a private car to get there and travel around. Since the road condition is very complicated in the Ngawa area and it is very risky to drive in some areas, you'd better hire an experienced driver for your trip or contact us for transportation help.
♦ Gansu Amdo Attractions & What to See: Know for the heavenly waterscape in Jiuzhaigou and Huanglong national parks, Ngawa is an incredible land with various natural wonders such as the flowering grasslands, untouched valleys, mysterious glaciers, snow-capped mountains, giant panda sanctuary, colorful autumn forests, well-preserved Tibetan villages, etc. The top recommended attractions in Ngawa include Jiuzhaigou, Huangkong, Bipenggou valley, Mouni Valley, Mount Siguniang, Dagu Glacier, Miyaluo Scenic Area, Taoping Qiang Village, Zoige Grassland, Yellow River Bend, Hongyuan prairie, Songpan ancient city, etc.
Useful Tips & Pack List for Visiting Amdo
1. Amdo Tibetan area is a transitional area from the Chinese Loess Plateau to the Qinghai Tibet Plateau, with an average altitude of 2600-3500 meters. The oxygen content in the atmosphere is only about 70-80% of the level.
2. For some of the first arrivals, if they have mild mountain/highland reactions, as long as they rest well, the symptoms will soon disappear, and there is no need to worry too much
3. Tourists with severe highland reactions, or having heart disease, high blood pressure, asthma, lung, and respiratory diseases, severe diabetes, and anemia, are not suitable for traveling this plateau area.
4. Do not work out too much at high altitudes. Do not smoke. Prevent colds. Drink plenty of water. Get enough sleep. Keep warm always.
5. In most Amdo Tibetan areas, it requires a long drive. please make arrangements for sightseeing and rest, carrying drugs for carsickness.
6. When you enter a Muslim/Tibetan restaurant, you should pay attention to the etiquette, do not make any noise. Don't eat pigs, dogs, horses, mules, animal blood, etc in Muslims area; Tibetans avoid eating fish, dog, horse, and donkey.
7. More than 85% of Amdo Tibetan areas are ethnic autonomous areas, and Islam and Tibetan Buddhism are the main religions. Please respect local religious customs.
8. When Tibetan people offer the scarf-like had to show respect and welcome, you need to hold it with both hands and hang it on your neck, and do not take it off immediately.
9. Tibetans don't like to be touched and shouldered, and they don't like to be loud, especially in temples, and touching religion items is not allowed.
Packing List for Visiting Amdo Tibet Area
• Clothes: Winter clothes and sunblock clothes should be prepared for all seasons of travel. Even in summer, the night temperature here may be close to 0 C°. Long sleeve clothes and long trousers are a must; You need to cover your exposed skin as much as possible when you are doing outdoor activities.
• Shoes: sandals, comfortable sports shoes
• Sunblock: sunscreen or spray with high SPF, sunhat, sunglasses
• Moisture: Skincare products, lip balm, hand cream, and moisturizing lotion.
• Snack: Energy bar, chocolate, instant noodles, etc
• Water: it's better to bring some bottled water and a water bottle.
• Drugs: Carsickness pills, Supplement vitamins, other necessary medicines.
• Documents: Your valid documents like passport, visa, etc.