Where Is Tianjin - Tianjin Location Maps
Tianjin, one of the 4 municipalities directly under the Central Government and an important constituent of Jing-Jin-Ji Region (Beijing-Tianjin-Hebei 京津冀地区), is only about 120km from Beijing. Apart from appreciating its diverse cultural charm, many people also take it as a gateway to other parts of China because it has a mature transportation system covering flights, trains (high speed trains and normal trains), and cruises. No matter you plan to make a special or stopover trip to Tianjin, first of all we need to figure where Tianjin is. Therefore, we here have provided you with Tianjin location maps to help you find the city in China and Jing-Jin-Ji Region.
Where is Tianjin Located in China - Tianjin China Map
Tianjin is located in the northeast of North China Plain and east of Bohai Sea. It is the largest port city in northern China. At present (August, 2019), it only needs half an hour to get to Beijing from Tianjin city by high speed train. You can get to most of China's major cities such as Shanghai, Guangzhou, Xi'an, Chengdu, Kunming, Nanjing, Hangzhou, Guilin, Harbin, etc. by flight in 2-4 hours.>>Flights to/from Tianjin
Tianjin China Map
Tianjin in Jing-Jin-Ji Region Map
Jing-Jin-Ji Region, also called Beijing-Tianjin-Hebei Urban Agglomeration, is the biggest urbanized megalopolis region in Northern China. Obviously, "Jin" in the name stands for Tianjin. This region is well-connected and taking a high speed train from Tianjin, you can basically get to other places in Jing-Jin-Ji within 1.5 hours. What's more, the region is available for the 144-hour transit visa free policy, which makes your tour and transfer more convenient.
Tianjin in Jing-Jin-Ji Region Map
How to Plan a Tianjin Tour
It usually needs one or two days to cover the highlights of Tianjin such as North Jiefang Road Financial Street (the "Wall Street in the East"), Five Great Avenues (Wudadao Area), Jingyuan Garden (the former residence of the Last Emperor of Qing Dynasty - Puyi), Porcelain House (China House), Shi Family Courtyard (large and well-kept civil residence with unique features of Qing Dynasty in north China), and Tianjin Ancient Culture Street (popular business street for shopping and food hunting). If you are a hiking lover, you can add another day to the ancient and steep Huangyaguan Section of the Great Wall. As Tianjin is a transportation hub, you can also make some extending trips to Beijing, Xi'an, Harbin, etc.
If you have other ideas or questions about a Tianjin tour, please feel free to contact us. We are also specialized in tailor-made tours that fit you best according to your own interests, requirement, traveling time, etc.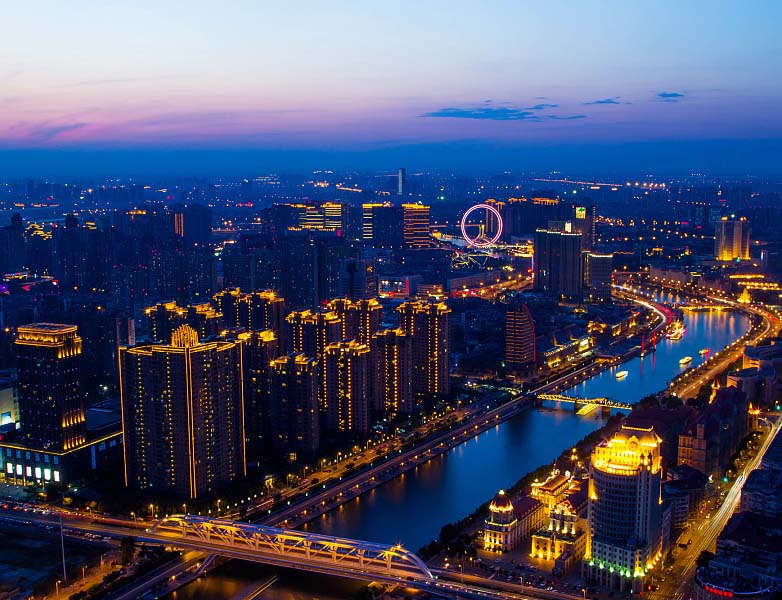 Tianjin City Night Scene
Recommended Tours Covering Tianjin:
>>2 Days Tianjin Highlights Tour
>>3 Days Beijing Round Trip Highlights Tour from Tianjin Cruise Port
>>4 Days Xian Terracotta Warrior Tour from Tianjin Cruise Port
Recommended Tianjin Tours
Top 3 Tianjin tours chosen by most customers to explore Tianjin in the best way. Check the detailed itinerary,or tailor your own trip now with us.
2 Days Tianjin Highlights Tour

Tianjin
3 Days Beijing Round Trip Highlights Tour from Tianjin Cruise Port

Tianjin International Cruise Port - Beijing - Tianjin City - Tianjin International Cruise Port