Hailuogou Weather: Climate & Best Time to Visit
Hailuogou is national level natural reserves in Moxi Town at southwest Luding County, Garze, Sichuan Province, at the east hillside of Mount Gongga - the highest among the mountains in Sichuan, and it is very popular to enjoy Mt. Gongga, glacier scene, virgin forest and spring resort. Covering is 30.7km long, covering an area of 220 square kilometers. Hailuogou belongs to the moderate and continental climate.
The altitude range from 1600m of Moxi Town to 3600m of No.4 Camp. The annual average temperature in Hailuogou Glacier Park is 19°C. The highest average temperature in Hailuogou Glacier Park is 29°C in Auguest and the lowest is 7°C in January. There is about 510mm rainfall in a year. Rainfall precipitation has a visibly rise in July, monthly rainfall reach the highest of the year to 149mm, precipitation in August and September are also high, with 111mm and 77mm separately. It is dry for 202 days a year with an average humidity of 62% and an UV-index of 4.
Best Time to Visit Hailuogou Glacier Park
Most tourists are attracted by the beautiful scenery of the snow-capped mountains in Hailuogou Glacier Park, therefore the best time to travel in Hailuogou Glacier Park is in winter, from November to next year April. After snow, the weather is clear up and the air is clean, you can see the pure-white glacier in the distance clearly. Winter is also a good time to have a rest at natural formed hot springs in Hailuogou Glacier Park.
Autumn is also a nice time to visit Hailuogou Glacier Park, temperature in autumn is warmer than winter. The sky is clear, the glaciers that are melted in the summer are slowly reemerge as temperatures drop. Leaves in the virgin forest turn its' color into golden and fired-red, like floating the boat, swaying, waving, spinning in the air and fell to the ground, makes the scenery in the virgin forest become more fascinating than other seasons.
Average Sichuan Temperature by Month
| Month | Recommended Rate | Max Temp. | Min Temp. |
| --- | --- | --- | --- |
| Jan. | | °C | °C |
| Feb. | | °C | °C |
| Mar. | | °C | °C |
| Apr. | | °C | °C |
| May. | | °C | °C |
| Jun. | | °C | °C |
| Jul. | | °C | °C |
| Aug. | | °C | °C |
| Sep. | | °C | °C |
| Oct. | | °C | °C |
| Nov. | | °C | °C |
| Dec. | | °C | °C |
Sichuan Seasons to Go
Seasons in Hailuogou Glacier Park can be divided into four parts. From November to next year April is winter in Hailuogou and also the best time to visit. Because most tourists travel to Hailuogou Glacier Park is to see the glaciers and enjoy the leisure break in famous hot springs there. From middle April to middle June, you can admire the lovely azalea blossom. From July to September is the rainy season in Hailuogou, the road from Chengdu to Hailuogou is in poor conditions, so we don't suggest tourists head to Hailuogou during rainy season. After the rainy season, Hailuogou reach its' short autumn. October and early November are best time to enjoy the autumn scenery there, you can hike to primitive forest or Red Rock Shoal to appreciate the rarest treasures of Hailuogo Glacier Park.
From November to April - Top recommended with the best winter experiences

The two highlights in Hailuogou Glacier Park are the glaciers and the hot springs which are both suitable to experience during winter. In this season, abundant snow and quite a few sunny days allow tourists to see the most complete glacier and snow peaks in Hailuogou Glacier Park. The glacier at No.1 Camp in Glacier Park is the greatest in the east hillside of Mt. Gongga. And it's also the greatest one in Asia for its lowest altitude in the same latitude. After chilly daytime hiking in Hailuogou Glacier Park, you can enjoy a relaxing time at some hot springs in No.2 Camp with the surrounding primitive trees and flower decorated in silver, feel the nice distinct experience of "warm and cold". What a luxury!
Winter's weather in Hailuogou Glacier Park is chilly, with an average temperature around 9°C , and when it comes to the coldest time during January and February, the temperature would be lower than 0°C. The precipitation in winter is the lowest in four seasons, so there will be more fun weather during daytime. The highest temperature can reach 20°C in noon of April. Average monthly precipitation from November to April is around 8mm.
Seasonal Sceneries and Activities: Admire the magnificent glaciers, embrace the beautiful snow scenery, enjoy a relaxing time at hot springs, feel the stunning view of Golden Snow Mountain
What to Wear
Since the temperature in Hailuogou Glacier Park is much lower than that in Chengdu all the year round, it is advised that tourists take warm clothes with you, in particular for those who want to pay a visit to campsites at high altitude. Thermal underwear, sweater, down jacket, gloves and scarves are recommended for a Hailuogou winter trip. For those who love hiking, alpenstock and skid proof shoes are necessary. In addition, wear a pair of sunglasses to protect your eyes from the sunshine reflected by the snow.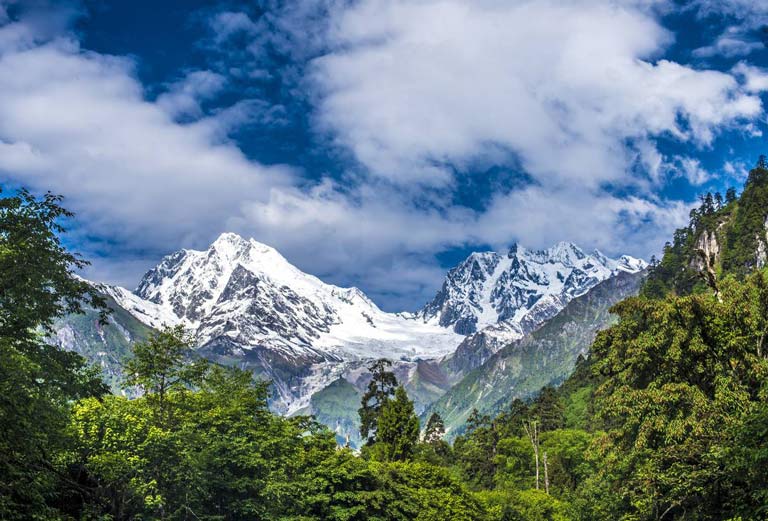 Hailuogou Glacier Park in Winter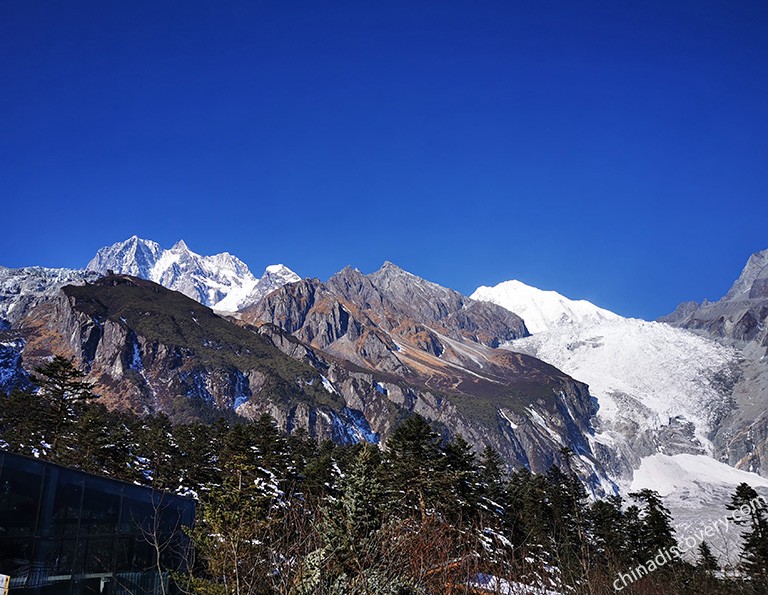 Hailuogou Glacier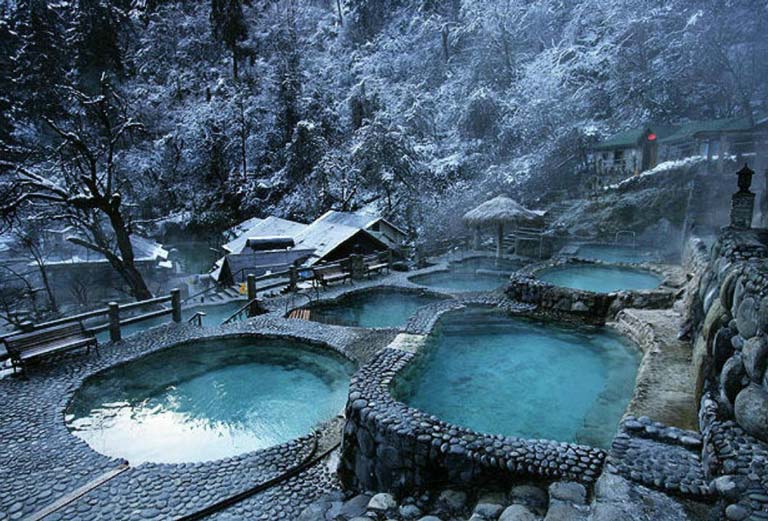 Hot spring in Hailuogou
October to November - Enjoy the colorful autumn in Hailuogou Glacier Park

The cool breeze, crisp air, golden autumn sky and the wonderful sunshine is what makes autumn the perfect time for taking a hike outdoors, enjoying every inch of nature changing its color, so people, old and young, love to go sightseeing during these months. Average temperature in autumn is warmer than winter but cooler than summer, snow mountains which are melted in summer are put on pure white new clothes again. Magnificent Glaciers reappear, making your trip to Hailuogou worthwhile. Hiking through the primeval forest which is ablaze with golden, fiery-red, deep green colors, and reach the Red Rock Shoal, one of the rarest treasures to Hailuogo Glacier Park. The large spread of red looks are quite eye-catching against the blue sky and white snow mountains.
Autumn sees less precipitation than summer in Hailuogou Glacier Park, with 24mm and 9mm in October and November separately. Average temperature in October and November are 16°C and 10°C separately.
Seasonal Sceneries and Activities: Hike through the chromatic Primitive Forest, enjoy the splendid scenery of Red Rocks and Sea of Clouds, admire the magnificent glaciers
What to Wear
The climate in plateau mountain area is quite diverse, temperature shows great difference between day and night. You should wear sweater and thick coat to keep out the cold. Sunblock, sunglasses and hats are also necessary for UV protection.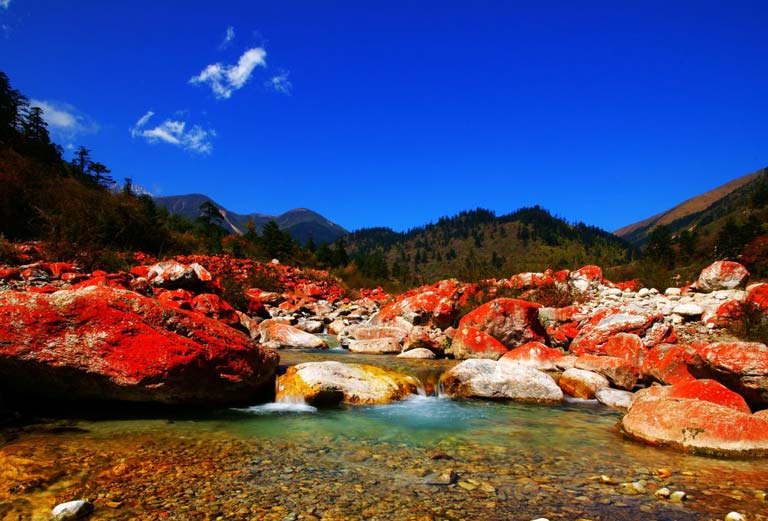 Red Rock Shoal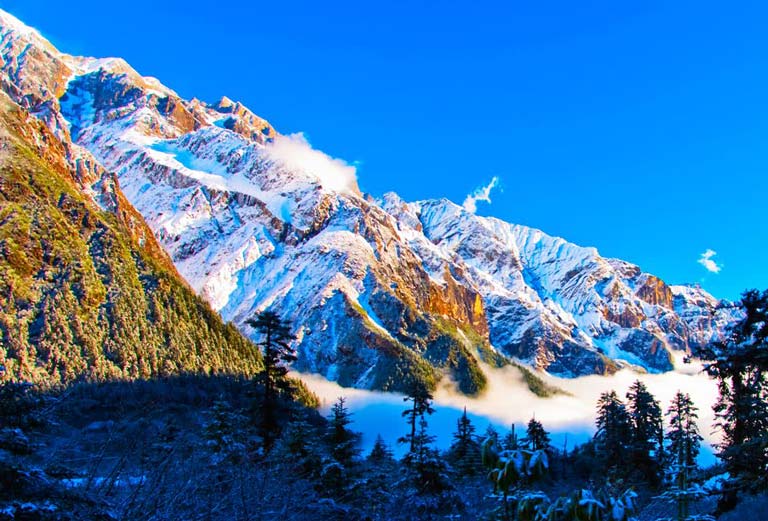 Hailuogou Glacier Park in Autumn
Mid April to Mid June - Admire the lovely azalea blossom

From April to June the temperature starts to rise and so does the precipitation. Visiting Hailuogou Glacier Park during this time, you can leave winter season behind and looking forward to prosperous and blossoming spring. Everything comes to life, lovely azalea blossom and showing the beautiful color, drizzle falls to the land whispering the coming of spring. Spring is also a good time to enjoy the famous scenery of "Golden Snow Mountain (日照金山)". With the brilliant floating multicoloured clouds, makes the snow peak looks extremely elegant.
The average temperature from May to June is about 22°C. The precipitation started to rise from 48mm in May to 54mm in June.
Seasonal Sceneries and Activities: Admire the lovely azalea blossom, feel the stunning view of Golden Snow Mountain
What to Wear
T-shirts and a pair of pants, or a beautiful dress for girls during daytime and wear a long sleeves or light coats at night. If you are planing a hiking tour to higher altitude area, you are suggested to wear anorak to defend the cold. Furthermore, the precipitation starts to rise in spring, so waterproof hiking shoes, raincoat and umbrella are necessaries. Sunblock, sunglasses and hats are highly suggested for UV protection.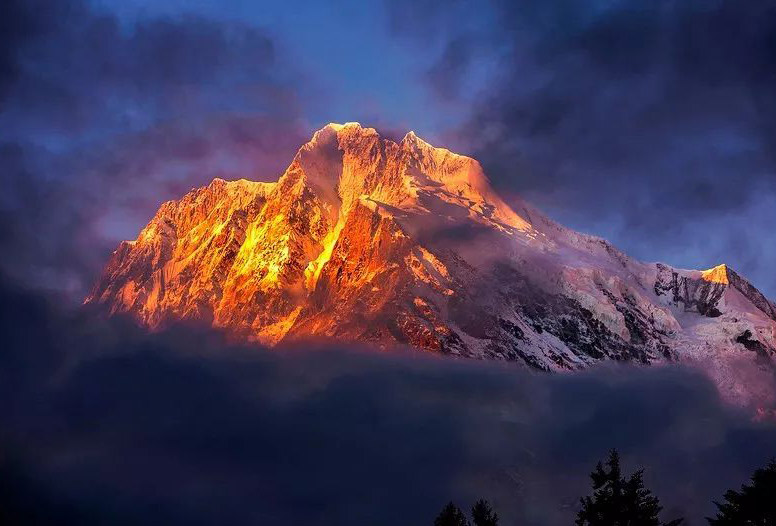 Golden Snow Mountain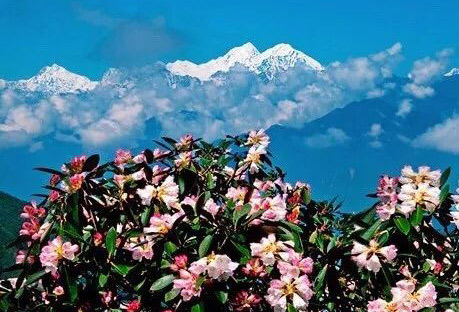 Lovely Azalea Blossom
July to September - Rainy season in Hailuogou Glacier Park

From July to September, temperature reaches to its' highest in a year. When the temperature rises in summer, part of the glacier would melt. And when the rainy season comes, there would be a risk of landslide and mud-rock flow on the mountain road. So it is not recommend visitors head to Hailuogou Glacier Park during summer.
Seasonal Sceneries and Activities: Escape from the heat of summer, hike through the primitive forest
What to Wear
Short sleeve and pants are recommended, dresses for girls during daytime are also good choice for taking pictures. You can also bring a thin coat with you to prevent sudden change of the weather.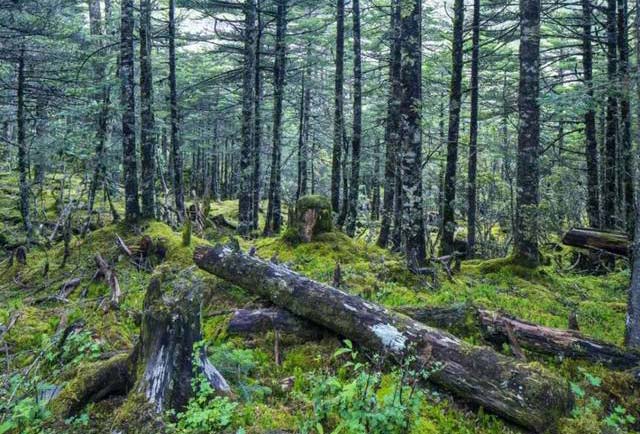 Primitive Forest
Hailuogou Glacier Park Attractions Altitude
Attractions
Altitude (m)
Moxi Town
1600
No.1 Camp
1940
No.2 Camp
2660
No.3 Camp
2980
No.4 Camp
3,600
How to Plan your Hailuogou Tour
Interested in appreciate Hailuogou Glacier Park? 1-2 days is most planned to visit the ice glacier, primitive forest, four camps, golden snow mountain view and more sightseeing in this scenic area! And visitors usually travel from Chengdu that is well linked by convenient flights and bullet trains and also is worldly popular to get close to the chubby giant pandas and leisure life style, which is worth to enjoy for 1-2 days.
Besides, for travelers who can bear long journey, see and explore along the way, it would be a nice idea to travel together with Luding, Mount Gongga, Kangding, Xinduqiao, Daocheng Yading, Danba, Mount Siguniang, etc. to have an in-depth admiration of the awesome Western Sichuan region. We China Discovery based in Chengdu, Sichuan is specialized in customizing trips to Hailuogou and various destinations in Sichuan and China, please contact us and let us customize a tour for you!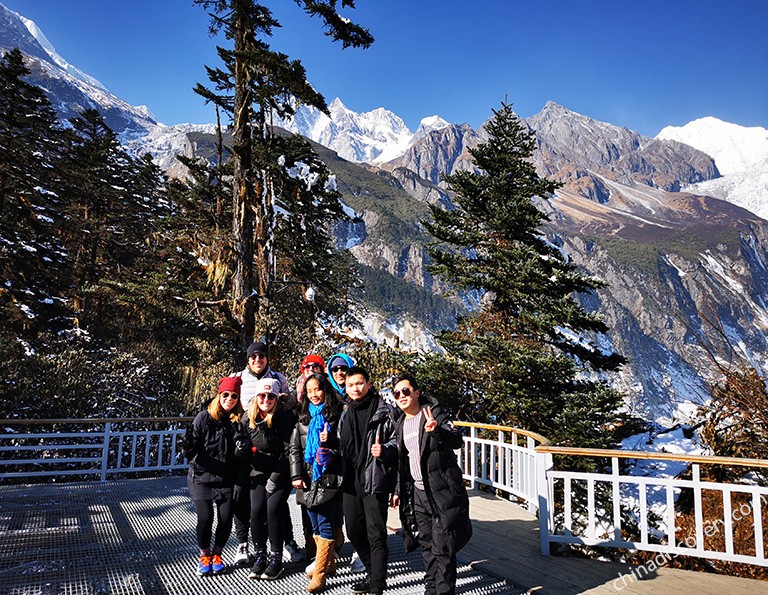 Hailuogou Glacier Park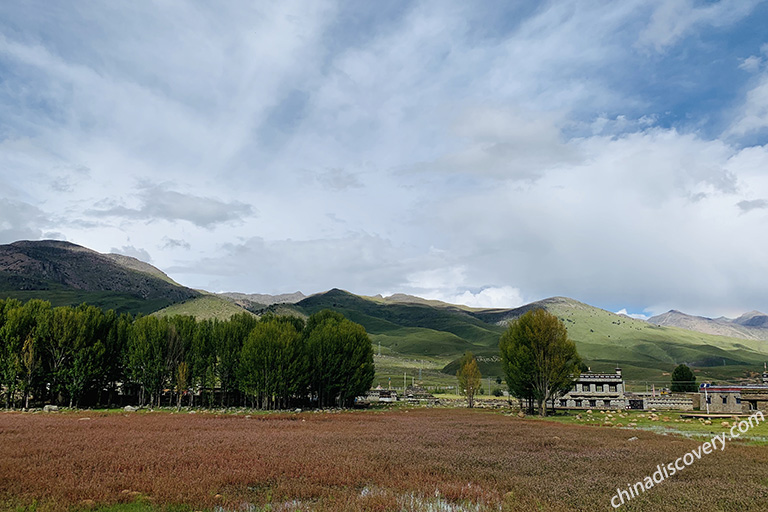 Daocheng Yading Nature Reserve (Autumn)
Travel Hailuogou Glacier Park with China Discovery
Based in Chengdu, we China Discovery can provide you with the best travel experiences with reasonable price. Our experienced local drivers will escort you to Hailuogou from Chengdu directly and guarantee your safety along the trip.
No matter where you want to discover, our specialized travel expert will help you sincerely with your trip planning according to your group size, time, physical condition, plan, interest, budget and every special need. Our local guide and driver will escort you to Mount Siguniang from Chengdu directly with our comfortable licensed private vehicle in speed and safety, so you can focus all your attention on the highlights. Besides, our guide will tell you many beautiful stories about the attractions to enrich your wonderful trip for a lifetime memory! If you are interested, please feel free to contact us for help!
Average Temperature & Rainfall of Hailuogou Glacier Park

| | | | | | | | | | | | | |
| --- | --- | --- | --- | --- | --- | --- | --- | --- | --- | --- | --- | --- |
| Month | Jan | Feb | Mar | Apr | May | Jun | Jul | Aug | Sep | Oct | Nov | Dec |
| Temperature(°C) | 3.5 | 6.5 | 11.5 | 16.5 | 20 | 23 | 25 | 25 | 20 | 16 | 10 | 5 |
| Precipitation(mm) | 1 | 3 | 10 | 23 | 48 | 54 | 149 | 111 | 77 | 24 | 9 | 2 |
Keep Reading on Danba
Read More about Western Sichuan Small Tourist Loop
Other Useful Sichuan Travel Articles
Recommended Sichuan Tours
Top 3 Sichuan tours chosen by most customers to explore Sichuan in the best way. Check the detailed itinerary,or tailor your own trip now with us.
6 Days Leshan, Mount Emei & Panda Volunteer Tour

Chengdu / Leshan / Emei / Chengdu / Dujiangyan / Chengdu
7 Days Sichuan Discovery Tour

Chengdu / Leshan / Emei / Chengdu / Jiuzhaigou
5 Days Chengdu Jiuzhaigou Comfortable Tour

Chengdu / Huanglong / Jiuzhaigou