Jiaju Tibetan Village - Best Example to Experience Jiarong Tibetan Culture
Jiaju Tibetan Village, about 8 kilometers northwest of Danba County, was rated as "the Most Beautiful Village in China" by Chinese National Geographic in 2005. In Danba County, there are over 180 Tibetan villages, while Jiaju Tibetan Village is the best example and most concentrated place to present Jiarong Tibetan culture. "Jiaju" in the local Tibetan language means a hundred and describes the number of families living in this village. The stone buildings and stone towers painted in white and covered in colored symbols stand out on the green mountains and among fields. In the most beautiful seasons of spring and autumn, Jiaju Tibetan Village becomes a fairy tale village decorated by beautiful blossom flowers and tall trees with colorful leaves. Overlooking this expansive village at high platforms, you can capture all the scene in front of your eyes - Tibetan-style houses built level by level on the mountains, from the river to the peak. Most importantly, you won't miss the chance to experience the different and interesting Jiarong Tibetan culture in the most relaxing way.
Most Recommended Tours with Danba:
>> 6 Days Western Sichuan Autumn Sightseeing Tour
>> 8 Days Sichuan Spring Tour with Flowers Appreciation
What to See & Do in Jiaju Tibetan Village
Tibetan-style Stone Houses Stretching from Dajin River to the Peak
Jiaju Tibetan Village, with an area of 5 sq.km, has over 140 household living in this characteristic village at present. It is the group of Jiarong Tibetans living on this amazing land, and they are different from Kangba Tibetans and Anduo Tibetans in other regions.
Jiarong Tibetans settled in the valleys and mountains and built stone houses to prevent the chilliness and heat and animal attack. The houses in red and white have at least three-storey and many have five or six storey. On the top of the roof, colorful prayer flags are waving in the wind. White curtains can be found at eave, doors and windows. The Tibetan houses rise from Dajin Valley and settled level by level to the foot of Kapama Mountain. On the green mountains, you can see some of houses concentrated together, some are scattered, some are among the farmlands, even some are hanging on the cliff...all are built in harmony with nature. When clouds and mists covered, the whole land is like the fairy tale world. Jiaju Tibetan Village tells us a truth - human should learn to live in harmony with nature and protect it.
Ancient Watchtowers - Cultural Landmark of Jiarong Tibetans
Danba is called "A Place with Hundreds of Ancient Watchtowers" with over 3000 towers at present. The number of towers in Jiaju can be compared with Suopo Village which has the largest number of ancient watchtowers in the world. But many towers can be found in Jiaju. There are four kinds of towers - gate tower, beacon tower, communal tower and residential tower, which are mostly in quadrilateral, pentagonal, and hexagonal. The towers are made by stone. Some of them were used to pass signal, and some for family protection. Some are separately standing on the top of the mountains or at the bottom of the valley, some are close together in the middle of the mountain...Now, all the towers in Jiaju is the witness of history, the cultural landmark of Jiarong Tibetans. If you are interested in close observation, you can pay a visit to get inside. But it is not easy to climb up the tower for the wooden stairs are narrow and steep.
Pay a Visit to Local Jiarong Tibetan's Home
When entering Jiaju Tibetan Village, you can see many locals dressed in traditional Jiarong Tibetan costumes - most of them are smiling to you with friendliness. Almost none of them can understand English. If you want to pay a visit to their home, you'd better follow your guide to do so. A very little amount of charge is needed. Almost every house is composed of a yard, cow or sheep enclosure, kitchen, fireplace on the ground floor, guest living rooms on the second floor, master living room on the third floor, sutra chanting hall on the top. All the roof can be visited which is used for storage of food. The white stones are placed in the quadrangle of the roof for prayer. Having the close look at the inside of the houses, you can have a basic understanding of the real life of Jiarong Tibetans. Besides, you can learn more from the locals to know their belief, festivals, and customs. How interesting it is.
Capture Panoramic & Idyllic View of the Whole Village
Don't miss the chance to stand at a high point to capture the panoramic view of the whole Jiaju Tibetan Village. There are platforms, named No.1 Observation Deck, No.2 Observation Deck, and No.3 Observation Deck which are the best places to enjoy the panorama.
Photography Tips:
If you would like take some awesome photos, you'd better get to Jiaju Village in the morning around 08:00~09:30 when the sun is going to rise. It is suggested to reach the top of the platform No.3 and shoot your pictures and then move to the lower platform for more. Walk among the farmlands and take many photos of the exquisite Tibetan-styled houses with beautiful decorations.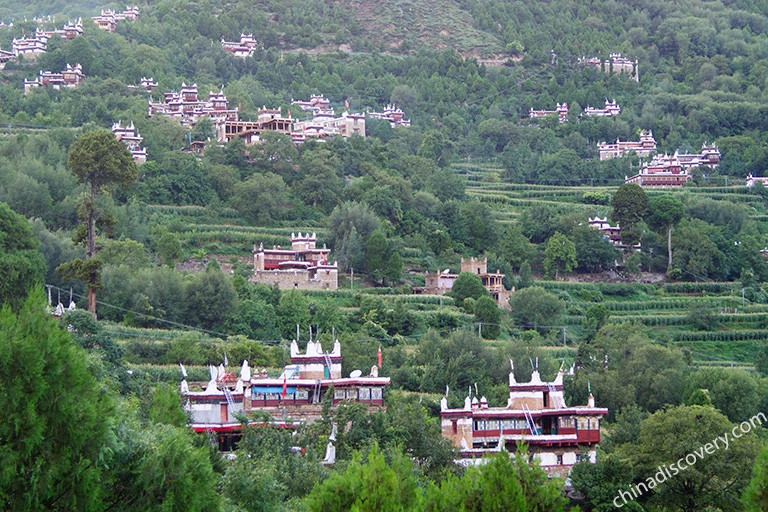 Jiaju Tibetan Village Setted on Green Mountains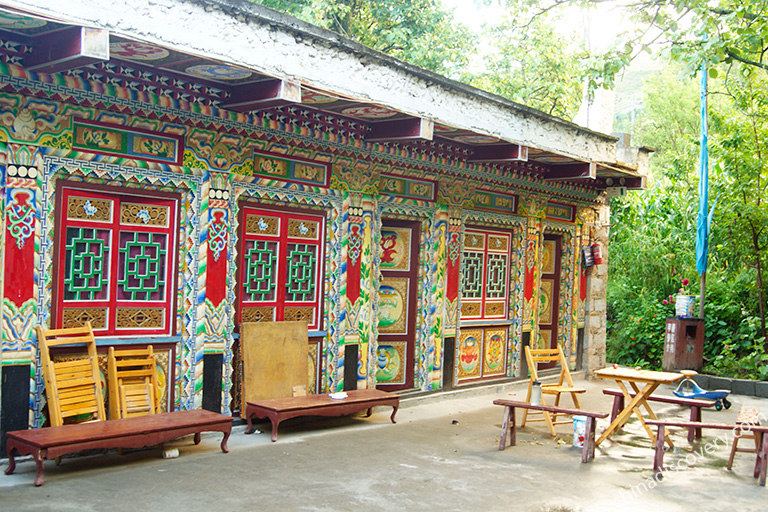 Jiaju Tibetan Village Ancient Watchtowers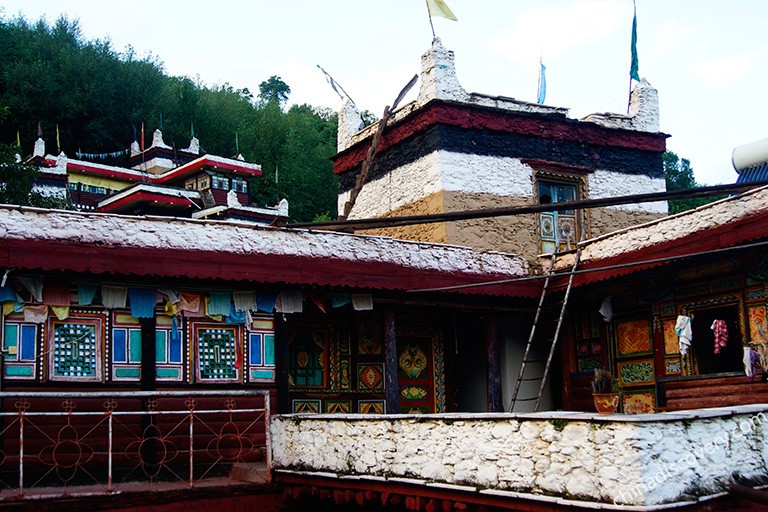 Tibetan-styled House in Jiaju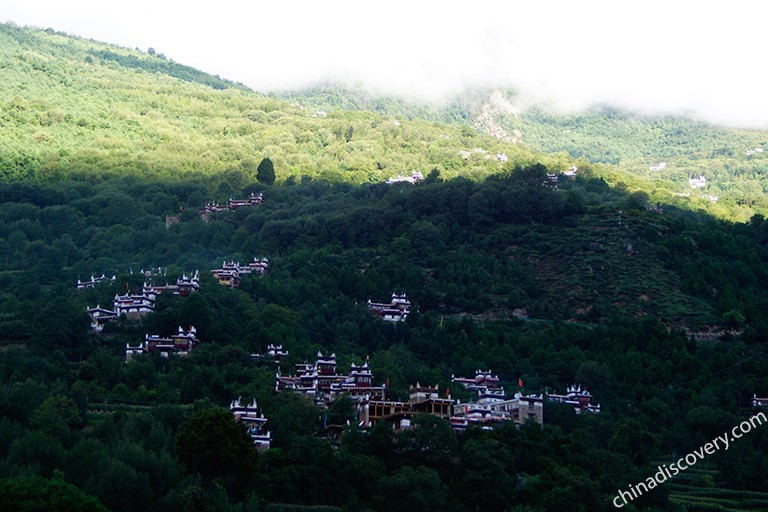 Jiaju Tibetan Village Panorama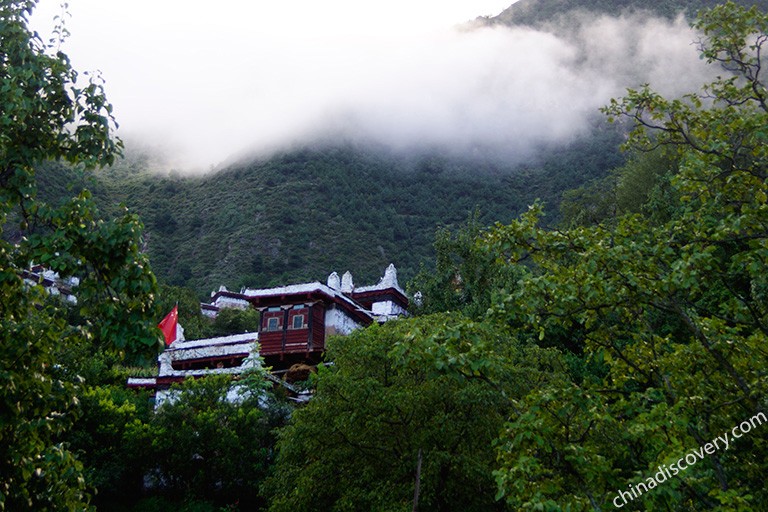 Jiaju Tibetan Village, a Beautiful Village in Sichuan, China
How to Visit Jiaju Tibetan Village
Jiaju Tibetan Village is large which cannot be visited by walking. When entering at the gate of the village, it doesn't mean you enter into a scenic spot like Chengdu Panda Base or similar. There are a long distance from the village door to No.1 Observation Deck. It is a good idea to go with a private car to explore the village. You can visit like this: village gate - No.1 Observation Deck - No.2 Observation Deck - No.3 Observation Deck. Along the way, you can stop and hike some part of the route to visit the local houses. The whole visiting may takes about 3 hours.
Best Time to Visit Jiaju Tibetan Village
Jiaju Tibetan Village in Danba County can be visited all year round. Different season offers different beauty. The most recommended time to visit Jiaju is in spring and autumn. When spring comes, the average temperature turns to 4-11 ℃. With temperature rises bit by bit, everything here is going to come back to life. It is going to be the truly fairyland, pear blossom all of the mountain, beautiful and idyllic, rising from the valley to the peak. The red and white Tibetan houses are scattered among the mountains and flowers, forming a traditional Chinese painting and you'll get awed at the scene once you just have a look. When autumn comes, the average temperature is around 5-18 ℃. From September to November, the weather here is extremely cool. The whole world of Jiaju Tibetan Village is going to put a colorful dress which is different from the scene in spring. At this time, it turns from an elegant maiden to a charming lady. Leaves are going to change to golden, decorated with green trees, the red and white Tibetan houses are situated among the golden and green ones, erecting watchtowers stand out...It is very beautiful in autumn.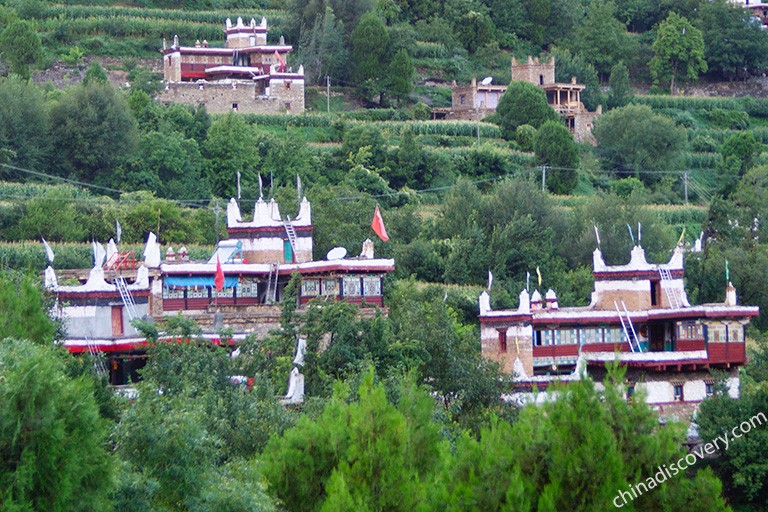 Beautiful Autumn Scene of Jiaju Tibetan Village
Tickets & Opening Hours
● Tickets: 50 Yuan/person is needed when visiting Jiaju Tibetan Village.
● Opening Hours: 24 Hours. Since there are many hostels within this village, it opens all day and night for the entry.
How to Get to Jiaju Tibetan Village from Chengdu?
Jiaju Village is located in north of Danba County. Travelers who want to visit Jiaju should first get to Danba County first and then transfer to Jiaju Village.
Chengdu to Danba County:
Most travelers come from Chengdu to Danba by driving. The distance between Chengdu and Danba County is about 315 kilometers. If you go directly to Danba from Chengdu, you can go with China Discovery with our comfortable licensed private cars (7 hours' driving) or go by long distance bus. Usually, there are about 2 buses in the morning running from Chengdu Chadianzi Bus Station to Danba Bus Station, taking about 9 hours in total.
Click to Enlarge Chengdu to Danba Map
Danba County to Jiaju Tibetan Village:
No bus or taxi is available from Danba County to Jiaju Tibetan Village. You can take the mini coach without fixed schedules from the county to Jiaju. It is hard to find the mini coach back from the Danba County.
If you need help or service to handle the transportation in Danba, please feel free to let us know and we' re here glad to help!
Other Highly Recommended Danba Tibetan Villages
Zhonglu Tibetan Village (中路藏寨)
About 14 kilometers away from Jiaju Tibetan Village is another famous Tibetan Village, called Zhonglu which means a place looking forwards to in Tibetan language. With an altitude of 2100 meters, Zhonglu Tibetan Village is quieter than Jiaju Village, isolated settled in the northeast of Danba County. It was selected as one of the "Top 100 Photography Places in Sichuan" by Chinese National Geographic. Zhonglu Tibetan Village is the perfect blending of Dadu River and high mountains and deep gorges. Reaching the middle part of the village, you can have a far look at the holy mountain - Muoerduo Mountain. Besides, there are 88 living ancient watchtowers erecting in this village that you can either have a close exploration or enjoy a distance appearance looking. It also proves that Danba is the incredible place with hundreds of ancient watchtowers. Local mini coach can take you there, taking about 20 minutes from Danba County.
Suopo Tibetan Village (梭坡古碉群)
Suopo Tibetan Village is also the typical village with over 100 ancient watchtowers. It is about 14 kilometers from Jiaju Tibetan Village and about 6 kilometers from Danba County. Suopo Tibetan Village is regarded as the most concentrated village with watchtowers in the world. Among the 100 towers, there is the only quinquangular tower in the world. Besides the unique quinquangular tower, there are other different shapes of the towers in quadrilateral, pentagonal, and hexagonal. A lot of legends also surround those towers - they were believed to protect people from demons. They are a beautiful symbol of the Jiarong Tibetan architecture. Local mini coach is available from Danba County to Suopo Village, taking about 15-20 minutes.
Zhonglu Tibetan Village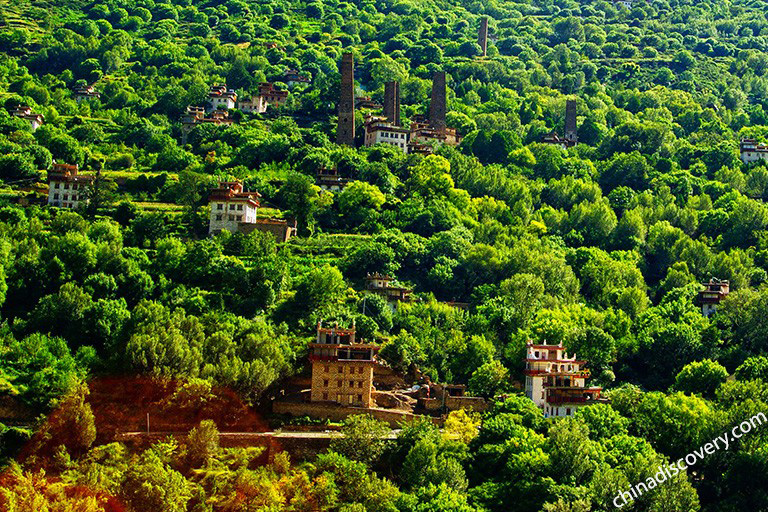 Suopo Village
How to Plan a Danba Tour in Sichuan?
Danba is a small county in Garze, Sichuan and this destination itself needs 1 to 2 days for exploration. All of the must-sees and must-dos will cover during the short break. Travelers can visit Jiaju Tibetan Village, Zhonglu Tibetan Village and Suopo Tibetan Village to enjoy the countless and different style of ancient watchtowers and experience Jiarong Tibetan culture there.
Actually, for the far distance between Chengdu and Danba, and there are some stunning destinations along the way that most travelers would like to put Danba into their long itinerary in Sichuan, together with Mount Siguniang, Wolong Panda Base, Hailuogou Glacier Park, Xinduqiao, Kangding, Leshan Giant Buddha, Mount Emei, etc. The travel length usually lasts for 6 to 10 days. If you prefer to go like this, please tell us your idea and we can customize the tour for you.
>> 7 Days Western Sichuan Small Loop Tour
Travel Danba with China Discovery
China Discovery is the local travel agency headquartered in Chengdu, Sichuan Province. We have been specialized in offering Chengdu tours, Panda tours, Jiuzhai Valley tours, Leshan Giant Buddha and Mount Emei tours, Mount Siguniang tours, Danba tours, Daocheng Yading tours and other interesting tours.
No matter you want to travel Danba from Chengdu simply, or cover Danba Tibetan Villages with other destinations in Sichuan and China, China Discovery can provide you best tour guides and experienced friendly drivers with comfortable private cars. Our English-speaking tour guide will accompany you all the way, showing you the best traveling route and telling beautiful stories of the mysterious Sichuan. 
Cute Giant Pandas in Chengdu
The tour can be tailor-made according to your group size, time, physical condition, plan, interest, budget and other special need. Please feel free to contact us if you need any help or customize the tour with free quotation!
Keep Reading on Danba
Read More about Western Sichuan Small Tourist Loop
Other Useful Sichuan Travel Articles
Recommended Tours
Top 3 tours chosen by most customers to explore in the best way. Check the detailed itinerary, or tailor your own trip now with us.
7 Days Western Sichuan Small Loop Tour

Chengdu / Dujiangyan / Mount Siguniang / Danba / Tagong / Xinduqiao / Hailuogou / Chengdu
6 Days Western Sichuan Autumn Sightseeing Tour

Chengdu / Wolong / Mount Siguniang / Danba / Tagong / Xinduqiao / Kangding / Chengdu
8 Days Sichuan Spring Tour with Flowers Appreciation

Chengdu / Siguniangshan / Jinchuan / Danba / Tagong / Xinduqiao / Leshan / Chengdu
Start planning your tailor-made holiday to China by contacting one of our specialists. Once inquired, you'll get a response within 0.5~23.5 hours.
Customize a Trip
Have a question? Get answers from our travel experts or guests
Your Question:

Your Name:

Your Email: