Jinchuan County (Sichuan) Brief Introduction
Jinchuan is located on the eastern edge of the Qinghai-Tibet Plateau. It is an important passage that to connect Aba Tibetan Autonomous Prefecture and Ganzi Tibetan Autonomous Prefecture, and it is also one of the channels for getting into Qinghai province from Sichuan Province. It is 487 kilometers away from Chengdu of the provincial capital. It's a beautiful place with not only natural landscape but also humanistic landscape, which is definitely worthwhile to go.
Jinchuan County has a moderate climate and abundant products, known as the first county of Aba Prefecture for its rich Hydro-power,and the hometown of "snow-pear". It has rich natural and cultural attractions. Pear flowers blossom is the view you cannot miss. Every spring from March to April, pear blossoms that to make the entire county becoming a "Flower Ocean", in autumn, the pear tree leaves rendering the county into a astonishing "fire sea".
Other attractions worth to visit are including Guangfa Temple which is the one of the four Royal Temples of Qing Dynasty. Guanyinqiao Scenic Area - a national 4A level scenic spot and with one of three major Bodhisattva Dojos - Guanyin Temple in this area.
Best Jinchuan Tour:
>> 8 Days Sichuan Spring Tour with Flowers Appreciation
Top 3 Things to Do in Jinchuan County, Sichuan
Seasonal Beauty of Snow Pear in Jinchuan - Top recommended and Must See
Three Unique beauty of Snow Pear - stunning your Spring
Pear flowers, azure sky, fluffy clouds, wheat fields, crystal rivers, colorful houses and styled watchtowers together painted Jinchuan into a isolated idyllic world. Three unique beauty of pear flowers will flourish your entire spring. Top Beauty, snowflakes on the top of the snow mountains compete its beauty with pear flowers. March is the month of conjunction of winter and spring, the discernable snow covered the mountain top, and the foot of the mountain has already surrounded by prodigious snow pear flowers. The second beauty, enjoy mountain flowers in full bloom. Every spring peach, pear, rape flowers bloom on both hillside of the road in Jinchuan, forms the most beautiful scenery in Aba plateau. There are quite a number of tourists rushes to Jinchuan to admire the mountain, the valley, even alongside the river is covered by the snowy pear petals, the spring wind fans them lightly, bringing a fragrance of flowers. The third beauty, fairyland in the haze of smoke. With the smoke curls up from the chimney, a mist drifts under the pear garden, turns Jinchuan Valley into a fairyland on earth. Fully show the magnificence and morbidezza of this "Snowy Jiangnan".
Best Places to See Snow Pear Blossom Scene:
The famous place to enjoy the blossom of snow pear flowers in Jinchuan County is Shenxianbao Viewing Platform (神仙包观景台). From here you can not only enjoy the beautiful flower sea but also overlook the town which is located at the foot of the mountain, and take a panoramic photos of the sunset glow in the fairyland. Besides, Pear Garden in Jinchuan (金川世外梨园景区), Ge'erxiang (咯尔乡), Sha'erxiang (沙耳乡), Jinjiangcun Viewing Platform (金江村观景台), Dapingcun (大坪村), Danzhamucun (丹扎木村), Shangengzicun (山梗子村) are all good place to see the flowers.
Fiery-red Leaves Burning the Valley in Autumn
Jinchuan changed into fiery-red outfits in October and November, the mountain is fully covered by red pear leaves, paint the county with sunset glow red. Climb to a high place, seeing the mist flowing upon the red leaves valley. Under the shinning of the sun, the red leaves becomes even more beautiful, makes the scenery of plateau and countryside all bend into one harmonious whole. The scenery is fully embodies the magnificence beauty of the natural landscape.
Jinchuan Snow Pear
Flower Blossom
Jinchuan Autumn
Royal Temple of Qing Dynasty - Tenpel Gonpa - for History and Religious Lover
Guangfa Temple (广法寺), also known as Tenpel Gonpa, is located at south of Jinchuan County and was listed as one of the four imperial temples in Qing dynasty. The temple is about 28km from Jinchuan county. Former name of the temple is YongzhongLading Temple (雍仲拉顶寺), meaning morality, auspicious and eternity.
The YongzhongLading Temple was originally a Bon sect of Tibet religion teaching places, covering an area of hundreds miles, with thousands of meditation abodes, magnificent architectures and exquisite sculptures. YongzhongLading Temple faces southwest, the pure gold roof shines. There are four Tibetan Buddhist scriptures Towers in the front and rear. It used to house nearly 2000 monks.
After the second battle of jinchuan in 1776, the Qing Dynasty Army forced the temple to convert Bon sect to Gelug Pa, and changed the name of the temple from "YongzhongLading Temple" to "Guangfa Temple", its golden roof were among the most lavish across Tibetan plateau.
Unfortunately, Guangfa temple was destroyed in the Cultural Revolution. In 1986, the state allocated a special fund of more than 300,000 yuan to repair the main hall of Guangfa Temple. With the approval of the people's government of the county, the religious places were restored, and the temple was reclaimed by the Bon sect of Tibet religions again.
Guangfa Temple
Guangfa Temple
Guanyinqiao Scenic Area & Budhisattva Temple - a must go place for Buddhist
Guanyinqiao Scenic Area is a national 4A level scenic spot, one of the key scenic area in Jinchuan County, loved by tourists. The scenic area is praised as "the mysterious religious shrines" and "the Nordic landscape in mainland China". The scenic area is composed of 5 different kinds of landscapes which are Tibetan temples, alpine meadows, alpine lakes, alpine valleys and alpine colorful forest, with more than 36 main scenic spots. According to the attributes of landscapes, the scenic area can be subdivided into three different area, Religious Cultural Area, Alpine Meadow Area and Alpine Valley Area. Among three different area, Guanyinqiao Religious Culture Area is visited by most tourists.
Guanyinqiao Religious Cultural Area is seated at Holy Mountain Nale in Guanyinqiao Town, composed by 12 sites including the Guanyin Temple, Guanyin Square, Prayer Road, Pagoda, Longda Platform, Xiang Mountain, Mani Wall, Oudu Temple etc. This is also the well-known "one mountain with 12 views".
Among 12 sites in Guanyinqiao Religious Cultural Area, Guanyin Temple is the core attractions, Guanyin Bodhisattva in this temple is the one of three major Bodhisattva Dojos in China. It is named after the four-arms Guanyin in the temple which with history of more than 1300 years. According to the legend, the four-arms Guanyin is a naturally-formed Guanyin Bodhisattva which was discovered underground in the 7th century AD. Local people believes this is a naturally formed god, so they called it Tian-cheng Guanyin and built a temple to worship. Wondering around this place you can find there are a lot of pious believers kowtowing in front of the temple, Belief is an indispensable part of their life.
Guanyinqiao Scenic Area
Guanyin Temple
Best Time to Visit Jinchuan in Sichuan
One thing you should not miss in Jinchuan is enjoying the picturesque snow pear flower sea. Jinchuanis located in the north plateau of western Sichuan, the upstream of Dadu River. When the snow-covered plateau is still chilly in mid-March, Jinchuan, which is surrounded by Sichuan Big Mountain and Qionglai Mountain, has already showing a good picture of full spring. Mid-march to Mid- April is the best time to watch pear flowers in Jinchuan. The flower of pear blossom all over Jinchuan Valley at that time, together with mist in the morning before 7:00, makes the place a paradise on earth.
For visitors who are interested in the fiery-red scenery in autumn, you are suggested to visit Jinchuan in October and November, to feel the astonishing view as the poem said "Shuangye red flowers in February".
Flower Sea in March
How to Get to Jinchuan County
Chengdu to Jinchuan Map
Jinchuan County is located on the eastern edge of Qinghai-Tibet Plateau, about 487km from Chengdu. The county borders Xiaojin County in the east, Litang County in the west, Danba County in the south and Barkham County in the north. There is no train stations Jinchuan county, therefore tourists can get there by air or by bus. Check the chart to know more detail about the distance of major destinations to Jinchuan.
| | | |
| --- | --- | --- |
| Major Destinations | Distance (km) | Duration (h) |
| Chengdu | 487km | 6-8 hours |
| Xiaojin County | 155km | 4-5 hours |
| Danba | 95km | 2.5-3.5 hours |
| Litang County | 440km | 10-12 hours |
| Kangding | 240km | 6-8 hours |
| Kangding Airport | 285km | 7-9 hours |
| Sertar County | 290km | 7-9 hours |
Flights to Jinchuan County
Jinchuan county is located in the valley of Aba Tibetan Autonomous Prefecture, the closest airport is Kangding Airport. Recently, there are only two airlines in Kangding Airport - from Chengdu and Chongqing, operating by China East Airline and Sichuan Airline separately.
Kangding Airport is about 285km from Jinchuan county, after get off the plane it still takes about 7 to 9 hours to get to Jinchuan County by car.
Learn more about scheduled flights to Kangding Airport:
| | | | | |
| --- | --- | --- | --- | --- |
| Route | Type | Airline | Duration | Frequency |
| Chengdu Shuangliu Airport - Kanding Airport | Non-stop | China East Airline | 1 hour | everyday |
| Chongqing Jiangbei Airport - Kangding Airport | Non-stop | Sichuan Airline | 1 to 1.5 hours | three times a week |
(Note: The above information is only for reference, timetable might be changed according to the real situations.)
Driving to Jinchuan County from Chengdu
Despite there is one airport near Jinchuan County, most people would still choose Chengdu as their transit city to Jinchuan County for it will only take about 6 to 8 hours to get to Jinchuan county from Chengdu downtown by car. Chengdu is served as the most important transit place to west Sichuan area and its also the center of southwest China, have a very complicated transportation network to the rest important cities in China and the world. It 's very easy for tourist to get to Chengdu city.
Travelers can also take bus from Xinnanmen Bus Station (新南门汽车站) to Jinchuan County. The bus journey usually takes about 8-10 hours.
How to Plan Your Jinchuan Tour
Most tourists would get to Jinchuan from Chengdu and will plan a 3 days road tour. On the first day, you will pass Miyaluo (米亚罗) and Malcolm (马尔康) on your way to Guanyinqiao Town (观音桥镇), you can stop at Draxel Tusiguanzhai (卓克斯土司官寨) and Xisuo Vernacular Dwellings (西索民居) to experience the Tibetan folk customs, then continue your trip to Guanyin Temple. The second day is a Jinchuan "Snow-pear" tour day, immerse your day into a dream of the pure white flower sea. The third day is return trip, the scenery on the road is also astonishing, take a rest at Ganbao Tibetan Village (甘堡藏寨) and overlook snow mountains in a distance.
Some of the travelers may continue their tour to Danba, so if you have more days, you can also visit Jiaju Tibetan Village (甲居藏寨), which is being praised as the top beautiful rural ancient town in China in 2006, then get to Zhonglu Tibetan Village and Suopo Tibetan Village to enjoy the countless and different style of Ancient watchtowers and experience Jiarong Tibetan culture there.
Travel with China Discovery
Based in Chengdu, we China Discovery can provide you with the best travel experiences with reasonable price. Our experienced local drivers will escort you to Jinchuan from Chengdu or Kangding Airport directly and guarantee your safety along the trip.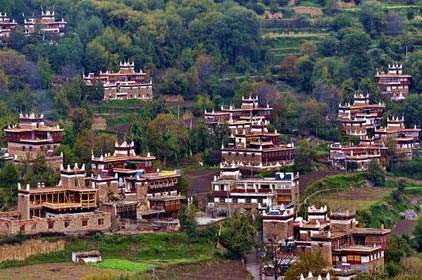 Jiaju Tibetan Village in Danba
Xisuo Dwellings
The tour can be tailor-made according to your group size, time, physical condition, plan, interest, budget and every special need. If you have any other ideas about the trip or you have other places or cities wanted to visit such as Yunnan, Shanghai, Beijing or Xian, our experienced travel consultants are very glad to offer their help. Please feel free to contact us!
Keep Reading on Aba
Read More about Western Sichuan Small Tourist Loop
Other Useful Sichuan Travel Articles
Recommended Sichuan Tours
Top 3 Sichuan tours chosen by most customers to explore Sichuan in the best way. Check the detailed itinerary, or tailor your own trip now with us.
4 Days Mount Siguniang Classic Hiking Tour

Chengdu / Dujiangyan / Siguniangshan / Chengdu
8 Day Diverse Sichuan Exploration Tour

Chengdu / Mount Siguniang / Danba / Tagong / Xinduqiao / Leshan / Emei / Chengdu
8 Days Sichuan Spring Tour with Flowers Appreciation

Chengdu / Siguniangshan / Jinchuan / Danba / Tagong / Xinduqiao / Leshan / Chengdu
Start planning your tailor-made holiday to China by contacting one of our specialists. Once inquired, you'll get a response within 0.5~23.5 hours.
Customize a Trip
Have a question? Get answers from our travel experts or guests
Your Question:

Your Name:

Your Email: