Bipenggou National Park - Shadow of Mount Siguniang
Bipenggou Valley, also known as Bipenggou National Park, is a natural reserve located in northern Sichuan, about 200km away from Chengdu. It enjoys a full length of 35km and a width of 4km. The main scenic area covers an occupation of 613 square meters and you get great fun in the park.
Because of its unique geographic position, Bipenggou Valley is blessed with typical alpine views, including virgin forest, plateau lakes, old glaciers, snow-capped mountains, tinkling streams and waterfalls as well as primitive meadows. People regard it as the beautiful shadow of Mount Siguniang. When autumn comes, the colored foliage in Bipenggou Valley is attracts thousands of travelers flock into. Apart from its scenery, there is a large range of different species of fauna and flora. With so many things to cherish, Bipeng Valley is honored as AAAA Scenic Area, National Eco-tourism Zone, the core region of Miyaluo Scenic Resort and the World Natural Heritage Sites as the sanctuary of Giant Pandas in Sichuan.
Best Attractions of Bipenggou Valley
There are many small attractions scattered in Bipenggou Valley and you can easily feast your eyes by its beautiful landscape.
Longwang Lake (龙王海 / White Dragon Waterfall, altitude: 2,950 meters) – It get its name from the local people who believed that Dragon King living under the lake. The road passing through the lake separates the lake into two. The larger one just like a huge mirror mounted on the spectacular gorge. Around Longwang Lake, you can see many other gorgeous lakes.
Bailong Waterfall (白龙瀑布 / White Dragon Waterfall, altitude: 3,671 meters) – With a width of 10 meters and a drop of about 100 meters, Bailong Waterfall is one of the largest waterfall in Bipeng Valley. It resembles a white dragon flying from the lake. Walking in to the feet of the waterfall, you can admire its magnificence in a close sight.
Panyang Lake (磐羊湖 / Argali Lake, altitude: 3,676 meters) – Panyang Lake is a beautiful lake with amazing surrounding scenery – primitive forest, azalea flowers, Minjiang River, odd-shaped rocks and amazing mountains.
Hongshi Beach (红石滩 / Red Stone Beach) – There are many red stones distributed in the area elevated between 3,000 ~ 4,500 meters. The stones are not red naturally but covered with red colored moss which can only survive at high altitude area. Hongshi Beach is the best place to enjoy a magnificent view of red stones of Bipenggou Valley.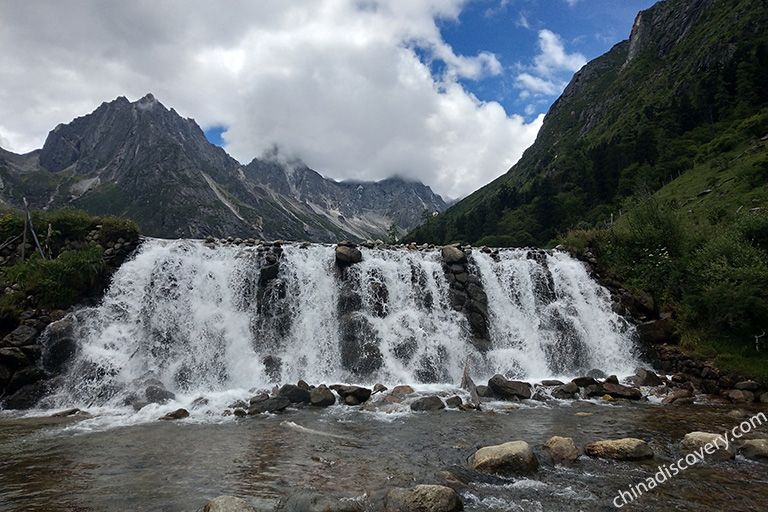 Magnificent View of Bailong Waterfall
Red Stone Beach
Things to Do in Bipenggou Valley
Entertain Yourself with Snow in Winter
It usually snows in Bipenggou Valley from late November to next March. When the snow is thick enough, Bipeng Valley become a natural ice and snow recreation ground. Apart from getting close to the pure snow land, you can also be immersed in the excitement of skiing sports. Bipenggou Ice and Snow Resort is located in front of Namuhu Hotel. It is well-quipped with skiing slopes for skier with different level, Ice and Snow Fairyland for kids, Snowmobile Zone as well as shopping center and rest room. For ski beginners, there are also instructors teaching how to ski. Different nice ski sets and other facilities for snow fun can be rented from the stores. So everybody is able to have a snow party in Bipenggou Valley.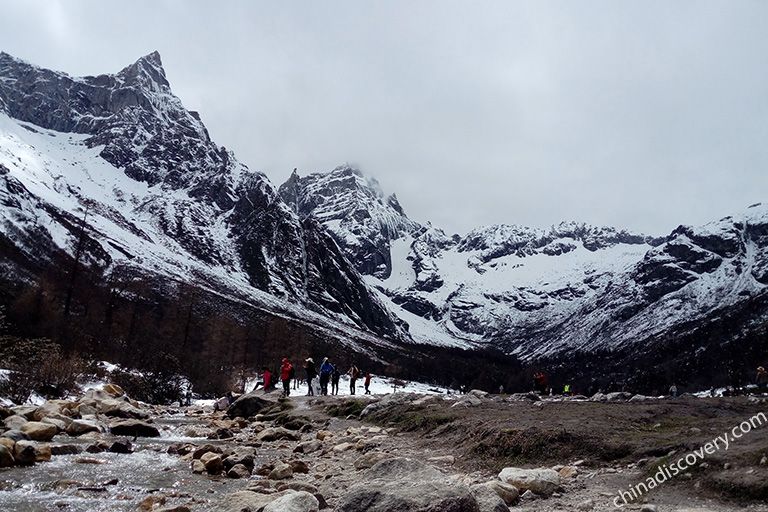 Travelers' Happy Time in Ice and Snow Resort
Enjoy a Hot Spring Experience
Hot spring is strongly recommended by locals because of they believe that spring represents pureness and holiness which could help people eliminate disease and misfortune. In fact, the spring contains a variety of minerals, including calcium and sodium bicarbonate which helps boost blood circulation and heal some skin problems. If you have any interest, to relax in the outdoor bubble hot spring. Especially during the snow period in the winter, taking incredible view of the snow-mountains and other snowscape while immersing in the open-air hot spring brings a comfortable enjoyment. With limited time, you can also choose to have a feet bath in the hot spring after you hiking.
Enjoyable Hot Spring Experience in Winter
Experience Tibetan and Qiang People's Life and Culture
Bipenggou Valley is located in the area where Tibetan and Qing ethnic groups live, so you will get a chance to experience local Tibetan and Qiang People' life and culture. The annual Red Leaves Festival always takes place in middle October. Local people always celebrate this festival by a lot of religious and folk activities, like temple fair, hunting, Guozhuang dance, etc. You can see many local people in their traditional costume showing their happiness to every traveler. The melodious sound of Qing flute, the mellow alcohol and roasted sheep all show the charm of Tibetan and Qiang culture.
Before or after your Bipenggou Valley, you can are suggested to visit nearby quait villages (like Taoping Qiao Village and Ganbao Tibetan Village) where you are able to explore their traditional architectural feature.
Local People in Traditional Costumes
Take an Adventure of Climbing Banjifeng Peak
Banjifeng Peak (半脊峰), towering in the depths of Bipenggou Valley, is the first main peak developed for year-round alpine mountaineering from Bipeng Valley. The beautiful glacier crowning the 5,430 meters high Banjifeng Peak is luring a growing number of amateur mountaineers. In fact, it's also a perfect place for newbie climbers, in that it's not difficult to ascend for amateur climber with on-site training. There are four trails to the top, namely R1, R2,R3 and R4. It usually takes about 3 ~ 4 days to tackle Banjifeng Peak. During the trip, climbers can take stop in 3camps, including Base Camp (3,570 meters), Camp 1 (4,290 meters) and Camp 2 (4,625 meters).
Climbers Climbing Banfeng Peak
Hike across from Changping Valley to Bipeng Valley
For experienced hiking enthusiasts, it must give you once in a lifetime experience to hike from Changping Valley (长坪沟, in Mount Siguniang National Park) to Bipeng Valley. This hiking route is praised as One of China Top 10 Hiking Trails by Chinese National Geography. It is also an important branch of world-famous Ancient Tea House Road. Stretching from Lama Monastery of Changping Valley to Shanghai Tourist Center of Bipenggou Valley, this trekking trail is about 60km long. Climbing over the pass of an elevation of 4,700 meters is the most challenging part. The whole trekking route is about 60km long and it cost about 3 days to complete. It is physically demanding but visually rewarding to finish the hiking. The scenery of everlasting mountains see from the trekking road is unbelievably impressive.
>> 4 Days Mount Siguniang In-depth Tour with Wolong Panda Visiting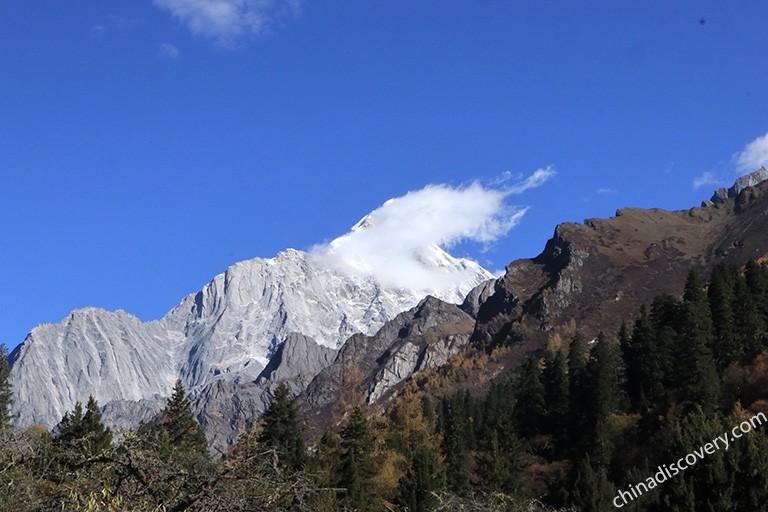 Beautiful Changping Valley
Beipenggou Valley Seasonal Landscape
Generally, it is available to travel Bipenggou Valley all the year around and it shows different landscape in different seasons.
Spring is the best time to see the beautiful flowers, especially in early march June, when various kinds of flowers are in full blossom. In summer, the Bipenggou Valley is a great place to avoid summer heat. The plentiful water replenishes the lakes and waterfalls make the waterscape more stunning. Undoubtedly, Bipenggou Valley becomes most beautiful in autumn. The whole hills and forests are covered with the multi-colored leaves, from golden yellows, sunburnt oranges to dark reds. It becomes photographers' paradise only after Jiuzhaigou Valley. In winter, visiting Bipeng Valley makes you wonder if you are in the real world of Forzen. The amazing snowscape combing with entertaining activities delivers you a great trip with endless fun.
Impressive Landscape of Bipenggou Valley
Bipenggou Location and Transportation
Bipenggou is located in Aba Tibetan and Qiang Autonomous Prefecture of northern Sichuan, nearby attractions including Mount Siguniang and three valleys.
200km away from Chengdu, about 4~5 hours' driving
22km away from Ganbao Tibetan Village, about 30 minutes' driving
50km away from Taoping Qiang Village, about 50 minutes' driving
How to Get to Bipeng Valley
The most popular way to reach Bipenggou Valley is by private car which ensures a comfortable transfer with freedom to stop for sightseeing. The whole driving journey takes about 4 ~ 5 hours usually.
If you travel independently, there is a daily long-distance bus running from Chengdu Xinnanmen Bus Station to Bipenggou Valley directly. It usually departs in the morning (around 8:40). It is also available take long-distance bus from Chadianzi Bus Station (茶店子车站) with 3 coaches to Li County first and then catch a scheduled bus to Bipeng Valley.
Click to Enlarge Chengdu to Bipenggou Driving Map
Inner Transportation in Bipenggou Valley
There are tourist bus and battery cart are available to help you short your hiking journey and save your energy.
Tourist Bus
Route: Tourist Service Center (at the gate) to Shanghaizi (in the middle valley)
Distance: 28km
Duration: about 40 minutes
Tickets: CNY 60/person for single trip
The tourist bus descending from Shanghaizi to Tourist Service Center will take stop in Longwang Lake and Hongshi Beach for several minutes so that travelers can enjoy the scenery and take some photos.
Battery Cart
Route: Shanghaizi – Panyang Lake – Yanziyanwo
Distance: 9.5km totally
Tickets: CNY 20/person for single trip from Shanghaizi to Panyang Lake or from Panyang Lake to Yanziyanwo; CNY 30/person for round trip from Shanghaizi to Panyang Lake or from Panyang Lake to Yanziyanwo
The battery cart runs in different route from the hiking trail. Hiking delivers you a better sight of Bipenggou Valley.
We suggest you take a tourist bus first and then hike up to appreciate the great scenery. Then you can decide to take a battery cart or tourist bus or not according to travel time and energy.
Battery Carts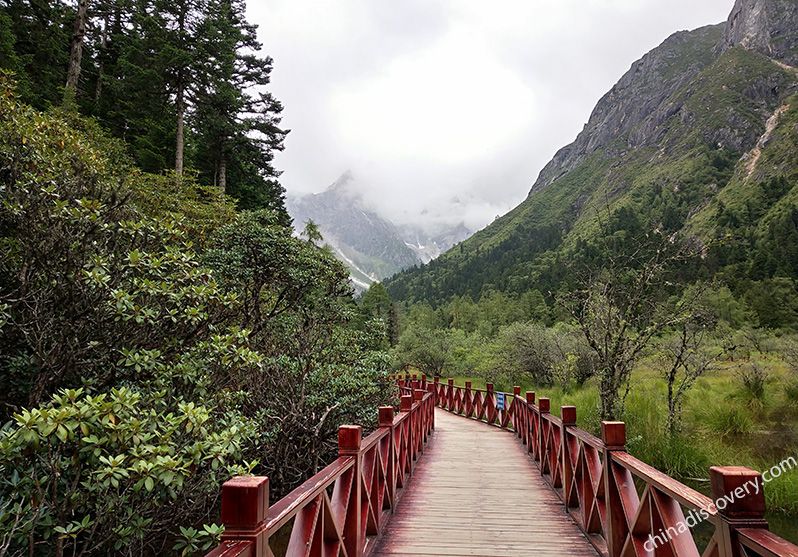 Footppath in Bipenggou Valley
Bipenggou Valley Accommodations
There are few five star or four star luxuries hotels at present, but you can still find some hotels offering a nice stay easily. For travelers to Bipenggou Valley, it's available to accommodate in the scenic area, near the gate of scenic area and in Li County. There is only one hotel - Namu Lake Hotspring Resort (娜姆湖温泉酒店) indie the scenic area. It is located beside beautiful Namu Lake and enjoys a scenic environment. You can also enjoy the hot spring in the hotel. There are also many hostels with basic condition near the gate of Bipenggou Valley. If you want to more choice, you can stay overnight in Li County.
For travelers who want more comfortable stay with full-equipped facilities and superb service, we suggest drive back to Dujiangyan city or Chengdu city for accommodation.
Namu Lake Hotspring Resort
How to Plan a Bipenggou Valley Tour
Most travelers start a Bipenggou Valley trip from Chengdu. It's possible to travel Bipenggou in 1 day, but you need to focus on the highlights of the valley and skip some attractions. Early departure and late return are also inevitable. It is recommend to spend 2 days traveling Bipenggou Valley from Chengdu. Starting from Chengdu, you can visit Taoping Qiang Village and Ganbao Tibetan Village. Taoping Qing Village the best place in Sichuan to witness the best watchtowers all the architectures are built without drawing, calculation or any other basic construction methods and still survive till now. Ganbao Tibetan Village, once was a key military fortress in Qing Dynasty (1636~1912), remains its charm with a simple and natural architectural style. After exploring these two unique villages, driving to Bipenggou Valley and accommodate near the gate. Get a full sightseeing of Bipenggou Valley on the next day, and then drive back to Chengdu.
If you want to savor more scenic and cultural sites in Sichuan, you can plan to visit Jiuzhaigou Valley, Leshan Giant Buddha, Dujiangyan, Mounte Emei and western Sichuan. Check our Top Sichuan Tours>
Fantastic Villages near Bipenggou Valley
Warm Tips for Bipenggou Valley Travel
Wear and Pack properly
The temperature of Bipenggou Valley is about 10~20°C lower than Chengdu. It has an average temperature of 15 °C in summer, -3°C in winter and about 8°C in spring and winter. After the sunset, the temperature always drops sharply. It's necessary to bring an extra coat even in summer. Thick jacket and waterproof shoes are a must in winter. Sun-screen, sun glasses and umbrella will be helpful all the year around to protect from the strong sunlight.
Avoid High Altitude Sickness
Because of its altitude between 2,000 meters and 5,000 meters, some travelers may suffer from high altitude sickness while traveling Bipenggou Valley. But don't worry about it too much. A good and relaxed mood will be helpful to alleviate the discomfort caused by high altitude. You are also suggested to keep warm, drink more water and avoid strenuous exercise. If it's your first travel to high plateau area, you can prepare a small box of oxygen with you in advance.
Special Safety Information
1) Please go along with the footpath for sightseeing, because there are many marshland and wetland hidden in the mountains.
2) Any travelers who want to climb and mountaineer have to get the permission of the scenic area.
3) For safety factors, it's not permitted to camp in the valley.
4) Anyone who aims to have a strenuous Bijingfeng Peak climbing or hiking between Bipenggou Valley and Changping Valley has to be accompanied by a professional guide, and a porter will helpful as well.
Travel with China Discovery
In order to have an efficient tour to Bipenggou Valley, you are strongly suggested to travel with like China Discovery. Booking a tour package covering sightseeing, dining and private transfer, you are able to get rid of hustle of public transportation and troublesome navigation. As a Chengdu-based travel operator, we also master the most up-dated travel information and specialized in offering travelers incredible Sichuan experience. Our travel consultants will organize your tour according to your own travel length, interest and budget. Upon your arrival on the airport of railway station, our guide will pick you up and accompany you to every attraction in a smart way. For more details about private tour with China Discovery, you could contact us to tailor make your tour best suitable for your needs and budget.
Keep Reading
Recommended Sichuan Tours
Top 3 Sichuan tours chosen by most customers to explore Sichuan in the best way. Check the detailed itinerary, or tailor your own trip now with us.
4 Days Mount Siguniang Classic Hiking Tour

Chengdu / Dujiangyan / Siguniangshan / Chengdu
5 Days Jiuzhaigou Huanglong Dujiangyan Tour by Private Car

Chengdu / Chuanzhusi / Huanglong / Jiuzhaigou / Dujiangyan / Chengdu
Start planning your tailor-made holiday to China by contacting one of our specialists. Once inquired, you'll get a response within 0.5~23.5 hours.
Customize a Trip
Have a question? Get answers from our travel experts or guests
Your Question:

Your Name:

Your Email: