Mount Wutai – World Heritage Site & Sacred Buddhist Mountain
Mount Wutai or Wutaishan is one of the five Buddhist holy lands in the world and the four famous Buddhist Mountains in China. For super charming view and rich culture of Buddhism, Mount Wutai was listed as the World Heritage Site in 2009 and becomes the National AAAAA Tourist Attraction. With an altitude of 3061.1 m, Mount Wutai is called the "ridge of Shanxi".
Mount Wutai is located in the northeast of Wutai County in Shanxi Province. Since the mountain has five terraces or said peaks, so it got the name of Wutai Shan, literally meaning Five Terraces Mountain. Visitors can admire this world only Bodhimanda of both Chinese and Tibetan Buddhism to feel the rich harmoniously mixed religious atmosphere. Moreover, the amazingly gorgeous scenery in Mount Wutai will completely show tourists the real fairyland on earth.
History of Mount Wutai
According to the history, in 68 BC, the first temple was built, which becomes the Xiantong Temple of present. During the following dynasties till Tang, Buddhist religious atmosphere continuously became. And especially in Tang dynasty when ancient China is the center of economy and culture in ancient Asia for the bright prosperity, there were more than 360 temples completed and constant groups of Buddhist followers from India, Japan, Sri Lanka, etc. came to Mount Wutai to learn Buddhism and exchange ideas. However, experiencing the decrease of Buddhism from 854 AD and the revitalization later, there are 68 temples left and near 30,000 Buddha statues in various types in Mount Wutai.
Chinese Buddhist Monk in Mount Wutai
Tibetan Buddhist Monk in Mount Wutai
Can't-miss Religious Buildings in Mount Wutai
Mount Wutai as the only one Bodhimanda of both Chinese and Tibetan Buddhism in the world, it has tens of historic valuable religious sites to admire.
Great White Tower
The Great White Tower (大白塔) first built in 1301 AD is the symbol of Mount Wutai for its fair look and the good location of surrounded by multiple temples. Situated in Tayuan Temple (塔院寺) that is at the south side of Xiantong Temple, the Great White Tower is a sacred place for many monks and ordinary people to bow in worship, because there is the carving footprint of Sakyamuni who said before dying that people who see and worship the footprint would remove all the ill fortunes. Visiting this holy tower of 56.4 m high in Nepal style, you can not only admire many Buddha statues but also hear the pleasing sound of the 252 copper bells in the breeze to feel the serenity of this Buddhist holy land.
Xiantong Temple
Xiantong Temple is located at the north side of Taihuai Town. First completed in 68 AD, Xiantong Temple (显通寺) is the first building in Mount Wutai and the present buildings in it mainly belong to Ming and Qing dynasty, which consists of seven distinct halls. The Copper Hall inside from 1606 AD was built with five tons of copper, and it looks so shiny and magnificent. Furthermore, you can appreciate more than ten thousand glittering Buddha statues.
Besides, the Buddhist Text Hall (Cangjingdian, 藏经殿) is now the Cultural Relics Exhibition Hall, inside which the Avatamsaka Sutra (Huayanjing,华严经) of 600 thousand characters is the most excellent relic among all. This masterpiece is written on a cloth of seven inches long and looks like a tower in a distance, which shows the super sincerity and devotion of the composer.
Bodhisattva Monastery
Bodhisattva Monastery (菩萨顶) on Lingjiu Peak (灵鹫峰) is the largest Tibetan Monastery in Mount Wutai. Visiting this holy monastery, you will find it very glorious and in full character of Chinese royal traits, because it served as the temporary palace of the past emperors before. Also, you can see all the buildings are designed with three colored glazed tiles. From a legend, a son of Emperor Kangxi became a monk in Bodhisattva Monastery and the emperor specially permitted the design with glazed tiles.
Besides, there are a series of worth visiting temples and monasteries. Nanchan Temple of over 1200 years is the oldest temple of timberwork in Mount Wutai.
Great White Tower - Symbol of Mount Wutai
Copper Hall made of 5 Tons of Copper
Imperial Style Building in Bodhisattva Monastery
Must-see Five Main Peaks of Mount Wutai
As the main part of Mount Wutai Tourist Attraction, the five main peaks separately in the four directions and the center stand for the five wisdoms of Manjushri. Go and discover the beauty of each one.
Sea View Peak (Wanghaifeng) – East Terrace
East Terrace or Wanghaifeng (望海峰) of 2795 m above the sea looks like a standing elephant in a distance. And this peak is the best place for viewing the sunrise and sea clouds. When sunny, the eastern sky appears like a sea, and at the end of the cloud sea, the flaming red rising sun spurts out and lights the sky into orange. That is really vigorous and beautiful!
Splendid Peak (Jinxiufeng) – South Terrace
South Terrace like a horse has an altitude of 2485 m and famous for its more than 100 species of rare flowers and plants. In spring, all the floras bloom fully and paint the peak into a splendid garden painting with red, yellow, blue, white, purple, etc. So, it is also called Jinxiufeng (锦绣峰). And during the midsummer, shepherds gather hear with their healthy domestic animals and the natural singing of these innocent people resounds in the valley, which provides you a great audio feast.
Moon Hanging Peak (Guayuefeng) – West Terrace
West Terrace or Guayuefeng (挂月峰) is like a dancing peacock spreading its tail and is measured 2773 m above the sea. In a serene night, the bright moon seems hanging on the summit, and with the chanting mountain spring, you will surely be immersed into this picturesque heaven. Besides, the west terrace is the favorite place for climbers for the various appealing sightseeing in different moments. You would regard every climbing to the west terrace is a hard-won enjoyment, like the slowly rising sun in the dawn, mysterious light cloud and mist after raining, rosy clouds filling in the sky at dusk, etc.
Bucket Handle Peak (Yedoufeng) – North Terrace
North Terrace of 3061 m above the sea is the highest peak in Mount Wutai and north China, so it is called the "Ridge of North China". This peak is so high like towering to the sky, so it got the name of Yedoufeng (叶斗峰) meaning bucket handle peak. Usually, it snows in September and defrosts in April; as a result, there is long-term existing ice, some even being called "ten thousand year ice", at the back park of the peak. Also, you can enjoy the charming scenery of snow in winter like a magic land and feel the real quiet moment of this Buddhist land.
Jade Rock Peak (Cuiyanfeng) – Central Terrace
Central Terrace like a lion is 2894 m above the sea. Because it shows like a giant fine jade with the verdant moss growing after raining in midsummer, it is also called Cuiyanfeng (Jade Rock Peak, 翠岩峰). The Central Terrace is a good viewing deck of many places, and moreover, while it's sunny with hot sun above, the lower part of the town is raining. People seeming in the heaven would joke and say that "it's raining on earth!"
>> 3 Days Mount Wutai Trekking Tour
>> 3 Days Mount Wutai Buddhism Tour from Taiyuan
Impressing Sunrise & Sea Cloud at the East Terrace
Idyllic Scene in Midsummer at the South Terrace
North Terrace (2894 m)- the Ridge of North China
Snow Sightseeing at the Central Terrace
Recommended Route to Visit Mount Wutai
1 day classic tour
Take the sightseeing bus up to visit the Bodhisattva Monastery that is the largest Tibetan Monastery, and then go to Tayuan Temple to appreciate the Great White Tower, the symbol of Mount Wutai. Next, see the Copper Hall and Avatamsaka Sutra in Xiantong Temple. Then, visit Zhenhai Temple and other featured temples to feel the rich Buddhist culture.
3 days trekking tour
Day 1:
Take the sightseeing bus up to visit the Bodhisattva Monastery that is the largest Tibetan Monastery, and then go to Tayuan Temple to appreciate the Great White Tower, the symbol of Mount Wutai. Next, see the Copper Hall and Avatamsaka Sutra in Xiantong Temple. Then, visit Zhenhai Temple and other featured temples to feel the rich Buddhist culture.
Day 2:
Start the pilgrimage tour from Hongmenyan to the East Terrace, and hike along the grass fields, flagging, boscage and dirt road to the North Terrace for about 3.5 to 4 hours. For the high altitude of North Terrace, you may feel very tired along the way up to the peak. But continue to walk to the Middle Terrace, which will take about 2.5 hours. Then spend about 1.5 hours to the West Terrace. On the way, you can admire the natural scenic beauty with lush plants and local animals.
Day 3:
After breakfast, continue the tour to go to the South Terrace along the cobbled road, dirt road, and since the way to the South Terrace is very long and will take at least 8 hours, it is very important to encourage yourself and enjoy the very pleasing scenery along the way to the peak. Then, you can hike to the Taihuai town to complete your pilgrimage trekking.
For the details, please see >> 3 Days Mount Wutai Trekking Tour
Buddhist Kora (Chaotai)
Buddhist Kora is called Chaotai (朝台) in Mount Wutai, and people usually walk around the mountain with sincere heart to worship the five holy immortals that the five terraces represent. There are Big Kora (大朝台) and Small Kora (小朝台) there in Mount Wutai. The Big Kora is walking around the five terraces for about 100 km, and some very devoted Buddhist will walk a step and kowtow. The Small Kora is walking around Dailuoding, since people gather the statues of the immortals together there on the mountain and people treat it equal to walking the long way around the five terraces.
How to Go to Mount Wutai
Mount Wutai is situated at the northeast of Taiyuan Shanxi, and it needs about 3 hours to drive there from Taiyuan downtown.
Independent Travel:
By fast train
Several fast trains are available from Taiyuan Railway Station to Wutaishan Railway Station every day, needing about 3.5 hours. Then, you can take a taxi to the tourist attraction within 1.5 hours.
By coach
There are 4 to 6 coaches running from Taiyuan East Station to Mount Wutai Tourist Attraction every day, which costs 5.5 to 6.5 hours.
Click to Enlarge the Location Map of Mount Wutai
Travel with China Discovery:
If you want to get rid of hustle of public transportation and troublesome navigation, you can book a private tour package which covers sightseeing, dining and transfer from us. Our local tour guide and driver will escort you to Mount Wutai with speed and convenience, and take care of all the details. You just need to focus on sightseeing.
Note: the above information is for reference only, for the detail time and other information of transportation to Mount Wutai, please contact our Travel Consultant!
Fee in Mount Wutai
Entrance Fee: 135 RMB
Insurance Fee: 5 RMB / person
Dailuoding Cable Way: 50 RMB / person (up); 35 RMB / person (down); 80 RMB / person (double way)
Very few temples and monasteries need entrance fee from 4 – 10 RMB.
Optional busest to Five Peaks: South Peak - 60 RMB; North Peak - 70 RMB, East Peak - 60 RMB; West Peak - 80 RMB; Middle Peak - 80 RMB;
Note: the above information is for your reference only, for the detail fee information in Mount Wutai, please contact our Travel Consultant!
Weather & Best Time to Visit Mount Wutai
With a high altitude and chilly climate, Mount Wutai has an early Winter from October and last to the April of next year with an average temperature of 0°C-10°C in daytime. From April to October, the weather changes dramatically with only 10 to 20 °C.
All months are suitable to visit Mount Wutai. July to August is the best time to visit here for the vigorous scene of floras and trees; May to Sep. suits for the pilgrimage; winter is the best time to feel the serenity of Buddhist holy land and appreciate the snow.
Accommodate in Mount Wutai
You can find various hotels and hostels of different levels in and around Mount Wutai. Please check the following recommended information.
Luxury
Qixiange Guest Hotel near Wuye Temple in the tourist attraction is very convenient for your tour, and with the considerable service of high standard and good food of both Chinese and Western style, you will feel your tour enjoyable. Also Wutai Mountain Marriott Hotel outside at the south gate of the tourist attraction is a good choice with superior facilities and tasteful food in three restaurants.
Comfort
Many people would live in Wufeng Hotel for its lower price. Situated near Longquan Temple that is about 5 km south from Taihuai Town, this hotel provides you a very serene place to enjoy the natural beauty, and rooms with full equipment are very comfortable. So you could just focus on the tour and get a good relax.
Tips to Go to Mount Wutai
1. Ware suitable while visiting temples and monasteries and follow the principle of the local Buddhist places;
2. Take enough comfortable clothes and antiskid shoes to both keep warm and make your long-term mountain tour with more safety;
3. Since some ways on the mountain are very steep, please watch out walking;
How to Plan Your Mount Wutai Tour
How to Get to Mount Wutai: You can get there by flights from Shanghai (2.5hrs), Chengdu (2.5hrs), Hangzhou (2hrs), etc. or travel to Mount Wutai from Datong, Pingyao, and Taiyuan by driving.
Best Time to Visit Mount Wutai - May to September: Bring your extra layers and umbrella/raincoat always.
Where to Stay During Your Tour: You can accommodate in Taihuai Town which provides flexible choices of hotels from guest house to luxury 5 stars. If you want to hike the Da Chaotai (Big Kora), you have to stay a night in a temple or local guest house.
A classic Mount Wutai tour usually starts from Taihuai Town, the tourist center of the entire scenic area, then takes a day to visit the most important temples of Mount Wutai, such as Xiantong Temple, Pusa Ding Temple, Tayuan Temple, etc. which are conveniently located around Taihuai Town. If you are Buddhists, you can take the Xiao Chaotai (Small Kora) to Dailuo Ding Temple if you are short on time, or go to the high-altitude Five Terraces to worship Manjusri Bodhisattvas on the five peaks of Mount Wutai – East Terrace, North Terrace, Central Terrace, West Terrace and South Terrace, which usually costs two full days. If you prefer a hiking tour, you can find some amazing high plateau hiking trails among the Five Terraces. Below are most recommended Mount Wutai tours:
☛ 3 Days Mount Wutai Trekking Tour
☛ 3 Days Mount Wutai Buddhism Tour from Taiyuan
Mount Wutai is usually visited with other famous destinations in Shanxi Province, such as Pingyao Ancient City and Wang's Family Compound in Pingyao, Yungang Grottoes and Hanging Temple in Datong, Jinci Temple in Taiyuan and Hukou Waterfall in southern Shanxi. Below are the most recommended Shanxi tours:
☛ 5 Days Datong & Wutaishan Discovery Tour
☛ 6 Days Essence of Shanxi Tour
If your time allows, it's strongly recommended to visit Mount Wutai with other sacred Buddhist sites in China, such as Mount Emei, Mount Putuo, Shaolin Temple, etc. If you want to explore more Chinese culture, you can also extend your tour to Xian, Beijing, Luoyang, Chengdu, etc. Below are some recommended China tours for you: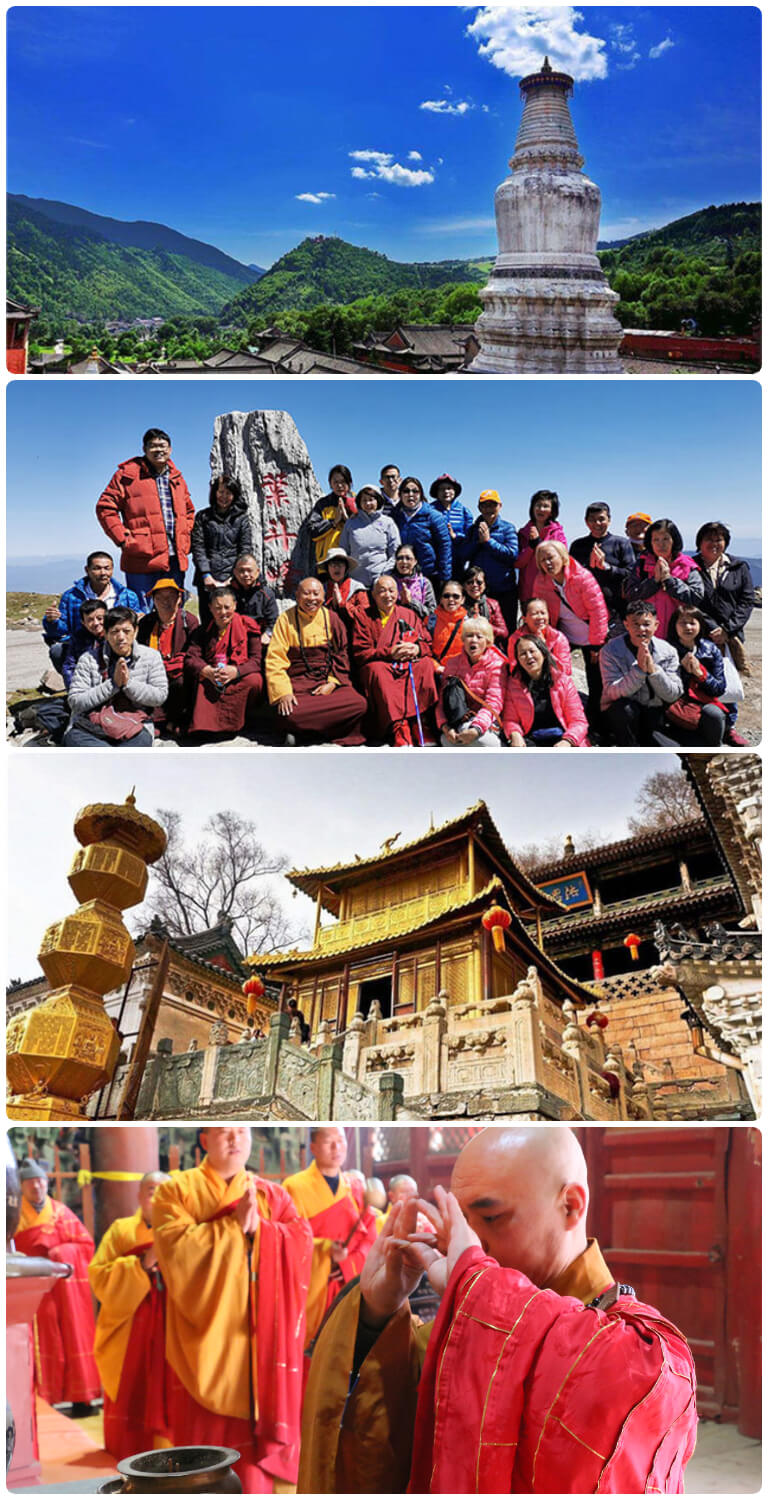 Mount Wutai, Nourished by Profound Buddhist Culture
Top Mount Wutai (Wutaishan) Tours
Helpful Mount Wutai Travel Guide
Recommended Wutaishan Tours
Top 3 Wutaishan tours chosen by most customers to explore Wutaishan in the best way. Check the detailed itinerary, or tailor your own trip now with us.
6 Day Datong Pingyao Tour Plus Wutaishan Visit

Datong / Wutaishan / Taiyuan / Pingyao
4 Days Datong Wutaishan Discovery Tour

Datong / Wutaishan
8 Days Ancient Beijing & Shanxi Culture Tour

Beijing / Datong / Wutaishan / Pingyao
Start planning your tailor-made holiday to China by contacting one of our specialists. Once inquired, you'll get a response within 0.5~23.5 hours.
Customize a Trip
Questions & Discussions
Following are latest questions and answers from our webusers and customers. You can learn many useful information from the discussion and cases. You can also join in the discussions or ask your own question. Our experts will help you ASAP.
Have a question? Get answers from our travel experts or guests
Your Question:

Your Name:

Your Email: