Marvelous Spectacle Can Be Seen in Two Scenic Areas
Hukou Waterfall is the largest yellowish waterfall in the world and the second largest waterfall in China next to Huangguoshu Waterfall in Guizhou Province. Its tableau has appeared in many Chinese paintings and once printed on the Chinese currency of 50-yuan bill. Featured landscape of Hukou Waterfall has attracted incomputable tourists to appreciate its natural splendor, making it a Key National Scenic Spot, an excellent tourist attraction, a geological relic reserve, and an AAAA Scenic Spot. It is worth your time to have an amazing Hukou Waterfall tour.
Because Hukou Waterfall is located in the intersection of Shanxi(山西) province and Shaanxi (陕西) province, two scenic areas in two provinces are established for travelers to admire the majesty of Hukou Water. The two scenic areas are divided by Yellow River and not connected, so you can not walk directly across them.
Hukou Waterfall View from Shanxi Side vs Hukou Waterfall View from Shaanxi Side
Hukou Waterfall is one of the most extraordinary waterfalls in the world. There is no big difference between the views of Hukou Waterfall itself from different parts. No matter you view from Shanxi(山西) side or Shaanxi(陕西) side, you will be shocked by the crashing waves and thundering waterfalls while standing by the Yellow River. If you have to make a contrast, the bank in Hukou Waterfall Scenic Area Shanxi is a little lower and the bank in Hukou Waterfall Scenic Area Shaanxi is a little higher, so it seems that you view Hukou Waterfall from the perspective of looking up in Shanxi side and looking down in Shaanxi side.
√ 3 Days Yellow River Hukou Waterfall Tour from Pingyao
√ 3 Days Best Xian City Tour Plus Hukou Waterfall
√ 1 Day Brief Hukou Waterfall Tour
Views of Hukou Waterfall in different sides
How Hukou Waterfall Forms
From its headstream in Qinghai Province, the Yellow River runs all the way eastwards, carrying the history and civilization of 5,000 years across the Qin-jin Gorge in the northwest Loess Plateau. As it flows to Hukou Village where the river course is sharply reduced from 500 meters wide to only about 50 meters, the placid river cascades and pours into a stone pond which is more than 30 meters lower than the primitive river course, creating an illusion as if thousands of wild horses have just been set free, tumbling, ragingly running forward wildly. As a result, this spectacular waterfall appears. With a shape of the spout of a kettle, it was named Hukou (meaning kettle spout literally) Waterfall.
What to Experience in Hukou Waterfall Scenic Areas
Hukou Waterfall presents us such a heart-shaking sight with its magical attractions which are called Eight Wonders of Hukou Waterfall, including Smoke from River, Boat on Land, Rainbow Playing Water, Flying Mountain & Standing Sea, Rain in Sunny Day, etc. Main Attractions include:
Visit Amazing Dragon Cave (Long Dong, 龙洞)
Admission Fee: Extra 20 RMB
Location: In the Shanxi (山西) part of Hukou Waterfall only
One small cave is located in the front-left side of Hukou Waterfall. It is said that there once to be an evil Dragon making trouble and causing floods. When the King Yu came to tame the flood and arrest the dragon, the dragon escaped and scurried into the mountain, leaving this deep cave. Compared with the overview of Hukou Waterfall from higher place, the scenery from Dragon Cave is quite different. Getting down along with the winding stone steps, you will get to a 118-square-meter view-platform which is able to hold more than 20 tourists and considered as the best place to watch the waterfall. The Yellow River seems falling from the heaven with a huge roar and hazy mist. The water beats against the rocks, making a splash. You can also find a cloud of white smoke rise from the bottle.
Sightseeing from Dragon Cave (Shanxi, 山西)
Enjoy Ten-mile Dragon Trough (Shi Li Long Cao, 十里龙槽)
Location: In the Yellow River and can be seen from both parts
There is an about 40-meter wide, 15-meter deep trough inlaid into the riverbed between Hukou Waterfall and Mengmen Mountain. An old history goes that this trough is made by a dragon. Eroded by water for hundreds of thousands of years, the rocks on each side of the Dragon Trough appears in various shapes and patterns, which arouses people's imagination. On the east side of the trough just beside the waterfall, you'll notice a whirled cave just above the water shaped by the strong impact of water. The river bottom around the Dragon Trough is made by tough gravel, so wide and flat that a vehicle can pass over. One wonder in Hukou Waterfall called "Sailing on Dry Land" is taking advantage of this special geomorphology.
Ten-mile Dragon Trough (Shaanxi, 陕西)
Appreciate Circumzenithal Arc (霓虹通天)
Location: across the river (can be seen from both sides)
The sprays due to the repeated impact of Hukou Waterfall, in addition to the refraction effect of the shine always create a beautiful rainbow – honored as Circumzenithal Arc. Sometimes liking a colorful bridge across the river, sometimes liking a rich multicolored decoration above the shrouded mist and sometimes liking a long dragon plunging into the water, the rainbow never fails to show off its beauty. Visiting Hukou Waterfall around 10:00 am in a sunny day, it's easy to savor an amazing rainbow. If you are lucky enough, you can even see double rainbows.
Beautiful Rainbow (Shanxi, 山西)
Watch Drum Fight Show (斗鼓)
Location: performance in Shaanxi side but can be watched from both sides
Hukou Drum Fights is a unique folk artistic form originated from the Hukou village and spreading in the northern region of Shaanxi (陕西) province. The poem "With the momentum of an avalanche, thousands of horses gallop ahead." is a description to Hukou Waterfall as well as Hukou Drum Fight. Hukou Drum Fight, taking dance, Kungfu and percussion music together, features in powerful voice, fierce rhythm and local culture. The characteristics of the people of the Loess Plateau are integrated in Drum Fight, including vigor, doughtiness, fierceness etc. Drum Fight always occurs on great days and special festivals. If you want to take part in the activities instead of watching the show, the performers will be glad to teach you how to play.
Drum Fights (shaanxi, 陕西)
Nearby Attraction - Mengmen Mountain
In the downstream of Hukou Waterfall standing two huge rocks are Mengmen Mountain. The Yellow River is divided into two branches flowing along the two sides of the rocks and then become one again. Legend has it that the two rocks are originally a mountain which was split by King Yu to get a more fluent stream. Mengmen Mountain is 300-meter long, and 10-meter high above the water level. There is a large statue of a turtle carrying a statue of King Yu. On the southern stony cliff is carved with four Chinese words "卧镇狂流" which means that Mengmen Mountain stands steadfastly and unshakably against the rapids of the river.
Admission Fee: 20 RMB
Location: In the Yellow River and can only be reached from Shanxi (山西).
Mengmen Mountain (Shanxi, 山西)
Location & Transportation
How to Get to Hukou Waterfall Shanxi
Hukou Waterfall Scenic Area Shanxi is located in Hukou Town, Jixian County, Linfen City, Shanxi Province (临汾市吉县壶口镇).
130km away from Linfen City (about 2.5 hrs' drive);
280km away from Pingyao Ancient City;
380km away from Taiyuan;
660km away from Datong.
Getting to Hukou Waterfall, you are advised to reach Linfen first. It is very convenient to take a high speed train to Linfen from Pingyao (about 1 hours), Taiyuan (about 1.5 hours) and Datong (about 4.5 hours) after your travel experience there and then drive about 2.5 hours or take a long-distance bus to Hukou Waterfall.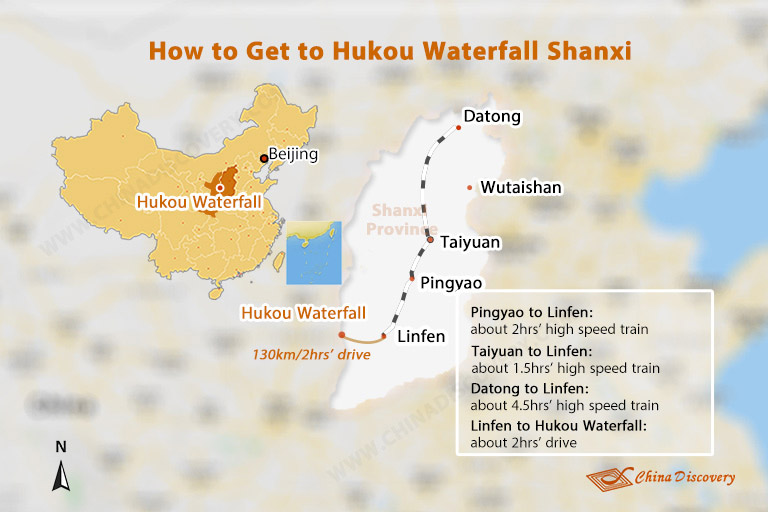 Get to Hukou Waterfall Shanxi Map (click to enlarge)
How to Get to Hukou Waterfall Shaanxi
Hukou Waterfall Scenic Area Shaanxi is located in Yichuan County, Yanan City, Shaanxi Province(陕西省延安市宜川县).
About 140km away from Yanan city;
About 350km away from Xian city.
Most travelers start a trip to Hukou Waterfall (Shaanxi side) from Xian directly by using private transfer service from a travel agency. If you want to use public transportation, it takes longer time because there is no high speed train accessible. You can firstly take a 4 hours' long-distance bus from Xian to Yanan city or Yichuan city and then take another long-distance bus to Hukou Waterfall. It needs about 2.5 hours to drive from Yanan to Hukou Waterfall and about 1 hour from Yichuan to Hukou Waterfall. Learn more about How to Get to Hukou Waterfall>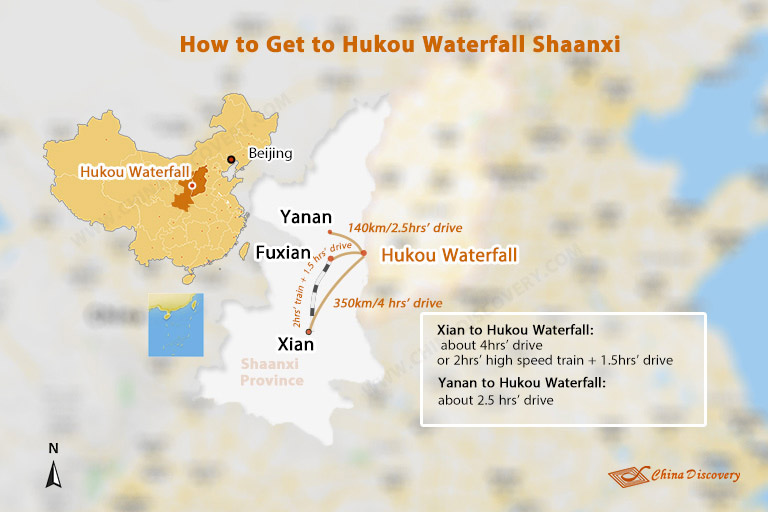 Get to Hukou Waterfall Shanaxi Map (click to enlarge)
Seasons and Best Time to Visit
Hukou Waterfall appears very differently with different volumes of water from the upper reaches and temperature in each season.
In the early spring, the frozen river melts, like an army of soldiers and horses galloping to the far. Soon, the peach trees nearby begin to blossom.
In summer, the gap of the waterfall increases dramatically. As the strong turbulent water rushes downwards with a large amount of sprays and smokes. What a vibrant tableau.
In autumn, the sky is rather blue and the air is quite fresh. Surrounding mountain spring and brook converges into a one stream shows a relatively light music. Bursts of autumn breezes rustling through brings you smell of wildness.
In the winter, ice-decorated Hukou Waterfall reveals its charm. The subsidiary waterfalls freeze into icicles on the top of cliffs, turning to be fantastic images in various postures of different animals, crouching, standing or sitting.
Due to large rainfall in summer and the frozen ice in winter, the scenic spot might be closed for the sake of tourists' safety. So the best seasons range from April to May and September to November.
Hukou Waterfall in Spring
Hukou Waterfall in Autumn
Where to Stay During Your Hukou Waterfall Tour
If you visit Hukou Waterfall Shanxi (山西), you are able to accommodate near the scenic area or Jixian county. But the hotels are usually basic. If you want a better accommodation, you can choose to accommodate in Linfen city.
If you visit Hukou Waterfall Shaanxi (陕西), the nearest hotels are located in Yichuan county. For better accommodation, it is recommended to drive to Yanan city or Xian city for accommodation.
How to Plan A Hukou Waterfall Tour
Generally speaking, it needs about 1 day to travel Hukou Waterfall, including transfer time and sightseeing time.
If you visit Hukou Waterfall Scenic Area Shanxi (山西), it is strongly recommended to travel it with Shanxi's other top destinations together, including Datong, Pingyao and Mount Wutai. A classic Shanxi tour takes about 7 days, with 1~2 days to visit the cultural wonders in Datong, 1 ~ 2 days to appreciate the old city and nearby attractions of Pingyao and 1~2 days to pay pilgrimage to Mount Wutai.
√ 3 Days Yellow River Hukou Waterfall Tour from Pingyao
If you visit Hukou Waterfall Scenic Area Shaanxi (陕西), it is a pity if you skip Xian – one of the top tourist destinations of China. 2 ~ 3 days are needed to explore the highlights of Xian, including Terracotta Warriors, Xian Ancient City Wall, Shanxi History Museum, Muslim Quarter and Giant Wild Goose Pagoda.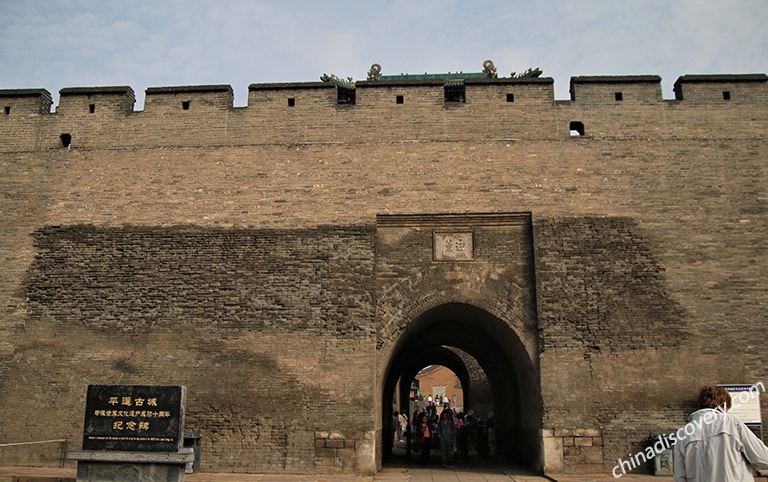 Pingyao Ancient City Wall
More about Hukou Waterfall
Keep Reading about Shanxi Tours
Recommended Shanxi Tours
Top 3 Shanxi tours chosen by most customers to explore Shanxi in the best way. Check the detailed itinerary, or tailor your own trip now with us.
4 Days Ancient Pingyao & Xian Tour

Pingyao / Xian
3 Days Best Xian City Tour Plus Hukou Waterfall

Xian / Hukou Waterfall / Xian
3 Days Yellow River Hukou Waterfall Tour from Pingyao

Pingyao - Hukou
Start planning your tailor-made holiday to China by contacting one of our specialists. Once inquired, you'll get a response within 0.5~23.5 hours.
Customize a Trip
Have a question? Get answers from our travel experts or guests
Your Question:

Your Name:

Your Email: