Historical and Cultural Significance of Yungang Grottoes
In ancient times, it was a tradition for Buddhists to excavate caves on mountain into shrines to practice their religion. These shrines is always filled with Buddha sculptures, exquisite carvings and other art and treasures.
Located in 16 kilometers west to Datong city in Shanxi province, Yungang Grottoes was originally built in Northern Wei Dynasty (368 – 534). The excavation of Yungang Grottoes lasted for more than 60 years from the beginning of Emperor Wencheng (460) to the fifth year of Emperor Xiaoming (524). During the 60 years, major caves and Buddha scriptures of Yungang Grottoes were built. It became the first royal style Buddhist art treasure carved by a nation and taking a dynasty to build after the Buddhism was introduced to China as well as a historical wealth of the fusion of Chinese and south a& central Asian culture in the 5th Century.
Visiting Yungang Grottoes allows you to probe into Chinese Buddhist culture. The Buddhist culture and art displayed involves many aspects such as history, architecture, and music. It had an important impact on Buddhist cave art in China and East Asia. Listed in World Cultural Heritage sites, it is praised as "the masterpiece of early Chinese Buddhist cave art" by UNESCO. In fact, it is one of China's top three grottoes along with Mogao Grottoes in Dunhuang and Longmen Grottoes in Luoyang and the world's top three stone carving treasures along with Ajanta Caves in India and Bamiyan Caves in Afghan.
Old Photo of Yungang Grottoes
Yungang Grottoes Today
Features of Grottoes Built in Different Time
According to the time of excavation, Yungang Grottoes can be divided into three phases: Early Period Grottoes, Middle Period Grottoes and Late Period Grottoes. The shapes of the caves and the styles of grotto sculptures have their own characteristics in different periods. The "Tan Yao Five Caves" built in the early period were magnificent, with a vigorous and simple Western sentiment. The mid-period grottoes are famous for their exquisite carvings and ornate decorations, showing the complex and varied and splendid artistic style of the Northern Wei Dynasty. Although the scale of the cave chambers in the late period was small, the figures were thin and handsome, and the proportions were moderate. They were the model of the grotto art in northern China and the origin of the "skinny and clear image". In addition, the sculptures of music and dance and acrobatics left in the grottoes were also a reflection of the popular Buddhist thought at that time and the social life of the Northern Wei Dynasty.
Vigorous and Simple Statue in Early Period Caves
Highlights of Yungang Grottoes
As one of China's most supreme example of Buddhist cave art, Yungang Grottoes is more than magnificent. Beyond all doubt, the Buddhist caves with statues are the biggest highlights of Yungang Grottoes. There are 254 caves – 45 major grottoes and 209 secondary caves which cover an area of more than 18000 square meters and house 1,100 niches and 5,100 statues. The biggest one reaches 17 meters tall and the smallest one is only 2 centimeters tall. Here we list the caves you can miss when you travel Yungang Grottoes.
Cave No.5 and No.6
Cave No.5 and Cave No.6 are double caves excavated between 465 ~ 494. The 17 meters high sitting Buddha statue of Sakyamuni in the back cave of Cave No.5 is the largest statue of Yungang Grottoes. Cave No.6 is richly decorated and is praised as the most spectacular one in Yungang. In the caves, there are 33 plots carved to tell the life story of Sakyamuni, from the birth of Sakyamuni to how he became a monk and then the Buddha. The rich content and superb sculpture skill make Cave No.6 one of the representatives of Yungang Grottoes.
Cave No.9 ~ 13
Cave No.9 to No.13 are commonly known as Five Resplendent Caves (Wuhua Caves: 五华洞). The only colored sculptures in the Yungang Grottoes are in here. No.9 Cave, namely the Aksokhya Buddha Cave, is a spectacular dual chamber with a vast gold-faced Buddha. Among the five caves, Cave No.12 may be the most striking one due to its strong artistic atmosphere. Cave No.12 is also called "Cave of Music", and it carved the musical instruments, their playing style as well as the types of band combination of Northern Wei Dynasty, which reveal the court orchestra and social music system at that time.
Cave No.16, 17, 18, 19, 20
Cave No.16 to No.20 is also known as Tan Yao Caves (昙曜五窟), which were constructed under the command of the famous monk Tan Yao. The five caves are the earliest caves of Yungang Grottoes, built from 460 ~ 470. It's said that to manifest the imperial power of the royal family of Northern Wei Dynasty. Every cave had sculptured one giant Tathagata statue to represent five emperors of Northern Wei Dynasty. The carving skills inherited and developed the excellent traditions of the Han Dynasty, absorbed and integrated the essences of ancient Indian Gandhara and Dodo art, creating a unique artistic style. They are the representative works of Yungang Grottoes, among them, Cave No.20 is the highlight. Cave No.20 has no roof for its front wall and ceiling were collapsed long time ago. 13.7 meters high sitting Buddha statue is a must-see among all the caves.
Cave No.6
Cave No.9
Cave No.19
Layout of Yungang Grottoes and Travel Routes
The whole scenic spot of Yungang Grottoes can be divided into the Caves Area and Scenic Area. Of course, the most exciting part is the Cave Area.
At present, the Cave Area of Yungang Grottoes has 45 caves open to public, and they are the main attractions in the scenic spot. The major 45 caves are numbered consecutively from east to west, and the east part has Cave No.1 ~ No.4, middle part has Cave No.5 ~ No.20 and the rest belong to the west part. Normally, the visiting route starts from Cave 1 of the east part, then go west to visit the rest caves. The biggest and most beautiful caves are located in east and middle part (from Cave 1 to Cave 20); while in the west part, there are mainly small caves and niches.
The regular route chose by most travelers are: Tan Yao Square – Lingyan Temple – Premier Zhou Enlai Memorial Hall – Grottoes (Caves Area) – Yungang Shadow Puppets Museum – Yungang Gallery – Performing Arts Center – Food & Money Street. This route will cost about half day. If you have enough time, you can taste the local food in Food & Money Street and take a short rest here.
If your visiting time is limited, like 2 hours, then it's suggest to visit strongonly Cave No.5 and No.6,Cave No.9 to No.13 and Cave No.16 to No.20. These caves are the most classical caves of Yungang Grottoes.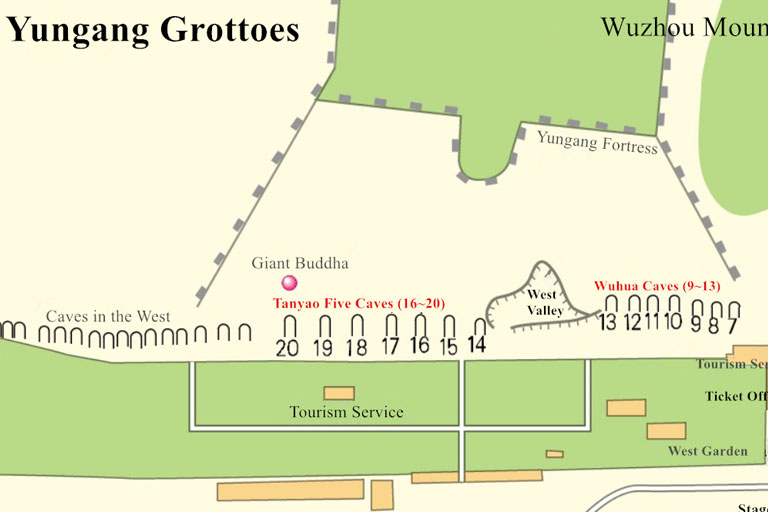 Click to Enlarge Yungang Grottoes Transfer Map
Comparison between Yungang Grottoes and Other Top Grottoes
There are quite a lot worth-visiting Buddhist Grottoes in China, such as Mogao Cave in Dunhuang, Longmen Grottoes in Luoyang, Yulin Caves in Guazhou and Maijishan Grottoes in Tianshui, etc. Among these grottoes, Maogao Grottoes, Longmen Grottoes and Yungang Grottos are the most popular ones. All the three are UNESCO World Cultural Heritage sites and attract numerous travelers and Buddhist followers. Check the following information to make a comparison or read our Top 10 Buddhist Grottoes & Caves in China to learn more.
Grottoes
Yungang Grottoes
Mogao Grottoes
Longmen Grottoes
Firstly Built in
460 AD (in Northern Wei Dynasty)
366 AD (in Sixteen Kingdoms)
493 AD (in Northern Wei Dynasty)
History
Over 1,500 years
Over 1,600 years
Over 1,500 years
Number of Caves
254 Caves
735 Caves
1,400 Caves
Uniqueness
Masterpiece in the first peak period of Chinese Buddhist cave art
A comprehensive art that integrates architecture, colored sculptures and murals
The largest and most outstanding carving art
Status & influence
1) Successful fusion of Buddhist religious symbolic art from south and central Asia with Chinese cultural traditions;2) Illustrating the power and endurance of Buddhist belief in China;3) Making impact on Buddhist cave art along the silk road.
1) Evidence of the evolution of Buddhist art in the northwest region of China;
2) A group of ancient caves built in different dynasties;
3) Depicting various aspects of medieval politics, economics, culture, arts, religion, ethnic relations, and daily dress in western China.
1) Outstanding manifestation of human artistic creativity;
2) One of China's handful of surviving masterpieces of Buddhist rock carving;
3) Notable displays of Buddhist sculptures and calligraphic inscriptions.
Highlights
1) Cave 5 - 17m-high, seated effigy of Sakyamuni with a gilded face;
2) Cave 6 - the Cave of Sakyamuni, resembling an overblown set from an Indiana Jones epic;
3) Cave 9 - the Aksokhya Buddha Cave with its vast seated and gold-faced Buddha;
4) Caves 16 to 20 - earliest caves carved under the supervision of monk Tanyao.
1) Mogao Caves Digital Exhibition Center - first stop with clear details of the caves ;
2) No. 148 - housing a 16-meter long sleeping Buddha;
3) No. 96 - the symbolic cave of Mogao Cave with famous 9-storey tower outside and 33-meter high Buddha inside;
4) No. 16 & 17 – unique cave-in-cave structure with the famous Library Cave.
1) Three Binyang Grottoes - displaying the benevolent expressions of Northern Wei style;
2) Ten Thousand Buddha Grotto - galaxy of tiny bas-relief Buddhas;
3) Losana Buddha Statue Grotto - containing the best examples of sculpture.
Best Tours to Explore Buddhist Grottoes in China:
√ 4 Days Classic Dunhuang Tour (Dunhuang)
√ 8 Days Gansu Highlights Tour (Lanzhou – Xiahe – Jiayuguan - Dunhuang)
√ 3 Days Luoyang Longmen Grottoes Tour
Location & Transportation
Yungang Grottoes is located in the suburb of West Datong, on the south range of Wuzhou Mountain.
23km away from Datong city center, about 50 minutes' drive;
25km away from Datong South Railway Station, about 40 minutes' drive;
18km away from Datong Railway Station, about 40 minutes' drive;
46km away from Datong Airport, about 1 hour's drive.
Getting to Datong First: Before getting to Yungang Grottoes, you are suggested to reach Datong city first. It is recommended to take a high speed train from Beijing (2~2.5 hrs), Xian (6 hrs), Pingyao (3~3.5hrs), Taiyuan (2~2.5 hrs), etc. Flight is also available to take you to Datong from Beijing (1h), Shanghai (2.5h), Chongqing (2.5h), Xian (2h), Chengdu (2.5h) and Wuhan (2h), etc.
Datong to Yungang Grottoes Transfer: It is quite easy to drive or call a taxi from the main transportation hub (like Datong South Railway Station, Datong Railway Station, Datong Yungang Airport, etc.) to Yungang Grottoes. It is also available to get to Yungang Grottoes by public bus but you may need to transfer several times. Read more about How to Get to Yungang Grottoes>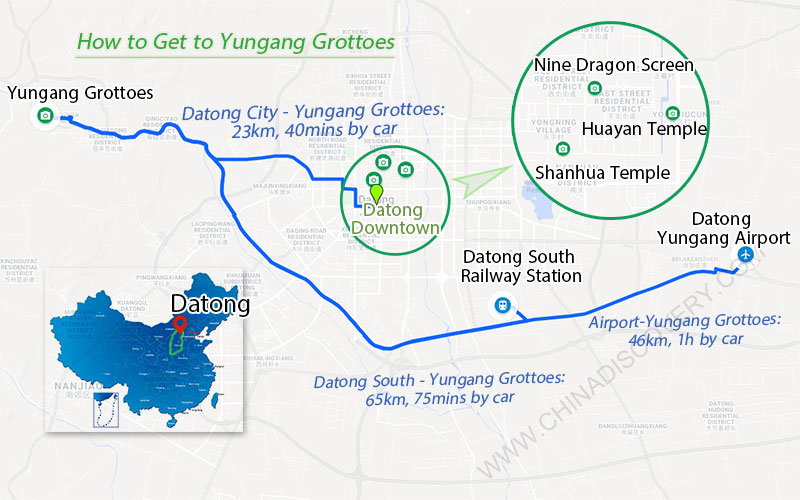 Click to Enlarge Yungang Grottoes Transfer Map
Best Time to Visit Yungang Grottoes
Generally speaking, it is available to visit Yungang Grottoes all the year around because its cultural beauty never be changed by weather. But if you want to enjoy the most comfortable climate during your travel in Yungang Grottoes and other attractions in Datong, we suggest you travel during April ~ October. Datong enjoys a continental monsoon steppe climate with four distinct seasons. In spring and autumn, the weather is very good. Compared some other cities in China, Datong's summer is cool as well. It is quite cold in winter, but you get an opportunity enjoy many interesting winter activities in Datong.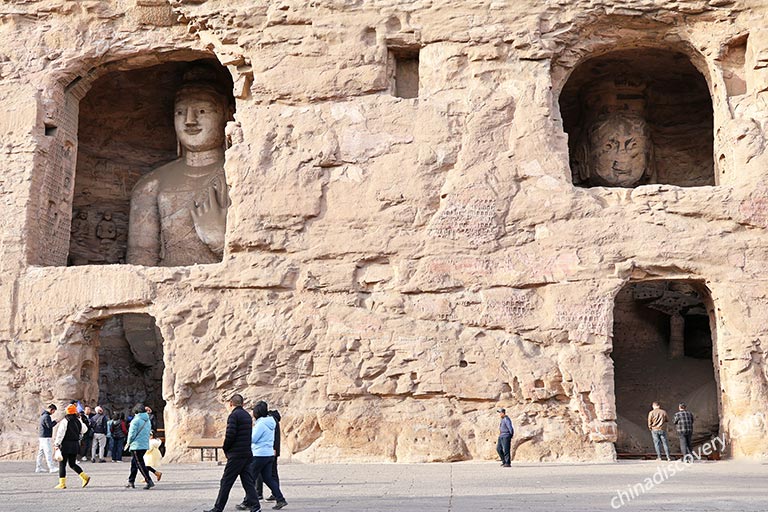 Yungang Grottoes in Autumn
Where to Stay in Your Yungang Grottoes Trip
A few travelers who have deep interest in Buddhist caves may spend a whole day or more days exploring Yungang Grottoes and choose to accommodate nearby. Yes, there are some hotels near Yungang Grottoes but most of them are simply-equipped homestays. For better accommodation, we suggest you travel back to Datong city for accommodation. The downtown area of Datong offers a great number of hotels with different classes from luxurious ones to budget ones. You can also enjoy convenient access to shopping malls, restaurants, business streets, etc. It is also easy to travel to other attractions in Datong city, like Datong Museum, Nine Dragon Screen, Huayan Temple, Shanhua Temple, etc.
Click to Enlarge Datong Accommodation Map
Supplied Services of Yungang Grottoes Scenic Area
Tour Guide Service: traveler can find tour guide in Chinese, English and Japanese in the south hall of Tourist Service Center. There are about 70 tour guides in total. Traveler can also use wireless guiding microphone service, which will introduce the attraction automatically according to your position.
Guide fee: RMB 150/group for all the scenic area, including the Exhibition Center.
Microphone rental: deposit: RMB 300 every 10 persons; MIC rental fee: RMB 20 ever 10 persons.
Automatic guide: deposit: RMB 100/person; rent: RMB 10/person for Chinese, RMB 40/person for English.
Bag Depository: traveler can deposit bags at the north hall of Tourist Service Center by presenting the ticket of Yungang Grottoes and valid ID (passport). The deposit is free, and dangerous articles are prohibited to deposit while valuables are not suggested to deposit. All deposits shall be picked on the same day they are stored. Time: 8:30 ~ 16:30.
Broadcasting Service: in the Tourist Service Center, there is a broadcasting studio which is responsible to play music, weather forecast and sightseeing instructions. The studio can supply free announcement services for lost and found.
Medical Service: the medical clinic is located in the northwest corner of the Tourist Service Center, and it will provide common used medicines and other medical services. When the scenic area is open to the public, there is one professional doctor and nurse on duty.
How to Plan a Datong Tour
It usually needs 2 days to cover the highlights in Datong. Without any doubt, Yungang Grottoes is a must. It consists of 53 grottoes with 51,000 statues and is a real treasure of traditional Chinese art. After that, you can go to Shanhua Monastery to appreciate a set of well-preserved buildings of Liao Dynasty (905-1125). Then, continue to have a look at Nine Dragon Screen, the oldest and largest glazed screen in China and later head to Huayan Temple, which keeps the largest wooden structure of Buddhist temple hall with elegant mural and scriptures. The next day is for the attractions a little far from downtown such as Hanging Temple, an unusual temple standing on the precarious cliff built over 1500 years ago, and Yingxian Wooden Pagoda, the highest wooden pagoda in the world.
☛ 2 Days Datong Yungang Grottoes Tour
☛ 3 Days Datong Culture Tour with Hanging Temple
In addition, the convenient transportation of Datong provides opportunities to discover more of Shanxi to Taiyuan, sacred Buddhist mountain Mount Wutai, world heritage site Pingyao Ancient City, magnificent Hukou Waterfall, etc.
☛ 5 Days Datong & Wutaishan Discovery Tour
☛ 6 Day Datong Pingyao Tour Plus Wutaishan Visit
If you have more days and want to travel outside Shanxi, it is highly recommended to extend your tour to capital Beijing (Great Wall, Forbidden City), time-honored Xi'an (Terracotta Warriors), and modern metropolis Shanghai (the Bund).
☛ 9 Days Ancient Treasures of China Tour
☛ 11 Days Golden Triangle Tour with Shanxi Highlights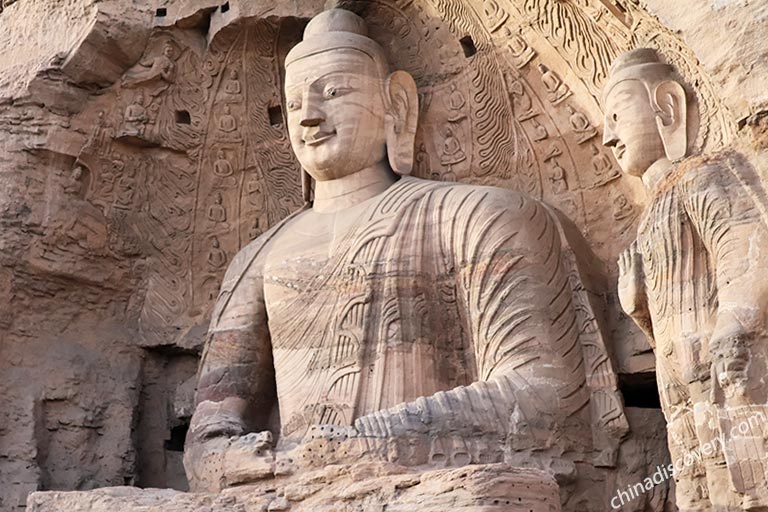 Yungang Grottoes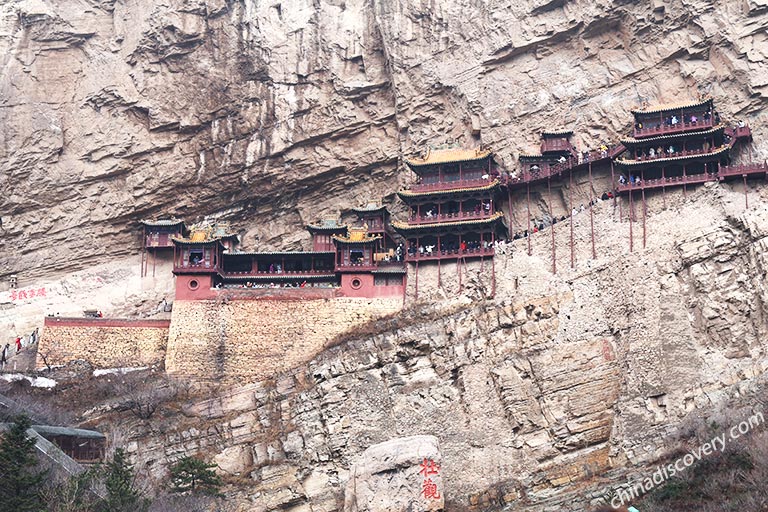 Hanging Temple
Helpful Datong Travel Guide
More about Shanxi Travel Guide
Recommended Datong Tours
Top 3 Datong tours chosen by most customers to explore Datong in the best way. Check the detailed itinerary, or tailor your own trip now with us.
6 Day Datong Pingyao Tour Plus Wutaishan Visit

Datong / Wutaishan / Taiyuan / Pingyao
Start planning your tailor-made holiday to China by contacting one of our specialists. Once inquired, you'll get a response within 0.5~23.5 hours.
Customize a Trip
Have a question? Get answers from our travel experts or guests
Your Question:

Your Name:

Your Email: