Introduction of Yingxian Wooden Pagoda
As the existing largest and oldest wooden pagoda structure in China, Yingxian Wooden Pagoda is also known as Sakyamuni Pagoda, for there are two tooth relics of Sakyamuni (preserved in a side hall of Fogong Temple and need an extra charge of CNY 100). Located in Fogong Temple of Yingxian County, Shanxi Province, it is 76km south of Datong City (about 1.5 hours' drive). The pagoda was built in 1056 (under the reign of Liao Dynasty), and during its nearly 1000 years' history, the pagoda has survived several large earthquakes (that's really amazing considering the whole pagoda is built of wood). It highly represents the ancient architecture art of China.
Sitting on a 4 m tall stone platform, the pagoda is 67.31 meters in height, which is higher than a 20-storey building in modern times. The base floor of the pagoda is 30.27 meters in diameter, and the whole pagoda weighs about 7400 metric tons.
Highlights of Yingxian Wooden Pagoda
Get Amazed by its Unique Structure
Seen from the outside, the pagoda appears to be five storeys, however, it has nine storeys (with four blindstories inside the pagoda). On each storey, there are two circles of wooden pillars to support the upper storey: 24 wooden pillars at the outside circle and 8 wooden pillars at the inside circle. Among the pillars, there are also many diagonal bracings and short columns to enhance the stability and shock resistance of the pagoda.
A lot of Dougongs (a system of brackets in Chinese building, wooden square blocks inserted between the top of a column and a crossbeam) are used in the building to connect various pillars and crossbeams. The most magical part of the pagoda is that no iron nail is used here at all, and the connection works are completed through Chinese mortise and tenon joint structure. The Chinese mortise and tenon joint structure can bear large load and it allows certain deformation, thus, it can reduce the influence of earthquake, and this structure is the main reason why the pagoda has survived numerous earthquakes through nearly a thousand year.
Pay Homage to Various Buddha Statues
There are two doors in the south and north direction of the first storey, and from the second to fifth storey (the visible storeys), there are four doors in each of them. Wooden staircases connect every two storeys. The first storey holds an 11 meters high Sakyamuni statue, sitting under a delicate caisson ceiling. From second storey to fifth storey, there are also various Buddha statues and Bodhisattva statues.
Note: Yingxian wooden pagoda is under maintenance and visitors can not climb up the pagoda. However, the Buddha statues can be seen on the first floor and several small temples around the pagoda.
√ 2 Days Datong Yungang Grottoes Tour with Yingxian Wooden Pagoda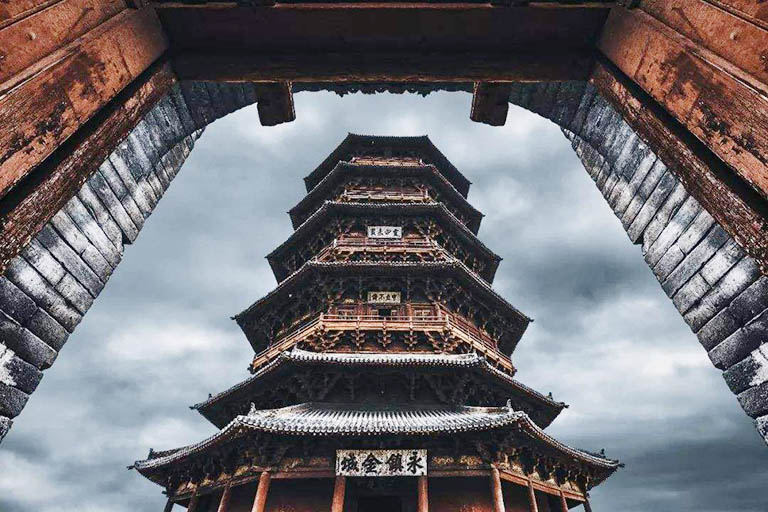 Yingxian Wooden Pagoda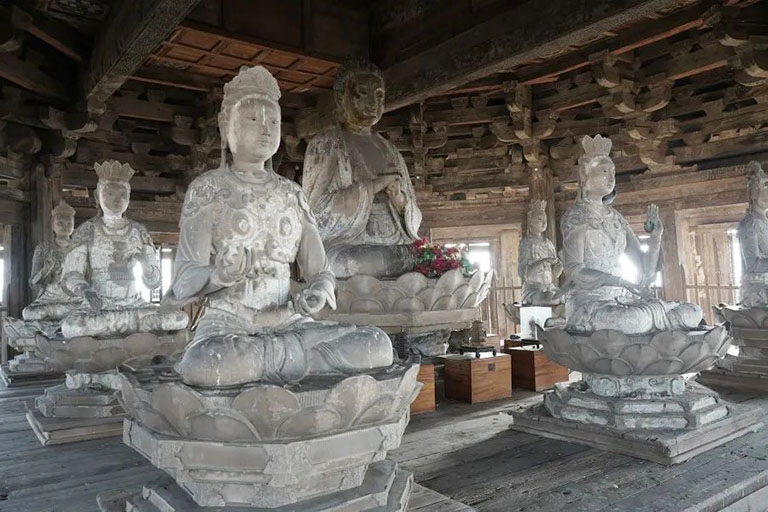 Statues on the 4th Floor of the Pagoda
Yingxian Wooden Pagoda Location & Transportation
Yingxian Wooden Pagoda is situated at Yingxian County, Shuozhou City, Shanxi Province, and it's rather close to Datong City, only about 85km from it.
85km away from Datong city center, about 1 hour 45 minutes' drive;
80km away from Datong South Railway Station, about 1.5 hours' drive;
87km away from Datong Airport, about 1.5 hours' drive.
58km away from Hanging Temple, about 1 hour's drive.
Getting to Datong First: Before getting to Yungang Grottoes, you are suggested to reach Datong city first. It is recommended to take a high speed train from Beijing (2~2.5 hrs), Xian (6 hrs), Pingyao (3~3.5hrs), Taiyuan (2~2.5 hrs), etc. Flight is also available to take you to Datong from Beijing (1h), Shanghai (2.5h), Chongqing (2.5h), Xian (2h), Chengdu (2.5h) and Wuhan (2h), etc.
Datong to Yingxian Wooden Pagoda Transfer: It is recommended to drive or charter a car from the main transportation hub (like Datong South Railway Station, Datong Railway Station, Datong Yungang Airport, etc.) to Yingxian Wooden Pagoda because taking a bus will need several transfers. You can also book a private Datong trip package from us that covers the transfer, ticket, accommodation, meal, etc. to save all the troubles.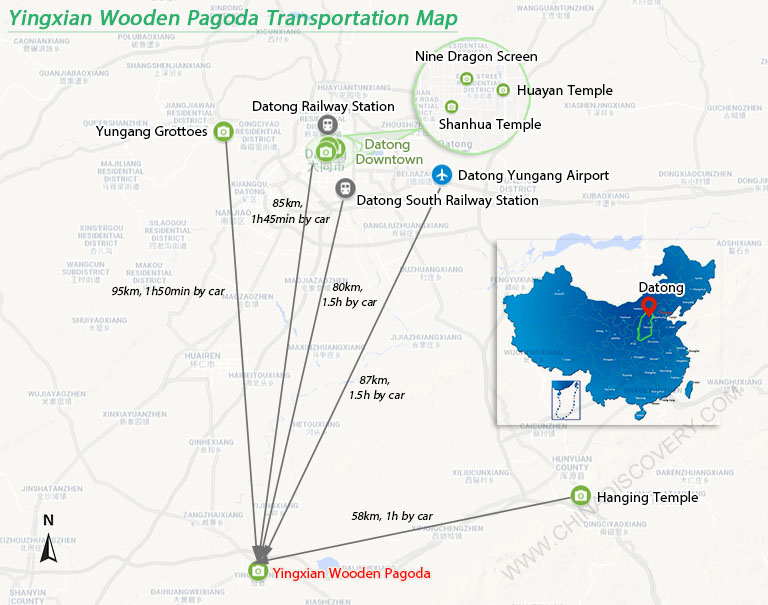 Click to Enlarge Yingxian Wooden Pagoda Transfer Map
Yingxian Wooden Pagoda Travel Tips
1. Notice for Ascending the Pagoda
At present, the pagoda is leaning towards the north at an angle over 15°, and some wooden pillars and beams are decayed. To protect the pagoda, tourists are not allowed to ascend the pagoda. Please protect the pagoda in your visit.
2. Best Time to Visit
The best time to visit Yingxian Wooden Pagoda is from May to October. The winter in Shuozhou is very long, cold and dry, while the windy and sandy spring has a big temperature difference between day and night. So the best time to visit is summer and autumn. Shuozhou's summer is short, yet hot and rainy. Autumn, which is short and mild, is the most comfortable season among the four seasons.
3. Recommended Route
Tourists can visit Yingxian Wooden Pagoda and Hanging Temple on the same day. Starting from Datong City, you can first visit the Hanging Temple in Hunyuan County, then visit Yingxian Wooden Pagoda in Yingxian County, and come back to Datong City after the tour.
√ 3 Days Datong Culture Tour with Hanging Temple & Yingxian Wooden Pagoda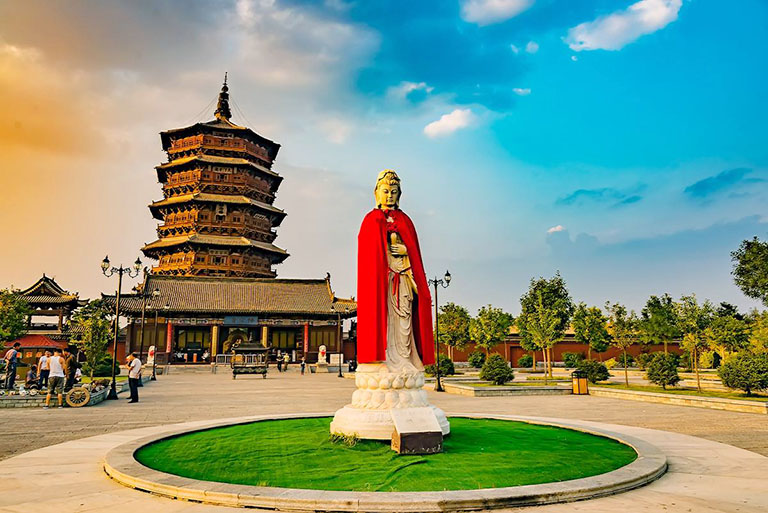 Yingxian Wooden Pagoda and Statue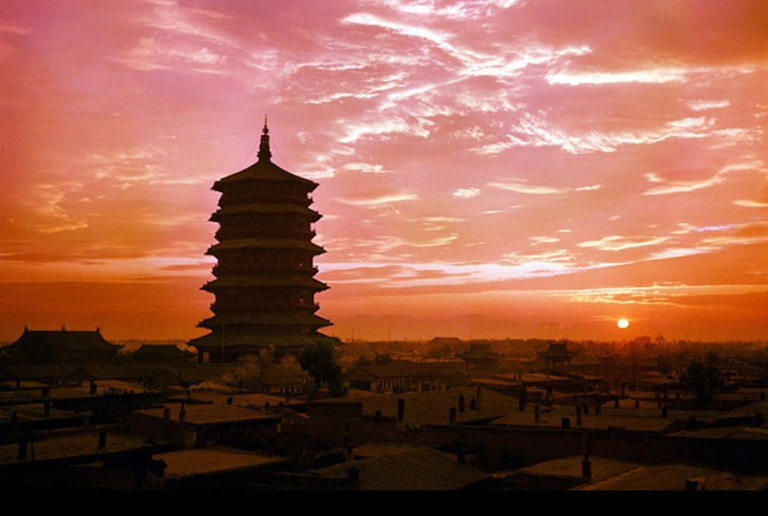 Yingxian Wooden Pagoda in Sunset
How to Plan a Datong Tour
Best time to visit Datong: March to mid-June, mid-September to November
How to get to Datong: High speed train from Beijing (2-2.5h), Taiyuan (2-2.5h), Pingyao (3-3.5h) and flights from Xian (2h), Chengdu (2.5h), Shanghai (2.5h), etc.
Where to stay in Datong: It is most recommended to stay in Datong downtown near Huayan Temple where there are many choices from 5-star luxury hotels to 3-star economy ones. What's more, it is convenient to get to main attractions in Datong such as Yungang Grottoes and Hanging Temple from this area.
It usually needs 2 days to cover the highlights in Datong. Without any doubt, Yungang Grottoes is a must. It consists of 53 grottoes with 51,000 statues and is a real treasure of traditional Chinese art. After that, you can go to Shanhua Monastery to appreciate a set of well-preserved buildings of Liao Dynasty (905-1125). Then, continue to have a look at Nine Dragon Screen, the oldest and largest glazed screen in China and later head to Huayan Temple, which keeps the largest wooden structure of Buddhist temple hall with elegant mural and scriptures. The next day is for the attractions a little far from downtown such as Hanging Temple, an unusual temple standing on the precarious cliff built over 1500 years ago, and Yingxian Wooden Pagoda, the highest wooden pagoda in the world.
☛ 2 Days Datong Yungang Grottoes Tour
☛ 3 Days Datong Culture Tour with Hanging Temple
In addition, the convenient transportation of Datong provides opportunities to discover more of Shanxi to Taiyuan, sacred Buddhist mountain Mount Wutai, world heritage site Pingyao Ancient City, magnificent Hukou Waterfall, etc.
☛ 4 Days Essence of Datong & Pingyao Tour
☛ 5 Days Datong & Wutaishan Discovery Tour
☛ 6 Day Datong Pingyao Tour Plus Wutaishan Visit
If you have more days and want to travel outside Shanxi, it is highly recommended to extend your tour to capital Beijing (Great Wall, Forbidden City), time-honored Xi'an (Terracotta Warriors), and modern metropolis Shanghai (the Bund).
☛ 9 Days Ancient Treasures of China Tour
☛ 11 Days Golden Triangle Tour with Shanxi Highlights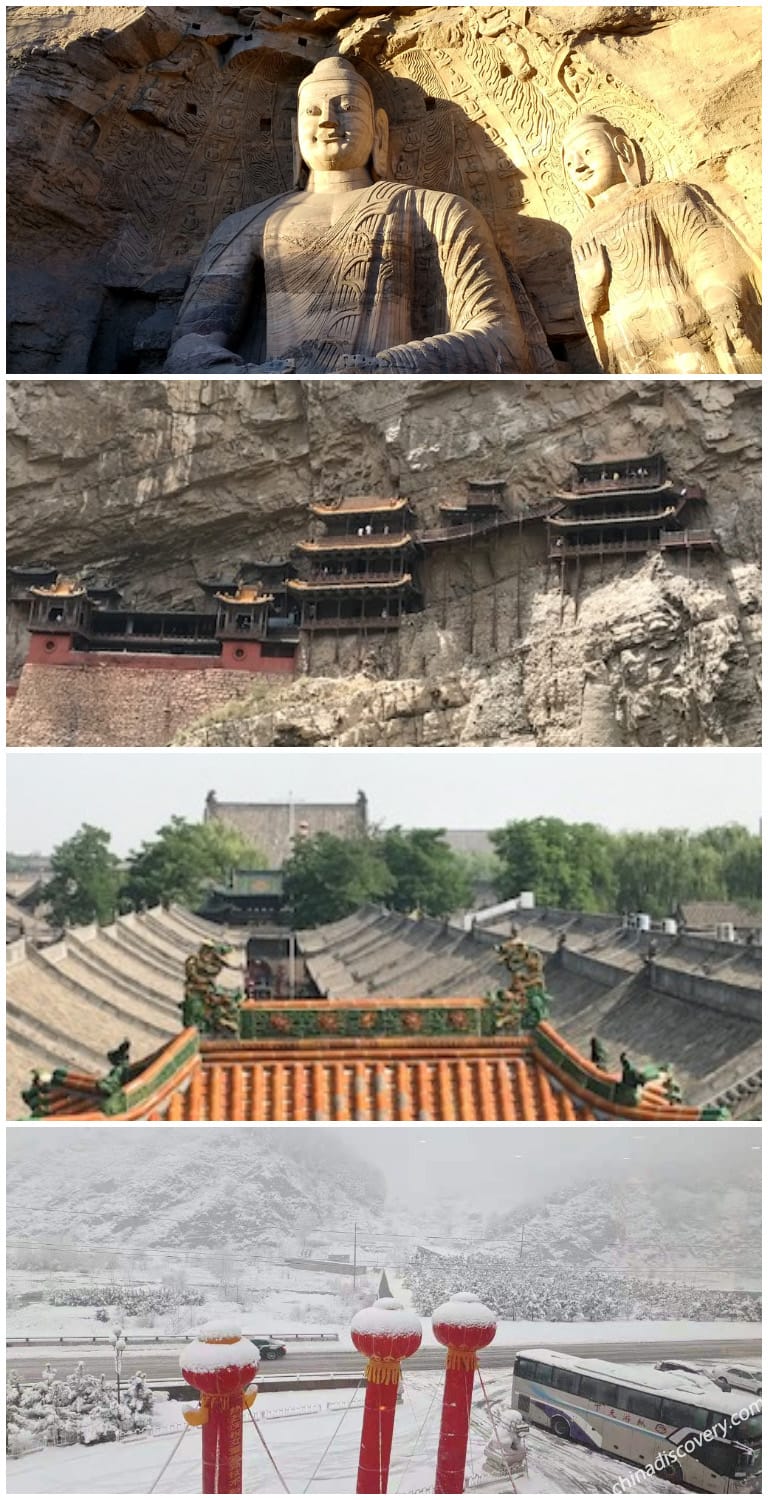 Yungang Grottoes, Hanging Temple, Pingyao and Mount Wutai in Shanxi
Helpful Datong Travel Guide
More about Shanxi Travel Guide
Recommended Datong Tours
Top 3 Datong tours chosen by most customers to explore Datong in the best way. Check the detailed itinerary, or tailor your own trip now with us.
6 Day Datong Pingyao Tour Plus Wutaishan Visit

Datong / Wutaishan / Taiyuan / Pingyao
Start planning your tailor-made holiday to China by contacting one of our specialists. Once inquired, you'll get a response within 0.5~23.5 hours.
Customize a Trip
Have a question? Get answers from our travel experts or guests
Your Question:

Your Name:

Your Email: