How to Plan a Shanxi Tour - Shanxi Trip Planner 2023/2024
With one-fifth national key cultural relics and abundant tourism resources, Shanxi is a major cultural travel region in North China, a popular stopover area between Beijing and Xian. Due to its special geographical location and long history, Shanxi owns both marvelous cultural legacies and natural landscape. In Shanxi, a large collection of ancient architectures is the most shining treasure to present the old China. China Discovery here gives you the most comprehensive and practical advice on planning a Shanxi trip, about the must-sees, the best time for travel, how to get to and around and where to stay, etc. You can get everything you need to know to plan a Shanxi tour efficiently and meaningfully.
Shanxi Travel Map (zoom in to enlarge map)
Top Places to Visit & Activities to Experience in Shanxi?
Top 5 Shanxi Tourist Destinations
● Datong - Yungang Grottoes (UNESCO World Cultural Heritage) & Hanging Temple
Datong in the northernmost of Shanxi is the location of Yungang Grottoes and Hengshan Hanging Temple, and one of the nice ancient capitals of China. It was called Pingcheng City and served as the capital of the Northern Wei Dynasty in the late 4th century and secondary capital during Liao and Jin Dynasties. In Datong, you can visit Yungang Grottoes - one of the top four grottoes in China, observe thousands of magnificent Buddhist statues of the Northern Wei Dynasty, witness the amazing Hanging Temple built into cliff. Besides, there are Huayuan Temple, Shanhua Temple and other ancient sites reflecting culture and history of Liao and Jin Dynasties. While Nine Dragon Screen and ancient castle, fortress in Datong helps you know more about Datong during Ming and Qing Dynasties.
▶ Popular Datong Tours | Datong Travel Guide | Top Datong Attractions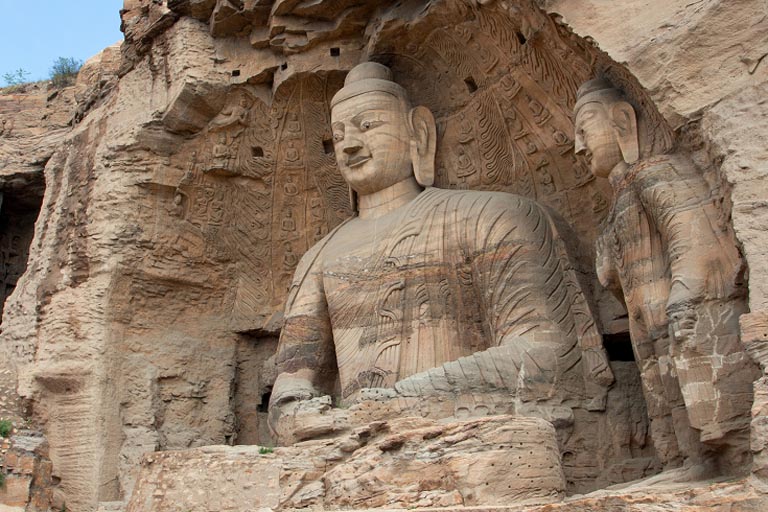 Datong Yungang Grottoes
● Pingyao - Pingyao Ancient City & Shuanglin Temple (UNESCO World Cultural Heritage), Wang's Family Compound
Most known for Pingyao Ancient City - one of the best-preserved ancient cities in China, Pingyao in central Shanxi is a wonderful place to discover the authentic old China. Pingyao Ancient City is the main attraction for travelers to Pingyao. Nearby attractions like Shuanglin Temple, Wang's Family Compound and Qiao's Family Compound are also popular cultural sites to explore. Pingyao Ancient City, with over 2,700 years still keeps its original urban city layout and architectures. Here you walk on the ancient city walls, learn China's banking history in Rishengchang Former Bank, know the ancient delivery service in escort agencies, image past commercial prosperity in Ming and Qing Dynasties, see layered local residential houses and some delicate temples, etc. Get out of the ancient city, Shuanglin Temple has many splendid painted sculptures, Zhenguo Temple retains one of the oldest timber architecture in China and Wang's Family Compound shows you the finest private residence complex in North China.
▶ Popular Pingyao Tours | Pingyao Travel Guide | Top Pingyao Attractions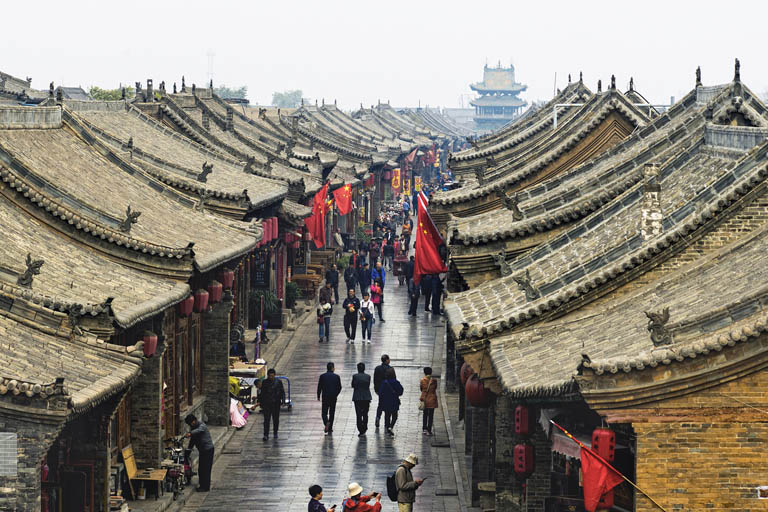 Pingyao Ancient City
● Mount Wutai - Sacred Five Terrace Mountain (UNESCO World Cultural Heritage) & Buddhist Temples
Mount Wutai is the famous ashram of the Manjusri which is also recognized as one of the four sacred Buddhist mountains in China. It contains the mountain and huge temple group of different sects and features. You can either make a regular visit, in depth hiking trip, or make a holy pilgrimage to Mount Wutai based on your travel plans.
Taihuai Town is the core area and base center at the foot of Mount Wutai, where you can visit lots of iconic temples, such as the Dailuoding Temple gathering all the five Dharmakayas of the Manjusri, Xiantong Temple - one of China's oldest temples, Pusading Temple - a leading lamasery monastery in Mount Wutai, and temples with giant statue of the Manjusri, or special shrines. Hiking to all the five terraces uphill will let you enjoy boundless green mountain scenery and harvest a great summer retreat in this "Cool Mountain". Move a little farther, you can closely look China's oldest wooden structure in Nanchan Temple and the third oldest one in Foguang Temple. There are some rare Buddhist sculptures, murals and buildings of Tang Dynasties there.
▶ Popular Mount Wutai Tours | Mount Wutai Travel Guide | Top Mount Wutai Attractions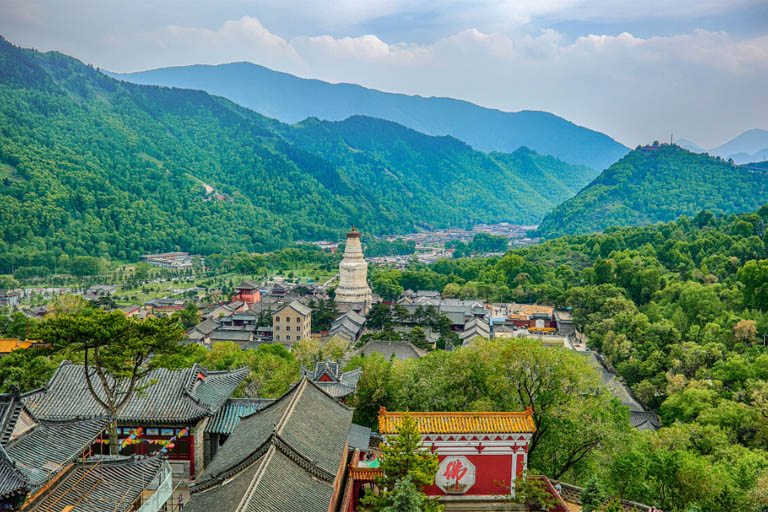 Temples in Taihuai Town, Mount Wutai
● Hukou Waterfall - The Largest Waterfall on the Yellow River
As the largest yellow waterfall in the world and the second waterfall in China, the Hukou Waterfall is a refreshing natural site to visit in Shanxi. When the Mother River - Yellow River flows to the border area of Shanxi and Shaanxi, wide riverbed suddenly become narrow from 300 meters to just 20-30 meters, an imposing water landscape thus is created. In months of April and May, September to November, you can see a significant amount of torrential yellow water roaring and pouring down even with a beautiful rainbow bridge in fine days. Near the waterfall, there are some local folk shows and villages you can watch. Unlike other silent cultural sights in Shanxi, Hukou Waterfall is a dynamic spectacle and a real eye-opener that gives you different impression of the water.
▶ Popular Hukou Waterfall Tours | Hukou Waterfall | Xian Hukou Waterfall Tour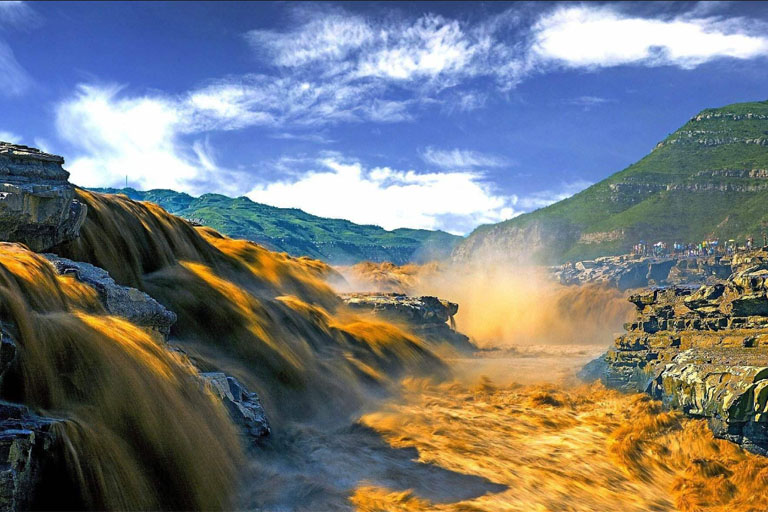 Yellow River Hukou Waterfall
● Taiyuan - Jinci Temple, Shanxi Museum, Twin Pagoda Temple
Located in the center of Shanxi, Taiyuan is the capital city and the largest city in Shanxi. Because it has Taiyuan Wusu International Airport and many high speed trains to Datong, Taiyuan and other destinations in Shanxi, Taiyuan is often used as a transfer center. The city was the capital for many ancient Chinese dynasties and has a long urban history of over 2,500 years. Now in the modern Taiyuan, not too much historical relics left. Jinci Temple is the top attraction during a Taiyuan tour, which is the earliest extant royal ancestral garden in China, keeping the most complete of different reigns and architectural types of Song, Yuan, Ming, Qing Dynasties and the Republic Period. Also, you can visit Shanxi Museum to have an overall and brief understanding about Shanxi quickly, get interesting coal industrial facts in Coal Museum of China and see architectures of Ming Dynasty in Twin Pagoda Temple (Yongzuo Temple).
▶ Popular Taiyuan Tours | Taiyuan Travel Guide | Top Taiyuan Attractions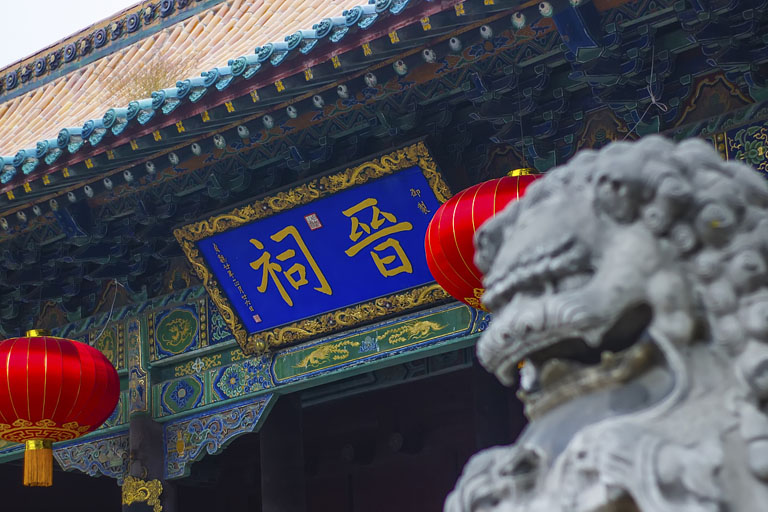 Jinci Temple in Taiyuan
Featured Festivals & Shows to Experience in Shanxi
Chinese New Year in Pingyao
Date: from the 23rd day of the twelfth lunar month to the 16th day of the first lunar month every year
Location: Pingyao Ancient City
Pingyao holds a big Chinese New Year Festival annually to celebrate the dismissing the old and welcoming the new. During the over 20 days, Pingyao Ancient City is the best place to experience the bustling and entertaining Chinese traditional New Year atmosphere. The whole city will light red lanterns, hang red lucky decorations and perform different folk custom activities, such as the Jin Opera, stilt shows, noodle making, ancient officials' patrolling the streets, etc. You can see most actors in local featured costumes, taste various kinds of local snacks and get involved in the local lifestyle culture shortly.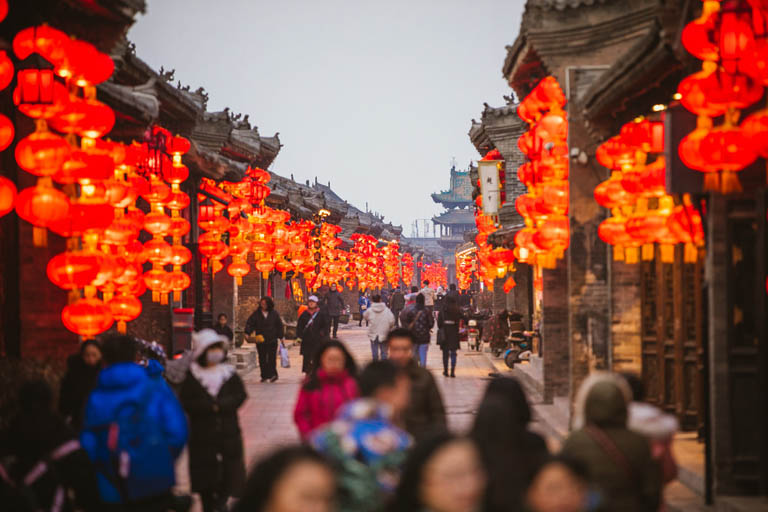 Pingyao Chinese New Year Festival
Encore Pingyao
Ticket: CNY 238
Location: 154 Shuncheng Road, Pingyao County, Jinzhong City, Shanxi Province
Encore Pingyao is a work of Wang Chaoge, an indoor situational play different from other landscape performance of Encore Series. A story of brave rescue is told in the 90-minute show. The most impressive highlight is that the stage is cut into many themed spaces, such as Pingyao Ancient City, ancient street, courtyard, escort agency, to let the audience traverse through lively scenes of previous life. Performers even play in the crowds and communicate with the standing audiences. Besides strolling along the ancient lanes in the ancient city, watching an Encore Pingyao show is a good idea to spend nightlife leisurely and contact to the local culture.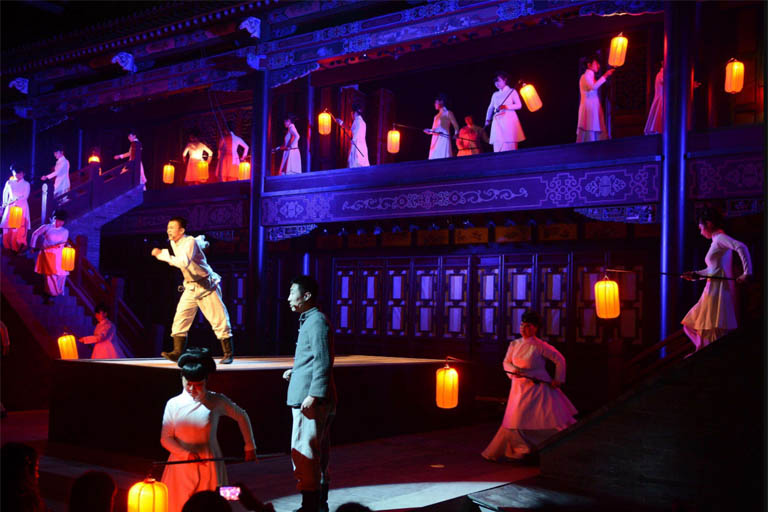 Encore Pingyao Show
Encore Mount Wutai
Ticket: CNY 238
Location: Wutai Mountain Wind Chime Palace of Encore Mount Wutai, 100 meters east of the tourist center of Jingangku Township, Mount Wutai, Xinzhou City, Shanxi Province
Encore Mount Wutai, directed by Wang Chaoge, is the first Buddhist theme large-scale situational drama in China. Since Mount Wutai is the leading sacred Buddhist mountain in China, this show specifically provides an insight of Buddhist culture, leads people to think about life, seek inner peace and tolerance for a happier life. Encore Mount Wutai skillfully integrates the situational performance, visual experience and Buddhist culture together. You can walk around the stage to listen and learn how normal life is affected by Buddhism. The main parts are the four Buddhist scriptures will be chanted by monks under fantastic settings and sound.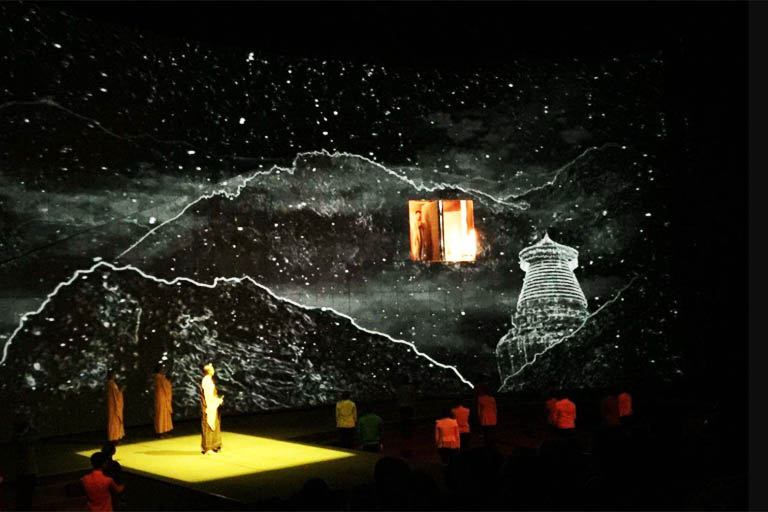 Encore Mount Wutai Show
How Many Days are needed for A Shanxi Tour?
Depending on your vacation time, itinerary and personal preference, you can choose to visit one top destination in Shanxi only or make a classic Shanxi travel with the best highlights. Thus, a Shanxi tour can be flexibly arranged from 2 days to 1 week (usually 2 days in Datong, 2 days in Pingyao, 2 days in Mount Wutai and 1 day for Yellow River Hukou Waterfall).
If you are interested in Buddhist grottoes culture, it's a popular itinerary to spend 2 days in Datong, visiting Yungang Grottoes, Nine Dragon Screen Wall and Huayan Temple on the first day and get to Hanging Temple, Yingxian Wooden Pagoda Temple on the following day. If your schedule is tight, a quick trip to Yungang Grottoes and Hanging Temple is also doable.
More like traditional Chinese architectures, local culture and history? Then, Pingyao should be on your must-visit list. The most classic tour idea is using one full day to discovery Pingyao Ancient City with main sites, and taking another day to visit Shuanglin Temple and Wang's Family Compound.
Want to escape from chaotic city and find a sense of tranquility? Mount Wutai can purify your soul with infinite green nature and large groups of ancient temples. You can make easier sightseeing trip for 1 to 2 days or a 3-day hiking. The recommended itinerary is 2 days for visiting top temples in and near Taihuai Town, including Dailuoding Temple, Tayuan Temple, Foguang Temple. Or take tourist bus to visit five terraces quickly for an extra day. A Mount Wutai trekking trip usually needs 3 days, 2 days for hiking and 1 day for visiting temples in Taihuai Town.
Taiyuan is often used as gateway city for air travelers, a vital high speed train transfer hub to other destinations in Shanxi and the most ideal bus center to Mount Wutai. Most travelers skip it or have a short layover tour with visit of Jinci Temple only. With additional time, you can take 1 day to visit Hukou Waterfall from Linfen.
Most Recommended Shanxi Tour Packages:
✔ 4 Days Essence of Datong & Pingyao
✔ 6 Days Datong Pingyao Tour plus Wutaishan Visit
✔ 3 Days Pingyao Ancient City Tour from Taiyuan
✔ 4 Days Datong Wutaishan Discovery Tour
Datong Wutaishan Pingyao Essence Tour of Shanxi
Pingyao Shanxi Location Map
Our Buddhist Clients at East Terrace in Mount Wutai
When is the Best Time to Visit Shanxi?
As an inland area in mid-latitude zone, Shanxi has a Temperate Continental Monsoon Climate. Affected by solar radiation, monsoon circulation and geographical factors, the climate of Shanxi has these major features: four distinctive seasons, hot and rainy in summer, adequate sunshine, huge climate difference between the north and the south and big temperature variation between day and night, summer and winter. The average yearly temperature of Shanxi is around 4.2℃ to 14.2℃, and its annual average precipitation is between 358 mm~321 mm, mostly occurs in June, July and August and largely impacted by the terrain.
You can travel to Shanxi all year round, because each destination has a different best travel time and most cultural and historical sites can be visited anytime. Generally, April to October is the best time to Shanxi, considering the temperature and travel convenience.
Spring (March-May): For most places in Shanxi, early spring is still chilly, dry with some dust storms. Also, temperature varies widely from day to night. Later, as the temperature rises gradually, it becomes much warmer and pleasant for travel. So, the end of spring is a peak tourist season for a Shanxi tour.
Recommended Places to Visit: Datong, Pingyao, Taiyuan, Hukou Waterfall
Summer (June-August): In summer, nearly all places in Shanxi are hot, humid with lots of rains. Nearly 60% of total amount happens during June to August. However, Mount Wutai during this period is a wonderful summer resort offering a very cool climate and verdurous natural scenery.
Recommended Place to Visit: Mount Wutai
Autumn (September-November): After monsoon, Autumn is another best time to Shanxi, because all places in Shanxi have a moderate temperature and little rainfall. Pingyao will hold a Pingyao International Photography Festival in middle of September each year.
Recommended Places to Visit: Datong, Pingyao, Taiyuan, Hukou Waterfall
Winter (December-Next February): Winter in Shanxi is rather long, cold and dry. The seasonal average temperature is below zero, quite frozen for travelers. It often snows in January and February. But, many tourists are excited to Pingyao to celebrate the Chinese New Year Festival.
Recommended Places to Visit: Pingyao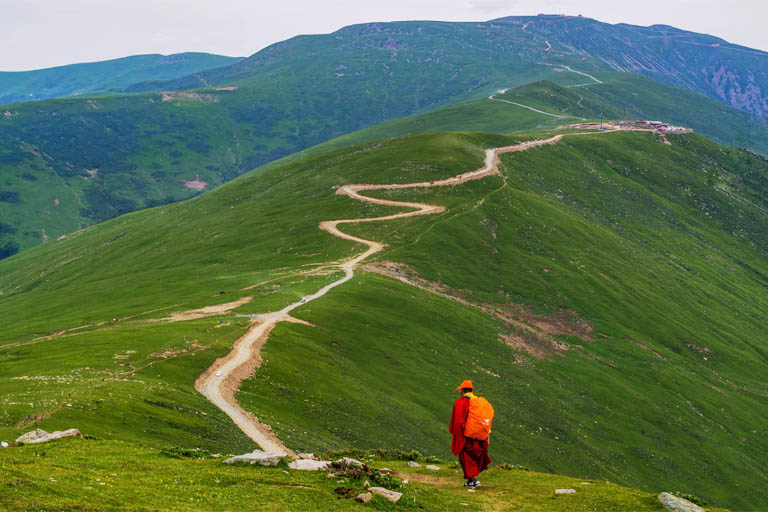 Mount Wutai in July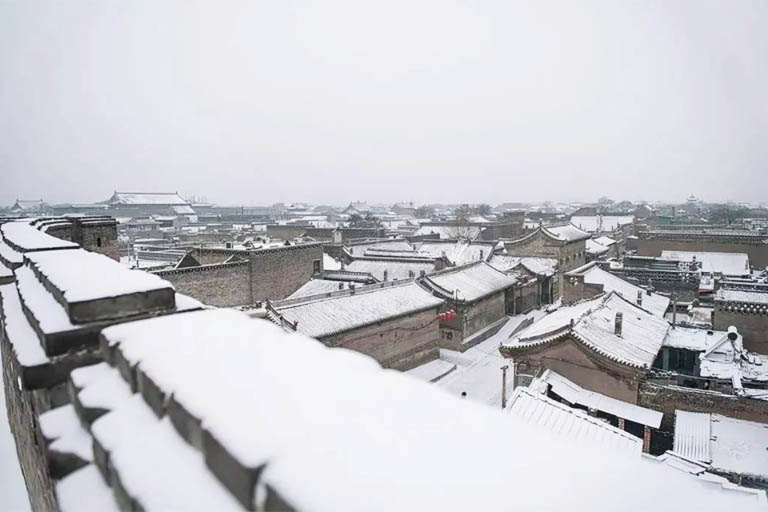 Snow-covered Pingyao Ancient City in January
How to Get to & around Shanxi?
How to Get to Shanxi
By Air: Shanxi has 7 airports in total and Taiyuan Wusu International Airport (IATA: TYN) is the main air transport hub. Currently, Taiyuan Wusu International Airport operates nearly 150 air route, conveniently links Taiyuan with major tourist destinations in China, including Beijing, Shanghai, Guangzhou, Chengdu, etc., as well as some international cities, like Bangkok, Phuket, Sydney.
By Train: Shanxi has been connected with neighboring provinces by both traditional railways and high speed railways. Datong Xian High Speed Railway, Zhangjiakou Datong High Speed Railway and Shijiazhuang Taiyuan High Speed Railway are the three main and frequently used high speed rails. Tourists can take high speed trains to Datong, Pingyao, Taiyuan, Xinzhou, Linfen, Jiexiu or take normal trains to Wutaishan from Beijing and other connected cities.
▶Shanxi Transportation Guide | Taiyuan Wusu International Airport
Get around Shanxi
By Train: Taking a fast high speed train is the most convenient and time-saving traffic to travel among major destinations in Shanxi. Datong to Pingyao High Speed Train takes only 3 hours to 3.5 hours, and it needs just 2.5 hours from Datong to Taiyuan, 4.5 hours to Linfen and 1.5~2 hours to Xinzhou. And, a Pingyao Taiyuan High Speed Train costs 30~40 minutes. For Wutaishan tourists, there are normal trains from Taiyuan (about 3.5~5.5 hours), Pingyao (about 5.5 hours) and Xinzhou (2~3.5 hours) available.
By Bus/Private Car: Getting to Mount Wutai by bus from Taiyuan and Datong is the most efficient transportation. If you want to visit attractions in suburb area with some distance from downtown, such as Wang's Family Copound, Qiao's Family Conpound, better take a private transfer.
▶ Datong to Pingyao | Datong/Pingyao to Mount Wutai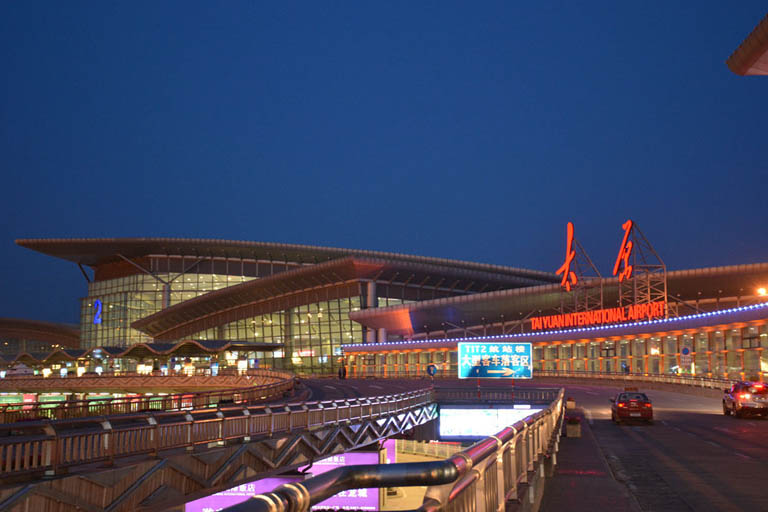 Taiyuan Wusu International Airport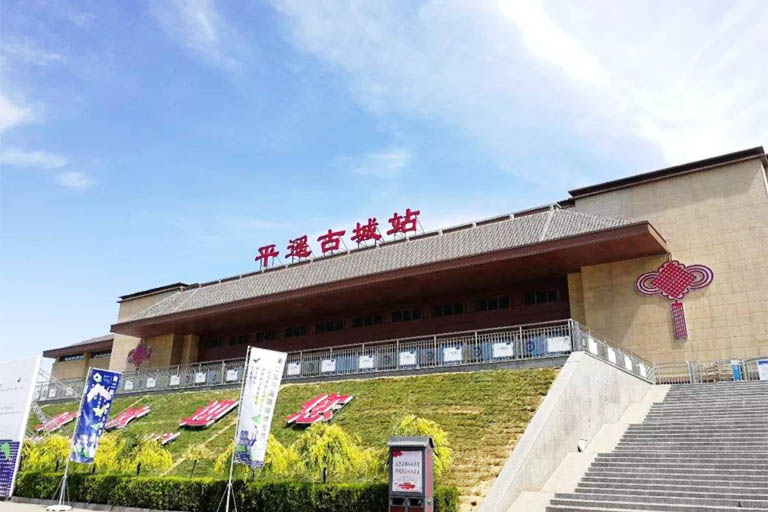 Pingyao Ancient City Railway Station
Mount Wutai Tourist Bus
Where to Stay in Your Shanxi Trip?
When traveling in Shanxi, tourists usually choose to stay in downtown where has the most choices of hotels, convenient to surrounding dining and shopping, nightlife areas. Or you can stay near the major attractions, train station or airport to save time for transportation.
In Datong: The best accommodation place is in downtown Datong, because the overall condition is much better and it's also easy to get to Yungang Grottoes and Hanging Temple from the city center.
In Pingyao: Pingyao offers both modern style hotels and unique traditional courtyard hotels. Hotels inside the Ancient City Wall of Pingyao are the top options, because you can experience the living Pingyao Ancient City at night, walk around the ancient streets and lanes, enjoy delicious food and bars within walking distance.
In Mount Wutai: Taihuai Town at the foot of Mount Wutai is the most popular accommodation area for regular Wutaishan tourists. Here you can have better lodge facilities, most convenient transportation to major Buddhist temples and great chance of tasting delicate vegetarian dishes. Temples on the five terraces also offer simple and basic accommodation for hikers.
In Taiyuan: Hotels in Taiyuan city center, near Yingze Park is top recommended, because it's the best location to major attractions, airport, train station and shopping area.
▶ Where to Stay in Datong | Where to Stay in Pingyao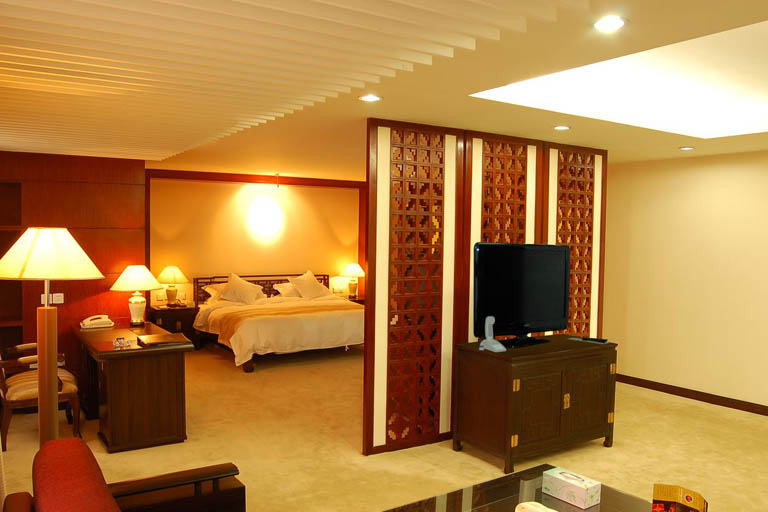 Datong Garden Hotel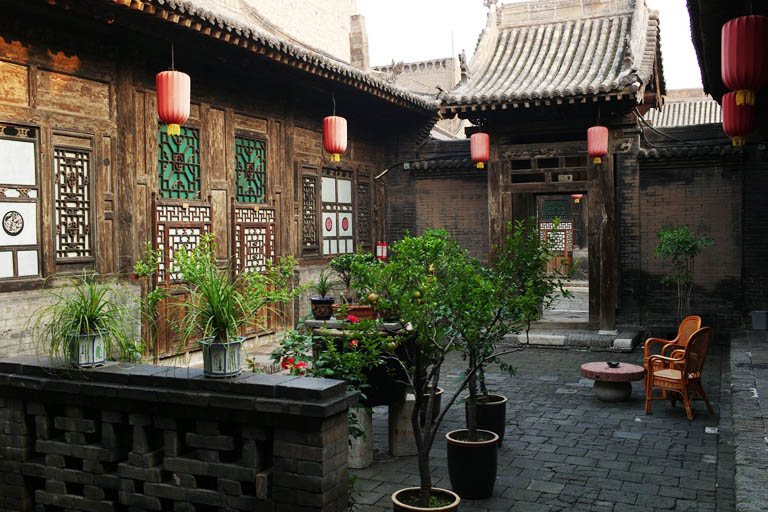 Pingyao Yide Hotel
How to Extend Your Shanxi Tour?
Bordering Shanxi to the west, Henan to the south, Inner Mongolia to the north and Hebei to the east, Shanxi is usually traveled with neighboring destinations in North and Central China, such as Beijing, Xian, Luoyang, Zhengzhou and Hohhot. With more time, you can expand Shanxi tour to more top destinations in other parts of China, such as the modern metropolis Shanghai.
If you plan to tour Beijing and Xian, then you can add Datong and Pingyao on the way, since there are always convenient high speed trains and this journey is a cultural exploration of ancient China. First, spend 3 days in Beijing to realize your Great Wall hiking and landmarks visiting like Forbidden City, Tiananmen Square, Summer Palace, Temple of Heaven, Beijing Hutongs, etc. Then take a high speed train (2 hours) to visit Datong and Pingyao. Next, get to Xian and spend 2 days watching the Terracotta Warriors, visiting Muslim Quarter, Bell & Drum Tower, Giant Wild Goose Pagoda and other sites in Xian.
Later, you can fly to Shanghai, leave 2 days to witness amazing skyscrapers along the Bund and visit other spots in Shanghai, see how the Western culture meeting the East. Or go on your Chinese cultural tour to another ancient capital - Luoyang, make a contrast between different Buddhist grottoes, ancient cities and temples and enjoy a Chiense Kung Fu tour to Dengfeng nearby.
✔ 9 Days Ancient Treasures of China
✔ 11 Day Golden Triangle Tour with Shanxi Highlights
✔ 12 Days Historical China Tour with Train Experience
If you are look for a meaningful side trip from Beijing, then you can visit Datong Yungang Grottoes, Pingyao Ancient City and Mount Wutai, the three only UNESCO World Cultural Heritage properties in Shanxi. Maybe you have more days and want to discover China further, we can also design a China Shanxi itinerary with Chengdu, Guilin and more destinations as you required.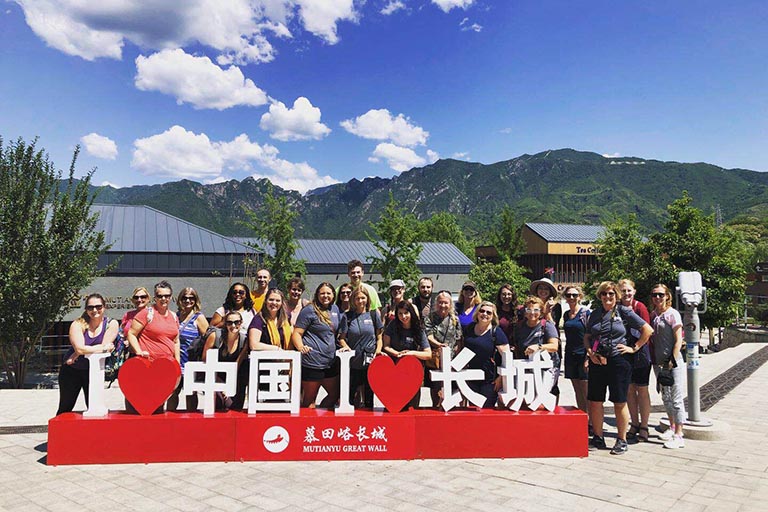 Our American Tourists Enjoyed Mutianyu Great Wall Tour in Beijing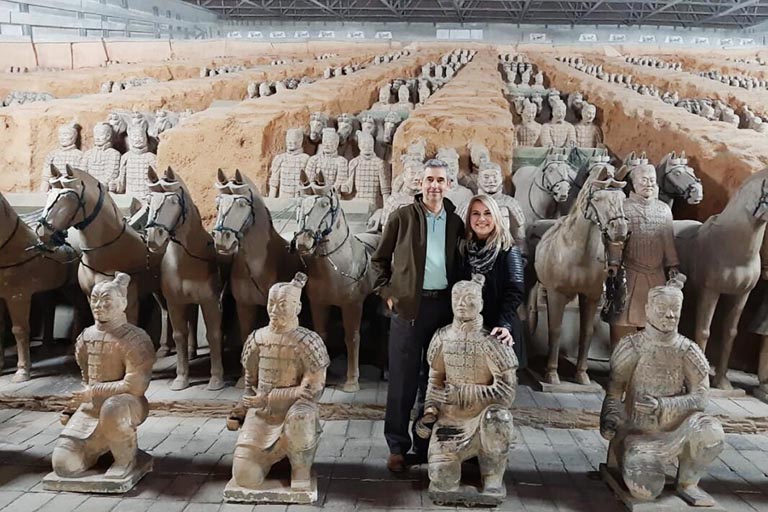 Visiting Terracotta Warriors in Xian with China Discovery
Travel with China Discovery
China Discovery is an experienced, professional and reliable travel companion devoted to offering high-quality and the best tour services for all travelers to China. In order to have a better travel experience of Shanxi and other parts of China, it's highly recommended traveling with us. We not only has one-to-one tour planning and visa assistance before your departure, but also provide convenient transfer, knowledgeable local tour guide, excellent accommodation and dining arrangements based on your requirements. Thus, you can enjoy a China tour with worry-free transportation and better understanding of local culture and history. You may select from our most popular Shanxi tours or contact us to tailor-make the best tour you want!
We have helped many global travelers enjoy their memorable wonderful trips to Shanxi for the past few years. Among them, a sweet couple from the UK traveled with us and spent 21 Happy Days in Datong, Pingyao, Mount Wutai, Xi'an and 5 Other Cities in Northern China, and shared us their special travel story!
Moreover, we got more than 1,620+ good reviews on TripAdvisor.com, and over 3,310+ China travel reviews from our customers. Travel with China Discovery to create your great China trip memories!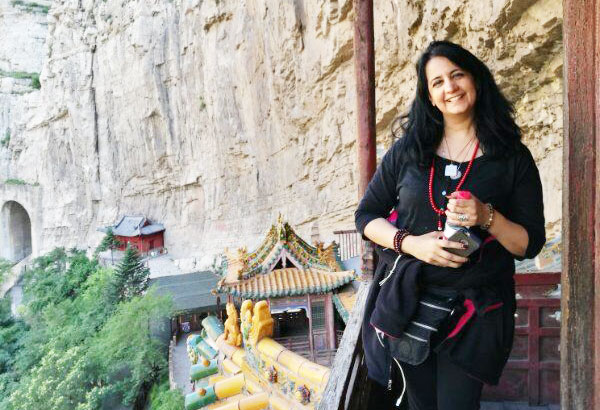 Nissa from Britain visited Hanging Temple with China Discovery
Keep Reading
Recommended Shanxi Tours
Top 3 Shanxi tours chosen by most customers to explore Shanxi in the best way. Check the detailed itinerary, or tailor your own trip now with us.
6 Day Datong Pingyao Tour Plus Wutaishan Visit

Datong / Wutaishan / Taiyuan / Pingyao
4 Days Essence of Datong & Pingyao Tour

Datong / Pingyao
7 Days Shanxi Diversity Tour including Hukou Waterfall

Datong / Wutaishan / Pingyiao / Hukou Waterfall
Start planning your tailor-made holiday to China by contacting one of our specialists. Once inquired, you'll get a response within 0.5~23.5 hours.
Customize a Trip
Have a question? Get answers from our travel experts or guests
Your Question:

Your Name:

Your Email: