Top Xian and Shanghai Attractions & Experiences 2021/2022
Served as a capital for 13 dynasties, Xian is most known as one of China's Four Great Ancient Capitals and one of the best places to trace back to old China. While Shanghai in Eastern China's coastal has turned itself from a small fishing village to the largest and most developed metropolis of China in a short time, displays a brand-new impression of China.
China fans always love to visit Xian and Shanghai together to witness the past and present of China, traverse from brilliant history to the newest modern China and fantastic future. You can feel the sharp contrast between the two cities and capture diverse glamours of China by our well-selected attractions and experiences below.
What to See & Do in Xian
Xian once was the capital of several most important dynasties, including the Han and Tang Dynasties when it was world-famous as Chang'an. The long history thus make Xian the home to many historical sites, including six UNESCO World Cultural Heritages, like the Terracotta Warriors & Horses, Giant Wild Goose Pagoda, etc. Most popular places to visit and interesting activities to experience in Xian are culture-related, so you can feel China's different historical stages and representative civilizations. And, most attractions are in downtown while the Terracotta Warriors is in the northeast suburb.
In Xian, the most important and top site to visit is the Mausoleum of the First Qin Emperor and Terracotta Warriors & Horses. The mausoleum is the first and biggest emperor mausoleum in Chinese history, and the lifelike Terracotta buried Army underground is famed as the "Eighth Wonder of the World". The Ancient City Wall represents one of the oldest and best preserved Chinese city walls. You can take a leisurely walk or biking trip on it to see the outside modern architecture and traditional house inside, and well-designed ancient towers at gates and corners. The Giant Wild Goose Pagoda and Small Wild Goose Pagoda are both spectacular Buddhist pagodas with long histories of over 1,000 years. Bell Tower and Drum Tower in the city center are the iconic landmarks usually visited with the Muslim Quarter. They were built during the early Ming Dynasty. When night falls, the view with colorful lights are very beautiful. Whether you're a foodie or not, you can try various snacks in Muslim Quarter and feel the Islamic culture. Love history? Then, Shaanxi History Museum deserves your visit for huge collections of cultural treasures.
More Xian Featured Activities & Local Experiences
The best seasons to visit Xian are Spring and Fall. Summer is too hot and Winter is normally foggy. Except visiting above sights, you can also watch a Tang Dynasty Show with a Dumpling Banquet, feel the touching music, dance, costumes and love story in ancient China and taste local cuisine. With 1 to 2 days more, you can take a side trip to Mount Hua, admire magnificent landscape and challenge the Huashan Plan Walk on vertical cliff.
▶ Useful Xian Travel Guides:
Best Xian Tour Packages | Top Terracotta Warriors Tours
Top Xian Things to Do | Ultimate Xian Travel Guide
Terracotta Warriors in Xian
The Ancient City Wall
Mount Hua Hiking
What to See & Do in Shanghai
Traditional Chinese culture and western culture have perfectly joined together in Shanghai - this modernized international metropolis but yet not losing traditional Chinese features. Nowadays, Shanghai is the commercial and financial center of China. Some people call Shanghai "Paris of the East", but the other nickname "Pearl of the Orient" may describe Shanghai better. Profound historical monuments, giant skyscrapers and prosperous economy have made Shanghai a beautiful and dazzling a pearl.
The most famous place in Shanghai is the Bund. Some people say:"the story of The Bund is the story of Shanghai". The Bund was once the location of foreign concession. 52 different style buildings of Gothic, Romanesque, baroque and other styles, which are called Wanguo Building Complex, lie to the west of the Bund. If you want to experience the charms and romance of this sleepless city, you must come to the Bund. The night view of the Bund should be definitely on your trip list.
After you come to Lujiazui Finance and Trade Zone in Pudong district, you will finally understand how modern and prosperous Shanghai is. Almost all skyscrapers of Shanghai are standing in here. Include the famous Oriental Pearl Tower, the 88-storied Jinmao Tower and World Financial Center. All of them have few observatories, and you can get a bird's's view of Shanghai from those observatories. Make sure the weather is good when you top on the observatory, or you will just see a vague Shanghai in the middle of mist.
If you are interested in Chinese classical garden architecture and design style, you must visit Yu Garden. This is a private garden dated back in Ming Dynasty. The garden is full of delicacy and elegance of Chinese style. Out of Yu Garden is the Yuyuan Bazaar where you could find many elaborating and lovely traditional Chinese handicrafts and art works. Next to the garden, there is an over 600-years old temple - the City God Temple. The temple is surrounded by over a hundred stores and shops. You can eat every Shanghai special snacks here.
Nanjing Road - Shanghai's busiest shopping road is a great choice when you need to purchase. This is a shoppers' paradise. You can find the latest fashions, cutting edge, electronics and beautiful jewelry here. While if you are exhausted due to the sightseeing or shopping, you can get a rest at Xintiandi. Xintiandi is an affluent car-free shopping, eating and entertainment district. Wandering at Xintiandi, you will feel like you were in the 1920s or 1930s of Shanghai. However, when you walk into the stores, the modern inner decorations will give you a total different experience. The place is suitable for Petty Bourgeoisie, you can get yourself a total relax coffee time during your busy trip.
There are also many fun spots deserving your visit in Shanghai. The Madame Tussauds in Shanghai, you can get close to many "celebrities" here. In Shanghai Urban Planning Exhibition Center, you will witness how Shanghai became a cosmopolitan city from a shabby fishing village. History lovers won't miss this center. The 1933 Old Millfun is favored by young artists. It's the creative industry center in Shanghai. If you are looking for something new, may this place will give you some fresh ideas.
Many places, like Tianzifang, Jade Buddha Temple, Zhujiajiao Water Town, Fenjing Water Town, are also great choices for your Shanghai trip. So many things to do and see in Shanghai, so what are you waiting for? Just pack your stuff and come to explore this fascinating city!
More Shanghai Featured Activities & Local Experience
Shanghai's night view is extremely breathtaking, so don't forget to bring your camera, SLRs is best. Huangpu River Cruise is one of the best nightlife to see the sleepless Shanghai. You could also take a sightseeing bus. It's a double-decker bus, and it will connect Nangjing Road, the Bund, People's Square, Oriental Pearl Tower and other sites together. Like Beijing has roast duck, Shanghai has the famous Nanxiang Steamed Meat Dumplings and Squirrel-Shaped Mandarin Fish. If you travel with kids, Shanghai Circus World and Shanghai Disneyland are good places to have family fun.
▶ Useful Shanghai Travel Guides:
Most Popular Shanghai Tours | Top Shanghai Things to Do | Ultimate Shanghai Travel Guide
The Bund
Skyscrapers in Lujiazui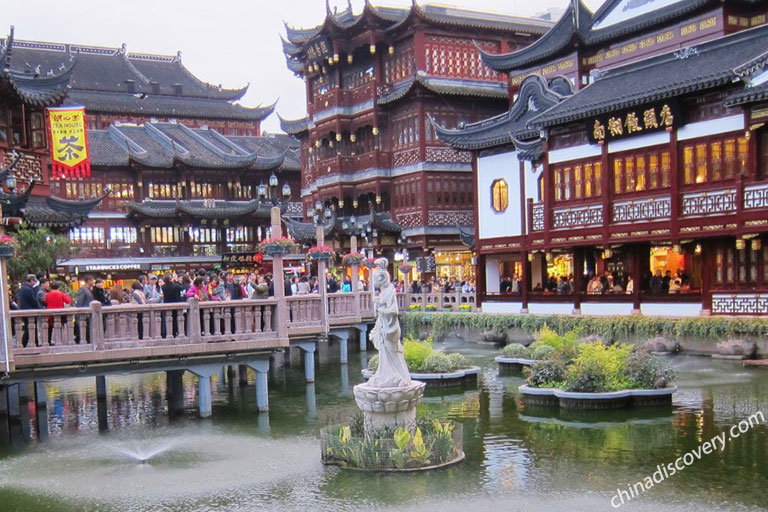 Yu Garden
Tianzifang
Shanghai Disney Resort
How to Plan a Xian Shanghai Tour
As the ancient capital city of China for 13 dynasties, ruled by 73 emperors, Xian has left massive cultural heritages and relics for you to explore. Within about two days, you can finish visiting the main sites, which include the incredible man-made wonder, the Terracotta Warriors, the Giant Wild Goose Pagoda, and the Muslim Quarter where you can get to try the local cuisines. Besides, biking around the Ancient City Wall and tracing back the history at Shaanxi History Museum and watching the Tang Dynasty Show, all of these activities are definitely unmissable for your stay in Xian. Now, it is available to have 72 hours Visa-Free Transit in Xian, and you can go for a history and culture tour or photography tour to explore all the stunning attractions in the city even without applying for a visa.
✔ 2 Days Xian City Break
✔ 3 Days Classic Xian Tour
✔ 4 Days Xian In-depth Experience Tour
Travel from Xian to Shanghai
Usually, spending 4 to 6 days in Xian and Shanghai is the most suitable travel length for the two hot destinations. A tour from Xian to Shanghai is like traveling by time machine taking you from the ancient China to the bustling metropolis. Flights, high-speed trains and normal trains are available from Xian to Shanghai every day. As an important gateway city to/off China, Shanghai preserves the mixed culture of the western and eastern, including the Shanghai Museum, Shanghai World Financial Center in Lujiazhui, various historical architectures, Yu Garden, City God Temple along the Bund and busy Nanjing Road, etc. Local culture lovers can use one extra day to visit Tianzifang, Zhujiajiao Water Town, while family travelers can have fun in Shanghai Disney Resort. Meanwhile, you can also experience Maglev Train and energetic nightlife, taste diverse snacks to make your Shanghai tour interesting and memorable.
✔ 5 Days Classic Xian Shanghai Tour (by Flight)
✔ 4 Days Shanghai Xian Overnight Train Tour
✔ 5 Days Shanghai Xian Contrast Tour (by Flight)
Travel Xian with Shanghai, Beijing & More China Destinations
Beijing Xian Shanghai are the golden triangle cities often visited together for a week holiday. Besides Xian and Shanghai, you can use 3 days to visit the Great Wall in Beijing and major iconic spots like Forbidden City, Temple of Heaven, etc. Or, with more time in Shanghai, you can extend the trip to the nearby cities of Shanghai such as Hangzhou, Suzhou, Huangshan Mountain, and further to Zhangjiajie, Guilin, Chengdu, Yunnan, Silk Road, Tibet and more phenomenal destinations to enrich your China discovery.
✔ 6 Days Beijing Shanghai Tour by High Speed Train
✔ 8 Days Best of China Tour
✔ 8 Days Beijing Xian Shanghai Tour by Flight
Travel with China Discovery
As a leading travel agency in China which dedicates to offering high-quality China tours, China Discovery has helped thousands of travelers enjoy their trips to Shanghai, Beijing, Xian, etc., in China. Travel with us, you can enjoy worry-free tour services as well as well-organized itineraries, even our assistance of Chinese Visa application, convenient airport/train station pick-up & drop-off and transfer between all scenic spots, knowledgeable tour guide, safe & licensed private vehicle, satisfactory accommodation and dining and so on. You are free to choose from our most popular Shanghai Xian tour packages or contact us to design a memorable holiday in China.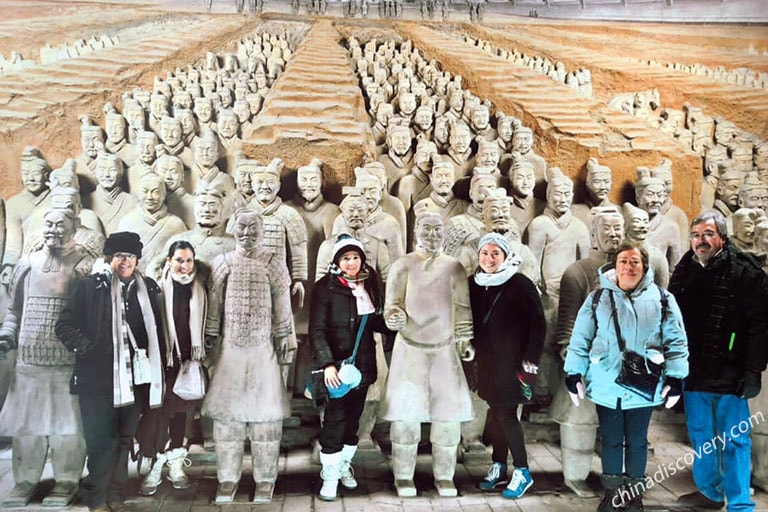 Daniela and Her Family in Terracotta Warriors Museum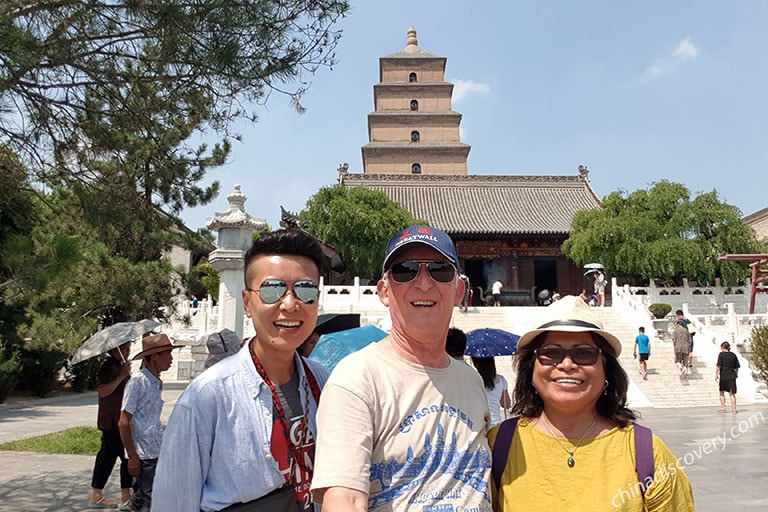 Nijman Family in Giant Wild Goose Pagoda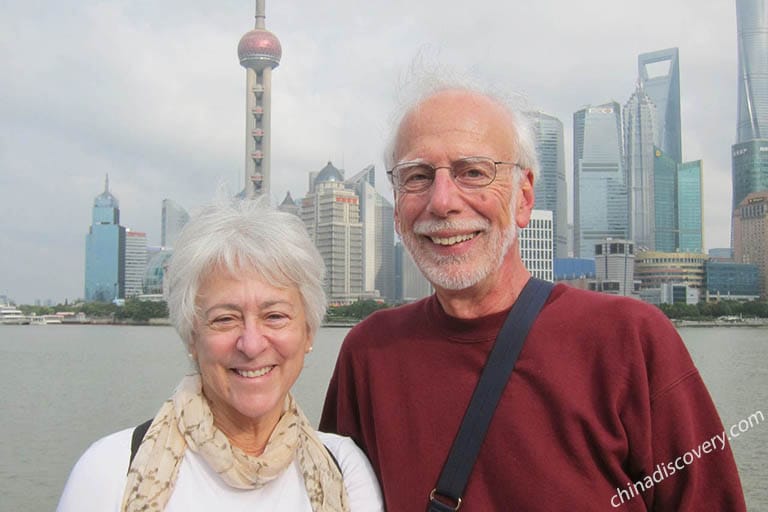 Paul & His Wife Visited the Bund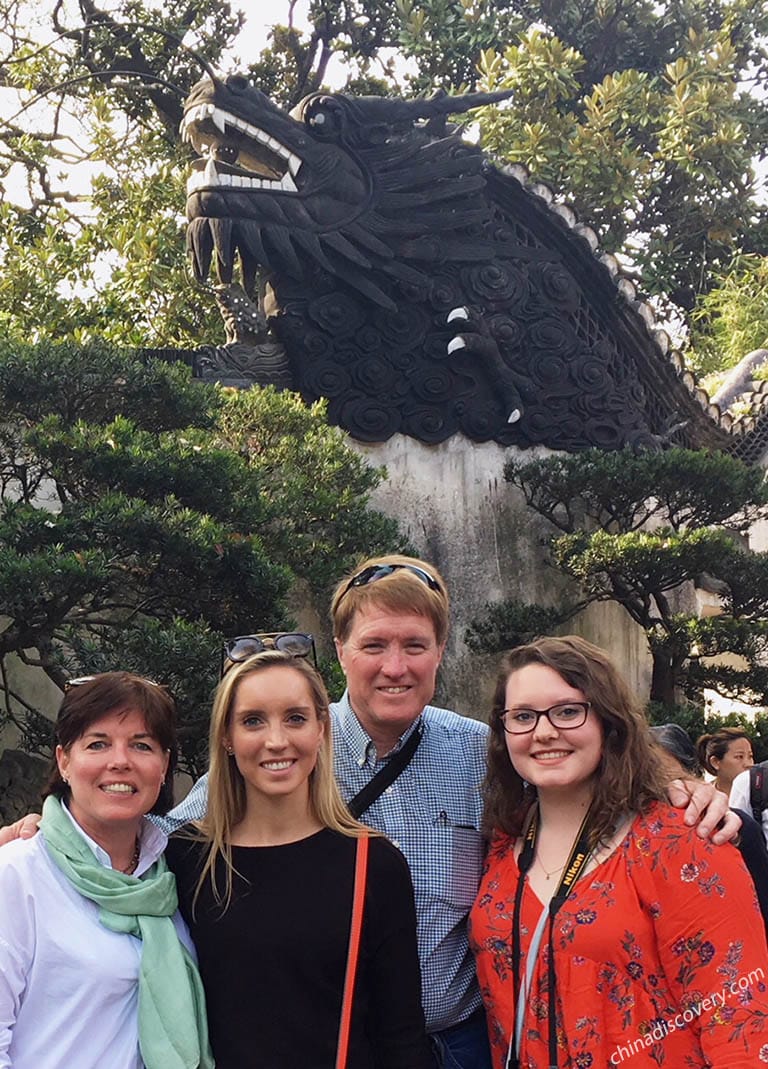 Timothy Family in Yu Garden
Keep Reading
Recommended Xian Shanghai Tours
Top 3 Xian Shanghai tours chosen by most customers to explore Xian Shanghai in the best way. Check the detailed itinerary, or tailor your own trip now with us.
8 Days Best of China Tour (Flight/Bullet Train Covered)

Beijing / Xian / Shanghai
8 Days Best Shanghai, Xian & Beijing Tour

Shanghai / Xian / Beijing
4 Days Shanghai Xian Overnight Bullet Train Tour

Shanghai / Xian
Start planning your tailor-made holiday to China by contacting one of our specialists. Once enquired, you'll get a response within 0.5~23.5 hours.
Customize a Trip
Have a question? Get answers from our travel experts or guests
Your Question:

Your Name:

Your Email: