How to Plan a Shanghai Xian Tour 2021/2022
Shanghai, the biggest metropolis of China, is one of the most popular gateway cities to China. In Shanghai, you can witness the amazing modern skyline, explore the extraordinary cultural fusion of the Oriental and Western and imagine the future look of China. While Xian, a great ancient capital most famous for the Terracotta Warriors, is considered one of the best place to encounter ancient China and admire previous splendid culture and history. Traveling Shanghai and Xian together means you can take a time machine to meet the old and modern China in one go.
Making everything clear and settled before departure ensures you a better travel experience. Bases on that, China Discovery here offers you the most useful Shanghai Xian trip planning ideas about when to go, what to see & do, where to accommodate, how long to stay, how to transfer and extend journey longer, etc. Follow our step-by-step guide to start your Shanghai Xian tour now!
Best Time to Go
You can travel to Shanghai and Xian all year around. Considering the outdoor temperature, dressing & packing for travel comfort and convenience, the best time to visit Shanghai and Xian are months in spring (March to May) and autumn (September to November), for the temperature is moderate, air quality and natural scenery is the best. Better avoid China's national holidays, like Labour Day (from May 1st), National Day (from October 1st) when hundreds of millions of tourists are filled in all attractions and hotel and air tickets charges higher than other periods.
▶ Best Time to Visit Shanghai
Shanghai owns a subtropical monsoon climate. It features four distinct seasons and rich rainfall. Spring and Autumn are relatively short, but they are the best time to visit Shanghai because temperature is comfortable and suitable for outdoor activities. Other months are also good time for travel as well because visiting Shanghai is mainly about cultural sites rather than seasonal nature scenery. Please note that Shanghai in summer (June to August) is hot and rainy and quite cold and windy in winter.
Check detailed monthly and seasonal weather and dressing tips in the Best Time to Visit Shanghai.
▶ Best Time to Visit Xian
Xian belongs to a warm temperate continental monsoon climate with obvious wet and dry seasons. In spring, it's warm, a litter dry and windy, while summer gives lots of rains and very high temperature. When autumn comes, it's very cool and refreshing, but winter is freezing cold and often snows. So, the most recommended times to visit Xian are spring and autumn. April and September are the best among the bests.
Learn more about Xian Weather & Seasons - Best Time to Visit Xian.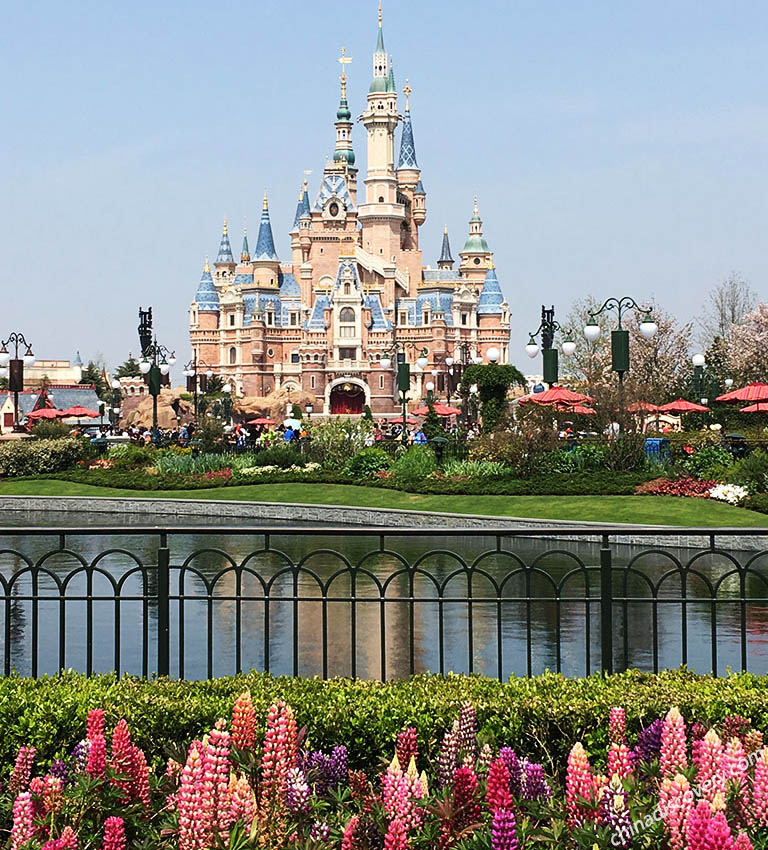 Shanghai Disney Resort in Spring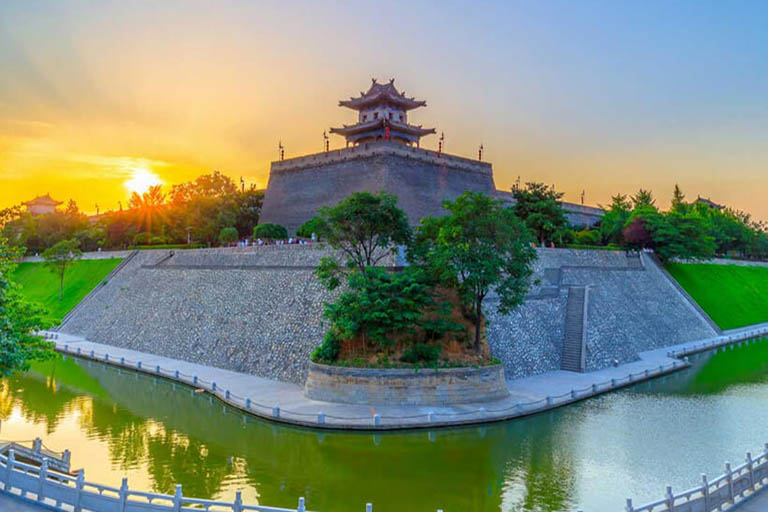 Xian Ancient City Wall in Spring
Decide Your Travel Length
Normally, tourists spend 2 days in Shanghai and Xian respectively to visit the most important attractions. You can adjust the duration based on your own holiday time and travel plan. That means, you can flexibly shorten or extend the journey time and even travel more destinations from Shanghai or Xian.
▶ How Many Days for Shanghai
Shanghai's essence can be covered in 1 to 3 days' itinerary. If you only leave 1 day for Shanghai, then you're suggested to make a downtown sightseeing of the Bund and skyscrapers in Lujiazui across Huangpu River with Yu Garden. Two days is the most popular schedule, for you can visit more wonderful palaces, such as admire massive cultural relics in Shanghai Museum, walk in Former French Concession, ascend up a skyscraper to get a bird's view of Shanghai. If you have three days, you may visit Disneyland to enjoy fairyland fun, or get away from urban vibe to peaceful Zhujiajiao Water Town. In-depth Shanghai exploration can be customized as you required.
If you take a side trip to Suzhou or Hangzhou from Shanghai, you need to spend one or two extra days. Hiking the Huangshan Mountain from Shanghai takes at least 2 days.
▶ How Many Days for Xian
You can visit Xian in 1 to 4 days depending on your travel plan. 1 day is only suitable for a brief tour of Terracotta Warriors with most popular downtown spots - Ancient City Wall, Muslim Quarter, Bell & Drum Tower. 2 days is the best length for a classic Xian city tour with main attractions. Giant Wold Goose Pagoda and Shaanxi History Museum can be visited with above places. If you have 3 days and more, it's highly suggested taking a side trip to Mount Huashan to view rocky mountains and natural scenery. Also, you can extend the trip to Luoyang (Longmen Grottoes) or Shaolin Temple with an extra 2 days each.
If you take side trips from Xian to Luoyang and Shaolin Temple, you'd better spend 2 days on one palace.
▶Useful Links: How to Plan a Trip to Xian | Popular 1 Day Itinerary in Xian | Popular 2 Days' Itinerary in Xian | Popular 3 Days' Itinerary in Xian
Below are carefully selected Shanghai Xian tour packages for you, which include the top must-sees and best local experiences. You can contact our travel consultant to tailor-make your tour according to your personal interests and time.
Most Recommended Shanghai Xian Tours:
☛ 4 Days Shanghai Xian Overnight Bullet Train Tour
☛ 8 Days Best of China Tour (Beijing/Xian/Shanghai)
☛ 8 Days Best Shanghai Xian Beijing Tour
Historical Buildings along the Bund
Shanghai Huangpu River Night Cruise
Biking on Xian Ancient City Wall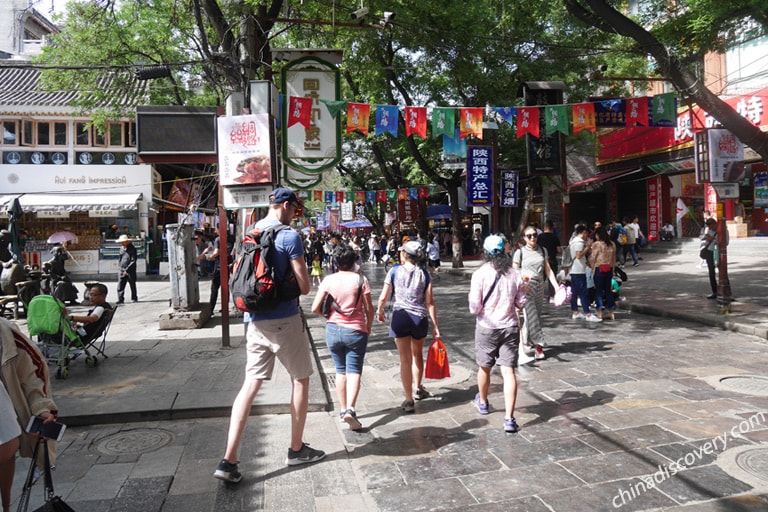 Sample Local Snacks in Muslim Quarter
How to Travel: Shanghai-Xian or Xian-Shanghai?
With 2 international airports, Shanghai is one of the largest air gateway cities to China. Clearly, Shanghai offers more international flights than Xian for air travelers. However, if you travel to Xian from Beijing or other city in Northern China, it's quite easy and common to visit Shanghai after Xian. The tour route can be flexible designed on your personal preference.
For those who will fly to China, it's more recommended travelling from Shanghai to Xian, for you have more choices of arrival flights and good chances to visit Suzhou and Hangzhou. If you are more interested in ancient culture and history of China, or want to fly back home from Shanghai, then you can make a Xian Shanghai tour.
Shanghai Xian Travel Map (click to enlarge)
Choices of Transportation
The distance between Shanghai and Xian is around 1,400 km (870 mi). It's very easy and convenient to get from Shanghai to Xian or Xian to Shanghai, for there are several ways of transportation available, including the flight, high speed train and normal train. Each way has its advantages. You can check detailed travel time and frequency to choose your favorite way to transfer. China Discovery suggests you a flight. It is fast and the price is affordable.
▶Useful Links: Get from Shanghai to Xian | Get from Xian to Shanghai
▶ By Flight (More Time-efficient)
Taking a flight is the fastest to travel between Shanghai and Xian, for the air journey is less than 2.5 hours. Each day, there are more than 30 non-stop flights taking off from Xian Xianyang International Airport (SIA) to Shanghai Hongqiao International Airport (SHA) and Pudong International Airport (PVG). Places are scheduled leaving between at about 06:30 and 22:00/23:00 daily. If you have a tight schedule, a flight can be your first choice. Check updated Shanghai Xian Flight Schedule >>
Most Popular Shanghai Xian Tour by Flights:
☛ 5 Days Shanghai Xian Contrast Tour
☛ 5 Days Classic Xian Shanghai Tour
☛ 8 Days Best of China Tour (Beijing/Xian/Shanghai)
☛ 8 Days Best Shanghai Xian Beijing Tour
▶ By High Speed Train (Popular and Convenient)
Getting around China by high speed bullet train is very popular and convenient in China nowadays. There are about 15 ~ 20 pairs of high speed bullet trains running between Shanghai Hongqiao Railway Station and Xian North Railway Station each day. The G trains runs faster with a duration of 6 ~ 9 hours, while a overnight train depart from Shanghai Railway Station costs about 11 hours. The G trains depart and arrive on the same day. If you want to experience accommodation on board, the overnight bullet train offers a clean and comfortable sleeper.
▶Useful Links:
Shanghai to Xian High Speed Bullet Train Schedule
Xian to Shanghai High Speed Bullet Train Schedule
Most Popular Shanghai Xian Tour by Train:
☛ 4 Days Shanghai Xian Overnight Bullet Train Tour
▶ By Normal Train (The Slowest Way)
There are over 10 couples of normal trains (T, K, Z trains) going from Shanghai to Xian and from Xian to Shanghai, between Xian Railway Station and Shanghai Railway Station. It is slow and takes a long time on the train, about 15 ~ 20.5 hours. All are overnight trains which can save your one night accommodation fee if you take one.
Shanghai Hongqiao International Airport
Xian Xianyang International Airport
Shanghai Hongqiao Station
Xian North Railway Station
Choose Accommodations in Shanghai & Xian
It is no need to worry about your accommodation in the most tourist cities - Shanghai and Xian. Choices are a lot. Hotels are ranging from 5-star luxury hotels, comfortable 4-star hotel and 3-star budget hotels with convenient locations and high quality services. You could select your favorite one based on your budget and likes. China Discovery has listed some high-reputed hotels and hostels recommended by our former customers.
▶ Where to Stay in Shanghai
The most popular place to stay in Beijing is Wangfujing Area in the city center, close to The attractions in Shanghai are mainly located in the downtown and travellers always choose to stay around the Bund, and the Nanjing Road. Some of them will also stay around the major transportation hubs, like Shanghai Hongqiao Airport, Shanghai Pudong Airport, Shanghai Hongqiao Railway Station, and Shanghai Railway Station, etc. The hotels arange from luxury five-star ones to the economy stays. Check the Best Places to Stay in Shanghai >>
▶ Where to Stay in Xian
Xian has a total 13 administrative areas (11 districts and 2 counties), and not all tourist attractions are concentrated in one area. There are over 5 accommodation areas in Xian, including the city center area (near Muslim Quater and the Bell and Drum Towers) within Ancient City Wall, Southeast area (near Giant Wild Goose Pagoda), West (Xincheng District), Southwest area (High-Tech Zone) and regions close to airport, train stations and major landmarks. Check the Best Places to Stay in Xian >>
Fairmont Peace Hotel in Shanghai
Wyndham Grand Xian South
Explore Highlights in Beijing & Shanghai
Shanghai and Xian are the top destinations in China with lots of tourist attractions to explore and many interesting & meaningful activities to experience.
▶ Top Things to Do in Shanghai
Shanghai is not only the largest and most developed city in China, but also a fascinating mixture of the East and West. Landmarks of Shanghai includes both historical & culture sites and modern icons, like the Bund, Nanjing Road, Yu Garden, iconic skyscrapers like Oriental Pearl Tower, Shanghai Tower or World Financial Center. If you have more days and like a leisurely walking tour, then Former French Concession is the best place to go. Local culture can be found in Tianzifang and Zhujiajiao Water Town. Family travelers can enjoy a full day fairy tale tour in Shanghai Disney Resort.
If you transfer from Pudong Airport to downtown or the other way around, you may take the world's fastest train ride - Shanghai Maglev Train. Popular nightlife activities highly recommended are the Huangpu River Cruise, from which you can to see high-rises decorated colorful lights on the banks and a acrobatic show with various risky and fancy performances like Hula-Hoops, Clowns with Knives, Umbrella Handling, etc.
Useful Links: Top Things to Do in Shanghai | Best Shanghai Nightlife Ideas
▶ Top Things to Do in Xian
Xian is more than 3000 years old and was the capital for 13 dynasties. It is no wonder that there are so many historical ruins, museums and cultural relics above and under the ground of the city. The must-sees in Xian worthy of your visit are the Terracotta Warriors & Horses, Ancient City Wall, Giant Wild Goose Pagoda, Shaanxi History Museum, Bell & Drum Tower, Muslim Quarter.
You can spend several hours on witnessing the Terracotta Warriors and learn ancient terracotta craft. In the downtown area, you can walk or ride a bike on the Ancient City Wall to view traditional architecture and know more about the city's past history. Bell & Drum Tower are symbols of Xian that have beautiful night views. To hunt for local snacks and food, busy Muslim Quarter provides lots of options.
The best idea to spend a wonder night in Xian is to watch a Tang Dynasty Show. You can visit Huaqing Palace near the Terracotta Warriors and appreciate the most stunning show - the Song of Everlast Sorrow. It is a perfect combination of Tang-styled beautiful poetry, dance, traditional music. Or, you can enjoy a show with traditional Dumpling Banquet for dinner in the city center. Various dumplings will be served with different fillings, like pork, beef, mutton, seafood, etc.
Before you fly away from Xian, it's advised to take a detour to Hanyang Mausoleum, discover another interesting pottery and tomb system distinguishing from the Terracotta Warriors. With 1 day more, you can a Huangshan (Mount Hua) hiking trip from Xian.
Useful Links: Top Things to Do in Xian | Popular Xian Huashan Tours | Tang Dynasty Shows
Paul & His Wide Visited the Bund in Shanghai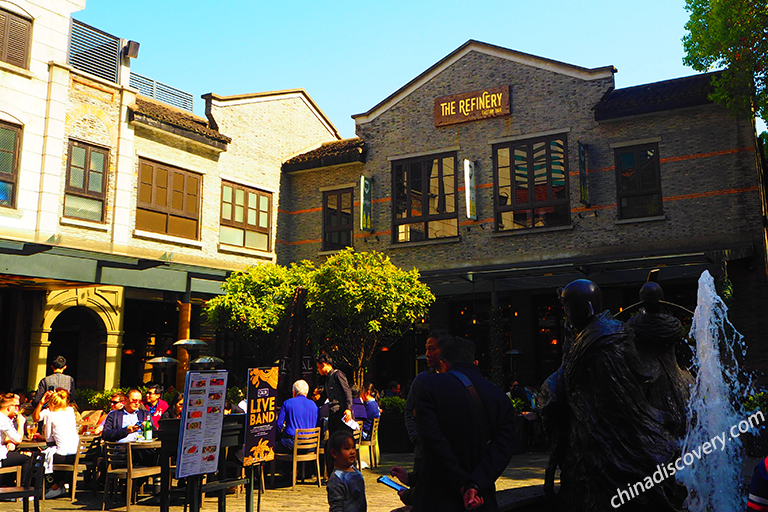 Enjoy Leisure Time in Xintiandi of Shanghai
Visit Terracotta Warriors in Xian
Watch Tang Dynasty Show in Xian
Extended Destinations with Shanghai and Xian
Beijing, Xian and Shanghai are China's golden triangle cities that often visited together. It's a epic China tour unfolding different historical periods and unique city charms with regional features. You need at least 8 days to visit three great destinations. We have popular Beijing Shanghai Xian tour packages you can choose different starting city and transport.
☛ 8 Days Best of China Tour (Beijing/Xian/Shanghai)
☛ 8 Days Best Shanghai Xian Beijing Tour
Xian in Central China is well-linked to the north, northwest, southwest and other regions of China. So you can extend trip from Xian to Mount Hua, Pingyao Ancient City, Datong (Yungang Grottoes), Mount Wutai ... in Shanxi Province, Luoyang (Longmen Grottoes), Shaolin Temple in Henan Province, and to Chengdu (Giant Panda), Guilin (Li River)and further Silk Road and Tibet.
☛ 7 Days Shanghai Xian Tour with Luoyang & Kung Fu
☛ 10 Days China First Tourch Tour from Beijing (Beijing/Xian/Guilin/Yangshuo/Shanghai)
Shanghai is an important transfer center to Suzhou (the best Chinese classic gardens), Hangzhou (West Lake), Nanjing and Huangshan Mountain and an excellent link with China's southern destinations, like Zhangjiajie, Guilin, Guangzhou, Shenzhen, Hong Kong, Xiamen, Yangtze River, etc.
Longer Shanghai Tours with More Destinations:
Shanghai Suzhou Tours | Shanghai Hangzhou Tours | Shanghai Huangshan Tours | Shanghai Guilin Tours | Shanghai Zhangjiajie Tours | Shanghai Yangtze River Tours
Our Group Tourists Enjoyed Beijing Mutianyu Great Wall Tour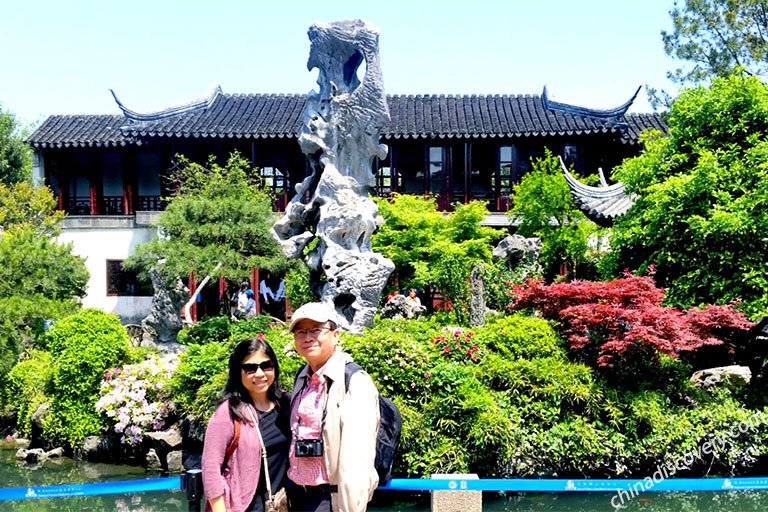 Our Delighted Customers Visited Lingering Garden in Suzhou
Travel Shanghai & Xian with China Discovery
As a leading travel agency in China which dedicates to offering high-quality China tours, China Discovery has helped thousands of travelers enjoy their trips to Shanghai, Xian, Beijing, etc., in China. Travelling with us, you can enjoy a well-organized itinerary and worry-free transfer service, and our assistance of Chinese Visa application, knowledgeable tour guide, safe & licensed private vehicle, satisfactory accommodation and dining and so on. One-to-one consultant is specially provided to meet all your requirements. You are free to choose from our most popular Shanghai Xian tour packages or contact us to design a memorable holiday on your own!
Tailor-made Xian Terracotta Warriors Tour by China Discovery
Keep Reading
Recommended Shanghai Xian Tours
Top 3 Shanghai Xian tours chosen by most customers to explore Shanghai Xian in the best way. Check the detailed itinerary, or tailor your own trip now with us.
8 Days Best of China Tour (Flight/Bullet Train Covered)

Beijing / Xian / Shanghai
8 Days Best Shanghai, Xian & Beijing Tour

Shanghai / Xian / Beijing
4 Days Shanghai Xian Overnight Bullet Train Tour

Shanghai / Xian
Start planning your tailor-made holiday to China by contacting one of our specialists. Once enquired, you'll get a response within 0.5~23.5 hours.
Customize a Trip
Have a question? Get answers from our travel experts or guests
Your Question:

Your Name:

Your Email: