How to Plan Shanghai Suzhou Tours
Shanghai is China's most eyes-catching city attractive with glamourous cityscape, high-rise buildings, various western architectures, splendid art galleries, laughter-filled amusement parks, etc. Many travelers unveil their first China trip in Shanghai to see how the east meets the west and the past meets present. Well-equipped with countless airlines and high speed rails, Shanghai also acts as a main tourist distribution launch international travelers to different cities of China. Just adjacent to Shanghai, Suzhou is an elegant city worthy of one weekend's exploration. Traveling Shanghai and Suzhou together, you can experience their different cultures, attractions, livings, art, etc. With the purpose of ensure you a high-quality Shanghai-Suzhou travel experience, this trip planner gives you practical ideas.
Best Time to Go
Best Time To visit Shanghai
The weather is always mild in Shanghai and there is seldom extreme weather like strong snow, rainstorm or typhoon, making Shanghai available to travel all year round. It has four distinct seasons – warm spring, hot summer, cool autumn and dry, and cold winter. The yearly average temperature is about 15.8 °C (60.4 °F). Generally speaking, the spring days (March to May) and autumn days (September to November) are the best time to visit Shanghai because temperature is quite and the weather is quite comfortable. Other months are also good time for travel because Shanghai's best highlights are about cultural sites and city views rather than seasonal nature scenery.
Best Time to Visit Suzhou
Near to Shanghai, Suzhou has a similar climate as Shanghai – also mild and moist, which features in the monsoon ocean climate. Spring is warm and pleasant, summer is hot and humid, autumn is sunny and cool, winter is cold and humid. The average yearly temperature is around 15~17℃. The highest temperature is about 38℃ in July, and the lowest is 0℃ in January. Rainy seasons usually last from June to September. Generally speaking, Suzhou is suitable for travel all year around, but the best time is April to October, especially spring and autumn. Spring is the blooming season for flowers in the gardens in Suzhou. Besides, it's warm and less crowded. While during autumn, you can enjoy a sunny and cool weather, also less rainfalls.
Conclusion: It is available to visit Shanghai and Suzhou all the year around but visit in spring (March ~ May) and autumn (September ~ November) when the weather is the best.
▶ Helpful Links: Shanghai Weather | Suzhou Weather
Autumn of Shanghai
Autumn of Suzhou
How to travel: Shanghai - Suzhou or Suzhou - Shanghai?
According to our local-based experience, most travelers travel from Shanghai to Suzhou because Shanghai is usually the arrival hub for vast travelers. There are more flexible choices for transferring to Shanghai, including frequent international flights, domestic flights and high speed trains from different cities. However, it doesn't means that you can't travel to Shanghai from Suzhou. If you come to Suzhou from other cities in China, such as Hangzhou, Beijing, Nanjing, etc., you can then travel to Shanghai easily by driving or high speed train.
Having a Day Tour to Suzhou from Shanghai is very popular and valuable. Take the early morning high speed bullet trains around 7am, and arrive at Suzhou around 8am, next spend a full days exploring gardens, canals, ancient streets, etc., and last take a bullet train back to Shanghai around 6~7pm.
High Speed Bullet Train
Choices of Transportation - Taking High Speed Train & Drive
Traveling between Shanghai and Suzhou, you can choose to drive, take a train or take a long-distance bus.
High Speed Trains (Most Recommended): Taking a high speed train is the most convenient and comfortable way to transfer between Shanghai and Suzhou. There are over 200 high speed train running from Shanghai Hongqiao Railway Station or Shanghai Railway Station to Suzhou Railway Station or Suzhou North Railway Station. Most of the high speed trains take only about 30 minutes. It is also available to take a normal train which costs less but takes longer time (about 1 hour). Remember to choose a train to Suzhou Railway Station if possible because it is accessible to metro lines and close to many top attractions.
Driving: For those travelers who travel by a small group, driving is a good option. The driving distance is about 100 kilometers and the drive takes about 2 hours on the well-paved high way. Compared to the public transfers, self-driving will be more flexible.
Notes: There is no airport in Suzhou city, travelers can firstly get to Shanghai, Wuxi, Nanjing, then transfer to Suzhou by train or driving.
▶ Helpful Links: Shanghai Suzhou Transfer | Shanghai Suzhou High Speed Train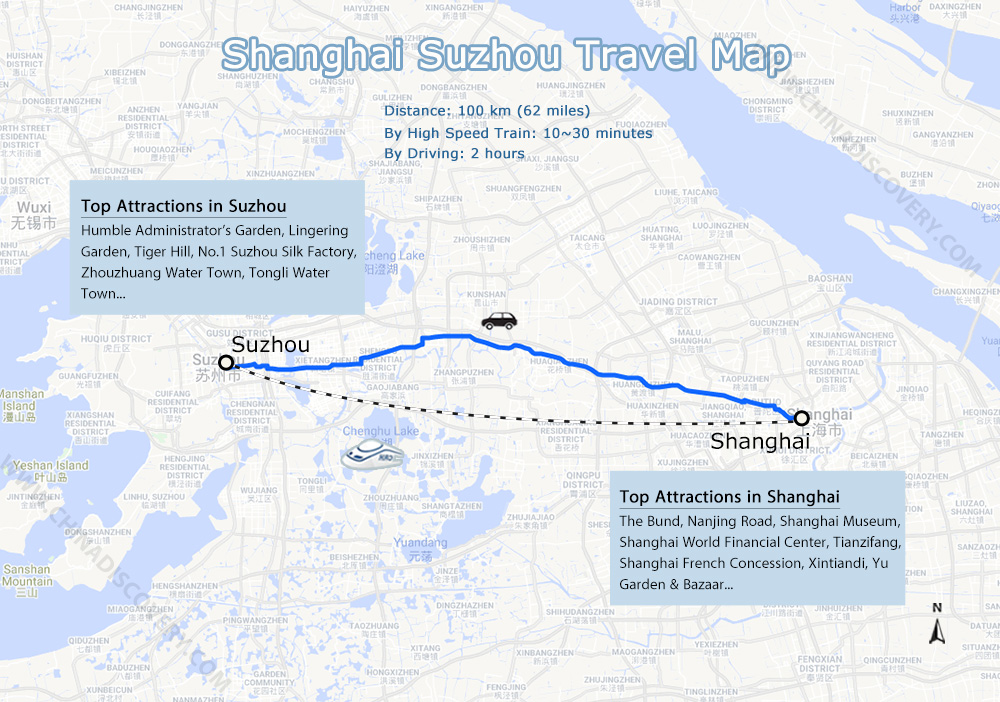 Shanghai Suzhou Travel Map
Shanghai Suzhou Bullet Trains
Decide Your Travel Length
Traveling Shanghai and Suzhou won't take you a lot of days. It can be done in a week, or several days because they are near to each other, and most of attractions are located in the city area or nearby surroundings. Generally speaking, it is advised to spend two or three days touring Shanghai, and then spend one or two days' touring Suzhou. Though a classic Shanghai Suzhou tour takes only four to five days totally, it allows you to cover both the highlights in Shanghai (the Bund, Shanghai Museum, Yu Garden, Nanjing Road, even Disneyland) and Suzhou (Classical Gardens, Suzhou Silk Factory, Suzhou Museum, even Tongli or Zhouzhuang Water Towns).
Suzhou Museum
Organize Your Itinerary in Shanghai and Suzhou
How to Plan Shanghai Tour
Highlights of Shanghai: Western-style Streets, Modern Architecture, Local Blocks, Disneyland, Museum, Garden
- Classic 2 Days Shanghai Tour
D1: Firstly, visit the traditional Chinese garden art at Yu Garden, and join the crowds of Yuyuan Bazaar. Next, go for some leisure walking at the prosperous Nanjing Road and the Bund. Lastly, climb the one high building in Shanghai (like SWFC, Shanghai Tower, Oriental Pearl…) to have a panoramic view of Shanghai.
D2: In the morning, go to appreciate some national precious relics in Shanghai Museum and visit Tianzifang to admire the traditional residential block. Then, enjoy a leisurely walk in the peaceful Former French Concession.
What to Do for More Days
1. Have a day tour to visit a water town – Zhujiajiao or Fengjing
After your Shanghai City exploration, we suggest you extend to one surrounding water towns where you can admire the old flavor by seeing the canal views and ancient structures.
2. Plan a day's happy adventure at Shanghai Disney Land
If you want to immerse yourself in the happiness of a fairytale world, spend 1 day enjoying the various activities and wonderful shows in Disney Land. Besides, you can also visit Shanghai Haichang Ocean Park, Shanghai Wild Animal Park, Smurf Land Theme Park, etc.
Shanghai Museum
Lujiazui in Shanghai
How to Plan Suzhou Tour
Highlights of Suzhou - Lingering Garden, Humble Administrator's Garden Tiger Hill, Suzhou Museum, Suzhou No.1 Silk Factory
Brief Day Tour
Start your trip with a visit to one or two most classical Suzhou gardens - Humble Administrator's Garden, Lingering Garden or Master of the Nets Garden, then move to the famous Suzhou Museum to find out how the architectural master f Mr. I.M.Pei merged the traditional Chinese architectural design with the future. Lastly, go to explore the Tiger Hill, a popular spot featuring beautiful landscapes. As for the night activities, you can go for a relaxing walking on the Pingjiang Road, or take a night cruise on the Grand Canal.
In-depth Two Days Tour
Visiting a water town is one of the MUST things to do in Suzhou. Don't have to go very far within 30km, you are able to explore two of most outstanding water towns in China – Tongli and Zhou Zhuang. Zhou Zhuang, called "Venice of the East", is the No.1 water town in China, noted for its profound cultural back, the well preserved ancient residential houses and the elegant watery views. The charming old town can be explored on foot or via a boat tour on the canals. Tongli is another an-aged but very well preserved water township with a history of more than 1,000 years, giving visitors a good idea of what Suzhou must have been like in its heyday. Usually, you can spend a half or a full day visiting one of these two water towns. Besides, you can also explore silk culture and even take part in making silk culture in Tiahuxue Sericulture Cultural Park.
Classical Gardens of Suzhou
Zhouzhuang Water Town
Choose accommodation in Shanghai and Suzhou
Accommodation will not be a problem in Shanghai. Shanghai owns some of the best hotels in China, from modern skyscrapers with vertiginous observation decks to the exotic cozy boutique stay by the riverside. The recommended accommodating areas include the Bund and People's Square Area, French Concession Area, Pundong Area, Hongkou and North Area. No matter which accommodating area you choose, you can easily find some places to shop or dine and transfer around by metro. The best accommodating areas in Suzhou contains Old City Area and Central Urban Districts. If you travel to Tongli or Zhouzhuang, you can enjoys some good hotels as well. Both Shanghai and Suzhou has a bunch of international luxurious hotels branding running hotels, like Shangri-La, Continental, Hilton, etc. Please click and for details.
▶ Helpful Links: Shanghai Accommodation | Suzhou Accommodation
Shanghai JC Mandarin Hotel
Extend You Shanghai Suzhou Tour to More Destinations
If your time allows, extending your vacation to some other charming places near to Shanghai and Suzhou is strongly recommended, such as Hangzhou - another heavenly city, Nanjing – the old capital city of 6 dynasties, Huangshan – charming city with picturesque Yellow Mountain and beautiful Huizhou villages, etc. If you want to travel Shanghai, Suzhou, Hangzhou and Huangshan in one go, it is advised to choose Our 9 Days East China & Mt. Huang Tour by High Speed Train, which allows you to get a unique journey full of diverse things to experience – modern metropolis, beautiful water towns, classical gardens, Chinese tea culture, etc.
If you want to travel Shanghai and Suzhou with other hot destinations in China, it is easy to connect with Beijing (Great Wall, Forbidden City, Temple of Heaven…), Xian (Terracotta Warriors, Ancient City Wall, Shaanxi History Museum, Muslim Quarter…), Guilin (Li River, Yangzhuo Old Town, Longji Rice Terraces…), Zhangjiajie (Zhangjiajie National Park, Zhangjiajie Grand Canyon, Tianmen Mountain…), Yangtze River (Yangzi River Cruise), even Tibet (Potala Palace, Mount Everest, Mount Kailash…) very easily. Feel free to contact us to customize a tour according to your own interest
West Lake in Hangzhou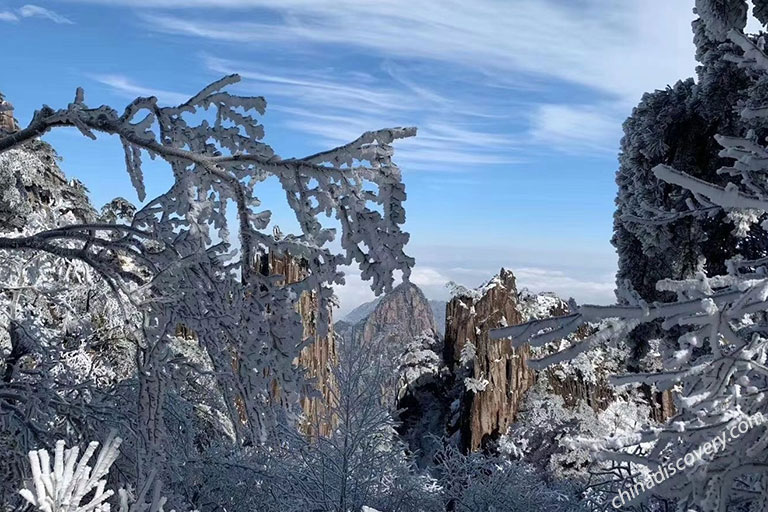 Yellow Mountain in Huangshan
Travel with China Discovery
In order to have a worry-free Shanghai Suzhou tour, traveling with China Discovery will be extremely helpful China Discovery is a leading travel agency with rich experience in offering high-quality and customizable China tour packages. Before your tour, our travel expert will communicate with you one to one and make an itinerary according your own interest, need and budget. Every detail – transfer, hotels, attractions, etc. will be arranged well for you. As you arrive, our local travel guide and driver will pick you up at the airport or train station as you arrive with an air-conditioned and non-smoking vehicle, and then escort you to your hotel or every attraction listed in your itinerary. Great freedom will be given to you whenever you need to stop for sightseeing and photograph. Feel free to contact us to start your memorable private tour now!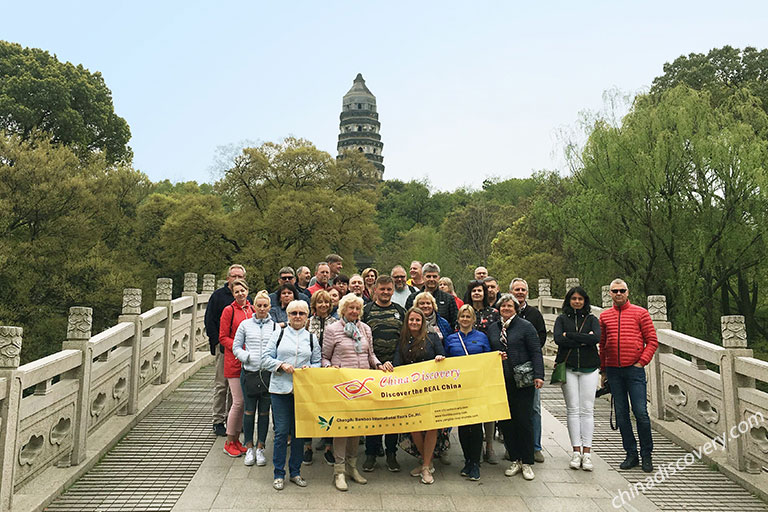 Our Customers in Tiger Hill, Suzhou
Get Inspired by Real Travel Stories of Our Customers
Since 2012, we have helped numerous customers visit Suzhou and surroundings. With our fully-inclusive private tour packages, all of our customers enjoyed their trips to the exquisite gardens, peaceful watertowns, informative silk factory or museum, old Suzhou streets, etc. Some of them kindly shared their precious photos and stories about their Suzhou journey, just get inspired now.
"We were lucky for being able to watch Chinese dancers at the Lingering Garden at the time of visit…" - shared by Nguyen (Check her The Pursuit of Natural Beauty with the Beloved one - 14 Days Beautiful China Exploring Tour>)
"Suzhou was the real treat at the end of the trip! Everything about Suzhou was perfect…" - shared by Elizabeth from Britain (Check her Long-lasting Memory brought by First Trip to China - 16 Days well-Organized and Wonderful First Visit to China>
Besides the wonderful travel stories, many customers who visited Suzhou with China Discovery also send us their first-hand feedbacks about their trip, feel free to read the Suzhou Reviews and learn what they say about their experience. If you want to start your Suzhou tour now, don't hesitate to contact us.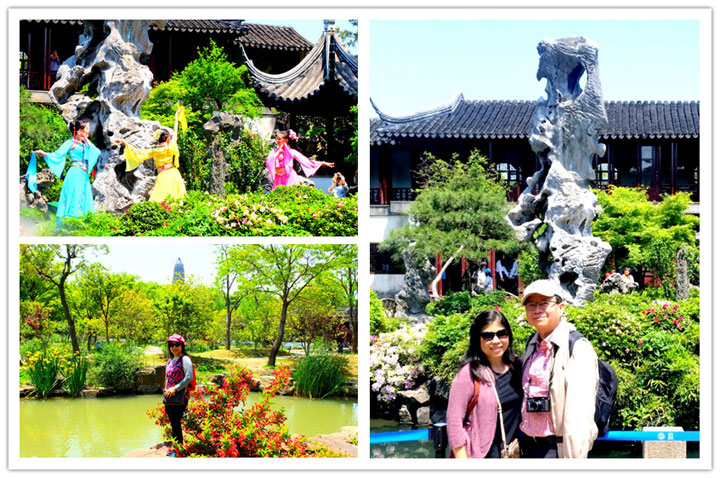 Our Customers Mrs. Nguyen and her husband from Canada visited Suzhou, customized by Wonder Wang
Recommended Shanghai Suzhou Tours
Top 3 Shanghai Suzhou tours chosen by most customers to explore Shanghai Suzhou in the best way. Check the detailed itinerary, or tailor your own trip now with us.
5 Days Shanghai Hangzhou Suzhou Highlights Tour

Shanghai / Hangzhou / Suzhou / Shanghai
5 Days Essence of Shanghai & Hangzhou Tour

Shanghai / Hangzhou / Shanghai
5 Days Shanghai & Suzhou Highlights Tour with Tongli Water Town

Shanghai / Tongli / Suzhou / Shanghai
Start planning your tailor-made holiday to China by contacting one of our specialists. Once inquired, you'll get a response within 0.5~23.5 hours.
Customize a Trip
Have a question? Get answers from our travel experts or guests
Your Question:

Your Name:

Your Email: