General Impression of Qingdao Beer Museum
Qingdao Beer Museum, which combines ancient precious collection and modern design, officially opened on August 15, 2003 on the centenary day of Tsingtao Beer, one of the earliest beer production enterprises. It is located in the old factory building of Qingdao Beer. The red houses are very distinctive decorated with large beer cans on the roof. Entering the gate, you will see a square first. In the center of the square is the Arabic figure "100" statue, named "Centennial Ode", which was erected on the opening day of the museum. To the west of "Centennial Ode" is a fountain composed of beer bottles and wine glass statues. Everything here is telling you that you are in a world of beer.
As an important part of the century old Tsingtao Beer enterprise culture, Qingdao Beer Museum integrates the history of Tsingtao Beer development with profound cultural deposits, advanced technological process, beer tasting, entertainment and shopping. It is the first and first-class professional beer museum in China, praised as "the banner of China's industrial tourism" and "a real model for the protection and utilization of China's industrial heritage".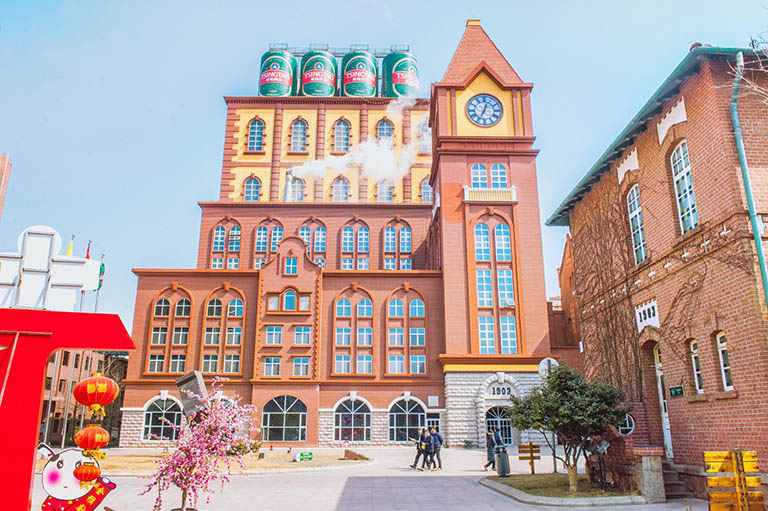 Qingdao Beer Museum
What to See in Qingdao Beer Museum
The exhibition area of Qingdao Beer Museum is more than 6000 square meters and divided into three exhibition areas. You can learn the history of Tsingtao Beer, know its production process and get a novel experience of beer here.
Talk to the Past - History & Culture Exhibition Area
In this area, tourists can learn about the centennial history and culture of Tsingtao Beer. It was established after the German occupied Qingdao, then was bought by Japan, and finally returned to China after Qingdao was liberated in 1949. Tsingtao Beer has gained countless honors and has shown a good performance in export. Many important figures from home and abroad visited Qingdao Beer Museum. There are textual and graphic materials and exhibits collected from Europe and the whole country telling about the history, showing Tsingtao Beer in various stages, introducing Qingdao Beer International Festival and the beer customs of Qingdao city. The objects on display such as the Qingdao beer trademark registered with the lighthouse of Little Qingdao in 1948 and the Qingdao beer advertisement shot in 1947 are worth seeing.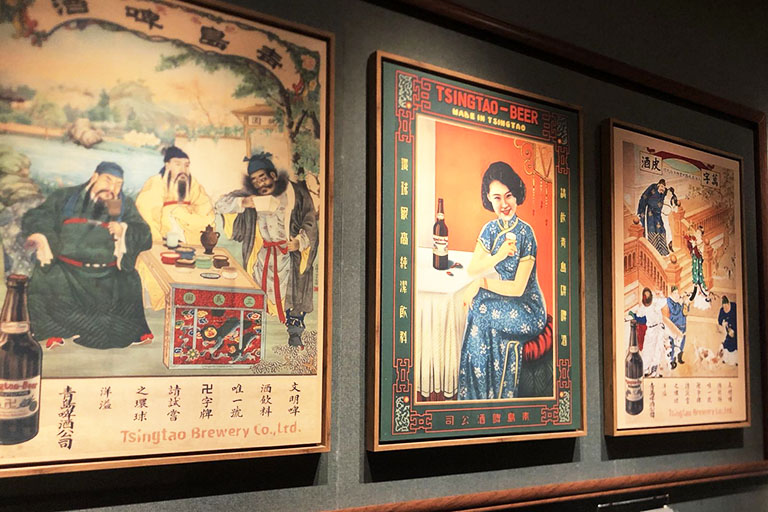 Advertisement for Tsingtao Beer
Meet the Classics - Tsingtao Beer Production Process Area
The production process area shows the complete set of brewing process equipment and modern production line of Tsingtao beer 100 years ago, including old buildings, old equipment and workshop. The images and videos at each representative part of the process vividly introduce the production history and evolution of Tsingtao beer. The museum sets up sculptures of workers working in the old fermentation tank of the old workshop. At the same time, the old laboratory and the scene of workers turning malt are copied to reproduce the original appearance of Tsingtao beer production history.
The Siemens generator made in 1896 is the treasure of this museum. The generator can still operate normally after being electrified. It has become the oldest Siemens generator in the world and the best witness of the centennial history of Tsingtao Beer.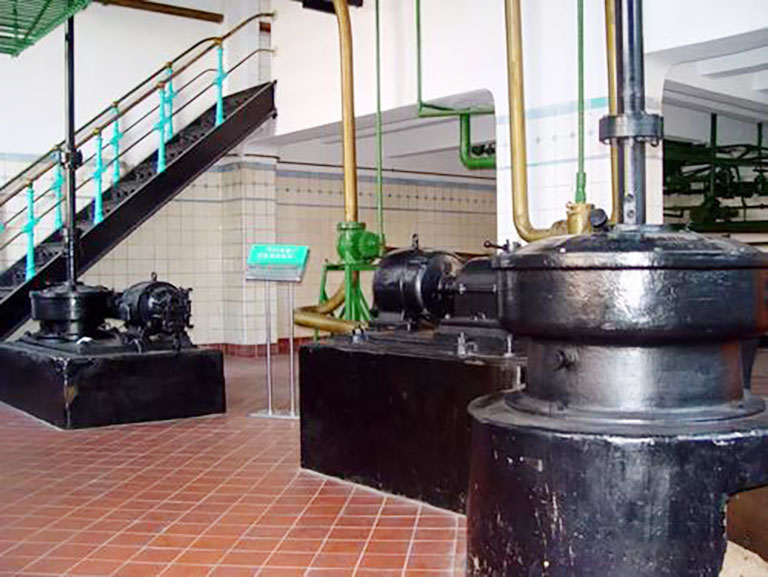 Siemens Generator
Cheers with the World - Multi-functional Entertainment Area
In this area, the museum brings you surprise through the technology creative projects such as holographic projection, dynamic cycling, and AR interaction. When you are there, don't miss the Drunken House. It looks ordinary from the outside, but is specially designed to let you experience what it feels like to be drunk. In the commodity stores, there are a wide range of beer cultural creative products, such as special beer, exclusive wine sets, all kinds of wine openers, bottle chocolate, delicious beer beans, etc. The 1903 restaurant bar of Qingdao Beer Museum on the first floor can accommodate 200 people at the same time. There are authentic German roast pork elbow, German sausage and Qingdao seafood.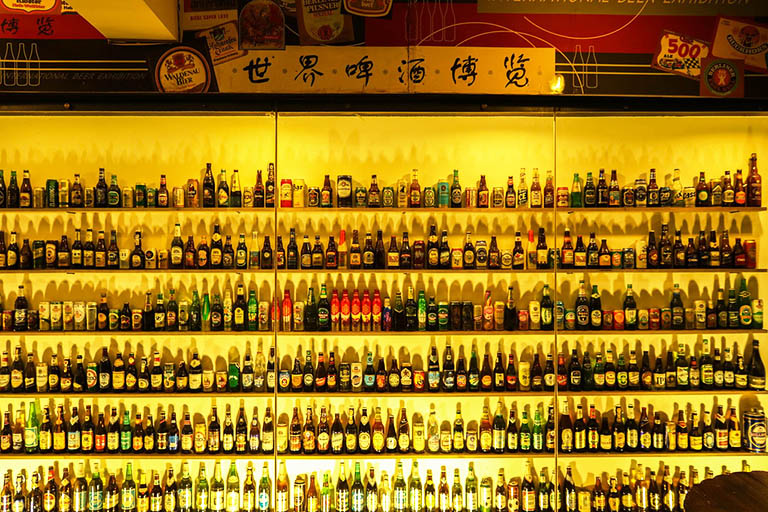 World Beer Exhibition
How to Get to Qingdao Beer Museum
Qingdao Beer Museum is located at No. 56 Dengzhou Road, Shibei District, Qingdao City.
7 km away from Qingdao downtown (May Fourth Square), about 30 minutes by car or bus/subway;
25 km away from Qingdao Liuting International Airport, about 1 hour by car, 1.5 hours by bus;
7 km away from Qingdao Railway Station, about 30 minutes by car, 40 minutes by bus;
16 km away from Qingdao North Railway Station, about 30 minutes by car, 1 hour by subway;
How to Get to Qingdao: You need to get to Qingdao first and then travel to Qingdao Beer Museum. Qingdao can be reached by a few international flights, some domestic flights and many high speed trains. If you are already in China, it is easy to take direct flights to Qingdao from Beijing (1.5h), Shanghai (1.5h), Xian (2h), Luoyang (1.5h), Zhengzhou (1h45min), Chengdu (2h40min), Guangzhou (3-3.5h), etc., and high speed trains from Beijing (4-5h), Shanghai (7h), Tianjin (4-4.5h), Jinan (1.5-4.5h), Tai'an (3.5h), Yantai (1.5-2h), etc.
Qingdao to Qingdao Beer Museum: Qingdao Beer Museum is not far from downtown and it is easily reached by bus. The nearest metro station is Lijinlu (利津路) on metro line 2, about 800m away, so it is also available to get there by subway. If you want to save some time, traveling by taxi is also an option.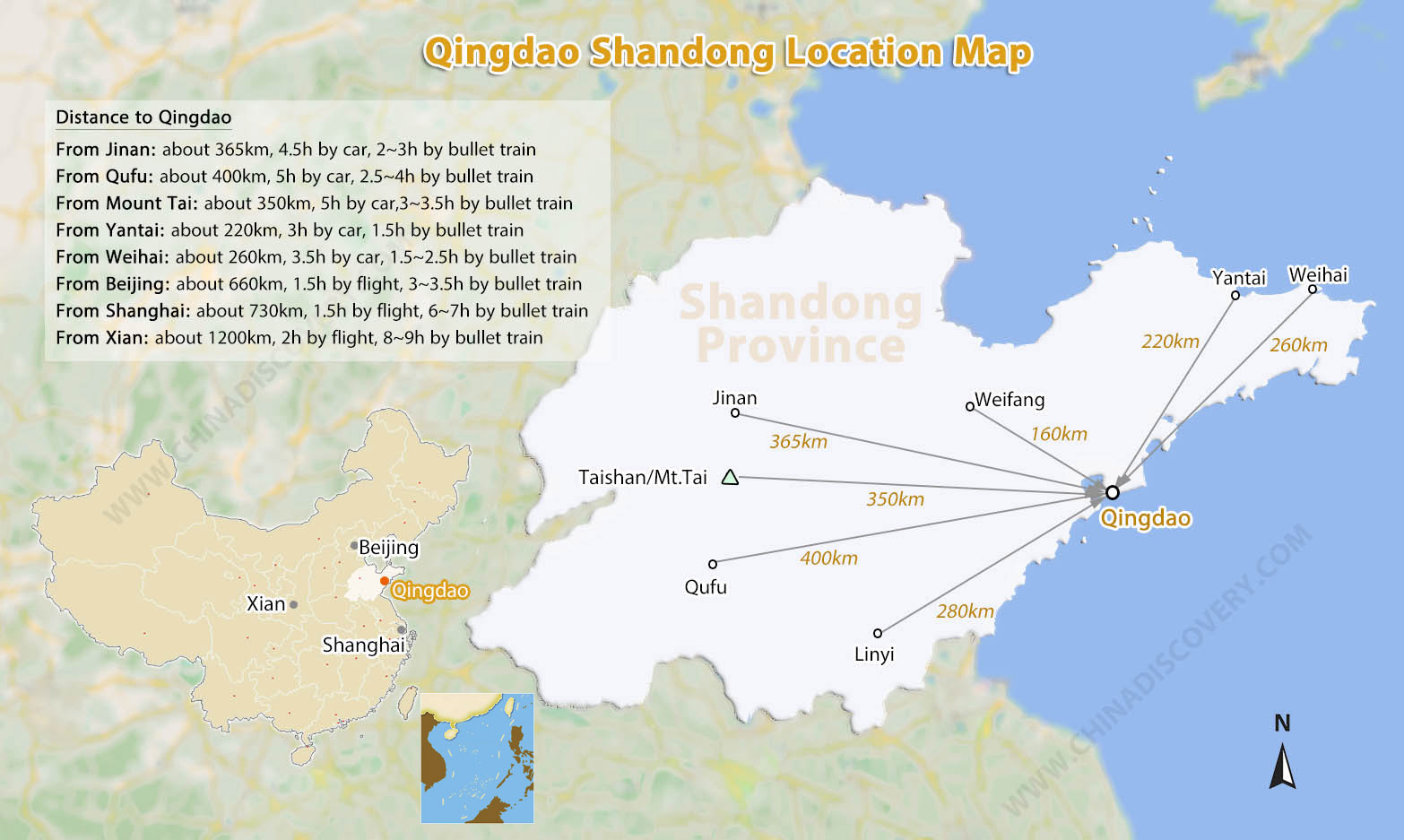 Qingdao Location Map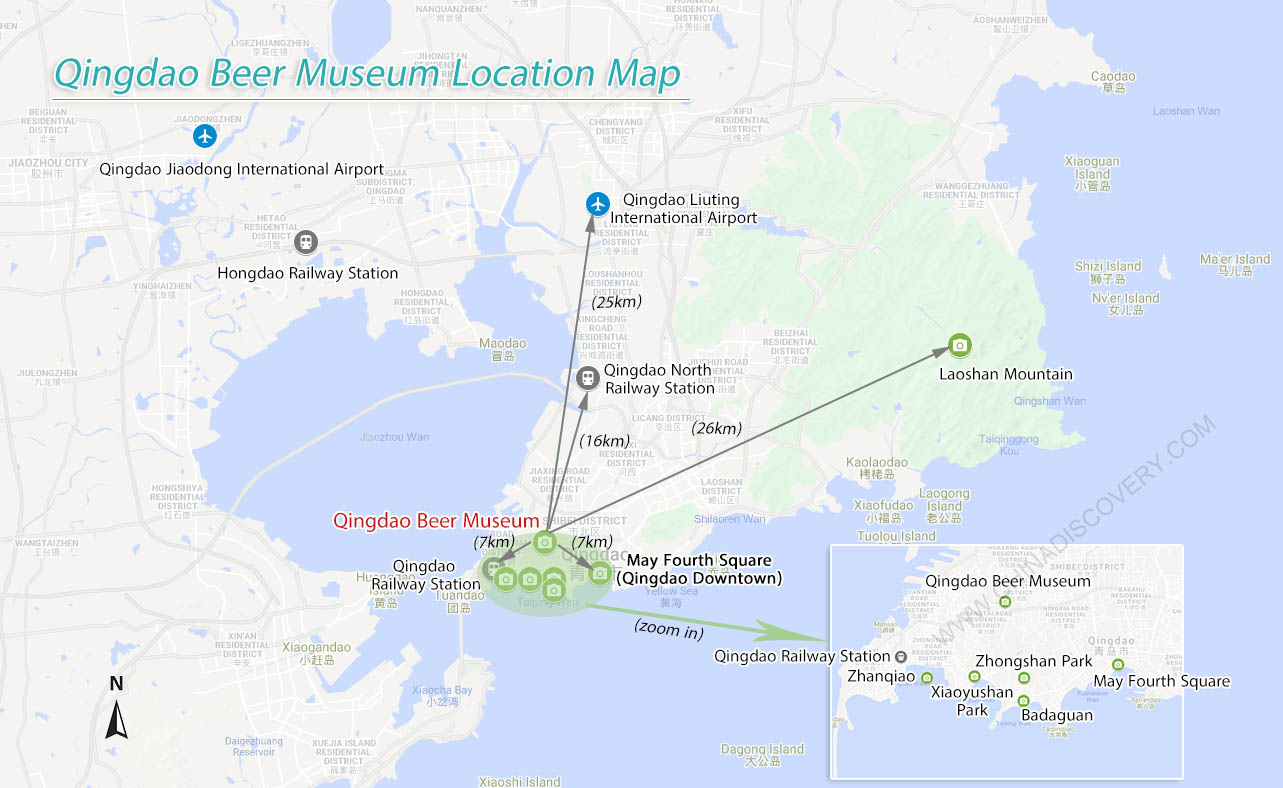 Qingdao Beer Museum Location Map
It is strongly recommended to travel with China Discovery. Our local travel guide and driver will pick you up at the airport or train station as you arrive with an air-conditioned and non-smoking vehicle, and then escort you to your hotel or every attraction listed in your itinerary. Great freedom will be given to you when you need to stop for sightseeing and photograph if possible. You are sure to enjoy a comfortable, safe and efficient experience.
Useful Tips of Visiting Qingdao Beer Museum
Beer Tasting: The ticket of Qingdao Beer Museum includes 1 cup of raw beer, 1 cup of draft beer, and 1 small bag of beer peanuts. For children, the museum provides alcohol-free drinks. You can enjoy while touring around.
Scenic Guide Service: Audio guide is offered for CNY 15 each. Hiring an English-speaking tour guide needs CNY 150 for a group within 10 people and the guide service is about 50 minutes.
Luggage Storage: Free lockers are offered in Qingdao Beer Museum. If your luggage is larger than the locker, please consult the staff at tourist center.
How to Plan Qingdao Tour
Best time to visit Qingdao: March to November, especially mid-August to early September if you want to join Qingdao Beer Festival
How to get to Qingdao: High speed train from Beijing (1.5h), Jinan (2-2.5h), Tianjin (4~4.5), etc., and flights from Beijing (1.5h), Shanghai (1.5h), Xian (2h), Luoyang (1.5h), Guangzhou (3.5h), etc.
Where to Stay in Qingdao: Most recommended to stay in Qingdao downtown near May Fourth Square and along the coastline to Zhanqiao Pier for the convenient transportation and comfortable living environment.
Generally, a classic Qingdao tour takes 2~3 days, with the top attractions of Qingdao covered. It is recommended to spend 2 full days exploring the best highlights of Qingdao, including Qingdao Beer Museum which showcases the hundreds of years' history of Tsingtao Beer, Xiaoyushan Park which offers a valuable panoramic view of Qingdao City and nearby attractions, Zhanqiao Pier - the symbol of Qingdao and Badaguan Scenic Area with old villas of different architecture styles of over 20 countries. If you have more time, don't miss Laoshan Mountain where you are able to appreciate the beautiful mountain view and seascape together.
√ 3 Days Qingdao Highlights Tour
√ 3 Days Qingdao Beer & Seaside Tour
Qingdao is just a small piece of charming Shandong. If you want to add cultural savory into your trip, we strongly suggest you visit Mount Tai and Qufu. Mount Tai is the first UNESCO World Natural & Cultural Heritage site while Qufu is the hometown of Confucius. Spending another 2~3 days visit these two destinations will deliver you an unforgettable experience of Chinese culture discovery.
√ 2 Days Most Classic Mount Tai Hiking Tour
√ 3 Days Taishan & Qufu Tour from Beijing by Bullet Train
√ 6 Days Jinan, Qufu, Mount Tai & Qingdao Tour
Of course, you may be extremely interested in the best beaches and coastlines of Shandong province. It is also worthwhile to visiting Yantai, Penglai and Weihai in 3 more days. Or you could enjoy a comprehensive tour throughout the whole province to taste the brilliant culture and fascinating nature of Shandong in the most aspects in one go. Feel free to browse our all Shandong Tour Packages>
√ 7 Days Golden Coast of Shandong Tour (Qingdao / Weihai / Yantai / Penglai / Yantai)
√ 8 Days Shandong History & Culture Tour (Qingdao / Weihai / Yantai / Penglai / Yantai)
√ 10 Days Shandong Panorama Tour (Qingdao / Weihai / Yantai / Weifang / Zibo / Qufu / Mount Tai / Jinan )
Zhanqiao Pier in Qingdao
Confucian Temple Sacrifice in Qufu
Penglai Pavilion in Yantai
More about Shandong Travel Guide
Recommended Qingdao Tours
Top 3 Qingdao tours chosen by most customers to explore Qingdao in the best way. Check the detailed itinerary, or tailor your own trip now with us.
5 Days Qingdao Weihai Yantai Coastal Tour

Qingdao / Weihai / Yantai / Penglai / Qingdao
Start planning your tailor-made holiday to China by contacting one of our specialists. Once inquired, you'll get a response within 0.5~23.5 hours.
Customize a Trip
Have a question? Get answers from our travel experts or guests
Your Question:

Your Name:

Your Email: