Weihai Maps 2023: Updated, Detailed and Downloadable
Weihai is located in easternmost Shandong province, only about 66km to Yantai and about 515km to Jinan, the capital of Shandong. It borders Yantai to the west and the Yellow Sea to the east, and is the closest Chinese city to South Korea. With beautiful coastlines, bathing beaches and small isles, it attracts numerous visitors from home and overseas. In order to help you understand more about its location, and attractions, we've selected some useful maps, including Weihai China Map, Weihai Tourist Map, etc. All Weihai Maps are downloadable for free. Please make full use of them to plan your Weihai Tours.
Weihai Location Maps - Where Is Weihai
Weihai (121° 11'- 122° 42'E, 36° 41'- 37° 35'N), is located in the eastern end of Shandong Peninsula. It borders the Yellow Sea in the north, opposite Liaodong Peninsula in the north, Korean Peninsula in the East and Yantai in Shandong Province in the West. It's about 790km to Beijing and 260km to Qingdao, 960km to Shanghai.
▶ Popular Weihai Tour: 2 Days Weihai Leisure Vacation Tour | 2 Days Weihai Leisure Vacation Tour
Weihai Tourist Maps
Weihai is a beautiful coastal city, rich in tourism resources, including islands, beaches, historical sites, etc. the coastline of Weihai is nearly 1000 km long. Along this line, there are more than 30 harbors and 168 large and small islands with clear sea water, flying gulls and nestling swans. Below is the map of its major attractions offered for your Weihai trip!
How to Plan Weihai Tour
How to Get to Weihai: You can take a bullet train or flight to Weihai from Beijing, Shanghai, Qingdao, Jinan, Weihai, Yantai, Zhengzhou, etc.
Best Time to Visit Weihai: Summer and winter, you can enjoy the water fun by the sea in summer and watch thousands of swans nestling by the warm harbors in winter.
Generally, it takes about 2 days to enjoy the easternmost Weihai. Stepping on the sugar-soft beaches and bathing in the crystal-clear sea, you will immerse yourself in the beautiful Weihai International Bathing Beach and witness the history at the birthplace of the first modern Chinese navy in Liugong Island. If you have more time, visiting iconic parks and going further to the swan-filled harbor and lake, and to capture the sunrise from the very eastern end - Chengshantou. While visiting these attractions, you can have a relaxing stay by the coast and enjoy the fresh seafood.
✔ 2 Days Weihai Leisure Vacation Tour
✔ 5 Days Golden Coast of Shandong Tour
In fact, Weihai is always traveled with other cities in Shandong's coastline, including Qingdao and the nearby city - Yantai. It is really worthwhile to spend 2 or 3 days savoring Qingdao highlights, like Badaguan Scenic Resort, Qingdao Beer Museum, Laoshan Mountain etc., and visit beautiful Penglai Pavilion and Changyu Wine Culture Museum in Yantai.
Seascape is just a small piece of charming Shandong. If you want to add Chinese traditional culture savory into your trip, we strongly suggest you visit Mount Tai and Qufu. Mount Tai is the first UNESCO World Natural & Cultural Heritage site while Qufu is the hometown of Confucius. Spending another 2~3 days visit these two destinations will deliver you an unforgettable experience of Chinese culture discovery.
✔ 2 Days Most Classic Mount Tai Hiking Tour
✔ 2 Days Taishan & Qufu Tour from Beijing by Bullet Train
✔ 6 Days Jinan, Qufu, Mount Tai & Qingdao Tour
✔ 9 Days Shandong Panorama Tour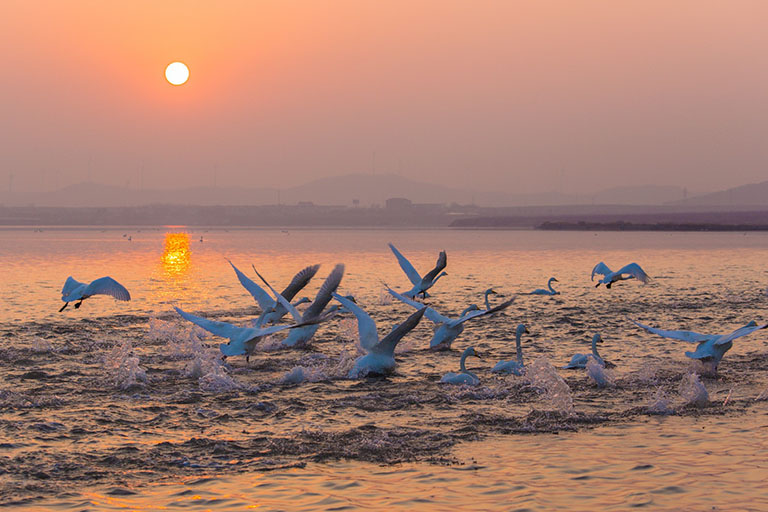 Swans flying over the sea during the sunset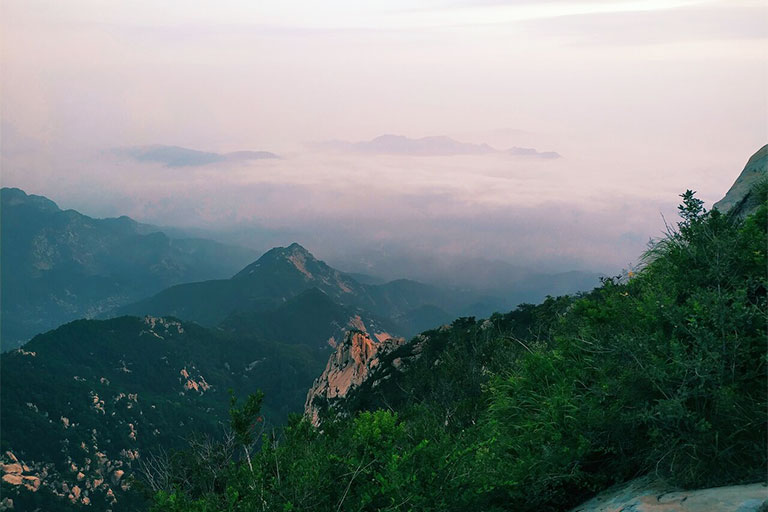 Mount Tai, Shot by Our Customer
Travel with China Discovery
China Discovery is professional to provide high-quality customizable tour. Before your tour, our travel expert will communicate with you one to one and make an itinerary according your own interest, need and budget. Every detail - transfer, hotels, attractions, etc. will be arranged well for you. During your tour, the professional local guide and driver will escort you from your hotel, train station, airport to all attractions with comfortable private car with speed and convenience and you just need to focus on sightseeing. do not hesitate to contact us to start your amazing China tour!
Helpful Weihai Travel Guide
More about Shandong Travel Guide
Recommended Weihai Tours
Top 3 Weihai tours chosen by most customers to explore Weihai in the best way. Check the detailed itinerary,or tailor your own trip now with us.
5 Days Qingdao Weihai Yantai Coastal Tour

Qingdao / Weihai / Yantai / Penglai / Qingdao
9 Days Shandong Panorama Tour

Qingdao / Weihai / Yantai / Weifang / Zibo / Qufu / Mount Tai / Jinan