Where to Stay in Xian: Recommended Best Areas to Stay in Xian
As the capital city of Shaanxi Province, Xian is a world-famous ancient capital in northwest China as well as an international hot spot with the "Terracotta Warriors". For travelers to Xian, the city offers a large section of hotels to select, from the top deluxe international brand hotels, Hilton, Shangri-La, 5 star to 3 star hotels, high-quality boutique hotels to budget hostels.
Each tourist has different needs and preferences, including factors like good location, convenient transportation, nice, clean and tidy room, excellent hotel facilities and services, decent price, good breakfast, English speaking staff, family friendly, etc. Whether you are looking for a best located hotel for one night stay or stuck in finding an best area to spend a few days' holiday with friends or family, with our recommendation and helpful suggestions here, you will quickly sort out and decide a best place to stay in Xian.
Table of Page Contents
Xian's Main Accommodation Areas - Hotels within the Ancient City Wall (Best Tourist Choice)
Xian has total 13 administrative areas (11 districts and 2 counties), and not all tourist attractions are concentrated in one area. For example, the Terracotta Warriors are located in Lintong District, northeast suburb of Xian, while the Muslim Quarter, Bell and Drum Tower are in city center, lie in Lianhu District, Beilin and Liandu District respectively.
There are over 5 accommodation areas in Xian, including the city center area (near Muslim Quater) within Ancient City Wall, Southeast area (near Giant Wild Goose Pagoda), West (Xincheng District), Southwest area (High-Tech Zone) and regions close to airport, train stations and major landmarks.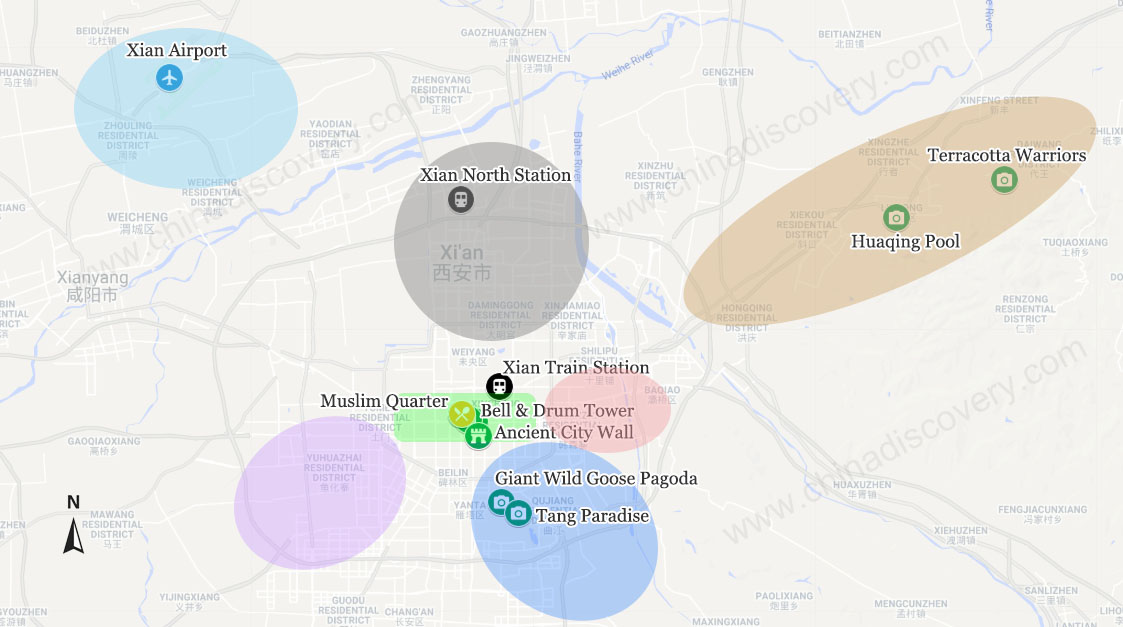 Map of Major Accommodation Areas in Xian
Considering the good location, lots of choices and more accessible attractions, hotels in downtown area, especially within the Ancient City Wall often come as the first priority. In this area, you can easily find hotels in different brands, prices and style s options, such as the frequently-used 5-star hotels of Hilton, Sofitel, ET House, etc. Public transportation (subway, city bus, taxi, airport shuttle bus) with other attractions and airport, train stations are also very convenient, and is the best in all areas. Certainly, you may book hotels outside the wall depending on you own travel itinerary.
Major Attractions within the Ancient City Wall:
Xian Ancient City Wall, Muslim Quarter, Bell & Drum Tower, Great Mosque, Forest of Stone Steles Museum
Xian Metro Lines Pass Through:
Xian Metro Line 1, Line 2 (Xian North Railway Station to Bell Tower, Ancient City Wall Yongning Gate/South Gate), Line 4 (Xian Train Station)
Bell & Drum Tower, Muslim Quarter are Xian's must-visit major tourist landmarks that all located in the city center, within the Ancient City Wall, very close to each other. First-time travelers and regulars often choose hotels nearby, because it's convenient to visit the three main sites together, and find some restaurants and shops within walking distance. Except the excellent location and transportation, the hotel choices is the largest number than other regions. Here you can choose from the best-quality luxury hotels, mid-range nice hotels, cheap hostels and traditional hotels of good reputation. Note that, the hotel rate here is much higher than other areas.
Top Attractions:
Muslim Quarter, Bell Tower, Drum Tower, Ancient City Wall, Great Mosque
Recommended Accommodations:
5 Star: Eastern House Boutique Hotel, Hilton Xian, Sofitel Xian on Renmin Square, Grand Soluxe International Hotel, Grand Park
4 Star: Bell Tower Hotel, Grand Mercure on Renmin Squre, Grand Noble Hotel Xian, Skytel Hotel, Grand Dynasty Cultural Hotel, Boffo L hotel
3 & 3.5 Star: Campanile Hotel (Xi'an Bell & Drum Tower), Hantang House, Chenggong International Hotel
Hostels: Xiangzimen International Youth Hostel, 7 Sages International Youth Hostel, Hantangyi International Youth Hostel Xian, Ancient City International Youth Hostel, Shuyuan Youth Hostel, Xian Xiangzimen Youth Hostel
Tips: If you stay in Bell Tower Hotel, you can ask a room facing the Bell Tower and enjoy beautiful night views.
Recommended Xian Tours: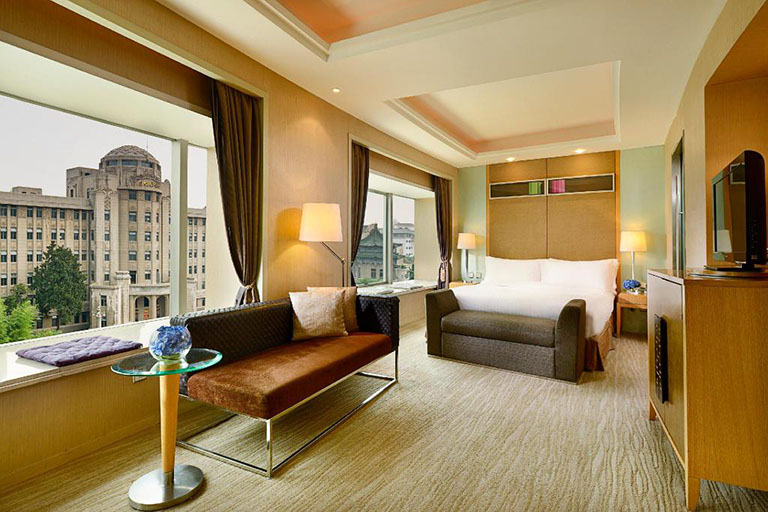 Sofitel Xian Renmin Square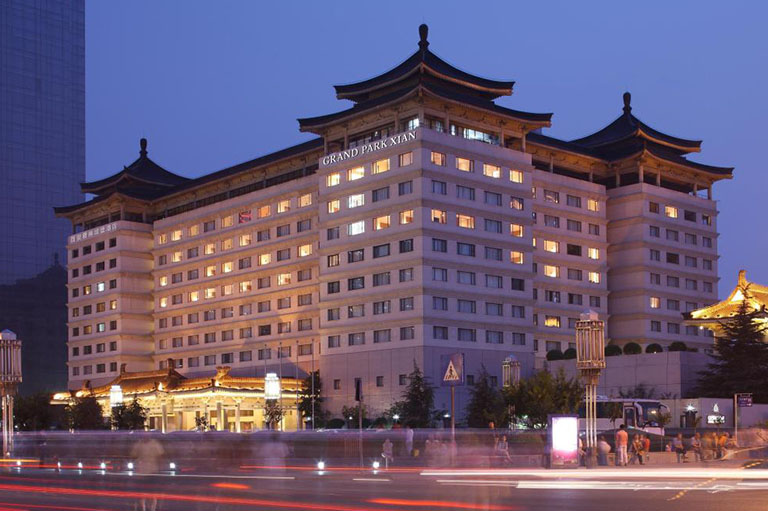 Grand Park Xian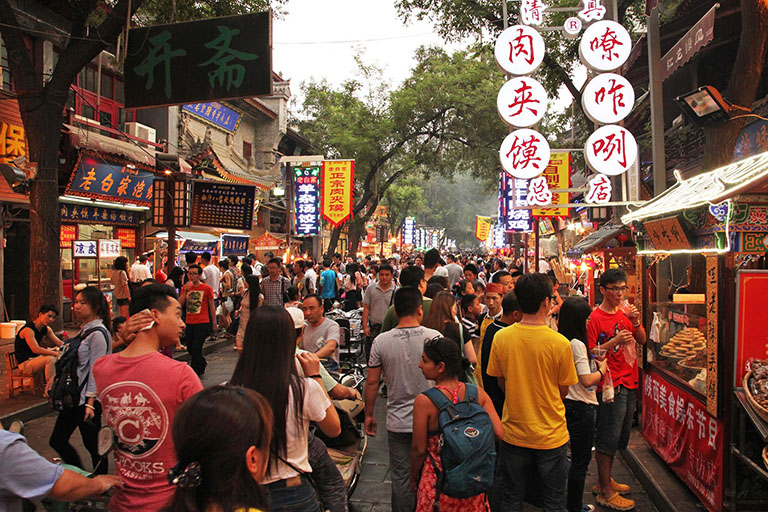 Muslim Quarter with Lots of Snacks
Outside the Ancient City Wall, southeast of Xian, this area is the second most popular areas to stay in Xian and very fit for tourists with families. Because it not only have some major attractions, like Giant Wild Goose Pagoda, Shaanxi History Museum to catch a glimpse of Xian's culture and history, but also has convenient transportation, many parks good for a stroll, art galleries, shopping centers and child-friendly aquariums and amusement parks. Recommend you to watch the night fountain show at the Dayan Pagoda Northern Square.
Top Attractions:
Giant Wild Goose Pagoda (Dacien Temple), Shaanxi History Museum, Tang Paradise, Tang Bo Art Museum, Small Wide Goose Pagoda, Daxingshan Temple, Qujiangchi Site Park, Grand Tang Dynasty Ever Bright City, Shaanxi Grand Opera House, Qujiang Ocean World
Recommended Accommodations:
Wyndham Grand Xian South (5 star)
The Westin Xian (5 star)
Gran Melia Xian (5 star)
Hyatt Regency (5 star)
Crowne Plaza Xian (5 star)
W Xian (5 star)
New Century Grand Hotel (5 star)
Holiday Inn Xian Giant Goose Pagoda (4.5 star)
Renaissance Xian Hotel (4 star)
Tang Dynasty Art Garden Hotel (3 star)
Recommended Xian Tours:
>> 3 Days Xian Cultural & Culinary Tour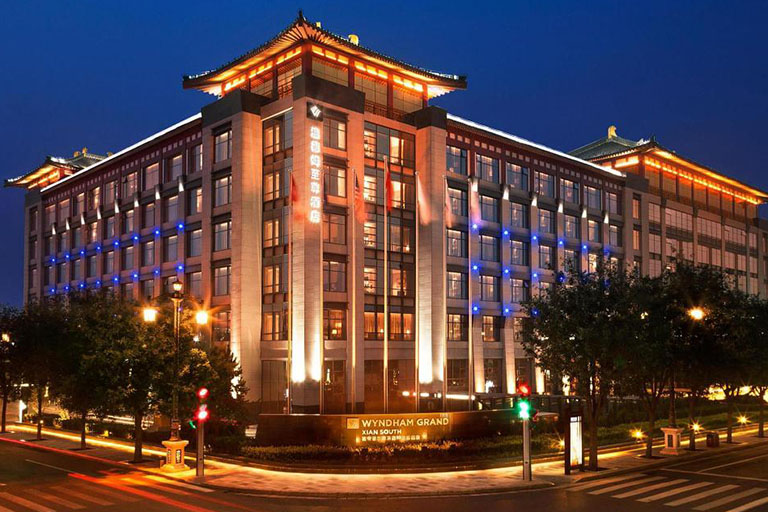 Wyndham Grand Xian South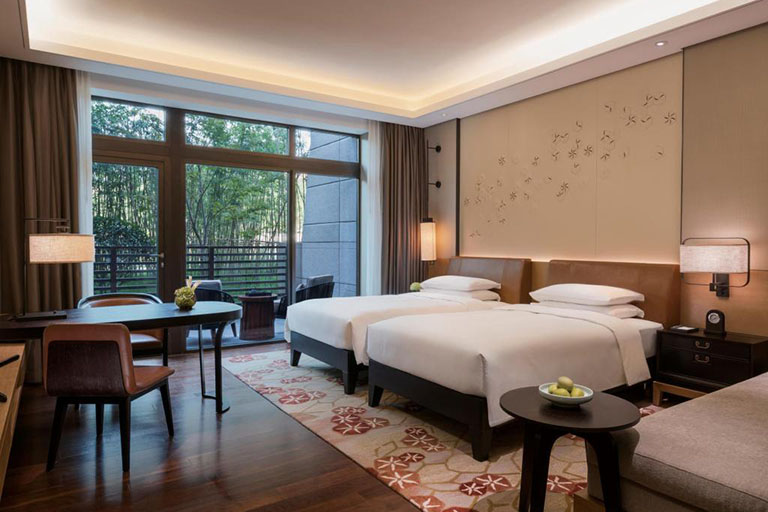 Hyatt Regency Xian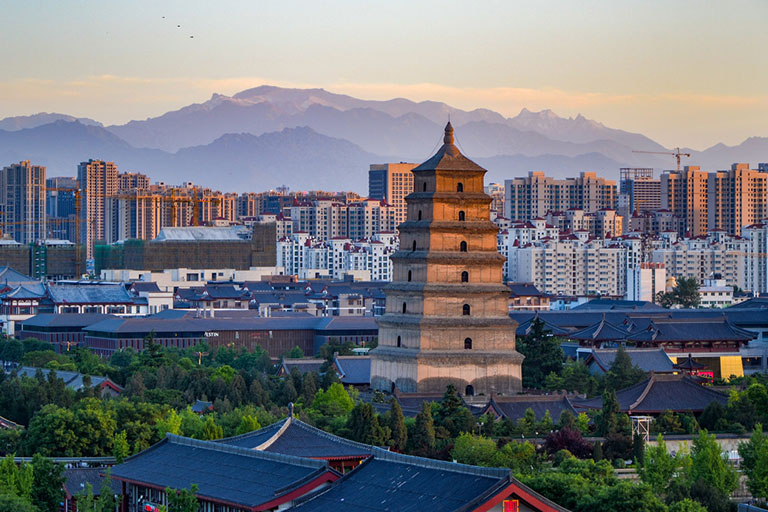 Giant Wild Goose Pagoda
The Terracotta Warriors is the top must-see attraction in Xian and it is located in northwest suburb Xian, a little far away from downtown but with short distance to the Huaqing Pool. For travelers with tight schedules, only plan to visit the Terracotta Warriors, or too late to back to downtown after watching the "Song of Everlasting Sorrow"in Huaqing Pool, it's advisable to have a rest good rest nearby. But please notice that, there is not so much accommodation choice than downtown area, so is the transportation.
Top Things to Do:
Recommended Accommodations:
Angsana Xian Lintong (5 star)
Huaqing Aegean International Hot Springs Resort&Spa (5 star)
Xi'an Hua Qing Palace Hotel & Spa (5 Star)
Meihao Hotel  (4 star)
Elegant Oriental Hotel (4 star)
James Joyce Coffetel (3 star)
Ibis Hotel (3 Star)
Recommended Terracotta Warriors Tours: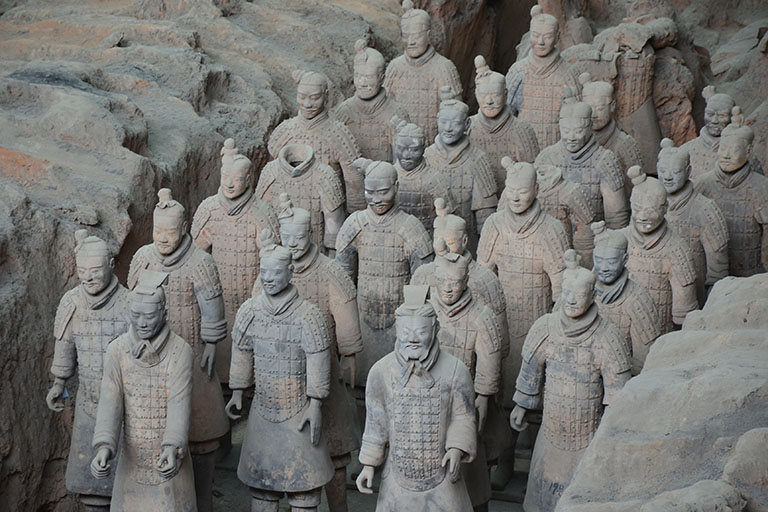 Terracotta Warriors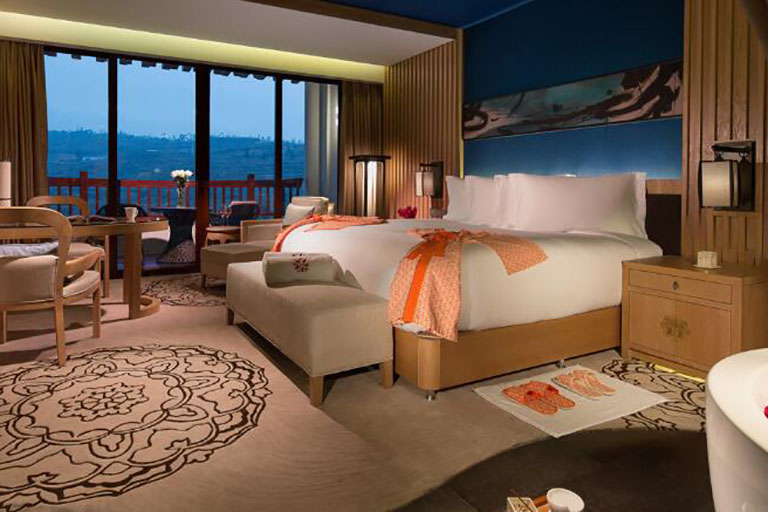 Angsana Xian Lintong Hotel
For international travelers who have short layover at Xian Airport, or arrive at midnight, or will catch an early morning flight, there are also a few accommodation to have a rest. Since the airport lies in northwest suburb, about 1 hour's driving distance to Bell Tower, Xian City center, the hotel options is limited, the quality, facilities and food have lower standard. Most are 2 to 3 star hotels. Certainly, the hotel rates is not cheap. Some hotels arrange pick-up and drop-off service for guests. Check with the hotel staff when booking, if you need such service.
Attractions Nearby:
Hanyangling Museum - the Mausoleum of Emperor Jingdi of Han Dynasty
Recommended Hanyangling Museum Tours:
>> 1 Day Xian Ancient Mausoleum Tour
Recommended Hotels:
Regal Airport Hotel (5 star)
Yitel Xi'an Xianyang International Airport (4 star)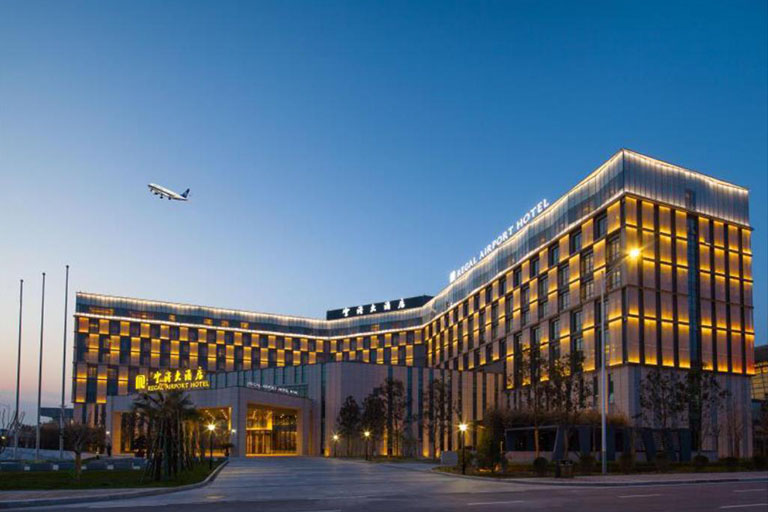 Regal Airport Hotel Xian
Xian North Railway Station in north suburb and Xian Railway Station in downtown near the Ancient City Wall are the two most frequently-used train stations in Xian. Likewise, train tourists arriving late to Xian or leaving early from Xian an easily find places to stay near the railway stations. Most hotels in this area are mid-range priced and comfy hotels with decent level. But, you could enjoy convenient public transportation network with downtown area.
1. Hotels Near Xian North Railway Station (西安火车北站)
Xian North Railway Station is located about 16km, 40 minutes' driving distance to the city Center. Form here, you can take Metro Line 2 to Bell Tower, or take Metro Line 4 to Ancient City Wall and Xian Railway Station and other places in downtown. More about Xian North Railway Station>>
Attraction Nearby:
Xian International Golf Club
Recommended Hotels:
Fairfield by Marriott Xi'an North Station (5 star)
Holiday Inn Express Xian North Hotel (4 star)
Courtyard by Marriott Xi'an North (4 star)
Lafei'er Hotel (Xi'an North Railway Station) (4 star)
Ibis Hotel (Xi'an North Passenger Station) (3 Star)
2. Hotels Near Xian Railway Station (西安火车)
Xian Railway Station stands close to Xian Ancient City Wall in the northeast. It takes only 15 minutes (within 4kms) to get to Muslim Quarter and Bell Tower. So we advise you choose hotels inside the Ancient City Wall or accommodation with short driving distance outside the wall. Except the above mentioned suggestions, below are more choices for your reference. More about Xian Railway Station>>
Recommended Hotels (Outside the Ancient City Wall):
Sheraton Xian North City Hotel (5 star)
Novotel Xi'an SCPG (5 star)
Jianguo Hotel Xi'an (5 star)
Popular Xian Train Tours:
>> 6 Days Classic Beijing Xian High Speed Train Tour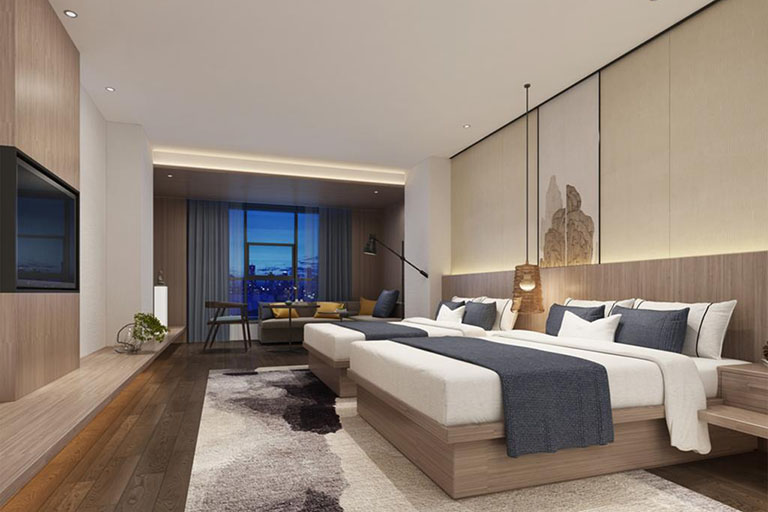 St. Sophia Cathedral in Snow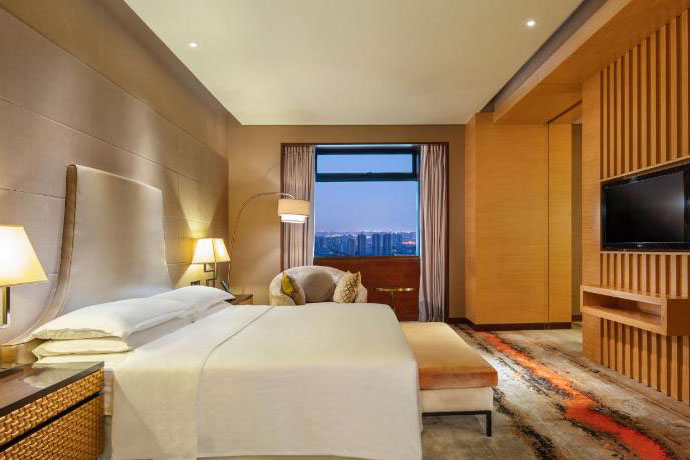 Sheraton Xian North City Hotel
Apart from the listed main areas to stay, tourists can also choose other places to meet personal interests and travel itinerary. It all depends on your own trip plan. In southwest suburb area, where many university and companies clustered, the High-Tech Zone offers many nice choices, including the Hilton & Shangri-La Hotel (5 star), Titan Central Park Hotel (5 star), Holiday Inn Express Xi'An High-Tech Zone (3 star), Swisstouches Hotel Xian (5 star), etc. The Eastern suburb area (Xincheng District) has Wyndham Hotel Xian (5 star), Jianguo Hotel (5 star), Citadines Xingqing Palace Xi'an (4 star Apartment) and lots of excellent hotels along Metro Line 4.
Useful Links: Xian Luxury Hotels / Xian Comfort Hotels / Xian Economy Hotels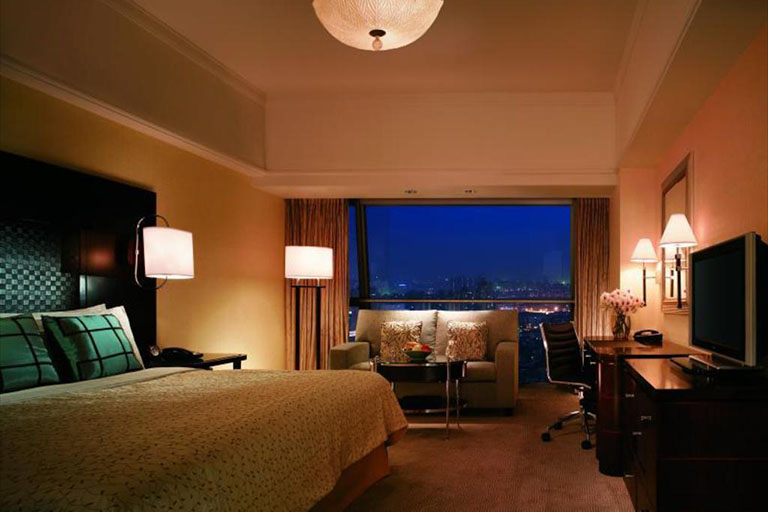 Shangri-La Hotel Xian
How to Plan A Xian Tour
Xian is a magnificent historical city with lots to things to do and see. Usually, 2 to 3 days are enough to catch the best highlights, like visiting the Terracotta Warriors, cycling on the Ancient City Wall, taste various local snacks in Muslim Quarter, watch a night Tang Dynasty Show, trace brilliant culture and history in Shaanxi History Museum, etc.
Related Tours: Popular Xian Tours, Xian Travel Guide
With more time, take advantage of the convenient high speed trains to make side trips to Mount Huashan to marvel at the thrilling natural scenery, to Luoyang to witness ancient Buddhist art, to Zhengzhou (Shaolin Temple) to find charm of Chinese Martial arts, to Yan'an to see the powerful water strength of Hukou Waterfall.
Related Tours: Xian Huashan Tours, Xian Luoyang Tours, Xian Chengdu Tours
Xian is an important transportation hub linking north and south, northeast and east China. When you have more time, extend trip to more great destinations, visiting Beijing, Shanghai, Chengdu, Lanzhou and more cities to discover diversity landscape of China.
Related Tours: Beijing Xian Shanghai Tours, Xian Zhangjiajie Tours, Beijing Xian Guilin Shanghai Tours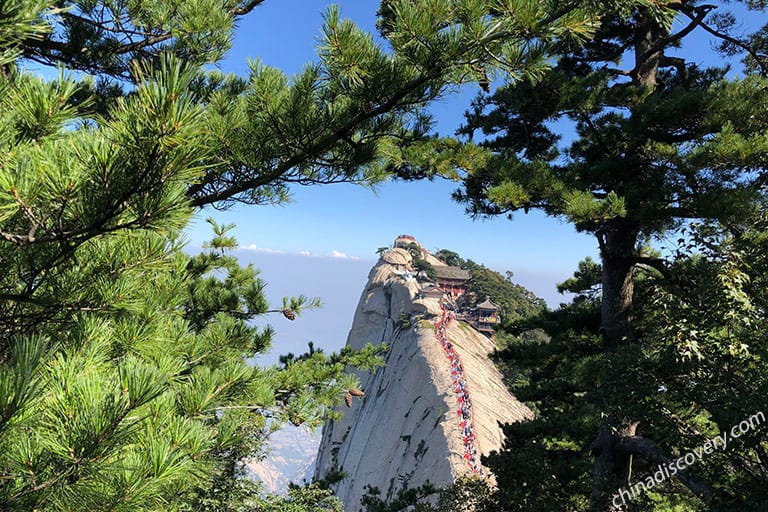 West Peak on Mt Huashan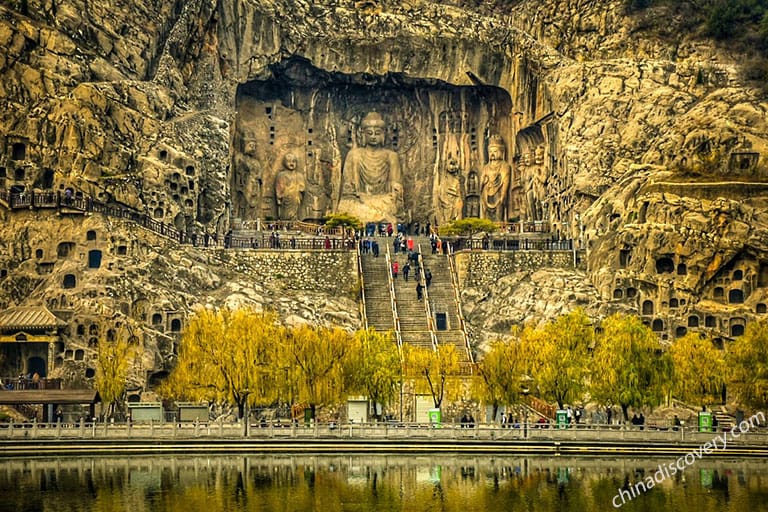 Longmen Grottoes in Luoyang
Travel with China Discovery
China Discovery is an experienced, professional and considerate travel companion. Travel with us, you can enjoy well-organized tour services in the most convenient way, including the pick-up, local tour guide and drive, thoughtful accommodation, dining and worry-free transportation between each site and the ticket booking, etc. Tell us your budget and preference, we could arrange an excellent hotel for you, make sure you rest well, put more energy enjoy sightseeing during the trip in Xian. You may choose from our popular Xian Tours or contact us to customize a special one.
Recommended Xian Tours
Top 3 Xian tours chosen by most customers to explore Xian in the best way. Check the detailed itinerary, or tailor your own trip now with us.
4 Days Xian Highlights Tour with Mount Huashan Hiking (Most Recommended)

Xian / Mount Huashan
Start planning your tailor-made holiday to China by contacting one of our specialists. Once inquired, you'll get a response within 0.5~23.5 hours.
Customize a Trip
Have a question? Get answers from our travel experts or guests
Your Question:

Your Name:

Your Email: