Why So Many People Come to Huashan Plank Walk
Huashan Plank Walk, also called Changkong Plank Road or Plank Road in the Sky, is reputed as the most dangerous hike in the world. So many people are curious about this place and want to find out how dangerous it can be. Huashan Plank Walk was first built by a Taoist priest named He Zhizhen more than 700 years ago with stone nails carved into the cliff supporting the wooden plank for people to walk on. Now it has been improved with metals considering safety issues, but the path is still very narrow. So you are literally one step away from the bottomless chasm with no protection from the guardrails. In addition, the walk does not lead to other paths on the mountain, which means you need to return by the way you came. So you can experience this thrill twice and imagine how you will feel when you happen to meet someone who heads to the opposite direction on this cramped plank walk in the sky.
Want to feel the adrenaline surging through your body? Come to hike the Huashan Plank Walk with China Discovery! Below are 3 recommended Huangshan hiking tour including Plank Walk:
★ 2 Days Terracotta Warriors Tour with Mount Hua Hiking
★ 3 Days Xian Mount Huashan Leisure Tour (Best for Families and Seniors)
★ 4 Days Xian Highlights Tour with Mount Huashan Hiking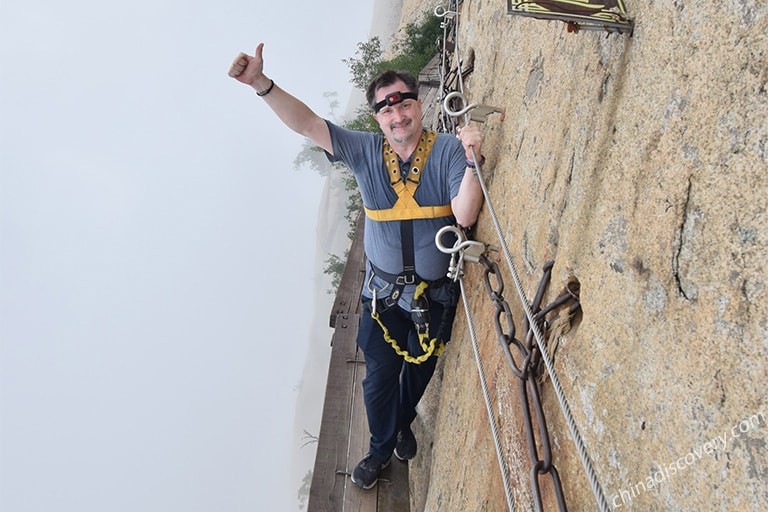 Standing on Huashan Plank Walk
Where is Huashan Plank Walk
Huashan Plank Walk is located on the eastern side of South Peak (2155m, the highest peak on Mount Hua), built on the precipice with iron chains nailed into it on one side. The Plank Walk is about 20 minutes' hike from the South Peak, 1 hour's hike from East Peak and 30 minutes' hike from West Peak. People usually will go there after the East Peak and then keep hiking West Peak.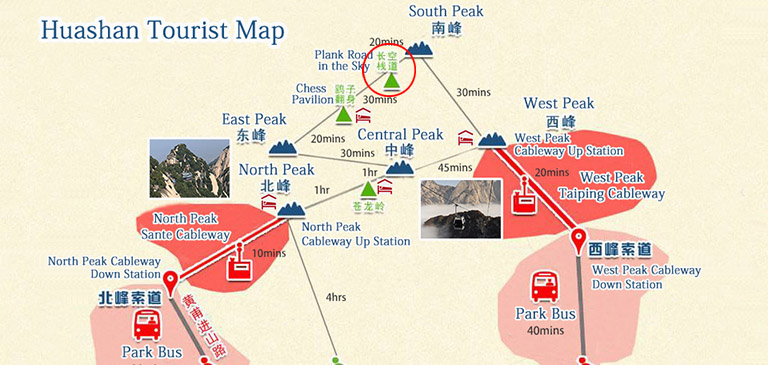 Click to Enlarge Mount Hua Tourist Map
Three Sections of Huashan Plank Walk
The Plank Walk is only about 130 meters long, consisting of three sections. The upper section is from South Heavenly Gate to Chaoyuan Cave, where you buy and get the safety rope. This section is about 20m long and 70cm wide with iron guardrails. So it is rather safe.
Under the instruction of the staff, you need to tighten the safety rope around your chest and then keep your adventure to the middle section. This may be the time when you feel your heart start racing. Because this 10m section is nearly vertical. You need to get down holding to the iron chains from the so-called stairs, which are actually metal bars carved into the crevice.
Then keep walking and you will come to the lower section, which is also the most dangerous part. Stone holes are chiseled on the cliff to wedge piles so that the planks can be put there (in some part there is even no plank and you have to pass stepping on the stone holes one by one). Tourists coming here usually need to cling to the cliff and move horizontally inch by inch. After reaching the end of the path, you need to walk same way back.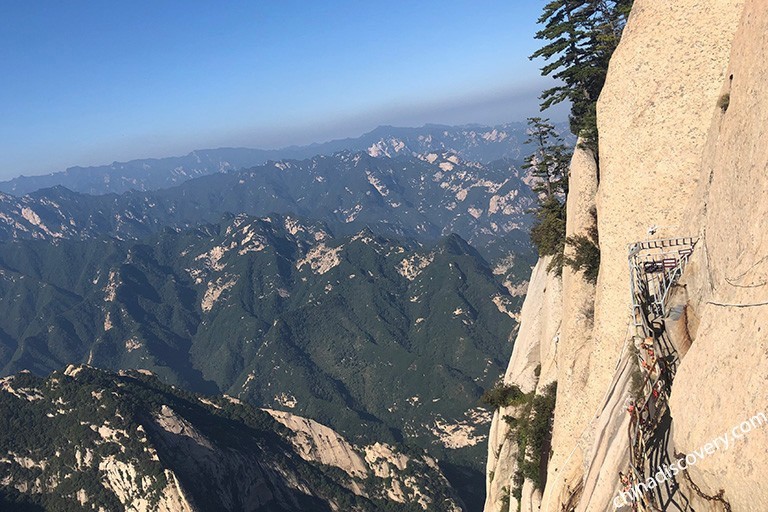 Middle Section of Huashan Plank Walk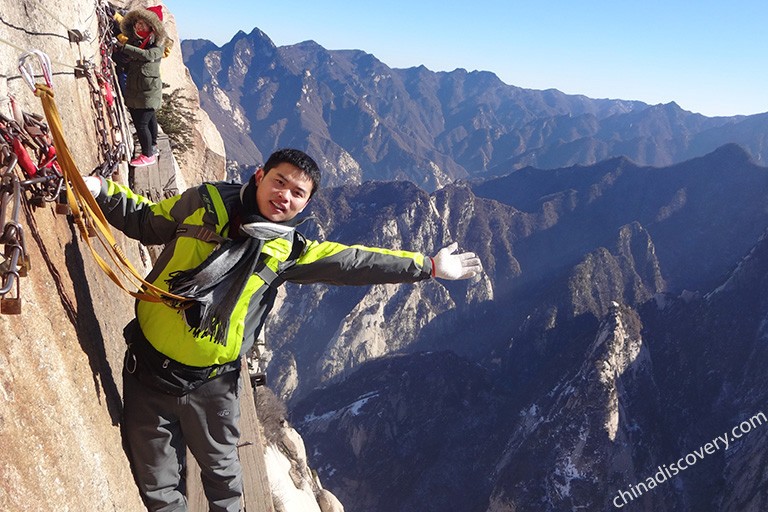 Lower Sections of Huashan Plank Walk
Best Time to Visit Huashan Plank Walk
Huashan Plank Walk is open to public all year round except for maintenance reasons or when the weather is not climbing friendly such as rainy, snowy, etc. For most tourists, the biggest concern may be the queues and the weather. So the best time to visit is April, May, September, and October. Because winter and early spring are frigidly cold, summer is the rainy season and there is a 2-month school summer break from July to August when a lot of Chinese tourists travel around. But please also avoid the Labor Day Holiday (3 days around 1st, May) and National Day Holiday (1st - 7th, October) because that's also when everyone travels. If you plan to watch the sunrise on the East Peak, you can go to the Plank Walk right after that and the line at that time may be not very long.>>Huashan Weather and Best Time to Visit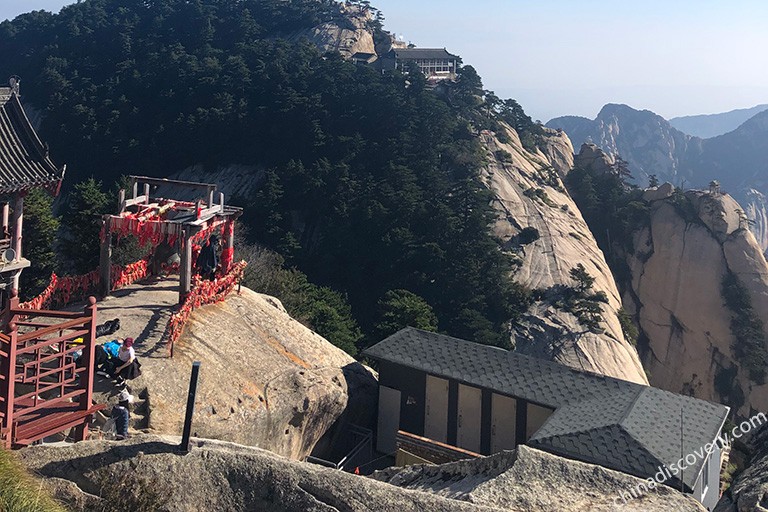 People Waiting for Taking the Plank Walk
Huashan Plank Walk Travel Tips
1. Tourists who are less than 150cm tall, or over 50 years old, or suffer from heart disease, hypertension, acrophobia, etc. are not allowed to participate in this activity.
2. Please wear a pair of comfortable shoes, no barefoot, high-heels, or slippers.
3. You can prepare a pair of slip-proof gloves to hold on to the iron chains.
How to Plan a Huashan Tour with Plank Walk
Plank Walk is usually a part of Huashan tour. If you only have one day, you will need to take a cable car up from East Gate to the North Peak. Then hike about 2 hours to the East Peak and another 1.5 hours to the South Peak. On the way you will pass the famous Plank Walk. After that, keep walking for about 40minutes and you will get to the West Peak where you can take a cable car to the foot of Huashan.
If you have 2 days, you can spend a night on Mount Hua to catch the beautiful sunrise on the East Peak. You can either camp on the mountain, stay in a mountain hotel, or climb up the mountain at night (very physically demanding). With 2 days, you can start from the west peak (a cable car is recommended) and catch the sunset if you make it at around 18:30 (April to September) / 17:30 (November to March). Next day in the morning, try to get to East Peak before 05:30 (April to September) / 06:30 (November to March). After the sunrise, follow the path to South Peak (Plank Walk) and then to North Peak. Here you can choose to take the cable car or keep hiking about 2 hours to get to the mountain foot.
If you have more days, you can extend your Mount Huashan tour to Xian or Beijing. They are fast and conveniently connected by high speed trains. For other ideas or questions about Mount Hua, please feel free to contact us. We are specialized in customized tours according to your own interests and needs. You don't need to worry about the tickets, transportation, meals, accommodation or any other problem; all you need to do is just enjoying your trip!
Recommended Xian Huashan Tours:
★ 2 Days Terracotta Warriors Tour with Mount Hua Hiking
★ 3 Days Xian Mount Huashan Leisure Tour (Best for Families and Seniors)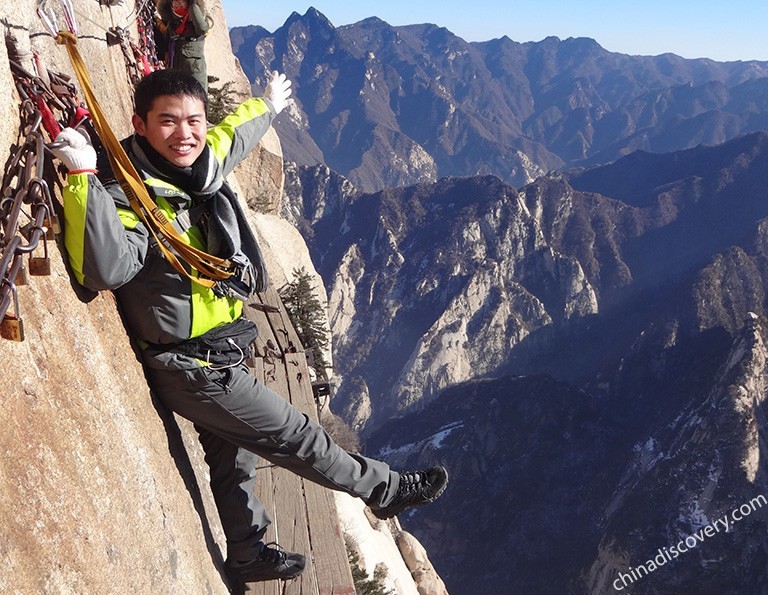 Looking Down from Huashan Plank Walk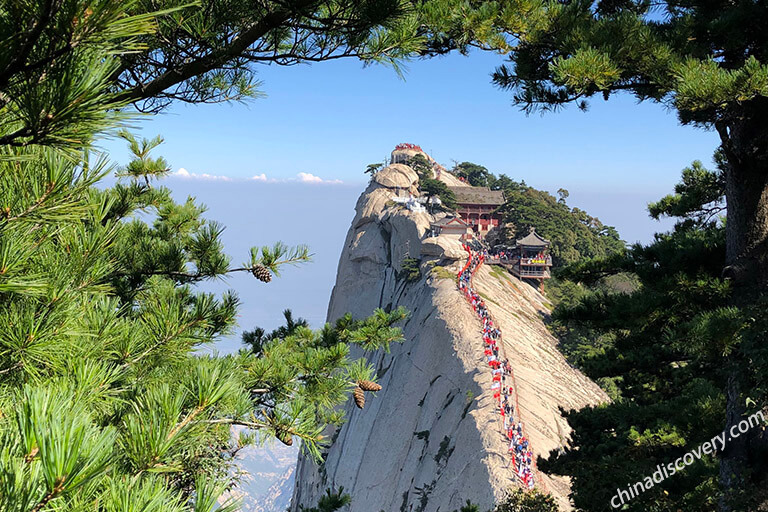 Clouds Sea Seen from Huashan Plank Walk
Recommended Mount Huashan Tours
Top 3 Mount Huashan tours chosen by most customers to explore Mount Huashan in the best way. Check the detailed itinerary, or tailor your own trip now with us.
2 Days Terracotta Warriors Tour with Mount Hua Hiking

Xian / Huashan / Xian
4 Days Xian Highlights Tour with Mount Huashan Hiking (Most Recommended)

Xian / Mount Huashan
7 Days Beijing Xian Tour with Great Wall and Mount Huashan Hiking

Beijing / Xian / Mount Huashan
Start planning your tailor-made holiday to China by contacting one of our specialists. Once inquired, you'll get a response within 0.5~23.5 hours.
Customize a Trip
Questions & Discussions
Following are latest questions and answers from our webusers and customers. You can learn many useful information from the discussion and cases. You can also join in the discussions or ask your own question. Our experts will help you ASAP.
Huashan Plank Walk
I heard the plank walk is currently closed. Do you know when it will be opened again? I will be in Xian November 19.
Hello Yang Wang,
Yes, the Plank Walk is currently closed because of the continuous rain and the reopening time is unknown yet. It is quite unpredictable. People usually get to find out whether it is open when they get there. Hope there is some good news about the Plank Walk coming soon and you can enjoy your stay in Xian and Huashan.
Best regards.

Have a question? Get answers from our travel experts or guests
Your Question:

Your Name:

Your Email: