Best Things to Do in Qufu | Top Qufu Attractions 2023/2024
Best renowned as the Hometown of Confucius, Qufu is a small city full of Confucian heritages. To get an in-depth understanding of Confucius and his great philosophy, you can pay visits to San Kong, the UNESCO World Heritage Site in Qufu to closely contact Confucian culture. You can furtherly get to ancient ruins for sightseeing old architecture, watching local featured shows and festivals, learning traditional skills, and visit museums, taste authentic food during your cultural exploration travel in Qufu. China Discovery here selects the most popular things to do and major attractions to enrich your trip to Qufu. Check them to plan your Qufu tour itinerary or contact us to design a private schedule based on your requirements.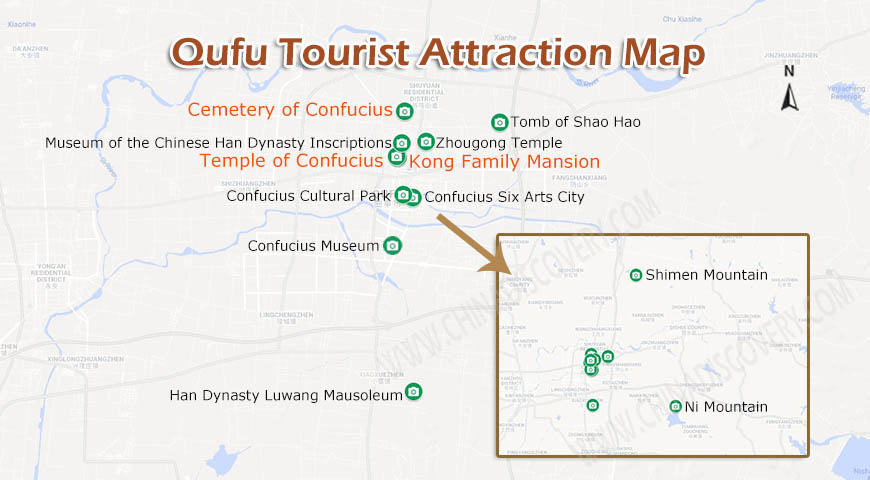 Qufu Tourist Attraction Map (Zoom in to enlarge map)
NO.1: Worship the World Cultural Heritages of Confucius - San Kong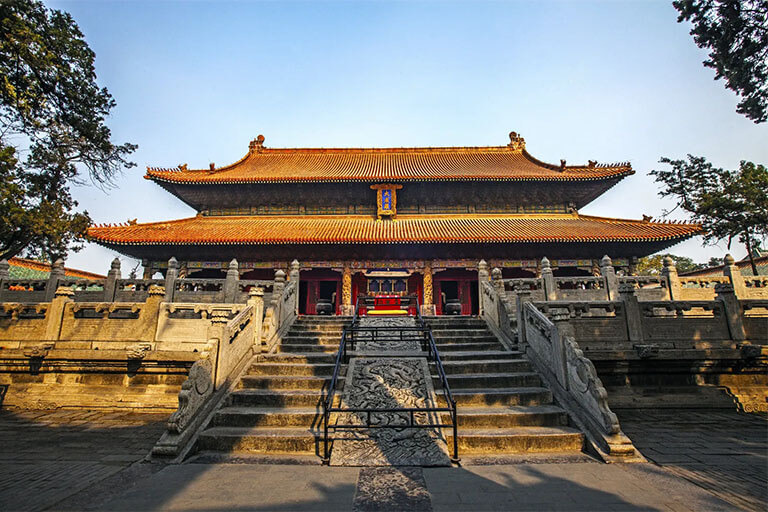 Temple of Confucius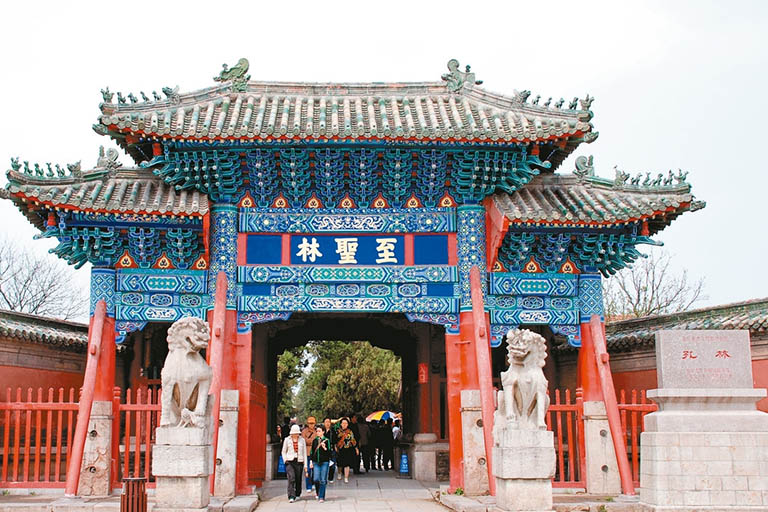 Cemetery of Confucius
Whether you're a devout Confucianist or a normal tourist to Qufu, the San Kong composed by Kong Miao (Temple of Confucius, 孔庙), Kong Fu (Kong Family Mansion, 孔府) and Kong Lin (Cemetery of Confucius or Confucius Forest, 孔林) are the top must-see you can never miss. The three sites are UNESCO World Cultural Heritage properties praised as the sacred "Oriental Jerusalem", most-famed for rich culture accumulation, long history, large scale, abundant collection and unusually high scientific and artistic values.
Temple of Confucius was converted based on his former residence in 478 BC, the following year after Confucius's death. After many years' expansion and renovation, the temple has now become a huge magnificent ancient architecture, the biggest Confucius temple in China and one of the top three ancient architecture complexs in China. Most buildings were works completed in the Ming & Qing Dynasties, a similar architectural style of Forbidden City of Beijing. In the red walls, there are hundreds of halls, pavilions and archways settled in the nine courtyards. Prominent spots are Dacheng Hall (大成殿), Lingxing Gate (棂星门), Kuiwen Tower (奎文阁), Xingtan (杏坛) and Forest of Steles (碑林).
Kong Family Mansion in the east of Temple of Confucius is the dwelling place of direct descendants of Confucius and a classic aristocratic house combined with feudal government and civilian needs. With over 650 years of history, this residence consists of more than 460 different functional rooms, including official office, inner chambers, backyard garden, living room, etc. You can witness well-organized compound with delicate furniture and decorations and massive precious rewards granted by the emperors, such as imperial calligraphy, poems, Confucian classics and musical instruments.
Drive about 2.5 km, 10 minutes from Temple of Confucius, or walk half an hour, you can get to the Cemetery of Confucius, the tomb of Confucius himself and his clan. The center is the tomb of Confucius, protected by Han Dynasty gates and altar, Song Dynasty stone guards, Yuan Dynasty steles and Ming Dynasty door and archways. The cemetery altogether buries over 100,000 tombs, providing high value to learn Chinese ancient burial customs and arts.
√ 3 Days Confucius Culture Exploration with Sidetrip to Mount Tai / √ 2 Days Mount Tai Qufu Tour from Beijing by Bullet Train
NO.2: Learn the Confucian Culture in Confucius Spots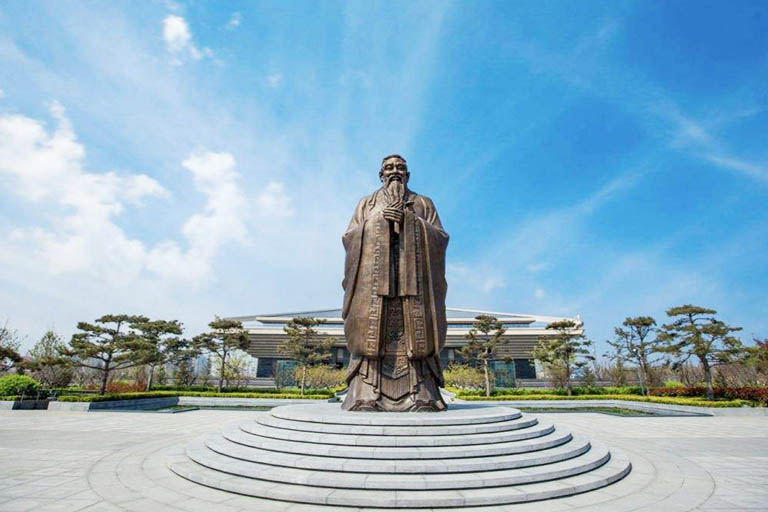 Confucius Museum in Qufu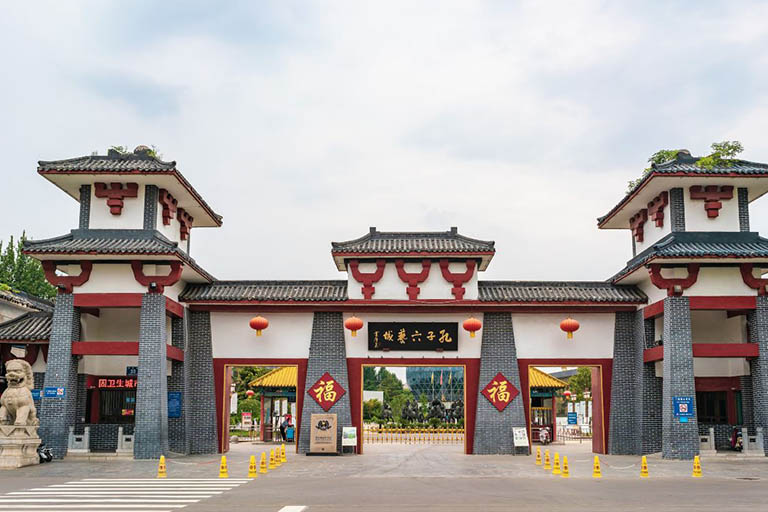 Confucius Six Arts City
Confucianism is a remarkable philosophy originating in ancient China and gaining worldwide worship. If you've studied Chinese culture or very fond of Confucian culture, you're highly advised to make a fundamental acquaintance of Confucius and experience the Six Arts to better understand this great Chinese cultural inheritance.
Confucius Museum (孔子博物馆) is a newly-opened national museum in Qufu, which is just 5 km, 15 minutes' drive from Temple of Confucius. More than 700,000 cultural relics, including over 300,000 Confucius files, 8,000 Ming and Qing Dynasty hats and clothes and many ritual music instruments are exhibited inside to memorize Confucius, focus Confucian culture and introduce other traditional Chinese culture.
More interesting and meaningful thing is the learning of Six Arts in Confucius Six Arts City (孔子六艺城). In different halls, you can study the six basic educational skills in ancient China, namely, rites (礼) , music (乐), archery (射), chariotry (御), calligraphy (书) and mathematics (数) and firsthand experience knowledgeable, funny and historical interaction. Confucius Culture Garden (孔子文化园) next to it hosts regular performances, public activities, calligraphy, painting, photography and Chinese Classic lectures as well.
√ 4 Days Jinan Mount Tai Qufu Cultural Tour / √ 4 Days Qingdao Qufu Mount Tai Essence Tour
NO.3: Visit Ancient Temples & Tombs in Qufu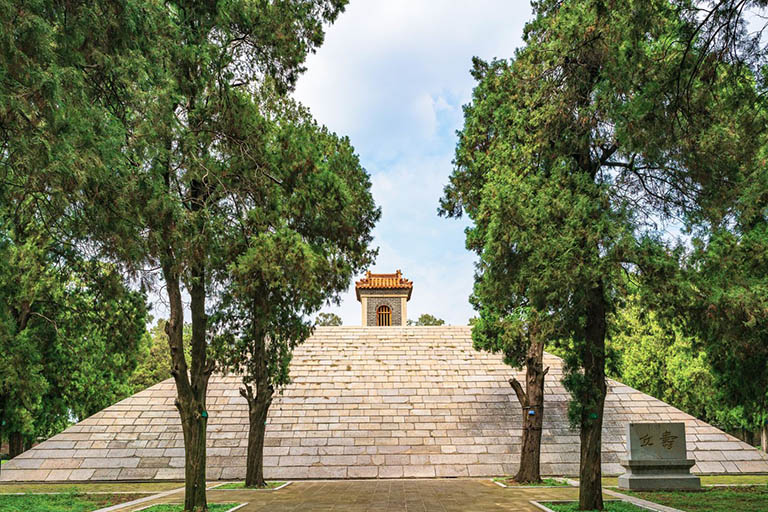 Tomb of Emperor Shao Hao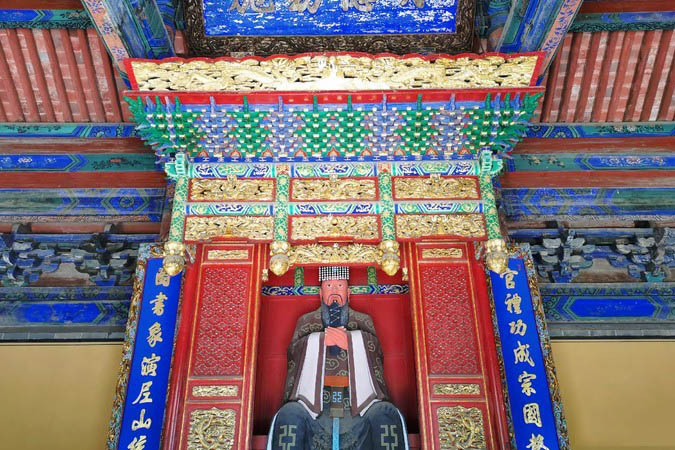 Zhougong Temple
Besides sacred sites of Confucius, tourists can still visit ancient spots for other holy historical figures, such as Tomb of Emperor Shao Hao (少昊陵), Zhougong Temple (周公庙) and Han Dynasty Luwang Mausoleum (汉鲁王墓).
Tomb of Emperor Shao Hao is a notable ancient tomb built of Emperor Shao Hao, one of the Three Sovereign and Five Emperors in Chinese mythology. Situated about 7 km (20 minutes' drive) from downtown, this tomb is titled as "Pyramid in China" with its Song Dynasty stone-layered shape. In the 24,700 square meters site, there are 17 ancient buildings, 22 stone tablets and nearly 400 old trees for you to wonder around and learn life story of Emperor Shao Hao.
Qufu Zhougong Temple is one of the three great Zhougong temples in China, which was devoted to Zhougong, Duke Wen of Zhou, the 4th son of King Wen of Zhou and a Confucian pioneer of Western Zhou Dynasty. Sitting in the Ancient City of Lu Kingdom, the temple is an oblong compound with three courtyards and many ancient buildings. Walking in the temple, you will surely be surprised by the tranquility and solemn air. If you are interested in Chinese traditional burial culture, Han Dynasty Luwang Mausoleum in south suburb provides a huge tomb group for catching a glimpse of notable coffin chamber of the Han Dynasty.
NO.4: Take Leisurely Hike on Mountains Nearby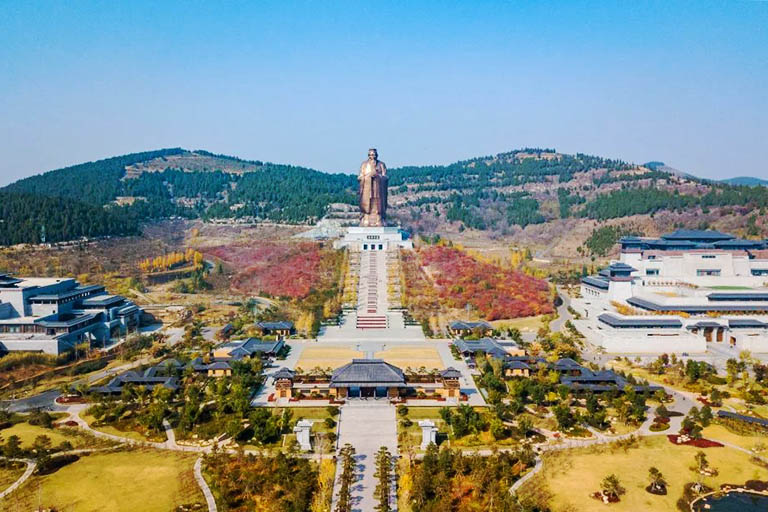 Ni Mountain in Qufu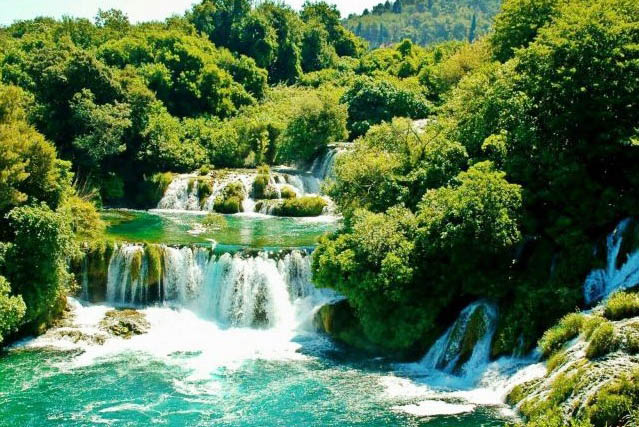 Beautiful Natural Scenery in Shimen Mountain
Contacting and immersing in the Confucian culture is the kernel of a Qufu tour. Besides the San Kong, you can make a comfortable hiking trip to Ni Mountain (Mount Ni, 尼山) which is believed to the place where Confucius was born. Lying about 25 km, 40 minutes' drive from downtown, Ni Mountain is a national forest park and a provincial geopark. It has 5 high peaks; the tallest one is just 344.6 meters above sea level. The mountain clusters Nishan Academy, Confucius Temple and much ancient architecture, like halls, archways, caves. It's more liked as an off-the-beaten-track site where you can hike easily to see groups of old cypresses, dense forests, peaceful courtyard and exotic stone figure within a couple of hours.
Located in 40 km north suburb of Qufu, Shimen Mountain (石门山) is also a beautiful national forest park good for a short hiking tour. It is most known as the place where Confucius wrote the Book of Changes, Li Bai and Du Fu separated after traveling Shandong together. With an elevation of 406 meters, Shimen Mountain unfolds green mountains, grotesque trees, fresh air and broad views.
√ 6 Days Best of Shandong Tour / √ 9 Days Shandong Panorama Tour
NO.5: Admire Chinese Cultural Legacies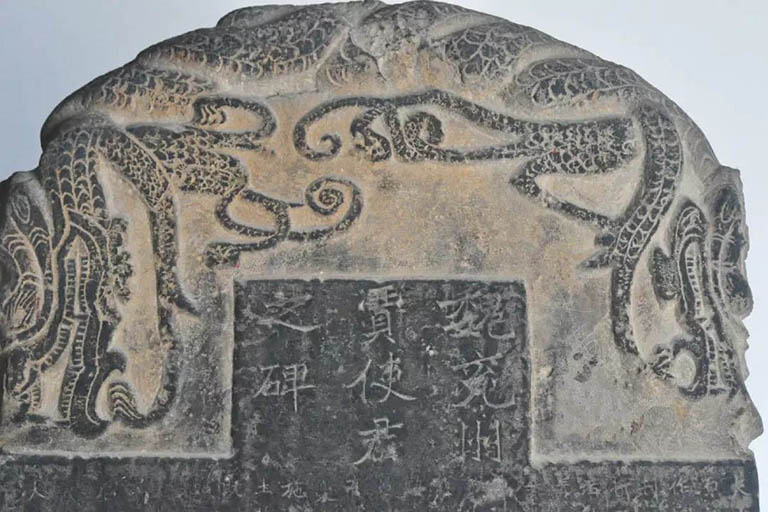 Valuable Han Dynasty Stone Inscriptions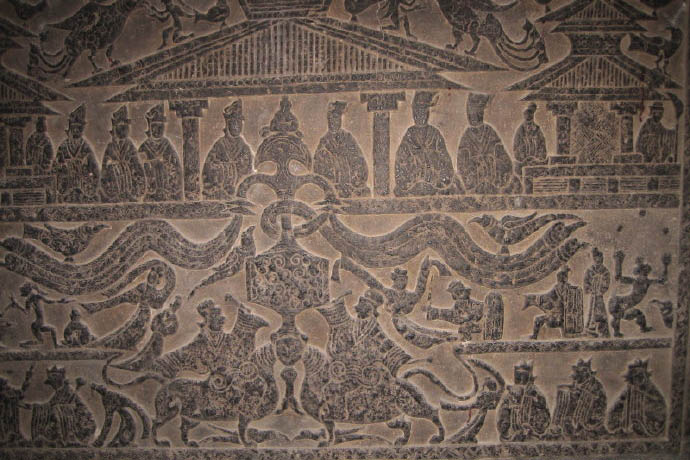 Gorgeous Stone Painting in Temple of Confucius
Between the Kong Family Mansion and Cemetery of Confucius, tourists can drop by a small private museum in the city wall - the Museum of the Chinese Han Dynasty Inscriptions in Qufu (曲阜汉画碑刻博物馆). The museum collects thousands of rubbings of Han Dynasty steles, inscriptions, stone paintings, etc. The rubbings are very clear and rare for learning characters, social life and artistic level of Han Dynasty.
Before getting out of Kong Family Mansion, Han & Wei Dynasties Stele Inscription Museum (汉魏碑刻陈列馆) gathers dozens of ancient tablet inscriptions, ranking the top number in China and presenting the finest Chinese character handwriting art. The exhibition hall preserves 6 famous inscriptions of Western Han Dynasty, 18 of Eastern Han Dynasty and 5 from the Wei and Northern Dynasties. Here you can see Beibishi, one of the oldest stone carved Chinese characters and many outstanding ancient calligraphy autographs.
Shenpao (the Holy Cookroom 神庖) in Temple of Confucius, now the Exhibition of the Stone Portraits of the Han Dynasty of Qufu, keeps many vivid marvelous stone paintings too.
NO.6: Watch Ancient Music & Dances Shows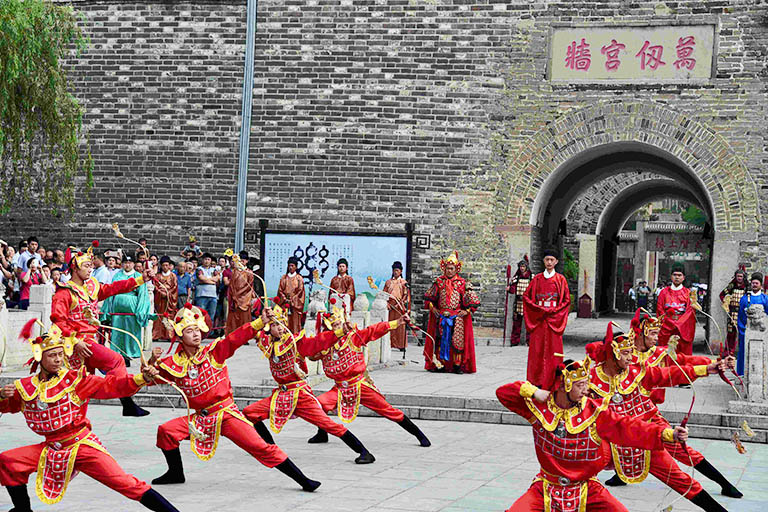 Opening of Gate Show outside Temple of Confucius
Ancient Show in Confucius Six Arts City
Apart from walking around the Confucius related sites for sightseeing, tourists can also watch some relaxing performances in Qufu. At the entrance of Temple of Confucius, there is an " Opening of the Gate" Ceremony taking place at 8:00 AM each morning. When the city door opens, a drum corps comes out firstly and then announces the official beginning. Next, the parade, warriors and maidservant walk out to give entertaining performances. It lasts about 20 minutes. And at 5:00 PM in the afternoon, a similar show will be held as well.
Confucius Six Arts City is another place you can enjoy ancient music and dance performance. One is held in Confucius Six Arts Theatre from 10:30 to 11:00 AM and another is in the afternoon from 3:00 to 3:30 PM.
√ 3 Days Confucius Culture Exploration with Sidetrip to Mount Tai / √ 2 Days Mount Tai Qufu Tour from Beijing by Bullet Train
NO.7: Attend Qufu International Confucius Cultural Festival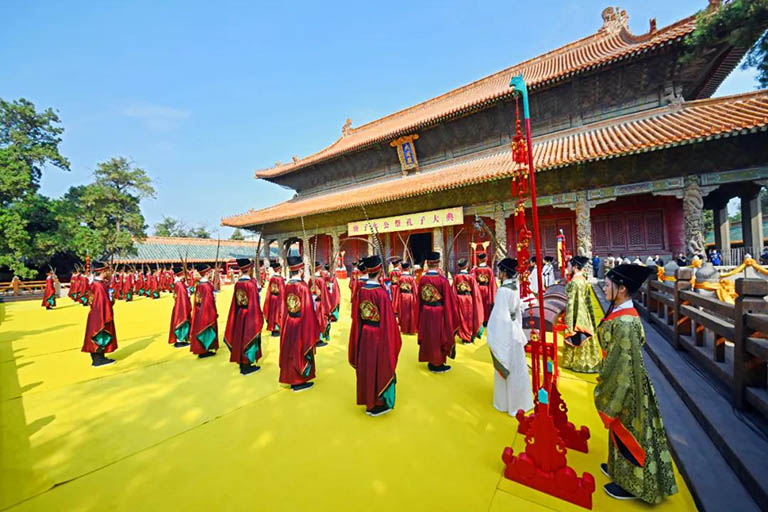 Confucius Ceremony in International Confucius Cultural Festival
Unique Bayi Dance
China Qufu International Confucius Cultural Festival held on August 27 of lunar calendar each year (the birthday of Confucius) is a grand festival to commemorate Chinese ancient philosopher Confucius. This festival, started from 1984, will hold many cultural activities, such as Confucius Ceremony, education forum, Chinese ritual and music and Confucianism information session to carry forward the peculiar charm of Confucian culture and promote international culture exchange.
As the most important event, Confucius Ceremony is a large-scale comprehensive art performance show with traditional music, songs, dances and etiquettes. The ceremony takes place in Temple of Confucius exclusively from end of September to early October. Today, there are four agendas contained, including the Minggu City Opening Ceremony, Temple of Confucius Opening Ceremony, Modern and Ancient Public Memorial Ceremonies. One highlight is the well-dressed mourners presenting tribute of yellow silk & ancient style wine glass, incense and wine to Confucius in three steps.
Another must-see is the Eight Yi Dance (八佾舞), a ritual dance at the highest level in ancient times. All the music, songs and dances are performed around protocol. Bayi Dance involves 64 dancers, 8 in columns and 8 in horizons. They all wear ancient ceremonial costumes and hats and hold pheasant feather in right hands and flutes in left hands. It's definitely an unforgettable memory for Confucianists and Chinese culture fans.
NO.8: Taste Distinctive Local Cuisine in Qufu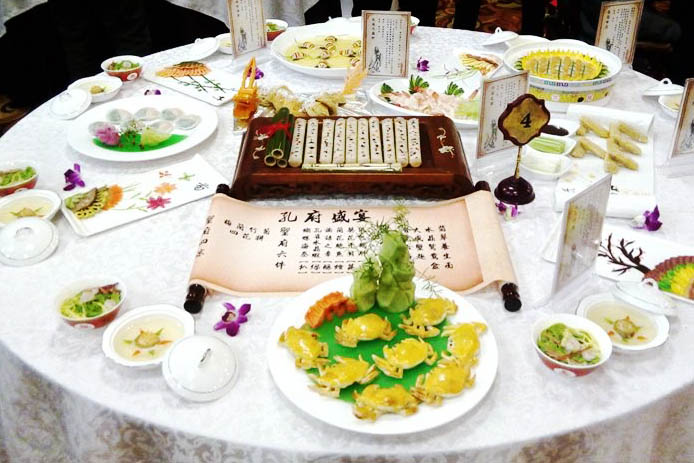 Kong Mansion Banquet in Qufu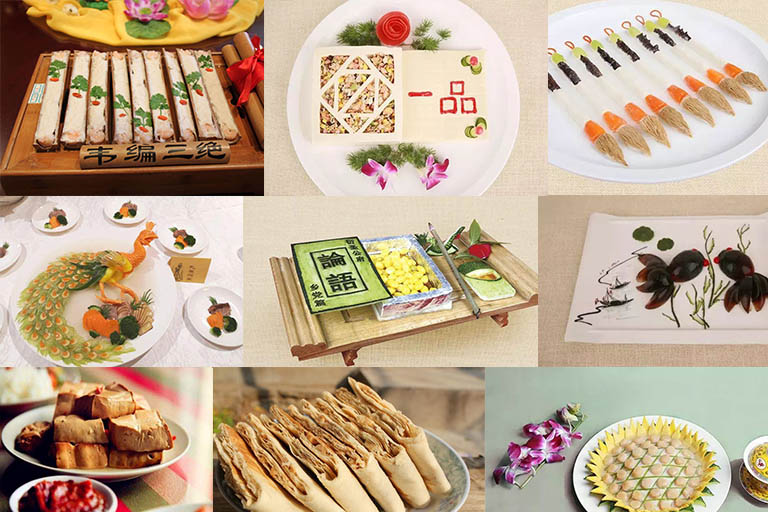 Classic Dishes & Snacks in Qufu
As Qufu is a part of Shandong, tourists can take the chance to sample authentic Shandong Cuisine (one of the Eight Culinary Traditions of Chinese cuisine) during your Qufu tour. Meanwhile, Qufu, as the "Hometown of Confucius", has the famous traditional cuisine - Confucius Mansion Banquet (孔府宴) or Kongfu Banquet. It was a senior hierarchical aristocrat banquet specially prepared for receiving important guest, taking office, birthday, wedding and big days, but nowadays has developed as a flavorful family feast with rich and dainty dishes. Shark fin and sea cucumber are the main ingredients. The Kongfu Pastry freshly baked is also a featured dessert with long history. Also, Qufu is a typical agricultural area in Shandong, which features civilian frugalness and pasta-based dishes. Popular local dishes include Kongfu Pancake, Smoked Bean Curd, Steamed Tofu Stuffed with Vegetables, etc.
How to Plan Your Qufu Tour
How to Get to Qufu: The best way is taking high speed trains to Qufu from Beijing (about 2.5 hrs), Jinan (about 30~40 mins), Tai'an (about 20 mins), Qingdao (about 2.5~3.5 hrs)…
Best Time to Visit Qufu: March to November when the temperature is pleasant, natural scenery is beautiful and International Confucius Cultural Festival is usually held in autumn.
Top Attractions to Visit in Qufu: Temple of Confucius, Kong Family Mansion, Cemetery of Confucius…
Qufu, the "Hometown of Confucius", is a holy cultural destination in the southwest of Shandong. The most popular and recommended tour itinerary of Qufu is making a day-trip to discover the three famous UNESCO World Cultural Heritage sites - Temple & Cemetery of Confucius and Kong Family Mansion together. Within short distance and convenient transportation, tourists usually visit Qufu with the sacred Mount Tai, a World Cultural & Natural Heritage site in Tai'an to witness impressive natural landscape and imperial traces.
✔ 2 Days Mount Tai Qufu Tour from Beijing by Bullet Train
✔ 3 Days Confucius Cultural Exploration with Sidetrip to Mount Tai
As a coastal province with long history, Shandong owns many more wonderful destinations worth your exploration. After your Qufu & Mount Tai hiking trip, you can further tour scenic Jinan with 1 day; travel to Qingdao, spend 2 days experiencing energetic beer culture and brisk seaside scenery, get to Weifang, Yantai, Weihai and more lovely cities. A highlight tour of Shandong with Qufu takes 4 to 6 days, covering major destinations and tourist essences.
✔ 4 Days Jinan Mount Tai Qufu Cultural Tour
✔ 4 Days Qingdao Qufu Mount Tai Essence Tour
✔ 6 Days Best of Shandong Tour (Jinan/Mount Tai/Qufu/Qingdao)
Based on your holiday time and individual interests, you may continue your China tour to Beijing and nearby regions of Shandong, or travel to Shanghai, Xian, Chengdu, Guilin and other top famous destinations to view different fascinating nature and culture of China.
✔ 6 Days Classic Beijing & Shandong Tour (Beijing/Qufu/Mount Tai)
✔ 8 Days Beijing Shanghai Tour with Confucianism Exploration & Mount Tai Hiking
✔ 10 Days China World Heritage Tour in Northern China (Beijing/Mount Tai/Qufu/Shaolin Temple/Luoyang/Xian)
Travel with China Discovery
China Discovery is an experienced, professional and reliable travel companion devoted to offering high-quality and the best tour services for all travelers to China. In order to have a hassle-free travel and focus on the trip itself, it's highly recommended travelling with China Discovery. So, you can enjoy convenient airport pick-up and drop-off service and transportation to all scenic spots in a safe, clean, comfortable, air-conditioned and non-smoking vehicle. Also, we will arrange knowledgeable local tour guide, excellent accommodation and dining arrangements to ensure you rest well and get better understanding of Confucian culture in Qufu, spring culture in Jinan and Mount Tai culture in Shandong. You may select a favorite from our most popular Qufu tours or contact us to design a unique itinerary according to your personal time and preference.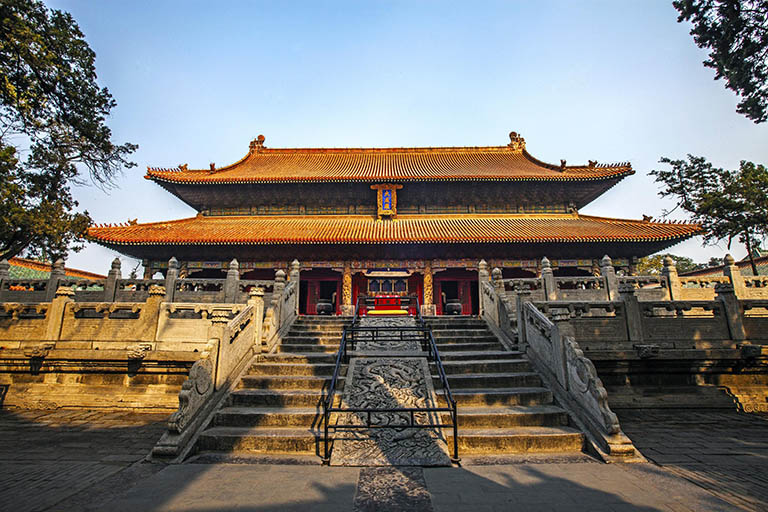 Temple of Confucius in Qufu
Sacred Mount Tai in Tai'an
Our American Group Tourists Visited Mutianyu Great Wall in Beijing
Qufu Travel Guide
Shandong Travel Guide
Recommended Qufu Tours
Top 3 Qufu tours chosen by most customers to explore Qufu in the best way. Check the detailed itinerary, or tailor your own trip now with us.
3 Days Confucius Culture Exploration with Sidetrip to Mount Tai

Qufu / Mount Tai
4 Days Jinan Mount Tai Qufu Cultural Tour

Jinan / Mount Tai / Qufu
2 Days Mount Tai Qufu Tour from Beijing by Bullet Train

Beijing / Mount Tai / Qufu
Start planning your tailor-made holiday to China by contacting one of our specialists. Once inquired, you'll get a response within 0.5~23.5 hours.
Customize a Trip
Have a question? Get answers from our travel experts or guests
Your Question:

Your Name:

Your Email: