Things to Do in Qufu
Listed as national historical and cultural city by the State Council, Qufu has many tourism resources and cultural relics. As the birthplace of Confucius, the top things to see in Qufu are the San Kong World Heritage Sites: Temple of Confucius, Confucius Family Mansion and Cemetery of Confucius, all declared in 1994.
Besides, some featured activities are hold, including the Confucius Cultural Festival, a holy way to remember Confucius and to spread the Chinese Culture and the Confucian Banquet, the traditional dishes of Shandong Cuisine.
Qufu Attraction Map
Taste Qufu Food

As the hometown of Confucius, Qufu has the most famous traditional cuisine called Confucian Banquet, which can be eaten in occasions like birthday, wedding, guest greeting and family meeting. Nowadays, any restaurant in Qufu serves Confucian Banquet. The main dishes include beancurd, duck, fish, sea food and more. Also there are some snacks along streets like smoked tufu, Shangdong pancakes and so forth.
Watch Performance of Xingtan St. Dreams

(Optional Activity)

The "Xingtan St. Dreams" performance is a large square musical dance show in Xingtan Theater, presenting at 20:00 every night during April to October. Under the splendid design of exaggerated colorful costumes art, artistic lighting changes, you will enchanted by the performers' stage skills. What's more, with the perfect combination between poetry and music on stage, this performance presents Confucius and Confucianism profound culture.
How to Plan Your Qufu Tour
How to Get to Qufu: The best way is taking high speed trains to Qufu from Beijing (about 2.5 hrs), Jinan (about 30~40 mins), Tai'an (about 20 mins), Qingdao (about 2.5~3.5 hrs)…
Best Time to Visit Qufu: March to November when the temperature is pleasant, natural scenery is beautiful and International Confucius Cultural Festival is usually held in autumn.
Top Attractions to Visit in Qufu: Temple of Confucius, Kong Family Mansion, Cemetery of Confucius…
Qufu, the "Hometown of Confucius", is a holy cultural destination in the southwest of Shandong. The most popular and recommended tour itinerary of Qufu is making a day-trip to discover the three famous UNESCO World Cultural Heritage sites - Temple & Cemetery of Confucius and Kong Family Mansion together. Within short distance and convenient transportation, tourists usually visit Qufu with the sacred Mount Tai, a World Cultural & Natural Heritage site in Tai'an to witness impressive natural landscape and imperial traces.
✔ 2 Days Mount Tai Qufu Tour from Beijing by Bullet Train
✔ 3 Days Confucius Cultural Exploration with Sidetrip to Mount Tai
As a coastal province with long history, Shandong owns many more wonderful destinations worth your exploration. After your Qufu & Mount Tai hiking trip, you can further tour scenic Jinan with 1 day; travel to Qingdao, spend 2 days experiencing energetic beer culture and brisk seaside scenery, get to Weifang, Yantai, Weihai and more lovely cities. A highlight tour of Shandong with Qufu takes 4 to 6 days, covering major destinations and tourist essences.
✔ 4 Days Jinan Mount Tai Qufu Cultural Tour
✔ 4 Days Qingdao Qufu Mount Tai Essence Tour
✔ 6 Days Best of Shandong Tour (Jinan/Mount Tai/Qufu/Qingdao)
Based on your holiday time and individual interests, you may continue your China tour to Beijing and nearby regions of Shandong, or travel to Shanghai, Xian, Chengdu, Guilin and other top famous destinations to view different fascinating nature and culture of China.
✔ 6 Days Classic Beijing & Shandong Tour (Beijing/Qufu/Mount Tai)
✔ 8 Days Beijing Shanghai Tour with Confucianism Exploration & Mount Tai Hiking
✔ 10 Days China World Heritage Tour in Northern China (Beijing/Mount Tai/Qufu/Shaolin Temple/Luoyang/Xian)
Travel with China Discovery
China Discovery is an experienced, professional and reliable travel companion devoted to offering high-quality and the best tour services for all travelers to China. In order to have a hassle-free travel and focus on the trip itself, it's highly recommended travelling with China Discovery. So, you can enjoy convenient airport pick-up and drop-off service and transportation to all scenic spots in a safe, clean, comfortable, air-conditioned and non-smoking vehicle. Also, we will arrange knowledgeable local tour guide, excellent accommodation and dining arrangements to ensure you rest well and get better understanding of Confucian culture in Qufu, spring culture in Jinan and Mount Tai culture in Shandong. You may select a favorite from our most popular Qufu tours or contact us to design a unique itinerary according to your personal time and preference.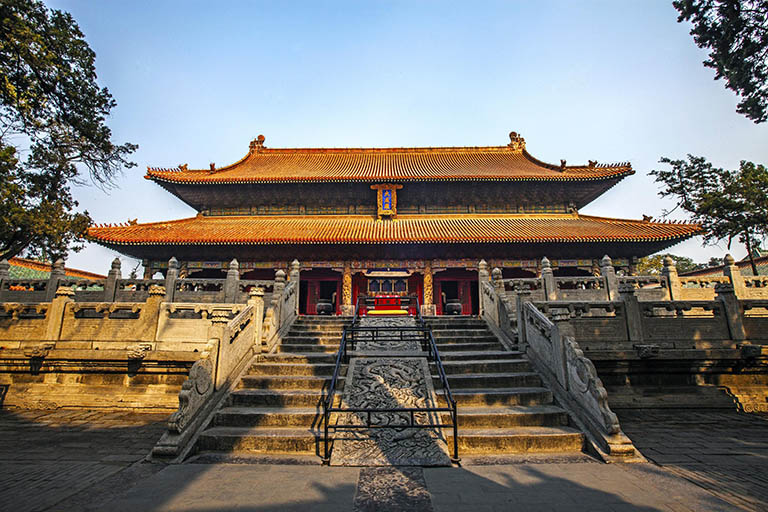 Temple of Confucius in Qufu
Sacred Mount Tai in Tai'an
Our American Group Tourists Visited Mutianyu Great Wall in Beijing
Qufu Travel Guide
Shandong Travel Guide
Recommended Qufu Tours
Top 3 Qufu tours chosen by most customers to explore Qufu in the best way. Check the detailed itinerary, or tailor your own trip now with us.
6 Days Best of Shandong Tour

Jinan / Mount Tai / Qufu / Qingdao